This post may contain affiliate links.
Are you looking for a gift for someone going to Disney? Do you know a kid going on a holiday or trip to Disney or have an adult friend going to Disney World for the first time? Maybe you know someone who needs to take a Disney vacation! Here's a whole list of gifts that would be perfect for anyone planning a vacation to Disney, for Christmas, a birthday, or just an any-time special gift. This gift guide for Disney travellers will help you find the perfect thing to give to kids or adults who love Disney parks, for the holidays.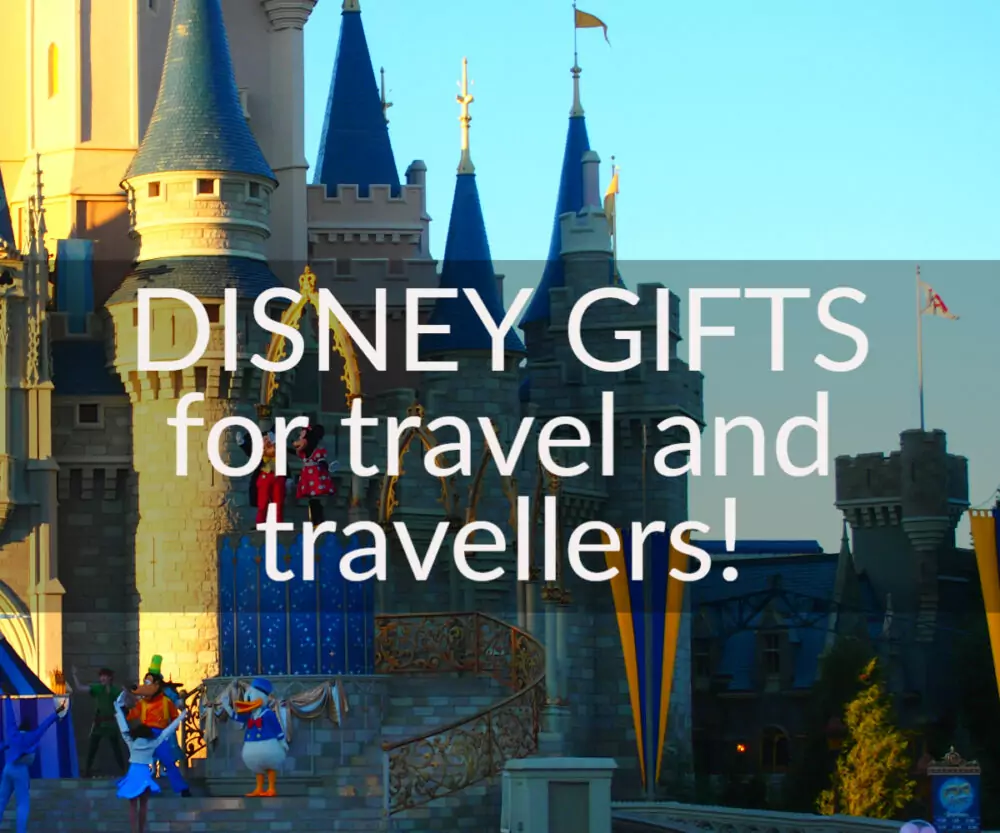 Gifts for Someone Going To Disney
If you love to keep the Disney theme going as you travel, be it to Disney parks, a Disney cruise, or any special trip, check out these gift ideas for people old or young, who love Disney. Disney travel gift ideas for the whole family, for Christmas, or any special occasion and gift bag ideas for a Disney trip.
We do have a post about our regular travel essentials and also on family travel gear, if, once your Disney gift is bought, you need to think about your own trip!
Please check all product descriptions for yourself via our links, specifications and designs can and do change.
Luggage Gifts for Disney Travellers
One of the first things anyone needs for travel is something to keep all of their belongings in. Particularly so if you're going on a dream Disney trip. Here you will find a range of options, sure to meet the needs of any Disney-bound traveller.
Perfect for the Minnie Mouse fan, this American Tourister Disney Hardside Luggage with Spinner Wheels is ideal for a shorter trip. With a classic black, red, and white design featuring Minnie's signature bow, it also has wheels and a telescoping handle for convenience. Hard outer walls will help keep possessions safe during travel.
Not the biggest Minnie fan, or just need a bit more space? This American Tourister Disney Hardside Luggage with Spinner Wheels is ideal. Featuring one 53.34 cm suitcase and one 45.72 cm in a matched set with a Mickey theme. The cases are, again, hard-sided and wheeled. The outsides are printed with a collage of various rainbow Mickey heads.
Of course, not all of your belongings need to go into the suitcase. During travel or at the park, this Winghouse x Minnie Red Ribbon Polka Dot Bum Bag is just the thing for kids or adults. Done up in an adorable Minnie Mouse theme again, it looks stylish, but with plenty of room. The storage compartment is 30 x 17 x 7.5 cm. There's plenty of room for the things that simply must be kept on one's person.
In case the Minnie Mouse suitcase proves more popular than expected, a luggage tag is a necessity to identify one's luggage. Stay on-theme with the American Tourister Disney Luggage Tag, Minnie Mouse. This is a cute luggage tag with Minnie on the back, done in a simplified cartoon style. If Minnie isn't your thing, there are other options available, as well, use the link to see your choices of Disney character.
And lastly, for items you'll want to have accessible, but not right on hand during travel, there's the Bardic Hanging Travel Polka Dot Print Large Capacity Wash Bag. This isn't the washbag you're used to, though. Featuring a red-and-white polka dot motif, it's a perfect match for all of the other Minnie-themed gear. It also has a hanger for easy access, plus it unzips and folds out to feature plentiful storage. I can't overstate how good a hanging wash bag is for travel! Get one for every family member and this polka dot is actually good for anybody, man, woman or child.
Disney Travel Entertainment Aids as Gifts
"It's not the destination, it's the journey." Except for when it isn't. Let's face it, a large percentage of travel is waiting for the journey to be over. Excitement awaits at the end of the road, of course!
Your Disney-loving traveller will want to bring some entertainment along. Here are an assortment of great accessories to gift, and to help with that entertainment.
Tablets and laptops are a great way to keep yourself, or a child, busy on a trip. But they can be a bit unwieldy. Who wants to hold up a tablet through an entire movie? The Yogibo Disney Lap Desk with Pillow Bottom solves that problem nicely. With a desk space big enough for a laptop, or a slot to hold a tablet upright for viewing, this lap desk is just the thing. Plus, its polka-dotted cushion will match all of the other Minnie accessories listed here.
Now that the kids are set up watching a movie on their tablet, there's just one problem; you have to hear the entire thing. Possibly 3 or 4 times, depending on the length of the trip. But the eKids Mickey Mouse Headphones For Kids, Adjustable Over the Ear Headphones are here to save the day. These over-the-ear headphones have Mickey ears to delight children, and fit any device with a 3.5mm jack. But more importantly, they feature built-in parental volume controls, so you can set appropriate volume levels and protect your kids' ears.
For older kids, teens, and adults, how about these cool Disney Bluetooth earbuds with matching case?
Or if devices aren't really your thing, there is the Disney Shop Cars Lap Desk Activity Set for Kids. This fun set themed after Disney/Pixar's Cars series contains a colouring book, sticker book, games, puzzles, and even more fun content. Sure to keep a little Cars fan busy so you can get some peace as well.
But why should the little ones have all the fun? Adults can sit back with the Art of Coloring: Walt Disney World: 100 Images to Inspire Creativity from The Most Magical Place on Earth book and enjoy some relaxing colouring as well. It features images from Disney's past, present and future to offer a wide range of relaxing colouring.
Of course, travel and the holiday itself tend to put a lot of people into close proximity. The Glocusent LED Neck Reading Light lets your traveller get some reading in without disturbing everyone else around. It wraps around the neck for no-hands reading. It's rechargeable, and has three different light settings, three brightness settings for each, and a blue light filter for the ultimate in low-light reading. Also good for repair work or technical jobs.
Disney Travel Comfort Gifts
Travel is rarely described as comfortable or relaxing. While that can't totally be mitigated, these products can at least help make things seem a bit more normal and Disney themed.
Starting with the classic neck pillow, the Disney Minnie Mouse Travel Neck Pillow takes the product we all know and adds something extra. Featuring mouse ears and a polka dot pattern in stylish black and white, this pillow is unmistakably Disney-themed. The soft plush pillow is also machine-washable.
Now travelling with kids presents a lot of new challenges. One that may be unanticipated is the desire for something familiar. Even at a Disney Park, a younger child can get overwhelmed, and just want something familiar around. This Jay Franco Disney Pixar Toy Story Travel Set can fill that need quite nicely. It includes a blanket, pillow, and plush of everyone's favourite cowboy from the Toy Story movies, Woody! Buzz also makes an appearance, albeit only on the blanket and pillow. Perfect for at home, but easily brought along on trips, it can give a child the comfort and security she needs.
And one more item for comforting sleep, the Disney Star Wars Mandalorian Grogu Sleep Mask can also help bring relaxing sleep. Whether you call him Grogu or just Baby Yoda, this character has taken the world by storm. And now he's here to help you or your children sleep. This sleep mask features Grogu, the adorable troublemaker who can help you get a little peace and quiet by helping your troublemakers get their own peace and quiet.
Disney Road Trip Snack/Drink Storage Gifts
Of course, snacks are an essential part of any long trip. People get hungry. But unless you want a mess, there needs to be some way to keep them contained. These gifts will help keep the foodstuffs handy and safe.
These gifts are practical and useful, your friend or relative can use them for years, not just on their Disney trip.
First on the list is an item perfect for any sort of dry snacks. These Bumkins Snack Bags featuring Winnie the Pooh are washable and reusable. Probably still don't put honey in them, though. They are the perfect size for snacks, or for small personal items you want to bring along on your trip.
Or if you want to bring some veggies along, there's always the Whiskware Disney Princess Containers; 3 Stackable Snack Cups for School and Travel. These interlocking cups let you bring up to three different options at once. They are also washable and reusable, and feature Princess Tiana from the Frog Princess. Other style options are available.
Naturally, drinks are important as well. And few things are better suited for them than the Zak Designs Disney Mickey Mouse Vacuum Insulated Stainless Steel Travel Tumbler with Splash-Proof Lid. Featuring a splash-proof lid as well as a reusable plastic straw, this stylish tumbler is good for kids or adults. Comes in a Mickey space theme, although other style options are available.
Electronics Gifts For People Going to Disney
Devices are everywhere nowadays. And who wants to go on holiday without their mobile? These items will help keep devices safe and ready on those long days in the Disney parks and on the plane, bus, train or road trip to get them there.
These gifts are practical and useful for adults going to Disney, especially parents!
Storage is always key. There are so many things to carry, not just your device. But the Electronics Organizer Cable Travel Case handles this problem with ease. It's durable, waterproof, and has multiple pockets, pouches, and elastic to hold devices, batteries, cords, even a power brick. And speaking of power bricks-
One thing anyone who has spent a day out somewhere knows is that power needs are inescapable. Luckily, the Anker Portable Charger, 313 Power Bank steps in to help out with that. Anker is a well-known name in the portable charging business, and for good reason. Their power banks are drop tested, and hold enough power to recharge most devices more than once. These two items would make a great combination gift.
Travel Appropriate Stocking Stuffers for Disney Fans
Of course, not everything needs to be a big purchase. Here are a couple of bits and bobs to help fill in the gaps on your list particularly good for kids going to Disney.
It's becoming more and more apparent that keeping your hands clean while out and about is crucial. Now, a sink and soap is the best option, but that's not always available. And that's where these Disney Store Portable Hand Sanitizers come in. This two-pack has rubber carrying cases that can be fastened to clothing or bags, and are styled to look like Mickey, Minnie or Disney Princesses. Best of all, once empty, you can just buy a new bottle and slip it in.
The last item is often overlooked, but incredibly useful. The 2 Pack Neck Lanyard with ID Badge Holder is a must for any savvy traveller. The cute lanyards are styled with Stitch, from Lilo and Stitch. They have ID holders included, but you can swap in keys, or even an earbud charging case. Help the travellers on your list keep their valuables safe and close at hand.
Safe Disney Travels
And there you have it. Travel is always hectic, but you can make your child or adult friends and loved ones' next Disney trip less so with the wide range of gifts collected here today. Safe travels, and have fun.
Want to head on over to our guide to beating the lines at Disney? Or maybe read how we visited the 4 Disney parks in Orlando Florida in one day. It was hectic! Alternatively check out the Adventurous things to do in Florida. Enjoy your Disney travels!
If you'd like to hire a car during your stay, use this car rental comparison tool to find the best deal!

We also suggest you take a look at this company to get a quote for all kinds of the more tricky adventure or extended travel insurance.

Try Stayz / VRBO for an alternative way to find rentals on homes/apartments/condos in any country!