This post may contain affiliate links.
Ireland is known for having some seriously stunning beaches. Let's take a look at which Irish coastal beauty spots are the best beaches in Ireland with kids.
In almost every county in Ireland, you will find several stunning beaches to choose from for your family day out.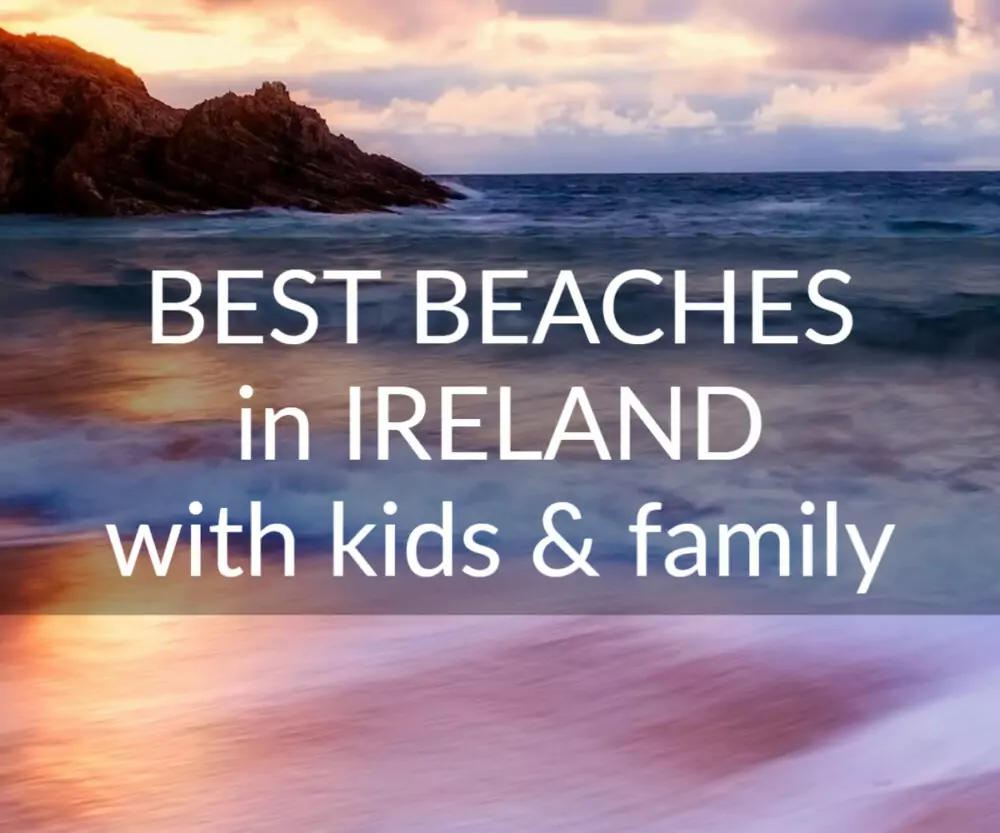 The weather in Ireland is unpredictable, so be sure to always check the forecast before your trip to ensure that conditions are safe for you and the family.
Whether you're looking for a beautiful spot to have a picnic, go for a swim, take a beach walk, or just relax with the family, we've got you covered with the ten best beaches in Ireland to visit with your kids.
Best Beaches in Ireland With Kids and For Families
The following beaches make it onto our top ten of beaches in Ireland with kids and for families.
10. Curracloe Beach, Co. Wexford
Curracloe Beach is a beautiful beach for kids and the whole family in Co. Wexford
Curracloe Beach in County Wexford is a beautiful, long stretch of white sand that is perfect for a family day out.
You may even recognise this family-friendly beach from the D-Day landing scene in Saving Private Ryan. What more could you want than a beach that has been featured in a Hollywood blockbuster?
One of the very best hotels in Republic of Ireland for kids and families is the Amber Springs Hotel in Gorey, Co. Wexford. This fabulous family destination is just over half an hour from Wexford and Curracloe Beach. It features rooms for families, plus attractions such as mini golf, ride-ons and a petting zoo. It also has indoor activities (plus a pool!) and a kids' club if the weather is bad. Check out this outstanding Irish family hotel here.
Address: Coolrainey, Curracloe, Co. Wexford, Ireland
9. Helen's Bay, Co. Down
Helen's Bay is a great family beach near Belfast and Bangor in Co. Down, Northern Ireland.
A day out at Helen's Bay with the kids is a great one, especially in the summer months as it's the perfect spot for a beach picnic.
There's usually an ice cream truck, too. This is one of the best beaches in Northern Ireland and is located just a short drive from the bustling city of Belfast.
This hotel, in Bangor, has en-suite family suites and is just a 10 minute (approximately) drive away.
Address: Grey Point, Helen's Bay, Bangor BT19 1JX
8. Inchydoney Beach, Co. Cork
– a safe and clean beach
Inchydoney Beach is a great beach to bring the kids to, as there is always a lifeguard on duty from the morning to when the sun goes down.
Located just outside the colourful heritage town of Clonakilty in West Cork, there is a surf school, coffee kiosk, and plenty of space for activities.
Address: P85 AT27, 51, Inchydoney Island, Inchydoney, Co. Cork, P85 AT27, Ireland
7. Rossnowlagh Beach, Co. Donegal
– a stunning stretch of white sand
Rossnowlagh is one of the most impressive beaches in Ireland and is truly a sight to behold.
Visitors are allowed to park on the beach, so this makes it a firm favourite amongst people visiting with their families.
It's a stunning stretch of white sand and is a great place to surf. Just be sure to check the weather before you visit to ensure conditions are safe.
Address: Rossnowlagh, Golf View, Co. Donegal, Ireland
6. Banna Beach, Co. Kerry
Banna Beach in County Kerry is a great beach for family fun activities.
Banna Beach, also known as Banna Strand, is a fantastic stretch of beach in Tralee Bay. This is the perfect spot to visit with the kids in the summer as, at this time of year, there are always lifeguards on duty, and you can take part in swimming, surfing, and kite surfing!
The Dingle Peninsua is nearby and of course you can drive The Ring of Kerry.
5. Bundoran Beach, Co. Donegal
– perfect for an easy stroll
Bundoran has a stunning Blue Flag beach that is perfect for kids of all ages. It's just a short walk from the town's main street and is backed by a promenade, perfect for an easy stroll.
With stunning views across Donegal Bay, this is a beautiful beach to visit with the kids.
Address: Drumacrin, Co. Donegal, Ireland
4. White Strand Beach, Co. Clare
– beautiful marine life
This is a love white sand beach near Miltown Malbay in County Clare. Awarded Blue Flag status, there is a variety of marine wildlife to be seen here, including lots of fish and shellfish species.
Famous for its beautiful coastal setting, it's just a little west of the village of Doonbeg.
Address: White Strand, Killard, Co., Killard, Co. Clare, Ireland
3. Fanore Beach, Co. Clare
– sand dunes and limestone to explore
Fanore Beach is a fantastic beach that has lots of space for your kids to run around and have fun on. This is a great spot for a beach picnic with coastal and mountain views right in front of you as you soak up the sun or go for a swim.
Address: Fanore More, Co. Clare, Ireland
2. Barleycove Beach, Co. Cork
Barleycove Beach is a beautiful stretch of beach on the remote Mizen Peninsula, about 2 hours drive from Cork city.
This stunning beach has large sand dunes (formed by a tsunami in 1755!)(source) that have been designated a Special Area of Conservation under the European Habitats Directive.
During the summer and on weekends, lifeguards are present to make your swimming experience as safe as possible.
The Barleycove Holiday Park is fairly near the beach, or you can stay in a rental cottage in Goleen, it's near, just 10 mins (about 7km) away. See the cottage here.
Address: Cannawee, Co. Cork, Ireland
1. Five Finger Strand, Co. Donegal
Five Finger Strand is a good beach for families and kids in Co. Donegal in The Republic of Ireland
Five Finger Strand is one of the most spectacular beaches in Ireland. The towering sand dunes are an impressive sight as you settle down on the beach for the day
You and your family will enjoy a beautiful day out at Five Finger Strand, which gets its strange name from the five sea stacks that can be seen at low tide.
Rathmullen House is one of the best hotels in County Donegal for families, it overlooks Lough Swilley and 3km of sandy beach and The Wild Atlantic Way. Alternatively check out this super-cute holiday cottage near Five Finger Strand.
Address: Co. Donegal, Ireland
Book a Beautiful holiday cottage near Five Finger Strand here.
If you'd like to hire a car during your stay, use this car rental comparison tool to find the best deal!

We also suggest you take a look at this company to get a quote for all kinds of the more tricky adventure or extended travel insurance.

Try Stayz / VRBO for an alternative way to find rentals on homes/apartments/condos in any country!