Last Updated 01/06/2022.
Sri Lanka is a justifiably popular holiday destination for people of many nationalities. But Sri Lanka with kids? Does that work? Is Sri Lanka a good destination for families, toddlers, babies or children of any age? We've taken our kids to Sri Lanka many times and it's been great. So let us help put your mind at rest about trying a holiday in Sri Lanka with kids. I promise to keep it real and honest. I'll give you the good and the bad of family travel in Sri Lanka.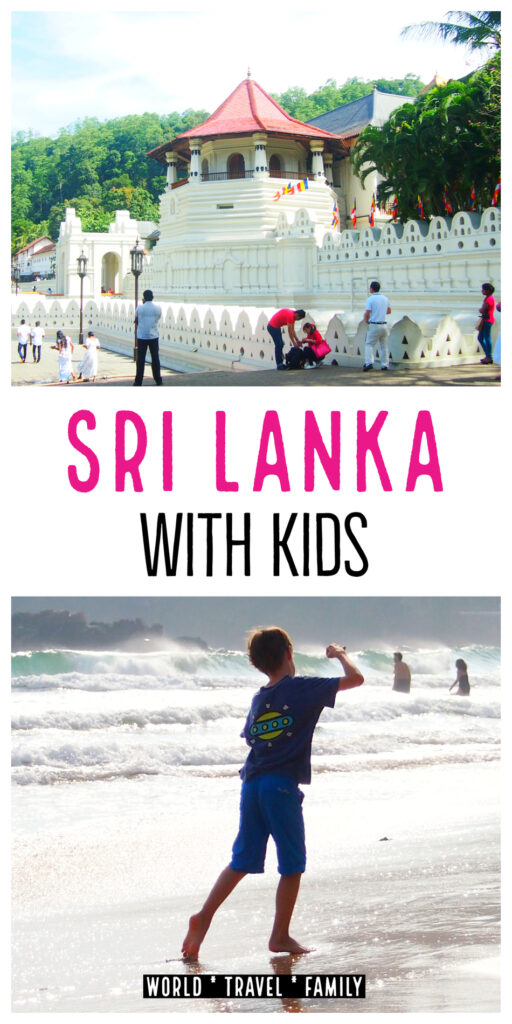 Sri Lanka With Kids
Is Sri Lanka Sensible with Kids?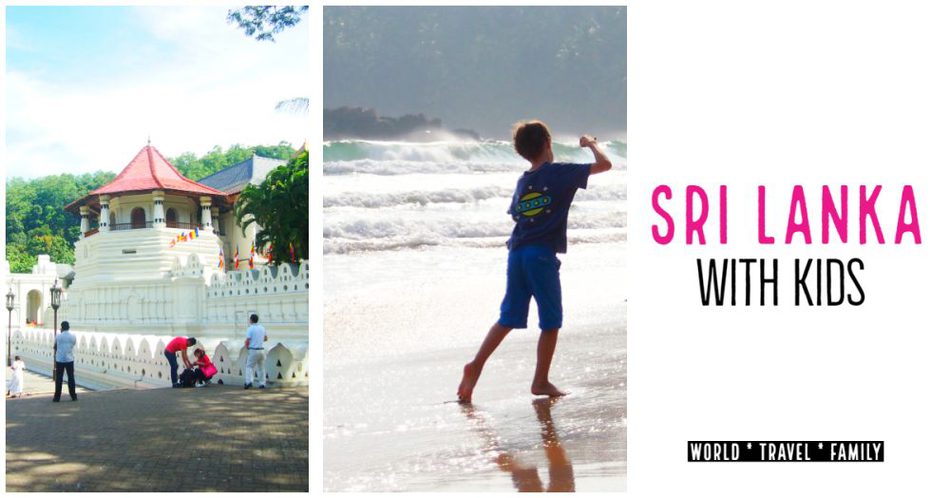 Yes, it is, millions of holidaymakers go to Sri Lanka every year, there is much to see and do that is somewhat child-friendly, and many visitors are families. Sri Lanka isn't as easy and child friendly as other holiday or vacation destinations in Asia in our experience.
Thailand, for instance, is much easier with kids, as is Vietnam.
But that said, Sri Lanka has been a tourist hot spot for decades, I first took a package holiday there almost 30 years ago. The island is popular for good reason and tourism is very well established on Sri Lanka.
So what's easy and what's hard in Sri Lanka for kids?
Kids Getting Sick in Sri Lanka
It's true, they haven't. Mild traveller's diarrhoea, yes, but nothing major or debilitating. My travel companion was very sick in Sri Lanka years ago, amoebas were involved and he saw a local doctor who organised tests and antibiotics swiftly. I've never been sick in Sri Lanka, and neither has my husband.
That's not to say that it won't happen to you but in all honesty it's very rare that we get sick these days, 20-30 years ago, yes. Food hygiene, handling and storage has improved in most parts of the world since we started travelling.
None of us has ever had Dengue or Malaria either. 20 years ago we took anti malarials for holidays in Sri Lanka, now our British GP doesn't recommend them. The World Health Organisation has now declared Sri Lanka malaria free. I love that I've seen these changes in my lifetime.
Dengue fever is another disease caught from mosquitoes. Sri Lanka does have huge Dengue outbreaks, this is something you need to consider. Take precautions against mosquitoes.
Sri Lankan Beaches Child-Friendly?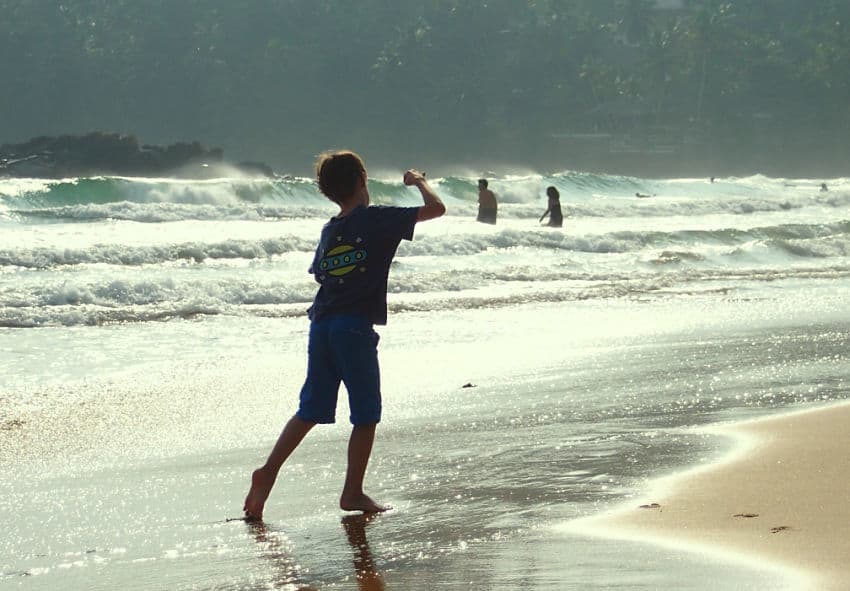 Yes and no. Sri Lanka has some big surf and treacherous rips. A lot of Sri Lanka's beaches could be very hazardous for anyone who can't swim or read the beach, adults or kids.
My boys have really enjoyed playing in the waves in Sri Lanka, particularly at beautiful Mirissa, but they were no longer toddlers and were good enough swimmers. That and their dad and I were with them the whole time. Their dad is a qualified surf life saver.
Some of Sri Lanka's beaches have lifeguards and life guard towers ( Mirissa does) and swimming between the flags is safer than elsewhere.
I've seen adults have to be rescued many times at Hikkaduwa, it's often the beach boys and surfers who come to the rescue when adults fail to spot a rip and don't know what to do when they are in one.
Some beaches are calm, the Coral Garden area at Hikkaduwa for instance. You can feed giant sea turtles here in the shallows but Hikkaduwa is absolutely packed with tourists these days. We have a post on Sri Lanka's beaches here.
No, we haven't been to every beach in Sri Lanka, but we've been to most along the south-west coast and also to the north and north-east beaches.
Sri Lankan Food For Kids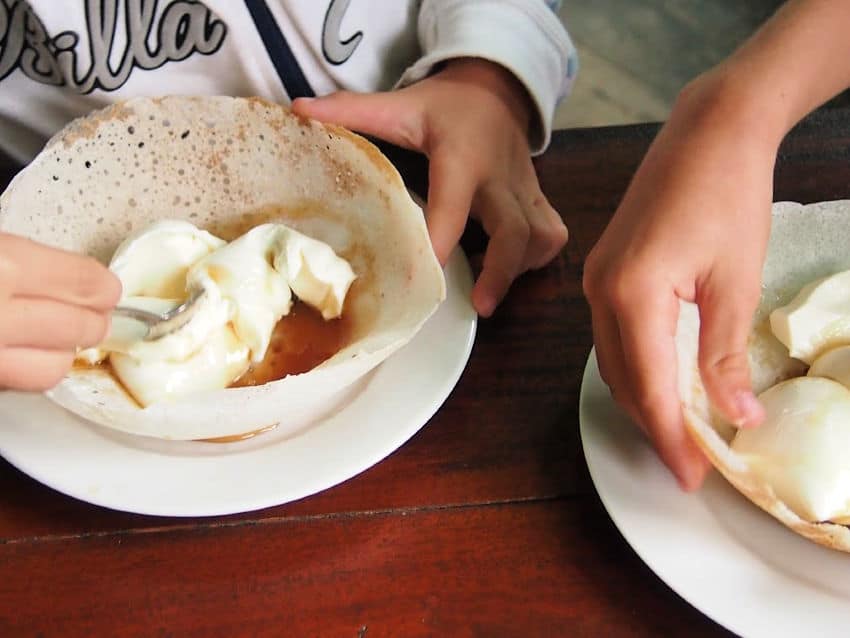 Sri Lankans tend to make their curries very hot. But that's not the only problem in Sri Lanka.
Finding real Sri Lankan food can be very hard and you'll often come up against a very boring tourist menu of chow mein, sweet and sour and fried rice. This may be better for the kids but can be disappointing for adults looking for real Sri Lankan rice and curry.
Hotels and resorts have some of the best Sri Lankan food we've found on the island, outside of one villa with private chef. Hotels will normally also serve a broad selection of western dishes, fruit, eggs and so on. If you book a package holiday to Sri Lanka and stay in a resort hotel, you're almost guaranteed to find buffets that will suit your children, the same as you are in most family holiday destinations.
Traditional Sri Lankan breakfasts are superb, my kids love them, but my kids are good with curry. The curries will (hopefully) come with string hoppers and you need to eat them with your fingers, smooshing them into curries and fresh coconut chutney.
Hoppers are a traditional Sri Lankan snack food and very child friendly. They are bowl-shaped pancakes and you'll see them being made at road side stalls.
Roti and kotu roti, two more street food specialities, can sometimes be way too hot for kids.
You will easily find things like french fries and pizza if that's what your kids need but western food outlets and stores are very thin on the ground. Sri Lanka is very different to Thailand, don't expect Starbucks, 7-11 and Mc Donalds on every street
Convenience stores will sell juice, maybe plain yoghurt (curd) biscuits and sweets if you're stuck.
We have found moderate sized western style supermarkets in Jaffna, Hikkaduwa and Kandy. There will be more in big cities, but along the coast we've not seen many outside big towns.
Getting Around Sri Lanka With Kids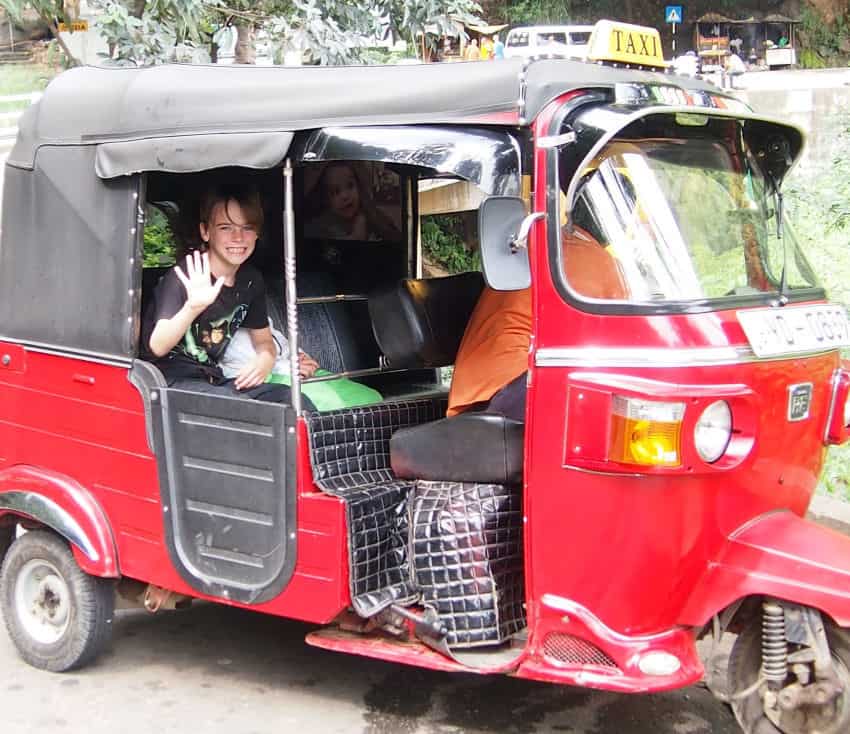 Most holiday makers and two-week vacation tourists book hotels and will be picked up from Bandaranaika International Airport by car or bus. No problems there at all, we've done it several times. Maybe road safety isn't the best but I'd assume hotel buses and transfer cars to be a fairly safe bet.
For independent travellers you can get around using trains, tuk tuks, taxis ( luxury or not), private drivers, tours and local buses. We've done it all ways!
Train travel in Sri Lanka is incredibly cheap and we absolutely love travelling this way, we've been all over the island by train and we think it's fun. However, it may not be what you're used to.
Sometimes, only sometimes, the trains are absolutely packed and you'll have to elbow your way on rugby player style. If you get a seat, share, swap around, be nice. The Sri Lankans are so kind, they've shared seats with my kids many times. Other times we've stood or sat on the floor. I rather like these packed trains, you meet some really interesting people.
I also like the local buses. Sometimes they're packed, but not always. Again, Sri Lankans have always been really kind and helpful to us in finding buses, sharing seats and squashing up.
Some of the buses are old and run down and some zip along on modern highways. They do tend to go quite fast when they can and the ride can be a little hair-raising. Again, buses are incredibly cheap, beware traffic fumes, they can be bad in areas with heavy traffic.
Tuk tuks or rickshaws are everywhere, just be sure to negotiate a fair price before you get in. It's not unusual for 1 tuk tuk driver to latch on to you for your entire stay. Our driver took us to his home and came to our wedding near Galle.
A lot of tourists and holiday makers will arrange private tours and drivers with air-conditioned mini bus style vehicles to get around the island. This is fine, more luxurious and of course more expensive. You can book tours like this in advance, online, see here. Alternatively you can arrange these tours with local agencies once you arrive in Sri Lanka.
Car seats are going to be an issue. You can take your kids' car seats from home and use them where you can. You won't always be able to use them.
Hotels, Guest Houses and Resorts in Sri Lanka With Kids
The top-end holiday resorts are superb, no worries there at all. Most families using these will book in advance and they are affordable compared to western countries.
At the backpacker / traveller end you get what you pay for. We've found that Sri Lanka has got a lot more expensive at the backpacker end of the market in recent years.
Yes you will find family rooms and cots if you look.
Private villas are a good choice for Sri Lanka with kids. This one was top end, with staff and a private chef, this one was more friendly on the wallet and this one, near Galle, was mid range and perfect.
How to Book Hotels, Tours, Transport and More in Sri Lanka
Resources we use for booking holidays and tours in Sri Lanka:
12GoAsia This is the only way ( that we know of) to book buses, trains and other internal public transport in Sri Lanka and 12GoAsia have only just added Sri Lanka to the list of countries they cover. We've been using them forever in Thailand, visit them at our link above.
Agoda. Agoda is, we think, the best booking engine for Asia and we use them 90% of the time, globally. We think they have a wider selection and great deals. They have also given us credits to collect against future bookings. We like Agoda a lot. Click above to scan Agoda for deals and hotels
Skyscanner. Find the best days, dates, routes and deals on flights to Sri Lanka using our favourite tool. Find out how here.
Booking dot Com If Booking.com is your favourite booking tool, use it! Click through here to search Sri Lanka.
Get Your Guide. We like GetYourGuide a lot. You can book everything from airport transfers, to food tours to daytrips to multiple day tours of Sri Lanka. We use them. See what they have for Sri Lanka here and they have a best price or money-back guarantee.
Head here to grab your Sri Lanka guide-book. They are still super useful and make good pre-holiday reading.
Which Airline to Choose to Fly to Sri Lanka
We love using Sri Lankan Airlines, they're a solid, full-service airline and we've had nothing but good experiences with them. Sri Lankan Airlines will normally fly to Colombo from London.
Many airlines fly to Sri Lanka, but regional favourite budget airline, Air Asia, is probably the best known. Air Asia fly to Sri Lanka from China, Malaysia (of course) even Australia usually.
We suggest you check SkyScanner (see the resources section of this post) to find the best routes, days, dates, and airlines.
Things to Do in Sri Lanka For Kids?
There are beaches and pools obviously and hotels with play facilities and kids clubs.
Sri Lanka is incredible for wildlife spotting, so you can easily take your kids to see elephants, monkeys, turtles, even blue whales and leopards. I think this is wonderful for kids. In central Sri Lanka you stand a good chance of seeing wild elephants from the road and I've seen wild turtles laying at night, alternatively there are plenty of safari tours to Yala and of course, there is the Pinnewala Elephant Sanctuary.
Depending on age, you can drag your kids around the cultural sites, ancient cities and UNESCO highlights. My kids have been to pretty much all of them. I wouldn't say that they massively enjoy every cultural and heritage experience, there are some very long, hot days involved, but they enjoy parts and it's hugely educational for them.
Sigiriya is one of the more challenging sights of Sri Lanka for kids, as well as being a magnificent destination. Read about climbing with kids here. There are a lot of stairs, it's very hot, their can be crowds and hornets are an unexpected danger, particularly for kids who may run or make noise.
Anuradhapura (pictured above) is one of the Ancient Cities and that one they did enjoy, but it was a very, very long day.
I've only ever seen one kids' playground in Sri Lanka and that was in Kandy, at the far end of the lake.
Don't expect so many commercial attractions as you'd find in other holiday hotspots, Sri Lanka doesn't really do that.
Sri Lanka With Babies and Toddlers
Nappies and baby formula, can you get baby supplies in Sri Lanka?
My boys were older the first time we took them, so I asked a friend, Hannah of Adventure Travel Family, she was in Sri Lanka recently with three very young children.
If you can find supermarkets you should be fine, but again, this is Sri Lanka, not Thailand. There is a supermarket in Hikkaduwa, Jaffna, Kandy, and most major towns. Smaller convenience stores and large hotels may also carry some items. (Cargills, Keels, Arpico, Star United and Laugfs are supermarket chains to look for)
Important Items to Pack for Kids Visiting Sri Lanka
Make sure you take sunblock (if you use this rather than clothes) and mosquito repellent for your kids. Take your trusted child-friendly formula from home, just to make your life easier.
We highly recommend reusable drinking straws. If you buy them a can of drink or a bottle, you don't want to drink from it directly, use a straw. Nobody likes plastic so carry a set like this. We own them, we use them.
Health Concerns, Vaccinations, Malaria, Dengue and More for Kids in Sri Lanka
We already touched on this in the first paragraph, but talk to your doctor, GP, travel clinic or practice nurse. See what they're recommending for Sri Lanka at the moment. Local instructions change all the time.
Think about measles, mumps, rubella, chicken pox, plus the basics of polio, tetanus and so on. On top of these your doctor may recommend the usual travel vaccinations.
We've never had rabies vaccinations for Sri Lanka, but we now have had these shots for more remote travel.
A French child died recently after being nipped or licked by a puppy in Sri Lanka, his parents didn't seek post bite rabies treatment. Do what will make you comfortable and keep your stress levels manageable.
The WHO has now stated that Sri Lanka is malaria free.
Travel Insurance for Families Visiting Sri Lanka
If you can't afford insurance you can't afford to travel. This is the insurance company we use.
I don't want to put you off taking your kids to Sri Lanka, I just want to keep it real. Sri Lanka is a fantastic country and we've been many times with kids and without, but if you're taking an independent trip to Sri Lanka you might need a little know-how and knowing what to expect is important. False expectations can ruin any experience. Sri Lanka is wonderful and the Sri Lankan people can be some of the best on Earth, enjoy your holiday!