Why go to Sri Lanka' s second ancient city, Anuradhapura? It's a long way north and getting to Anuradhapura ( for us, from Kandy) can be a challenge. For me it was all about a sacred tree. 2500 years ago, or thereabouts, Prince Siddhartha Gautama sat under the Bodhi ( Bo ) tree, and meditated. He cleansed his mind and attained enlightenment, thus earning the title Buddha, the Enlightened One.
The Sacred Bodhi in Anuradhapura (Jaya Siri Maha Bodhi) is probably the oldest surviving historical tree in the world. So how to get to Anuradhapua and how to save a lot of money on the hugely expensive admission fees.
The sapling was brought to Sri Lanka in 249 BC and was planted in the Mahameghavana Park in Anuradhapura by King Devanampiyatissa. A tree has been continuously cultivated in that spot ever since
The sacred Bo tree is said to be the southern branch of the original tree, at Buddha Gaya ( Bohdgaya) in India, under which The Buddha attained bodhi or awakening.
That sounds like a big "Wow" to me.
So we went.
Anuradhapura Sri Lanka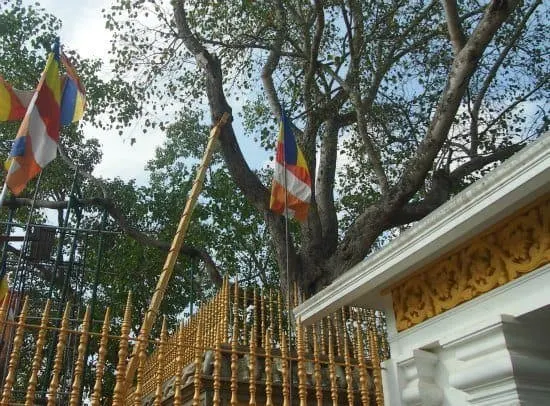 We shared many more images of our visit to Anuradhapura and our second entire month in Sri Lanka on our Facebook and Instagram pages, this post only contains a few. Bad internet and travelling hard this month have limited my posts, but I'll catch up once we get back to Romania.
Getting to Anuradhapura from Kandy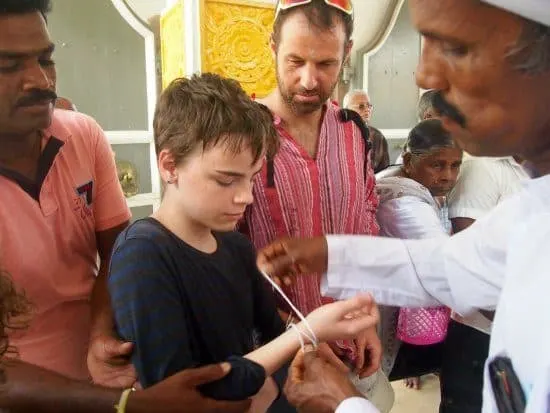 Getting to Anuradhapura from Kandy is something of a labour of love, you really have to want to go to take the local bus for around 4 hours.
Anuradhapura isn't just about the Bo tree, there is a whole UNESCO listed ancient city to explore and most tourists will get there by air con tourist van with private drivers or by organised tours. It's a well-known tourist destination, but with low visitor density.
Buses to Anuradhapura depart regularly from Kandy's main bus station. They pass through Dambulla on the way, so you could break your journey there and take in the ancient cave temples. Cost is minimal, a few pounds for our whole family.
Usually I enjoy a Sri Lankan bus ride, but this one was interminable. I don't know if it was the broken seat, the lack of leg room or the man who kept shutting our window, but for once, I wasn't loving buses. I really can't stress enough how much we normally love travelling in Sri Lanka by bus and train, the people are possibly the nicest and most honest in the world, maybe it was just me having a bad day.
"In Sri Lanka, there grows to this day, a tree, the oldest historical tree in the world which we know certainly to have been planted as a cutting from the Bodhi tree in the year 245 B.C."

– H.G. Wells
Arriving in Anuradhapura and the Scam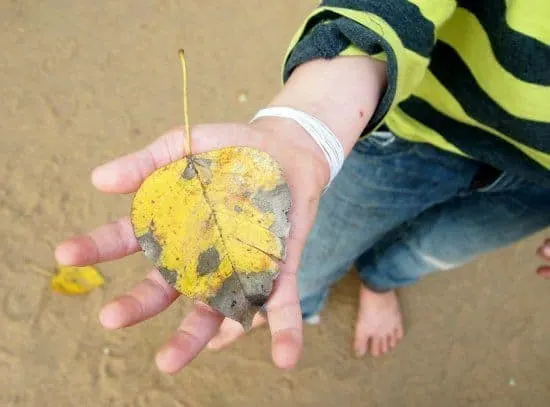 Tumbling from the bus, a sticky bad-smelling mess of adults, children and backpacks, we stood on the pavement grinning happily. This was the first time we'd been somewhere new in a while.
As usual, we hadn't pre-booked a hotel, we trust in the local tuk tuk drivers to find us somewhere nice, it usually works out better for us.
A driver appeared within the usual half a second, smiling rom his green 3 wjheeler, and offered to show us a guest house. " Cheap fare, 100Rps".
When they offer cheap fares there's always a catch.
There's a scam in Anuradhapura. Approved admission tickets to the whole site cost a lot, around £15, $30 US each for 1 day admission.
Tuk tuk drivers can get you to most of the places of interest, including the Bo tree, without buying a full admission ticket, the guest houses are in on this and offer low prices on accommodation, 4,500Rps (£25) seemed standard ( including air-con and breakfast) so that you will stay and then pay through the nose for a tuk tuk driver to take you on a tour the next day.
Our driver showed us 3 guest houses before we found one we were sort-of happy with. It wasn't nice, but it would do.
The guest houses also make money through over-priced food. We ate at our guest house that night, it was good, but expensive, before hearing the hard sell on the next day's tuk-tuk tour.
I'm polite, I listen and smile, I take in all the information, but if you try the hard sell on me I lose sympathy.
Sorry, I'm not playing that game.
Visiting Anuradhapura and the Sacred Bo Tree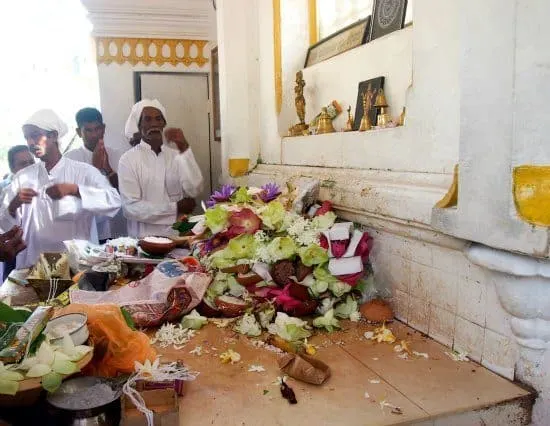 The next morning we set off to walk into town, I wasn't happy to pay 6000 Rps (£30) for a tuk tuk tour. We were in half a mind to just skip the whole thing and move on.
Our driver from the day before spotted us walking down the street looking for caffeine ( coffee is a problem here, but there is Diet Coke!). He had a nice smile and was incredibly persistent, eventually we agreed to go with him on a half day tour ( to the same places as the full day 6000Rps tour) for 2000Rps (£10 $14 US).
I'm glad we did because this guy was the business. That nice smile never left his face as he showed us the sites and shepherded us through temples and ruins. He joked with the kids, protected us from a herd of water buffalo and helped us skirt a very large snake ( all pictures on our Facebook page). He didn't just drop us at the main sites, he came with us, made sure we got a blessing at the sacred tree and didn't miss a thing. His English wasn't the best, but he filled in a few gaps in our knowledge.
We payed just 50Rps in addition to his fee, that was for somebody to guard our shoes at the Bo tree site, there were no other admission charges.
We made this pin for you to bookmark to Pinterest, thanks!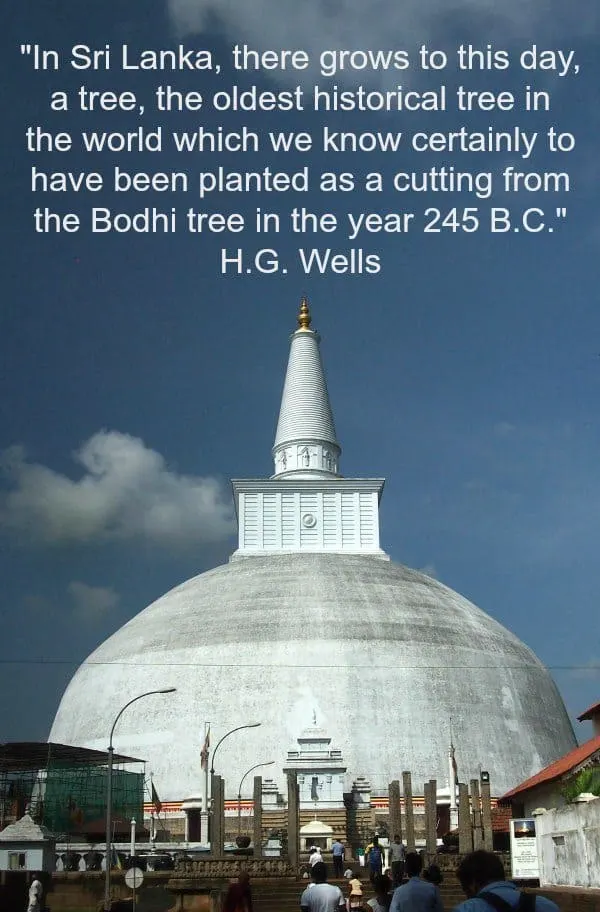 Admission Fees and Tickets at Anuradhapura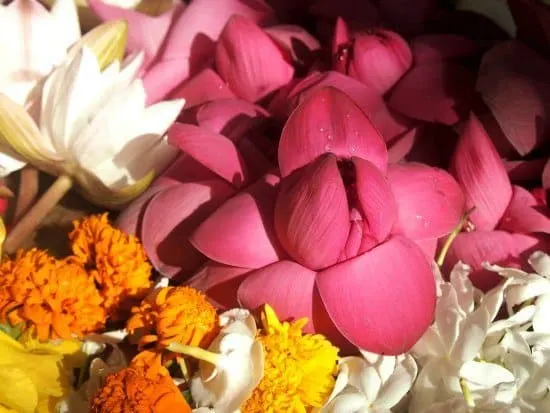 Admission charges at Anuradhapura are high, this is something you see all over Sri Lanka, it's disappointing, but these sites do take a large amount of man-power and upkeep ( so they say).
The ticket allows you access to the full site for 1 day. I've read that 1 day isn't enough to see everything and our experience would suggest this is fair. After half a day we'd seen around 8 sites and we'd had enough, we were ready to stop and get out of the heat.
Anuradhapura tickets cost over 3000 Rps each. Children are, sometimes, half price.
You will also have to pay for a tuk tuk driver or, tour the site by bicycle.
The ticket is for entrance to the roads around the site, there are frequent road blocks and ticket checks. At least 2 of the sites have additional 200Rps entrance charges.
Our driver just drove straight through a couple of road blocks but bikes ridden by westerners were turned around.
Interestingly, Chef ran around the site later in the day and nobody tried to stop him, so maybe you could get around some of the complex on foot.
The sacred tree, its associated temples, the palace ruins, the alms hall and the huge, white stupa surrounded by 100 elephants are all basically one site, they're easy to walk around.
Is it Worth Going to Anuradhapura?
Absolutely yes!
We were surprised how much we enjoyed it after so much negativity in the travel blogs we'd read.
So far, this tour has been the highlight of our time in Sri Lanka, possibly because it was a completely new destination for us.
Anuradhapura town is nothing to write home about, just a busy little street, a couple of bus and train stations and small guest houses sprawling off into the countryside. We didn't like the hard sell very much, it spoils the experience of visiting Anuradhapurna slightly, it's disappointingly un-Sri Lanka. There are places to buy food on the main street, there is even a Pizza Hut, but no touristy restaurant/bars as you see in the beach towns.
We're surprised that Anuradhapura isn't more of a backpacker trail must-do, for us it was up there with Hampi or Angkor Wat. We'll post further about some of the amazing places to visit in Anuradhapura just as soon as we can, we have much more to share.
If you'd like to hire a car during your stay, use this car rental comparison tool to find the best deal!

We also suggest you take a look at this company to get a quote for all kinds of travel insurance.

Try Stayz / VRBO for an alternative way to find rentals on homes/apartments/condos in any country!