From now on, when people ask me where to stay in Sri Lanka, I'll tell them Mirissa Beach. I think I've found my Paradise, my happy place. Sri Lanka on the whole brings me enormous joy, but the little beach village of Mirissa is, I think, as near to perfect as I'll ever find. After months spent in Sri Lanka, over many years, Mirissa Beach is the place we keep coming back to. Read more below.
[cmtoc_table_of_contents]
Mirissa Beach Sri Lanka, Why We Love It
Right now I'm sitting in a shady spot drinking tea from a china cup watching a monkey happily munch on a mango up in the tree. I can hear the crash of the waves from the beach and little three striped squirrels are rushing about on the grass.
Earlier there was a wild peacock perched on a neighbouring roof. Staying in Mirissa, just soaking it up, is not too shabby at all.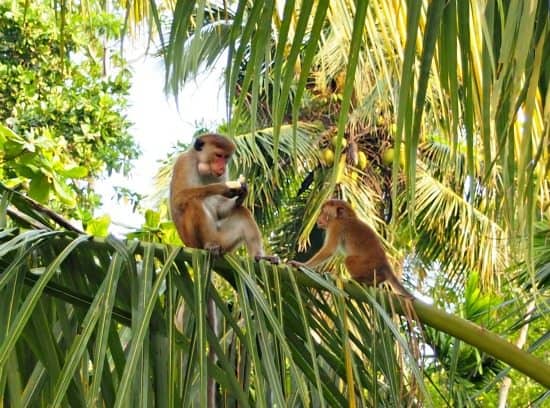 Two easy bus rides south of Hikkaduwa, changing at Galle, things quieten down a lot. There are no more big hotels and pizza restaurants, although it looks to me like current building rates will change that soon. All that we have in Mirissa is a perfect beach, the main coast road that runs the length of the country lies just behind with a few rudimentary shops and local style eateries and beyond that, the village, nestled into the abundant greenery. That's all that's here and it is perfect.
The beach is the cleanest I have ever seen, I haven't spotted even one piece of washed up plastic or litter. The sea is crystal clear and warm, but not too warm. The surf is huge, there are rips, you need to read the sea but they don't stop the waves being the best fun even for small children. At the north end of Mirissa Beach the surfers look very happy with the break.
The sand is dotted with beach shacks and restaurants, mostly simple bamboo and palm frond affairs, no big developments. For me that is perfect, I love to have a shady table to sit at while I watch the children play in the surf. Better yet, a shady table with cold beer and great curry at reasonable prices. At night each table has a candle, each palm tree its own fairy lights. I really don't think I've seen a prettier curve of sand.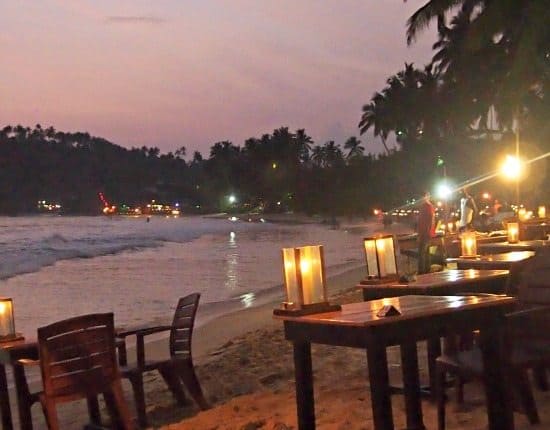 A large Lion beer on the beach is under $2, a few cents more buys you a cocktail during the evening happy hour. Chef's pina colada and my mojito were both excellent.
If you eat on the beach prices are relatively high. A tuna steak, chips and salad set us back just under $5, fish curry and rice $3, fried squid rice and salad $4.
Eat at the simpler restaurants on the main road or in the village and family lunch can be as cheap as $1.50 for 4 small, but filling, vegetable roti.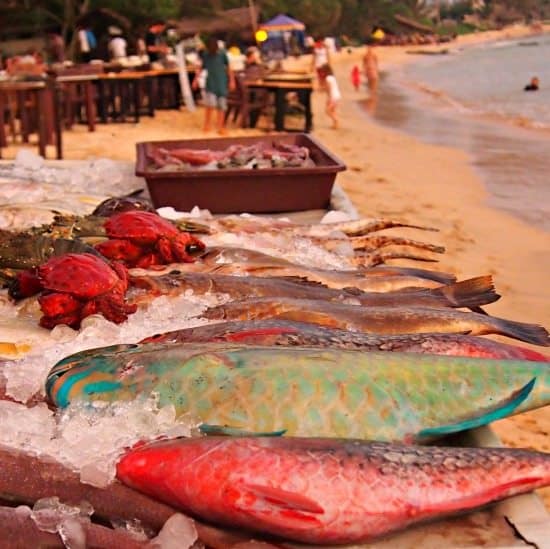 How to Find the Best Accommodation Deals for Mirissa Beach
Agoda is normally considered the best online booking engine for hotels resorts and hostels in Asia. They are local specialists and can often access the best deals. We'd suggest you try them. You should also check Hotels Combined. This company checks multiple online booking sites, including Booking dot com, to find you the best possible price for your dates. Hotels Combined does not check Agoda , so you still need to check them separately. If you're looking for fully refundable deals, maybe you're booking a long way in advance, then Booking.com is usually your best choice.
There are a few rooms to rent on the beach but we opted to stay in the village. We're currently boarding with an elderly Sri Lankan couple. For under $20 per night we have our own bathroom, large double and single beds, mosquito nets and fans, it's perfect. It's not too hot here, the rooms seem to be plenty cool enough without air con. This couple now owns the excellent Tithira Guest House.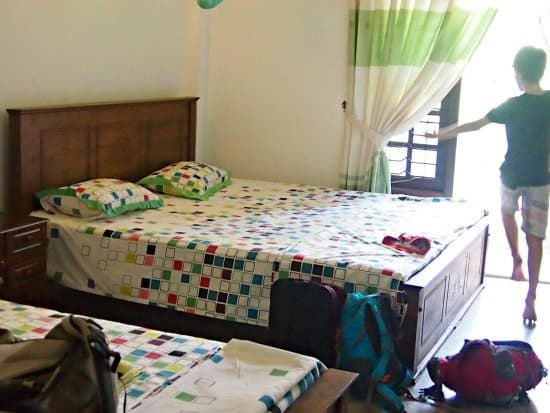 These houses have lovely gardens, the place we stayed in last night (Riverside Cabanas) had a large expanse of grass running down to the riverside and a resident troop of monkeys. The riverside walk is cool, green and shady, watch out for the huge monitor lizards. As we walk home from dinner in the early evening we always see fireflies in the greenery.
There are plenty of private homes turned guest house, everybody seems to be building a block of rooms on their land, they're cheap ( all around 2000Rs $16 at 2014 prices, they charge more now, see below), clean and new, but tourism hasn't taken away the village feel of Mirissa. A local fisherman sells his catch on the corner, opposite is a fruit and veg stall. People say hello to strangers.
Check out our hotel, guest house and villa recommendations at the bottom of the page based on 2016/ 2017. From budget to luxury.
The Sri Lankans are lovely people, I've already posted about their beautiful manners and good looks in Why Visit Sri Lanka? If you can make it this far south, Mirissa is a real treat. Hikkaduwa was more like this 12 years ago, the first time I came but sadly that's no more.
The big draw in this area is the incredible whale watching, I posted about it yesterday in We Saw A Blue Whale! Now we've done that we're just going to stay here and relax for a while, enjoy the beach, the wildlife and old-fashioned Sri Lankan hospitality.
We've only been here 36 hours, we haven't fully explored yet, but as I sat listening to reggae under a palm frond roof this afternoon watching the boys play, I couldn't have been any happier. This is it, my paradise, what I've been looking for.
Since 2014, when this post was first published, we've been back to Mirissa 4 times. It's still our favourite beach area in Sri Lanka but every time it gets busier and more developed. Despite this, we still highly recommend Mirissa.
Weligama or Mirissa Beach ?
You could choose to stay in Mirissa itself or in the larger bay immediately to the north, Weligama. Here you will find stunning Taprobane Island and still see plenty of fishing activity and fishermen selling their catch near the beach. Weligama has all sorts of accommodation including larger hotels. It is a short bus or rickshaw ride to Mirissa. We feel that Mirissa has a much better beach.
Hikkaduwa or Mirissa Beach?
For us Mirissa wins hands down. Hikkaduwa is a far longer stretch of beach and the southern end is still quieter, but the northern end, near the harbour and coral gardens is horribly over touristed. It's sad to see. Mirissa will no doubt go the same way in a couple of years. Hikkaduwa is a shorter drive from the airport and has abundant large hotels catering to package tourists.
Mirissa or Unawatuna?
It's hard to pick between these two. Unawatuna town is still very nice and if you look for them there are some great places to eat and abundant small shops. However, Unawatuna is undoubtedly more "spoiled" by tourism. That said, Mirissa could be too quiet for some tourists looking for a 1 base holiday. Unawatuna is much bigger. Unawatuna's proximity to beautiful Galle Fort and Markets is in its favour. Jungle Beach, Unawatuna, allegedly a "secret" beach, is over-run with tourists but the sunset spot with its huge crashing waves is well worth seeing.
Mirissa Beach Sri Lanka Recommended Guest Houses, Villas, Hostels and Hotels
Mirissa Beach Hostels for Single and Couple Backpackers
Section under review, sorry. Back soon.
Mirissa Beach Accommodation at Affordable ( Budget / Cheap ) Prices for Families ($25-$60 for 3-4 people)
We update our Mirissa beach accommodation posts each time we visit along with this page. We find that places change, new hotels go up, hotels change hands, these are our most up to date favourites.
In 2016 we re-visited Mirissa to update these old posts and fill in some gaps. These are our current recommendations. Mirissa Beach is busier now, but it's still our favourite beach spot in Sri Lanka and we've tried most of them. ( See our Sri Lanka travel blog home page, we're in the process of updating after our last 1 month trip visiting Jaffna in the north and the east coast.)
For 3 People try:
Celestial Inn is a lovely place to stay in Mirissa Beach. The standard in 2017 is higher than during our 2 stays in 2014, they've added great touches such as hair dryers and complimentary water. The gardens have matured and the property is very visually appealing. In 2016 we visited during peak season, February, it was hard to find rooms, we would recommend that you try to pre-book.
*Note* Celestial Inn will only accept bookings for 3 people/room, not 4, online ( at time of publication) although we have stayed there 3 times as 4 people so it's worth checking out.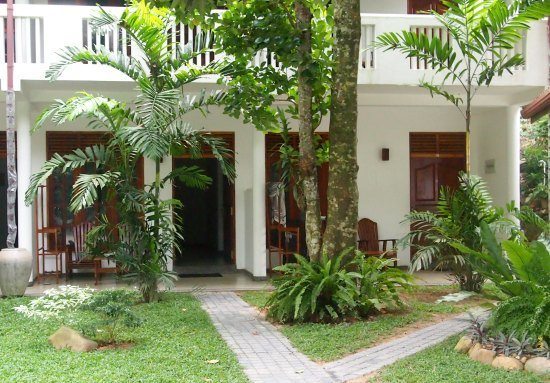 On The Rock, we used in 2016. Again, this one only takes bookings for 3 online. This place wasn't built in 2014, it's new and spacious with 3 good sized beds each with attractive mosquito nets. The build quality isn't great, I can see them having damp problems in years to come, but right now this place is a great choice. It's next door to Celestial Inn.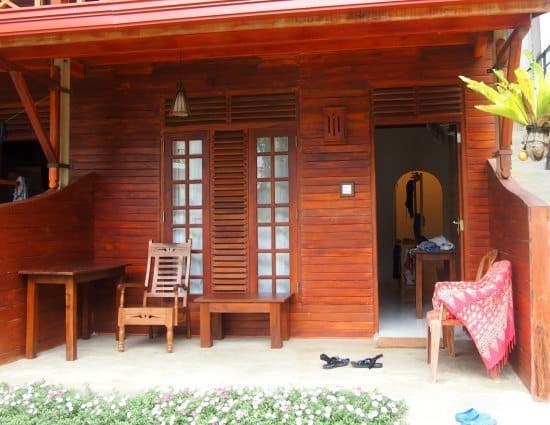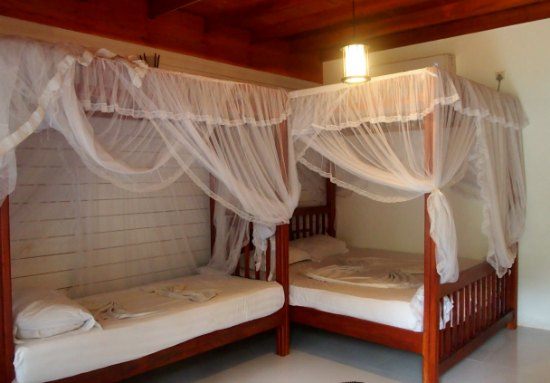 For On The Rock find rates and availability on Hotels Combined here. ( currently unavailable) Alternatively, find on The Rock Hotel on Agoda, here.
For 4 people try:
Both of the options below are very nice, we've used them.
We tried 2 other budget guest houses in Mirissa in 2016 and wouldn't recommend either.
You can find more detailed reports on the 4 hotel/guest houses above in "Cheap Family Accommodation, Mirissa Sri Lanka" None of these 4 are absolutely bottom end, you will find cheaper, but we've tried a couple and they just weren't good enough for us. These 4 offer best value for money and comfort.
The High Mid- Luxury Hotels and Villas on Mirissa Beach
Although we haven't tried these luxury hotels and villas in Mirissa, we have tried many luxury properties elsewhere in Sri Lanka and have found the standard to be superb. You certainly get more for your money in Sri Lanka than you would elsewhere. All of the hotels and villas below can accommodate 2 adults, 2 children. All of the hotels below are on Mirissa beach, not Weligama. We think Mirissa is a much nicer beach choice. All have very good – excellent Agoda reviews.
Riso and Amour Beach Villas by Lantern ( see them on Agoda Here) Luxury Villa, 4 bed, 4 bath. Sleeps 9 from $670 US/night. Check them out on Hotels Combined Here-unavailable
Ocean Villa Ranmanik ( see them on Agoda Here) Deluxe Villa, 5 bedrooms from $259/night. Breakfast included. Check them out on Hotels Combined Here- unavailable
Palm Villa Mirissa ( see them on Agoda Here) Room for 4, sea view from $89.90/night. Breakfast included. Check them out on Hotels Combined Here-unavailable
Would you be prepared to save this to Pinterest? Thanks!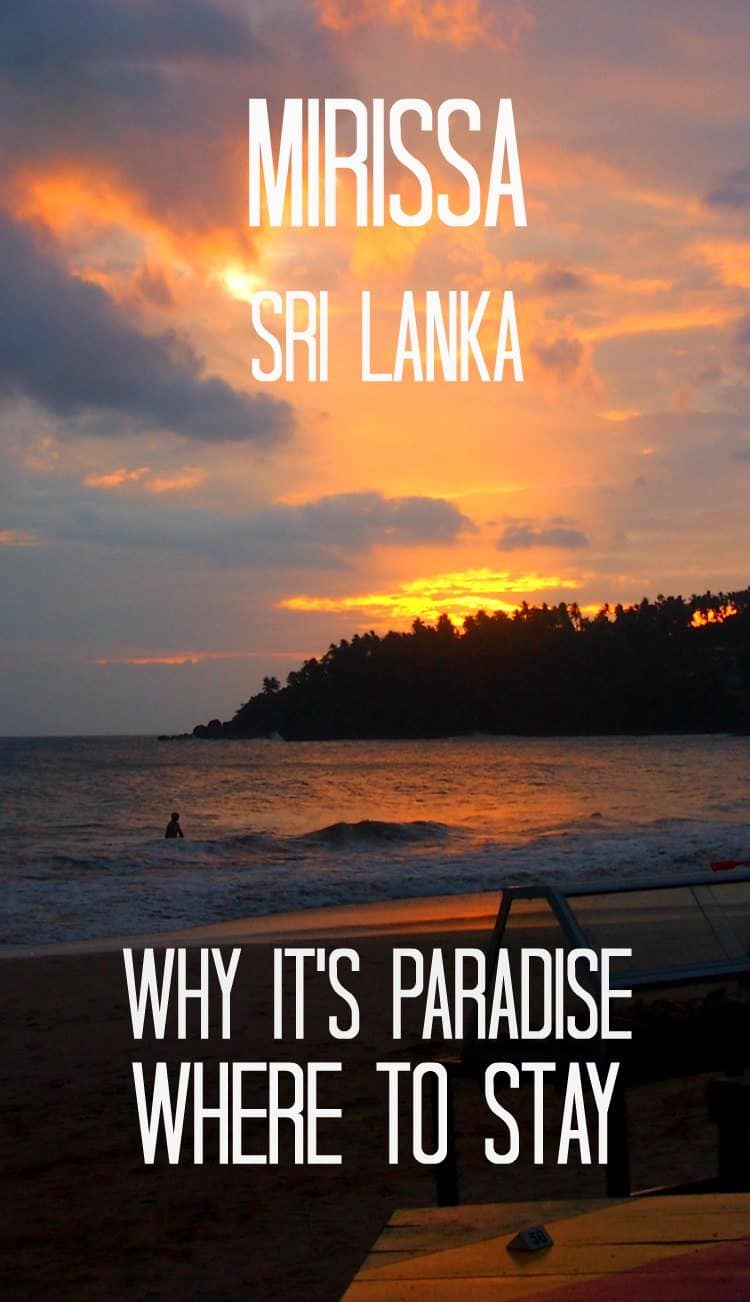 Where to Eat in Mirissa Beach
Wadiya, in our opinion, still has the best every-day food on the beach. You'll spot Wadiya easily, it's usually the busiest. Service is good and the staff are friendly. As everywhere on the beach, be cautious with fish, it's often not so fresh.
We've tried to get into Mirissa's top beach-side restaurant, Zephyr, but unfortunately it gets fully booked. If you want to try it fly by when you arrive and make a reservation.
There is now a real coffee shop in Mirissa on the main street, village side, towards the north end of town. This is a real luxury in Sri Lanka.
For real Sri Lankan breakfast or curry and rice, roti, etc, we still recommend Samagi creamery and roti shop.. It's just before the bridge, main road, village side and is ultra cheap and authentic.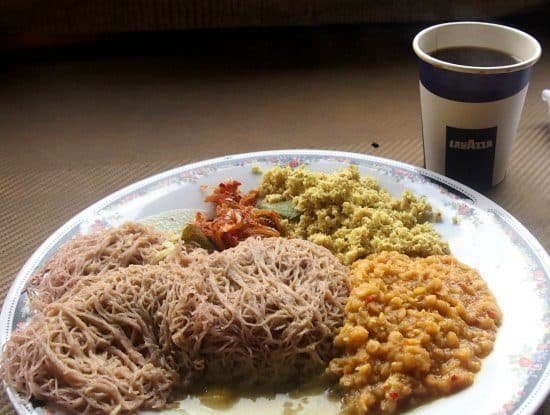 Visit our Sri Lanka travel page for full information on travel in and to Sri Lanka. We hope you enjoy visiting and staying in Mirissa Beach as much as we have.