This post may contain affiliate links.
Hikkaduwa is full of great value hotels and guest houses at all price points and this post covers where to stay in Hikkaduwa for all kinds of travellers. The beach-side town of Hikkaduwa is much bigger these days and there is a reason for that, it's a lovely spot. Options for staying in Hikkaduwa include resort hotels, budget backpacker places and everything in between. We've even rented a small villa here, there is something for budget lovers and luxury travellers. The town backs onto lush rainforest, the beach is great for surfers, has a spot for snorkelling and the southern-most end is still deserted and tranquil. We've scuba dived from Hikkaduwa and there is a turtle hatchery just north of town. As with all destinations in Sri Lanka, you will find plenty of travel agents wanting to organise tours for you to the ancient sites and Pinnewala elephant orphanage. If you're up to getting around Sri Lanka solo, it's easy to hop on the bus or train in Hikkaduwa too.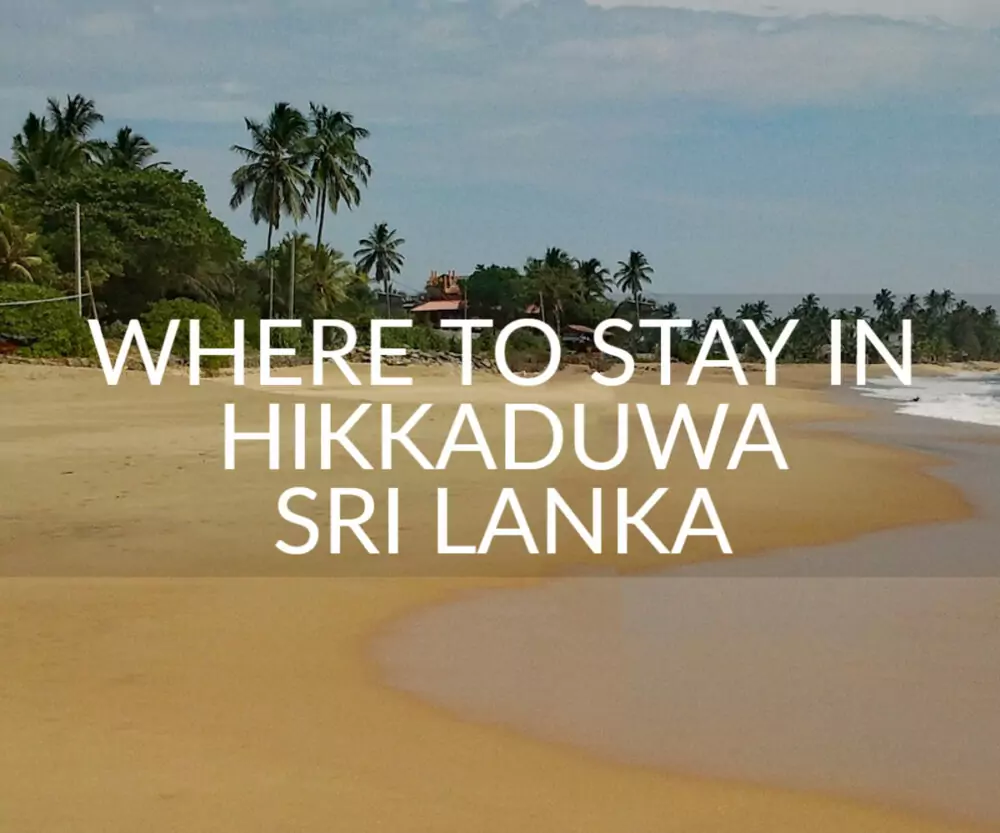 There are plenty of shops and restaurants, on the beach at Hikkaduwa or on the road and transport connections to the airport are good. Going south the beaches become quieter, but the journey becomes longer and longer. We went further south and loved it, but Hikkaduwa can be far enough, particularly if you only have a couple of weeks.
If you're searching for a place to stay in Hikkaduwa, we suggest you start here. We tend to arrive at our destination and search on foot for rooms when we are backpacking. That won't work for most holidaymakers or people on vacation in Hikkaduwa, so check out what's available online. Also, if you're travelling at busy periods (Christmas and New Year, book in advance). We've also stayed in two beach-front, more upmarket hotels in Hikkaduwa, both were excellent stays but not really top-end luxury.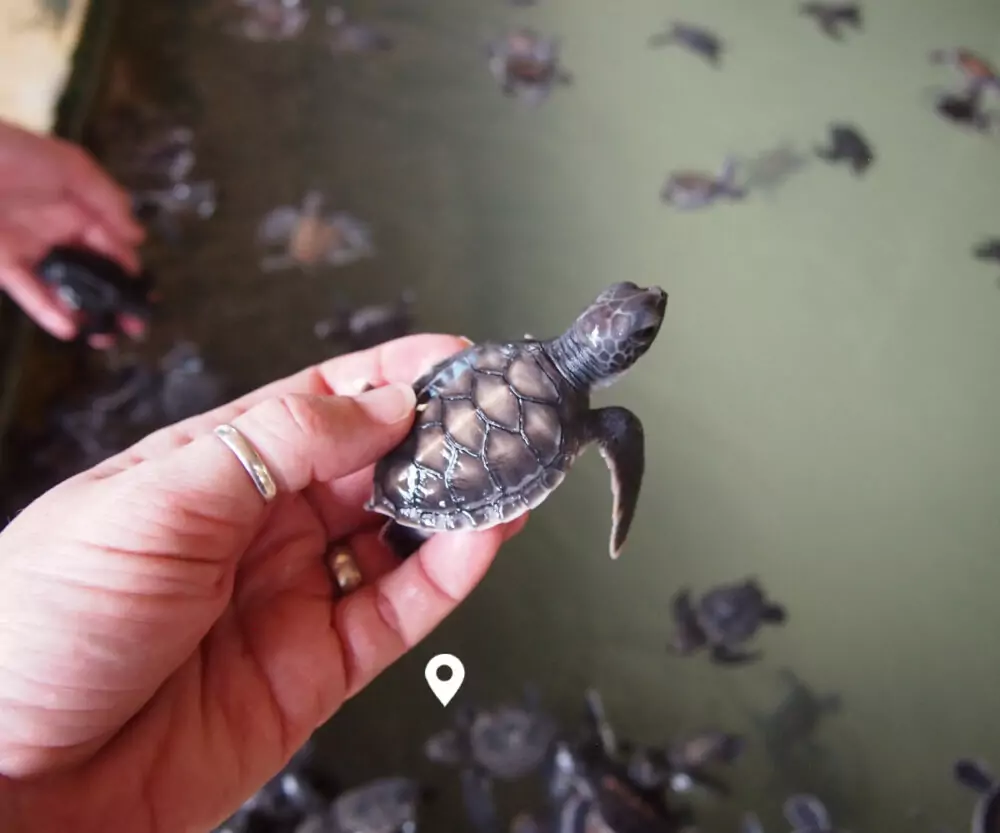 Hikkaduwa is famous for turtles. This is the only place in the world where I've seen a turtle laying her eggs on the beach after dark. A walk along the beach in the evening could bring you an amazing surprise! If not, there are turtle hatcheries nearby.
They say that Hikkaduwa is a good place for snorkelling, there is some coral, but the rough seas, although protected at the Coral Gardens, have never given us good visibility. We have gone scuba diving from Hikkaduwa, it was pretty good, there was a wreck to see, but the visibility was pretty average.
Where To Stay in Hikkaduwa
We're going to cover where to stay in Hikkaduwa at all budget points from cheap places to stay to the most luxury resorts. All can be good options depending on your travel style.
Where To Stay in Hikkaduwa – Cheap
Hikkaduwa, and most of Sri Lanka, has very cheap accommodation. At the budget end consider hostels, guest houses, cabins and cheap hotels. The lowest prices are under $10 per night US.
What puts up your costs in Sri Lanka is admission prices to ancient sites, these will very quickly eat up your holiday budget.
For a cheap place to stay in Hikkaduwa, take a look at Star Holiday Resort, it has very cheap rooms for 2,3 and 4 people, plus a pool, including apartment-style rooms that will allow you to self-cater.
Where To Stay in Hikkaduwa – Family Hotels and Villas
Hikkaduwa doesn't have a huge number of properties with family rooms suitable for a family or 4 or larger family with kids. The following hotels, villas, and apartments do have family accommodation. Triple rooms for a family of three seem to be more common in Hikkaduwa.
Where to Stay in Hikkaduwa – Most Luxury Resorts
The best luxury hotels in Hikkaduwa are usually considered to be the following.
My pick out of all of these for a luxury hotel in Hikkaduwa would be Riff Hikkaduwa (see it here) this hotel has 5 stars awarded on Booking dot com, great reviews, and is on the beach. We have stayed at some of the hotels in the list above and to us, they weren't really very luxury.
Where to Stay in Hikkaduwa – Mid-Range Hotels
Where to Stay in Hikkaduwa – Hostels
There are a few backpackers hostels in Sri Lanka with prices from under $10 per night. These include Kind and Love Guesthouse and Hostel and Travellers Hostel.
Hikkaduwa Sri Lanka
Where is Hikkaduwa Sri Lanka?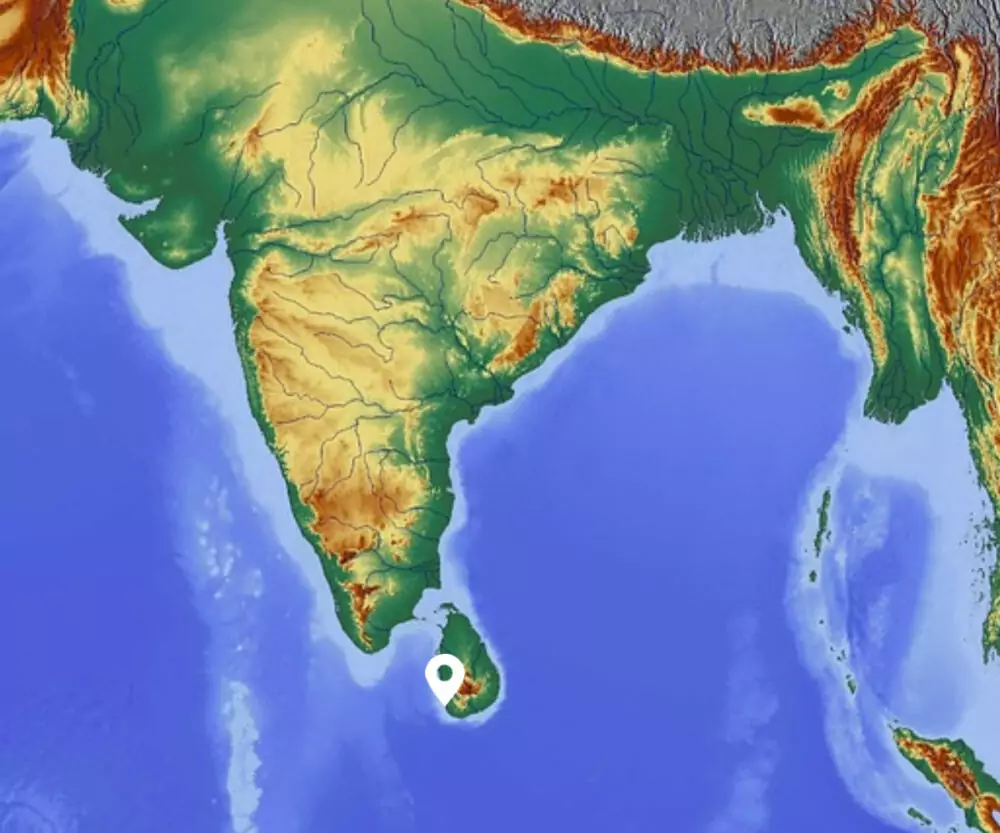 Hikkaduwa is a beach holiday destination on Sri Lanka's southwest coast. The main international airport in Sri Lanka, Bandaranaike International Airport near Colombo. Colombo was the capital of Sri Lanka from 1948 to 1982, today the legislative capital of Sri Lanka is Sri Jayawardenepura Kotte (known as Kotte) which is also in the urban area of Colombo. Hikkaduwa is 114 km, about 70 miles, south of Colombo, the drive time is about 2 hours on the Southern Expressway, the coastal road and coastal train track south from Colombo are far more picturesque but the drive time would be longer.
Hikkaduwa is only about 6 degrees north of the equator, putting it in the northern hemisphere. Hikkaduwa is in Asia and Sri Lanka is part of South Asia, not Southeast Asia, and is part of the Indian Subcontinent. The country of Maldives is to the south of Sri Lanka and it's easy to combine these two destinations in one trip. Hikkaduwa is in the tropics, lying between the Tropic of Cancer (northern limit) and the Tropic of Capricorn (southern limit). Hikkaduwa enjoys a tropical or equatorial climate.
Hikkaduwa, Day Trips and Places to See Near Hikkaduwa
Galle is south of Hikkaduwa, only about 20 km away. You can take the local bus or catch a tuk tuk or taxi to see Galle (half an hour or so). Galle is a great day trip from Hikkaduwa. Colombo to Galle by train can be a really beautiful ride along the coast. It is possible to visit Udawalawe National Park for a wildlife safari from Hikkaduwa, You can also visit Yala National Park from Hikkaduwa. Check out these tours here.
Hikkaduwa Sri Lanka – Best Time to Visit
Sri Lanka is one of the hottest countries in the world, with hot temperatures year-round. The island of Sri Lanka has 2 monsoon seasons which complicates the weather. The best time to visit Hikkaduwa is normally January to March. We have spent Christmas time in Sri Lanka twice and did experience a few days of rain. January is the driest time in Hikkaduwa, but you could still see some rain. May is the wettest month in Hikkaduwa.
Hikkaduwa is a popular winter sun vacation destination in Sri Lanka, being not too far from the airport.
Where We Stayed in Hikkaduwa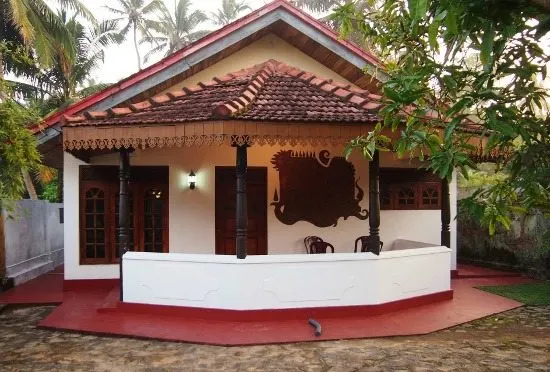 This was a very budget family trip to Hikkaduwa, backpacking the island with kids for over a month. Previously we have visited Hikkaduwa on vacations and used some of the hotels mentioned above.
OVC Villa (Part of Ocean View Cottages Hotel) Hikkaduwa
Cost per Night: $35 to $50 depending on where you book. The accommodation's own website is cheaper than an online booking agent, this is very rare. We could not negotiate any sort of long-term discount with this owner.
Number of Beds: 2 double beds, in separate room. It's a little house.
What we got for our money: A gorgeous little 2 bedroom house inside its own walled garden. We had a full kitchen, a large living area and lots of books and games. The main hotel is on the other side of the road, on the beach, they have a small pool that Villa guests can use. The promised wi-fi wasn't installed until our last night in the villa, which was rather annoying, but it worked really well. The wi-fi in the hotel was way too slow to even check my email.
Negatives: Noise! The railway line is behind the villa, the main road is out front. The noise is phenomenal. In odd places, such as the light switches, the villa was disgustingly dirty, I got to work with my wet wipes. Mostly though, it was very clean.
Our Verdict: We really enjoyed staying here, it was such a luxury to have our own little house. Hikkaduwa is great. We managed to sleep through the train and bus noise without too many problems. If you like peace and quiet, don't even think about staying here!
There are plenty of guest houses with cheaper rooms nearby. We didn't move because we were settled into our villa and we had flu.
A reader of our Facebook page asked for more shots of the inside of the house. I took some, but this was where my very sick camera went completely haywire. This was the best I could do.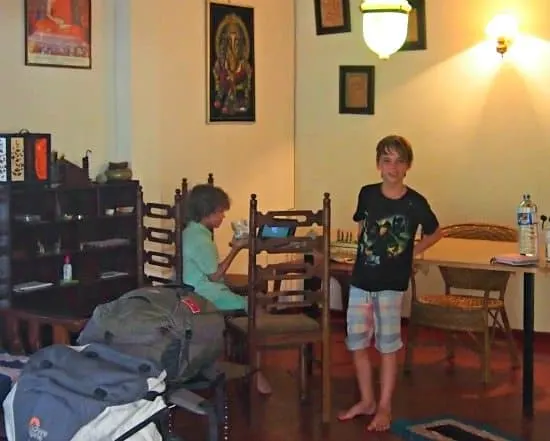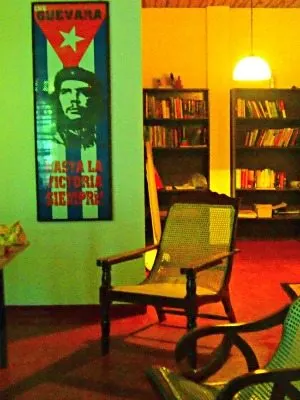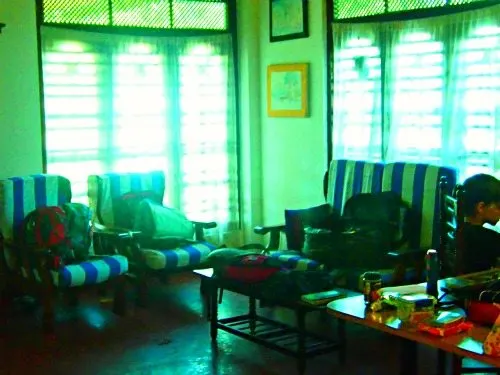 This is a very old post from the early days of our travel blog, for better information on travel in Sri Lanka and where to stay please visit our Sri Lanka Travel home page. I'm in the process of updating this post on staying in Hikkaduwa with more options on where to stay
If you'd like to hire a car during your stay, use this car rental comparison tool to find the best deal!

We also suggest you take a look at this company to get a quote for all kinds of the more tricky adventure or extended travel insurance.

Try Stayz / VRBO for an alternative way to find rentals on homes/apartments/condos in any country!