This post may contain affiliate links.

Cheap Family Accommodation Negombo Sri Lanka.
Mazz Homestay Negombo
I found Mazz Homestay through one of the hostel booking websites. They have a 4 bed room, described as a 4 bed mixed dorm, which does just fine as a family room. A taxi from the airport to Mazz homestay cost us around $12. We should have taken the bus or a tuk tuk.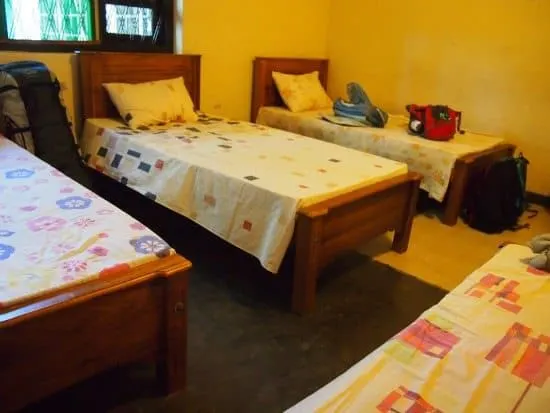 Cost per Night: $27
Number of Beds: 4 singles.
What we got for our money: Shared clean-ish bathroom and a very basic clean-ish room with OK wifi. Fan only, no mosquito nets provided. We used our own. There were one or two mosquitoes in the house but the room was fully screened.
Location: Good, very close to the Negombo bus station and not far from the airport.
Negatives: Very basic, nothing fancy here at all.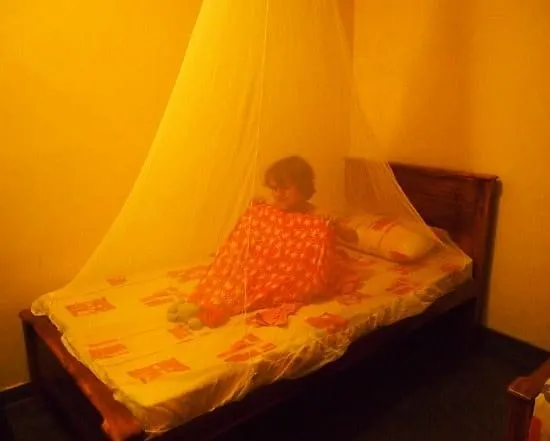 Our Verdict: This place was fine for an airport stop over. It was simple but the location was great and the owner and other guests were very pleasant indeed. This accommodation is a converted house in a residential area, we liked that. Everyone had a smile for us in Negombo. That's very typical of Sri Lankans, they rock!
Just up the road, past the bus station is a great little "hotel" or restaurant We ate for under a dollar total, simple food, egg hoppers and roti. I have to mention this place because of the fish. They had a huge tank for a trio of Amazonian arapaima (I think). If you're staying here go check it out, it's a bit odd.
Back to our main Accommodation in Sri Lanka page
If you'd like to hire a car during your stay, use this car rental comparison tool to find the best deal!

We also suggest you take a look at this company to get a quote for all kinds of the more tricky adventure or extended travel insurance.

Try Stayz / VRBO for an alternative way to find rentals on homes/apartments/condos in any country!