This post may contain affiliate links.
Where to stay in Mirissa? Finding good, (cheap or luxury) Mirissa accommodation for families is generally easy, there is plenty of it and most places are really pleasant. We absolutely love Mirissa and we've visited multiple times. It's our go-to beach destination in Sri Lanka for quieter stays and our kids' favourite beach. We stayed at Celestial Inn for parts of both visits, that tells you a lot. All of the hotels and guest houses mentioned in this post have room for a family of 3-4+ and prices range from about $20- $60 per night. Of course, they will have rooms for couples too. We've tried a lot of accommodation options, full reviews of some are at the end of the post, see the blog index below.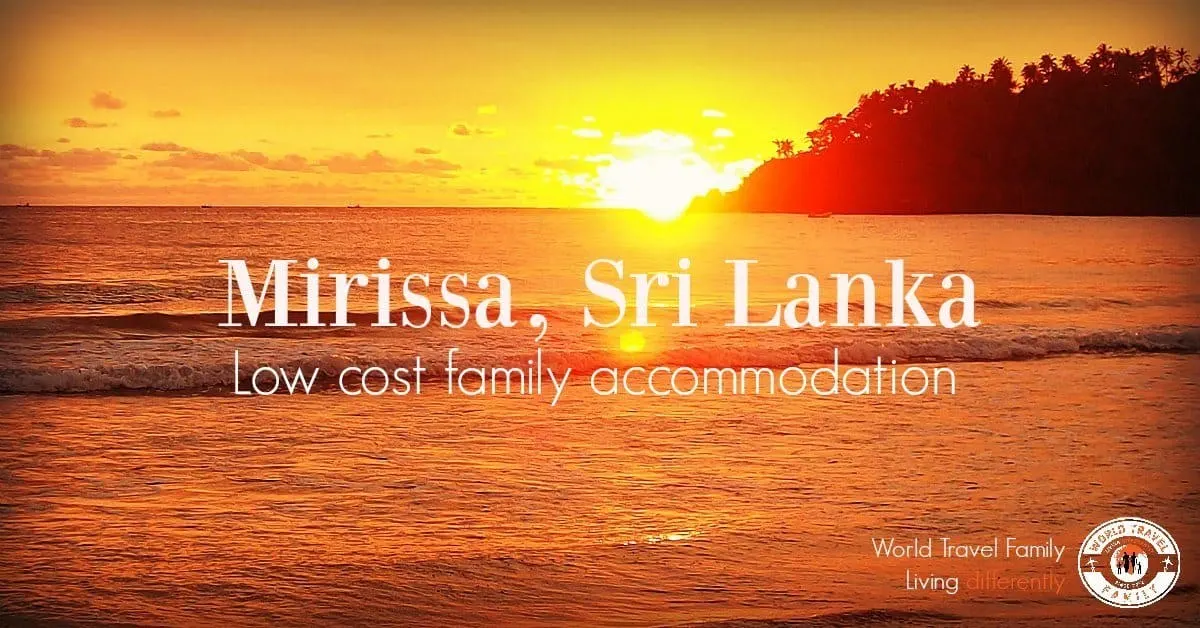 In this blog post you will find the following on Mirissa hotels, guest houses and accommodation: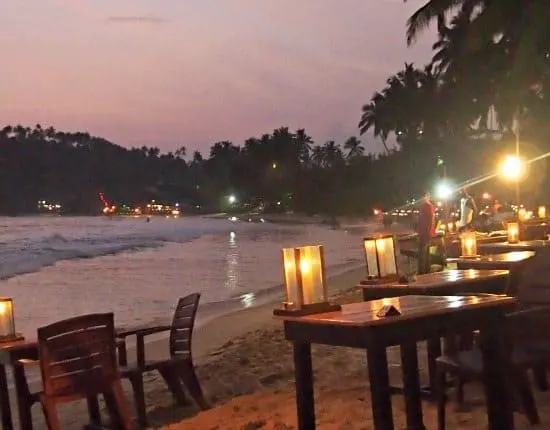 Where to Stay in Mirissa Sri Lanka, Family-Friendly
If you're looking for a place to stay in Mirissa with family the choice is fairly simple, for us, as families, we simply need a family room that suits us, a location that makes us happy and a price-point to suit our budget.
In Mirissa hoose beach-side or the village, both are excellent options and Mirissa, being a small village, is easily accessible from any of these choices. Most of the hotels in Mirissa have double or twin rooms only. The below cater for families of 3 or 4 and all come with wi-fi. It is fairly hard to find family rooms for 4 or more people in Mirissa. You may find child stays free deals and need to share a bed with a younger child.
Tips on Finding the Best Deals Online and Booking in Advance for Mirissa
Should you book in advance for Mirissa?
That really depends on you, your preferences and the time of year. In the past we haven't, we've booked 1 day for our arrival or even not booked at all but Mirissa is getting busier and busier and family rooms are harder to find, so if we see a good deal online, particularly if it is for one of the guest houses below, we'd be inclined to grab it. At busy periods (Christmas) certainly, book in advance.
How to book rooms in Sri Lanka in advance?
Agoda are the Asia specialists and you should check their site for Misissa deals.
Also there may be availability on Booking.com and not on Agoda, each site has a different number of allocated rooms. We generally only use Booking dot com these days as we're no longer prepared to search for accommodation for hours to save a dollar. Our links below will take you to the booking pages.
Beach Side Hotels in Mirissa with Family Rooms

Sea Star Mirissa, shown above, has triples on the beach.
Mirissa SeaStar also has triples with sea view
The Sunset Mirissa has delux triples and 4 person family rooms on the beach.
Beach View Mirissa, Not on The Beach
Silan Mo Hotel has triples.
Esprit Dici Hotel has 4 person family rooms
Mirissa Village has triples
Serenity Resort has triples
Adana Beach Resort has triples
Horels For Families in Mirissa Village
Celestial Inn has triples, see review below.
Hotel Vacanza has triples
Walawwa Wata Resort has triples
Sky Garden Guest House has triples
Riverside Cabanas, has triples and 4 person family rooms, see below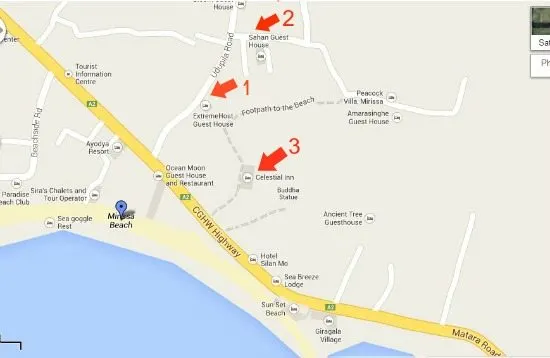 On The Rock has triples, see review below *cheapest*

The Budget Family Accommodation We"ve Used in Mirissa, Sri Lanka. Reviews.
NOTE: This post was first written in 2014 but is regularly updated. We have more information on accommodation at higher price points in our post on why Mirissa is such a great destination for couples or families and also below.
Riverside Cabanas Mirissa Review
Have family rooms for 4 inc breakfast.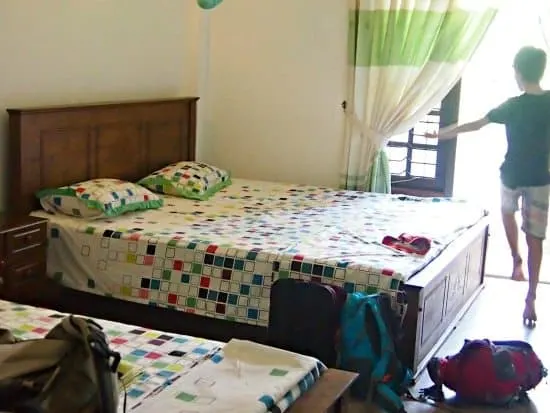 We booked Riverside Cabanas online.The room was lovely and there was a great breakfast included. If you want Sri Lankan breakfast you need to let them know the night before (this is normal in Sri Lanka), ours was delicious. There is a photo below of the Sri Lankan breakfast, western breakfast was also available. From the outdoor restaurant you can watch the monkeys that come into the large gardens from the riverside trees just behind the property.
Cost per Night: Around $50
Number of Beds: 4, two big doubles.
What we got for our money: A spacious, very clean, room with its own balcony, lovely modern bathroom, air con and mosquito nets. We couldn't get the wi-fi to work very well in our room and it wasn't very fast downstairs ( in 2014). The gardens and the resident monkeys were a real treat, as was the included breakfast. This is a lovely small hotel and we'd use it again.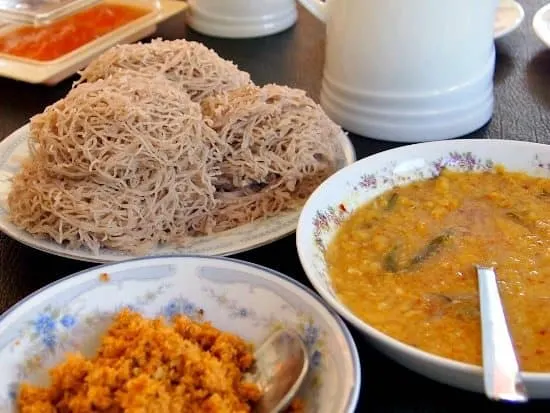 Location: 2 mins walk from the bus stop on the main road. About a 3 mins walk to the beach. Riverside Cabanas is in the village and backs onto the river. There are plenty of places to eat nearby.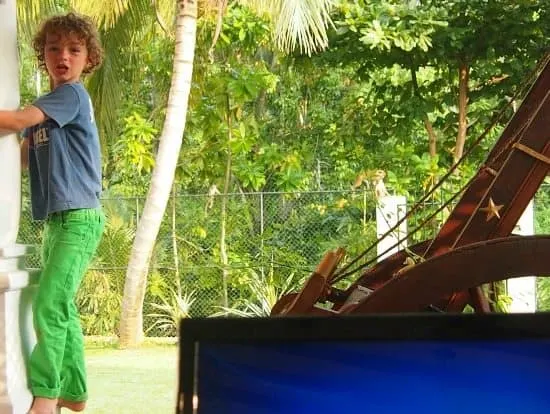 Negatives: Price. This place was fantastic but a little more expensive. As usual, open vents in the bathroom let in a few mosquitos, you get this everywhere, always keep bathroom doors shut and don't leave the light on. The included delicious breakfast made it a good deal.
Our Verdict: Lovely! We only stayed for 1 night because we found somewhere cheaper but it's still a great deal if you're not penny pinching.
Have a look at Riverside Cabanas Mirissa online to check prices and availability
Tithira Guest House Mirissa Review
Has Family rooms for 4 inc breakfast from $42/night
Tithira Guest House could be described as a home stay, we stayed in the main house, although there is a brand new, modern block of rooms in the large garden of the old traditional property. If you click through to Tithira Guest House Tithira Guest House you'll see the new block, it's very pretty and has doubles and family rooms.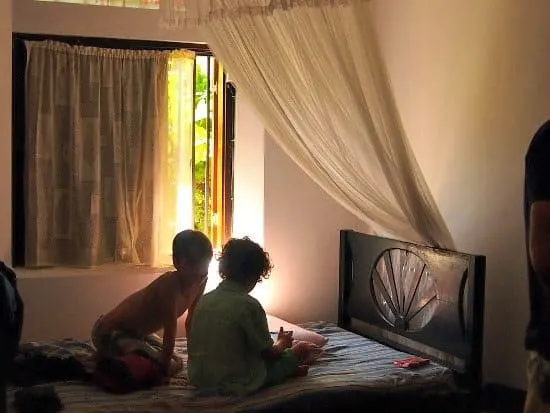 Cost per Night: We paid 2,000Rs, $18 US approximate. The new block currently has family rooms from $42 inc. breakfast.
Number of Beds: 3, 1 double 1 single.
What we got for our money: Our own room in the couple's home. Our own bathroom, mosquito nets and fans. Wifi was good in the room.
Location: In the village, 2 mins walk to everything.
Negatives: The owners tended to switch the internet on and off as I asked for it, which was annoying when I got up early to do some work and it was switched off. A few mosquitoes as usual. The couple who live here are lovely, but I would have preferred a little more distance between us and them, I like my privacy. I'm sure they will have better WiFi and understand that people need it 24 hours now that the new block is fully open.
Our Verdict: We originally looked at and agreed to take, a room in a brand new accommodation block in the garden. On arrival, the owners asked us to take the room in their house. It was the same price and had 3 beds rather than 2, but it wasn't as nice, we should have stuck with our first choice. The new rooms are really lovely. That being said, it was great to see a genuine pre-tsunami Mirissa home, most buildings in Mirissa are new.
Click through and check out the new block at Tithira Guest House, this place was owned by a lovely older couple, I'd like to support them. They also have an excellent 8.1 score on Agoda.
Celestial Inn Mirissa Review
Will only allow you to book rooms for 3 online.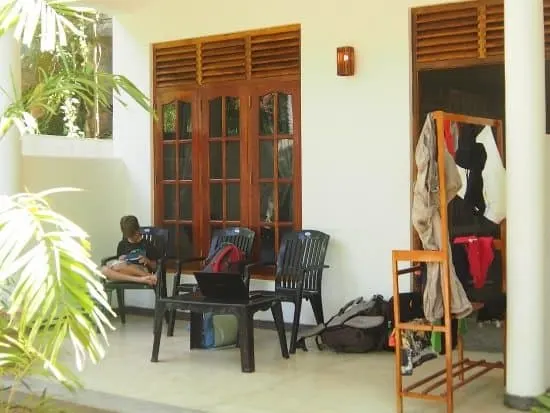 Note, the sign for this guest house used to read Celestil Inn. I bet they were pleased with the sign writer! (Update: It's now fixed). We stayed at Celestial Inn in 2014 AND 2016. Information here is updated with most recent findings and prices. The family owners have worked hard here to make this place really nice and in 2016 it was popular (you certainly need to book), a little more expensive (justifiably), and had more facilities and room types. It still retains its small family guest house appeal.
Cost per Night: from $28 upwards
Number of Beds: 3, 1 large double, one single.
What we got for our money: Our own, very nice, bathroom. A huge room with shelves and clothes racks. The big bed is a four-poster with built-in mosquito net easily holds 3 of us, the single bed has a ceiling mounted mosquito net. Our own patio area with seating looking out on a lovely garden with mango trees and monkeys. Wi-fi works well by Sri Lankan standards but only on the patio, I couldn't get a good signal in the room. There is space for an extra bed in the room. The block of rooms is brand new and very clean. Hairdryer and electronic mosquito device provided. It's a lovely place to enjoy trays of tea on your veranda in the shade of the mango trees.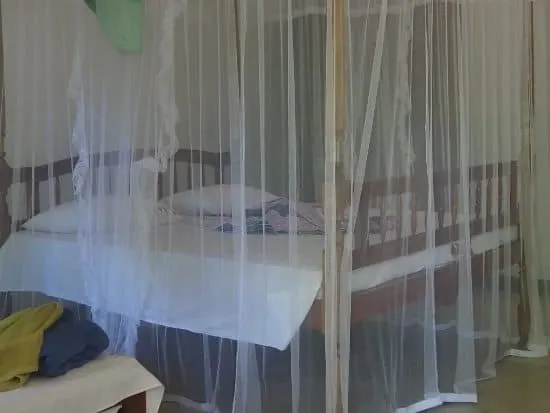 Location: Celestial Inn is on the riverside lane that takes you from beach to village, 2 mins walk to the quieter end of Mirissa beach. 2 mins to the roti shop and beach restaurants. From Mirissa South train station in a tuk tuk will cost you around 400Rs, it's 4Km.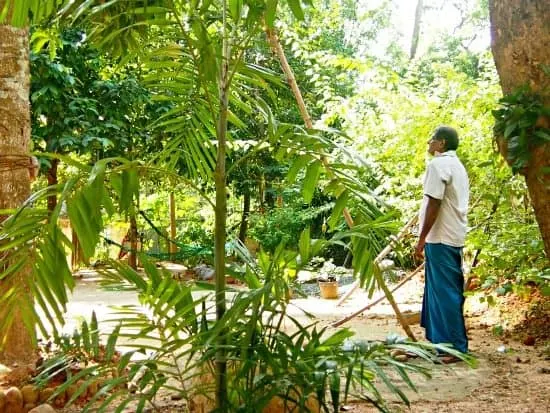 Negatives: Only the mosquitoes There are open vents in the room (UPDATE: these have been sealed in 2016 and air-con is available), a few mosquitoes get in, but this seems fairly standard in Sri Lanka. The bathroom vents are still there, don't leave the lights on or you'll wake up to a swarm. We burnt coils on the patio and used a bug spray inside occasionally.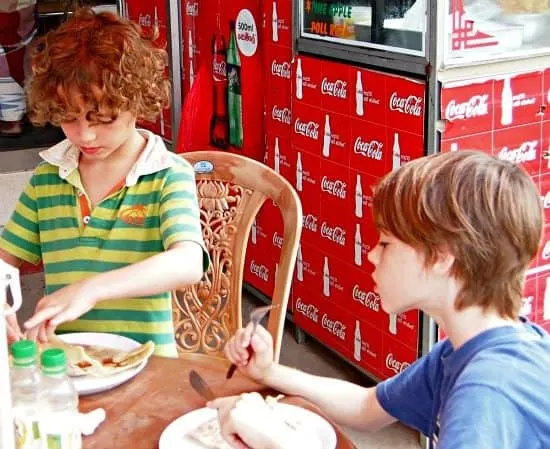 Our Verdict: We loved it here! So much so, we stayed twice. This Celestial Inn also offers food, we didn't eat here, we preferred to use the cheaper roti shop ( Samagi cream house and food corner) on the main road for breakfast and lunch and spend our evenings in one of the beach restaurants (we highly recommend Wadiya) enjoying cocktails. I loved to sit outside our room at Celestial Inn with a pot of tea watching the monkeys, squirrels and peacocks, it was really lovely.Celestial Inn has a "very good" 7.9 score on Agoda
On The Rock Hotel Mirissa Review
Will only allow you to book rooms for 3 online.
This is a new entry for 2016, in 2014 On The Rock was still being built. It is next door to Celestial Inn, above, on that same river-side walk. We enjoyed staying here with spacious rooms, clean white bedding and mosquito nets and that lovely wood panelling. Again, we had a ground-floor family room with patio, perfect for kids.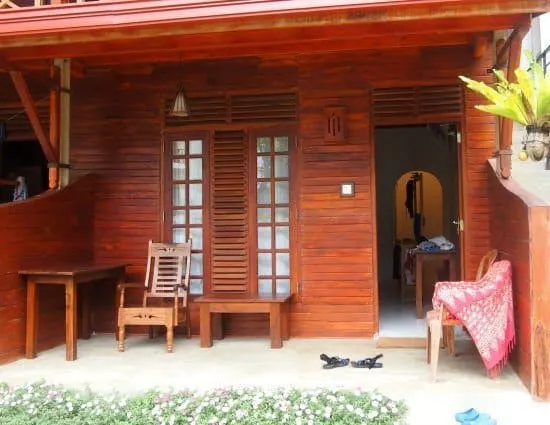 On The Rock Hotel, Mirissa has a "very good" 7.6 score on Agoda.
Still looking for a hotel in Sri Lanka? Start your hotel search here with Agoda . OR we have listed the more upmarket family hotels and villas on Mirissa beach in Mirissa Beach Sri Lanka, Paradise Found.
Thanks to Google maps for the Mirissa map.
We also highly recommend Whale watching in Mirissa (4000Rs adults, children 2000Rs) click here to read about it.
Weligama or Mirissa?
Should you choose to stay in Mirissa itself or in the larger bay immediately to the north, Weligama? Here you will find stunning Taprobane island and still see plenty of fishing activity and fishermen selling their catch near the beach. Weligama has all sorts of accommodations including larger hotels, It is a short bus or rickshaw ride to Mirissa.

We recommend Agoda for booking accommodation online, they are Asia specialists and we find their customer service to be excellent. The reward points to use against future bookings are very handy too. These are affiliate links, booking via our site costs you nothing extra but we make a few cents to help keep our websites free.
For Pinterest.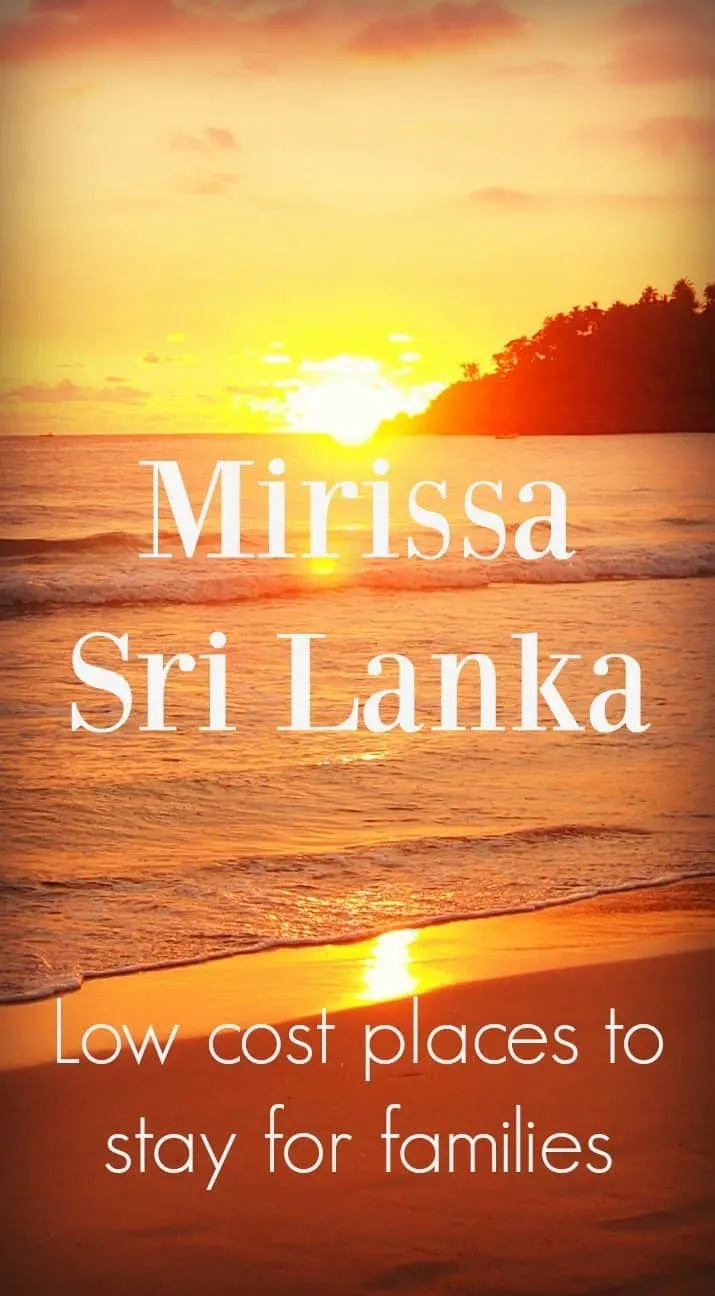 Thank you for visiting our travel blog. We are Sri Lanka specialists and if you'd like further information, please take a look at our main Sri Lanka Travel blog page. Best of luck in finding a place to stay in Mirissa and the cheaper- budget end of the market.
If you'd like to hire a car during your stay, use this car rental comparison tool to find the best deal!

We also suggest you take a look at this company to get a quote for all kinds of the more tricky adventure or extended travel insurance.

Try Stayz / VRBO for an alternative way to find rentals on homes/apartments/condos in any country!