This post may contain affiliate links.
Our last month in Sri Lanka was all about getting to Jaffna, this almost newly open destination was top of our wish list and after many years exploring south and central Sri Lanka, we had to get to the far north of the island. We finally made it. Jaffna Sri Lanka doesn't disappoint in any way, getting there was easy and there are some amazing things to see and do.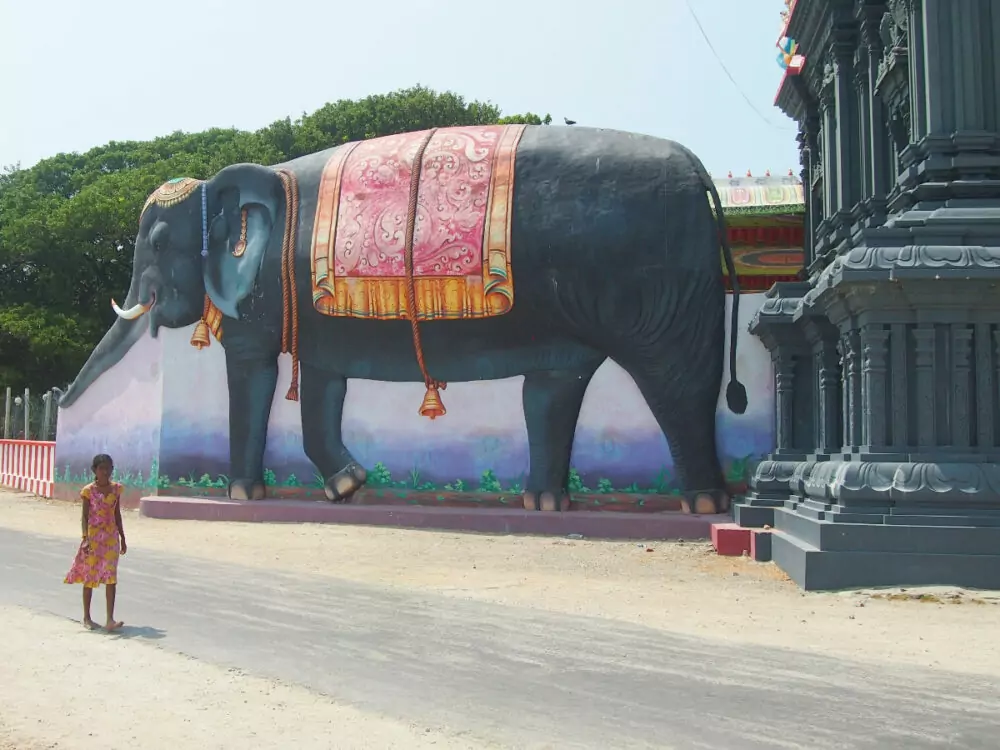 So what is Jaffna like and how did we get there? First the story part, our trip to Jaffna, keep scrolling down for the facts and figures on visiting Jaffna.
Jaffna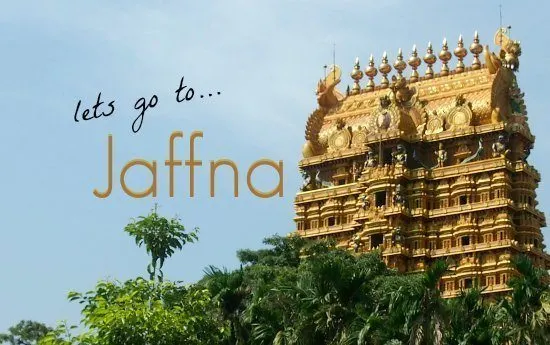 Getting To Jaffna
The easiest way to get to Jaffna is to book a driver with vehicle from any starting point in Sri Lanka, you can specify your itinerary and this works well for groups. Find your driver here.
There is also an airport at Jaffna, you can go there by helicopter.
We took the train to Jaffna. The easiest way to book trains (and sometimes buses or even flights) in Sri Lanka is to go to 12Go Asia. This link takes you to a page giving options on getting from Colombo to Jaffna, you can change your departure point.
You can catch the train to Jaffna from Colombo from as little as $10 US a taxi would be in the region of $200 US.
We started our journey to Jaffna from Anuradhapura, another new Sri Lankan destination for us and one we enjoyed enormously. You can read about that Ancient city and it's 2000-year-old Bo Tree in this post, we highly recommend stopping there and the kids really loved our day of exploration with tuk tuk and guide.
Anuradhapura is north-west of Kandy, so we were well on our way to the far north already.
We opted to take the train from Anuradhapura Station (There are 2 train stations in Anuradhapura, you need the bigger one), direct to Jaffna Station, a journey of around 3 hours.
This was one of the most peaceful and luxurious train journeys we've taken in Sri Lanka, there was assigned seating, no crush or scrum as on the Kandy, Colombo, and Southern Beaches routes, air-con, a buffet car and beautiful scenery to pass the time.
A few fellow passengers were curious enough to ask where we were going and why we were there, tourists up here are still fairly thin on the ground.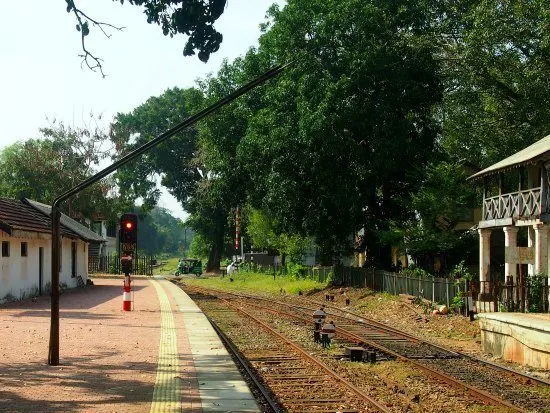 We'd spent time researching this Jaffna trip.
We'd read somewhere that Westerners needed a permit to travel to Jaffna. We followed this up and submitted an email request to the authorities but no sweat, that rule no longer applies.
So green light, go to Jaffna.
Central Sri Lanka gives you opportunities to see wild forest elephants, we'd seen them multiple times as we crisscrossed the country by bus and car and on this train trip we passed elephant crossing signs, but no luck unfortunately.
Instead, we spotted amazing bird life, peacocks in particular were in abundance.
As the train gets close to Jaffna you can enjoy views of shallow lagoons and salt pans, if you look at the map you'll see how the railway line hooks around onto the tip of Sri Lanka with sea to both sides.
It's a very special ride.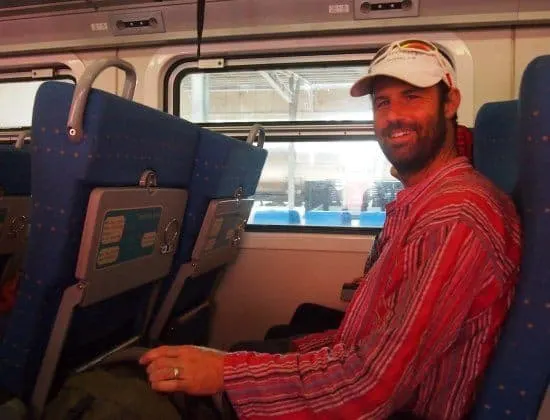 Arriving in Jaffna Station around lunch time we found ourselves a tuk tuk driver and asked him to show us a guest house.
As usual, 4 people, 4 backpacks in one tuk tuk.
We passed a surprising number of up-market hotels, destroyed colonial buildings still riddled with bullet holes and market stalls bursting with fruit and dried fish before finding a room in a small guest house in a quiet residential street.
We took the first room we saw, the price was good, it had 2 double beds and a shower room, it was fine.
We dumped our packs and asked our driver to show us a bit of Jaffna on our way to find lunch.
We expected a water-side restaurant as we would normally find in most Sri Lankan coastal towns, but in Jaffna that's just not how it is.
We quickly found that Jaffna really isn't set up for tourists at all. This is the real-deal, no bars, no tourist restaurants, you eat where the locals eat.
After finding a good rice and curry lunch in a non-English speaking "hotel" (in Sri Lanka this means restaurant), we called our new friend.
The tuk tuk guy had given us his mobile number and he spoke some English. We asked him to show us temples, the fort, anything.
If you're not blessed with a friendly tuk tuk driver, you can book a guided tour of Jaffna here, we recommend you do this, it will be much easier for you. You can also book transport to Jaffna from Colombo airport on GetYourGuide or Viator.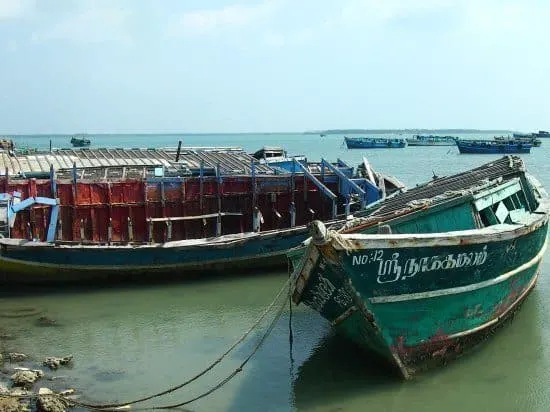 He took us to the most stunning Hindu temple I've ever visited, drove us past the Dutch Fort and showed us the causeway we'd need to take to the very tip of Jaffna's string of islands. The next day we took the local bus and ferry up there, it was too far for tuk tuk guy.
We really needed a beer with dinner so a quick Google showed us the few places that served chilled Lion beer with meals. We picked one and discovered that it served the most amazing tandoori chicken any of us had ever tried.
We ate there every night, the kids begging for chicken and garlic naan from the young chef working the tandoor. We found the most incredible modern supermarket for supplies and mostly ate Sri Lankan street food from vendors who genuinely seemed delighted to see us.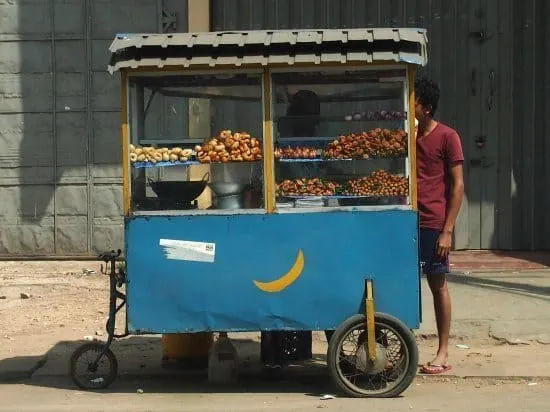 The people of Jaffna were fabulous, not many spoke English, but everyone was friendly and curious. Generally we found Jaffna to be far more like India than the rest of Sri Lanka, but quieter, less bustle, more Sri Lankan.
It was certainly great to be away from the crowds of tourists in the south.
Jaffna was absolutely a highlight of our time in Sri Lanka, we loved it, so much so that I really don't want to tell more people to visit, I want it to stay as special as it is.
But if you want more facts, figures, names and places to plan a trip to Jaffna, you'll find them below.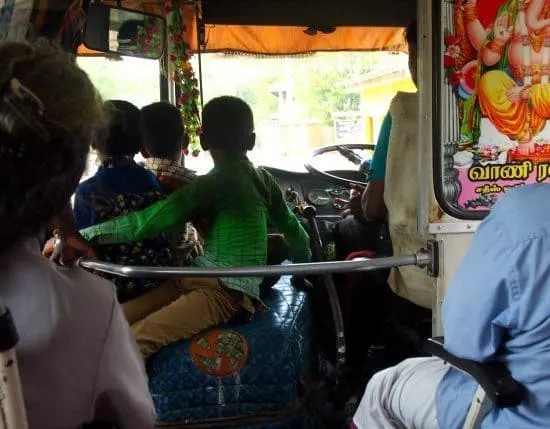 A quick note on getting out of Jaffna. We caught the train again, all the way from Jaffna to Mirissa in the far south, via Colombo Fort, (Mirissa is still our favourite beach spot in Sri Lanka), no changing, a direct route taking about 12 hours. This wasn't the same air con train, but it was still a nice one and only got a little busy around Colombo. So, presumably, you could catch this same train in the opposite direction, from any of the southern beaches to Jaffna. Note that this train does not pass through Kandy.
Sri Lankan Railways Information and Getting to Jaffna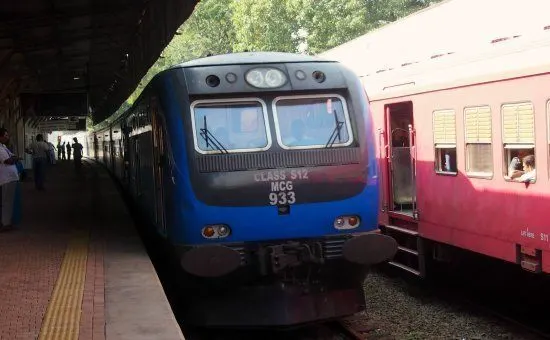 The Sri Lankan trains app is a handy thing to have on your phone. A Sri Lankan SIM card, buy one at the airport on arrival, is a very useful and cheap thing to have. Otherwise check the Sri Lankan Railways website.
Getting to Jaffna from Colombo
There is a direct train service from Columbo to Jaffna. Go to 12GoAsia here to check availability and times of the Colombo-Jaffna trains.
Getting to Jaffna from Kandy
To the best of out knowledge, no trains go from Kandy direct to Jaffna, you're on the wrong line.
To get to Jaffna from Kandy you either need to change trains or take a bus to a station on the direct train line. You'll spend about 1 hour on the bus. For Things to See and do in Kandy we have some information here.
Getting to Jaffna from the South of Sri Lanka
You need to get the train to Columbo and on to Jaffna. It appears from the Sri Lankan train website that trains don't go straight through Columbo and on to Jaffna, but we know from experience that some do.
Permits and Permissions for Visiting Jaffna
We found that no permit is required. We checked, Googled and sent emails, tourists do not need a permit to visit Jaffna. We had read on other travel blogs that we would need to apply for one, that rule seems obsolete.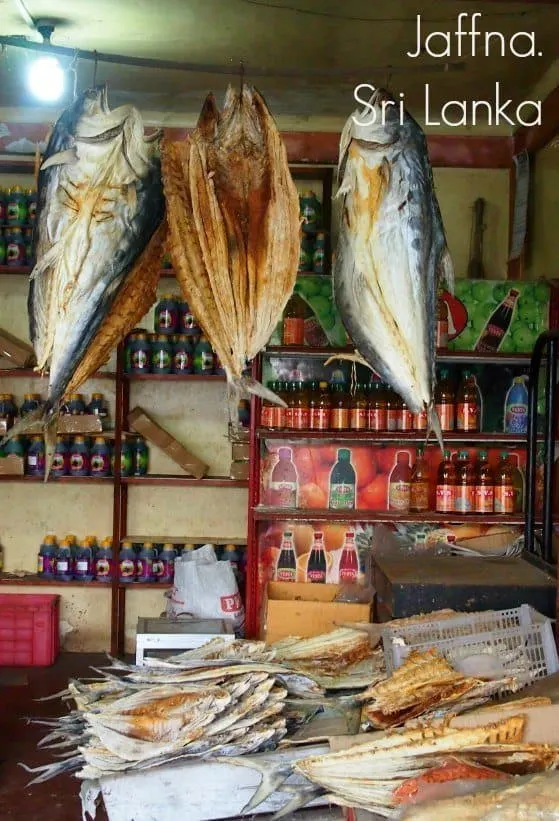 Where to Stay in Jaffna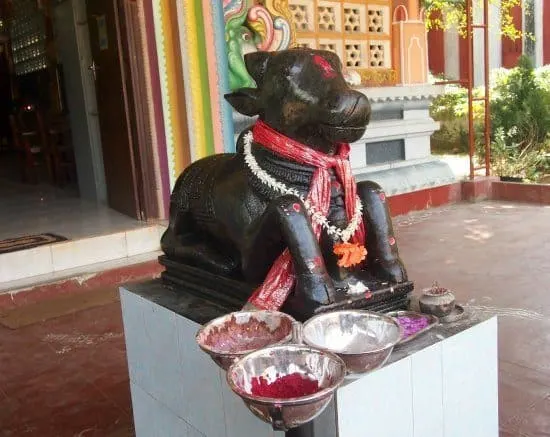 We stayed in a small family-run guest house in a quiet residential area. It's not available to book online.
These guest houses, loved by backpackers, are surprisingly few in Jaffna. Mass tourism hasn't hit Jaffna in any way yet but there are some luxury and mid range hotels in Jaffna.
Hotels in Jaffna, Recommendations and Finding the Best Deals
Check Agoda and as they are the Asia specialists, it's always best to check them. Agoda are based in Asia so often have more choices and better deals, to reserve a room on a refundable basis try, Booking.com .
For luxury lovers try 5 star Jetwing Jaffna hotel.
Mid range offers you Hotel Green Grass this place has a restaurant where you can find a beer in the evenings.
On a backpacker budget, rooms start at around $10 per night, try Vidan's Bungalow
Things to Do in Jaffna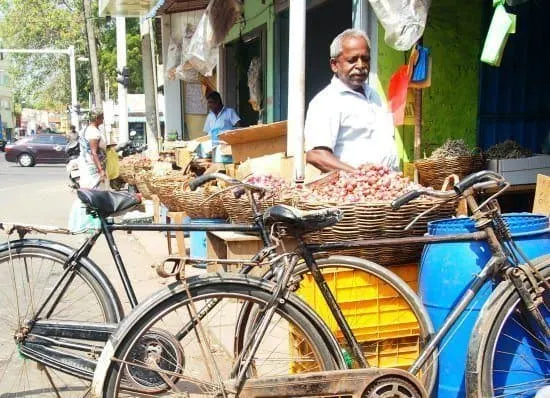 Nallur Kovil
Nallur Kovil ( pictured above) is one of the most stunning Hindu temples I've ever visited. It's very different from anything I've seen previously and I've been to many. As Jaffna is still so removed from the main tourist trail, men are still required to remove their shirts for admission. This is the first time we've ever seen this. Nallur Kovil is an absolute must-do in Jaffna and try to visit when poojas are happening. Unfortunately photography is not allowed inside, no admission fee.
Jaffna Fort
Jaffna's Dutch Colonial Fort overlooks the water and is in fairly good repair. We didn't feel it was worth going inside, but you can read more about the Fort's history here. Sunset visits are recommended.
Explore Jaffna's Markets
The markets are to be found around the bus station ( from which you will catch your bus to the island temples ferry). Colourful fruit and veg, pungent dried fish and local Jaffna cigars are a speciality.
Nagadipa Purana Vihara and Naaga Pooshani Ambal Kovil
Both of these important temples lie on an island to the north of Jaffna and can only be reached by ferry after a fairly long drive, we chose to take the public bus. The ferry is an experience in itself!
Both temples are worth visiting, but would I go again? Maybe not. I'm glad I went and the bus and ferry rides were fun, but if you're short of time they're not spectacular.
That said, if you're new to colourful Hindu temples, this will blow you away and most people will want to see at least some of the causeway.
These two temples, one Buddhist, one Hindu, will have their own posts soon.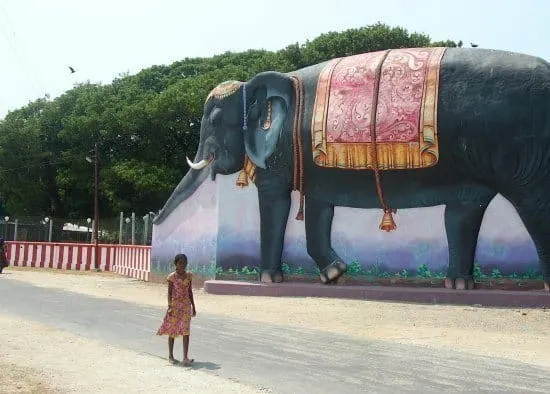 Jaffna Public Library
A stunning colonial building and one of Jaffna's main " places to visit". Fly by if you can
Elephant Pass
Elephant Pass is a a strategic military post and memorial to Corporal Gamini Kularathne, a Sri Lankan hero who sacrificed his life to save the garrison during the recent Sri Lankan Civil War , 1983 – 2009.
There are more things to do and places to visit in Jaffna, including, Casuarina Beach, Dambakola Patuna Sangamitta Temple, Kanthoradai Viharaya, Kayts Causeway, Keerimalai Hot Springs, Naguleswaram Temple,

Nilavarai Bottomless Well, and

Murikandy Pillayar Shrine
It's worth mentioning that Jaffna is not the most northerly tip of Sri Lanka, for that you need to be slightly to the east at Point Pedro.
Unfortunately we can't say we've been there, but we have been to the most southerly tip of India. It's a shame we didn't make it.
Where to Eat in Jaffna
You will find local style "hotels" ( restaurants) everywhere, most serving rice and curry. You get what they have available, there is no picking and choosing from the menu.
Rice and curry is the Sri Lankan version of an Indian thali, a pile of rice and a selection of curries, pickles, a popadom, and sometimes a desert.
You can also find various short eats and street food, dosa, vada, hoppers, all the usual Sri Lankan treats.
What you'll struggle to find is tourist food. That's got to be a good thing.
You'll also struggle to find a beer with dinner, that's not so good.
Jaffna is famous for its crab curry, unfortunately, we didn't get a chance to try it because of the kids' tandoori obsession, but we can vouch for the Sri Lankan crab curry we ate at Max Wadiya in the south.
You can find a recipe for Jaffna curry here, it's famously good. The roasted Jaffna Curry powder is a local speciality.
If you love to cook Asian food as Chef and I do, we highly recommend The Complete Asian Cookbook by Charmaine Soloman.
It's a thing of beauty, covering most Asian countries and has been well used by both of us over the last decade.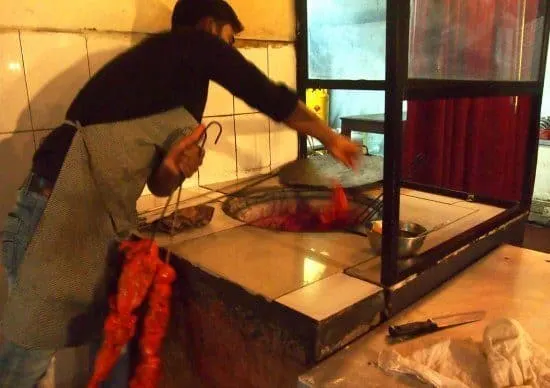 Where to Get a Beer in Jaffna
Most restaurants, hotels (the local word for restaurant) and cafes in Jaffna didn't serve alcohol at the time of our visit. You have to know where to go.
We highly recommend Cosy Restaurant, their non veg site has a tandoor and produces amazing garlic naan and tandoori chicken. The kids loved this place so much we went back every night.
Print off a map, local tuk tuk drivers didn't know where it was. The courtyard out the back of the restaurant is where you want to be, it was well worth going to take a look.
A few hotels and guest houses will also give you a beer with dinner, some even allow BYO. Try Morgan's, Mango's and Hotel Green Grass mentioned above.
For You to Bookmark to Pinterest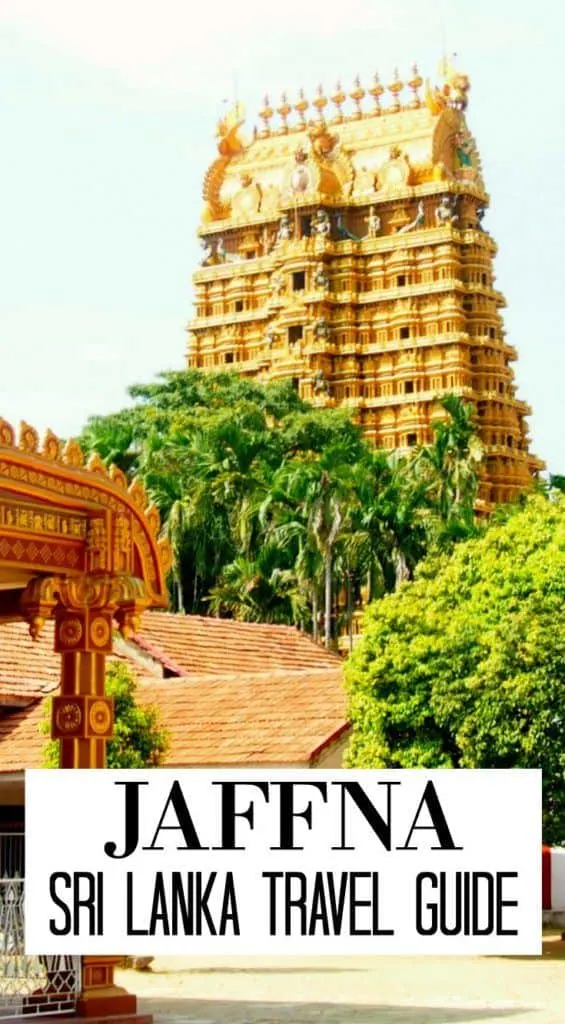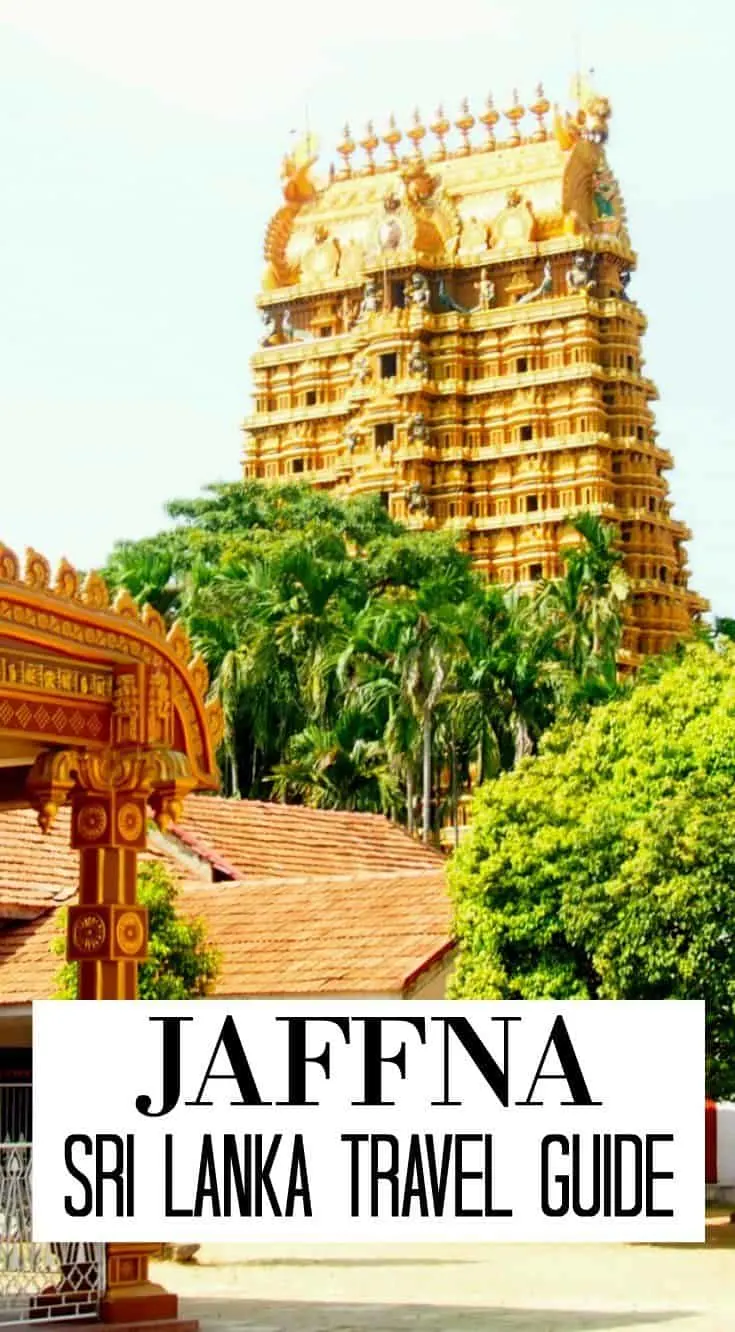 Is Jaffna Worth Visiting?
Yes, we found Jaffna really interesting. Jaffna is sufficiently off the main tourist track in Sri Lanka to offer a very different experience. The train ride to Jaffna from the south is a long one, but we found it pleasant. If you have plenty of time in Sri Lanka and want to discover as much as you can during your trip, absolutely it is worth visiting Jaffna.
Where is Jaffna?
Jaffna is a city located in Sri Lanka's Northern Province, it is actually the capital city of the province. Located on the south side of a peninsula in the Palk Straight, it was Sri Lanka's second most populated city (after Colombo) prior to the war.
Sri Lanka is an island, with no land borders, surrounded by the Indian Ocean. It has maritime borders with Maldives to the south and India to the north.
Sri Lanka is entirely in the Northern Hemisphere, just 7.8 degrees north of the equator.
Sri Lankas official name is the Democratic Socialist Republic of Sri Lanka.
The Palk Straight is famously the body of water across which Rama built his bridge to the island of Lanka.
Jaffna is just 18 Nautical Miles (approx) from the southern tip of India. And remarkably, yes, people have swum between India and Sri Lanka (source).
Opinions differ, I've read that you can just see India from Sri Lanka on a very clear day, other sources say it's impossible.
Jaffna's location is marked on Google Maps here.
That's about it for now on Jaffna Sri Lanka, is it in your travel plans to take a trip to Jaffna? If there's anything else we can help you with, let us know in the comments. This place is not to be missed and finally getting to Jaffna was an absolutely a highlight of our last month in Sri Lanka. Visit our Sri Lanka travel blog page for full information on travel in this fabulous country.
If you'd like to hire a car during your stay, use this car rental comparison tool to find the best deal!

We also suggest you take a look at this company to get a quote for all kinds of the more tricky adventure or extended travel insurance.

Try Stayz / VRBO for an alternative way to find rentals on homes/apartments/condos in any country!