This post may contain affiliate links.
If you've been following our Facebook page over the last month, you'll have seen me alternately complaining and raving about food in Sri Lanka. Food is a big part of our travel experience, we like to try as many new foods as we can and, hopefully, enjoy them. (For non-regular readers, my husband is an Executive Chef ). Sri Lanka bought us good food in abundance and just one or two bad dishes, but what we found tricky in Sri Lanka, surprisingly, was finding good Sri Lankan food and dishes. It was so hard in some places that we pretty much gave up.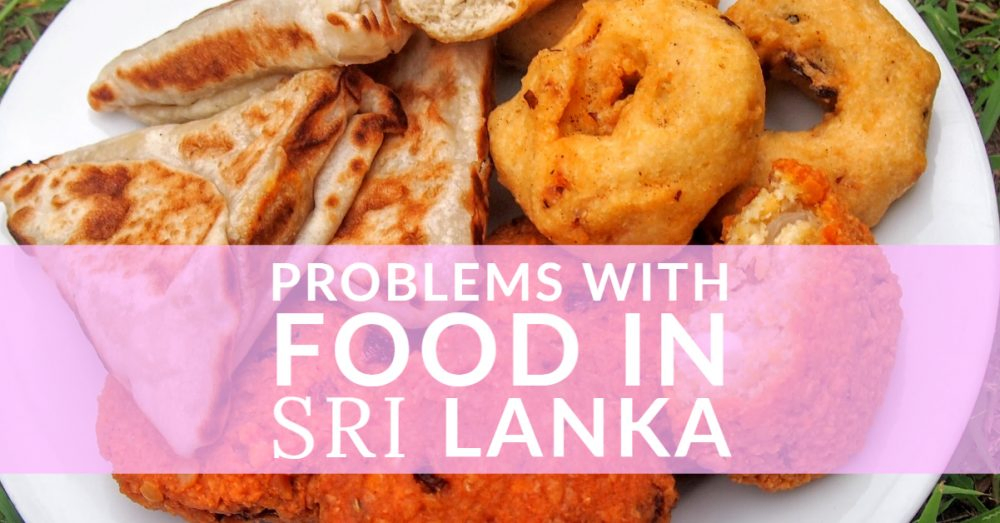 Food in Sri Lanka
We were really looking forward to eating our way around this beautiful island. They say Sri Lankan food is similar to South Indian food, one of our favourite world cuisines. It's similar in style, but the execution is different.
Could you save this to Pinterest?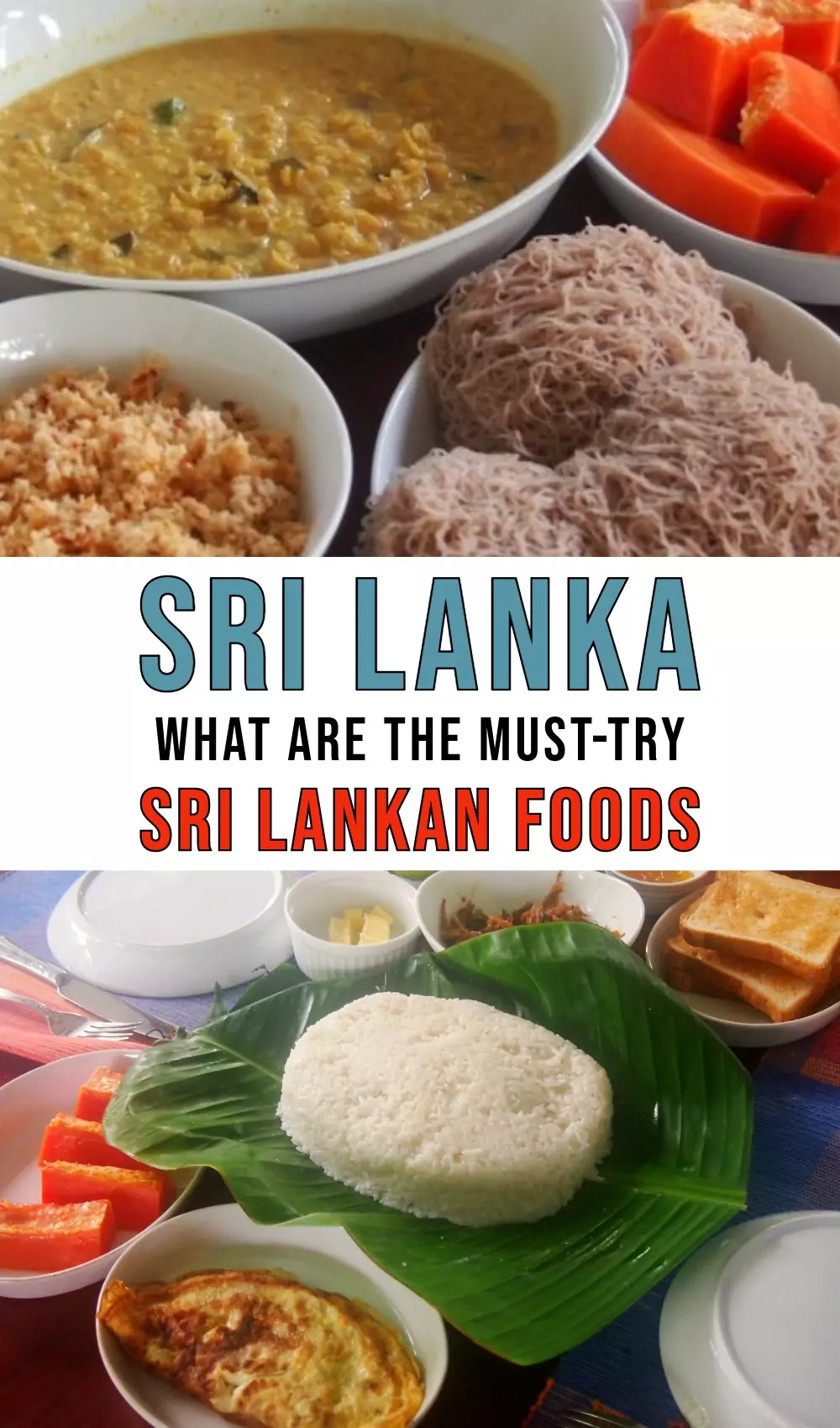 That said, by the end of our trip we were pretty much converted to the different spicings.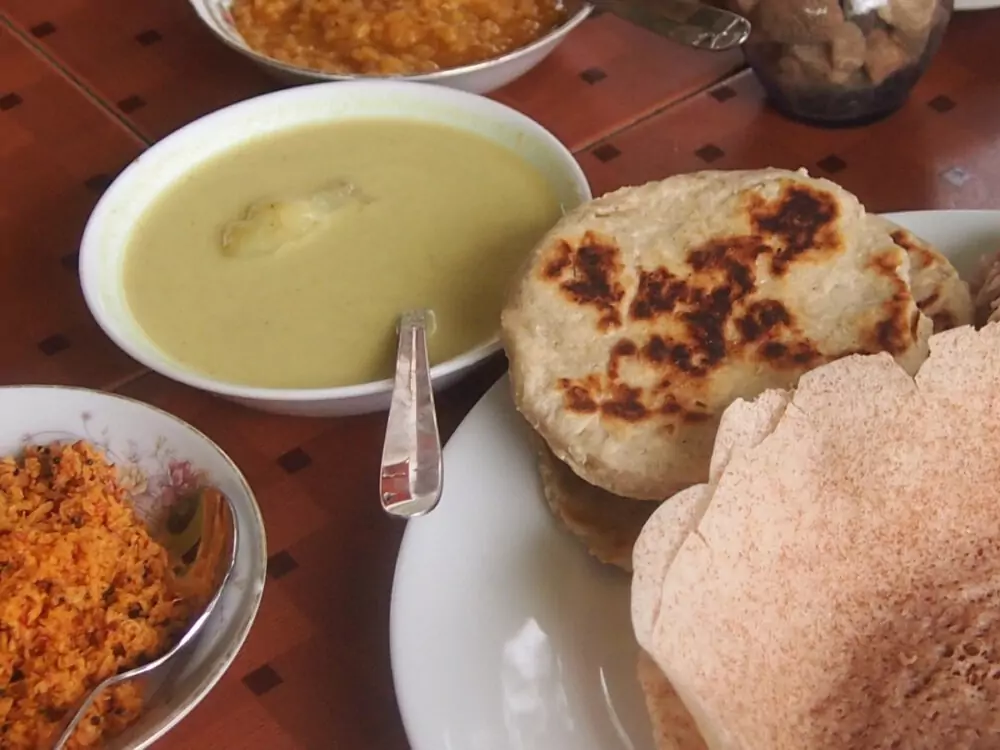 We've had a few food issues in Sri Lanka, some days I haven't been able to face eating at all because options were so limited, other days, dinner has been cheese triangles and biscuits.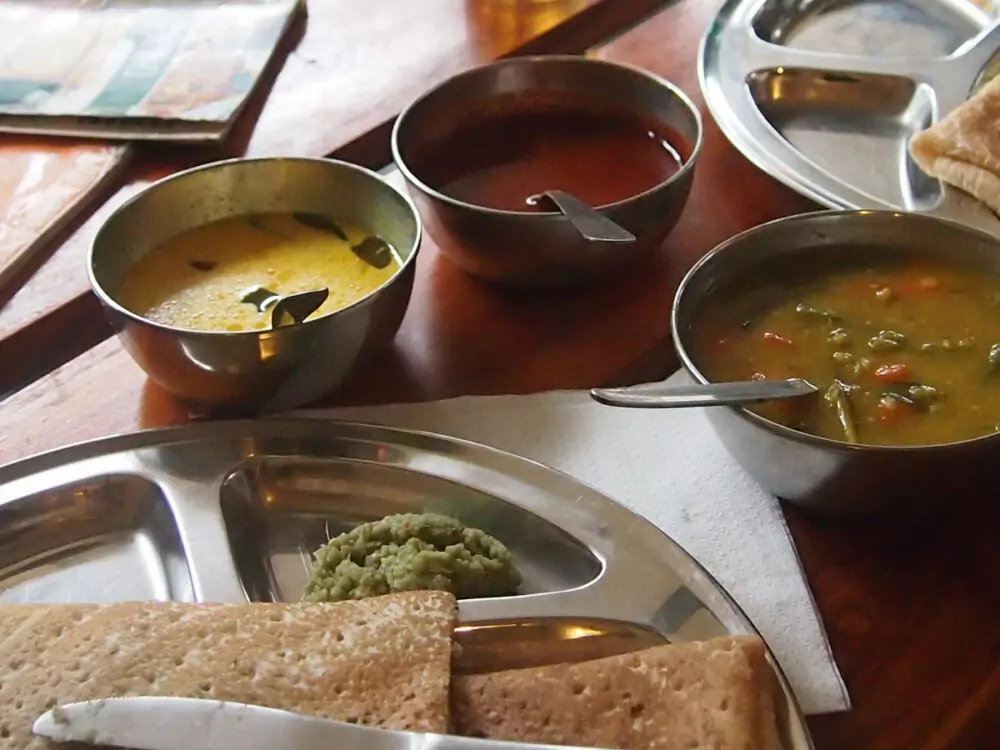 We've had plenty of uninspiring food and options have been very limited in some places, we just didn't know where to go to find what we wanted, ie. good, real, Sri Lankan food.
I'll have to put our favourite Sri Lankan dishes in another post, some are in the video. I've got plenty to rave about in terms of Sri Lankan cuisine.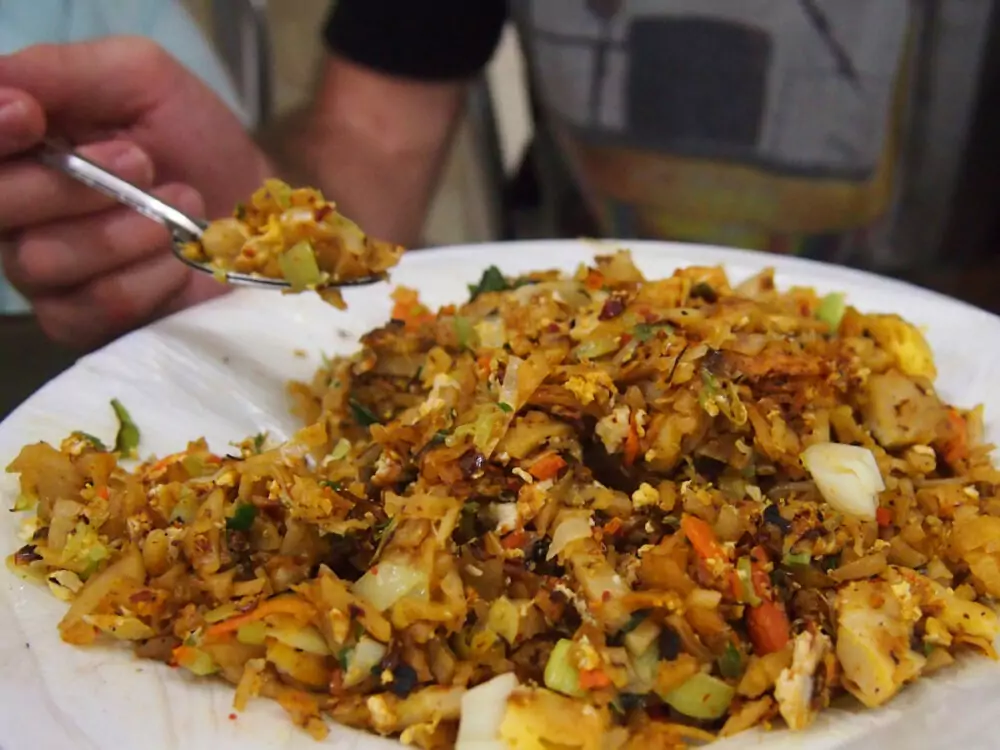 Today I'm going to have a winge about the one big problem we had with food in Sri Lanka. That was finding it.
Food in Sri Lanka To Try
Foods you must try in Sri Lanka include the following.
Rice and curry.
Crab curry
Fish curry
Jackfruit curry
String hoppers
Hoppers
Milk rice
Curd
Short Eats
We wouldn't say there are any particular foods to avoid in Sri Lanka other than fish or shellfish that could be getting old. Fresh fish should be great. Just use common sense.
Food in Sri Lanka – Problems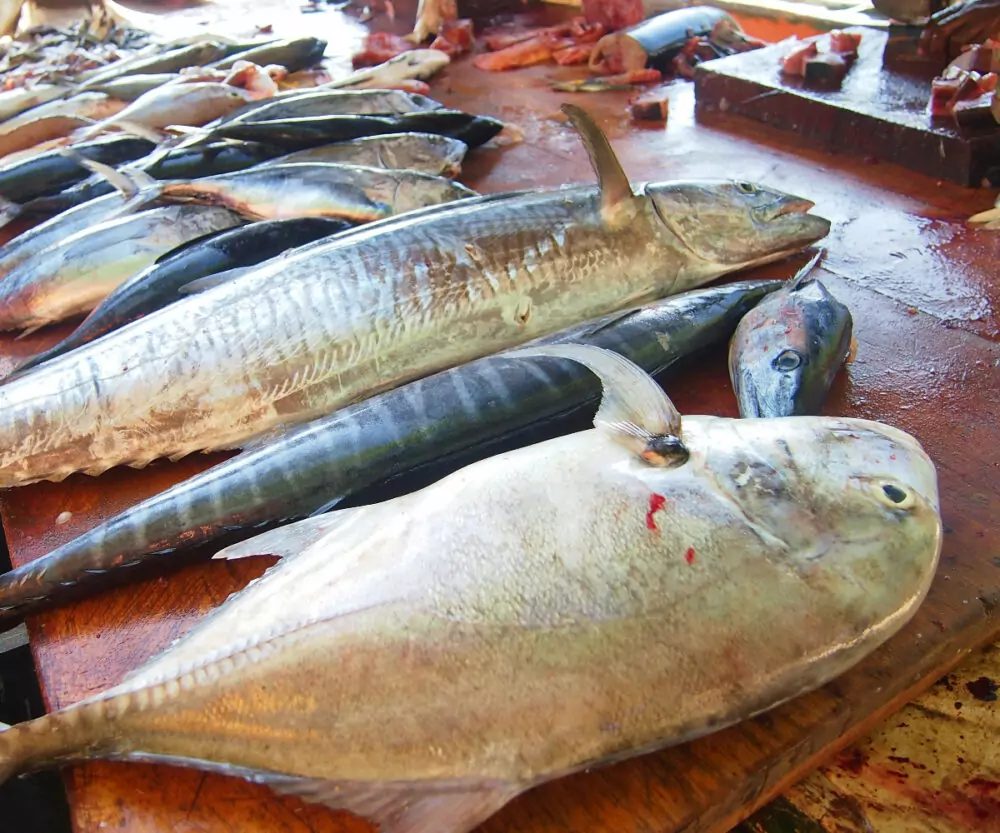 On the coast, Sri Lankan food is all about fish, which is understandable, the Sri Lankans are fishermen and they catch an amazing variety and abundance of sea creatures.
You'll see fishermen selling their catch straight from the sea at roadsides and in markets, it's so fresh and the variety is stunning.
Unfortunately, some (only some!) of the beach restaurants keep it hanging around way past its sell-by date and often at room temperature.
We saw the same fish being brought out for dinner service day after day in Mirissa (we LOVED Mirissa otherwise!), some was way past fresh.
If you know how to pick out a fresh fish and you're prepared to pay through the nose, go for it. Sitting downwind of some of the fish displays was enough to tell us it wasn't fresh.
Remember, my husband knows this stuff inside out, he's an exec chef with all the food hygiene certificates.
We got the impression that many small restaurants on the beach are set up to make a quick buck out of the tourists, which is understandable. The owners and chefs really aren't interested in food quality at all.
It's a problem in many places around the world with a steady flow of new tourists so that restaurants aren't looking for repeat customers. This is totally not a situation unique to Sri Lanka, you'll see it in most countries.
On the coast, we came up against an extremely boring, Sri Lankan standard menu just about every small tourist eatery we tried. It seemed that each restaurant was basically serving the same thing, and it wasn't Sri Lankan food.
Pretty much every menu had the following dishes.
chow mein
fried rice,
pasta
fried noodles
pizza
As well as these dishes you'll see a lot of "devilled" dishes, often crab or fish. These probably stem from British influence and they're quite tasty, but usually contain bottled sauces or ketchup.
If you can find a Sri Lankan beach restaurant serving good Sri Lankan curries, you've found a great place to eat. We found it quite hard to find those places.
We very rarely ordered a meat curry in Sri Lanka, I think we did once, and the meat was so tough it was inedible. I don't know why, that's just the way it was. This was in Kandy.
Food in Sri Lanka – Breakfasts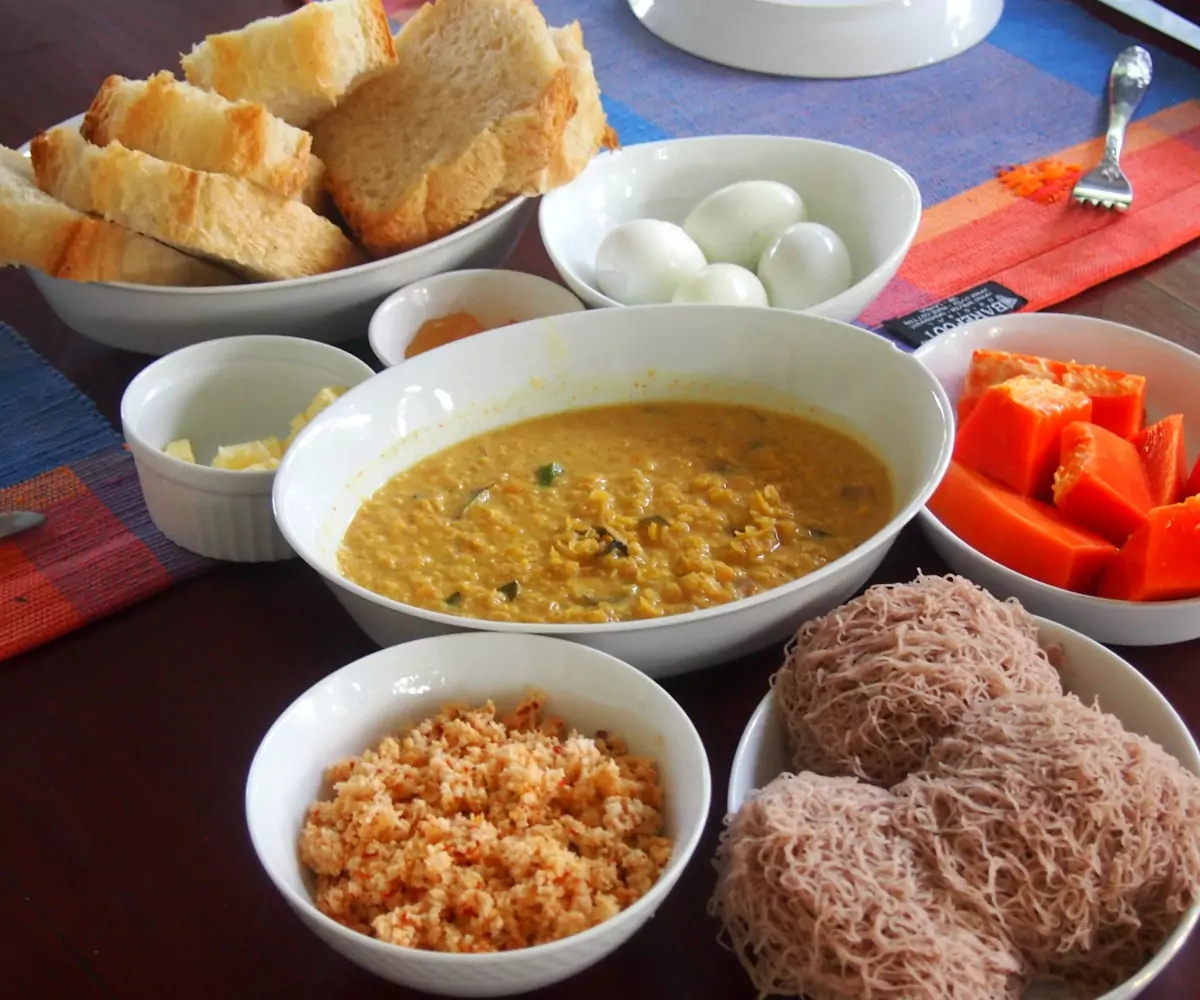 A traditional Sri Lankan breakfast is one of the most delicious meals in the world. Dal, maybe a fish, egg, or potato curry, fresh coconut chutney, string hoppers or hoppers are a fantastic way to start the day. You may also encounter fresh tropical fruits like papaya, pineapple, and bananas, local curd, milk rice, or, in hotels, western offerings.
Sri Lankan breakfast is generally great and where we could, we ordered it in our guest house or other accommodation, the night before. Where breakfast wasn't available in our hotel, or where we arrived too late to order, finding breakfast was sometimes difficult. In places with street food vendors (such as Ella), we ordered delicious hoppers from street stalls, or roti, filled with veg (or even chocolate!)
In hotels expect huge buffet spreads similar to those found in any country, but hopefully, with the addition of these Sri Lankan foods.
Sri Lankan Food – Real Sri Lankan Rice and Curry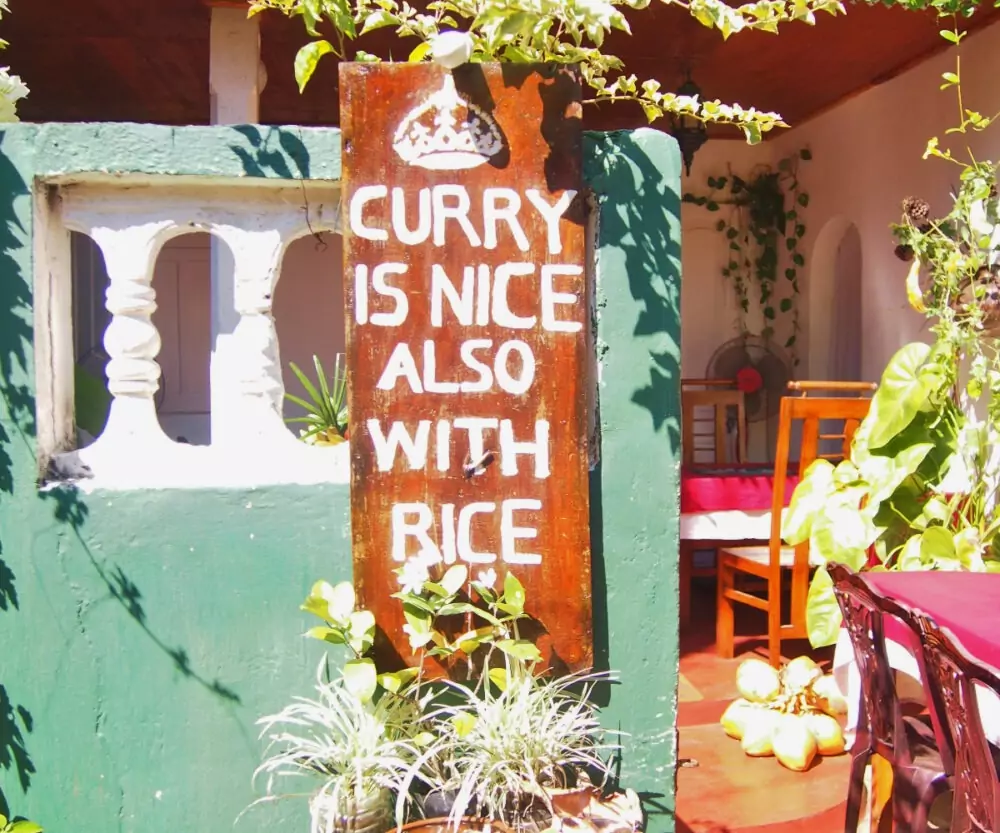 Rice and curry is the classic meal of Sri Lanka, the rice being the major component, not the curries. The big issue is, if you want rice and curry, or even a Sri Lankan breakfast of hoppers and curry, in one of the coastal tourist restaurants, you need to order hours in advance.
For breakfast, you usually order the day before. When you're travelling around, that can be tricky.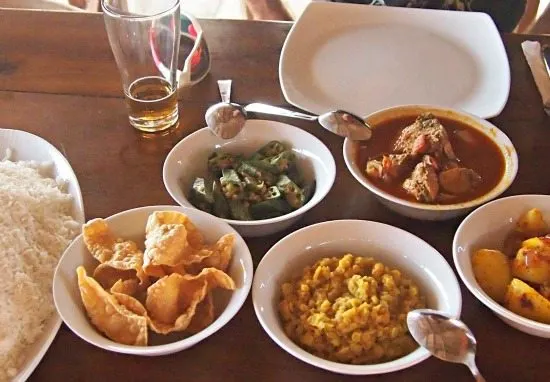 Price is the other problem. We paid 800Rs ($7) each for rice and curry on the beach in Tangalle. When it came, 3 hours later, it was very disappointing.
Cold popadoms, fish with scales, bones and skin, over-salted, dried out dahl and too many carbs. At that price you expect something better.
If you think $7 is cheap remember that in most parts of Asia a meal costs us $1-2.
We managed to find a few "local" restaurants away from the tourist places that served good rice and curry (200 Rs or so, $2) and had it ready for walk-in customers, but it wasn't easy.
Unlike Thailand, or most countries in South East Asia, I get the impression that Sri Lankans don't routinely eat out much, so there isn't the abundance of everyday restaurants that you see elsewhere.
Sri Lankan Short Eats
What you will find are short eats, various pastries, filled breads, and fried snacks. Some are absolutely delicious, we had great vada (wade) several times, vendors on buses and trains bring them to you in your seat.
We also tried some really weird bread concoctions, filled with curry, or in one case, a surprise sausage, they weren't so good.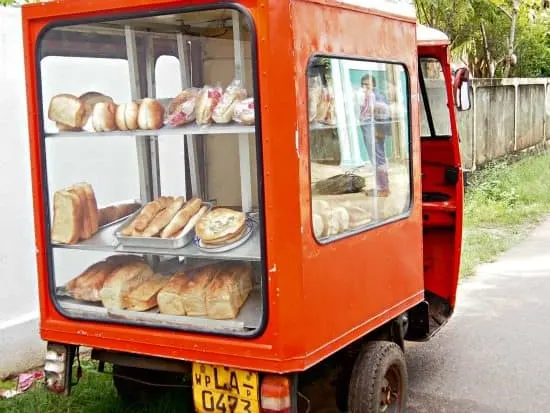 You'll see short eats for sale behind glass in shops and sometimes in mobile short eats vans. Look out for the whistling short eats van in Mirissa, it's cool. This little short eats tuk tuk was in Tangalle.
Filled vegetable roti are a regular feature, they're not bad, the filling is a spiced potato mix, similar to that in a massala dosa. They cost almost nothing and are very filling but roti tends towards being undercooked and doughy in Sri Lanka.
We've eaten roti in every country we've been to so far, it tastes much better if it's crispy (Laos gets our vote for best crispy roti).
Away from the coast, in Kandy, we had a different set of problems. Amazing, huge, delicious cheap breakfasts ( Oh how we LOVE Sri Lankan breakfasts!), loads of bakeries, but we couldn't find a meal we liked at lunchtime or in the evening and nowhere (except pubs, a new phenomenon for us in Sri Lanka) served beer with food.
I'll have to write another post about that.
One particular meal to avoid in Kandi, surprisingly, was any kind of meat curry. We normally prefer vegetarian, but my husband eats meat sometimes and any kind of meat curry he ordered was tough and stringy. So watch out for that.
Drinks in Sri Lanka
Coffee was universally bad for us in Sri Lanka. Sri Lankans don't really drink coffee as we know it, so my morning coffee habit went out of the window really fast. This isn't unusual, Malaysia and India are two other countries where it's sometimes a struggle to find coffee – if you take it black without sugar.
Tea, on the other hand, has always been excellent in Sri Lanka, we drank pots and pots of it, always served in fine china.
You'll find up-market places serving good, fancy coffee with a hefty price tag more and more these days, but it has to be a rare treat, not a daily necessity, at those prices.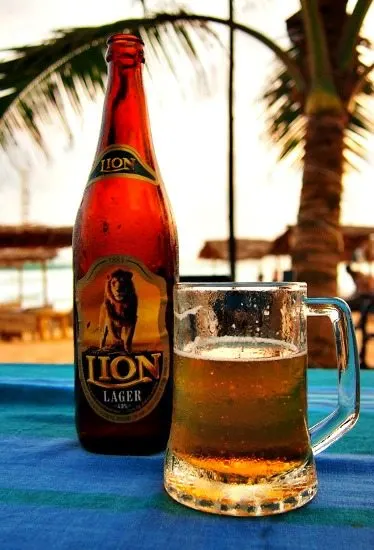 I tried one glass of wine, in Hikkaduwa. It was nasty so I gave up but you can get wine in Sri Lanka, there are off-licenses and wine shops and good hotels should have decent wine.
Sri Lankan Lion beer, on the other hand, is good and cheap, we happily stuck with that.
Food in Sri Lanka for Budget Travellers vs Package Tourists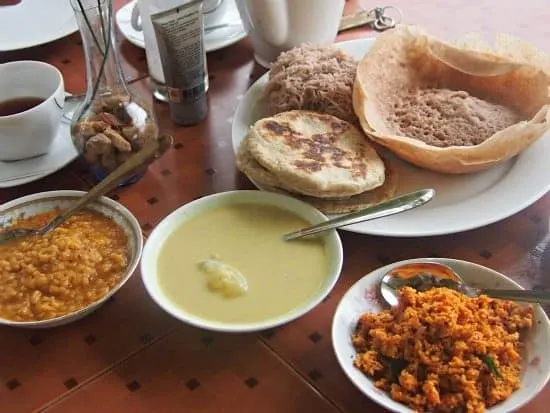 This was our 3rd visit to Sri Lanka, my first as a backpacker or budget traveller, (we've since been back 2 more times). On my previous visits I was spoiled with buffet breakfasts and hotel food. It's a very different experience.
I never tried, or even saw, a hopper back then. I went home raving about Sri Lankan food, twice.
This time, I'll give it a big thumbs up, but it's been tricky to find food that we've enjoyed without breaking the bank.
The hotels and up-market restaurants are there and the food is sensational, but it's not within a backpacker or traveller budget. At one private villa stay (with the most excellent chef) we had superb food. I think this is the trick to finding good Sri Lankan food, it has to be home-cooked, with love. Jackfruit curry and crab curry are two stand-out Sri Lankan dishes.
I will say that nobody has been sick this time. We've stayed away from the fish on the beach, I think that was the key. My travelling companion went down with amoebic dysentery followed by a severe reaction to toxins in prawns a few years ago. He was very ill and on a drip after having to call a doctor to the hotel.
But them's the breaks. We've loved our time in Sri Lanka, it's one of my favourite countries in the world, I just wish we'd had a bit of local food knowledge before we wasted a lot of time and appetite on trial and error eating.
Maybe a food tour or cookery class would be a good idea to uncover the real gems of Sri Lankan cuisine.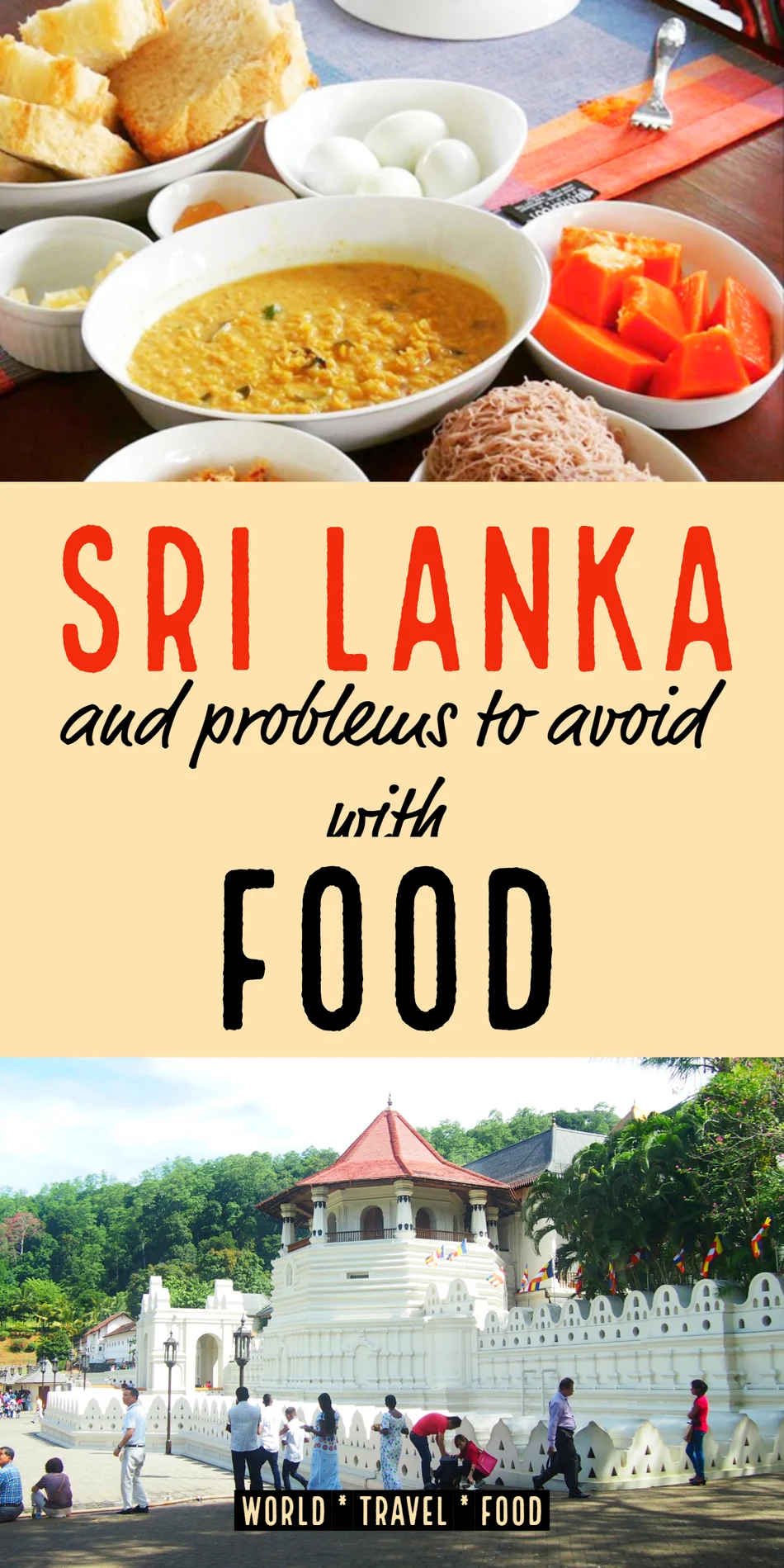 The good news is, that there are many uniquely Sri Lankan foods that you should try if you're here. We've enjoyed trying string hoppers, egg hoppers, various roti, glorious fresh coconut sambol, pol roti, fresh buffalo curd and palm "trickle". Sri Lankan breakfasts are superb.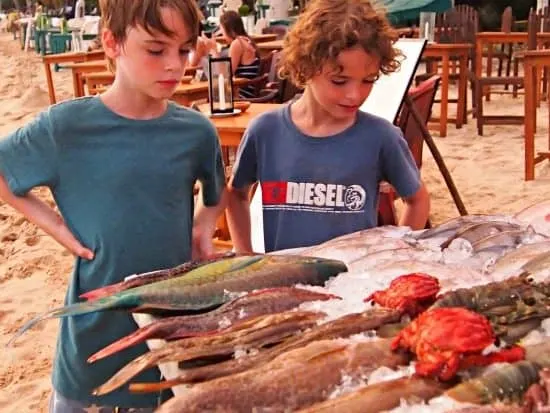 Food in Sri Lanka – Verdict
We'll be back in Sri Lanka soon, we hope to be able to give you the other side of the story, show you how amazing Sri Lankan food can be away from the chow mein and sweet and sour emporiums. So now you could go back to our Sri Lanka Family Travel Home Page or you could take a look at a place in Sri Lanka where we enjoyed superb food. A Sri Lankan chef with a passion for his art and skills he enjoyed sharing, take a look at the Max Wadiya villa, just to prove food in Sri Lanka can be amazing. We still talk about those crab curries. The Templegerg Villa and Balapitya Beach Villa also gave us good home cooking. Most hotels we've used in Sri Lanka, at higher price points, have also offered good Sri Lankan food. This post reflects our first-hand, honest, real-life experiences of travelling and eating in Sri Lanka, over several months and years with a dash of executive chef expertise. Or maybe just find out what on Earth a hopper is here.
If you'd like to hire a car during your stay, use this car rental comparison tool to find the best deal!

We also suggest you take a look at this company to get a quote for all kinds of the more tricky adventure or extended travel insurance.

Try Stayz / VRBO for an alternative way to find rentals on homes/apartments/condos in any country!