This post may contain affiliate links.
Admission prices to the big attractions in Sri Lanka are steep. It's something that you need to factor in to the cost of your holiday, particularly for families. They're wonderful, I've been to them all previously, but on our last trip, on a tight budget, they just weren't affordable. ( Sorry Sri Lanka, we love you, but they are terribly expensive.) This post is about the high entrance fee price for the Temple of the Sacred Tooth in Kandy and why we chose to visit the free devales instead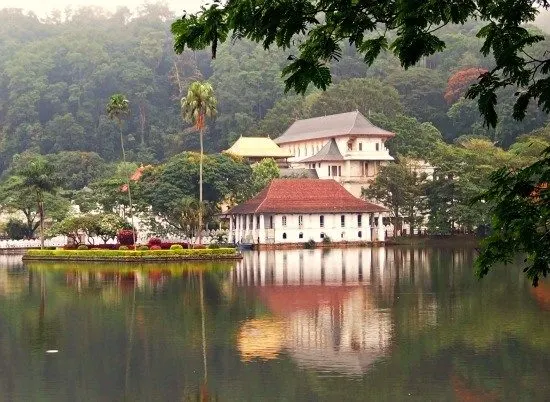 But the good news is, there is plenty to do in Sri Lanka that won't cost you a cent if, like us, you like to soak up a country and its culture in your own way rather than ticking off the famous destinations. ( see what they are in Top Places to visit in Sri Lanka).
We spent almost a week in Kandy doing and spending very little and having lots of fun, we took the decision not to visit the Sacred Tooth Temple and Palace.
After a substantial and delicious Sri Lankan breakfast at Devon Tea Rooms one morning, we went off for a wander with the vague idea of visiting the British Garrison Cemetery, somewhere behind the Temple of the Tooth and up the hill a bit.
Two hours later we found the cemetery and it was great, but what an amazing, fantastic and incredible two hours we had! I'm always saying you shouldn't over-plan travel, allow yourself some wiggle room, because you never know what interesting things you'll find. This morning was a prime example.
Temple of the Tooth Entrance Fee
You can check current entrance fees for the Temple of the Sacred Tooth Relic online. Expect to pay in the region of 30$ each, approximately 1500Rs or 1000Rs depending on your nationality. Dress codes apply and visitors have had issues with wearing a hijab.
Kandyan Devales are Free
Next door to the Tooth Temple are the Kandyan Devales, a group of temple complexes that cover a sort of mixture of Hindu and Buddhist deities. We had to walk around or past them to get to the cemetery. But I just thought I'd have a little look first. There were soldiers and police on the door and heavy security, it looked to me like the Devales were shut off and covered by the Tooth Temple admission fee ( it's 1000 Rs each) and we didn't think we'd be going. But no, the nice police lady on the door beckoned us inside, free admission and a nice welcome. Love that!
I asked this morning on the Facebook Page what YOU would like to see more of. It's 6 months exactly since we left Port Douglas to start this trip, the blog is taking off, bigtime and I'd really like some input and help on what you like to read. Well, mostly, you said photos. I'm cool with that, so here are a whole heap of them!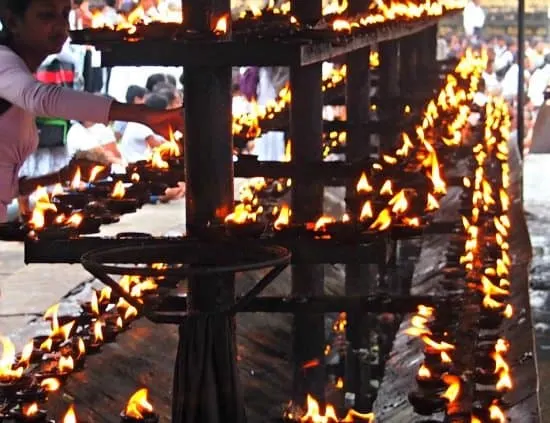 The first thing we saw when we came through the gate, rows and rows of lamps. We think we arrived on a special day, there were hundreds of people there, monks and priests were teaching and praying, drummers were drumming and horn players were horning.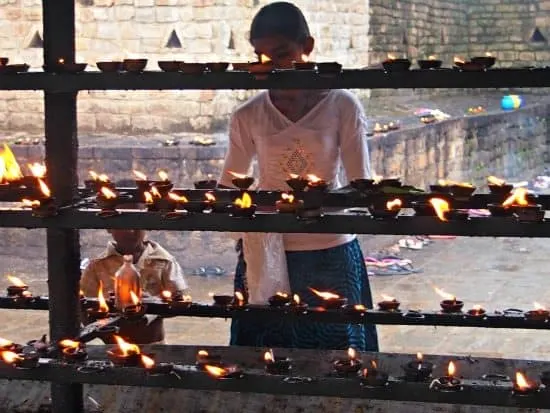 My boys always want to join in whatever is going on. My rule of thumb is, if people are smiling, it must be OK. This priest in the Pattini Devale seemed pretty happy to give them a blessing. I think people like to share their customs, especially with children.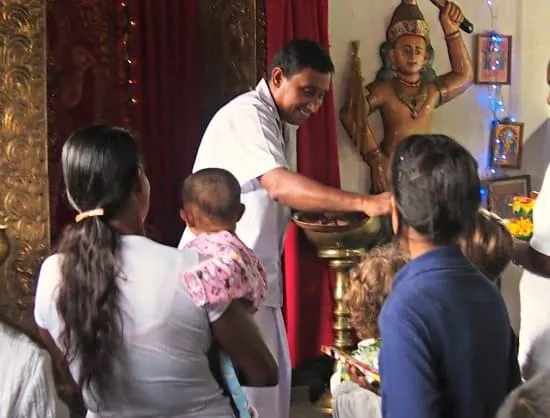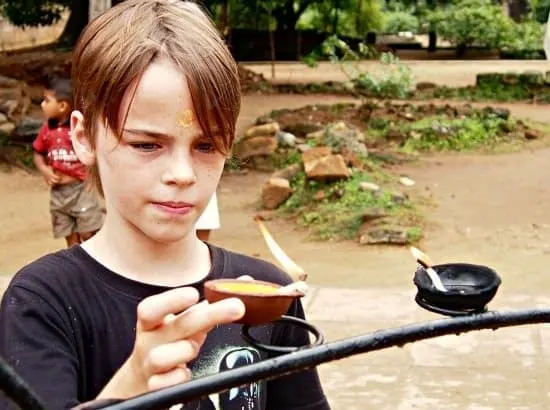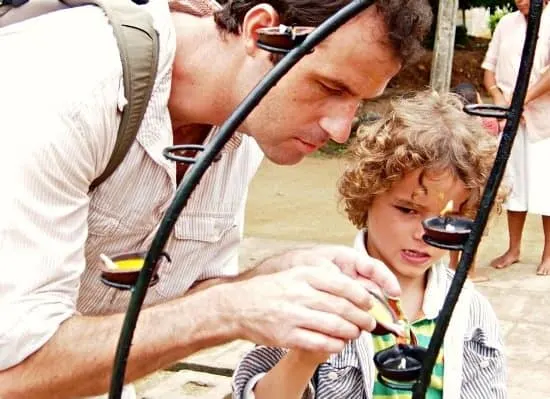 The smell of those butter lamps took us right back to Kathmandu, one of my favourite cities in the world. In these ancient Devales we were in a little time warp, away from modern Kandy, it was really lovely.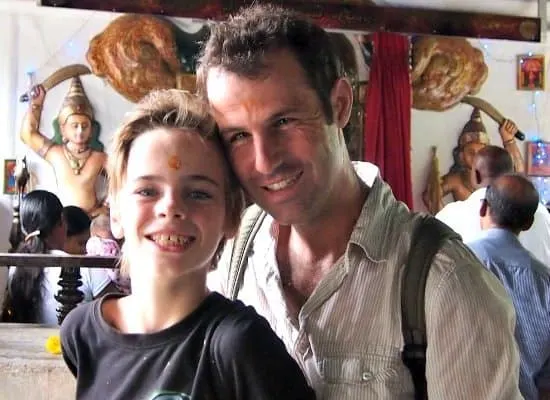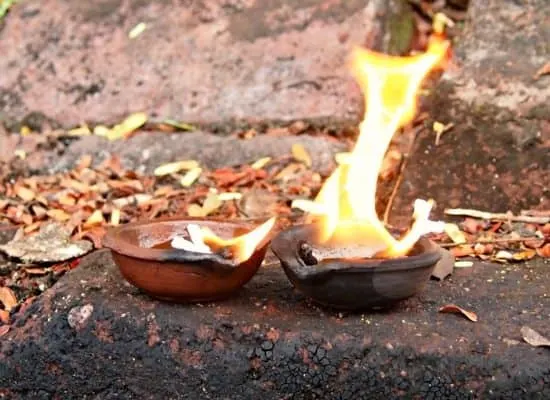 Another doorway with a surprise inside, a beautiful reclining Buddha. A lady kindly shared some flower offerings with us and showed the boys how to place them on the altar. The smell of jasmine filled the air inside the temple.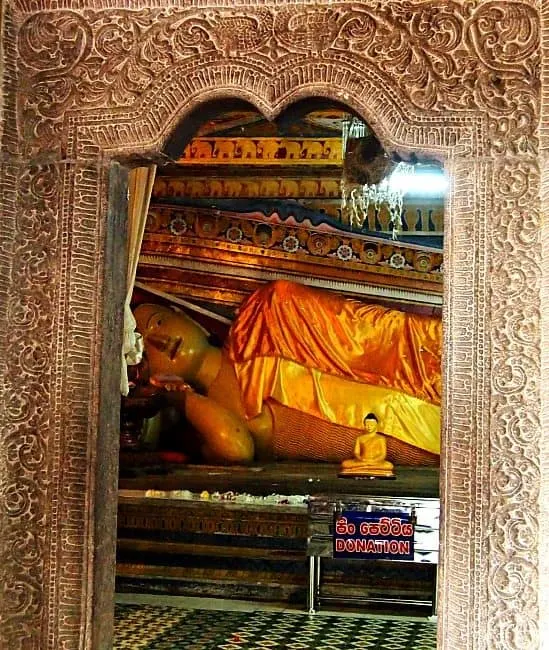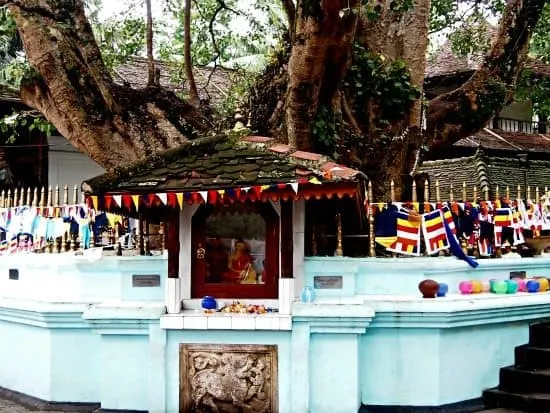 A sacred Bo tree or peepul tree. Buddha sat under one of these magnificent figs during his meditation and eventual enlightenment.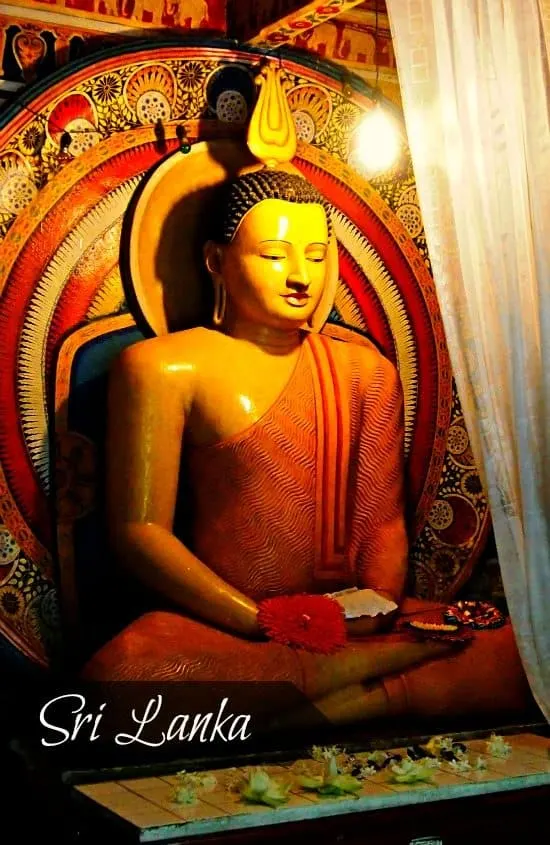 And then we had a bit of a surprise. This beautiful temple elephant was coming down the stairs from the Vishnu Devale and entering the Pattini Devale through a perfectly elephant-sized gate. Pattini is a goddess favoured by pregnant women and those wanting to ward off disease.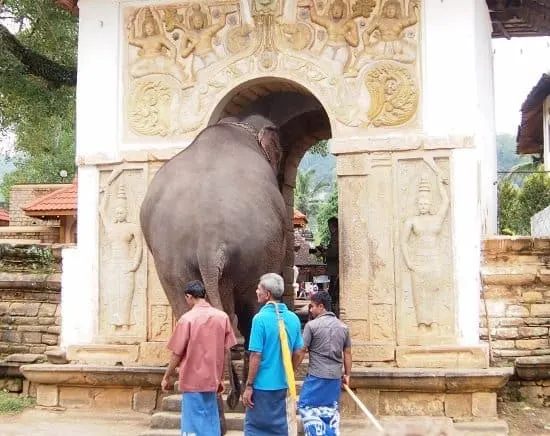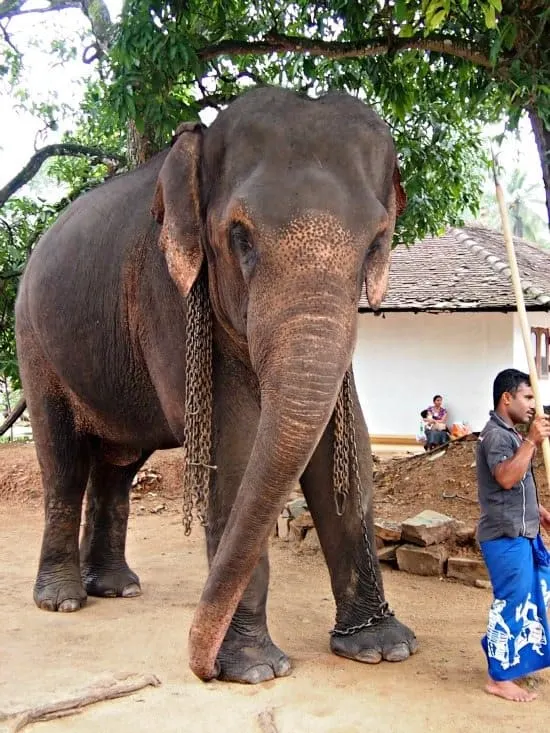 A pretty great way to spend the morning, don't you think?
I'm not totally convinced the elephant was as happy as we were about standing round in a temple all day, but tradition is tradition. The cemetery will go in its own post soon, Prince Charles had been there a few weeks before us, so it must be worth a visit. We've got a great guest house in Kandy( about $20), it has TV and a big sitting area so we can easily chill out there in the afternoons, I can work, the kids can get their fix of Clone Wars. Best of all, it doesn't have BED BUGS! We had our first ever run in with them a few days ago in Ella, thankfully they don't seem to have got into our bags and we've chalked up another travel experience.
We totally love Sri Lanka, so nice, a wonderful place. Kandy and the Devales have been one of the highlights so far.
Back to our Sri Lanka Family Travel Home Page
If you'd like to hire a car during your stay, use this car rental comparison tool to find the best deal!

We also suggest you take a look at this company to get a quote for all kinds of the more tricky adventure or extended travel insurance.

Try Stayz / VRBO for an alternative way to find rentals on homes/apartments/condos in any country!