This post may contain affiliate links.
This morning at sunrise I sat down to my computer to start my work for the day. It's what I do every morning before the kids wake up. The first thing I do is check my emails, messages, data and comments. Some good news, some bad, a couple of lovely comments and readers asking for help, then BAM! this delight hit me like a baseball bat to the head. I seemed to be being blamed for a Muslim lady reader's bad experience with Sri Lanka hijab wearing. It upset me a lot but I feel it's worth sharing her experience here as all experiences are valid.
A Reader's Bad Experience With Wearing a Hijab in Sri Lanka
"We took our boys to Kandy in Sri Lanka this weekend, largely because of the rave reviews I read here and at 1 or 2 other places.
I have to say, we HATED our experience there. The best I can say is that we learned a few things about ourselves and what we can and cannot do as a family.
It was hot, and air conditioning was minimal. As adults we could take it and our preschooler was excited enough not to mind, but the baby could not understand why he was uncomfortable and cried non stop.
The roads were INSANE. I have a bone to pick with any travel bloggers who think that this is a safe place to travel with kids. We had to deal with single lane roads being used for dual carriage purposes in opposite directions with hairpin bends and no mirrors covering the blind spots. We saw two head on collisions while we were there.
The people were not welcoming at all; in fact we found them aggressive and unwilling to respond. They treated us like we were there to steal something. E.g., we went to the Pinnawala elephant orphanage and afterwards there is a point where you cross the road where there are a few shops and a couple of restaurants overlooking a riverfront where the elephants come to bathe. When we tried to cross the road, a guard asked us for tickets to prove that we had been to the orphanage.
My husband found 1 adult and 1 child ticket but lost one adult ticket, and the two tickets we had were not proof enough for them. They asked our driver if we had been and he said yes, but they didn't believe him either. Then they asked to see pictures of us at the orphanage and only then did they let us through.
Also, we believe in travel as education so I had prepped my preschooler about the Esala Perehera festival and the temple of the tooth in Kandy. We have two of the three books you mentioned for kids in your blog and then some. We made a lapbook and everything.
When we got there, they didn't let me in. I am a Muslim woman and I cover my head: generally you must have a bared head in a Buddhist temple but I had read online (and experienced personally while visiting Buddhist temples in Thailand) that they let you in if your head covering is for religious purposes.
Not so in Kandy. And the worst part is that they were aggressive about it. When the woman in charge of females entering the temple told me I had to uncover my head and I explained myself, she still said no. So I said that's okay I won't go then. That should have been enough but then a man went up to my husband and told him to tell me to take off my head scarf.
I could see my husband struggling to remain calm, as it is unacceptable in our culture for another man to come and tell a Muslim man to get his wife to uncover herself. We got away before the situation escalated, but it was deeply disappointing.
To add to all of this, we have various allergies as a family. They didn't understand us at the hotel and I was up half the night sick with an allergic reaction. Thank God I had taken food for my boys with me. There was just one chef who we found serendipitously who saved the situation for us. I will add a caveat to this though: their treatment of western travelers was very different from their treatment of us. Maybe that's where the magic lies?
Never, never, never again. HATED it"
Thanks for sharing.
I'm sorry you had a bad time in Kandy and Sri Lanka.
But to blame the travel bloggers? Me in particular?
Is that fair?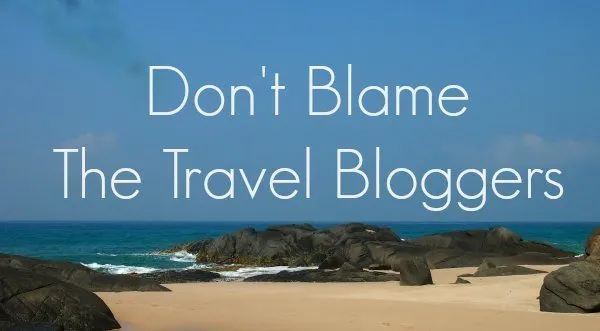 I thought about the morality of sharing this comment in a post and came to the unavoidable conclusion that as the lady shared this comment in a public place, my website, it was fair to share. Obviously her name and email address aren't here.
Yes, We Recommend Sri Lanka and Always Will
We travel bloggers usually report on our own experiences because that's all we CAN report on. We love Sri Lanka and have been visiting with our children for the last 3 years. The kids have spent 2 months total there now and when we asked them last time where they wanted to go, straight away they said " Sri Lanka".
We always have a great time and have found the Sri Lankan people to be some of the kindest, most honest, most friendly, but not pushy, people on the planet. That's something we hear a lot from other travellers, how lovely Sri Lankans are.
I do recommend Sri Lanka as a family travel destination, because I believe it is. In our experience. You will find mention of the large waves and strong rips on our site, these are not beaches for small children or weak swimmers.
You will also find mention of food issues, sometimes it's hard to find what you want in Sri Lanka. I imagine travelling with food allergies is very difficult anywhere, I know I found it very hard to travel vegan, but nobody in our family has serious allergies so I don't know.
Maybe the roads are a little "thrilling" but nothing compared to India, Laos, Nepal, Vietnam or even family-favourite Thailand. Traffic and driving conditions in Sri Lanka are fine by us and we happily take public buses ( and trains) everywhere.
I am extremely honest, I never write a good review where a bad one is deserved. But I am not you, what I think is great you could hate, what you love may not be for me. That should go without saying.
Checking Out Some Destination Information is Vital
Sri Lanka is a hot country, that information is very easy to get, anywhere. I think I actually mention specific temperatures on our Sri Lanka travel home page, if I don't, I give you links to sites with factual information.
If you are sensitive to heat you may struggle. If you need a place with air con, you'd need to find one. If the air con in your chosen accommodation doesn't work, then you'd need to find different accommodation. It's very easy to do.
I , as a travel blogger, can help you with the process of finding rooms, but I can't be held responsible for your choice or failure to act when things didn't turn out as you hoped.
This is one of the reasons we like to go knocking on doors to find a place to stay rather than booking ahead. It means we know exactly what we're getting for our money and we know our room suits our requirements.
In our experience, we've never needed air-con in Kandy ( it's cooler up there) and only rarely take rooms with air-con anywhere in Sri Lanka. We've spent years living in the tropics and we're all comfortable in the heat, in jeans, every day. But we're not you.
The Temple of The Tooth and Hijab
The issue with the hijab at The Temple of The Tooth is an interesting one. I'd never even considered that problem as obviously, I don't wear a hijab. I do always take off my hat out of respect, even if not asked. I don't like taking off my hat, sweaty hat hair isn't a good look, but I totally understand that your religious requirement is a much bigger issue.
I Googled, it took me about 5 seconds. "Can Muslim women wear a hijab to The Temple of the Tooth". The answer, a very clear no. Regulations are regulations. Just as we don't wear shorts or strappy tops to just about every religious site in the world, this site requires all female heads to be uncovered. Sure it's annoying, there are many, many rules and regulations around the world that are annoying, for white people, brown people, people with purple polka dots, everyone. But I don't make the rules.
I'm sorry you couldn't get in. Your two cultures have different rules and just as you can't understand theirs, they don't understand yours. For the record, we haven't been inside that temple since 2003, it's way too expensive.
There have been a flood of posts about white privilege lately from travel bloggers. I guess this is an example, maybe. It's not something I want to get involved with but there are plenty of negatives and disadvantages of travelling while white, as well as some advantages. Derek shared this post on privilege this week.
I will say that I have come across negative reports on treatment of Indian travellers in Sri Lanka ( I think the Muslim lady may be Indian but I don't know). It's not unheard of. I know of 1 Sri Lankan tourist restaurant that refuses to serve non white customers and I've read-up on the situation extensively. Sorry we've never mentioned it in a post, it wasn't something we felt we should cover.
I never enthuse about travelling with babies. It's not something we did, the most we managed was camping trips in Australia ( which were hot, nappy-ridden hell) and family visits to Australia and London, which were OK but not very adventurous.
Some travel bloggers recommend travel with babies, I don't, particularly not the sort of travel we do. We really started travelling seriously with the kids when my younger son was 6, that was our choice based on previous experience of long term and adventure travel. We knew it would be hard on the baby and on us.
Now they're 11 and 9 we'll take them just about anywhere. We travel to destinations appropriate to age, that is one of the reasons we only just took them to see Everest. We have a post on best age to travel with kids.
So Please Don't Blame Me, The Travel Blogger
I think this lady just needed to vent and I hope feels much better now she's let loose. I'm a woman too, I have the same strong emotions and bad days ( to be perfectly honest, I have more bad days than good since menopause started shredding my brain).
I'm sorry she had a bad trip. But don't blame me because it's really not my fault. I am a human being, I have feelings and lashing out like this at me is hurtful. I really don't think anything this lady could have read on my site contributed to her unfortunate family holiday. If it had I would have changed the wording or somehow rectified my mistake.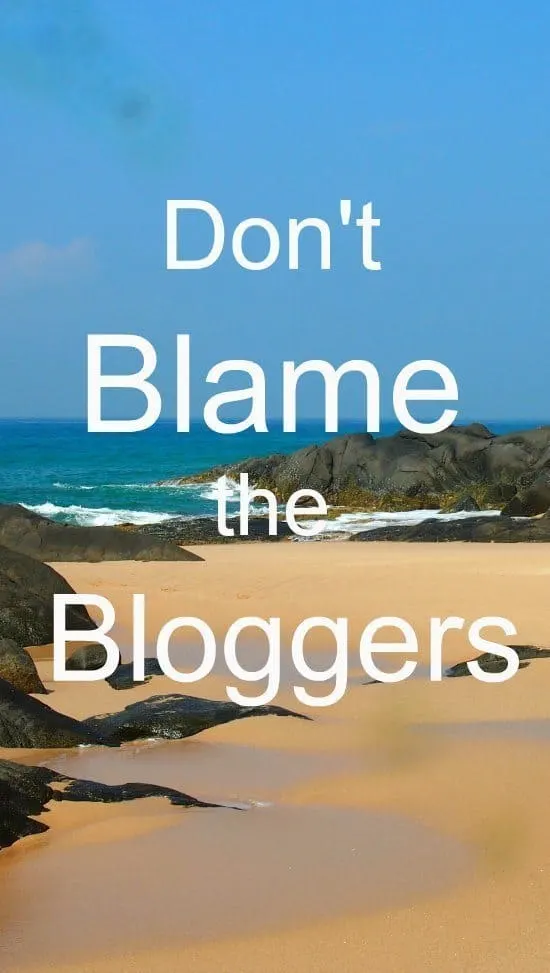 It's very obvious here that this reader and I see the world differently, my fabulous and her hell coincide alarmingly. What do you think? Do you think travel bloggers paint unrealistically rosy pictures? Or do you think the reader should work hard at finding a blogger they resonate with, somebody with the same outlooks, expectations and ideas of what makes " good" travel? Or maybe readers shouldn't put any reliance on third party reviews and advice at all. Let me, us, all of us travel bloggers, know. Thanks.
If you'd like to hire a car during your stay, use this car rental comparison tool to find the best deal!

We also suggest you take a look at this company to get a quote for all kinds of the more tricky adventure or extended travel insurance.

Try Stayz / VRBO for an alternative way to find rentals on homes/apartments/condos in any country!