Sri Lanka travel blog, for single, couple and family travellers. All our Sri Lanka blog posts, tips, advice, essentials and recommendations in one blog page.
This page ties information together, easier for you to find for your Sri Lanka holiday.
Costs of travelling in Sri Lanka.
Ideas on where to go in Sri Lanka, beaches and cultural.
What are the big, must-see attractions and how to get to them.
What to expect of accommodation in Sri Lanka, from luxury to budget and finding the best deals.
Practicalities of getting around the island by public transport or private vehicle. Update, as of July 2018, you can now book train and bus tickets for Sri Lanka online using 12GoAsia. This is great news!)
Should you book hotels, or wing it?
What food to expect in Sri Lanka, from street food to boutique hotels
Best time of year to visit, and which coast, south, east, north, west.
Vaccinations and staying well in Sri Lanka.
Sri Lanka with and for kids and families.
Independent travel and booking tours in Sri Lanka.
Suggested itineraries and how much time you need to see Sri Lanka ( in production!)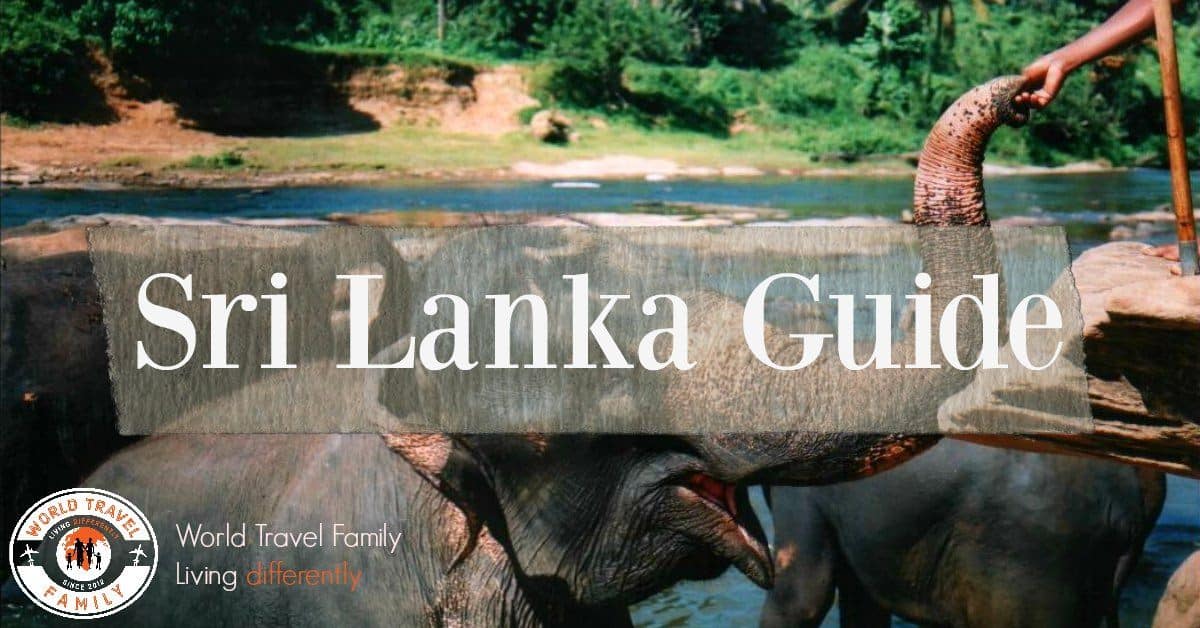 [cmtoc_table_of_contents]
Our Sri Lanka Experience
We want you to visit Sri Lanka, get the most out of your trip and enjoy this amazing country as much as we have. We have visited 5 times, each time for a month- 3 weeks, our last Sri Lanka trip was our second as a family with kids. We have created this guide to Sri Lanka with kids for you, as well as this, our general Sri Lanka guide.
We've visited Sri Lanka on a tight budget, independent backpacking, and with more cash to spend on couple holidays and diving trips.We held our wedding in Sri Lanka. We've tested some beautiful boutique and luxury hotels. We've travelled around the island by public transport and by private tour. We've explored many destinations, including Jaffna and Sri Lanka's east coast.
We want you to enjoy Sri Lanka and not perceive it as a challenging destination.
Costs of Travel to Sri Lanka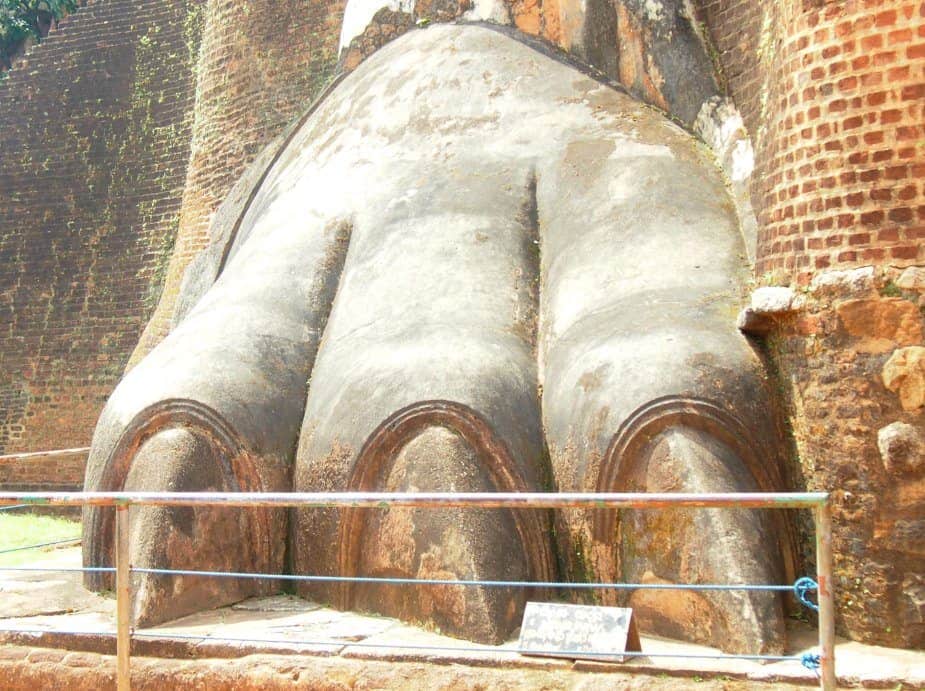 How much Sri Lanka costs depends on you. We've visited as budget and luxury travellers.
Sri Lanka worked out cheapest country on our 12 month budget round-the-world trip in 2014, we certainly managed to stay under our $50/day goal.
Food was very cheap if you ate in the right places and accommodation and transport were incredibly good value. We mention the small guest houses and hotels we use in the posts specific to that destination.
If you choose top- end luxury hotels and villas, Sri Lanka offers a lot for your money. We've tested out quite a few, for personal enjoyment and as part of our work, we are professional travel bloggers.
We can highly recommend the Lighthouse Hotel near Galle, one of the finest on the island. We got married there. More luxury hotels and villas are listed further down the page.
Taking guided tours and paying admission costs to the big attractions quickly eats into your cash as all admission costs are relatively high in Sri Lanka. We had a wonderful time on our budget trip and didn't feel any need to see and do everything. You can cut costs by not visiting all the big sites. There is easily enough to do and enjoy in Sri Lanka without spending the big bucks if that is what you need to do.
Finding the Best Prices and Deals on Hotels, Hostels, Guest Houses and Resorts in Sri Lanka
We highly recommend checking Hotels Combined if you're serious about finding the absolute best price for your stay. This booking engine compares multiple online booking engines to find you the best deal available. Hotels.com often has the best deals, they tend to be non-refundable but Hotels.com has a cool stay 10 nights, get 1 free feature. Hotels Combined does check Hotels.com. We also like to use Agoda for Asia as they are the experts for the region and often have a bigger selection, particularly try them for smaller hotels and budget accommodation but they do list luxury hotels, villas and resorts too. They are not one of the sites Hotels Combined checks so click through to them above and have a quick look there too. If you're the sort to book a long time in advance, reserving multiple hotels on a fully refundable basis, Booking.com is your friend. Further down the page we have more information oh hotel standards and a few personal recommendations.
Best Beach Destinations in Sri Lanka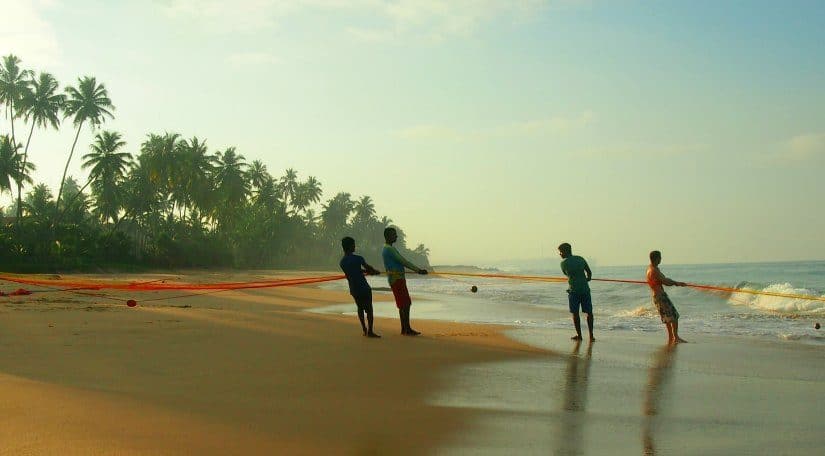 We now have a full post on Sri Lanka Beaches, below, you can click through to take a look at that. I'll tell you here that the main tourist beaches on the West coast can get very crowded, for decades tourists have been pushing further and further south to avoid, ironically, other tourists. Our favourite beach for family fun is little Mirissa, south of Galle, but even that is getting busier and busier. Don't overlook the west coast and even the northern beaches. The Jaffna area ( far north) is thought to be going to become a beach holiday destination in coming years. The north west coast is upcoming. There are still quieter spots on the south west coast, we found Ambalangoda beach to be almost deserted in 2016. The main part of Hikkaduwa can be crazy these days which is a shame, that was always my favourite and many beaches have big surf and strong rips, not ideal for small children.
Further Reading:
Best Cultural Destinations in Sri Lanka Include: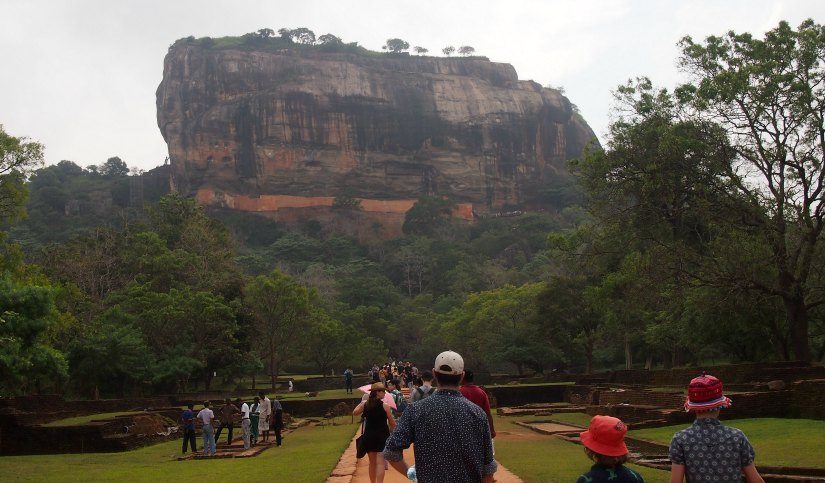 The Golden triangle is where you'll find Sri Lanka's key historic sites, including Dambulla Cave Temples and Sigiriya Rock Fortress. You'll either need to base yourself up here or visit them by road from Kandy. Anuradhapura is a magical ancient city and home to a Bo tree descended from Buddha's and thought to be 2000 years old. Kandy is a cultural arrtraction in it's own right, boasting the iconic Temple of the Tooth along with multiple smaller temples and interesting attractions. Ella, high in the tea fields, is popular with visitors as is the southern capital of Galle. We feel that Jaffna, in the very far north, is the new must-see place for more adventurous travellers. It's almost free from tourists and very different to the rest of the country.
Further Reading:
Hotels, Villas, Guest Houses and Hostels in Sri Lanka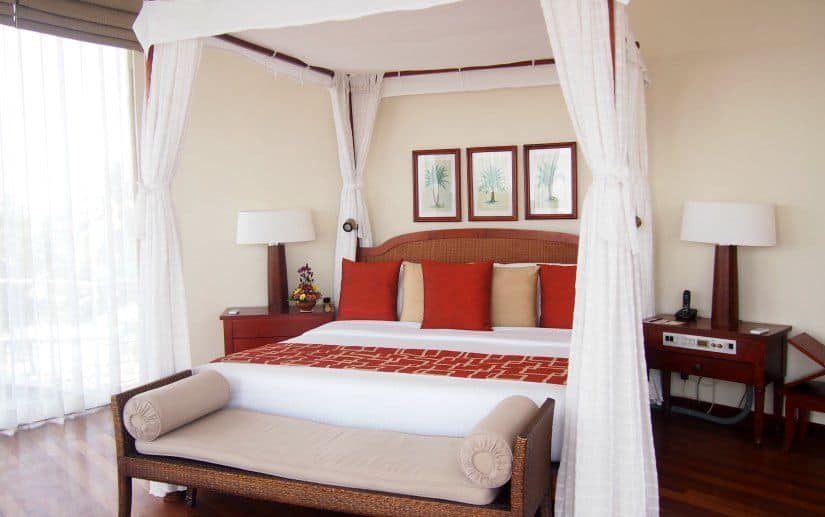 What to expect from accommodation in Sri Lanka? That totally depends on your budget. Here's a selection of accommodation styles, at all price points, we do not make financial gain from sending you to particular hotels, resorts or guest houses, these are just examples that we know well.
Top End. Some of the luxury resort hotels and villas we've tested out in Sri Lanka and recommend. Just click through on the names below for more information.
Mid-Range. Family hotels with pools and all the usual facilities are abundant in Sri Lanka. Whatever style of accommodation you need, you will find. Search online using any of the major hotel booking engines ( Hotels Combined, Agoda , Booking.com ) if you plan to book in advance. In high season or if you have very specific needs, even just for peace of mind, we would recommend pre-booking. Sri Lanka is getting busier and busier these days and hotels get full.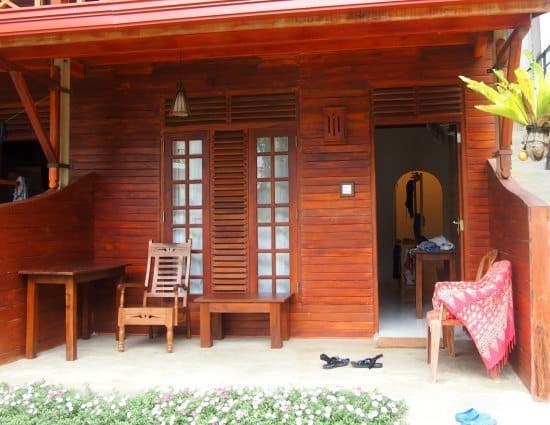 Budget. Truly budget backpacker guest houses are getting rarer in Sri Lanka as tourism booms and accommodation providers go more up-market. Again, we would recommend booking, but it is still possible to just turn up and go knocking on doors to find a bargain. At peak periods expect many places to be full. Sri Lanka is in no way as undiscovered as some would suggest.
The guest house above, On The Rock, Mirissa, can be found on Agoda here.
Sri Lanka Tours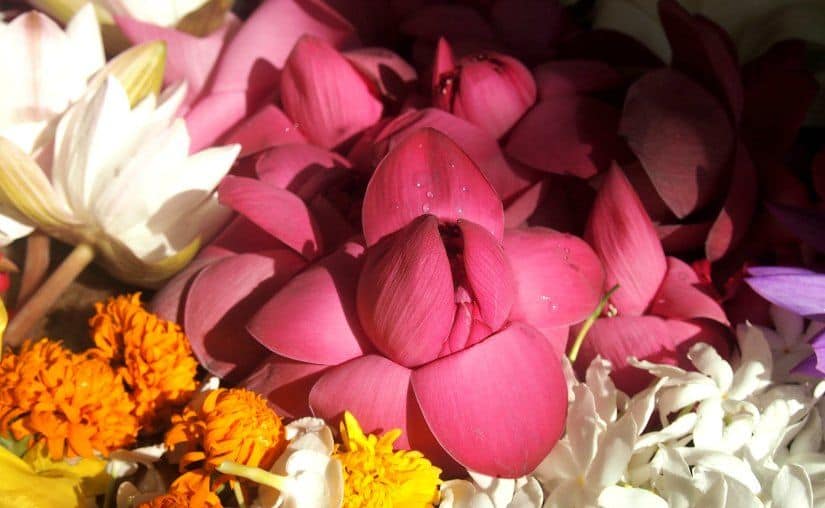 Some visit Sri Lanka independently and make travel arrangements as they go, some book tours. Both are easy to do, before departure or after arrival. We'll help you with getting around Sri Lanka, how to do it and where to go, below
Before we start on the independent travel information for Sri Lanka, I want to share a resource with you that could simplify your trip no end. It's a website we've used, but not as yet for Sri Lanka, the number of tours they offer, from one day to a week and more is phenomenal. They offer private airport transfers, food tours, guided visits, internal bus connections. This is gold! Click through and check it out here. I'm massively impressed with what you can organise in Sri Lanka before you've even left home, you'll find our full review of GetYourGuide here.
Best Time to Visit Sri Lanka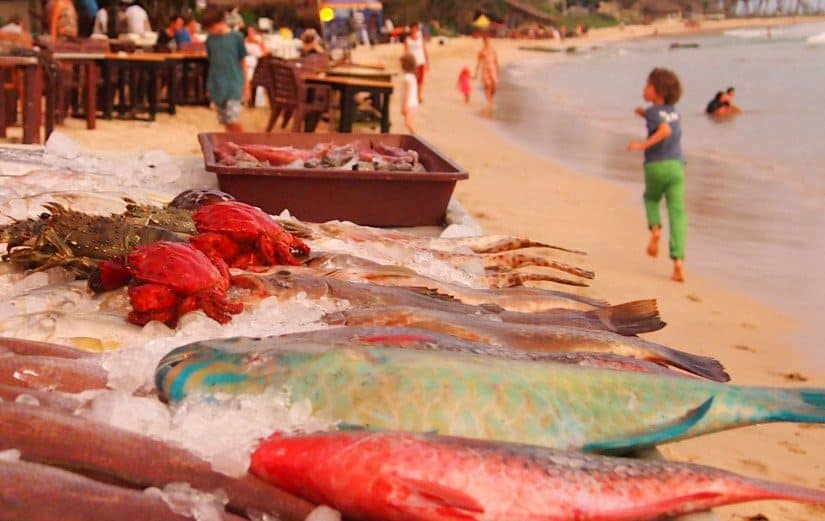 This little island has a double monsoon system, so picking the best time to visit Sri Lanka can be complex and entirely depends on which parts of the island you are visiting. Luckily for us, it means that there is always somewhere on the island with good weather at any time of year.
Temperatures remain fairly steady year round, but you will see a big differential between coastal resorts ( high 20s to mid 30s) and the high hill country ( up to 20 degrees Celsius) .
The temperature in Kandy is normally around 20 degrees C.
In general, the SOUTH WEST COAST and HILL COUNTRY receive the heaviest rain from April to June. the EAST COAST is wettest in November and December. In between these two monsoons, the inter-monsoon rains bring thunderstorms ANYWHERE in October and November. This means the driest times are December to March for EAST, SOUTH and HILL COUNTRY and April to September for the EAST COAST.
I did warn you that it was complex! In our experience rain is extremely unpredictable, we've had great weather and bad weather at the same times of different years.
How To Travel to Sri Lanka. Package Holiday or Independent Trip?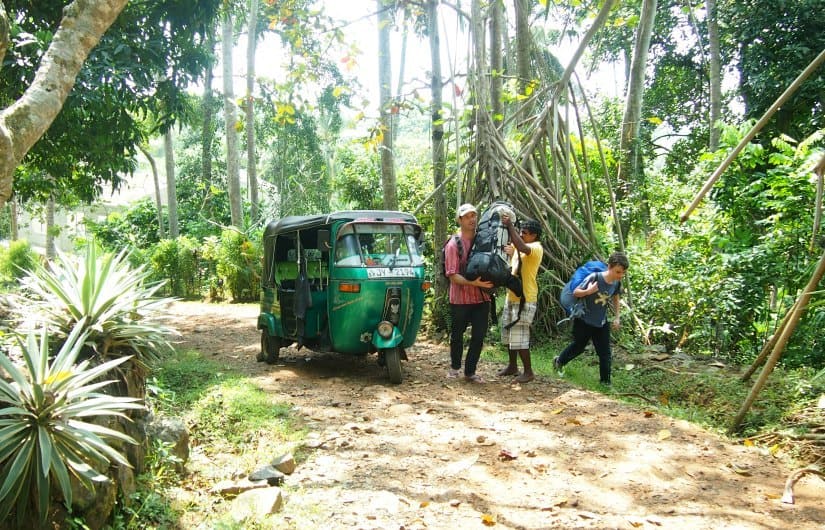 Independent travel is a great way to see Sri Lanka but package holidays can be a good option for new travellers. If you want to organise an independent trip to Sri Lanka, maybe it's your first time, here's what you need to do:
Book your flights, select the cheapest, best flights for your dates using a flight comparison tool such as Skyscanner, if you're new to finding amazing flight deals for yourself, we have a guide to using Skyscanner like a ninja here. Similar sites exist, but Skyscanner is our favourite, we use it every time. Sri Lankan airways are superb and often very good value, budget airlines also fly to Sri Lanka.
Book your accommodation, think about where you'd like to stay on your first night and most certainly book a hotel, it makes life so much easier when you're tired and adjusting. We use an affordable little hotel not far from the airport for late airport arrivals/departures. We've tried a few, this one has been best. There is a fixed rate, tourist taxi desk at the airport or this hotel will pick you up. If you'd like to book a whole week somewhere, go ahead, if not, a few days here, a few days there, is also fine.
For onward transport from Bandaranaike airport, by bus, taxi, train, tuk tuk or minibus click through.
Sri Lanka is a small island but the big sites are quite spread out, you'll probably want a multiple base vacation. You don't have to book every night in advance, you can leave your options open and book as you go, but organisation cuts into your vacation time and is a bit of a hassle.
When we're backpacking we usually just arrive in a town and knock on doors until we find a place we like, but on a shorter vacation or one using mid-top range hotels you'd want to be more organised.
A Quick Note on Finding Flights to Sri Lanka.
We found it was cheaper to fly to Sri Lanka from the UK via Istanbul. If you visit our post on How to Save Money on Flights with Skyscanner you can read all about that tactic. We have also visited Sri Lanka from Malaysia as a stop-over on a flight to London. This cost us no extra and the flight was an incredible bargain with the excellent Air Lanka.
Visas for Sri Lanka
We love Sri Lanka for making children's visas free. Not many countries do that. All visitors to Sri Lanka need an ETA ( Electronic Travel Authorisaion) available online. The ETA lasts for 30 days but can be extended. Find more information about obtaining your visa here.
Sri Lanka Essentials, What to Pack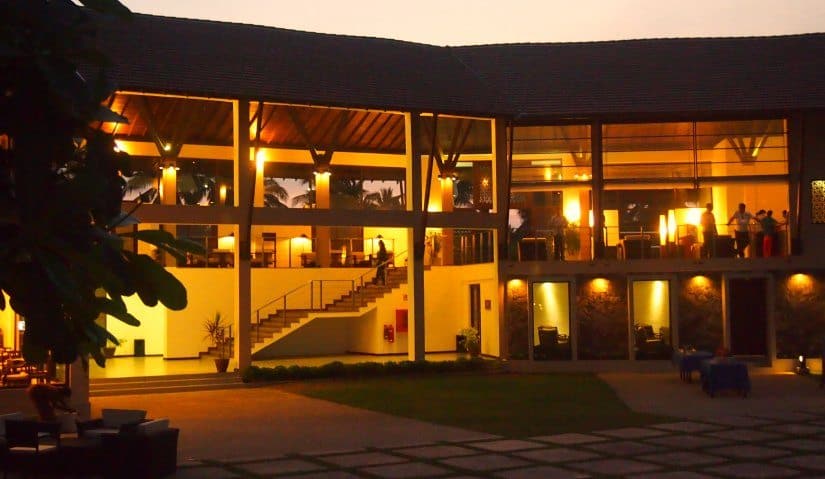 You will need copious sun block ( or sun protective clothing) and mosquito repellent. Really, whatever else you take is personal choice. Expect heat and humidity but be prepared to be chilly if you're hitting the hill country. Have clothing that will cover legs and shoulders for visiting religious sites. Families with young children will benefit from taking antiseptic hand gels or wipes. We like to carry a small bottle of iodine, small bites and scratches become infected easily in the tropics. Read more about our travel medical kit here or about the travel gear we normally carry, here.
Vaccinations For Sri Lanka
Again, this is personal choice. We tend to not get any special vaccinations for visiting countries with a big tourist industries, such as Bali, Thailand or Sri Lanka. The recommended vaccinations for Sri Lanka will vary depending on your home country. Currently, malaria prophylaxis was not recommended by my London GP. Back in the 90s we took malaria tablets, we don't today. Be very vigilant about mosquito bites, Dengue is a real risk. Always do your own research and get whatever jabs you need to feel safe. Remember there is rabies and to keep your kids away from dogs and monkeys. A child died after a bite from a puppy recently, always get post bite treatment if the worst happens. Read up on vaccinations and what we do here.
Get More Out of Your Trip. Read Before You Go!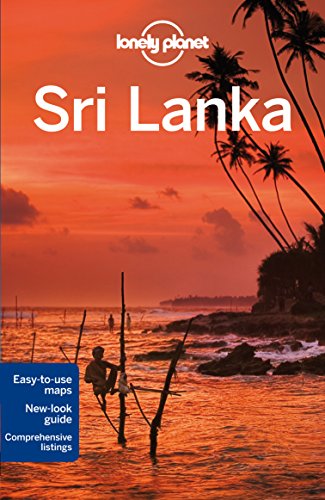 The essential companion for your Sri Lanka trip, Lonely Planet Sri Lanka brings you history, culture, food and customs, a few useful words and phrases to practice ( please, thank you and hello are always appreciated) and of course, maps, hotel and restaurant recommendations. Buy from Amazon by clicking on the image, or download the ebook direct from the Lonely Planet site ( they usually have a 3 for 2 offer)
Books on Sri Lanka for Adults
Running in the Family
, Lonely Planet Sri Lanka (Travel Guide), The Elephant Gates: Vibrant Reflections of Life, Family, and Tradition in Sri Lanka, A Field Guide to the Birds of Sri Lanka,
Island of a Thousand Mirrors: A Novel
, At the Water's Edge
.
Books on Sri Lanka for Kids
Leap & Hop Sri Lanka, Children Travel Book
, Children Just Like Me: Celebrations!
, How to Make an Apple Pie and See the World (Dragonfly Books)
.
The Big Tourist Attractions in Sri Lanka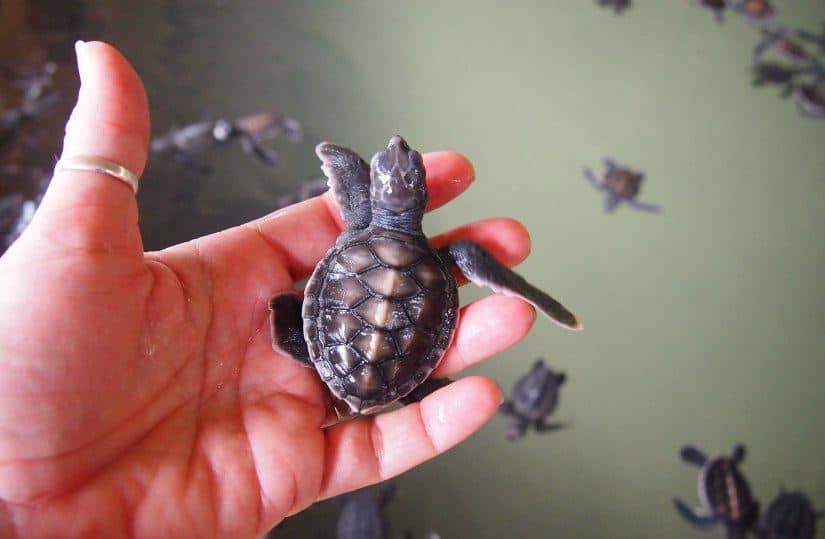 There are plenty, Sigirya, Dambulla, the Temple of the Tooth, Pinnewala Elephant Orphanage, Turtle Hatcheries, Yala wildlife park, plus more, they're incredible. We've been to them all over the years, except Yala. People often visit the sites with drivers rather than organising their own transport. There are some big distances involved. You can easily find a driver in Sri Lanka who will take you around the whole island if you don't fancy trains and buses. Tuk tuk drivers will be keen to take you too.
Further Reading
Getting Around Sri Lanka.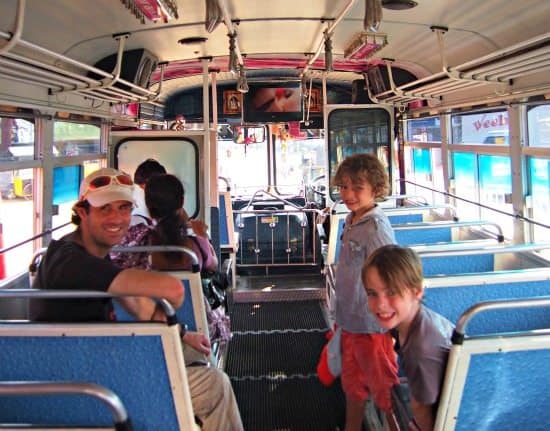 Buses in Sri Lanka are frequent, fun and incredibly cheap. A family can travel halfway across the island for $5. You just find a bus stop or bus station and hop on. There was always somebody to help us find the right bus and most Sri Lankans have great English. The buses come in two flavours, standard, open to the elements, no windows type and the smaller air con buses. Be aware that some buses get incredibly crowded. The Sri Lankan people are wonderful, warm and considerate and we had great fun on the buses. If you're travelling with big packs you may need to put them on the seats, in which case, you just buy a ticket for them, too.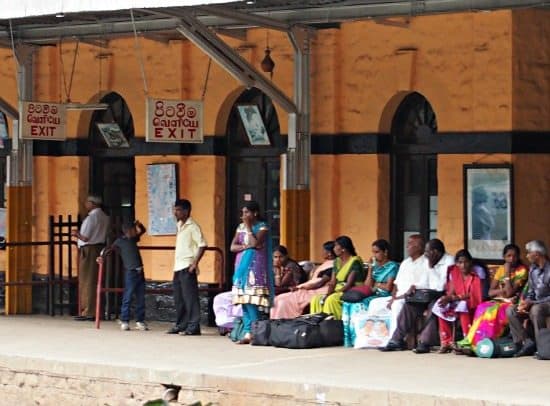 The trains are great, some routes are fantastically scenic, but occasionally they were so packed we had to stand.
Sometimes we used tuk tuks, they're more expensive than buses but it IS possible to fit 2 adults, 2 kids, 2 big backpacks and 4 smaller bags into the back of one. Sri Lankan tuk tuk drivers are pretty fair with pricing. We took one fancy air con taxi from the airport, it was good, but expensive ($12).
Tours and hired drivers are very easy to organise and the most commonly used method for package tourists and more up-market travellers. You can arrange trips through your hotel, direct with drivers or through the multitude of travel agents on every street. You can travel the whole island by tuk tuk or aircon minibus, the choice is yours. When we got married the same tuk tuk driver took us all over the island, we even went to his home to visit his wife and child, he was at our wedding. We'll never forget him and we hope and pray he and his family came through the tragic tsunami safely.
Update: As of July 2018 you can book bus and train tickets in Sri Lanka online using 12GoAsia (see here). This is great news! We've been using 12GoAsia for years in Thailand, being able to do this for Sri Lanka is a great step forward.
Food in Sri Lanka and Sri Lankan Food With Kids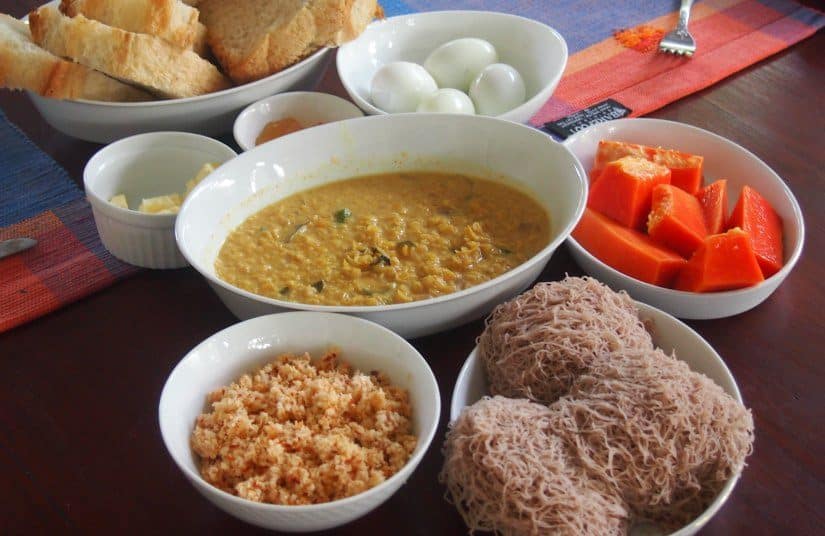 We don't think Sri Lankan food is fantastic in comparison to some other countries ( Thailand, India, Vietnam etc.) but we found food for the children easily. There are, of course stand out dishes and specialities to enjoy and fish and seafood along with fresh tropical fruits are big players.
The children ate omelettes, egg hoppers ( find out what is a hopper? here), fruit, curd, roti and traditional Sri Lankan breakfasts. My boys really started to enjoy egg curry, dal and potato curry for breakfast. There are also plenty of baked goods, savouries and cakes ( short eats) some better than others.
The children drank a lot of freshly made fruit milk shakes for extra calories and nutrition and started to drink tea for the first time. Sri Lanka does excellent tea, always served in china tea pots. In Kandy you will find plenty of bakeries serving cake to go with that tea.
On long bus and train journeys vendors would be around selling savouries and drinks. My boys enjoyed fresh wade (vada) but some have too much chili. If we were stuck we'd just buy a packet of biscuits and some Milo. Sri Lanka does great biscuits, very British Bourbons, cream crackers and ginger nuts included.
Nobody had any tummy trouble during our time in Sri Lanka.
We're passionate about food ( my husband is an executive chef) and really wanted to eat well in Sri Lanka. Unfortunately food options in Sri Lanka were sometimes a bit limited by availability, time constrictions and the boring standard tourist menu. Food was good and nutritious, but not always very exciting. Real Sri Lankan rice and curry was often hard to find.
If you are staying in a hotel rather than backpacking around the island your food experience will be totally different. Every hotel we've stayed at on the island had great food, usually with more of a western influence. You will find plenty of incredible seafood dishes, fresh tropical fruits and curries if they are to your taste. We'll give special mention here to the incredible sri Lankan crab curry prepared for us with love by our chef at The Max Wadiya, I'll never forget it !
Make sure you sample the traditional Sri Lankan breakfast, we're big fans, but you may need to order the night before.
That's it, a quick overview of Sri Lanka. There are plenty of links in this blog post that can give you more information. Give 'em a click. If you want to start your hotel search, we suggest you start with Hotels Combined, Agoda or Booking.com ). Agoda works particularly well for Asia, Hotels Combined lets you compare multiple booking sites at once.
This Sri Lanka travel blog first appeared on World Travel Family. Global nomadic family travel blog. We travel full-time ( it's been 4 years now and a whole heap of fun!) to create this resource, this blog helps us how we make a living ( see how here), Thanks.