This post may contain affiliate links.
If you're looking for a luxurious, relaxed ocean-side stay during your time in Sri Lanka, the Eden Resort and Spa, near Beruwela (Beruwala), could be the perfect place for you. We stayed earlier this year and loved what we found. The Eden Resort is visually impressive, the moment you pass through the giant gates and approach the central reception area with pool and ocean views, you know you are somewhere special. Guests receive a full Sri Lankan welcome, "Ayubowan" as they say here. The Eden Resort and Spa is a self-contained oasis. Everything you could need for your holiday is housed within one building. Multiple dining options and bars, shops, a gym, games room, nightly entertainment and that pool and beach view. It's all here. We thought the experience of staying at The Eden was reminiscent of our cruise ship experiences, with far more space.
Read our Eden hotel review to find out what we thought of the Eden Resort experience, the rooms, service, food, facilities and location. Is it as good as it looks?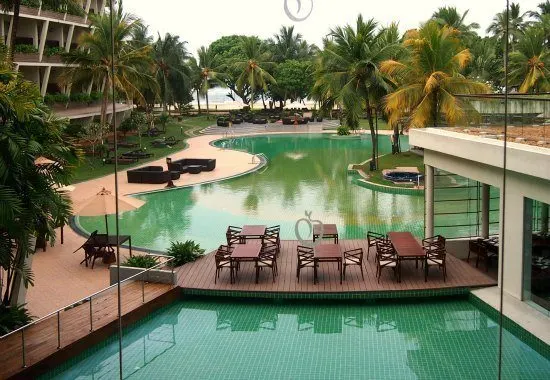 The Eden Resort and Spa Location, Near Beruwela
One of the beauties of Sri Lanka is that it isn't a vast country requiring long distance travel. The location of the Eden on the Golden Mile beach is one of many perfect bases for your stay in Sri Lanka or it could be the first part of a relaxing holiday tour.
Beruwela is only around 100km from the airport and if taking a private taxi or shuttle on the new southern expressway, it take under 2 hours door to door. Most of Sri Lanka's other main beach resort areas are further south, making your transit time longer.
On the door-step of Eden are the inland waterways, perfect for wildlife watching and cruising. Boats leave from the beach area right outside the hotel. There are turtle hatcheries and temples within a few minutes reach.
If action sports are your thing, dive centers and watersport companies are located nearby.
From the Eden Resort and Spa it is only an hour down to Galle, a fascinating historical city and a great place to head off whale watching.
If you're interested in Sri Lanka's Golden Triangle it is a little further afield at 3 hours to Kandy but again you can still manage this including the Pinawalla elephant orphanage in a 1 or 2 day trip, knowing you have the Eden to return to after your explorations
Yala national park is about 4 hours away which you could do as part of a tour of the east coast or overnight if you were interested in this part of Sri Lanka.
The Eden Resort and Spa Food Experience
As you'd expect, the food at Eden doesn't disappoint.
The Executive Chef and his team have gone out of their way to make dining at The Eden Resort the special experience it is.
From breakfast right through to the dinner buffet the food is a great mix of traditional Sri Lankan and Western style food. The Executive Chef is justifiably proud that his team make 35 varieties of bread daily for the hotel. In fact, practically all the food for the hotel is prepared fresh, on site, in the vast kitchens. That's unusual in the hotel world.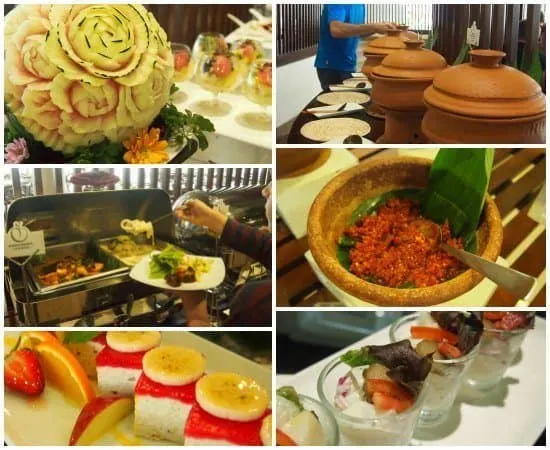 Breakfast provides a vast array of breads, pastries, fruits and hot dishes. Of course, there is a chef or 3 on hand at the egg station to cook to order. The Sri Lankan breakfasts are my personal pick here, good Sri Lankan food is sometimes hard to find, at Eden, they've nailed it, with the usual string hoppers, dahls and sambols plus a further selection of curries.
If you don't know us , my husband is an Australian Executive Chef with a wealth of experience in London's 5 star luxury hotels. He was impressed as was I. It takes a lot to impress us.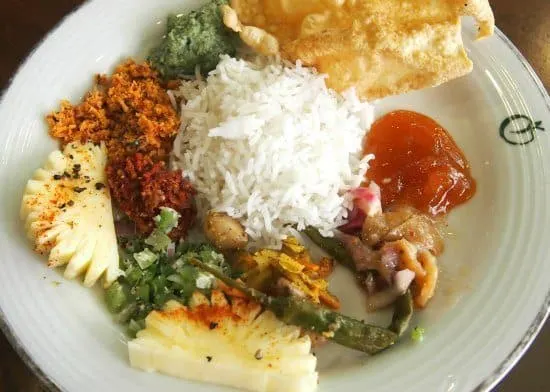 Chef and I were in agreement that the food at Eden was better than anything we've had on luxury cruise-ship buffets.
If sticking to the main restaurant and its buffets each day isn't your style they also have a 24 hour coffee shop cooking fresh food from the open kitchen. The pool bar, with dry area and swim up bar, also serves fresh food during the day. The flagship Grill restaurant, is also available for extra-special dining. A fresh fish grill can also be found near the pool, where diners can pick their own catch-of-the-day.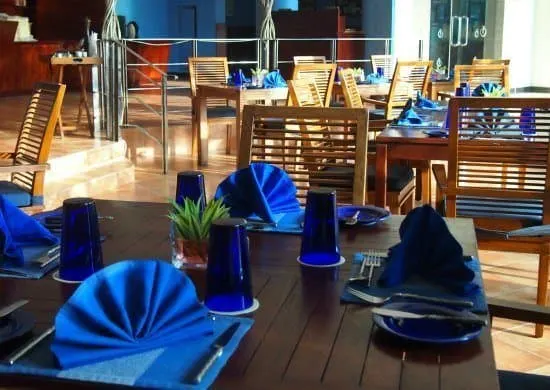 The Eden Resort often hosts themed nights next to the beach, such as the seafood BBQ with live cooking stations that we witnessed during our stay. Any great holiday relies on having great food to compliment the rest of the hotel. Here at Eden whether you wanted traditional Sri Lankan or comfort western food there is always something to please even the most demanding guest.
The Accommodation and Facilities at Eden Resort and Spa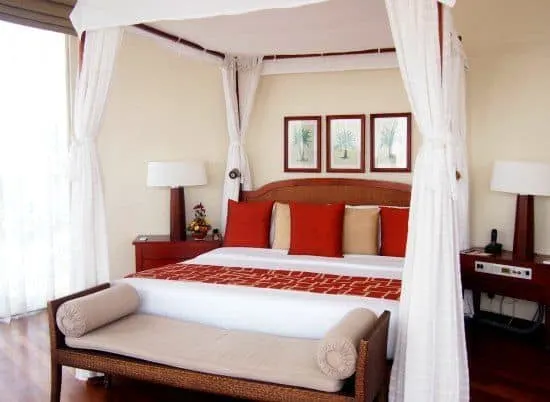 The hotel has different grades of room to suit a variety of travelers.
From the luxury penthouses at the tip of both wings, to the superior rooms, all are spacious and well equipped.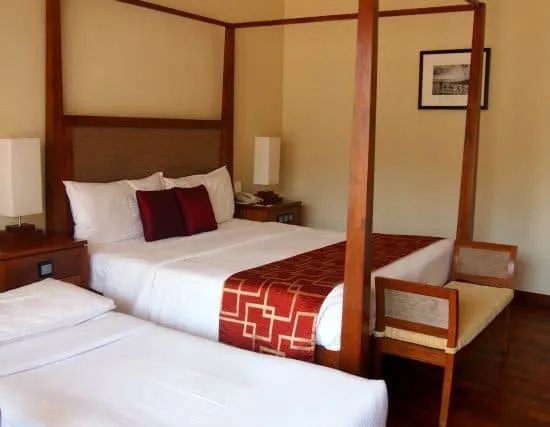 The Penthouses and Suites overlook the ocean with views to die for. All the remaining rooms open up onto the central pool area either with direct access to the pool or onto balconies with pool view.
See the Eden Resort and Spa's availability and prices here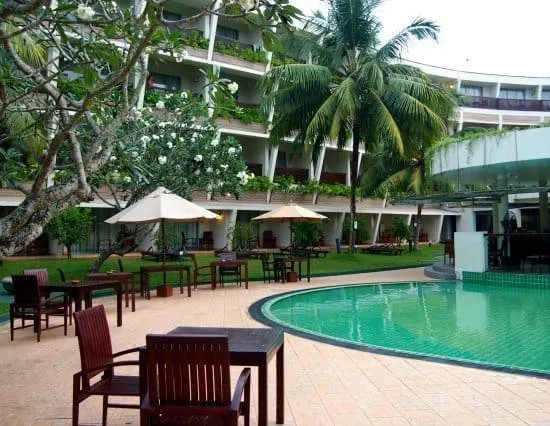 The Eden Resort is an older building ( 1995) but after a recent renovation, the rooms are luxuriously appointed. From the sprawling mini bar and closets to the huge 4 poster bed overlooking the 54inch TV, nothing has been missed. You can control everything in the room from the bed, including all the lighting. With many things to do you won't spend much time in your room, but when you do it will be in true spacious comfort.
The Eden has an Ayurvedic spa that includes an experienced doctor on hand to make sure your time in the spa is first class. Starting with a consultation from the doctor, treatments are tailored to the individual.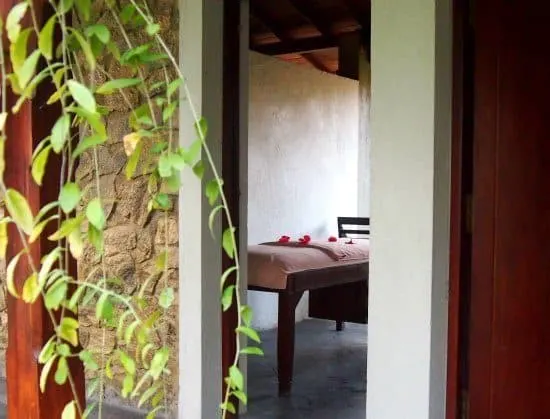 Perhaps games are more your thing? Perfect, the well appointed games room and gym provide options if you're not interested in the beach or the vast pool which takes center stage in the resort. They even have a squash court if that takes your fancy.
After the sun sets, the focus shifts from the Pool Bar to the 7th Heaven Bar. Located on the top floor overlooking the pool area and across the ocean, this is the perfect spot to sip a pre-dinner cocktail. All drinks are made fresh while you wait and the list is extensive.
A second bar area is to be found down by the pool, this one also produces cocktails to order and hosts after-dinner entertainment. Shisha pipes are available here, and poolside in designated areas.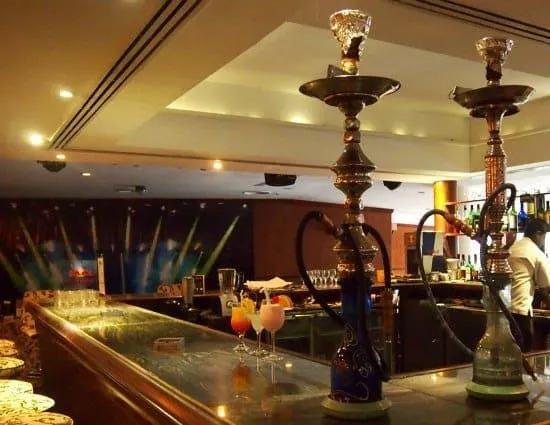 Believe me, the facilities are so extensive that it took most of the afternoon to see them all, much more to use them.
Why Choose Eden Resort and Spa?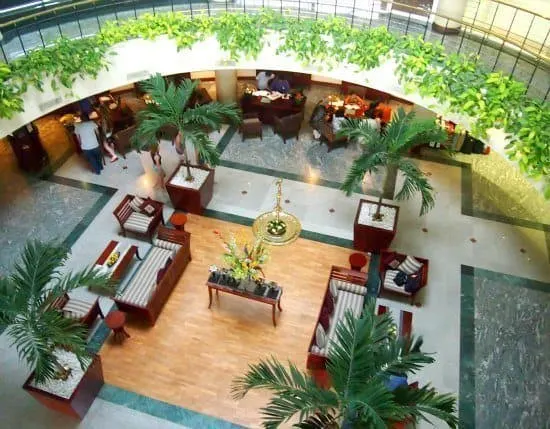 If luxury vacationing is your style look no further than the Eden. If you want to check in and have everything arranged for you, this is for you. From the moment you check in your every need is looked after. Staff can arrange all tours and activities right from the resort, leaving you to lounge around the pool or beach.
Food and drinks are taken care of in 5 star style, making sure your taste buds also have a brilliant holiday.
This is holiday-of-a-lifetime stuff.
Most visitors at the Eden come on package holidays from Europe, but of course, you can book direct or through Agoda and tailor your own Sri Lankan experience ( contact details below)
Book HERE for Eden Resort and Spa
We've created this pin for you to bookmark to Pinterest
Just hover and pin.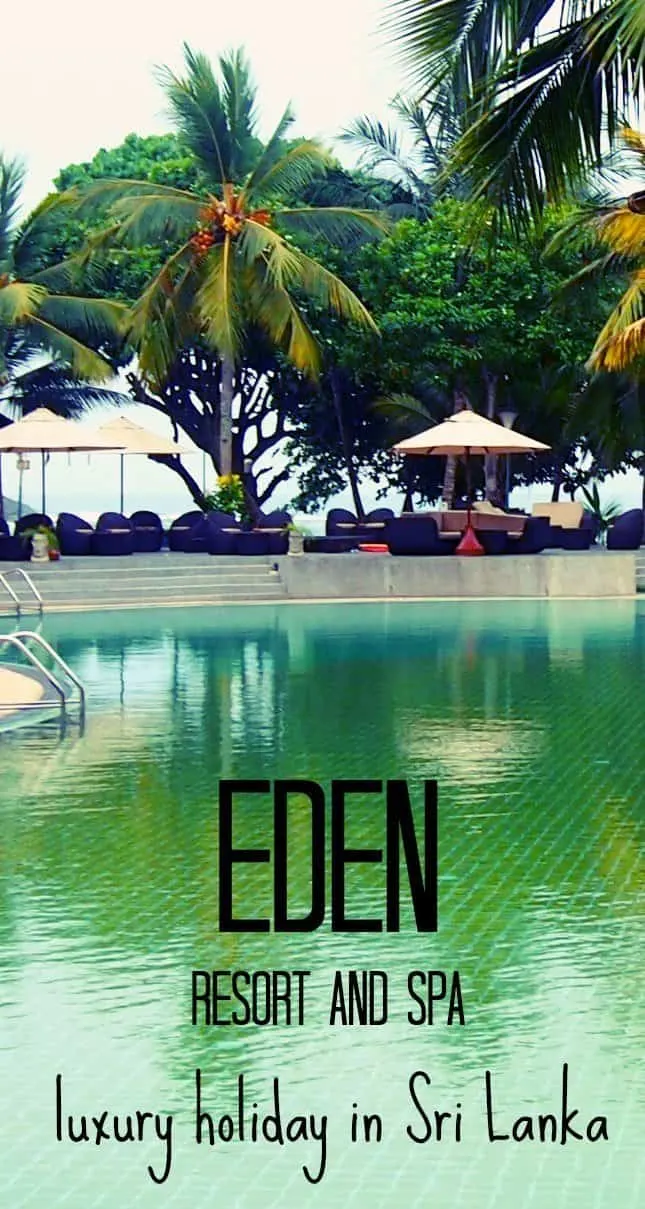 Contact The Eden Resort and Spa
Visit The Eden Resort and Spa website or find them on Facebook. They currently have no other social media accounts.
We recommend booking through Agoda the best, most trustworthy booking engine for Asia.
Address: Kaluwamodara, Beruwala 12070, Sri Lanka
Telephone number: (+94) 342 276 075
Email contact: eden@brownshotels.com
We were delighted to be guests of Eden Resort and Spa during our stay. All views are 100% honest and our own, as always.
Eden Resort and Spa Review by World Travel Family first appeared on this site.
If you'd like to hire a car during your stay, use this car rental comparison tool to find the best deal!

We also suggest you take a look at this company to get a quote for all kinds of the more tricky adventure or extended travel insurance.

Try Stayz / VRBO for an alternative way to find rentals on homes/apartments/condos in any country!