This post may contain affiliate links.
Our third villa stay of this Sri Lanka trip, at the Templeberg Villa Galle, brought us a totally different experience, setting and style.
We expected this villa, near Galle, to be similar to other luxury villa stays we'd previously tried, but we're learning that everywhere has its own personality.
Each new place gives us something different to rave about and Villa Templeberg made us happy in a whole new set of ways.
The villa has history, she's over 150 years old, but she's been lovingly restored to house guests in comfort and style in the hills above Galle.
Our villa was perfectly family-friendly, but there are also rooms, apartments, and bungalows for singles and couples.
Use our index below to find information on The Templeberg Villa, Galle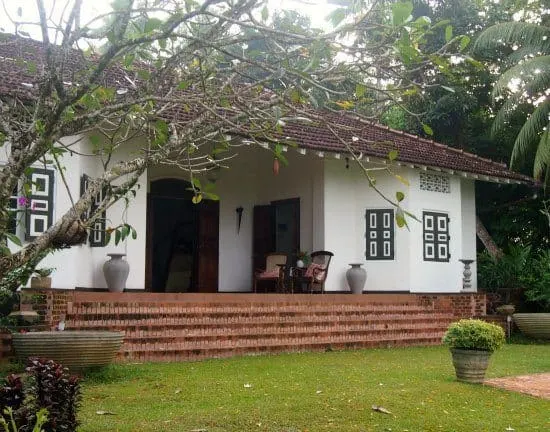 The Templeberg Villa
Location, Near Galle and Unawatuna
UNESCO listed Galle is a city towards the southern tip of Sri Lanka, with markets, fishermen, the old Dutch Fort, train connections and a major bus station. This villa is set behind Galle, in the forested hills, 10 minutes by tuk tuk but a million miles from the city bustle.
At Templeberg Villa Galle you are surrounded by nature, the trees are full of birds and monkeys, lizards and butterflies populate the immaculately maintained gardens, here you will find peace and tranquility.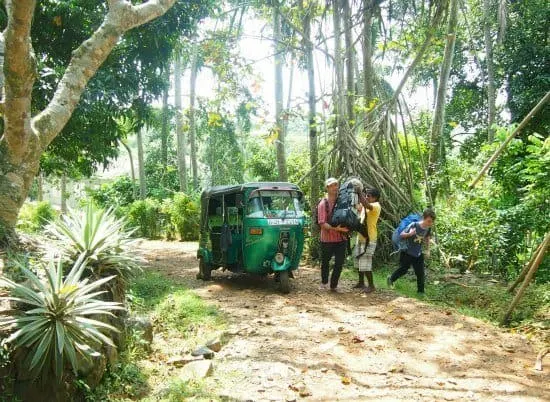 Galle is a wonderful part of Sri Lanka. I've posted already about things to do in and around Galle, you can click through to read more.
If you're looking for beaches, popular Unawatuna is another 10 minute tuk tuk ride away. The Templeberg Villa can organise transport for you and they have their own tuk tuk and driver on site.
As with most places in Sri Lanka, you could easily organise trips to SriLanka's big tourist attractions from Galle. Transport options include private air-con tourist vehicles, buses, trains and tuk tuks. We find Sri Lanka to be one of the easiest countries to get around, but if you have any difficulties, the villa will arrange tours and trips for you.
The Templeberg Villa Food Experience
Villa Templeberg normally operates on a bed and breakfast basis but their evening dining extravaganza is absolutely not to be missed.
Meals are taken in the gardens, some rooms have private dining areas, our villa enjoyed use of the large dining set on the lawn.
Seated beneath the breadfruit tree, we caught glimpses of (endangered) purple-faced leaf monkeys trooping through the trees every morning. These monkeys are shy and well-mannered, they never came to the ground looking for food. The very relaxed pair of pet dogs at the villa also do a great job of seeing them off. The dogs were immaculately behaved and fun to be around, even with my children.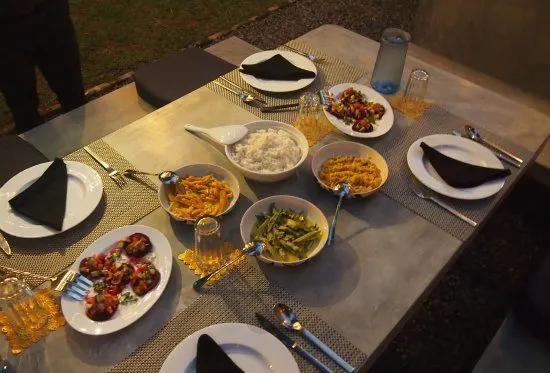 Food is good at Templeberg. For breakfast there is plentiful fresh fruit, cereal, curd and eggs to order. A vegetarian feast of Sri Lankan curries kept us very happy at dinner. Dishes including meat are available, vegetarian is our preference.
What makes the evening dining experience at Templeberg is the amazing and unexpectedly splendid setting.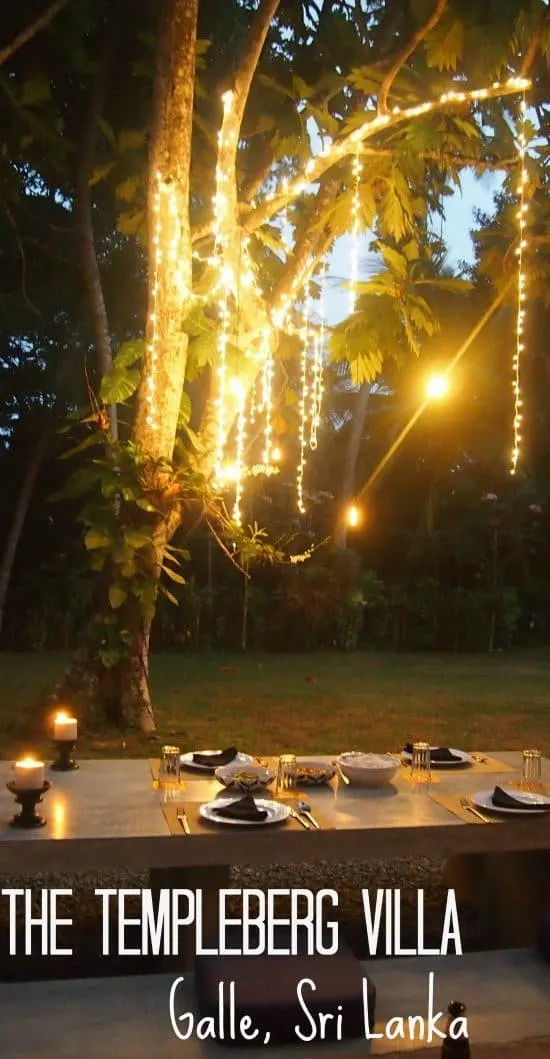 With a light show like this, candles, torches and electric lights, we chose to dine at the villa on both nights of our stay. Not only is the lighting beautiful to look at, the citronella torches keep the mosquitoes at bay.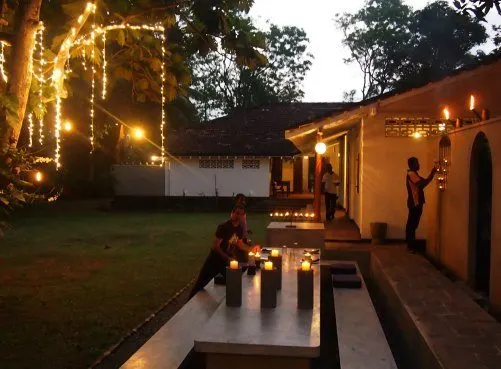 The Accommodation, Rooms and Facilities at Templeberg Villa
I must admit, when I first saw our bungalow I had slight reservations. It's beautiful, decorated and furnished with great style and there is an abundance of space, but I was worried about mosquitos.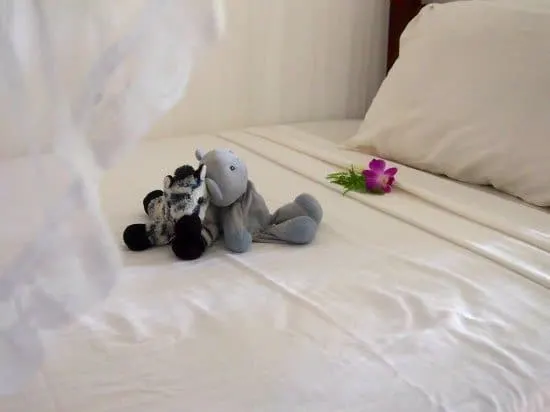 As is very common, usual even, in Sri Lanka, the windows have no glass, just wooden shutters and the bathrooms have open vents. The Templeberg Villa goes even further with the natural air conditioning, there is an air-flow space between walls and ceilings.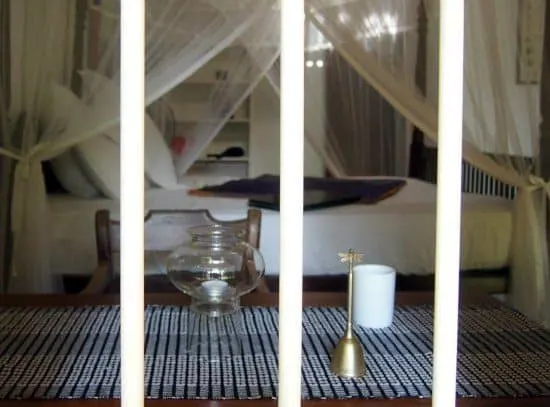 I was very surprised that we had no trouble with mosquitos in our rooms at all. Our beds had nets, but even outside these, I didn't see a single mosquito. The natural flow of air seems to keep them outside and staff light coils and citronella torches at sun-down. This style of building and living was developed to work best in a tropical setting and has stood the test of time. We were cool enough with fan only.
The bungalow we occupied has two large bedrooms, one double, one twin, a large shower room and what could be called a dressing room, linking the three. To the front of the bungalow is a shady verandah with hammock and chaise longue looking over the lawns. This set up made our villa extremely family friendly, parents and kids can have connecting rooms.
We made these pins for you to bookmark to Pinterest, thanks.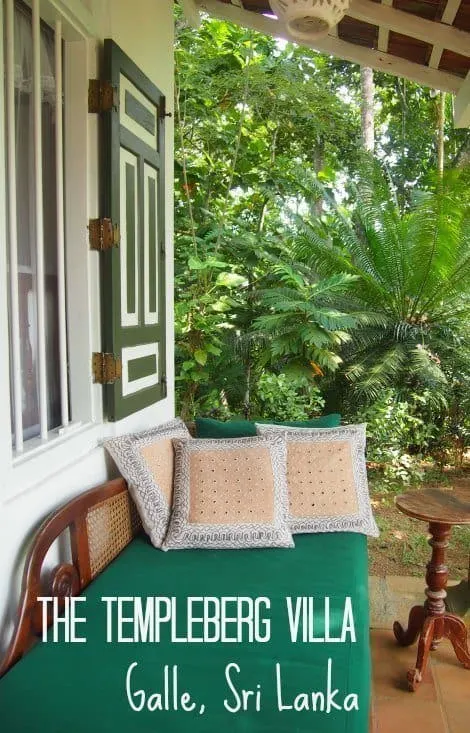 The front of the property is where you will find another two private rooms and some stylish inside-outside living areas.
The decoration at Templeberg really spoke to me, I loved the mix of colonial antiques and contemporary accents. The colours and art-works of the villa are quite lovely.
The villa has recently installed a 30m infinity pool. It's an amazing spot to relax and watch the bird life or, for athletes like my husband, to swim seriously.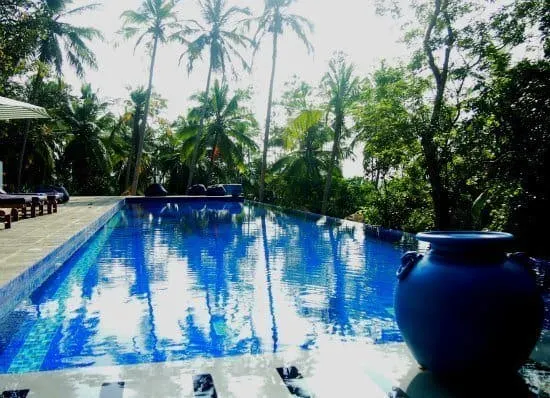 Why Choose Villa Templeberg Galle?
Historical colonial design, contemporary touches, that amazing pool and the evening dining experience along with wildlife, peace and a jungle feel.
That's what makes this place special. The Villa would be perfect for a romantic getaway, a honeymoon, but also is highly suitable for families and groups.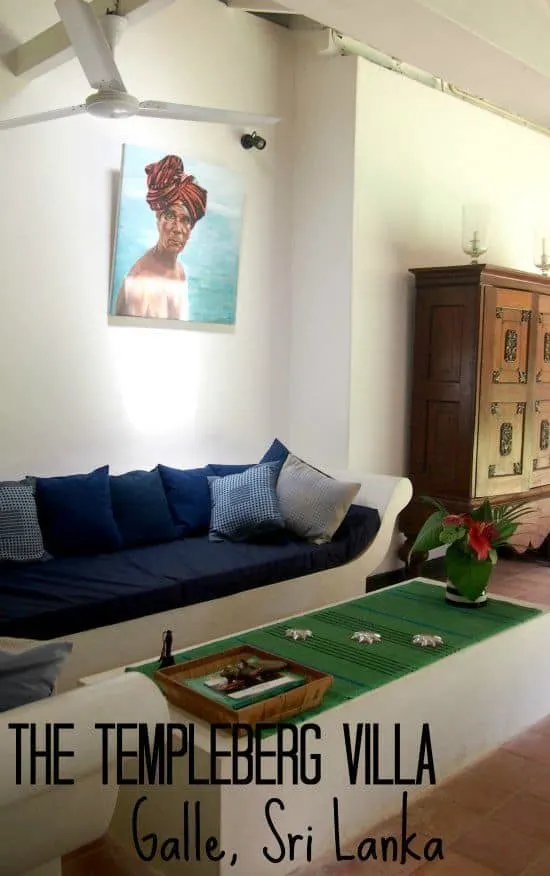 We also loved that we could dine with our fellow guests at the big lawn table. Such a nice way to get to know people.
Check the Villa Templeberg website ( below) for further information and options to suit your requirements.
Finding the Best Deals and Prices for The Templeberg Villa ( 3 ways!)
Agoda is our usual booking engine of choice, we always use them for Asia and recommend them .We find their customer service to be excellent and you can collect credits to use against future stays. Just click through to find prices and details The Villa Templeberg Here With Agoda.
If you'd like to use Booking.com, some people like to book a refundable deal a long time in advance and Booking.com is often best for this, see Templeberg Villa on that booking site here.
Contact The Templeberg Villa
Simply hover over any of these images to save them to Pinterest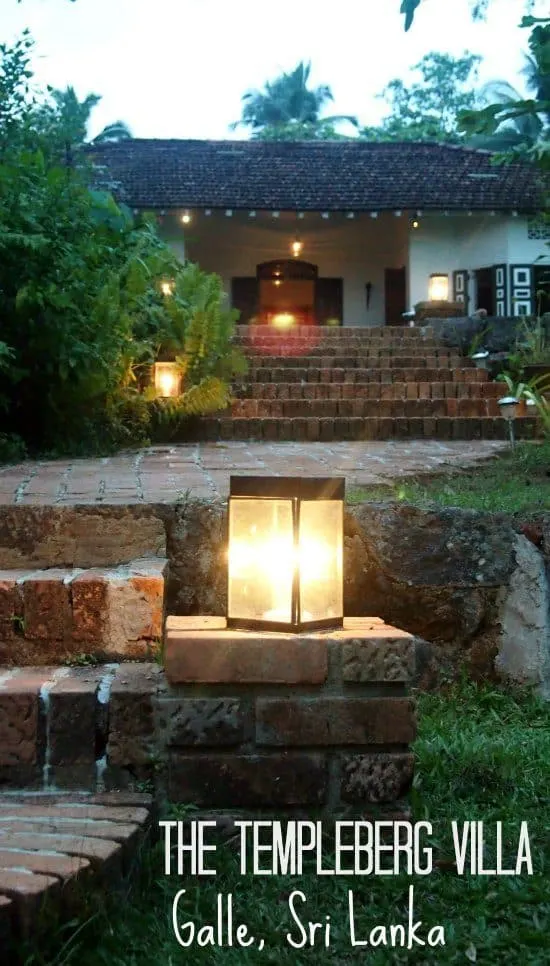 Visit the Templeberg Villa website or find them on Facebook, Instagram, Pinterest or Twitter.
You can also view their Trip Advisor profile here and their Book them on Agoda here listing here
Telephone number: +61 4811 60031 (Australia)
Email contact: contact@templeberg.com
We were delighted to be guests of Templeberg Villa Galle during our stay. Our review and all views are 100% honest and our own, as always, we are never required to write good things. We hope you love this beautiful villa near Unawatuna and Galle as much as we did and enjoy your time in Sri Lanka. We have further information on travel ( luxury – budget) in Sri Lanka.
If you'd like to hire a car during your stay, use this car rental comparison tool to find the best deal!

We also suggest you take a look at this company to get a quote for all kinds of the more tricky adventure or extended travel insurance.

Try Stayz / VRBO for an alternative way to find rentals on homes/apartments/condos in any country!