This post may contain affiliate links.
This post is about getting from Kandy to Dambulla to visit the Dambulla Cave Temples, the experience of visiting and the entrance fees. Dambulla is also a gateway for onward travel to Anuradhapura, Sigiriya, Jaffna, or Sri Lanka's East Coast. Most people spend a few days in Kandy in Central Sri Lanka before travelling on to Dambulla and beyond. The Distance from Dambulla to Kandy is 72Km.
Kandy to Dambulla
Kandy, high in the hills of Sri Lanka is a good place to start if you want to visit the historic sites in this part of Sri Lanka.
We spent 5 days in Kandy, enjoyed the relatively cooler climate of the hills and were never short of something to do. Have a look at this post about how we happily spent our days in Kandy without breaking the bank.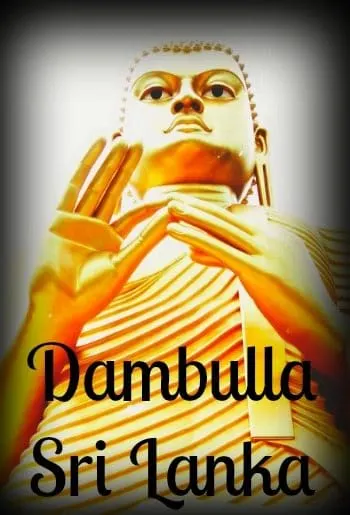 If you'd like to see where we stayed near Dambulla, it's here, and if you'd like to check out our favourite things to do in Kandy, click here.
Kandy to Dambulla Information and FAQs
Can you book trains and buses before arriving in Sri Lanka?
You you can easily book Sri Lankan trains and buses before arrival in Sri Lanka, including transport to Dambulla. There is a site called 12 Go Asia which allows you to do this from your home country. That way you have reservations, everything is paid for and you won't be disappointed by a full train.
Can you book tours in Sri Lanka in advance
Yes, you can use this site for booking all sorts of tours and transfers, including Dambulla tours in advance. This allows you to pay online with your card, have the backup of a big company with guarantees, and avoid all local scams, rip offs and haggling.
Hotels and Hostels We Can Recommend in Kandy and Dambulla
For a luxury resort style stay near Dambulla try The Paradise Resort and Spa. Kandallama Lake. It's just outside Dambulla and perfectly situated for visiting Sigiriya and the golden triangle. It's not a budget stay but well priced. For lower cost options, in Dambulla, Sigiriya and the Golden Triangle, see choices here
Getting Around Sri Lanka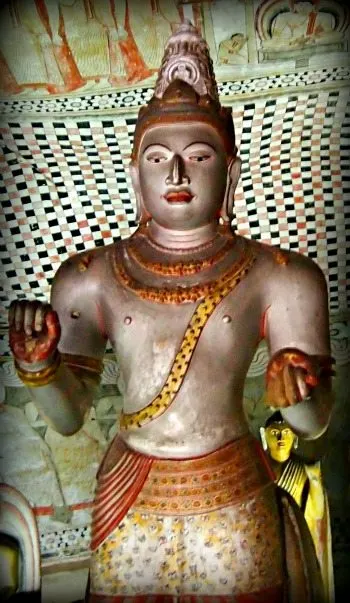 Trains, buses, taxis, organised tours, tuk tuks and hired driver guides are plentiful and easy to arrange in Sri Lanka. Most Sri Lankans you will meet speak excellent English, you shouldn't have any difficulties.
Your choice of transportation will depend on how much time and money you want to spend. We've been to Sri Lanka several times and have used all the options I mentioned, over the years, all have been great.
A multi-day tour with a driver is a good option, you can arrange these from the southern beaches and your agent will book a hotel for you in Kandy.
On our last trip we were time rich and cash poor, we didn't want to pay for drivers or tours so we got around the island using public transport.
The buses and trains are so cheap they're almost free and great fun to catch, we think they're the best way to really connect with this amazing country. You miss so much by riding in an air conditioned mini bus.
Booking Train and Bus Tickets for Sri Lanka Online
It is now possible to book trains, buses, planes and transfers online through 12GoAsia. We've used this company for years in South East Asia but Sri Lanka is a new addition and a very welcome one. Visit 12GoAsia here.
Getting From Kandy to Dambulla by Bus
Dambulla is 72Km north of Kandy. This time we chose the public bus. The bus to Dambulla leaves from Kandy Central bus station, adjacent to Kandy Central train station.
There are several different buses that will get you there, running at least every half hour. Express buses will take about an hour and a half to two hours, slower buses take the same route but stop more often.
There is a super express bus which passes Dambulla, but you may have to buy a seat to the end of the line, making it more expensive. The super express will save you half an hour depending on traffic.
You'll pay around a dollar or under per person. The express bus stopped right outside the Dambulla entrance and picked us back up on the other side of the road.
We had seats on the way there, on the return journey the bus was packed, we had to stand for a while, the super friendly Sri Lankans squashed up to make room for the children.
Organised Tours to Dambulla From Kandy (and Sigiriya)
It is possible to book a tour from Kandy to Dambulla online. We always use Get Your Guide because experience has shown us they are good. They also have a best price guarantee, if you find their tours cheaper elsewhere they will refund the difference.
For example they can offer you a Sigiriya Rock Fortress and Dambulla Cave Temple 1 day tour from Kandy , click through for prices. This would be by far the easiest way to organise this trip.
Train from Kandy to Dambulla
There is currently no direct train line or route between Kandy and Dambulla.
Why Visit Dambulla?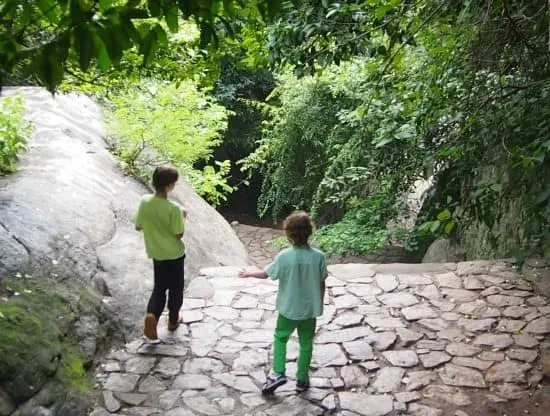 Dambulla is a large, well-preserved ancient cave temple complex built into the top of a hill. Yes, you have to walk up. There are hundreds of steps but it really isn't a particularly taxing climb, the children managed just fine.
The views are great from the top and there are monkeys and trinket stalls to keep you amused as you walk.
Be sure to buy your admission ticket for Dambulla Cave Temples at the bottom of the steps, there is nothing to stop you walking up the hill without a ticket, but you can't buy one at the top. They'll send you back down. It's a good job my husband is super fit, he went back for tickets for all of us.
At the bottom of the hill you'll find the huge golden Buddha in the picture and a rather bizarre museum alongside a working temple complex.
Dambulla is large UNESCO heritage site and well worth your time. The ancient Buddha statues in the caves themselves are quite breathtaking and stretch back as far in time as the 1st century. Admission is steep at 1,500 Rs/person, admission fees for foreigners in Sri Lanka are high generally. Check prices, they seem to go up pretty frequently.
Accommodation in Dambulla and Finding the Best Deals
We think that the best way to find a good deal on your hotel, resort, guest house or hostel is to check Hotels Combined , they compare multiple sites to find the best price and special offers available.
Also check Agoda because as Asia local agents they have more variety and sometimes better prices Hotels Combined do not check Agoda so you need to look separately .
By all means use Booking.com if they are your favourites. Hotels Combined DO normally check hotels.com, so if you collect their stays to earn free stays, you will still get your points by using Hotels Combined AND you will have the best deal.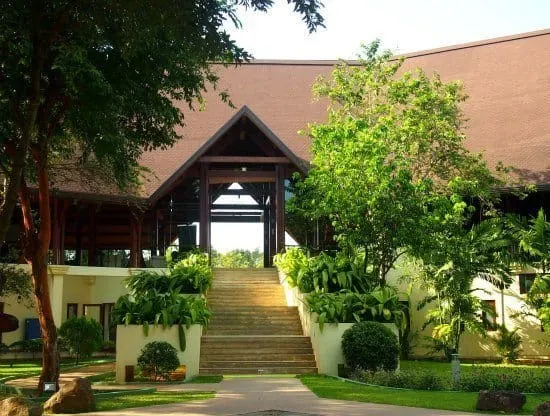 The beautiful Paradise Resort and Spa ( above, click through for prices) is an eco-resort and spa near Dambulla and Sigiriya. We have stayed here and written a full review on this luxury resort .
This is my favourite of all the resorts we have tried in Sri Lanka, but it's not a low budget option. For this too, try finding a good deal on Hotels Combined.
Sigiriya Can Also Be Accessed from Dambulla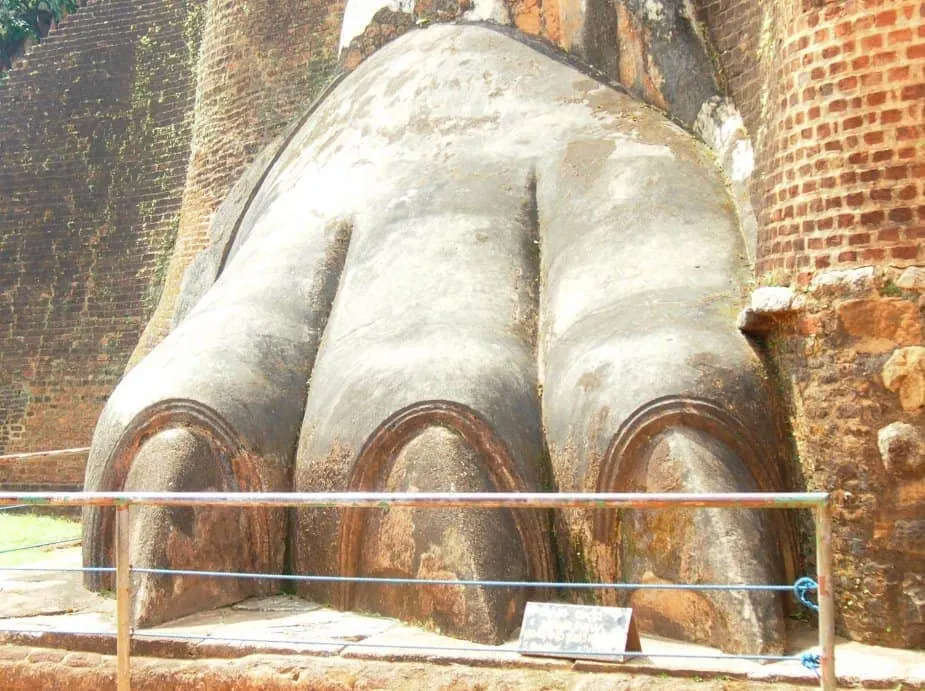 Catch a tuk tuk from Dambulla to your hotel near Sigiriya. Be up early next morning, if you get to Sigiriya late the crowds can spoil your visit.
We climbed Sigiriya with the kids and had no problems, click through to read about the experience of visiting Sigiriya.
Anuradhapura from Dambulla and Beyond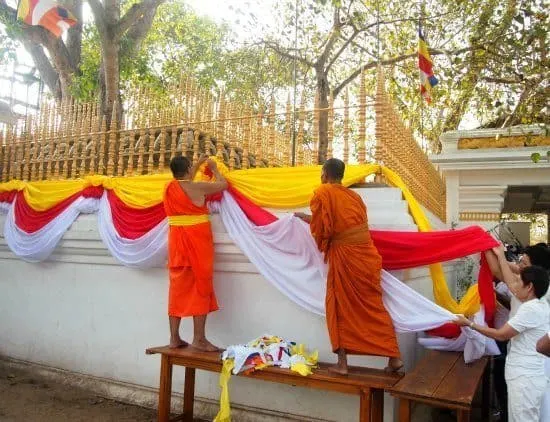 For information on getting to Anurhadapura, staying there and touring the vast historic sites, you need this post. This is absolutely another stunning Sri Lankan destination.
Jaffna for Central Sri Lanka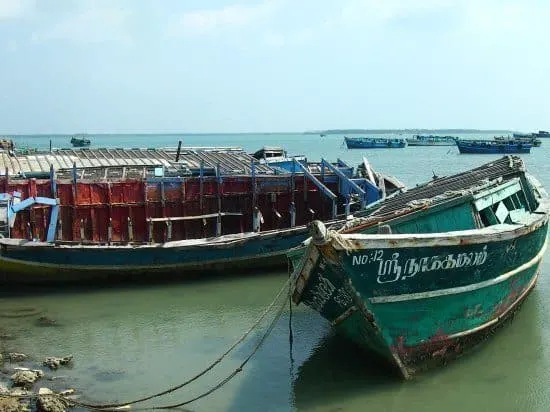 We have a full post on Jaffna and getting to Jaffna from Kandy. Jaffna was a highlight of our last trip to Sri Lanka
Sri Lanka's East Coast from Dambulla, Kandy and Central Sri Lanka
We have made this journey east by public bus and by private vehicle with driver, this route takes you through areas where wild elephant can sometimes be seen from the road and past the ancient city of Polonnarua, which is due east of Sigiriya. East coast tourist destinations in the northern part of Sri Lanka include Batticaloa and Kalkudah Bay.
For more on travel in Sri Lanka you need our Sri Lanka travel blog and guide or use the links in this post for further information for sites, attractions, hotels, trains, buses and transportation around central Sri Lanka and the Golden Triangle. We hope you found our information on Dambulla and getting to Dambulla from Kandy useful.
If you'd like to hire a car during your stay, use this car rental comparison tool to find the best deal!

We also suggest you take a look at this company to get a quote for all kinds of the more tricky adventure or extended travel insurance.

Try Stayz / VRBO for an alternative way to find rentals on homes/apartments/condos in any country!