This post may contain affiliate links.
Ten million tourists visit Queensland's Gold Coast every pre-Covid year, handily generating over $2.5 billion for the region. Whether they come for the excellent surfing and amusement parks or the stunning architectural landmarks, the Gold Coast is where holidays would holiday if they could. One of the city's most popular sections is the suburb known as "Surfers Paradise." While it's obviously named after coastal Australia's bronzed and regal pass time, Surfers — as the locals refer to it — has much more than just killer and breathtaking beaches and waves.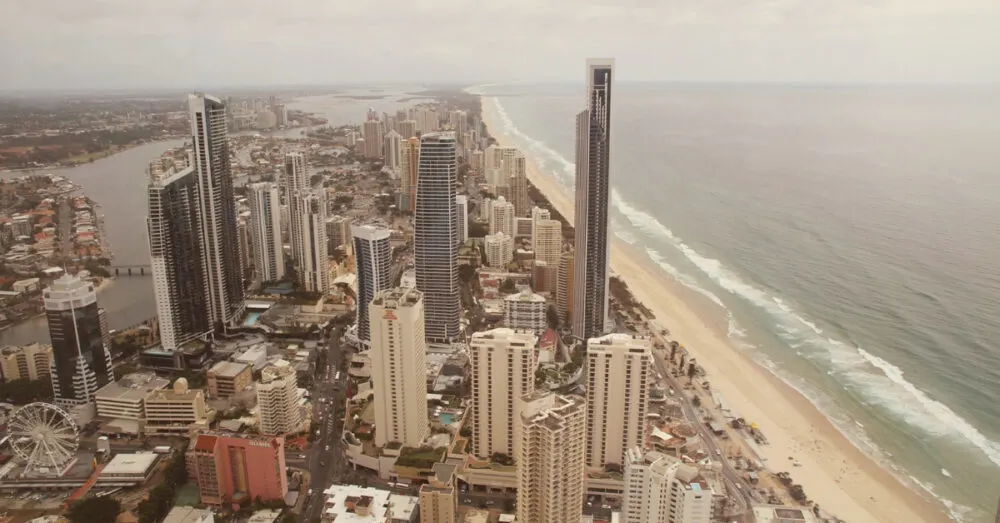 If what you're after is a sunny, fun, and memorable holiday in Gold Coast, pack your itinerary full of the activities in Surfers. Whether you're young or old, athletic or adroit, Surfers Paradise will deliver.
Visit Surfers Paradise
Surfers Paradise is worth visiting for it's incredible sea swells against miles of beautiful beaches. Surfers is highly developed, it's a hub of entertainment, dining, accommodation, and everything a typical holiday-maker is looking for in their precious holiday weeks. This classic Australian holiday destination is easily accessible from the Gold Coast airport, making it convenient to get to and being on the Queensland coast, the climate is pleasant.
Whether or not Surfers Paradise is worth visiting for you, largly depends on your likes and wants. If you want to see everything Australia has to offer then yes, absolutely Surfers Paradise should be on your destinations list. If you're looking all Aussie sun, beach, surf , and fun, then likewise, this holiday destination could be perfect for you. Below we give you a few more reasons to visit Surfers Paradise and points of interest.
Surfers Paradise Meter Maids
In Surfers, when motorists' parking meters run out, they are replenished by the bikini-wearing Surfers Paradise Meter Maids, who have been purchasing additional time and leaving a tourism card to promote area goodwill for almost 50 years.
Back in 1965, the Surfers Paradise Progress Association heavily opposed putting parking meters in Surfers. To protest, an entrepreneur named Bernie Elsey had meter maids patrol the meters, feed them when necessary and save drivers' from paying the small fine.
At the time, meter feeding was illegal, but the maids brought such good publicity that their crimes were overlooked. These days, the meter maids are much-loved institution in Surfers.
Infinity
An oddball and surreal bit of fun for the whole family, Infinity is a "fun house" unlike any other.
More than 20 science fiction-like mazes and rooms of intrigue are filled to the brim with special effects, soundscapes and optical illusions that invite visitors to interact and experience the displays and each other in unusual ways. Traveling through Infinity takes roughly 40 minutes, and free parking for up to two hours is provided at Chevron Renaissance.
Just make sure you get the staff to validate your parking ticket.
Surfers Paradise Beachfront Markets
Every Wednesday, Friday and Sunday from 5 p.m. to 10 p.m., the Surfers Paradise Beachfront Markets open for antique lovers, treasure thrifters and bargain shoppers.
Over 120 stalls are ready for your perusal, purchasing and haggling, and street entertainers and musicians perform throughout the space, bringing with them an air of frivolity.
Clothing, jewellery, art, photos, house wares, accessories and more — unless the weather ruins the fun, the market will be open. Nestled amidst a number of wonderful cafes, it's a perfect way to spend an evening in Surfers.
Surfers Paradise Beach
No trip to Surfers would be complete without plenty of time spent at Surfers Paradise Beach. A classic and beautiful beach, Surfers beach is renowned for its excellent surfing, sunning and people watching.
Surf Schools
If you've never learned to surf but have always wanted to take on Australia's big waves, Surfers Paradise offers a number of excellent surf schools where you can begin to hone your skills. Perfect for beginners of any age, these schools can accommodate most skill — and fear — levels. Some of the more popular schools are:
Australian Street Entertainment Championship
Every year, the Australian Street Entertainment Championships take place in Surfers, and entertainers of all stripes and persuasions try their hand at becoming a champion. With a carnival-like atmosphere, this competition features strong men, juggling exploits, magicians, acrobatics, tight rope walkers, musicians, drum lines, clowns and more, and all of them are vying for the attention of the crowd and the title. If you can time your holiday with this event, do so!
Q1
A skyscraper that once held the title of world's tallest residence, Q1 makes a striking impression along the Gold Coast skyline.
At 322.5 meters, it still is the tallest building in Australia and the southern hemisphere. Completed in 2005, the building was designed by SDG & The Buchan Group, and the shape it took was an homage to the Olympic torch form the 2000 Sydney Games, as well as the Sydney Opera House.
The name was chosen to honour members of the 1920s Australian Olympic sculling team: Q1. Q1 is a popular architectural site; its concept based on research regarding wind, movement, tension and the elements. Aluminium ribbons are wrapped and twisted around the building, culminating in a tall spire instantly recognizable to almost any Australian.
If you want a holiday where fun, relaxation, and entertainment are easily had and always nearby, you can't do much better than Surfers. A great place to travel and enjoy, move this Gold Coast suburb to the top of your holiday wish list.
If you'd like to hire a car during your stay, use this car rental comparison tool to find the best deal!

We also suggest you take a look at this company to get a quote for all kinds of the more tricky adventure or extended travel insurance.

Try Stayz / VRBO for an alternative way to find rentals on homes/apartments/condos in any country!