This post may contain affiliate links.
Western Australia takes up almost half of the Australian continent. The richness of the landscape over so huge an area takes in incredible stretches of coastline and pristine beaches along with stunningly beautiful National Park rock formations and gorges. Rainbow sunsets over the Indian Ocean will inspire while turquoise waters contrast beautifully with the red dirt of the north. The outback landscape of the Kimberley and the interior deserts are breathtaking. Western Australia is a place as famous for its wine and pearls as its surf and mineral deposits and has many must-see destinations. This blog page gives an overview of the best places to see in Western Australia to help you plan your tour, road trip or itinerary. Put these places on your Western Australia bucket list!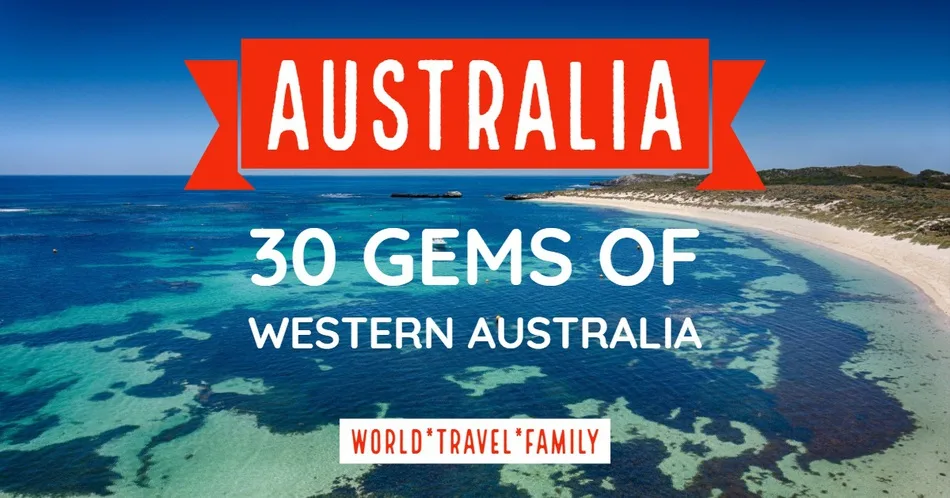 Use our index below to find the section you want in our Western Australia travel blog.
The best times to visit Perth and the southern half of Western Australia is between September and November. And further north, the best time to visit is July to October thanks to the stunning display of wildflowers throughout the state. The Kimberleys can only be visited during the dry season, April to October. Moreover, the summer months, the state can get very hot in parts, and very rainy in others. Therefore the worst months to visit Western Australia are probably December to Februrary.
If you plan on visiting multiple National Parks on your trip to Western Australia, it is worth purchasing a National Parks Pass which covers your entry and also subsidises camping fees in a lot of our must-see destinations. You can get your WA parks pass here
Please check and double check all information for yourself as opening times, availability and costs do change.
Western Australia Must See Destinations
Places to See in Western Australia – The South West
Perth
Perth is the world's most remote city but is still a cool urban setting and home to over 2 million people. It is also Australia's sunniest city! Perth has a natural beauty that is obvious in the many metropolitan beaches which line the suburbs. The River Swan delicately carves a path through the city. This creates beautiful riverside precincts including the huge Kings Park. Perth is also bustling with cafes, bars, restaurants, shopping and entertainment. There are many exciting major sporting events held here, cultural events and beautiful parklands.
Swan Valley
Go just outside Perth to the Swan Valley for a unique region full of wineries, breweries and boutique goods. This area is easily visited on a day tour from the city.
Rottnest Island
Just 19km off the coast of Perth lies Rottnest Island. This is a spectacular protected nature reserve and home to the cute furry quokka. A quokka is a little wallaby type creature with whom you can get up close and personal. There are white sandy beaches, secluded bays, surf breaks, and snorkelling at Rottnest. It is possible to visit on a day trip, or you can stay overnight on the island. To get to Rottnest Island, catch a ferry from Perth at around $67.50 for adults, $42 for children. There is a separate landing fee of roughly $16.50 for adults and $6 for children.
Fremantle
Just to the south of Perth you find Fremantle. This is a great city and is like a cooler hipster version of Perth. Known for its maritime history, the eclectic and exciting blend of culture and arts in Fremantle makes it a must-see destination in WA. Visit Little Creatures Brewery and the National Maritime Museum.
Busselton
This sunny tourist town is famous for its 154-year-old jetty. At a mammoth 1,841 metres in length, Busselton Jetty is actually the second longest wooden jetty in the world! Walk along the jetty to the end for a small fee (kids free). Or you can catch a small train for a cost of around $13.50 per adult and $8.50 per child. There is also an Underwater Observatory located at the end. The visitor centre at the start of the jetty has an elevated viewpoint. This is the perfect place to get a photo of the entire jetty for free.
Margaret River
Margaret River offers something to please everyone. It is an area of pretty coastline and beaches, forests and hills and quaint towns including Margaret River, Gracetown, Yallingup, Karinyup, Boranup and Prevally. Some of the best surf in Australia can be found here with an annual WCT event held at Surfer's Point.
Margaret River Wine Region
Margaret River is famous for its wine, especially Cabernet Sauvignon and Sauvignon Blanc varieties. With over 180 wineries, breweries and artisan chocolate, nougat and coffee boutiques it is a great place to spend a few days.
The Leeuwin-Naturaliste National Park offers spectacularly rugged coastal scenery to the south. Don't miss the Yallingup Shearing Shed. Mountain bikers will enjoy the area around Wharnecliffe Mill.
Pemberton
Bicentennial Tree
Pemberton is home to The Dave Evans Bicentennial Tree. At 75 metres in height, this is the tallest fire viewing tree in the world. You can climb this tree if you are brave. It is free, it's a long way up via metal rungs which spiral around the tree but the view from the top is amazing. Or try the nearby Gloucester Tree at only 58 metres.
Valley of the Giants
Also located in Pemberton is the Valley of the Giants Treetop Walk. This offers a suspended platform over 40 metres in the air allowing you to walk among the canopy of the 400-year-old trees. Tickets are $21 for adults and $10.50 per child.
Denmark
Denmark offers more wineries and some beautiful natural rock formations on the coast. At Green's Pool and Elephant Rocks you can swim in the crystal clear waters and jump off the smooth rocks.
Albany
With some dramatic coastline at Torndirrup National Park, Albany is worth a visit. There are beautiful beaches including Little Beach and Middleton Beach. Check out the Whaling Museum for an intriguing look into this gruesome practice, which is housed in an old whaling plant. There is also a good ANZAC museum here. They recently (2015) enjoyed 100-year celebrations as the departure point for hundreds of thousands of troops heading to Europe and Africa in WWII.
Esperance
Esperance and surrounds is a beautiful place to visit. It boasts those amazing white sand, blue water beaches, with a thriving little tourist village.
Cape Le Grand National Park
Nearby, visit Cape Le Grand National Park where you can camp on the famous Lucky Bay. This beach has the whitest sand and kangaroos which frequent the beach. Also, climb Frenchman's Peak for a challenging and rewarding activity and amazing views.
The Pink Lake
Esperance was home to another popular attraction – The Pink Lake. However, it is no longer pink thanks to a reduction in its salt levels.
Kalgoorlie
The hub for the biggest gold rush the world had ever seen, Kalgoorlie is part of the Goldfields Trail. Check out the Goldfields Exhibition Museum in nearby Coolgardie, or take a tour of The Super Pit – Australia's largest open pit gold mine.
Wave Rock
This is an amazing natural rock formation that resembles a 15 metre high breaking wave. It is located about 300km ESE of Perth.
Places to See in Western Australia – North of Perth
The Pinnacles
A 2-hour drive north of Perth, you find the Pinnacles. There are accommodation options in nearby Cervantes. The otherworldly and completely surreal landscape of the Pinnacles will astound. Thousands of different sized limestone spears and pillars jut up from the yellow desert sands in a scattered and photogenic formation. Some resemble tombstones, while others tower over 3 metres tall. To visit, pay $13 per vehicle and drive around the loop.
Kalbarri National Park
Kalbarri National Park attracts thousands of visitors per year thanks to its rugged beauty and remoteness. Nature's Window is a very special natural photocall. It is a perfect rock frame for you and your family to get that classic shot within. There are many walks in the area, including down to the Murchison Gorge below.
Denham
Francois Peron National Park
Francois Peron National Park stretches along the coast north of the town of Denham on Western Australia's mid coast. You need a 4WD to access, but you will be rewarded with spectacular contrasting colours of the rich red soil meeting the azure blue ocean. In good weather, you can see manta rays frolicking off the point.
Monkey Mia
Monkey Mia is also accessible from Denham. This provides a unique opportunity to hand feed wild bottlenose dolphins in one of Australia's best-loved wildlife experiences. It is a very controlled event. Park Rangers only allow a couple of visitors to feed the animals on a few different sessions per day. A family day pass is $28.50.
Coral Bay
Coral Bay is a small town on the coast with the clearest water and stunning beaches. There is easy access to the Ningaloo Reef for snorkelling straight offshore. There are a couple of caravan parks here, a corner store and not much else. It's quiet, quaint and has great fishing.
Exmouth
Cape Range National Park and Ningaloo Reef
Cape Range National Park covers over 50,000 coastal hectares on the beach side of Exmouth. This is where Ningaloo Reef is closest to the shore. With beaches such as Turquoise Bay to astound you, great camping spots and the opportunity to swim with whale sharks, this is one of WA's must-see destinations. Try drift snorkelling in such crystal clear water, and enjoy some of the clearest stargazing with no light pollution.
Karijini National Park
Located in the Hammersley Ranges of Western Australia's Pilbara region, Karijini is a vast wilderness. Camping is available at Dale's Gorge. Both easy and more difficult hikes into places such as Joffre Gorge, Hancock Gorge, Oxer Lookout, Fern Pool and the beautiful cascading Fortescue Falls are sure to impress.
Places to See in Western Australia – The Kimberley
The northernmost reaches of Western Australia is home to the most quintessentially Australian landscapes and experiences possible.
Broome
The capital of North Western Australia is Broome. It is a cosmopolitan coastal resort town which boasts sunset camel rides along the picturesque Cable Beach. At low tide, be sure to visit Gantheaume Bay to see ancient dinosaur footprints, check out Matso's Brewery, Chinatown, and the bustling courthouse markets. Helicopter tours and cruises depart frequently for pearl farms north of the town.
North of Broome, visit the Dampier Peninsula for amazing indigenous cultural tours.
The Kimberley
The area from Broome in the West to Kununurra in the East makes up Western Australia's incredible Kimberley. A 4WD self-drive holiday is the best way to explore this region although tours are also available.
Horizontal Waterfalls
A Horizontal Falls tour is one of the best ways to capture the majesty and splendour if the Kimberley region. David Attenborough described the Kimberley's Horizontal Waterfalls as one of the greatest wonders of the natural world. Jetboat, seaplane and helicopter tours depart from both Broome and Derby.
The Gibb River Road
Additionally, you must see the Gibb River Road. The amazing Tunnel Creek, Mitchell Falls, and El Questro Station will be highlights of your trip to The Kimberley and Western Australia. Catch Barramundi inside stunning waterways, see huge saltwater crocs sunning themselves, stay in world-class wilderness resorts, or enjoy simple back to basics camping. The waterfalls and gorges of Western Australia's Kimberley have to be seen to be believed.
Bungle Bungles
Finally, The World Heritage Listed Bungle Bungles one of the must-visit places to see in Western Australia, for any tour. They are located within Purnululu National Park. The incredible striped beehive sandstone formations cover the landscape rising to at least 250 metres tall. There are 4WD tracks, and walking tracks with camping. Probably the best way to see the Bungle Bungles is by helicopter tour in order to understand the sheer scale of this beautiful landscape. It's hard to believe this place was only 'discovered' as recently as 1983 when a film crew stumbled upon it.
You can pin the picture below to Pinterest by using the magic button which will appear when you hover over its centre, alternatively use the red pinterest button at the bottom of the post to choose your favourite image.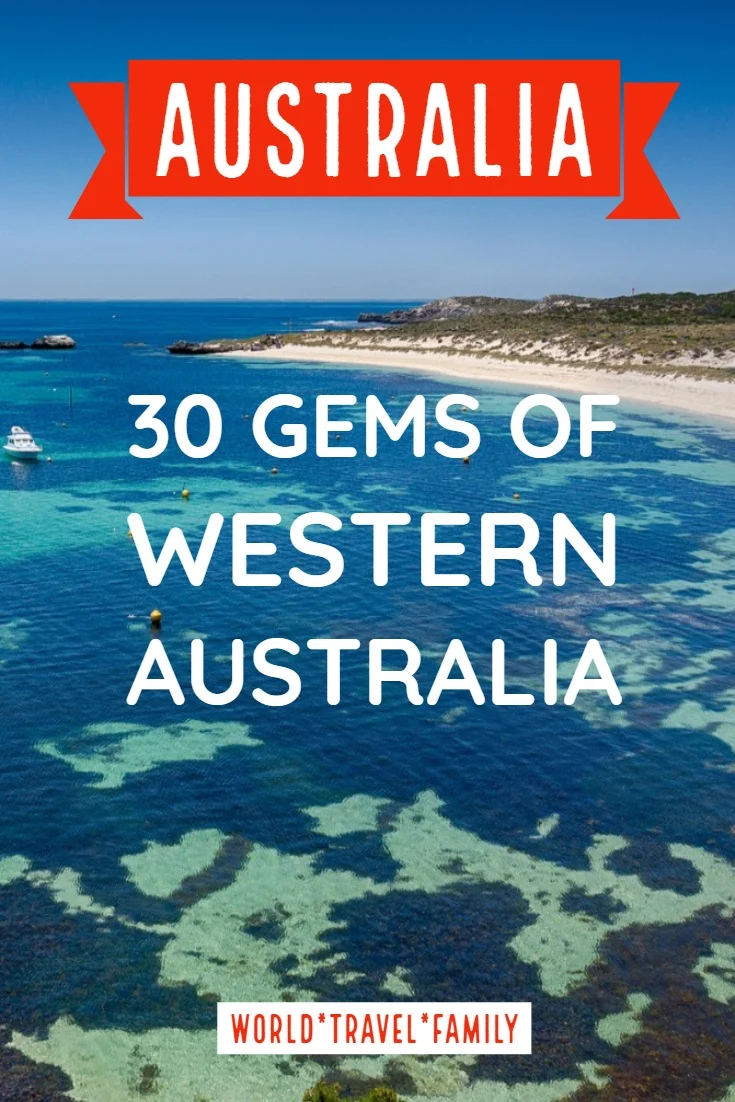 Western Australia Must-See Destinations
In conclusion, for Australia's largest state, there are so many places to visit and attractions here. Whether you are into shopping and wineries, surf and sand, or outback splendour, there is something to please every taste. Need to head back to our main Australia Travel Blog page? Don't forget to pin this guide to Western Australia before you go.
If you'd like to hire a car during your stay, use this car rental comparison tool to find the best deal!

We also suggest you take a look at this company to get a quote for all kinds of the more tricky adventure or extended travel insurance.

Try Stayz / VRBO for an alternative way to find rentals on homes/apartments/condos in any country!