This post may contain affiliate links.
This post was written and titled "Living in Port Douglas" when we were planning our great escape. We lived in Port Douglas. we owned, still own, a beautiful house there, but we left to travel the world for several years. We returned to Port Douglas in 2020 – 2023. Port Douglas is a great place to live for the right kind of person, of course. If you're here looking for a guide to living in Far North Queensland, this may be it but this post is also about our experiences of living in Port Douglas as a young couple, a family with small kids, and now as an over 50 woman, and why we left. Read it, we hope you find our story of leaving for new adventures interesting and we talk about the realities of life in Port Douglas and tropical Far North Queensland.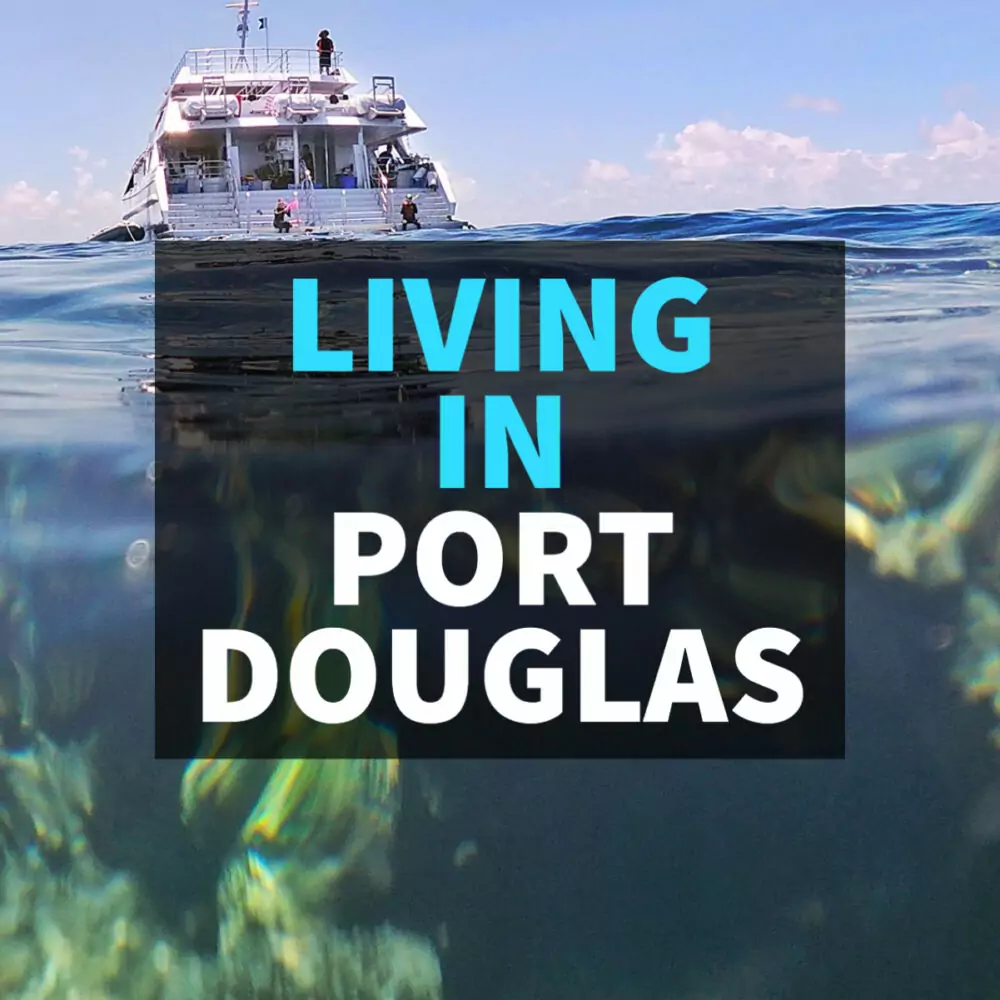 I am now a professional travel blogger living in Port Douglas, years ago, when I'd just started out, I had no idea Google would rank us so highly for this topic.
I also had no idea my fledgling travel blog would become the huge global resource and success it is today.
This is a personal post in the midst of a thousand travel guides.
We left Queensland and it was a life-changing, amazing decision.
I've updated this post from Vietnam, we lived there for a while, we've also lived in Romania, and London and visited around 50 countries since shipping out of Port.
And then we came back and settled permanently in the Port Douglas region, not because we thought it was the best place to live in the world, just because of chance. It's turned out pretty well.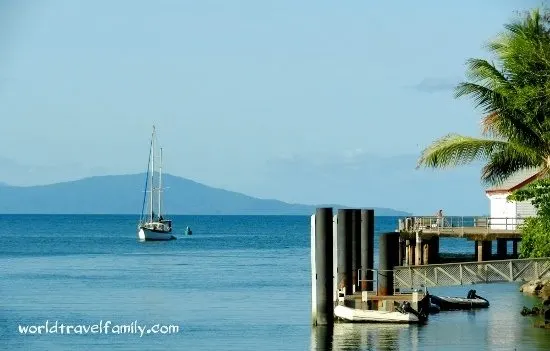 Living in Port Douglas.
Port Douglas is a tropical paradise to many, but is living in Port Douglas as good as it sounds? Realities of living in the wet tropics of Far North Queensland, and that relaxed tropical vibe. Back then I wrote the following. The facts and guides to living in Port Douglas are later in the post. Can you save the image below to Pinterest? Thanks.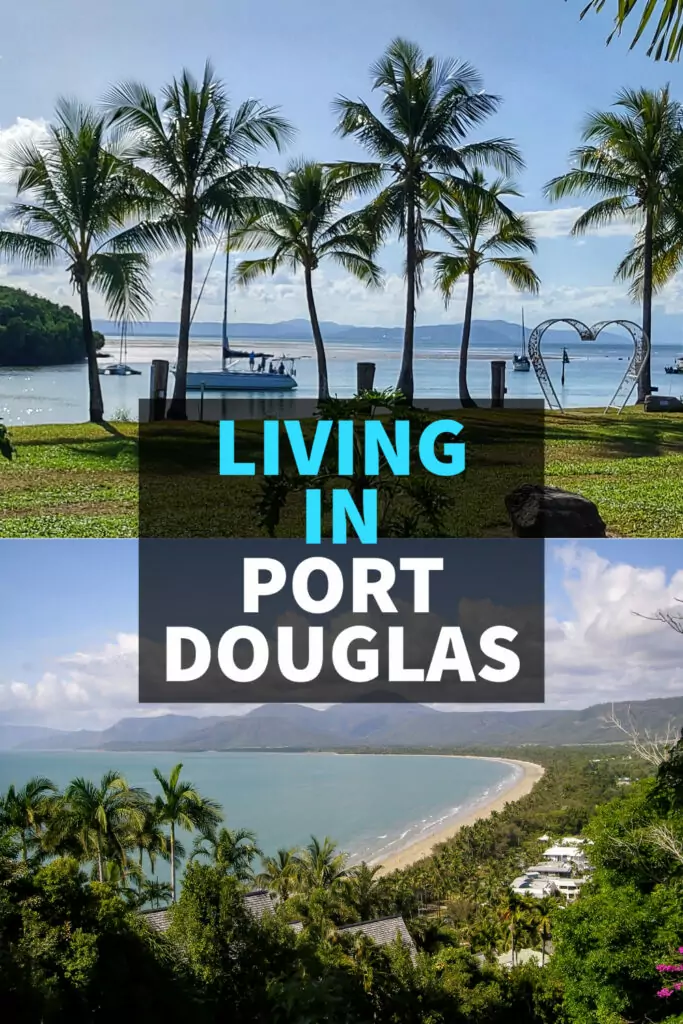 "With all this planning and talk of leaving to start new adventures, I've forgotten to mention that we're already in what many would consider Paradise, a dream holiday destination. We're up here in the tropics, living in Port Douglas, Australia.
Four Mile Beach is a short walk away, we practically live in a rainforest and the Great Barrier Reef is on our doorstep.
So why did I want to leave?
It was mostly because I have the soul of a nomad and always have, staying put isn't for me and I craved the freedom I'd tasted as a younger traveller exploring the wider world.
We'd been living in Port Douglas for almost 5 years so tropical living had lost its shine and became our normality. The worries, problems and difficulties of daily life got in the way, as they do anywhere.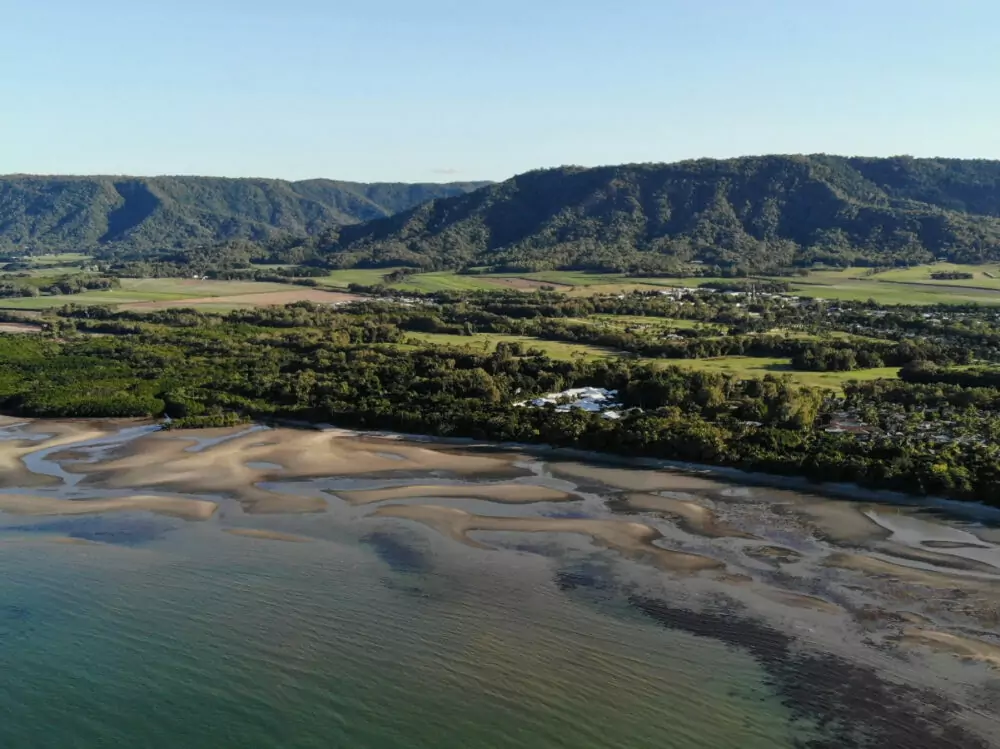 I lost sight of the good stuff while I was busy cleaning and paying bills.
I needed new adventures, new cultures and climates so we resolved to leave, packing our lives into backpacks, scooping up our then 6 and 8 year old kids and heading off into the sunset.
Port is lovely, but we'd done it, it was time for something else.
Realities of Living in Port Douglas
The reality is that living in Port Douglas isn't the same as being a holiday maker here.
There was little that wasn't expensive for us because we were trying to save for our travels rather than have a holiday blow out.
A trip to the reef for a family is about $800 to $1000 and Port Douglas restaurants, even take away food, cost a lot.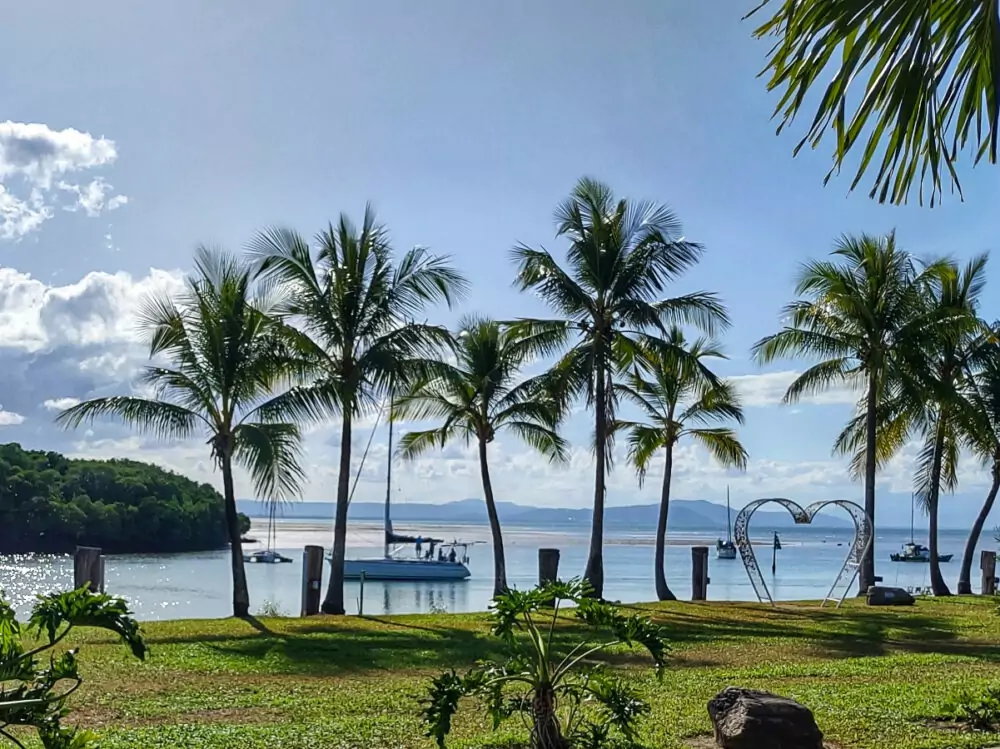 The cost of living in Port Douglas is high, other than (back then) house prices and fuel.
Those have only become more expensive over the years.
You can't go many places from Port Douglas, Cairns is about an hour away, Townsville 4-5 hours, Brisbane is a 24 hour drive.
The climate and isolation can be challenging in Far North Queensland and there was only so much simple life I could take. The Daintree Rainforest is nice, sure, but I get tired of natural landscapes easily.
There really isn't much to do locally, once you've seen the sights you just have to enjoy the scenery.
I missed London and the wider world. I love that through life we grow and come to know ourselves better.
What's right at one time in our lives may not be right in two years or even two months time. What's fun at first can quickly become boring.
Since leaving over 5 years ago we've spent the best part of 2 years living in a remote village in Romania, nothing could be simpler or more isolated, yet we loved it. It was right for us at that time.
I'd suffered badly from culture shock since relocating to the southern hemisphere. That was a surprise.
You wouldn't expect that when switching between two countries that seem so similar as the UK and Australia, particularly when I already knew Australia and Australians pretty well. I'd already married one.
But there are cultural differences between the UK and Australia and becoming an expat is never a seamless transition.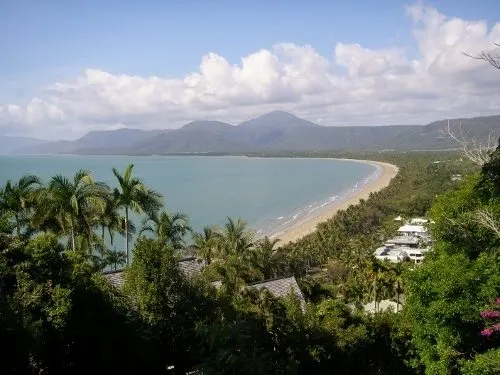 When we first arrived I was blown away by the spectacular wildlife. Now, I'm used to the giant green tree frogs in our garden, spotting the odd snake, looking at rainbow lorikeets and cockatoos from my windows and seeing the occasional cassowary in the rain forest.
The crocodile we see hanging out on the river bank is just part of the scenery.
It's so pretty, we've got a tropical beach to walk on and I can see the mountains from my garden.
I took the photo above, I can go to that spot any day and see the mountains that are our backdrop, falling away to the bluest blue sea. Somehow, it has become the view on the way to the supermarket.
I need to wake up and smell the frangipani.
We've had opportunity to explore more of Australia with the boys, they've been to Sydney, Perth and Canberra, know Queensland pretty well, from Cooktown in the North, down to Brisbane and the Gold Coast.
We've had some brilliant camping trips, on the coast and inland, up on Lake Tinaroo, where it's safe to swim with no fear of crocodiles or marine stingers.
We've been to rodeos, watched bull rides, camped in the bush at a 3-day Aboriginal dance festival, patted endless kangaroos and koalas, seen wild pigs, sea turtles, enormous grouper and dolphins.
We're yet to see a whale up here, we really should get out to the Great Barrier Reef again this whale season.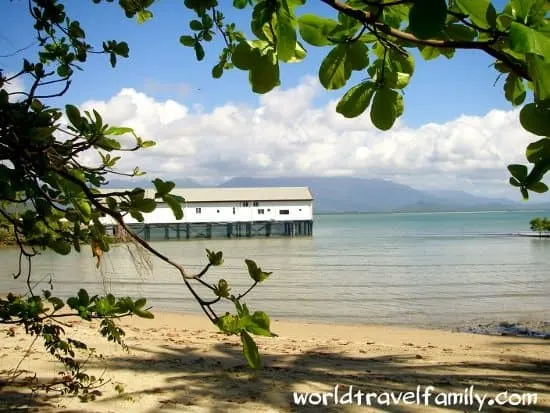 We grow bananas, papayas, kaffir limes, jack fruit, and all the makings of a seriously good green curry in our garden.
I love my garden. I remember sitting in our little house in London dreaming of growing more, now, living in Port Douglas, I have a tropical garden full of new and amazing produce and I'm still not content to stay.
We were picking passion fruit yesterday, they are delicious still warm from the sun. In season we can pick up wild mangoes from the ground. I don't think I've ever had mangoes so sweet and perfectly ripe.
All this isn't enough to keep me here.
Christmas in the tropics is nothing like it was back home, I miss my parents, the tree is fake, it's too hot, too light, we don't have turkey and roast potatoes, there is a lot to get used to for any expat.
Instead we have a few days in my husband's 5 star resort hotel, luxuriating in the pool, cocktail in hand. Being a chef's widow does have its perks.
But, you know what? This year, our sixth topical Christmas, I'm starting to get the hang of it, it feels good, different, but not bad. There is a certain coziness about being in the house in the air-con, looking at the Christmas tree twinkling away.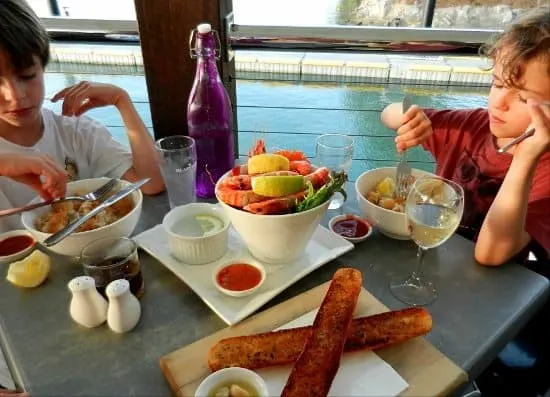 The boys are growing up surrounded by the miracles of nature, frogs, lizards, dazzling blue butterflies, fruit bats and lorikeets are there to be enjoyed and wondered at.
They can roam the bush, the beaches and rain forest trails. They can swim in the sea when there are no crocodiles or stingers about, failing that, swim in a lake or an icy cold stream .
Snorkeling on the Great Barrier Reef is a very rare treat, it's expensive, but when it happens it's spectacular.
We have kayaks, my eight-year-old can paddle his own now, we can take them out and look at the coral on a calm day. We go fishing and actually catch fish big enough to eat.
We caught a stingray once, you never saw two boys more excited.
I'm sure, when they are older, they'll look back on living in Port Douglas as a happy and adventure filled time.
Living in Port Douglas, Weather
And tropical weather, boy is that interesting! One of the hazards of tropical living is cyclones. We're yet to see a serious one, we were in Sydney when Yasi came through because we ran away. Luckily she wasn't too devastating in Port.
A tropical storm is just amazing, you never got so wet. It's wonderful to hear the frogs croaking their appreciation as the first raindrops fall.
The weather is very hot for pretty much all of the year in Port Douglas, and humid. I struggle with the climate and the kids never wanted to go outside in the heat.
How can I not want to stay in Port Douglas?
There must be something wrong with me to not want to stay here, surely? Why would I want to leave? I don't work, the boys don't go to school, it sounds idyllic even to me.
The problem is, I can't sit still and I know I have choices. Port Douglas is an amazing and beautiful place to live but I need to be out there in the wider world, exploring and experiencing new places and cultures. I've got that travel bug real bad. Owning a house and being tied to a mortgage clips your wings. I feel trapped. I thought it was what I wanted but now it's not.
But that's good, how do we know what we want if we don't try a few options for size? I can do something about it, I made this trap, I can unmake it. We all have options.
I have one more plan, for now, to take full advantage of where we are at the moment and squeeze every drop of enjoyment out of living in Port Douglas. We can pretend we are travellers here in the tropics, which I suppose we are, in a way, and enjoy tropical living like the tourists do. I'm getting my tropical mojo back for our last few months in paradise.
This post was written before we left to travel the world in 2012, we didn't once returned to our house in Port Douglas for almost eight years. We continued to travel and had no plans to return. Our house was a solid investment that paid off as house prices soared in Port Douglas in 2021-2022 and the real estate market was red hot. A lot of people made a lot of money thanks to migrants and holiday let buyers and a lot of local people found it really hard to find accommodation, it's still limited.
A few FAQs on life in Port Douglas.
Is Port Douglas a good place to live?
Port Douglas is a great place to live if you have plenty of money, can tolerate tropical heat well, and you're not looking for a lot of nightlife.
Port Douglas is beautiful, very relaxed, safe (but we do have crocodiles, cyclones, falling coconuts and jellyfish to watch out for). Port Douglas is not a good place to live if you like to travel, international flight connections from Cairns are very poor and flights are expensive.
Port is a good place to live with young kids, but for older kids options become limited and many families leave as their children get older. A lot of older people live in Port Douglas.
Is it easy to find work in Port Douglas?
Port Douglas has been desperately short of staff in recent years. If you can tend a bar, wait on tables, or work in a hotel it should be very easy to get a job.
If you are a chef, chef jobs are plentiful.
Hospitality is a major industry in Port Douglas with many jobs being filled by backpackers.
What you may struggle with is finding lodging, it's not easy to find an affordable place to stay in Port Douglas.
Living in Port Douglas vs Cairns
Port Douglas is a lot safer than Cairns, crime rates in Cairns have been pretty bad.
Cairns is a city, Port is a small town, Cairns has city facilities like shopping centres and movie theatres. Port is quiet, Cairns is more lively, but still has a fairly sleepy FNQ vibe. Port Douglas has 4 Mile Beach, Cairns city is on an estuary but has the lovely lagoon pool.
You can visit the Great Barrier Reef from both Cairns and Port Douglas, both marinas offer snorkelling and scuba diving. Both places have plenty of natural beauty spots and freshwater swimming holes nearby.
We actually planned to live in Cairns when we emigrated to Australia, but employment brought us to Port Douglas, and we stayed.
After touring Australia for months as young backpackers we decided that Cairns was the best place to live in Australia, for us. We're glad now that fate brought us to Port Douglas.
Pros and Cons of living in the tropics (Far North Queensland and International) are covered in a separate post if you click through. (opens in new tab)
A travelling life suits us well as does my new career as a travel blogger. Leaving was the best decision we ever made, a first step into a way of life we never dreamed possible. Eventually we had to go home after travelling, it was tough, but OK. Our plan was to leave again but then COVID struck, devastating the travel industry and forcing us to change everything again. After that readjustment period we began to really enjoy Port Douglas life, so much so that we bought a larger property and settled, probably permanently. We hope you enjoy Port Douglas, it's a beautiful spot for a visit as holidaymakers. We have full guides to the Port Douglas and Cairns regions on our website. Our link for Port Douglas and Cairns information is here. Do us a favour, visit our Port Douglas Pinterest board and pin some stuff. Thanks.
If you'd like to hire a car during your stay, use this car rental comparison tool to find the best deal!

We also suggest you take a look at this company to get a quote for all kinds of the more tricky adventure or extended travel insurance.

Try Stayz / VRBO for an alternative way to find rentals on homes/apartments/condos in any country!