This post may contain affiliate links.
Time to get real. It seems that nobody is having a great time lately and we are fully aware that there are millions of people way worse off than us, but I'm going to speak my truth. This is how Covid, Coronavirus, the pandemic, whatever you care to call it, has impacted my travel blog, my life as a travel blogger and, my income. We supported our family through this travel blog. We were making very good money. This post covers reality in 2020 for me as a travel blogger and gives some industry insights.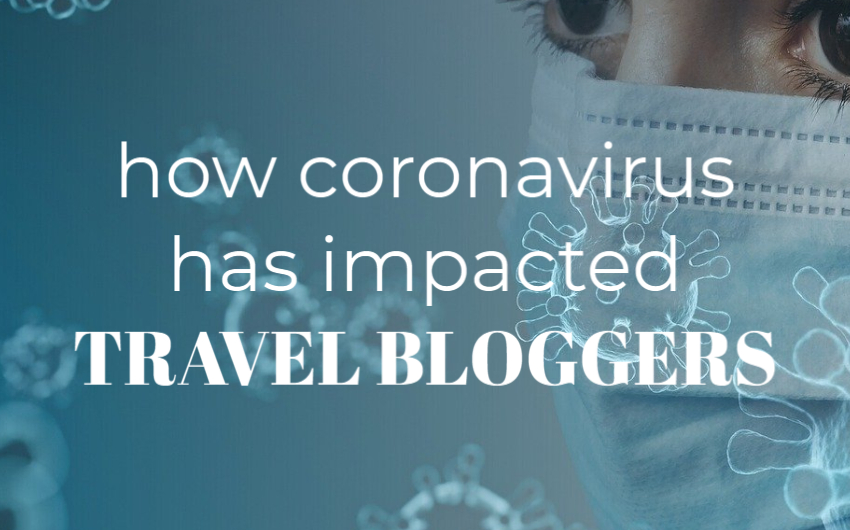 We already have a post on how we make money travel blogging. We cover our income streams in that post. Mostly our income is down to advertising, the adverts you see on this page and at the start of each video are through Mediavine, plus affiliate sales. If you're running an ad blocker, please switch it off.
There are other ways to earn money through travel blogging but we don't use them or use them rarely. Affiliate sales, through 50+ companies and on-page advertising, make up our income.
There are also costs involved in running a site like this. It's a few hundred dollars a month, plus my time. If I paid myself, it would be very expensive indeed. We've cut costs, cancelled keyword research tools, and schedulers, but still, it's expensive.
How Travel Blogging Has Been Impacted By Covid
Mental Health Impact
This is the big one for me and it's a perfect storm of everything going bad at once. I've had bereavement, family sickness, total loss of income, my business, my third child, failing, worry about the kids being impacted, and of course, removal of freedom.
I'm sure plenty will say I've got it good. I already worked from home, we've been homeschooling forever, I'm deeply antisocial so I don't miss having a social life. We're also in a region with low sickness. But still, it feels bad and my head isn't good.
On top of that, I'm working a lot of desperate hours, it's stressful, being sole bread-winner when there's no bread to win. I'm building other income streams but it's slow, hard, and a lot of work.
I'm not doing well mentally or physically. I've put on a lot of weight through injury and being stuck at home. Gardening has been my stress reliever and I'm very thankful to my plants.
We Can't Travel
Business-wise, this isn't the problem you might think it is. Travel bloggers do not need to be constantly travelling to create content. I could be writing about one of the hundreds of places I've visited and never created content around.
In actual fact, posts on this site are rarely live or in any kind of sequence. I create content around what I feel like writing about or what I need to write about to build the site. There is no posting schedule here and never has been.
If you "follow" us by email or on social media, you're probably not the audience we make a living from. In all honesty there's not much to follow. I move from bed, to chair, to garden, to sofa lately. I wouldn't follow me.
The audience that puts food on the table is the Google search audience.They fuel the travel blogging industry. The people searching for "Thailand with kids" or "How to get to Hoi An from Danang". These people feed us, usually.
So the fact that we can't travel, isn't an issue other than to us, personally. We do feel very trapped. The fact that nobody else is travelling, planning travel, nor looking for travel information, is a very big problem.
Traffic is Down, a Lot
Pre-Covid, up to about mid-January 2020 (when we were in Asia), this site received in the region of 10,000 page views every day. It happened through the power of SEO. I'm an SEO blogger, I create for Google, it was a passively generated audience, as much as it could be.
Passive income in blogging is a lie, by the way. I know everyone tells you we bloggers make money while we sleep. I don't get much time to sleep. There is always something that needs fixing, updating, or improving on a website. You can't idle by, you have to stay on top of everything.
We get a trickle of traffic from Facebook and Pinterest, but not a significant proportion. I'd estimate about 300 page views per day. Pinterest happens through the magic of Tailwind, without that there'd be nothing going on there at all. That's one tool I didn't cancel to save money.
The social media traffic hasn't been nearly as badly impacted by Covid as Google traffic, but social traffic is hard-won, it's a lot of hours and effort and it's not my favourite thing to do.
Pinterest doesn't work very well for me on this site. I think it's a lot to do with how general this travel blog is. It's worldwide, not niche.
In mid January the Covid slide started. Traffic fell and fell, bottoming out in March when the US was badly hit and most of the world closed down.
Since March we've been getting 1,500 to 2,000 page views per day. That's a huge drop. Traffic is on the up now, but every time a border is closed, we see another downturn.
We're also feeling the impact of huge multi-million dollar sites like Culture Trip going after our keywords. We, the little guys of website creation, can never compete with sites run by teams of hundreds of professionals. This site is run by me, just me. No outside help or tech gurus, other than, occasionally, my kids.
It is what it is and there's nothing we can do in the same way that smaller blogs can't fight me if I go for a keyword they rank for. This industry can be cut-throat.
Advertising Revenue is Down in Travel
It's so down. Obviously, the drop in traffic correlates directly to advertising revenue. On top of that, advertising rates dropped too. I sometimes see RPMs on Mediavine in the $30 – $40 region. Recently I'd be thrilled to see $20 RPMs. Our daily Mediavine income is around 10% of what it was.
We run Google Adsense on our smaller sites. For us, those rates have improved enormously recently. This could be down to a difference in niche. Who wants to spend big money to advertise a travel product or hotel right now?
I've got an RPM of around $6 on the homeschooling site this week, earning a huge $2 per day. I'll try not to spend it all at once.
Unfortunately, Mediavine shifted the goalposts recently. We had two sites approaching the unofficial second site entry level of 10,000 monthly sessions. We were pushing to get those sites onto Mediavine.
Then the entry point increased to 50,000 monthly sessions. Those smaller sites may never get there, so we're going for affiliate sales with those two, not the big traffic volume advertising revenue requires.
Affiliate Income is Down for Travel Bloggers
The drop in traffic, reflecting the drop in people travelling and planning travel, was always going to smash travel-related affiliate income. Quite a few companies then added insult to injury by dropping their affiliate rates, or even cancelling their affiliate schemes entirely. That was a low trick.
I've removed all links to one particular company that cancelled and will never promote them again. Likewise, bloggers en-masse are moving away from certain big companies that drop rates to protect their billions.
It all just goes to show that there is no security at all in the blogging industry. I can't state strongly enough that you absolutely must diversify. I should have diversified more, but this travel site is my baby, my precious. I find it hard to not give it all of my time.
Luckily for us, we sell a lot of books on Amazon, and the percentage commission on books is still 4%. Other categories of products now have no affiliate commission on them at all.
At one point I was comfortably making $1000 a month on Amazon. We're on about $100 a month now. I thought that $1000 was plenty so I never really went after Amazon sales seriously. Now I wish I had created more sales pages.
We recently added the new Airbnb affiliate program to our site. There hasn't even been one booking, which surprised me, I thought property rentals would be popular right now.
Obviously affiliates like Booking dot com and Agoda dried up. There have been maybe ten bookings in the last five months. We used to sell ten a day.
We're big fans of GetYourGuide. We use them ourselves and happily recommend them. We normally get a few sales every day. There were three sales last month and none so far this month.
These companies are all having big pushes now to get customers booking again. There are incredible deals in the hotel world on trips booked into next year. GetYourGuide are offering affiliates extra incentives to get things moving, but it's very hard to see progress.
One affiliate scheme of ours that is still going strong is SunGod. People still want sunglasses, all over the world. We're one of SunGod's biggest sellers internationally, which pleases us enormously as we love their product. (Update, Sungod also cancelled their affiliate scheme during the COVID years, another cruel blow.)
What's Still Working in Travel Blogging in 2020?
This section is based on what I've seem and my analysis of what's going on. I could be wrong. But I think I'm right.
If you have a global .com travel site, you'll probably be smashed like me. If you have a local, smaller, more niche travel site with, for instance, a .com.au, you'll do better than us.
People are searching for local information. When you search for something local, Google gives you local sites. I'm in Australia, I can see it every time I search, Google favours .com.au sites here.
This means my .com site, which is normally riding high, is getting pushed down. My .com site needs international tourists. I need Americans, Brits, Malaysians, and every other nationality searching for Australia information to keep my site at the top.
If you don't get that, ask in the comments and I'll explain further, but that makes perfect sense to me. This explains what we're seeing professionally and as a user.
So what's still working? Local niche travel sites with the right suffix. But, hopefully, when international travel returns we'll bounce back fast. So is it worth starting a travel site like that right now? I don't think so.
It will take too long to build and gain the needed authority. We do, however, have one of these we're quietly building in the background, just in case.
What's still bringing traffic to our travel blog in 2020? Food, food is international so my food posts have stayed at the top and aren't much affected.
London is still doing well for me. Maybe surprisingly. Our homeschooling-related content is still doing well, again, that's international. People are still searching terms like "How to travel for free". Another international search term. That one is still ranking well but the search volume is massively decreased by Covid.
My blogging related content is also still pulling in the page views. People in lockdown are starting websites. I've started three more since March in a bid to diversify and provide for my family. I always think I'm a fair representation of humanity.
So, thankfully, SiteGround hosting and Studiopress themes (the themes we genuinely recommend to all new to intermediate bloggers) income has remained OK. Those two are high figure affiliate sales, whereas with Amazon we make cents on each purchase. These are the type of affiliate sales you need.
Every website you create now is an investment in your future. If you've started it you've got the ball rolling and a site with a bit of age to it should be faster to kick start when you're ready. I was very glad to have my old homeschooling site there, ready to go when Covid hit.
Honestly, the travel site is on a back burner for me right now. I'm mostly working on our homeschooling site. It doesn't make much, it only has about 200 page views per day, but it makes us more on Amazon than the big travel site currently. We started publishing recipes on Chef's food site but we're not seeing good gains on those at all.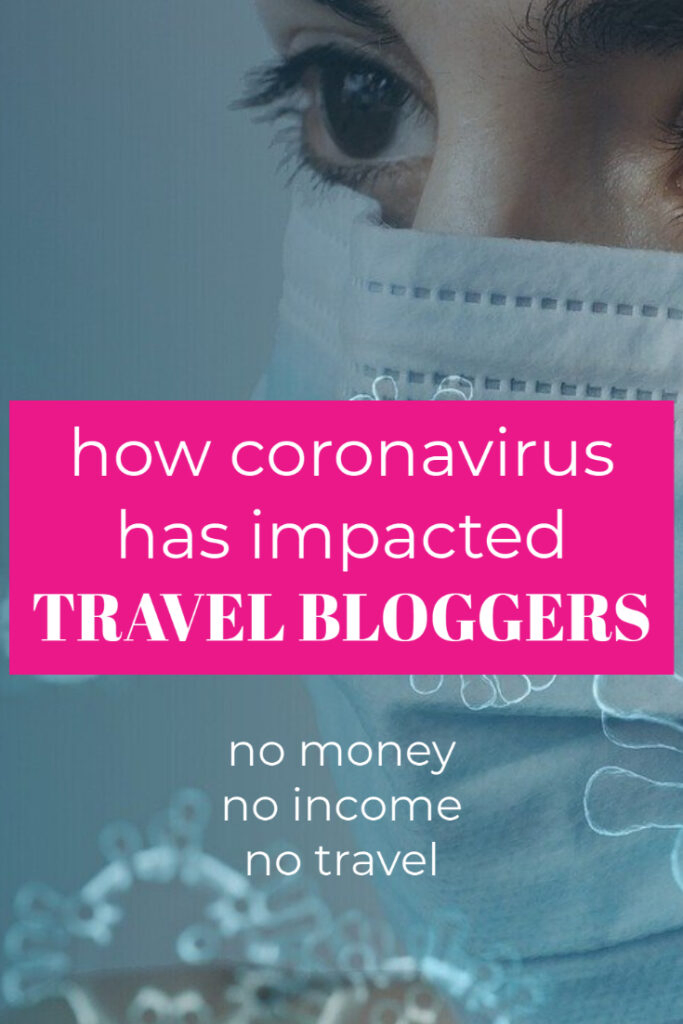 The Future
What choice do we have? We push on. We can't just give up, I'll never give up. I don't have the quitter gene at all.
We'll get through, the travel blogging industry will survive and Covid has done its worst now, people are travelling again. I doubt we'll see the same numbers taking international vacations for a very long time but people like us, the long-term travellers and digital nomads, will bounce back.
The recent re-shutdowns in Europe and Australia were noticeable in terms of traffic volume. As soon as any border opening or closure is announced, we see changes. My Google Analytics and Search Console is a fascinating window on the world. I can see what the world is searching for.
I think that my travel blog will survive and come back strong. We'll have our other sites performing well soon, too. Things will be OK, eventually, and when that point comes I'll be back on the road faster than you can say pandemic. I will make it my personal business to encourage people to travel to, and spend in, the most hard-hit countries. That's something I can do to help. Best of luck to you all and this too shall pass. Any questions? The comment section is all yours.
If you'd like to hire a car during your stay, use this car rental comparison tool to find the best deal!

We also suggest you take a look at this company to get a quote for all kinds of the more tricky adventure or extended travel insurance.

Try Stayz / VRBO for an alternative way to find rentals on homes/apartments/condos in any country!