This post may contain affiliate links.
Richmond London, in England, is a pretty Thames-side town with stately architecture, passing rowers, great shops and dining, along with easy access to central London. It is a place well worth visiting or staying and its village feel and waterside setting make it a good place to live. Living in Richmond Upon Thames, UK, on and off since 2001 has given us fantastic opportunities, good friends, and wonderful experiences to help you plan your Richmond break or visit. We've usually spent summer here, as tourists or visitors, but don't think I'm a fair-weather Londoner. I love the UK in all her seasons, autumn in particular. This post is about Richmond London, living in Richmond, things to do in Richmond for residents and visitors, transport connections, lifestyle, and why we love living in and visiting Richmond Upon Thames.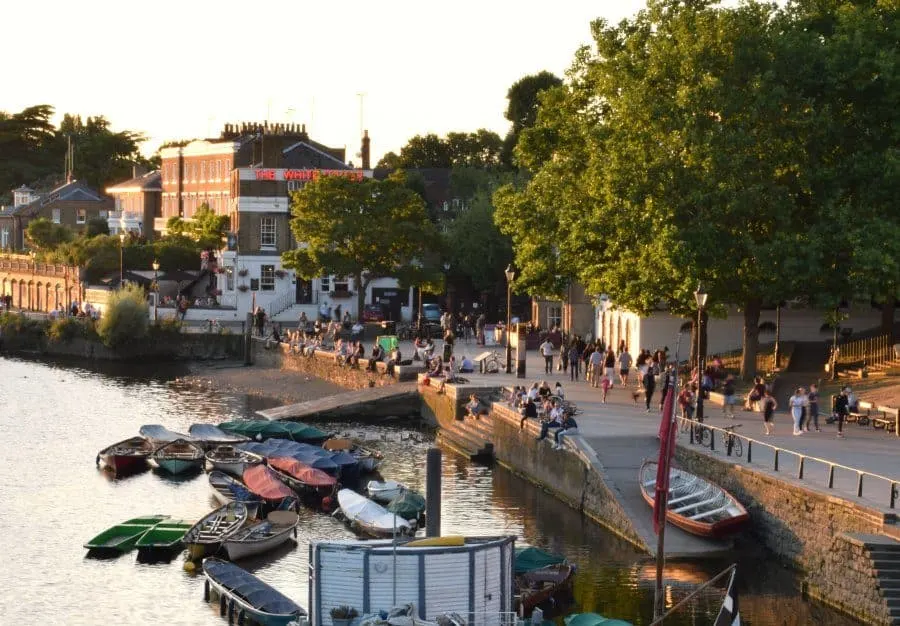 Richmond was in Surrey until 1965, and prior to that was a part of the parish of Kingston Upon Thames. Today Richmond is a part of Greater London.
The name of the town is actually "Richmond" but as there is another Richmond in the UK people distinguish it by calling it Richmond London, or Richmond Upon Thames. Richmond is in the London Borough of Richmond Upon Thames.
Richmond is approximately 8.2 miles (13.2 km) southwest of Central London and can be reached by tube on the District Line. Richmond is actually the last stop of the District Line.
Regular railway trains also stop at Richmond train station and the town is well serviced by public buses.
The train station in Richmond London is on the main shopping street (George Street), a short walk from both Richmond Green and Richmond's stunning riverfront.
Richmond Park is accessible on foot, but it's quite a walk uphill.
The views of the Thames stretching away to Twickenham and beyond are sensational as you climb Richmond Hill, passing the homes of the rich and famous.
Richmond London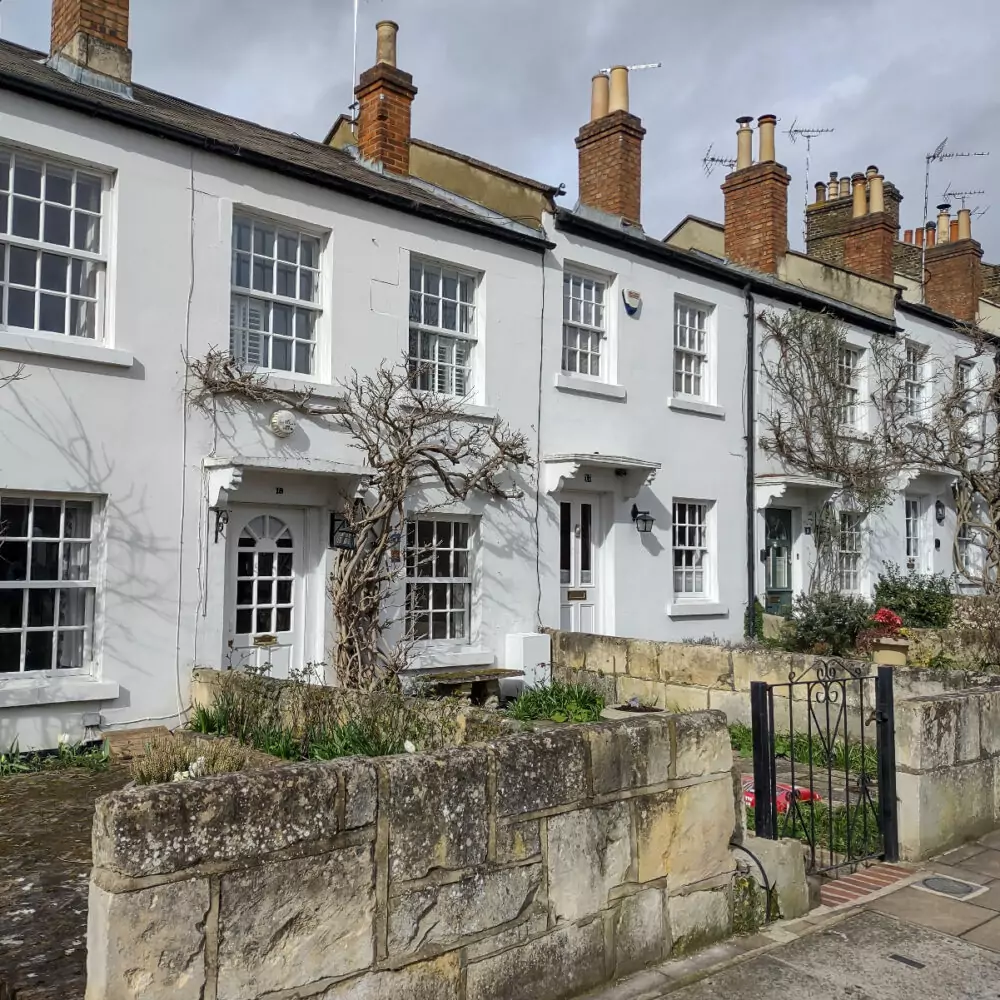 Richmond is generally considered to be "posh" and is one of the most affluent areas of London. It has some of the most expensive real estate of the boroughs on the outskirts of London and you'll often rub shoulders with celebrities and millionaires in the supermarkets here.
Interestingly, Richmond is mostly in north London, Richmond Bridge is the crossing to South London.
Richmond Upon Thames was in the county of Surrey, very close to the Middlesex border, and is considered to be in Greater London.
It has its own tube station, it's on the London Underground map at the very end of the District Line.
Living in Richmond
We already have a post on Living in Twickenham, Twickenham is on the other side of the river, it's where my children were born and we've alternated over the years between living in Twickenham and more-expensive Richmond.
We lived in Richmond town as a young couple and loved the Richmond lifestyle, great dining and shopping just steps away,
To me, the two places are almost interchangeable, although the closer to the river and parks the better. There's something about being close to water or green spaces that does us all good.
Richmond is broadly more expensive than neighbouring Twickenham, East Twickenham, or St Margarets, but there are bargains to be found.
For us, as a young family, Twickenham was more affordable but we'd prefer to be as close to Richmond as possible.
As a young couple we lived in the heart of Richmond in a lovely, but small, apartment. Richmond really is a great place to live.
If you're looking for cheaper or more unconventional accommodation in Richmond, houseboats are a good option along this stretch of the Thames.
The closer they are to Richmond, the more expensive their moorings will be, generally.
There are plenty of things to do in and near Richmond for singles, couples or families with kids. For little ones there are indoor play centres and dozens of outdoor parks and playgrounds.
These parks are a lovely place to walk, take the dogs out, or, in winter, go sledging and build a snowman! We have seen snow on Richmond Hill but it's fairly rare.
Things to Do in Richmond London
Our short video, below, illustrates some of the things to do in Richmond London and things to see nearby.
Shopping and Dining in Richmond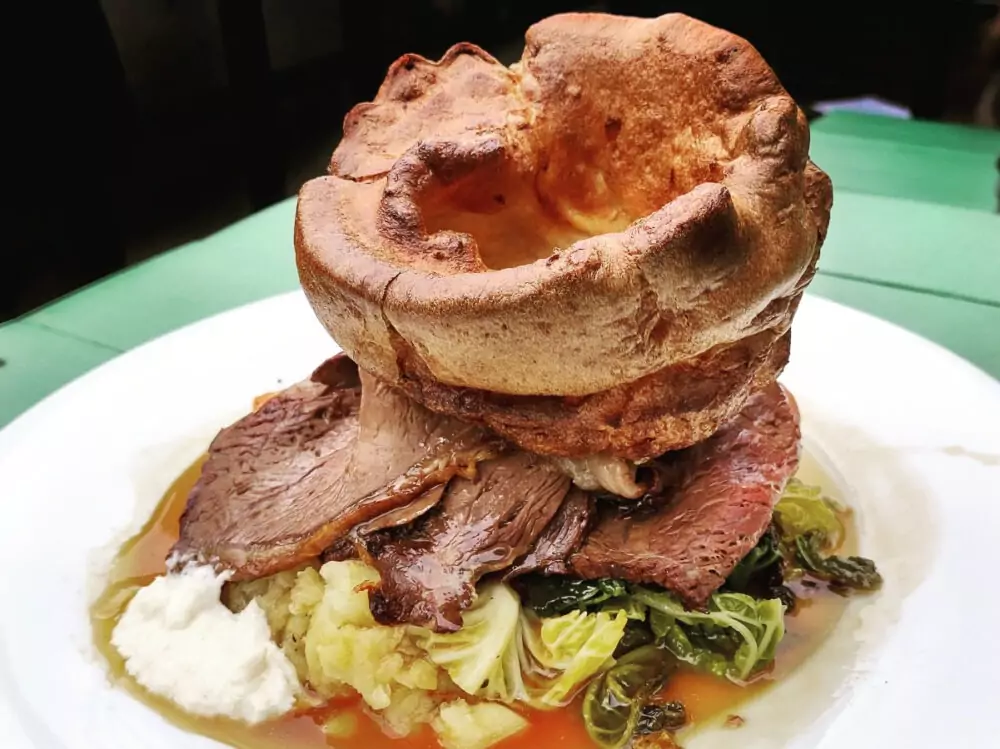 We have reasonably sized supermarkets in Richmond, including (at time of writing) Tesco and Waitrose. Local foodies are kept more than happy with the weekend farmers' market (Richmond Duckpond Market on Heron Square) and various speciality British food shops.
The Duckpond Market usually has various international street food options, artisan breads, quality cakes, produce and speciality foods.
You'll also find a few craft stalls. It's a good place to buy unusual good or quality foods.
A medium-sized Marks and Spencer on the main street has the usual high-quality prepared food. As does Waitrose.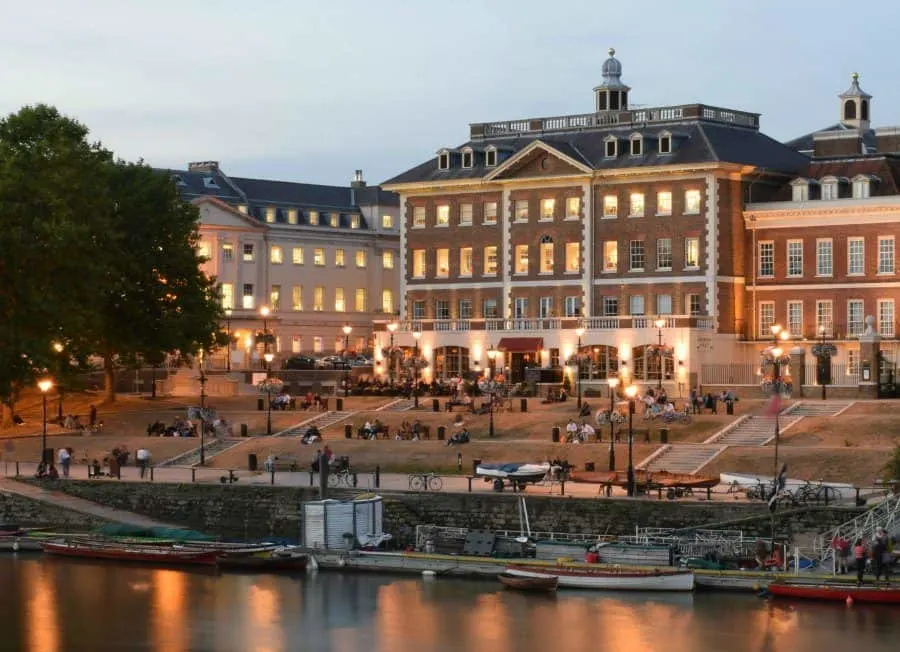 Looking for more London information? Check out our London Pinterest!
---
Clothes shops from Top Shop to the ultra-expensive, line the high street along with stationers, newsagents, abundant jewellers, and many coffee choices.
Historically Richmond is famous for jewellers and our family line goes back to this industry.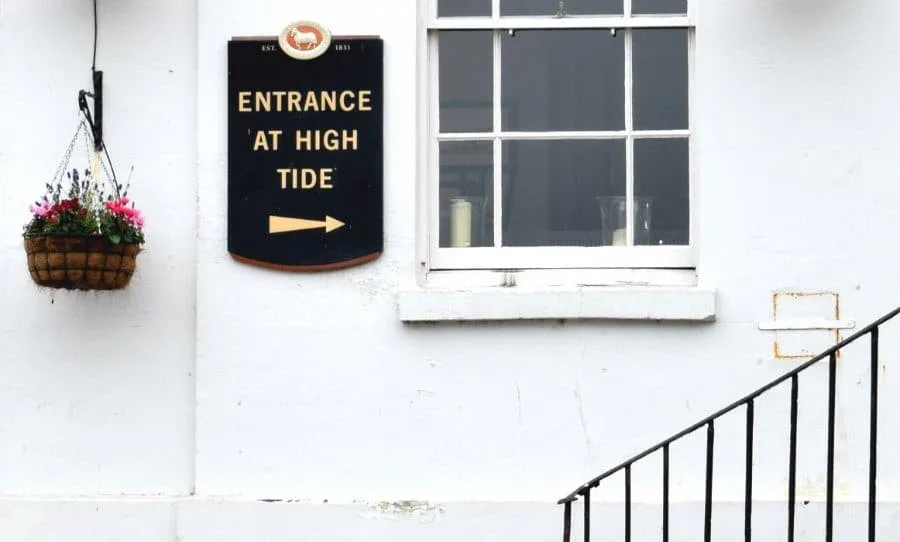 Richmond has some very good pubs, most serving food.
The White Cross, pictured above, is a lovely historic pub with a beer garden almost on the water's edge.
We think the White Cross in Richmond serves the best Sunday pub lunch in the area. Photo below of their roast beef and Yorkshire pudding.
At very high tides this pub is semi in the water, the building doesn't flood and there is a separate entrance to use at high tide.
The White Cross always did a particularly good Sunday Roast, we went back to check it was still as good in 2023, it was!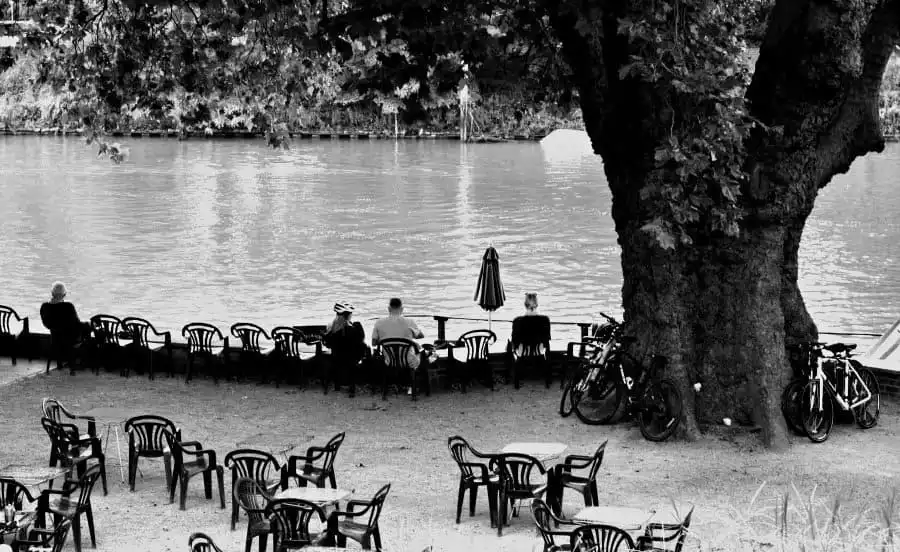 Another good pub in Richmond London is the White Swan, another traditional British pub.
This one is on the lane connecting Richmond Green to the waterfront and is well hidden from most tourists.
You'll find the locals enjoying this hidden gem of Richmond.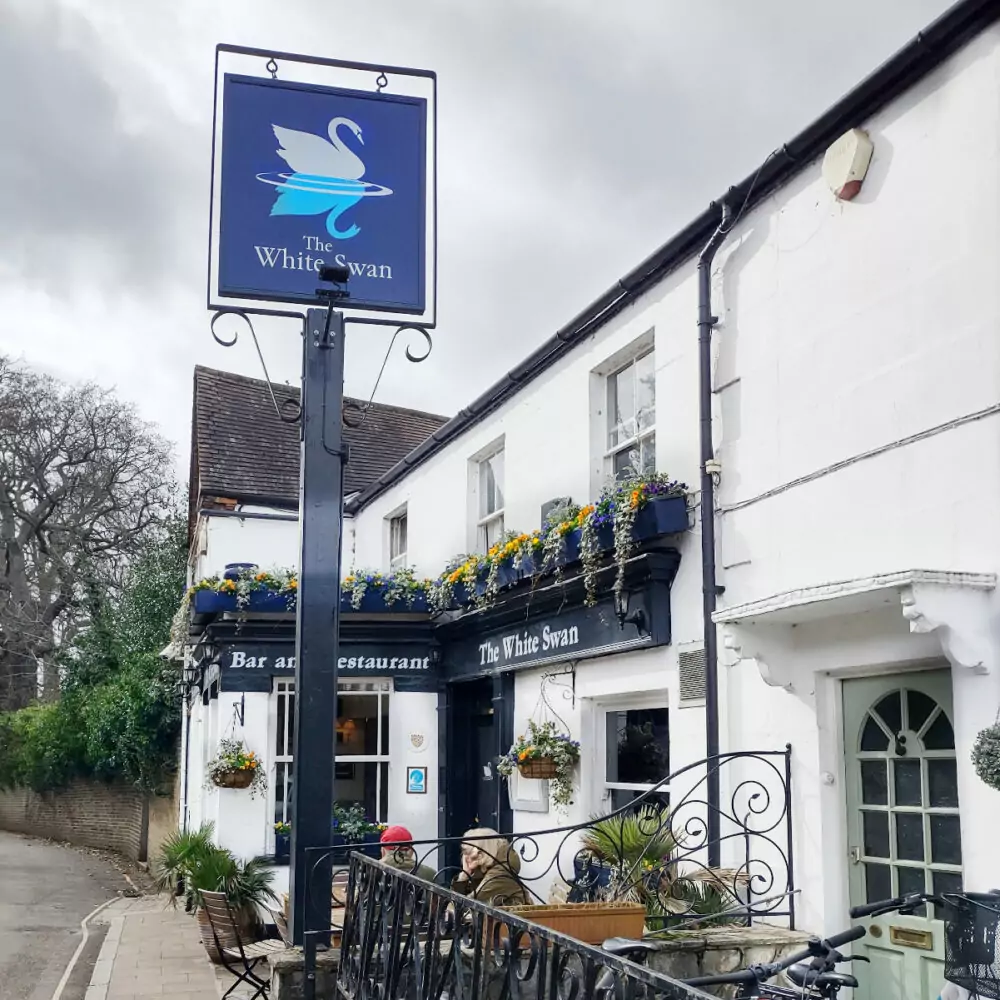 If you prefer a modern bar The Pitcher and Piano or The Slug and Lettuce are also very close to the busy riverside and serves good food.
One of the most famous places to eat near Richmond it Petersham Nurseries restaurant, you walk here from Richmond or there is a car park. You will need to book or stand in a very long queue for the cafe.
Parks and Open Spaces
There is an abundance of nature and natural places in and around Richmond, stretching along the river and up Richmond Hill to the park.
You can observe beautiful wild swans and other water birds as you stroll along her banks.
Walk up Richmond Hill and you wouldn't even know you're in London.
The River Thames at Richmond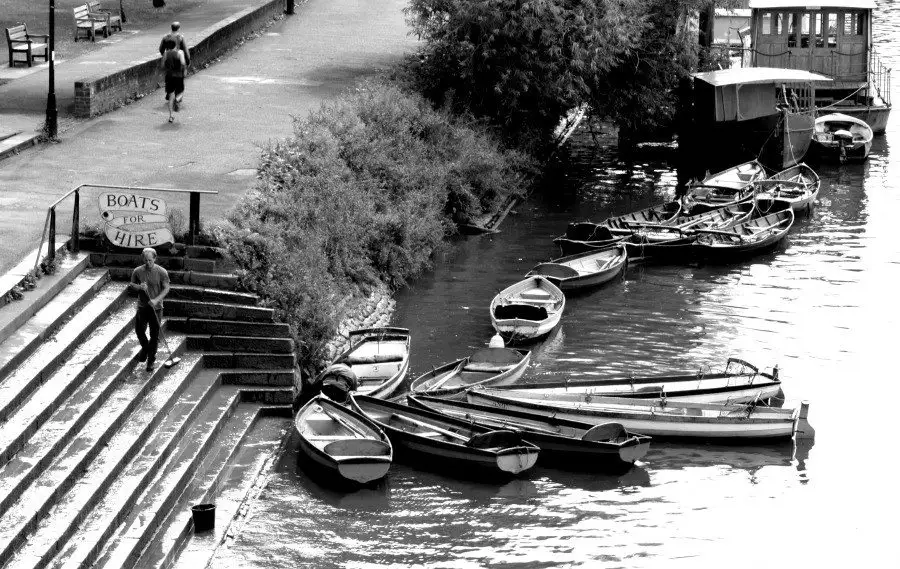 Locals and tourists can stroll along the Thames in either direction. Indeed, they can hire small rowing boats or stand up paddleboards (SUP), kayaks, or compete in competitive rowing.
Motorised pleasure boats and river cruises also use these waters.
People fish in the Thames near Richmond and we've even seen people swimming in its waters. It's probably best not to!
You can also book a one hour long boat trip to Teddington. Teddington and Teddington Lock are well worth a visit.
Richmond Park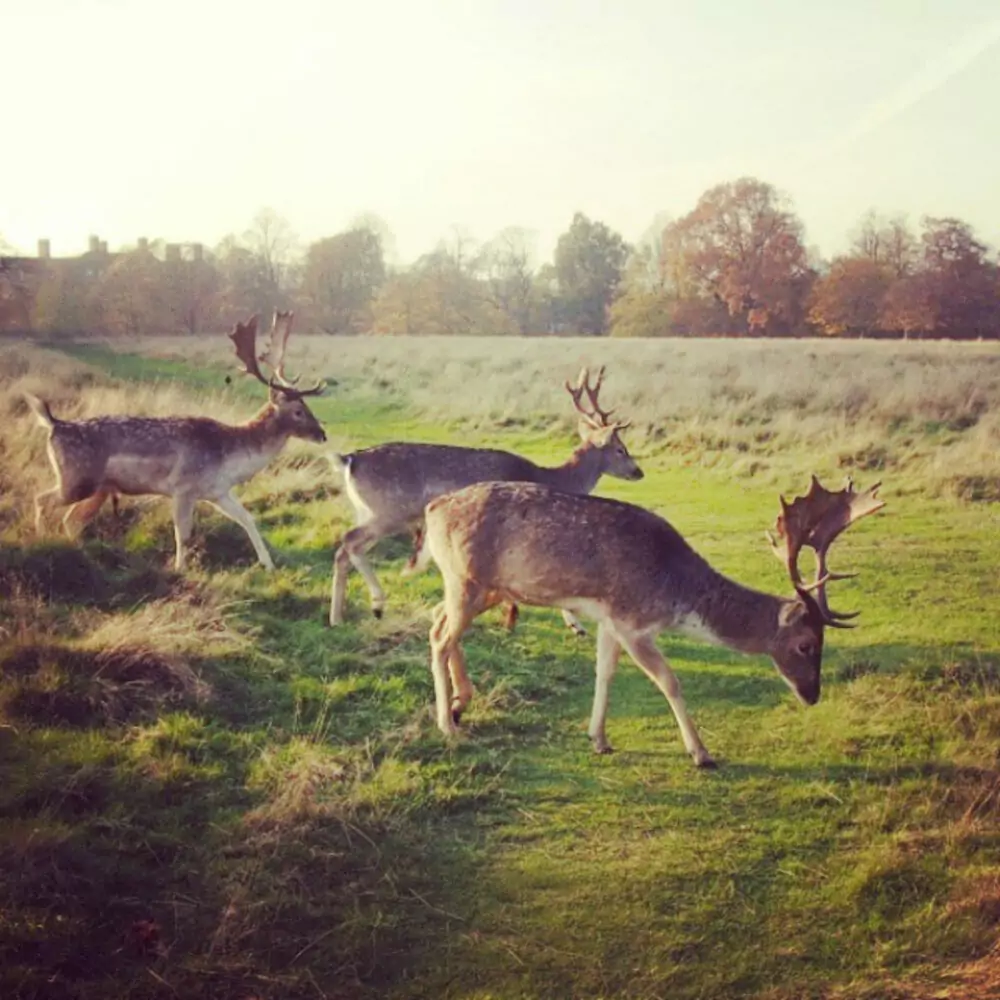 Richmond Park was created by King Charles I in 1634 as his Royal game park. Today it is an area of special conservation and a national nature reserve.
Reach Richmond Park by walking up Richmond Hill, enjoying the views until you reach The Royal Star and Garter Home, right opposite Richmond Gate. This gate is the main access to the park and is open to vehicles during daylight hours.
Richmond Park is well worth visiting, a woodland and open grass oasis where over 600 red and fallow deer roam freely. This is a great spot for runners and cyclists to exercise and Park Run normally happens here.
Richmond Park is a Mecca for cyclists, runners, and dog walkers on weekends. My kids would come up here to play in the snow and ice of winter, there are kids playgrounds and walking in Richmond Park is a family-friendly activity.
In places, you can get a great view of the city of London from Richmond Park. You can see The London Eye at the same time as enjoying the red and fallow deer. The highest point in the park is King Henry's Mound, actually a neolithic burial barrow, and from here there is a protected view to St Paul's Cathedral, some 10 miles away.
Richmond Palace
Little remains of the phenomenal Richmond Palace today as Oliver Cromwell made it his business to destroy it, but you will see some echoes of the past around Richmond Green.
Richmond Green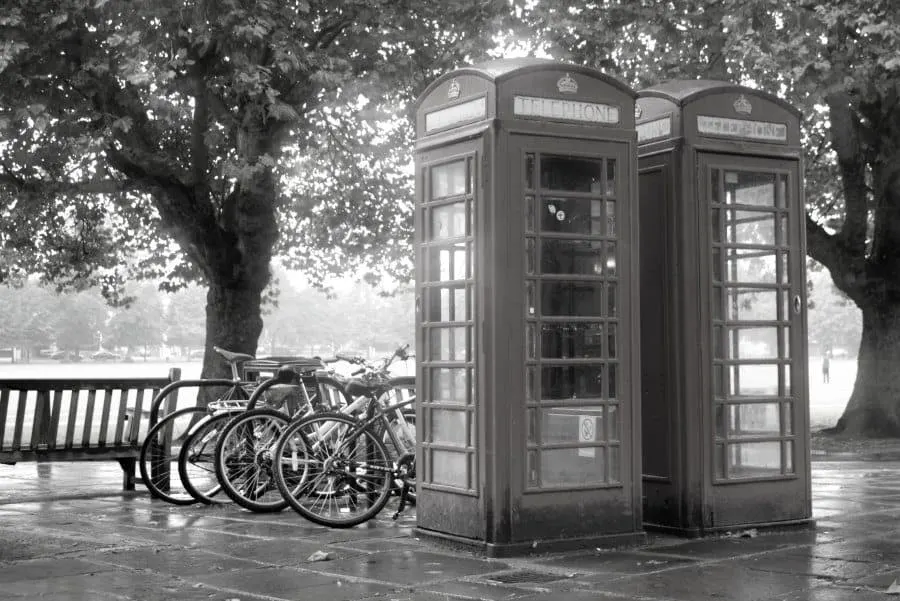 In the center of Richmond, The Green plays host to cricket matches, and summer workers enjoying picnic lunches.
In the Middle Ages, the scene was quite different as jousters from Richmond Palace competed. I wonder what they would have made of the fine buildings and welcoming pubs that surround Richmond Green today?
Richmond Green has been described as "one of the most beautiful urban greens surviving anywhere in England" and as a British national, I'd tend to agree with that statement.
The Green covers an area of approximately 12 acres and is surrounded by grand houses and the smaller worker's cottages that line Old Palace Lane.
This lovely lane will take you down to The River Thames.
The lane was originally a supply way to Richmond Palace, King Henry VII's 16th century residence.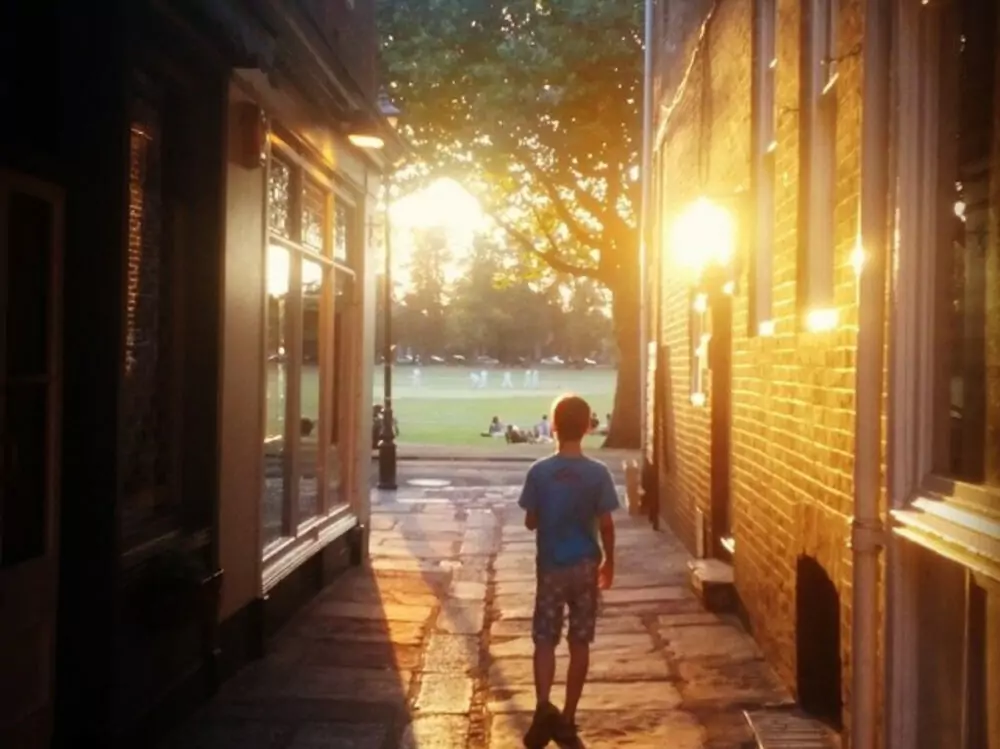 Narrow cobbled lanes connect Richmond Green to the busy shopping street. These little laneways are lined with cute and boutique shops. Look our for ice cream and chocolate shops.
Nearby Ham also has a rather lovely green that you should take a look at if you get the chance.
Walking Options From Richmond
Once you've walked up Richmond Hill and explore Richmond Park, you can continue to explore on foot along many riverside walks, in either direction from Richmond.
When we were living in Richmond I was working at West Middlesex Hospital, in Isleworth. You can walk to the hospital from Richmond along either bank of the Thames. There is a footbridge that will allow you to cross to the southern bank, Isleworth and the hospital.
Just behind the hospital you'll find The London Apprentice Pub in Old Isleworth. This is another great traditional British pub on the banks of the Thames, serving good food and beverages.
Beyond Isleworth you'll find Syon House and Syon Park.
If you walk along the south bank, from the south side of Richmond Bridge, you may find your way blocked by flooding at high tide.
Don't park on the slipways down to the river. I've seen many cars flooded by the rising tide.
If you walk in the opposite direction you can reach Twickenham via Ham House. In this direction there is a little ferry boat to allow pedestrians to cross the river.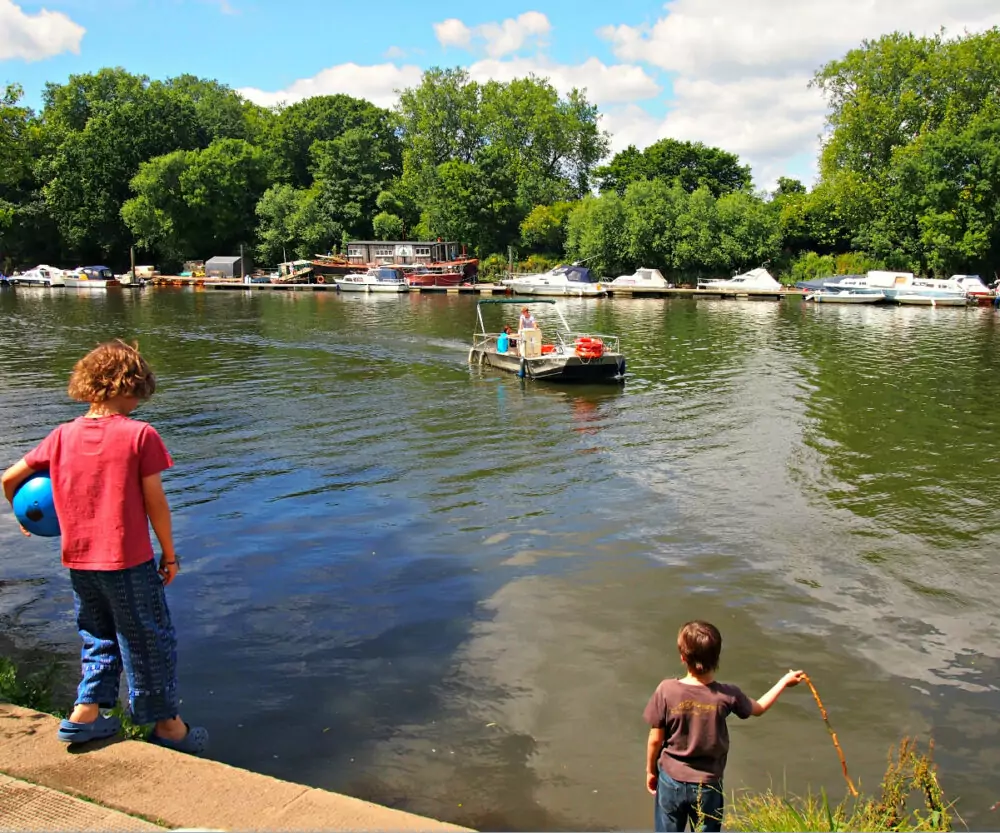 Cycling is also possible. You'll need to carry your bicycle over the footbridge, as I used to do, often.
Stately Homes and Manor Houses Near Richmond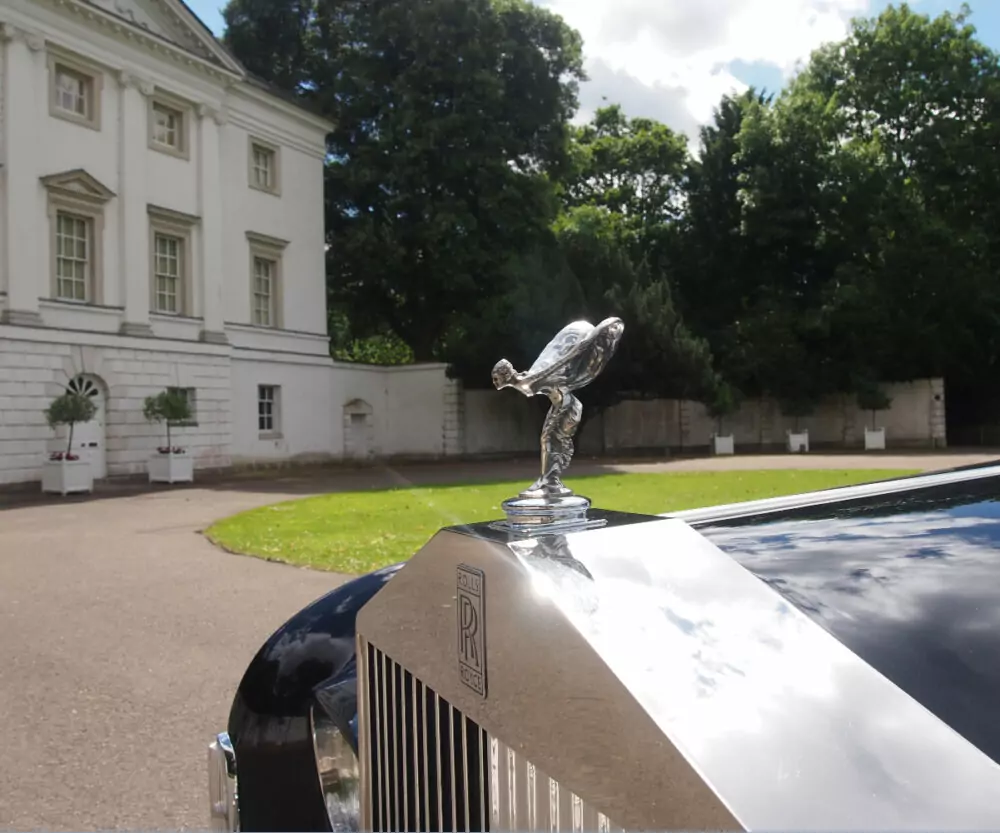 There is a rich assortment of stately homes and manor houses, most of which are open to the public, near Richmond London.
We give you very brief details of our favourites below, all make a great day trip or day out from Richmond.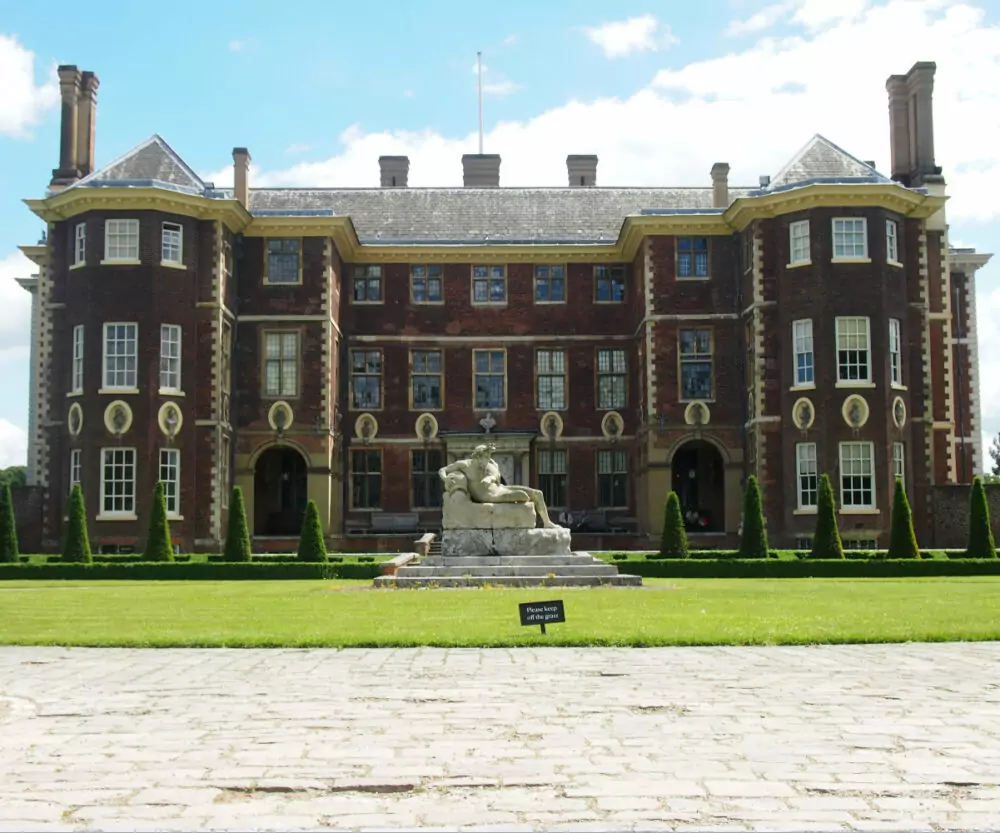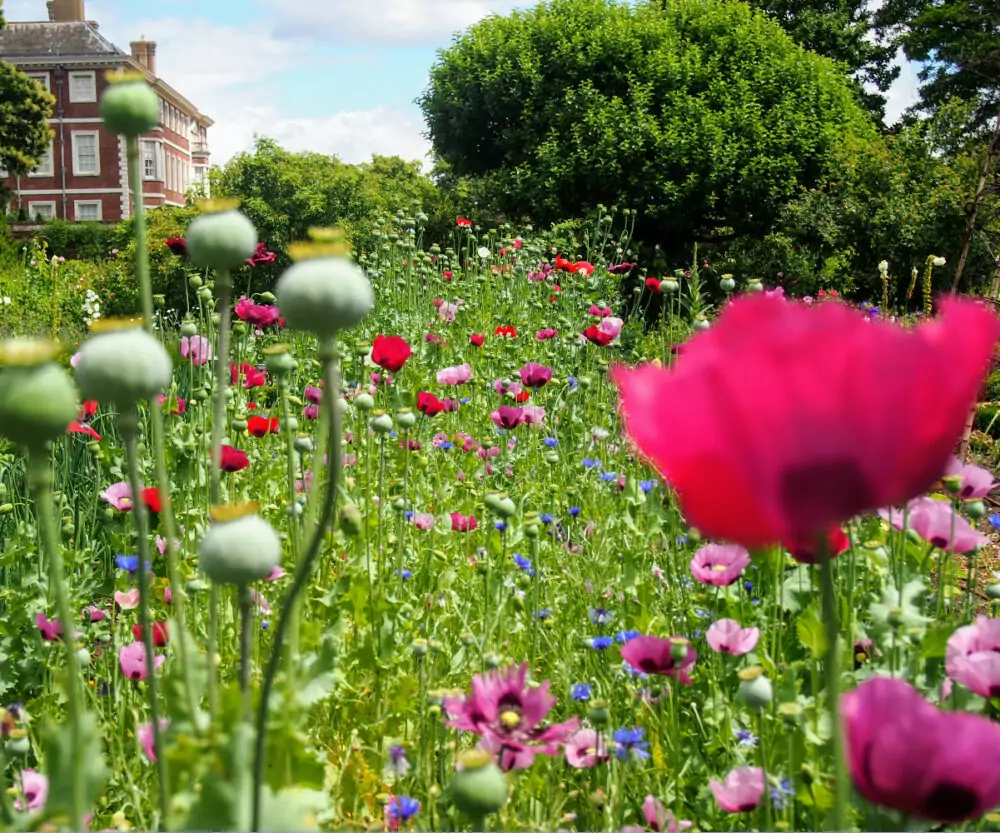 There are many more places of interest within easy reach of Richmond, options are endless, you could even take a trip to The Cotswolds, Bath, The Warner Bros Harry Potter Studios or Stonehenge.
Housing Costs in Richmond
Richmond is not a cheap place to live by any stretch of the imagination. It's a highly desirable premium housing area with excellent access to London, being on the end of the District Line. Housing is expensive.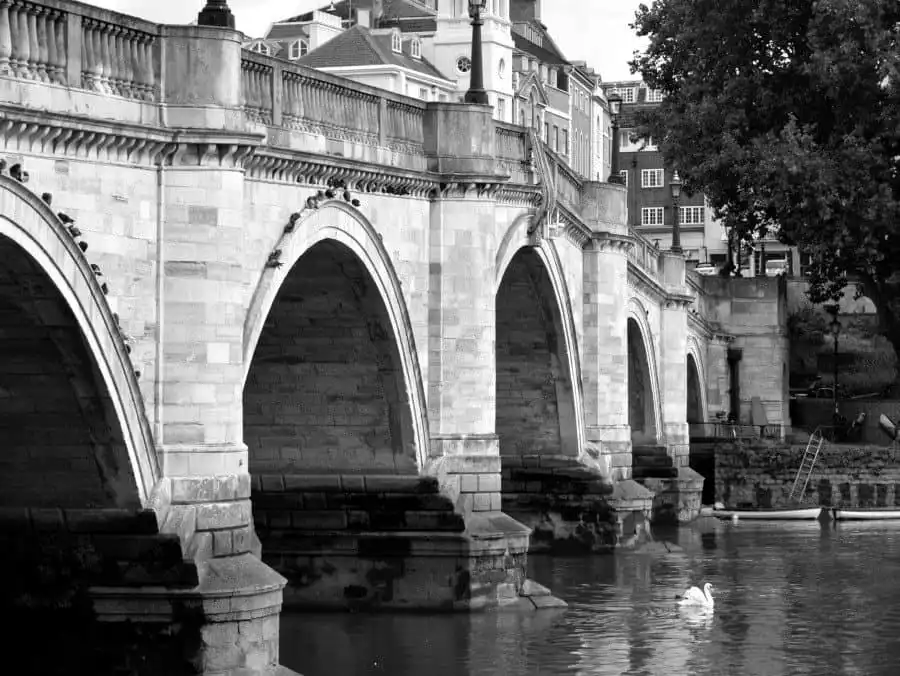 To give you an idea of housing costs in Richmond, we recently rented a 2 bedroom AirBnb Apartment for £65/night and considered that an incredible bargain.
That's cheaper than our previous 1 bedroom flat Rental in East Twickenham, on the Richmond border and of course, that was a long-term rental and didn't include utilities or wifi.
You would probably struggle to buy any sort of small house or flat for under half a million pounds in this area.
We really regret selling our house here back in 2007.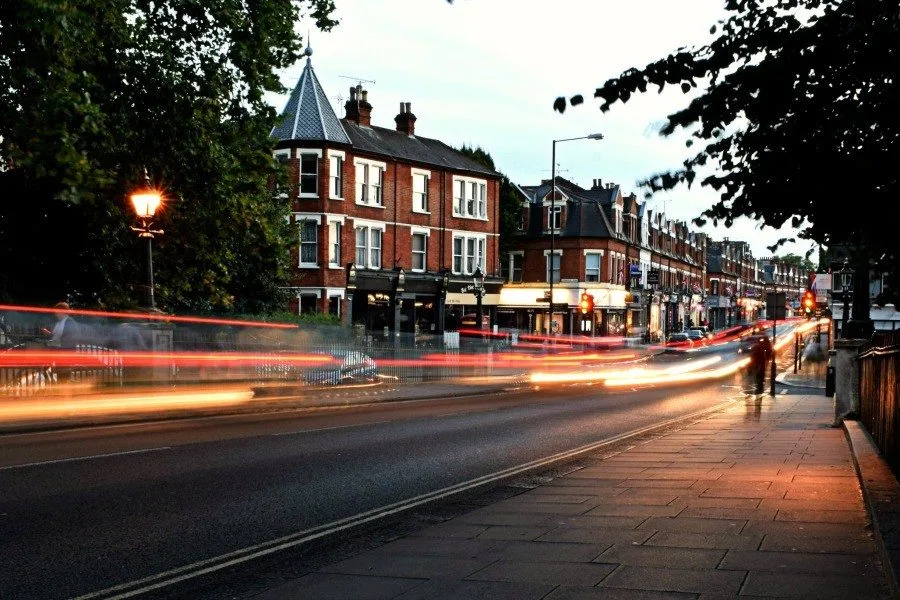 Visiting Richmond, London, and Surrounding Areas
Richmond isn't just a great place to live, it's also a good spot for a weekend break or short holiday. If you plan to travel into Central London every day, you can do so by tube train or bus.
However, do factor in the time this takes. Many people commute to work in central London from Richmond, we did.
It's also possible to commute to the centre of London from Twickenham, Middlesex. Twickenham has train stations, but the journey is easier, we think, having done both, from Richmond.
Where To Stay in Richmond London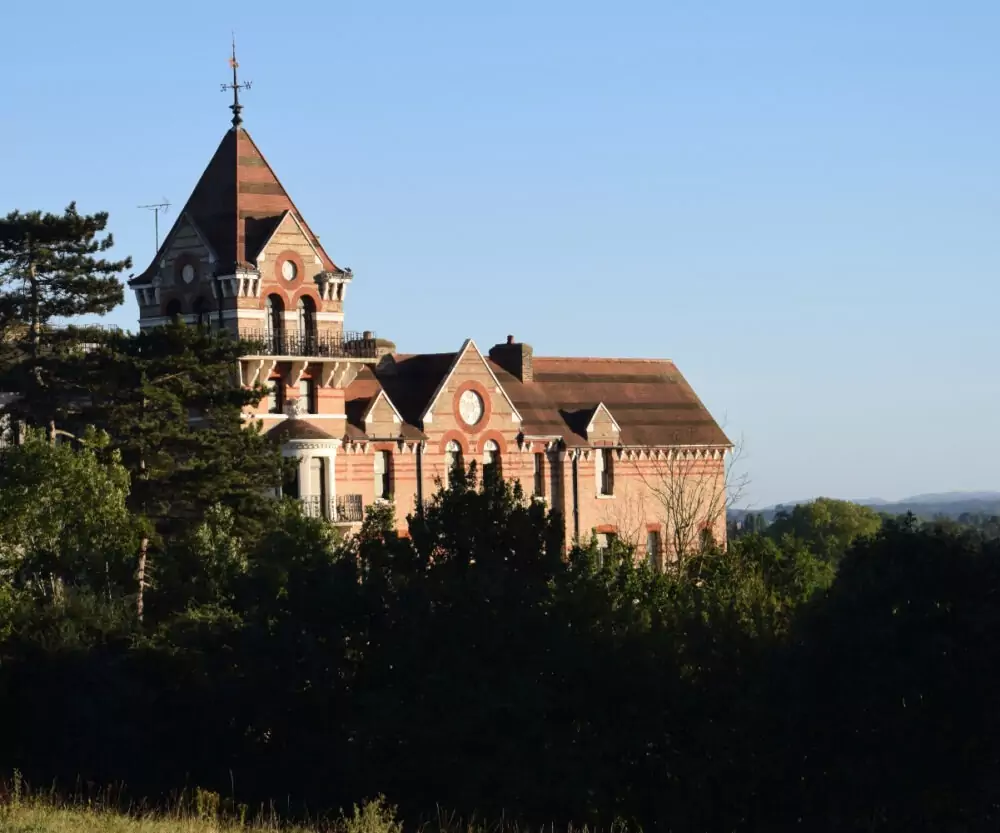 There are some extremely desirable hotel options in Richmond, including the Orange Tree Hotel, Petersham Hotel, the Richmond Riverside Apartments, Richmond Harbour Hotel and Spa, and the Georgian Richmond Hill Hotel.
Plum Guide have a quality premium apartment and house rentals, hand selected for quality, in and near Richmond London. View their best Richmond homes and apartments here.
If you're looking for more affordable accommodation in Richmond, try
When booking, be careful, there is another Richmond in the UK, in Yorkshire (after which the London Richmond is named, don't book the wrong city!)
Our website gives you more information on Twickenham, London, and places of interest nearby. Most of these are great things to do from Richmond with kids.
Things to Do and See Near Richmond
Kew and Kew Gardens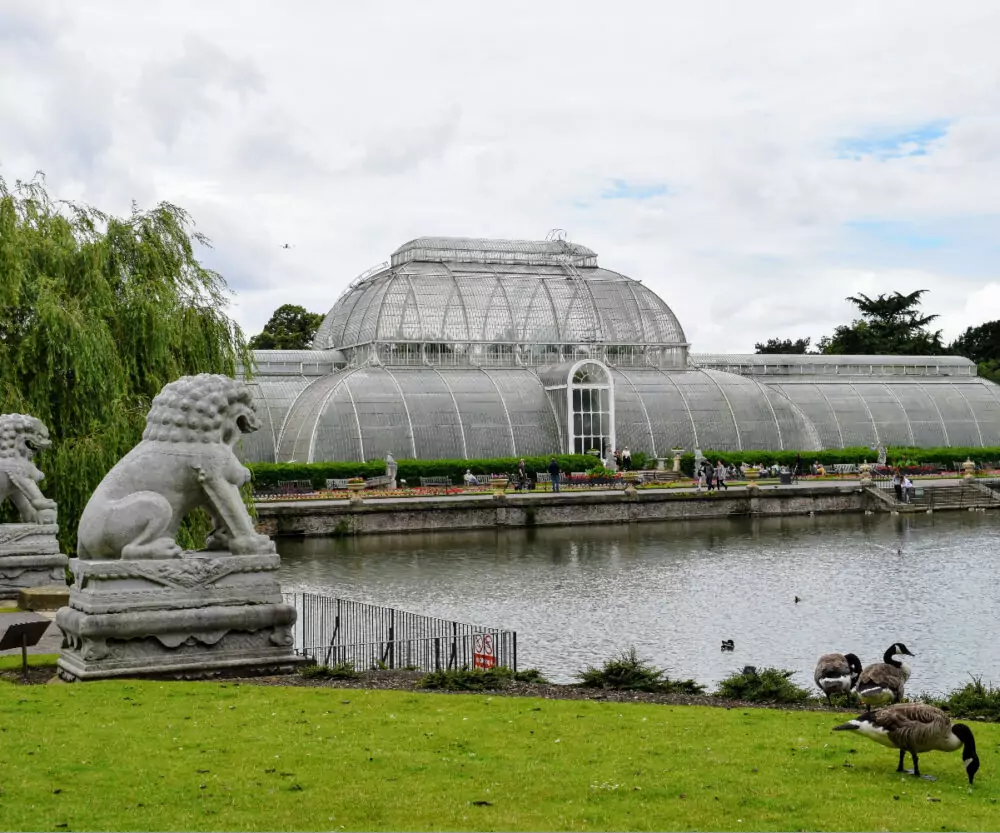 Kew is very close to Richmond and can be reached by bus or car.
Kew Gardens is London's magnificent botanical collection and makes a wonderful day trip in west London.
Kew is so important, it's a UNESCO World Heritage Site.
The landscaping at Kew features the work of Capability Brown, among other historical figures.
Standout areas include the rose garden, the world's biggest waterlily pads (Victoria Amazonica), and the Princess of Wales Conservatory.
Kew extends for some 300 beautiful acres and within the grounds you'll find a pagoda, Kew Palace and some magnificent glass tropical houses.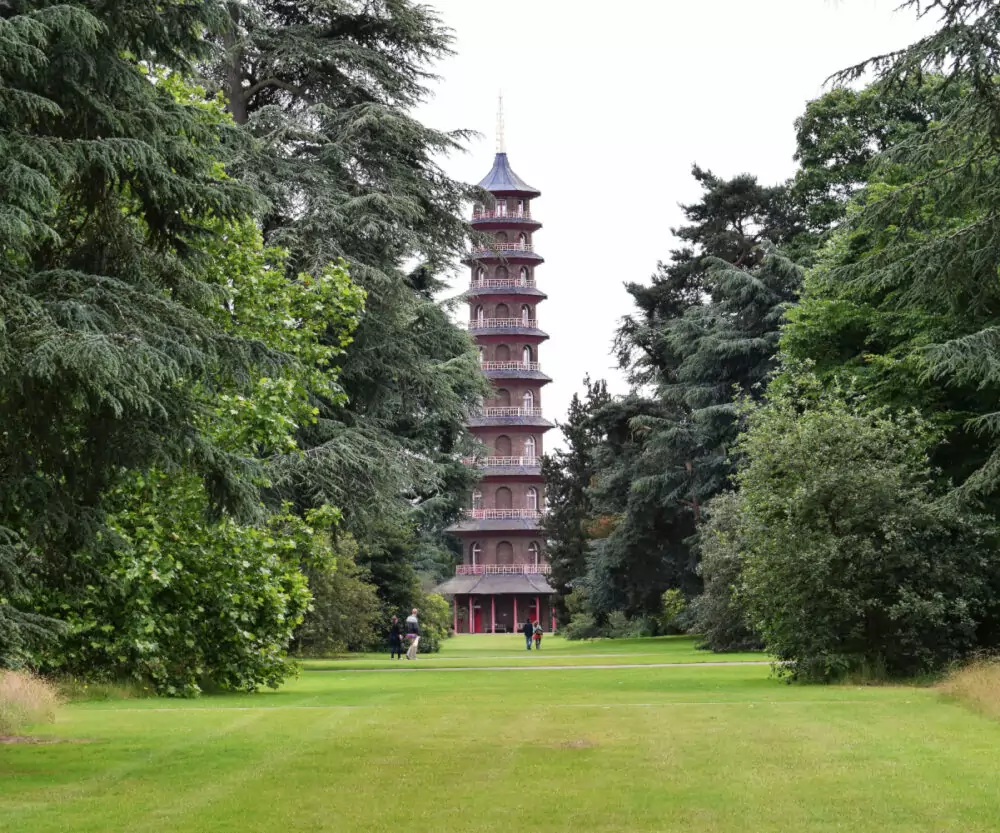 Reserve your Kew admission pass here to avoid disappointment.
It's particularly good with small children and family season passes can be a bargain, cutting admission costs for regular visitors.
In December there are usually special Christmas events at Kew and Kew village is very picturesque.
Are you looking for more information on London, the UK or England? We have posts on most London attractions including a comprehensive guide to London with kids. If you're looking for Budget Travel Tips for London we have that too. Check out our UK Travel Blog and guide for more topics. You can bookmark this post using the red Pinterest buttons or the blue Grow widget, bottom right. Thanks and enjoy my home town!
I've taken this pause in our travels to fully enjoy London and Richmond. The pace here can almost be sleepy if you let it be. We no longer have to take part in the crazy daily commute into the city, we did that for years from Richmond. These days we enjoy the privilege of working from home and our children do school from home. There is no better way to enjoy Richmond and the beautiful River Thames.
If you'd like to hire a car during your stay, use this car rental comparison tool to find the best deal!

We also suggest you take a look at this company to get a quote for all kinds of the more tricky adventure or extended travel insurance.

Try Stayz / VRBO for an alternative way to find rentals on homes/apartments/condos in any country!