This post may contain affiliate links.
We love British food at World Travel Family. We love most food, to be honest. We have a passion for Thai and a fixation with Indian, my husband loves food so much he's made a career out of it. He's a chef, busy now in a 5-star kitchen on Park Lane. Right now we're in London on a mission to track down real London food, not just British food, real London specialities. We found London traditional dishes such as pie, mash and liquor, jellied eels and hot eels in Greenwich.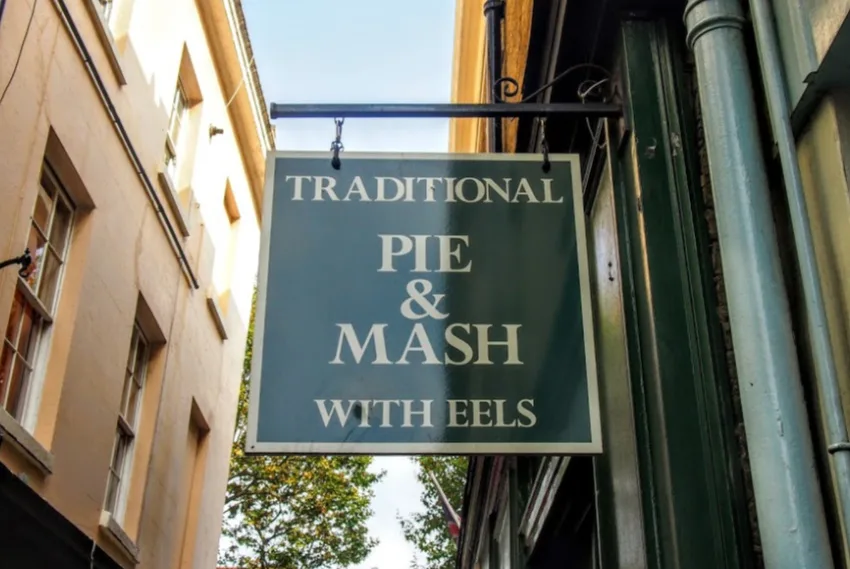 Food in Britain
Right now we're in the country of my birth, Britain. I'm on a mission to share British food with the world, it gets a bad press sometimes and that is totally unjustified.
The UK has its regional specialities, I'm sure you can think of a few. Today I bring you one of London's food classics and a dish I'd never tried. I knew of it from TV shows in the same way that I knew about Pearly Kings and Cockney rhyming slang.
I'm not a Londoner, I'm from Wales, brought up on lava, cockles and Welsh cakes. We called London home for around 8 years and on this visit, as travellers or tourists, we thought we'd try to track down London specialties.
Traditional London Food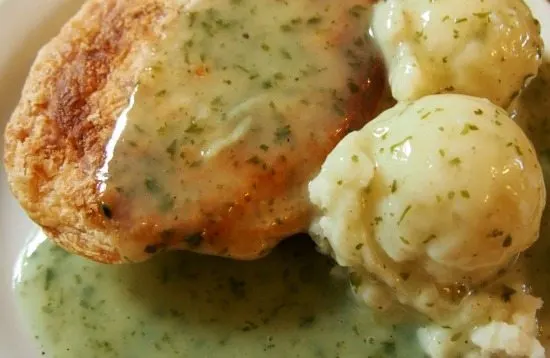 I'm not talking Sunday roasts, a nice cup of tea and full English breakfasts, they're found all over the UK and aren't specific to London. I wanted to search for something uniquely London, in the same way that we search for regional specialties in every country we visit. We're not going to be going to the fancy restaurants in search of delicacies, we want to find the people's food, the street food, if you like.
Pie Mash, Hot Eels and Liquor
I think pie and mash fits the bill. Pie mash and gravy would probably do, but the real deal is pie mash and eels. The eels originally came from the Thames and surrounding area and were cooked to produce a liquor. The liquor is served with pies today as pie, mash and liquor. The fishy flavour has gone, today's liquor is more like a parsley sauce and can go with any sort of pie, the traditional pie being minced beef. but you can get just about any filling you like.
Hot Eels and Jellied Eels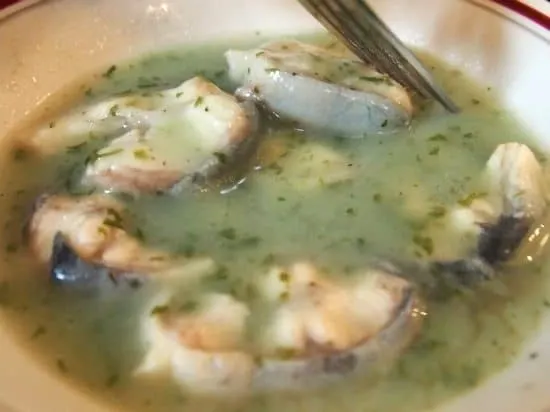 I chose to try the hot eels. I'm not into jelly in savoury dishes, so this was a safer option for me.
I've eaten eel many times, in Asia and at home. It's just fish, nothing to be scared of. I'm kicking myself now for not at least getting a photo of the jellied eels to share with you, but I thought hot eels would be more interesting, particularly as I'd never heard of this dish. The parsley liquor is the same as that served with the pies.
Other Traditional London Food
Salt Beef Sandwiches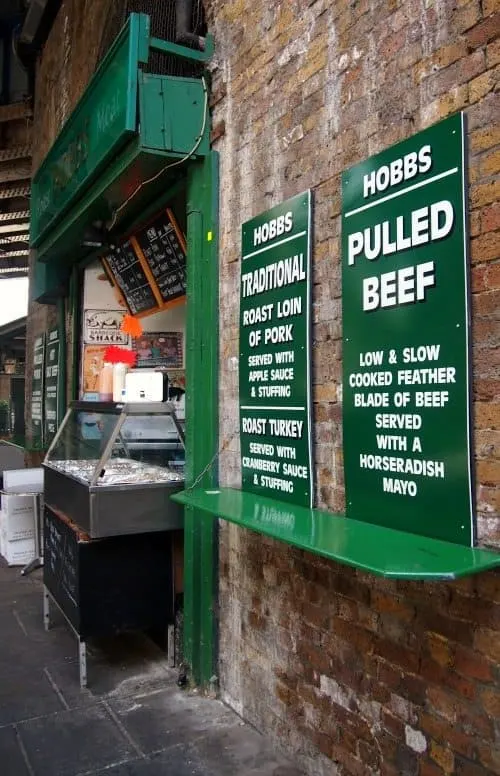 We've already tried hot salt beef sandwiches, another dish with a very London feel. The Jewish community introduced the capital to the benefits of salting brisket to preserve and tenderise. We tracked that London favourite down at Borough Market, a foodie heaven near London Bridge.
Fish and Chips in London
If you're searching for the best fish and chips in London, Poppies holds the crown, we tried their Camden Market shop. A big thumbs up from us for their mushy peas, real potato chips and perfect batter.
Goddards at Greenwich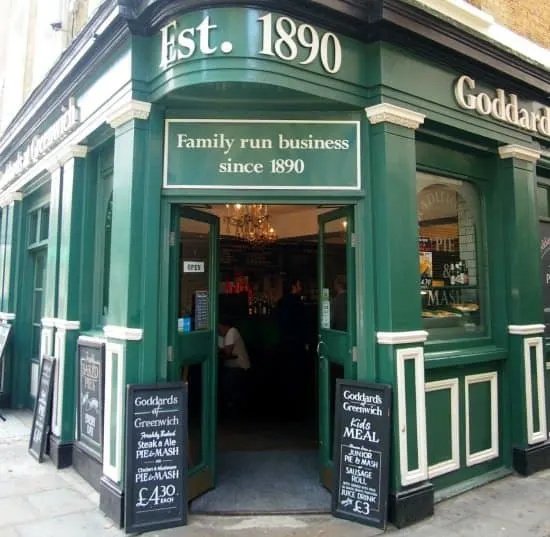 Pie, mash and liquor in London goes back to the 1800 s. Goddards has been serving them since 1890.
It's a family business, it was lovely to meet Jeff Goddard and hear about the days when his grandfather ran the Greenwich shop. He's been serving pies since he was 10, you can read more about the family on the Goddards at Greenwich website. Everything is hand made from traditional family recipes and they rightly hold a Trip Advisor certificate of excellence
The pie shop itself is a lovely little time warp just a few paces from the Cutty Sark or the Maritime Museum. We've spent a couple of days exploring Greenwich, it's a fascinating area rich with history and educational experiences, one we think you should try to visit on your trip to London. We have several more posts to come on this area.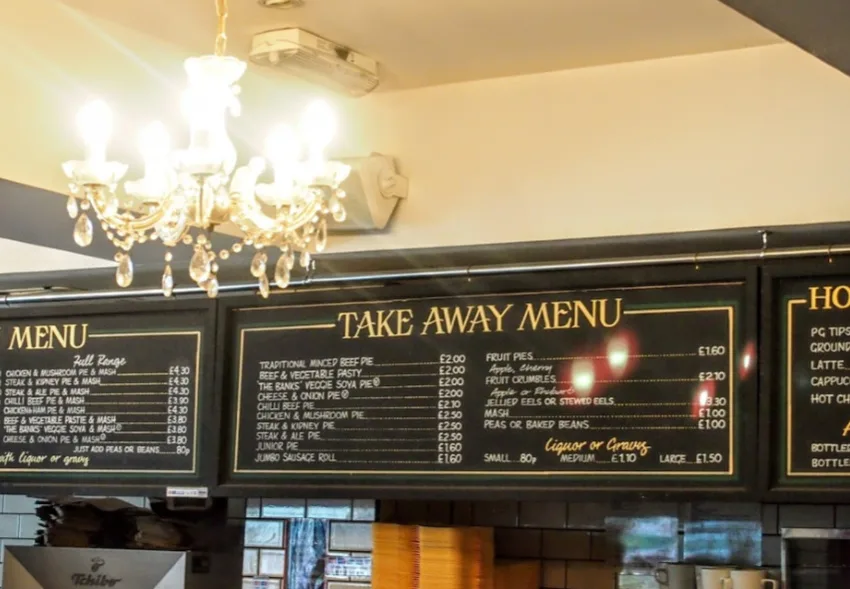 We thought the Goddards pies were excellent, crisp pastry and a delicious filling, full of real flavours, not synthetic ones. Good news for vegetarians, there are cheese and onion and soy mince versions. I tried the soy mince, it was excellent. The story goes that it was invented in honour of a local politician, a vegetarian who wanted a meat style pie. The Goddard family granted his wish in response to his help in a time of crisis.
The Goddards pie shop is licensed, I need to go back with Chef for a pie and a pint. My 8-year-old, little Boo, wants me to mention that he bravely tried the eels first. What a hero.
Conclusion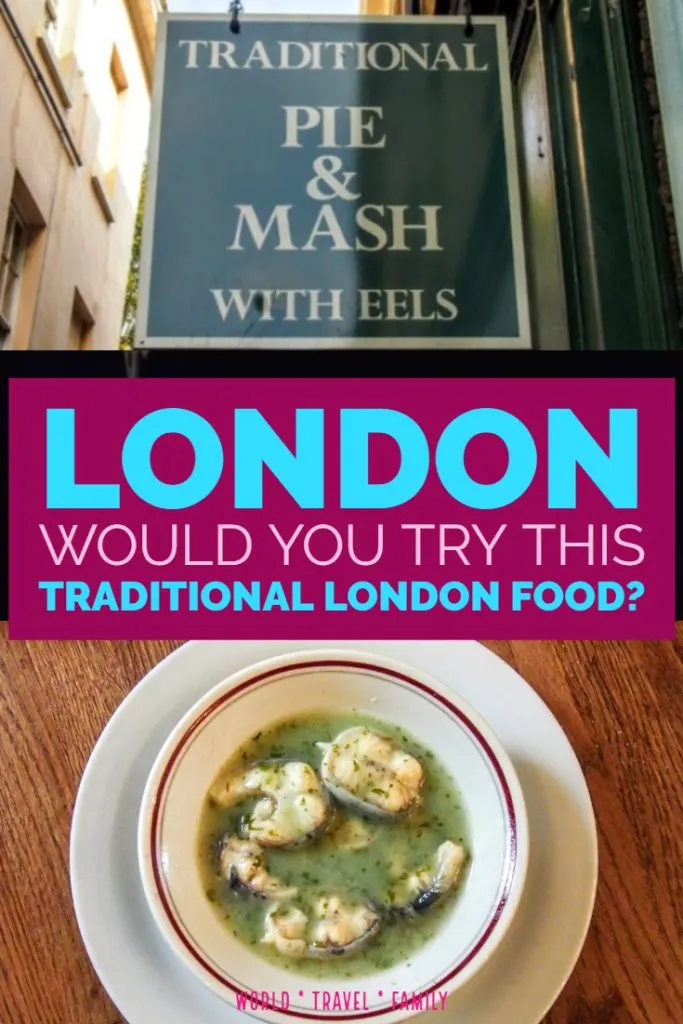 On your next visit to London, or any other part of the world, search out the smaller businesses, the family-run places that give you a real taste of the region you're exploring. Travel is far more rewarding if you hunt out interesting experiences in every area, that includes lunch. Don't go to the big chains, give the real food of the area a chance, you'll find it in little shops like this, in market stalls, pubs and independent restaurants to suit your personal budget. Travel and learning go hand in hand for us, yesterday we learnt a little more about London's history through traditional London food. Want to know more about where to eat in London ( and not be ripped off as a tourist) try here.
If you'd like to hire a car during your stay, use this car rental comparison tool to find the best deal!

We also suggest you take a look at this company to get a quote for all kinds of the more tricky adventure or extended travel insurance.

Try Stayz / VRBO for an alternative way to find rentals on homes/apartments/condos in any country!