This post may contain affiliate links.
Are you going to Egypt, wondering what food in Egypt will be like and what dishes you should eat there? Maybe you're just wondering what Egyptian food is? This post is to help you find the most delicious, unusual or traditional dishes in Egypt and give you a guide to Egyptian food, it's history and influences.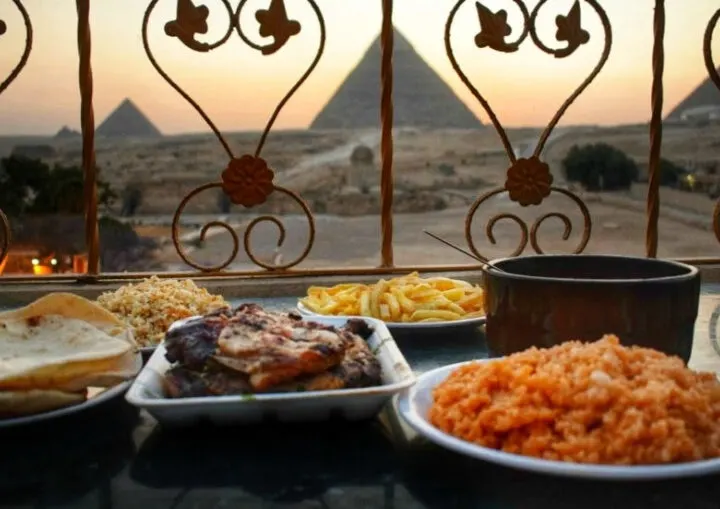 During our last month in Egypt we sought Egyptian dishes at restaurants hotels and street food stalls with a view to creating a guide to Egyptian food for tourists and travellers. We have an executive chef turned travel blogger on the team here at World Travel Family travel blog and we like to taste new dishes and discover the culinary scene in every country we visit. We have a world food section if food is your travel jam. You can find other food posts at the bottom of the page.
Egypt is special to us, we met there a very long time ago and on our last visit, we took our kids along to see one of the most incredible countries in the world. You'll find plenty of Egypt content on this website. We hope you find our post on food in Egypt useful.
All content on this site reflects a personal opinion only and from here on in it was written by one of our junior writers, with a little help from mum.
Food in Egypt
Food in Egypt is delicious, varied, mildly spiced, and combines flavours and cuisines from many parts of the world as history brought different nationalities to Egypt and the Middle East. Egypt is a transcontinental country, part in Africa, part in Asia, and food influences come from such diverse places as Rome and India.
Egyptian cuisine is made doubly fascinating by the way history has influenced its national and traditional dishes. Be sure to try such traditional dishes as molokhia, koshari, flat baladi bread, and good Egyptian cheeses.
Egyptian Meze and Typical Food in Egypt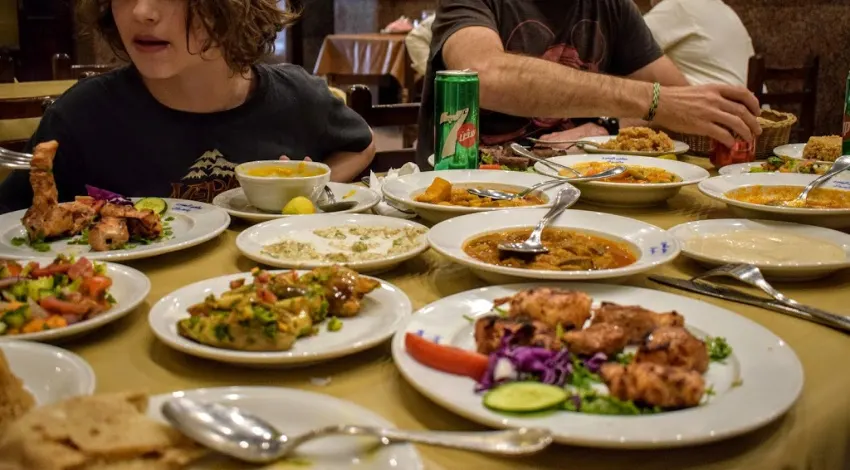 Typically in Egypt we would be served an Egyptian meze comprising items such as falafel, olives, hummus, tahini, hard-boiled eggs, soft white cheese, roasted meats, ful madames, and rice dishes. Breakfast, lunch or dinner, we would see fairly similar dishes.
It was only when we found more up-market restaurants that we began ordering the speciality dishes below individually or by name.
As is the case anywhere in the world, you'll pretty much always be able to find french fries and pizza. That said, Egyptian food is good, very good. It's well worth looking for some of the dishes below.
History of Food in Egypt
As most of these dishes are found from Greece to the Middle East and North Africa we've investigated the origins of these Mediterranean and Arabic dishes. Interestingly, many came from India. This part of the world, the gateway between Africa, Europe and Asia has seen many cultures pass through. The cuisine of Egypt is as fascinating as Egyptian history.
Ancient Egyptian and Biblical food must have been broadly similar. If you read our posts on Cairo and Coptic Cairo you'll know that the Holy Family supposedly passed through Cairo when Jesus was a baby. I wonder if the flatbreads and bitter greens have changed since then?
Egyptian Dishes To Try
Below are some of the Egyptian foods we found and tried. I'm sure you'll be able to try most of these in Egypt.
Molokhia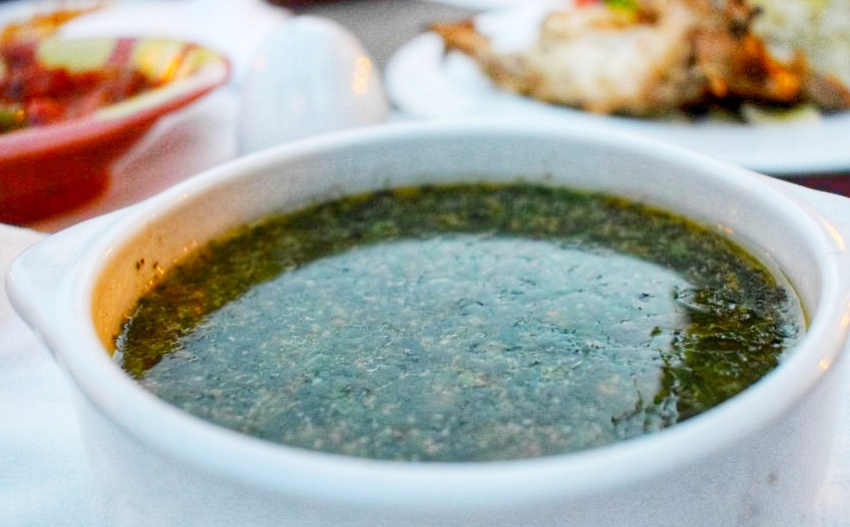 Molokia is Egypt's "green slime soup." The dish, molokhia is a stew or soup generally made from finely chopped leafy greens in a beef, chicken or seafood stock. It is one of the most traditional Egyptian dishes.
The molokhia can contain fried garlic and ground roasted coriander seeds. It is normally served with bread, rice and a choice between seafood, chicken, lamb or beef. Food in Egypt can be regional, meaning that the way the stew is made varies.
Molokhia is named after the leafy greens that the stew is made from. The plant is a member of the jute or mallow family and is a type of okra. To the ancient Egyptians, molokhia was an aphrodisiac. It can also be known as mulukhiyah or mulukhiyyah.
The molokhia has a slimy or gelatinous texture. Some people might not like the slimy texture of the stew but stick with it. Molokia is very high in protein, iron and various minerals. Our Airbnb host in Luxor offered to make us Molokia with home-made chicken broth as he shared sweet Egyptian tea and cakes soaked in syrup with us. He told us about his favourite food in Egypt, as an Egyptian person. that was useful to know.
Homesick Egyptians can now buy molokia dried, frozen or as seeds online. Try here.
Koshari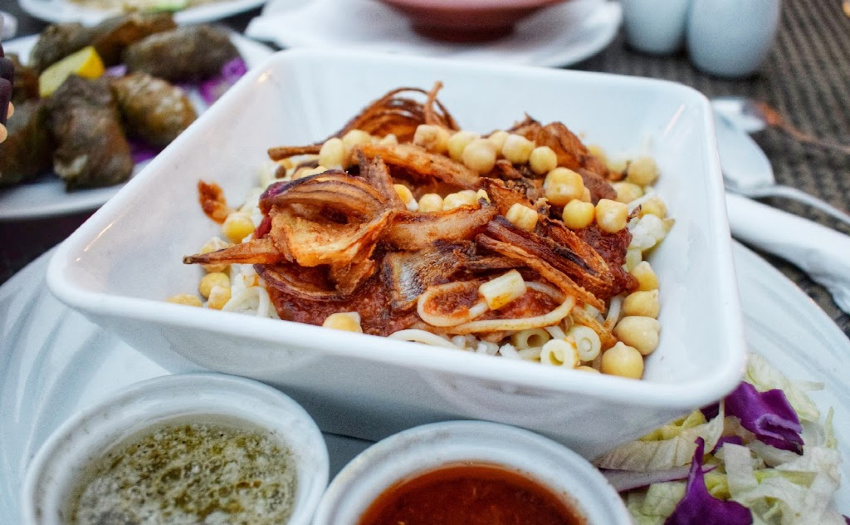 Koshari is considered to be the national dish of Egypt. However, the two key ingredients in koshari, rice and pasta, aren't native to Egypt. Therefore, it's thought the dish was brought from India by British colonists. In India, you will find kitchari, a word that roughly translates as " a mixture". It was the forerunner of the Anglo-Indian kedgeree, a regional variation on kitchari using fish and eggs.
A cheap, delicious and filling dish, the Egyptians quickly adopted koshari as their own. Koshari commonly comprises rice, lentils, macaroni, chickpeas, fried onions and a special spicy tomato sauce. The mixture may sound odd but the sauce and crispy onions really do tie the dish together.
You can find the dish at street stalls and in restaurants in Egypt. We first tried Koshari in an Egyptian food stall in London and tracked it down in the marina in Hurghada Egypt, which is where we took the photo above.
Baladi Bread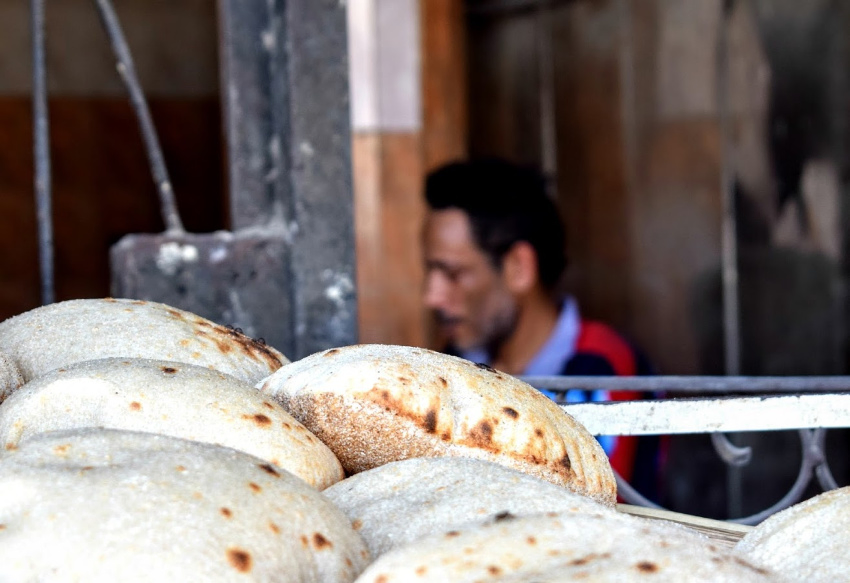 Baladi Bread is one of the most popular foods in Egypt. It is normally served with every meal as a side or to dip into something like a soup, baba ganoush or stew.
You are likely to be served Egyptian flatbread at breakfast time with soft cheese, eggs and tahini. You'll also see it at lunch and dinner in Egypt. It's actually one of our favourite types of bread in the world. And the hot fresh flatbread from the bakery above was a real treat.
Shawarma
You can find shawarma at street vendor's stalls and it is usually chicken or beef. The shawarma meat is spiced and marinated and left to cook for most the day on a spit. Shawarma is normally served with either garlic sauce or tahini. I'm sure were all familiar with shawarma already, it appears in most western countries at food courts and small take aways.
Hawawshi
Hawawshi is a sort of Egyptian meat pie normally baked in a normal oven or rotisserie oven. We ate this when we were in Cairo it was a delicious bread pie that we bought from a street food stall near the pyramids.
Egyptian Cheese
Amazingly cheese dating from the First Dynasty Of Egypt was found in alabaster jars at Saqqara. This cheese was found in a tomb sealed in 3000 BC leading people to believe cheese originated in Egypt or The Middle East.
Egyptian cheese today is very popular and you are most likely to see a soft white factory-made cheese. Westerners would probably consider it to be similar to Philadelphia or a highly processed feta. It's cheap, made cheaper by replacing dairy with vegetable oil.
Cheese would have first appeared in the Egyptian countryside made in small family-owned farms from either cow milk or buffalo milk curdled with acid or heat. Some cheese is still made at home and on farms today.
Mish is a fermented cheese produced in rural areas. Domiati is popular and rumi is a hard cheese similar to pecorino. The word "rumi" comes from the word for Roman, which explains a lot.
Kabab Wa Kofta
Kabab Wa Kofta are normally made with ground lamb or veal served with dips, salads and baladi bread. They are common throughout the Middle East with each region having its own unique flavours.
Kunafa
Kunafa is a special Egyptian dessert made with konafa dough. It is normally filled with creme or cheese then baked and served with syrup.
Konafa can be found at street stalls and in some sweet shops. It tastes very good and I recommend trying it if you have a sweet tooth.
Mahshi
Mahshi meaning stuffed, are usually stuffed vegetables filled with rice, herbs, spices and sometimes minced meat. They can be found easily in vegan or vegetarian versions. It is quite a popular food in Egypt and is usually had at special occasions like Christmas.
Stuffed Grape Vine Leaves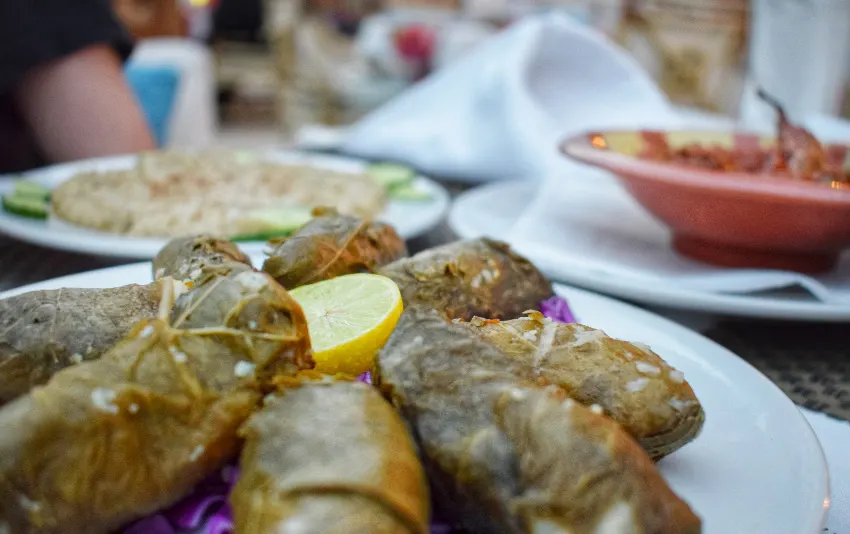 Egyptian stuffed grape leaves, mahshi warak enab, are very similar to the dolmades of Greece and Turkey, are time-consuming to roll and make but they are eaten very quickly because of how delicious they are. These rolls can be vegan, perfect for Good Friday, or can contain lamb.
Stuffed Grape Leaves are very similar to mahshi because they are both stuffed rolls and they are normally stuffed with similar rice and meat mixtures. The pickled vine leaves give this particular version of mahshi a fantastic flavour. The vegetarian or vegan version is one of my mum's favourite dishes in the world.
It's interesting to note the similarities between dolmades and sarmale. Sarmale, of Romania and The Balkans are stuffed cabbage leaves but with very similar flavours.
Baba Ghanoush
Baba Ghanoush is a typical Middle Eastern dip made from smokey roast aubergine (eggplant), garlic, lemon juice, herbs and tahini. Baba Ghanoush can be eaten at breakfast lunch or dinner with bread, cheese and eggs. It's a popular component in Egyptian meze.
Baba ghanoush probably originated in or around Lebanon. We've eaten it everywhere between Egypt and Greece, there is even a similar dish in Romania.
Tahini
Basic tahini is a thick oily sesame seed paste used in making baba ghanoush and hummus. Tahini sauce is different from basic tahini because tahini sauce has lemon, salt and garlic typically added.
In Egypt expect your tahini to be served alongside baba ghanoush and hummus as a dip or to be used as a sauce on items such as falafel.
Ful Medames
Ful Medames is a staple dish of Egypt dating back to the fourth century. It is a salad or a hot dish normally consumed for breakfast as part of an Arabic mezze. Mezze is a selection of small dishes served together.
Ful medames contains fava beans (broad beans). Diners often add tomatoes, lemon juice, parsley, onion, salt and olive oil to taste.
Falafels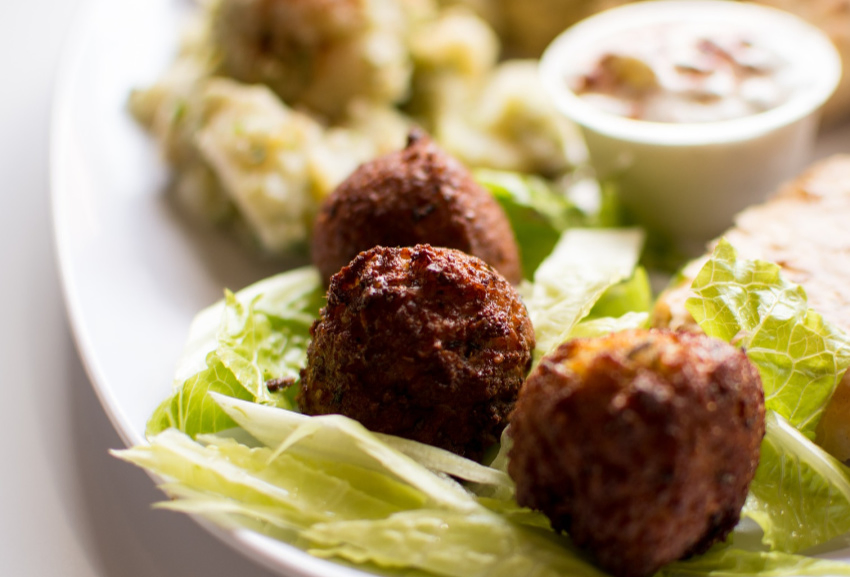 Falafels are said to have originated in Egypt but others say the dish was first found in India. Falafels can be eaten at breakfast in Egypt with eggs, pita bread and cheese., or really, at any meal.
Falafel is quite a filling dish since the individual balls are made of fava beans, different spices and herbs. After the ingredients are combined and shaped into balls falafels are fried to make a delicious crispy side dish or meal. We ate falafels with an Egyptian guide, a portion of very tasty street food in Egypt.
Pidgeon – A Popular Meat in Egypt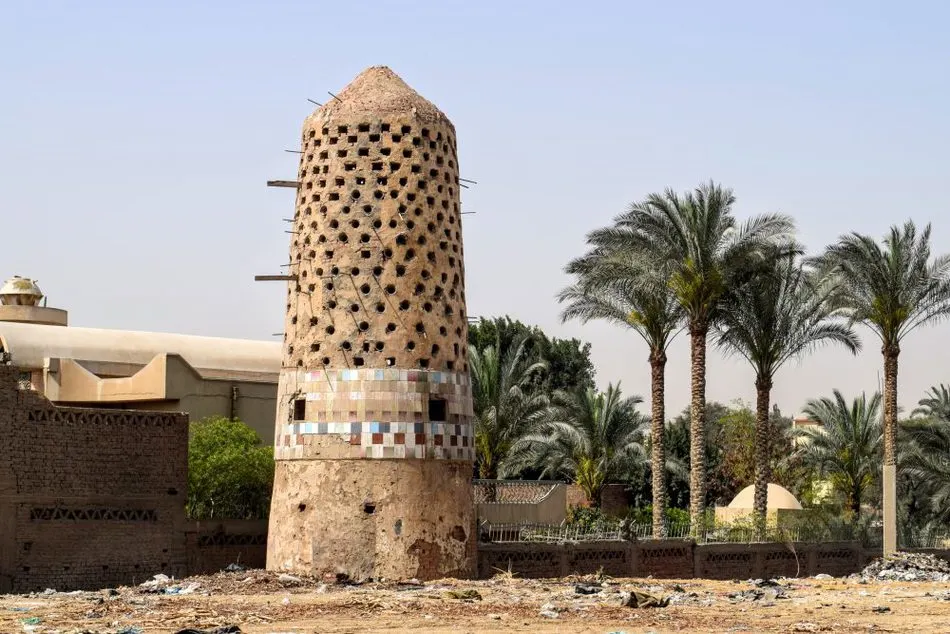 Pidgeon is delicious and in Egypt, it's very popular and common as meat. You'll see pigeon houses like the one above often. The pigeon is usually, grilled, roasted, stuffed or cooked in a thick sauce. Hamam Mahshi below is a special pigeon dish. You will find pigeons in most upmarket restaurants.
Hamam Mahshi – Stuffed Young Pidgeon
As pigeons near adulthood, they are ready to eat as Hamam Mahshi. Older birds become tough. Hamam Mahshi is the veal of the pigeon world. The young pigeons are marinated and stuffed with ingredients such as rice, freekeh, cinnamon, cumin, the bird's own offal and nuts. It's traditionally a celebration dish and cooking is by roasting or grilling.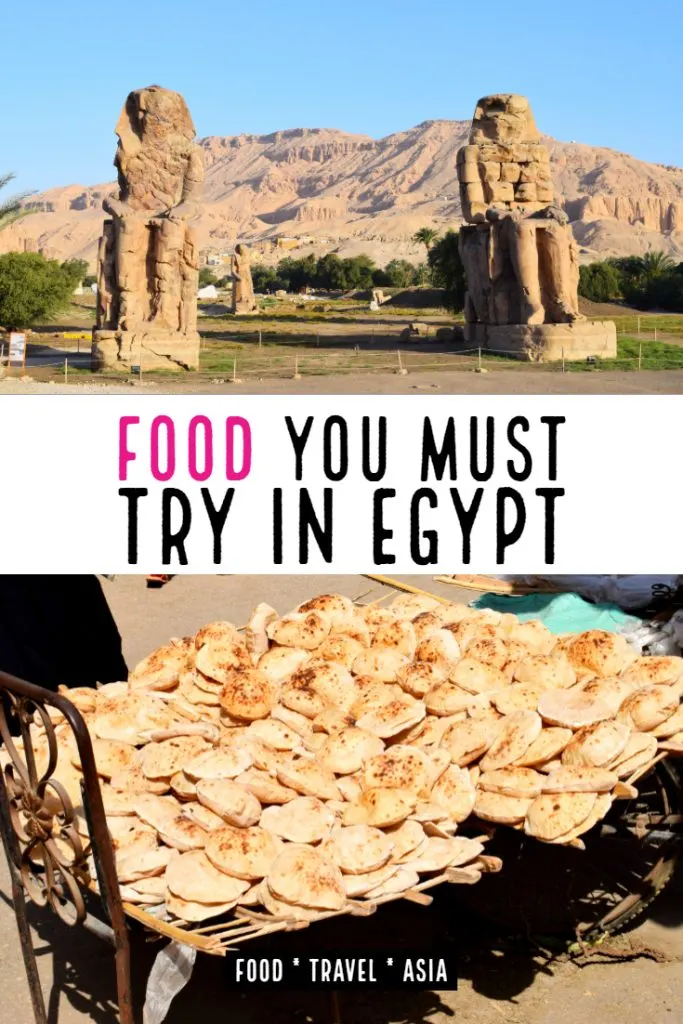 Where to Find Egyptian Food
Egypt was one of the more challenging countries to find actual Egyptian food. There was plenty of fast food on offer but restaurants serving the real deal Egyptian food, not tourist fodder, were hard to find. We had some success asking around, getting locals to give us recommendations.
I'll mention the good restaurants we found at the end of the post. We were travelling from Cairo to Luxor, Aswan, Abu Simbel, Alexandria and Hurghada on this month-long trip, by bus and train. We were independent travellers, not on a tour, so we found restaurants and street food stalls of our own choosing.
Egyptian Food and Dining in Cairo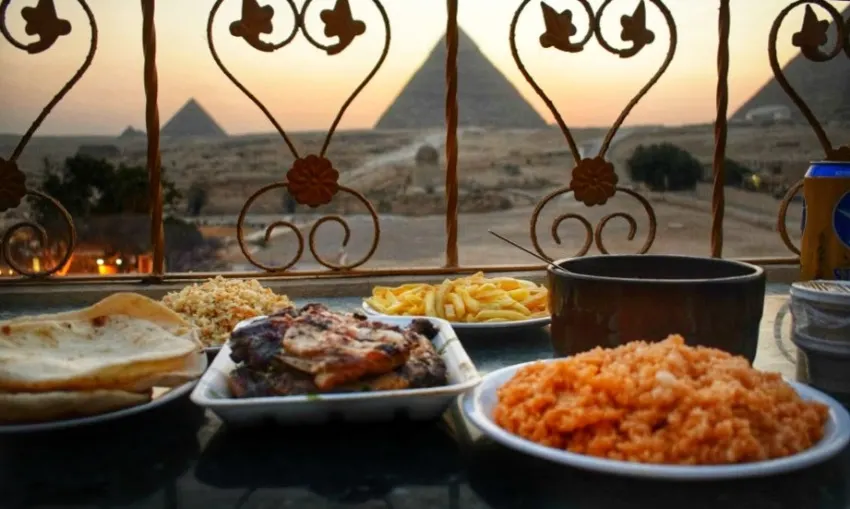 We stayed in Giza and in downtown Cairo. We ate one night at the Lebanese restaurant in the Mandarin Oriental on the Nile. That was a delicious feast and surprisingly affordable. Otherwise, we bought dinner in our simple hotel and enjoyed it on the roof while admiring the view of the nightly sound and light show, for free. It never got old.
Our hostess bought grilled meats from a local street food stall and added rice dishes, soup and various mezze items to prepare a delicious meal for our family. Incidentally, this guest house ( above) is a few doors up from the iconic pyramids Pizza Hut and Shirley McLain once stayed here. You can see it here. There were bakeries, street food stalls and a couple of small Egyptian restaurants nearby.
Typical Egyptian Spices
Cumin is commonly used in Egypt other spices you will find include cardamon, star anise, cinnamon and cloves. Other usual flavorings are mint, ginger, bay, dill, garlic, chilli, and parsley.
Are You Ready to Try Egyptian Food?
We really enjoyed discovering real Egyptian food in Egypt and doing more research on the history of Egyptian dishes for this post. I like to think that maybe we were eating some of the same dishes as those enjoyed back in ancient Egypt, certainly, some of the produce would be the same, bitter greens, bell peppers, meats and cheese. Food is so important and tells us so much about culture, history and geography if you just stop to think about local dishes and the reasons they came to be. We hope you found our post on Food in Egypt interesting.
If you'd like to hire a car during your stay, use this car rental comparison tool to find the best deal!

We also suggest you take a look at this company to get a quote for all kinds of the more tricky adventure or extended travel insurance.

Try Stayz / VRBO for an alternative way to find rentals on homes/apartments/condos in any country!