This post may contain affiliate links.
Bam, we're in Egypt. We're certainly not in Kansas anymore and Cairo hits you around the head like a sock full of sand. It's big, it's busy, it's crazy, it's dirty and it's freaking amazing!
We arrived late at night, around 1 am at Cairo airport and were very glad we had a pick up arranged with our hotel to deter the taxi drivers who started hassling us before we'd even collected our baggage.
We're also very glad we booked the hotel we did. It's nothing fancy but we'd read good things about it. More on where to stay in Cairo further down the page. The chief selling point, what made us choose this hotel ( guest house) rather than a thousand others, was the best view in Cairo.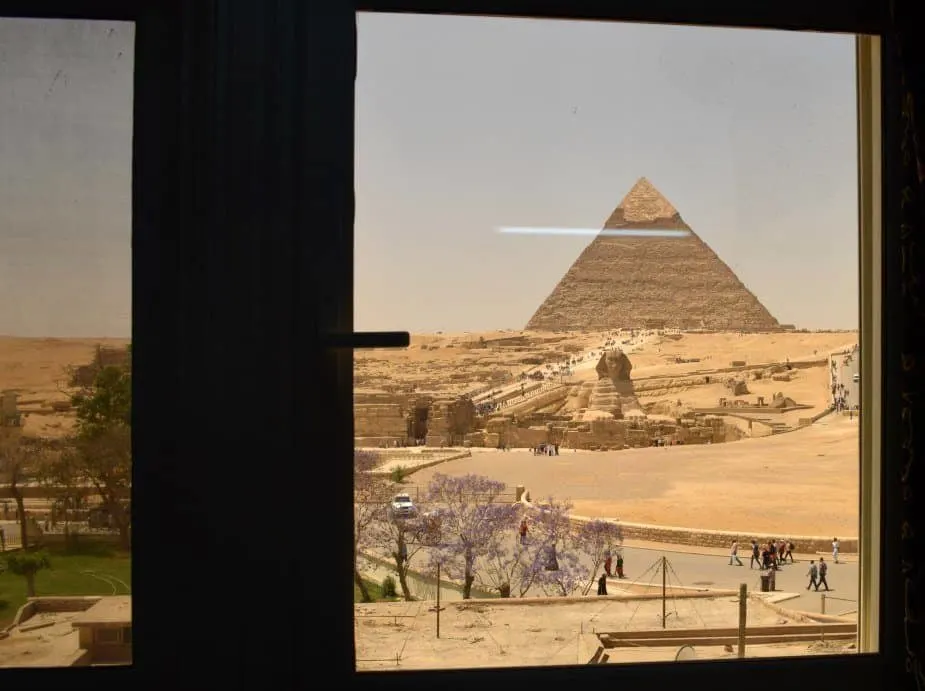 We were visiting the pyramids, sleeping next to the pyramids, looking at the pyramids and the sphinx every walking second. We loved our location!
So after our late arrival, we just crashed last night, sleeping well without air-con ( there was a mix up with Hostel Bookers, now fixed). In April it's really not too hot, no air-con needed. But we booked a room with a view of the pyramids and that view, which we now have, comes with air-con and fan. So how are we coping with day 1 in Egypt?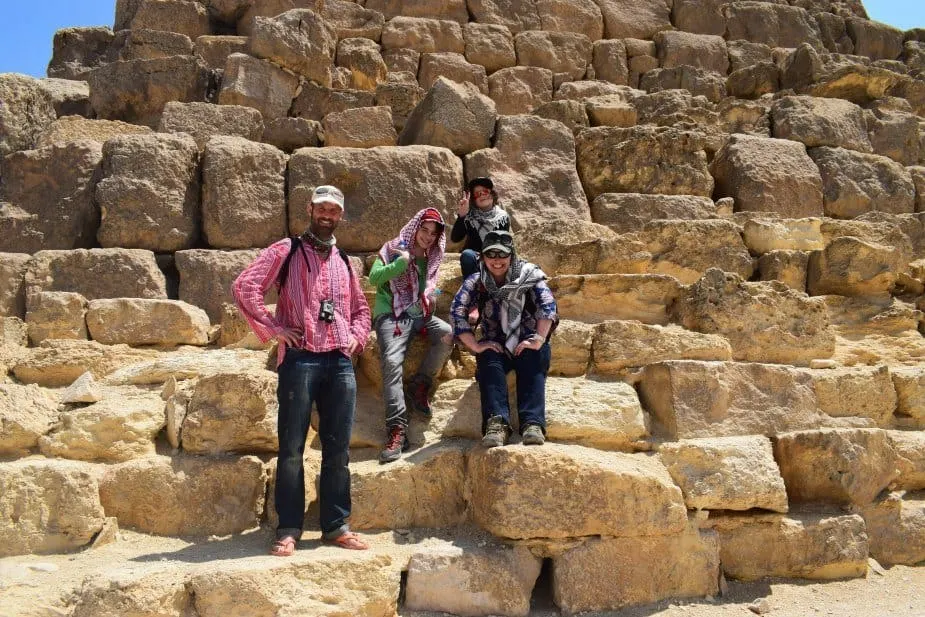 According to everything we'd read online this guest house is a winner. A super-helpful family who have lived on this spot since the days of excavations, with stories of the old days and modern know how to help us not get ripped off too badly.
We will be ripped off, we already know that, but so long as everyone comes out smiling at the end of the day, everyone wins.
Our guest house owner organised us a minder for the day. Abdul picked us up, found us a cash point that worked, took us to a pharmacy, helped us buy admission tickets and hired us 4 camels.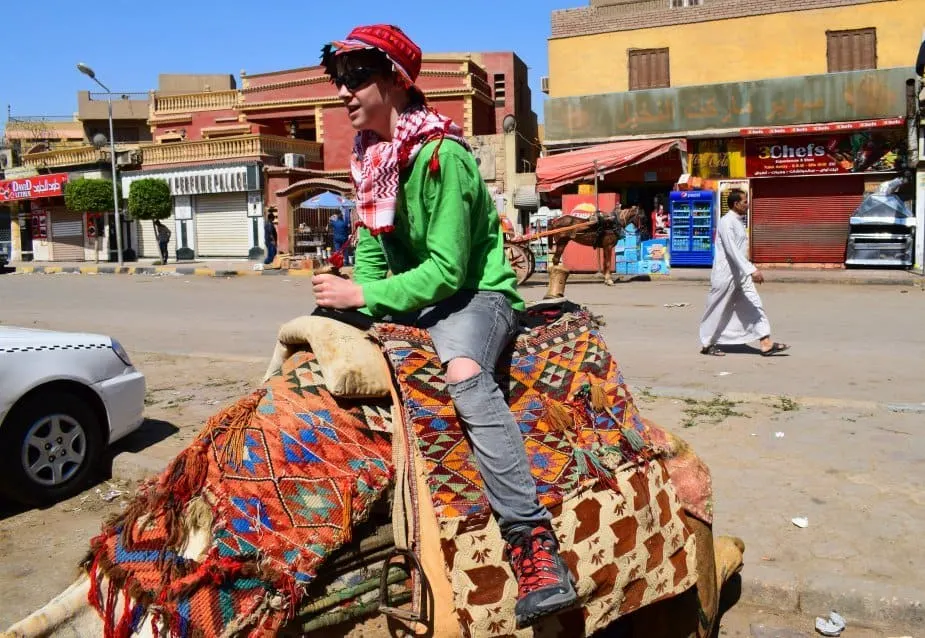 I like this area, camels, horse carts and donkeys line the streets below our window, we're right in the thick of the Giza action.
The famous shot of the sphinx with the logo from the Pizza Hut window can be taken a few doors up, but it's not like a modern city just stops at the base of the pyramids. The area has old-world charm and is, in fact, a village.
It's terribly dirty, I've never seen so much litter and crap anywhere in the world, but I'll forgive Cairo that for being so overall incredible. All of Cairo was strewn with rubbish as we drove through last night, it's not just this area.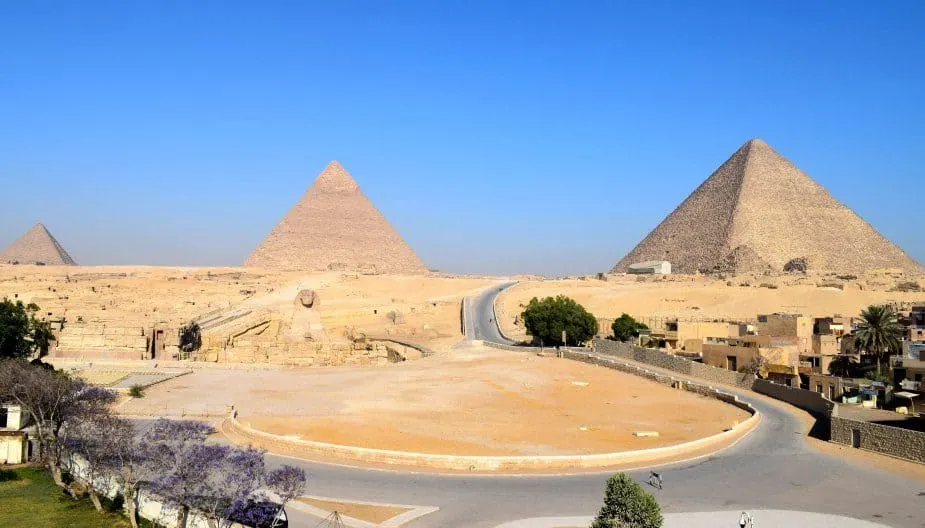 We opted for the longer camel ride, which took off to the left, to give us the view below.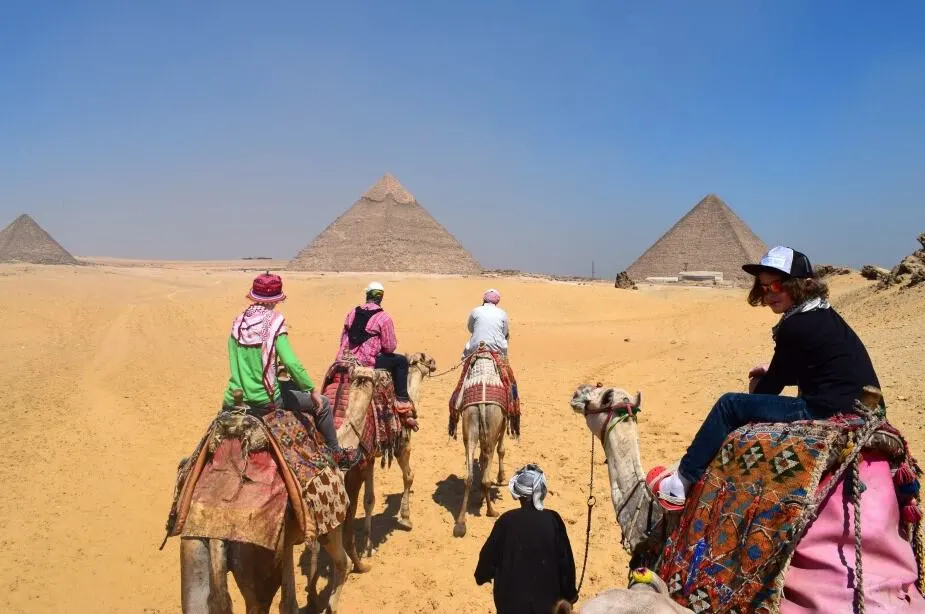 Chef and I have been here before, but never imagined you could stay somewhere with a view like this and we're thrilled. Even the kids are wowed by this experience and I've never seen them so engaged in any of our destinations over the last 4 years.
As we've been before I didn't buy an $11 extra ticket to go inside the Great Pyramid, below. I had 20 minutes to sit outside and chat to Abdul, our minder.
He was a good guy, but of course, out to get as much money from us as possible. Who can blame him?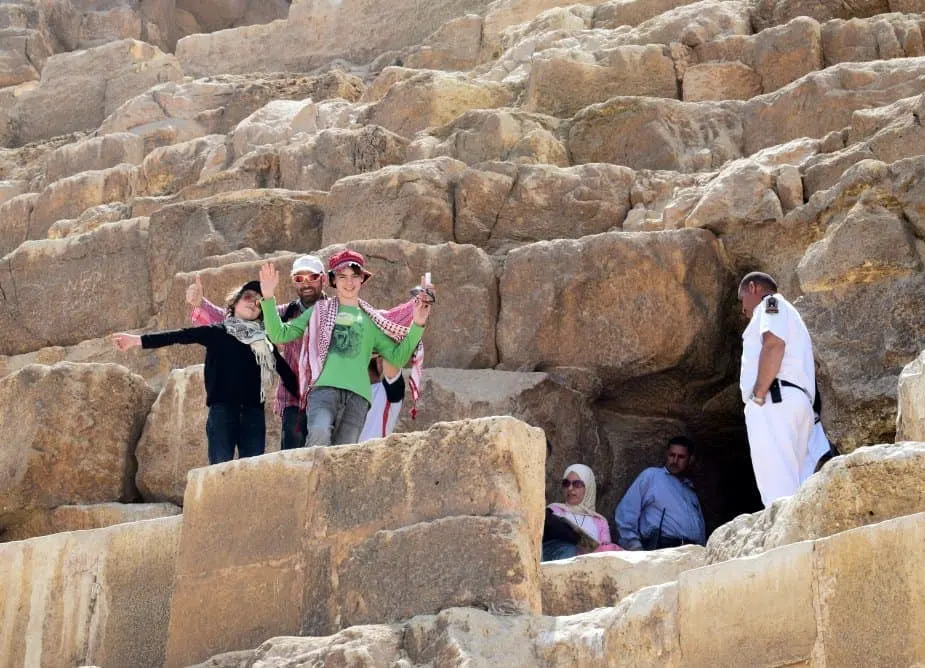 Pyramid and Sphinx Admissions at the Time of Our Visit.
These may have changed, of course, please check for yourself.
Sphinx and pyramids complex admission 80LE / adult, kids half price. ( Approx $4.50/ $2.25)
Entering the Great Pyramid 200LE/ adult, kids half price. ( Approx $11.50/ $6)
Visiting the Royal Boat of Cheops 60LE/ adult, kids half price (Approx $3.30/$2)
Entering one of the 3 Queens' Pyramids. FREE!
Compare those admission fees to those in Sri Lanka and you'll see why we think Sigiriya is so crazy expensive. This is the Great Pyramid, (allegedly) the only remaining wonder of the 7 Wonders, they could charge the Earth. As we've seen what's left of a few of the 7 Wonders, we dispute that claim to uniqueness.
Cost of Camel Hire at the Pyramids
Official rate 100LE/ half hour/ camel ( approx $5.50) at the time of our visit.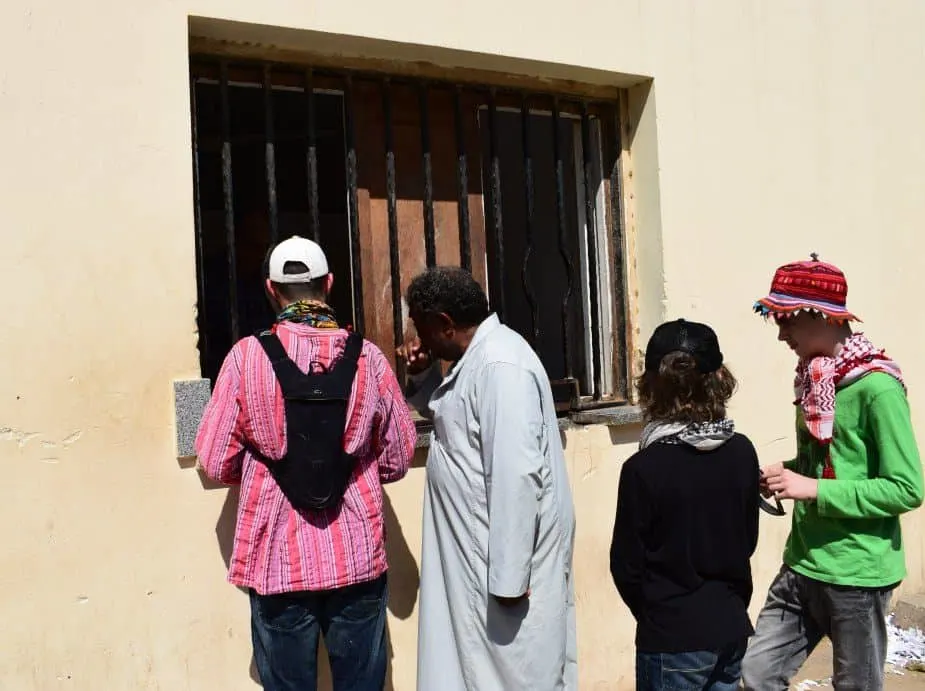 What Was Security Like at the Pyramids?
There were a lot of roadblocks and checkpoints with armed guards in the area. Visitors passed through an airport-style metal detector to enter the complex. Chef and I had our day packs searched. Once we were inside there was no further security. We felt safe.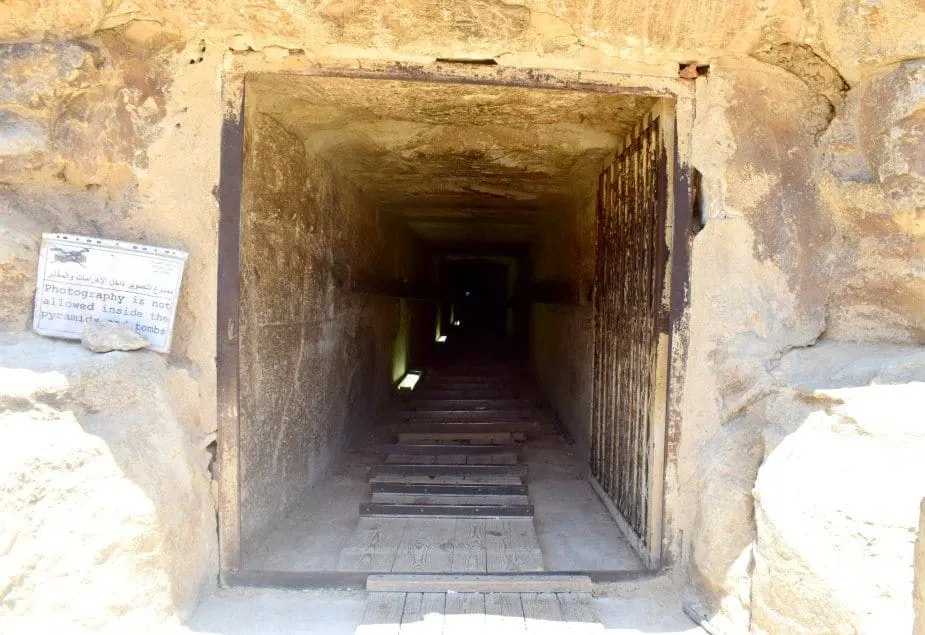 Are There Many Tourists at The Pyramids?
There were a lot more than we expected and roughly 98% of them were Egyptian. We saw maybe 20 westerners all morning along with a few Chinese, Indian and Korean visitors. It wasn't quiet, but it wasn't packed.
I thought crowds were about the same as when we visited back in 2000, Chef thought it was quieter. The photo below shows the extent of crowds at The Sphinx on our first day. It was an Egyptian holiday, we're told that it will be much quieter at other times.
Some Historical Information on The Pyramids for Kids
We always think it's a good idea to learn about the places you'll be visiting before you arrive. Kids are much more interested then. If your kids are learning about the pyramids and Ancient Egypt, we found this introduction for you.
Where to Stay in Cairo For a View of The Pyramids
Well obviously, we think anywhere with the view we are enjoying is the best place. There are a few small hotels and guest houses in Giza and also, further away, some large hotels with acres of pools with pyramid views. Our Guest House is so close that we watched the nightly sound and light show over a rooftop dinner every night. It was magical and never got old.
Budget Hotel, Amazing Location, Sound and Light Every Night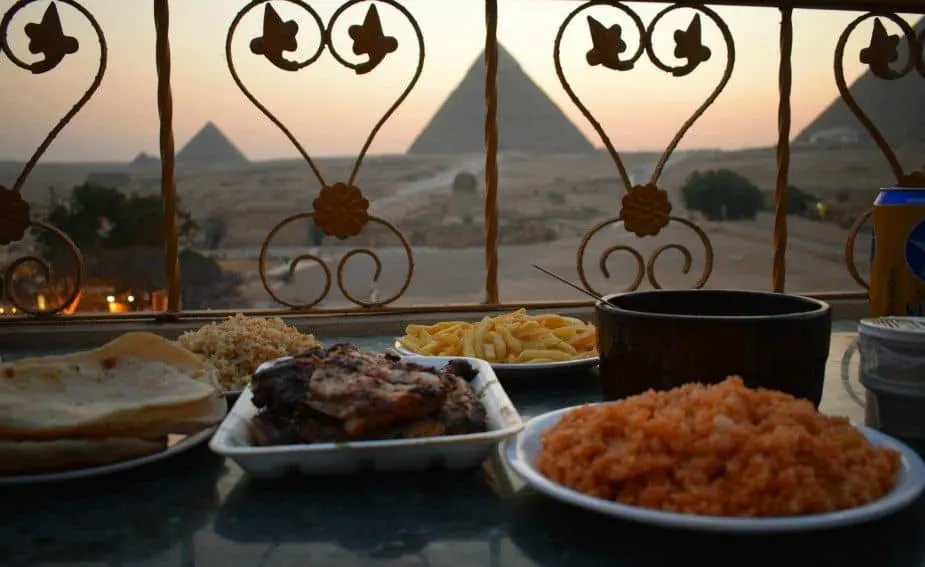 If you'd like to book the exact guest house we used, details are here. This place is not luxury, but by Egyptian standards it's not budget either. It's great value, you have that incredible view and the owner, Gouda, will organise everything for you. The wifi works well, breakfast is decent and there are plenty of eating options nearby featuring both Egyptian food and western. Information here reflects our stay, of course, things may have changed.
It cost us around $35/ night for a family of 4, including breakfast and pyramid view room. Gouda arranged an airport pick up for us, found us guides and drivers and even sent a chap out to buy us beers. His daughter, Jasmine provided dinner on the roof for 4 ( 2 kids), for 200 LE. It was good value. We payed around 50LE per head for meals here generally.
Watch out for staff begging for tips at the end of your stay, they can be very annoying. Even after you've already tipped them at the moment of providing whatever service, they still try it on. Don't feel bad about ignoring them. Gouda doesn't encourage tipping, if he fixes a price for you, it includes tips.
We ended up staying here maybe 5 nights at the beginning and end of our trip. Every night we'd watch the sound and light show either from our bedroom window or from the rooftop. It's haunting, incredible, magical. And free if you stay here.
Gouda is very proud of the fact that Shirley MacLaine once stayed here.
Check The Sphinx Guest House, our budget hotel option right outside the pyramids here.
Luxury Hotels With Views of The Pyramids
These luxury hotels aren't in the same area as our guest house above, they are not right outside this entrance to the pyramids complex and are not in this village, these are large, sprawling resort hotels but you can, absolutely, see the pyramids. You won't be able to watch the sound and light at the sphinx every night from your rooftop.
AirBnb Also Worked Well in Egypt For Us
AirBnb seems to work really well for Egypt, we'll be using them later in our trip ( see Luxor, a fantastic apartment!). If you're not yet a member, joining AirBnb via our link HERE ( which is free) gives you a special credit to use against your first stay.
We're glad you're interested in our Egypt content, it's an incredible country but one that gets a lot of bad press. We'd like to see more tourists returning. So, day 1 went well. We have many more to go. I'm keeping my fingers crossed on this one, it could be a bumpy ride. Leave us a comment, would you consider visiting the pyramids and Egypt right now? Please use the red buttond or hover and click to share to Pinterest. Thanks.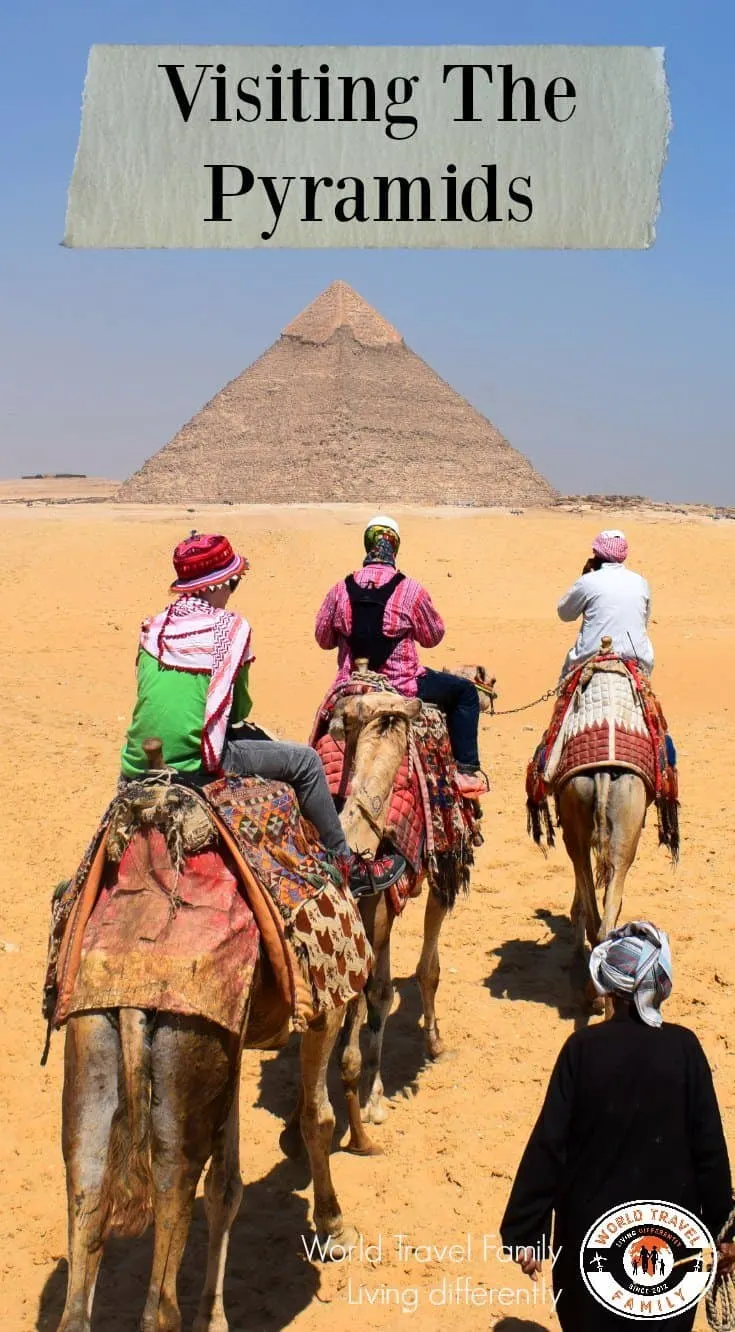 You can return to our main Egypt Travel Blog & Guide page here or see our other recent Egypt blog content below. We loved visiting the pyramids, so much so that we concluded our trip by coming back to this same hotel or guest house and exploring the Giza plateau, sphinx and pyramids again. It was an incredible month in Egypt and we took so many fascinating day trips from Cairo to sites many visitors never see, including the step pyramid and ancient Memphis. We also travelled from here into Cairo for all of the city's attractions. Enjoy Egypt!
If you'd like to hire a car during your stay, use this car rental comparison tool to find the best deal!

We also suggest you take a look at this company to get a quote for all kinds of the more tricky adventure or extended travel insurance.

Try Stayz / VRBO for an alternative way to find rentals on homes/apartments/condos in any country!