This post may contain affiliate links.
Chef and I met in Egypt on a 5 day felucca trip on the Nile. It was a lovely, peaceful few days and it was almost 20 years ago now.
This year we wanted to do it all over again and share the magic of traditional sail boats on the longest river on Earth with the kids. But we've had a couple of hiccups. Felucca captains need careful handling and we slipped up a couple of times but it was still fun and the worst stories are often the best stories. You can pick up a few tips and figure out the best way to hire a felucca from our mistakes.
Felucca Sailing Disaster #1 Luxor
The morning after we arrived in our Luxor apartment all the men of the family were suffering with a respiratory virus. I had itchy feet so headed out on my own to look at the Nile.
We were staying not far away, but river access was blocked by the governor's residence and a great big hotel, so I wandered the village back streets smiling at women and children and generally feeling like an intrepid lady of travel.
Eventually I found the water's edge and a few feluccas tied up. The waters of the Nile are crystal clear, we've swum here, it really is a beautiful river.
Of course, where there is a felucca there is always somebody wanting to get you onto that felucca and the cutest little old man got to me first. He wanted to take me to Banana Island for 200LE but I was only interested in using his felucca as a taxi into downtown Luxor. He wanted 50LE for that, eventually. Great, I said, I'll come back with my husband and children.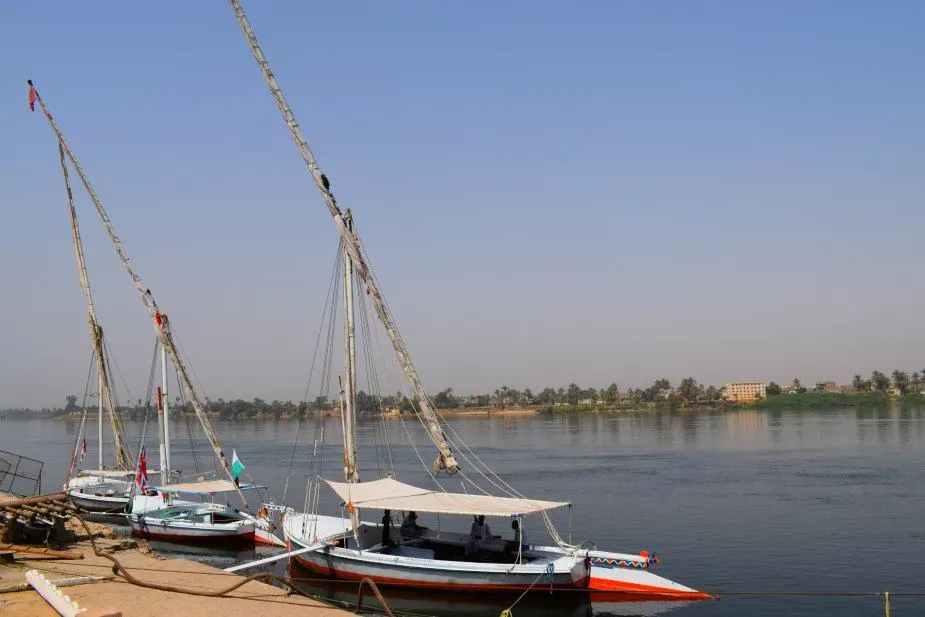 The next day we returned and found the Football World about to leave with 2 German passengers. My new best friend was there and we agreed , in whispers, to the 50LE to Luxor. The whispers were because the German couple were with a guide/tout and were paying 20 Euros for the trip. 50 LE is about 3 Euros.
We had a pleasant early evening sail, tacking towards Luxor, dodging Nile cruise ships on a brisk wind. Then my good captain took a sharp left to Banana Island. OK, still good, we waited while the Germans headed off to look at bananas. We've seen bananas before, I used to grow them back in Port Douglas, so we just hung out.
They returned, gave us some bananas and off we went, their guide brewing mint tea known around here as Egyptian whisky. We declined his kind offer of a cup, a. because it's too sweet, b. because we knew it would have a price tag. On we sailed, but not to Luxor.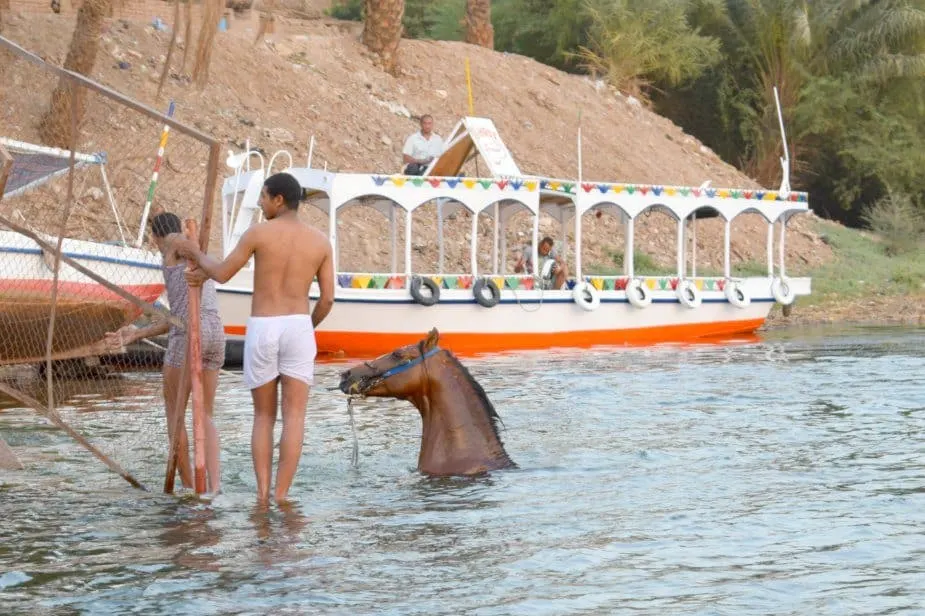 Not so many nautical miles later, we were back at our starting point. We tactfully hung back as the Germans parted with wads of cash before discretely giving our man his 50LE and leaving the scene.
OK, so he hadn't done what we thought we'd agreed on, but we had a nice sail. It had cost him nothing and 50LE is a very good tip for doing nothing. We found a taxi nearby and headed into Luxor for 40LE, about the going rate, probably too much but it's a price we can easily afford, we're happy, they're happy.
So that's Felucca mishap number 1. Number 2 ( below) is even better.
For you, for Pinterest, hover and a pin it button should appear or use the Pinterest button floating on the left.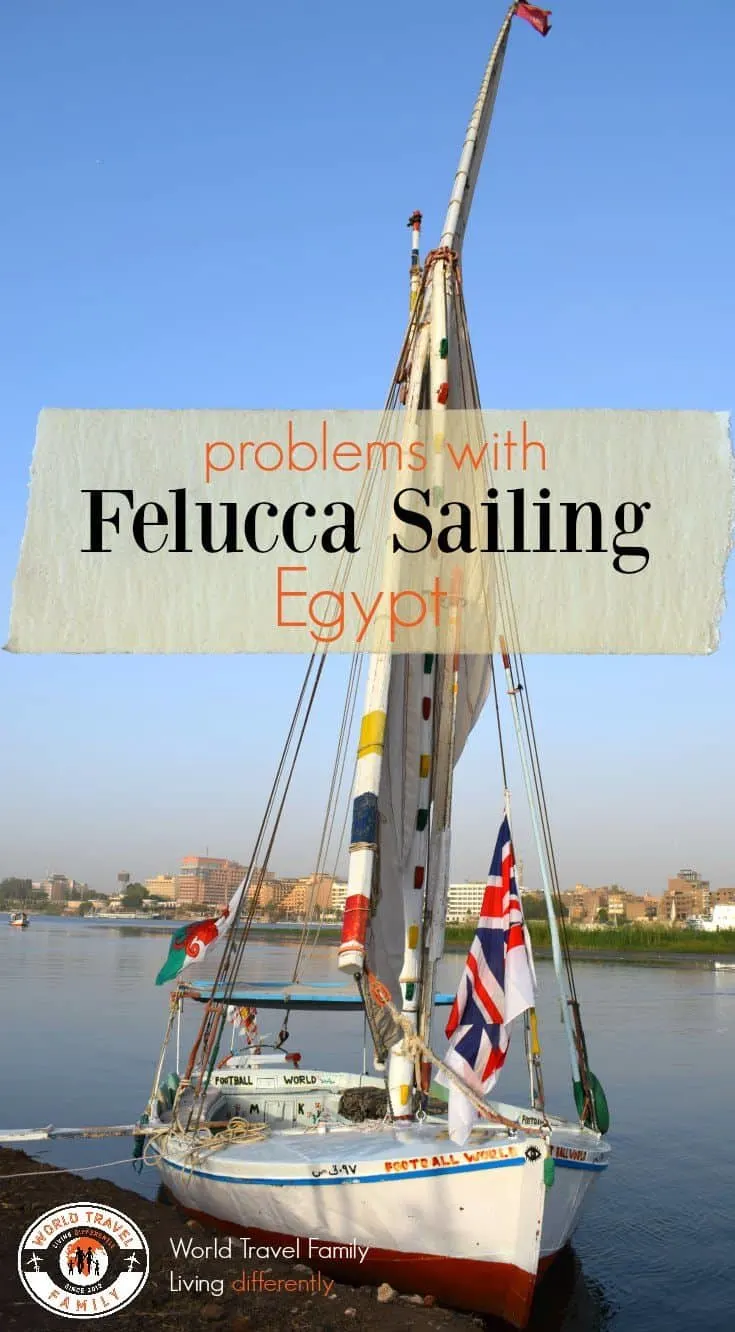 Felucca Sailing Disaster #2 Aswan
A guy called Mohammed Ali had been very persistent in trying to get us onto his felucca from the moment we arrived at Aswan station. On the evening that we decided to actually take him up on his offer, he was nowhere to be found.
Unsurprisingly, there were alternatives. A remarkably good looking and very young man was there, right time, right place and ushered us to his boat. We agreed on 100LE for a 1 hour sail heading downsteam, around the back of Elephantine Island and back.
That's a good price, totally fair, Aswan is less full-on and less inclined to rip you off than Luxor.
His felucca appeared to have a crew of 2, another young man dealt with the sails, our original felucca dude took the tiller. As we pulled away from the east bank Chef noticed that there wasn't much wind.
"There will be wind! " we were assured.
As we set off the current and a slight breeze took us north. Everything was lovely, Aswan was beautiful and even the kids seemed to be enjoying the romance of the Nile.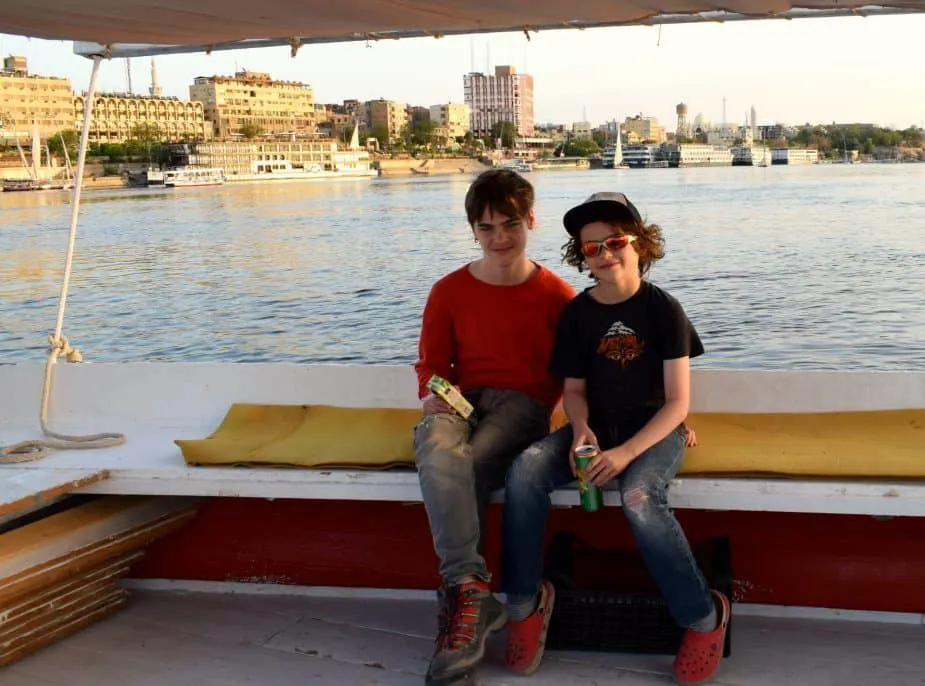 Crew member 3 appeared about this time, an older man, presumably the captain. He emerged from below decks on hands and knees, not looking too good.
He grunted in acknowledgement and vanished behind his curtain again. We sailed on, trying to ignore the strange noises coming from below decks. What was he doing down there? What I was imagining was fairly X rated.
As we rounded the northernmost corner of Elephantine Island, just opposite the west bank's Tombs of the Nobles, he made a second appearance, this time wrapped in a blanket as he sort of collapsed onto the boat's benching.
He continued to make the strange noises. At least now we knew they were moans of discomfort, not pleasure.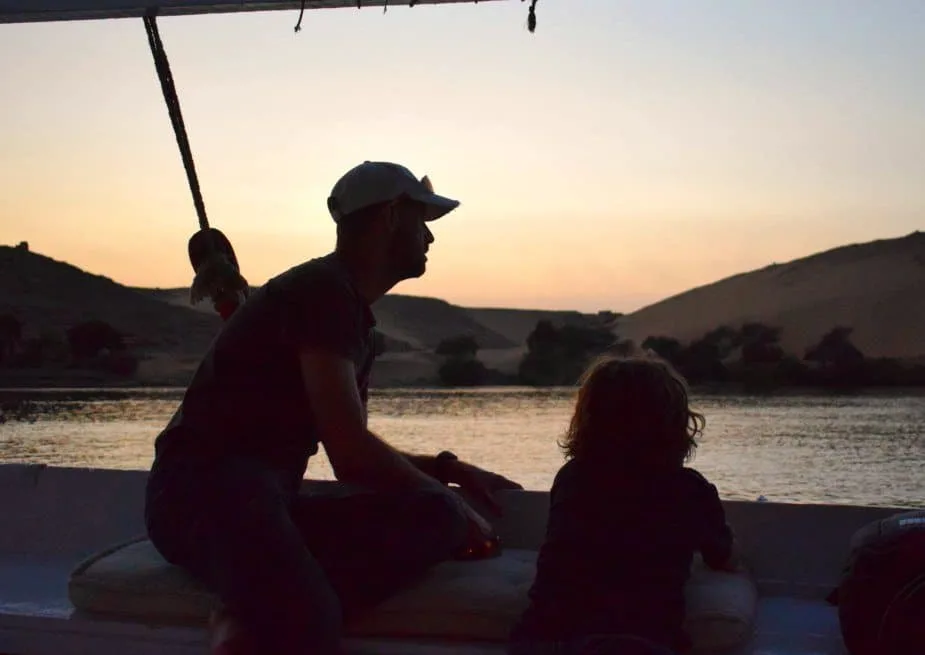 The sun was setting, the river was beautiful, the breeze was dying and the mosquito onslaught was due.
Our captain's distress got my anxious mum-brain working overtime, maybe he had malaria, maybe a mosquito would transfer his disease to my babies, I wrapped them in Arab scarves and moved them as far away from him as possible.
Moments later he started vomiting. Now even more worried I covered my nose and mouth with another scarf. I always carry plenty for any scarf-requiring emergencies.
Soon after the splashing of vomit into the Nile started, the wind ceased to co-operate. We were now sailing against the flow of the river so wind in the sails was essential for onward progress. Our ship stood stationary for maybe 20 minutes before our young crew gave up.
Feluccas don't carry oars, all the boys had was a metal tipped pole for poking and punting and the gang plank. Only one of them could row at a time as somebody had to hold the tiller. Our sick captain gave it a shot before collapsing again.
The boys slowly turned the boat and we retraced our path north. The current seemed to have died with the wind, maybe somebody had turned off the tap at the Aswan damn. They rowed us back towards to Tombs of the Nobles and the northern tip of the island where the new Mövenpick hotel now stands.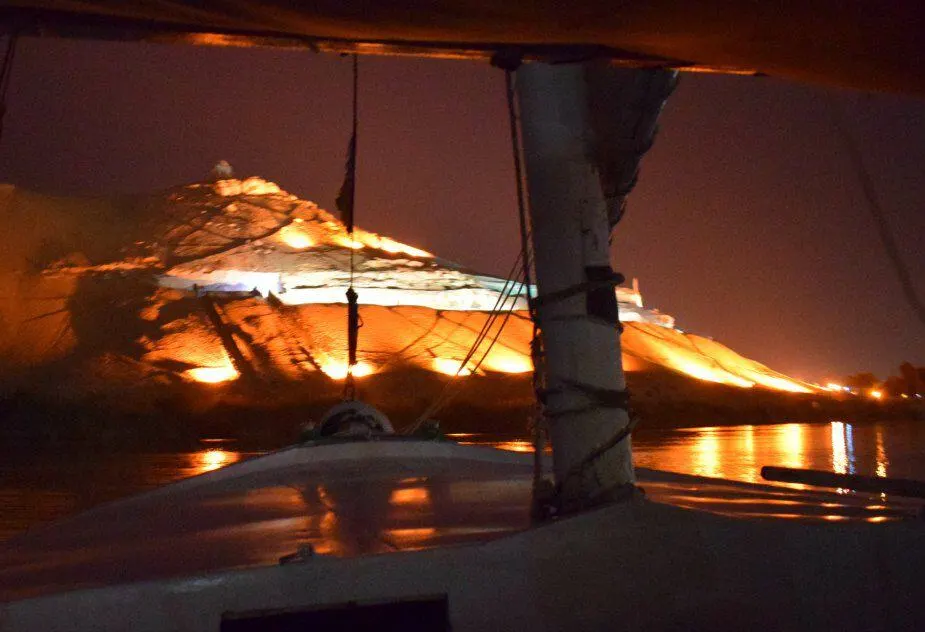 By now it was fully dark, the tombs were lit beautifully and my favourite constellation, Orion, was overhead. His belt is said to align with the pyramids at Giza, something I read in a book long ago.
Our captain seemed to be feeling well enough to speak after an hour of so of puking.
" I'm so sorry, I am drunk, so sorry."
Then he disappeared below decks again.
At least it was nothing contagious.
The felucca boys didn't even try to take us back to our starting point, they dropped us at the nearest point on the east bank and we walked back upstream. We were sitting in a restaurant enjoying our second beer by the time they made it to their mooring.
We tipped them out of pity and appreciation for their hard work and hoped the drunken captain didn't see a cent of it. Our 1 hour sail had become 3 hours, but nothing lost. Our boys were asleep for the last hour, heads on laps, blanketed by scarves, all good, no problem here.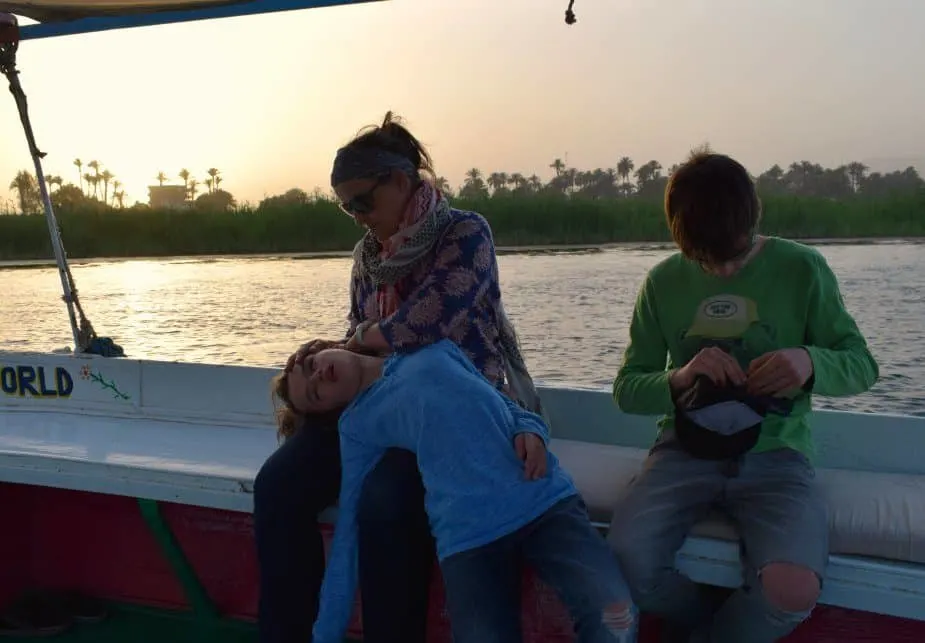 We'd toyed with the idea of taking a Nile cruise, by felucca, from Aswan back up to Luxor. This was the trip Chef and I took years ago and we'd enjoyed it. Our days were taken up with playing cards, sleeping on deck, chatting to our fellow travellers and swimming in the Nile. Our flotilla would stop to visit temples and at night we pulled up on the banks, eating and drinking around a camp fire before sleeping on the boats. We realised after the above 2 sails that the kids would be bored out of their minds, so would we most probably. Maybe one of the big cruise ships would be better, maybe worse, but we resolved that travelling up and down the Nile, for us, was better by train.
If you'd like to hire a car during your stay, use this car rental comparison tool to find the best deal!

We also suggest you take a look at this company to get a quote for all kinds of the more tricky adventure or extended travel insurance.

Try Stayz / VRBO for an alternative way to find rentals on homes/apartments/condos in any country!