This post may contain affiliate links.
There is a train from Cairo to Luxor or you can go by road, air, or water. Tourists normally take the night train from Cairo to Luxor, the night train is much more expensive than the day train. We wanted to take the train during the day. You can, of course, fly, go by road, or even travel by boat we'll talk about those options too.
Tourists can take the day train from Cairo to Luxor and it's better for two reasons, to save a few hundred dollars on tickets and to see the Nile Delta in daylight as you travel south.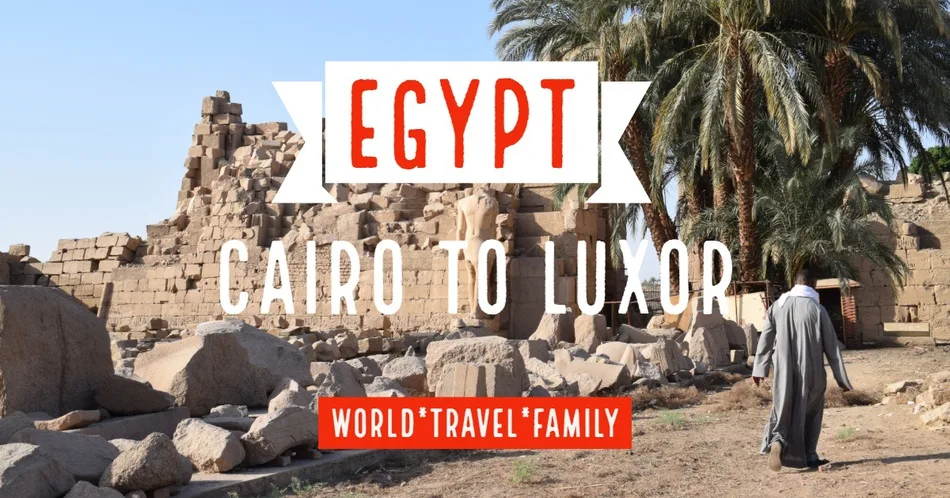 Do you think Egypt was going to make saving money easy?
Not exactly, but we found the way to do it eventually and the train to Luxor was one of the best I've ever been on.
We're safely arrived in Luxor in the most beautiful, and cheap, apartment (AirBnb works pretty well in Egypt but using Booking dot com or Agoda instead often saves you huge cleaning fees), and give or take one very sick child, yesterday worked out just fine. The day train allowed us amazing views and a glimpse into country Egypt, we were able to see how Egyptian farmers and smallholders live today.
The filth and pollution of Cairo gives way to peaceful green fields, mud-brick houses and towering sandy cliffs beyond as the train line follows the Nile Valley to the south or Upper Egypt.
Cairo to Luxor
Cairo is 504 km (314 miles) from Luxor. The road distance is 614.4 Km. Options for getting to Luxor from Cairo include boat, plane, night bus, night train or day train.
The drive from Cairo to Luxor takes approximately 8 hours. More on all of these options below.
We can tell you all about the day train and the struggle to get tickets as foreigners.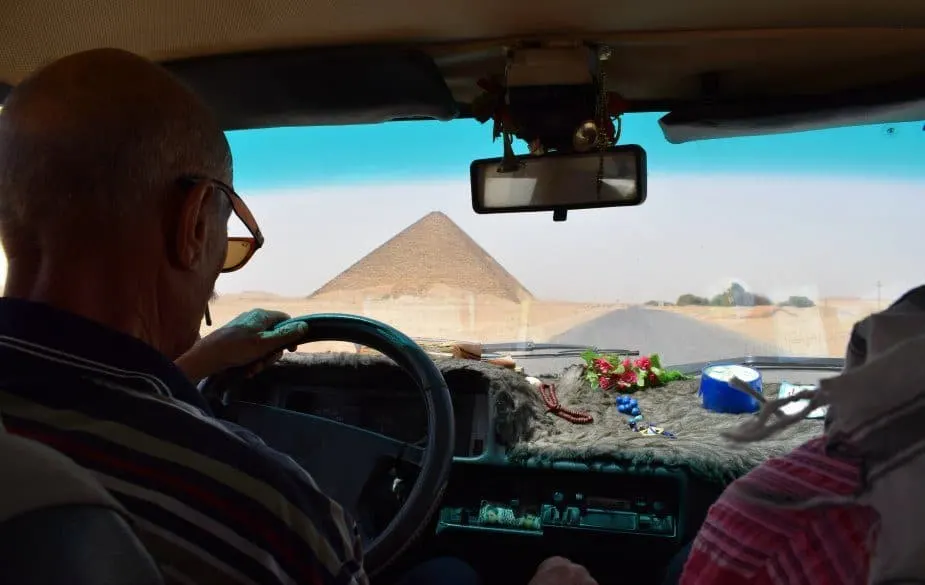 Why Luxor?
Luxor is on the site of Ancient Thebes and its necropolis.
It's really pretty here on The Nile.
The Valley of The Kings and The Valley of the Queens are on the west bank
The Colossi of Memnon (Pharaoh Amenhotep) are there.
King Tutankhamun's tomb, among others, is open to visitors
Karnak Temple is on the east bank.
There is plenty more to see and do here, a week wouldn't be too long to stay.
Cairo to Luxor by Train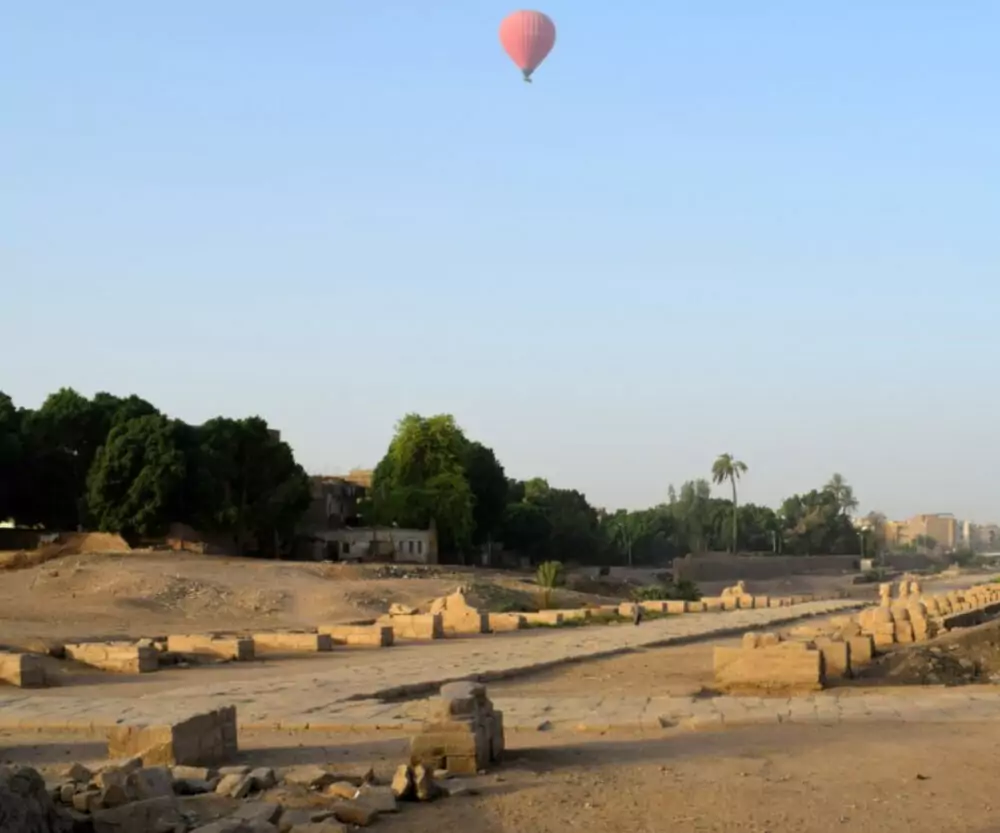 So far our Egypt trip has been a fascinating delight. We found an amazing little guest house overlooking the pyramids in Cairo, we've ridden camels to the sphinx, watched the sound and light show every night from our rooftop, toured the Egyptian Museum and Citadel of Cairo with a helpful guide, explored the ancient souks of Old Cairo and toured the places Jesus visited as a baby in Coptic Cairo.
We've had no fears relating to safety, other than in the crazy choking traffic. Most days we've ridden with our driver, Ibrahim going as far as the older pyramids at Saqqara and Memphis, south of Cairo.
Nothing has gone wrong, nobody has hassled us or ripped us off more than we were happy to be ripped off and everyone is having a fantastic time wallowing in Egypt past and present.
Long may that continue, but getting those train tickets was a headache and waking up on train day with a sick child wasn't ideal.
They have a saying here
" It will cost you 5LE to get on a camel, 500LE to get off the camel"
We've been helped every step of the way by the Egyptian people and have had zero problems with touts.
Sure, they're all out to make a buck and we are chief buck providers but it's been nowhere near as intimidating or annoying as others describe. We've paid more than rock bottom for most things but we've been happy to pay.
There are very few western tourists but from what we've seen plenty of other nationalities are still visiting. We've seen coach loads of Chinese, Indians, Romanians, even Tanzanians.
It's really interesting how diverse tourist nationalities are here and sure, some will get ripped off.
We met a British family who were charged $100 for a few photos on a camel. They were lovely folk and took it well, but they paid it, nobody forcibly extracted their money from their wallet.
If you think you're being charged a fair price, pay, if not politely walk away. You need to bargain over everything and keep a sense of humour but stay smart, always ask the price first and if you feel uncomfortable with it, say no.
It's about everyone being happy at the end of the day so don't let it spoil your holiday and enjoy meeting the Egyptians, have a cup of tea and a shisha, they're cool.
That said, we've only been here a week and Luxor is said to be the hassle capital of the world. If you come here as a single woman, you're braver than me, but I do wander around alone and have had no problems.
The picture of the Nile, above, I took a 10-minute solo walk from our Luxor apartment while the men of the family stayed in their sick beds. Yep, 3 men down this morning.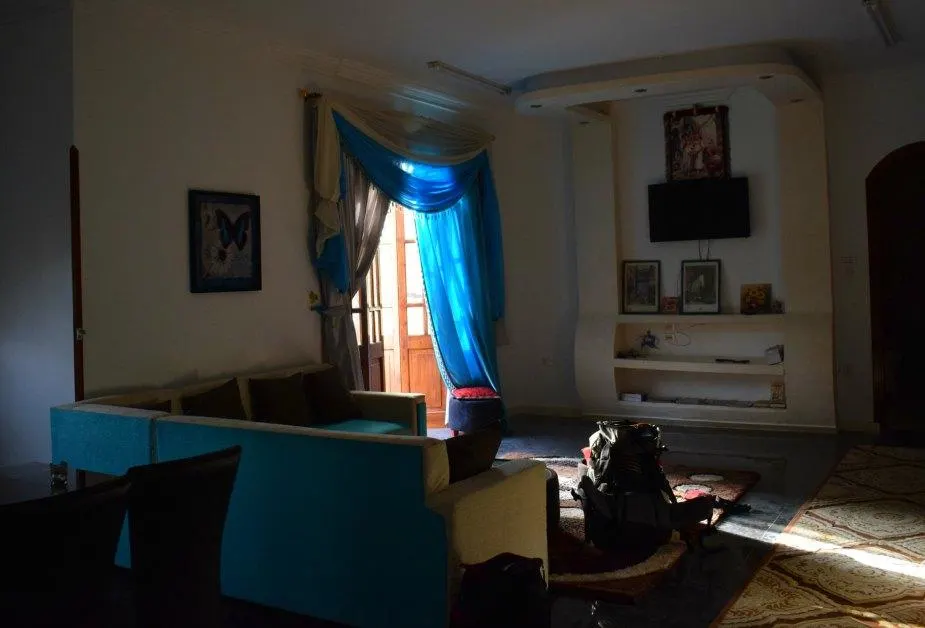 Airbnb seems to work well for Egypt, we'll be using them later in our trip too.
Cairo to Luxor, Buying Train Tickets
Tourists are not really allowed to buy day train tickets from Cairo to Luxor, but we found a way to do it. We'd done our research and already knew that it was hard, if not impossible, for tourists to buy tickets for the day train, but still we had a go.
Never believe everything you read online, always try for yourself. We gave it our best shot but there was no way the ticket woman at the station in Giza would allow us to buy the cheaper day train tickets.
So back to plan B, to get them online. This was plan B because the internet booking system only allows customers to buy 2 tickets at a time, to buy 4 we needed to create 2 accounts for 2 lots of 2 tickets.
Somehow we ended up with 2 seats in first class, 2 in second, but they were tickets for the day train, departing early from Giza station, Cairo.
We boarded at Giza station, all of the trains from Cairo's Ramses Station stop at Giza and it was closer for us. All 4 of us sat first class and hoped for the best, maybe we'd have to pay for an upgrade, maybe 2 of us would have to move.
First-class was almost empty and when the ticket inspectors arrived they were cool with us sitting together, no extra charge, no problem.
At Cairo's Giza train station, everyone went out of their way to help out the foreigners, from the first-class waiting room attendant to the station official. Nobody was hassling for tips, they just wanted us as tourists, to have a good experience. We think.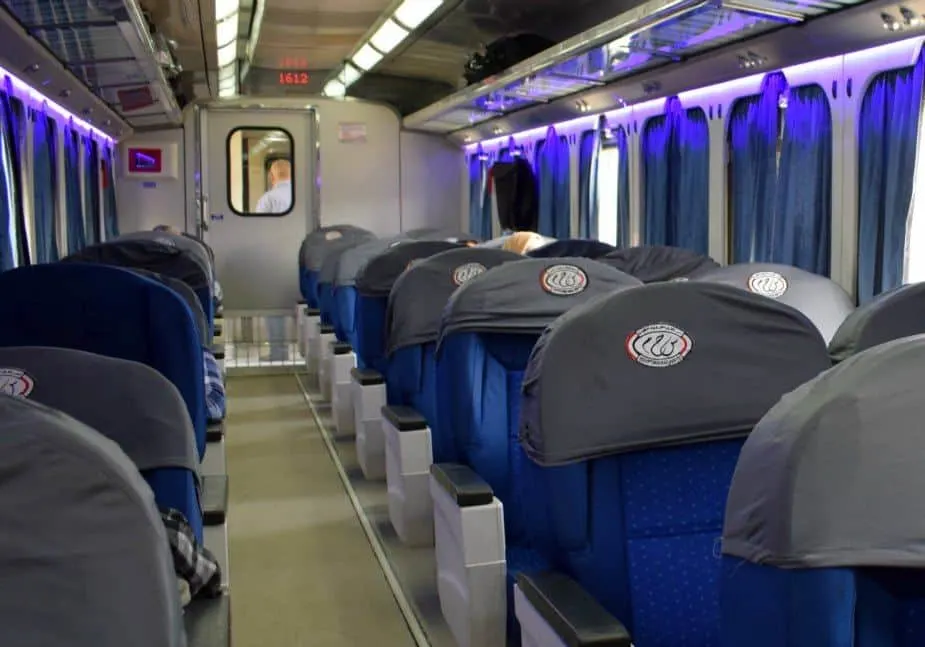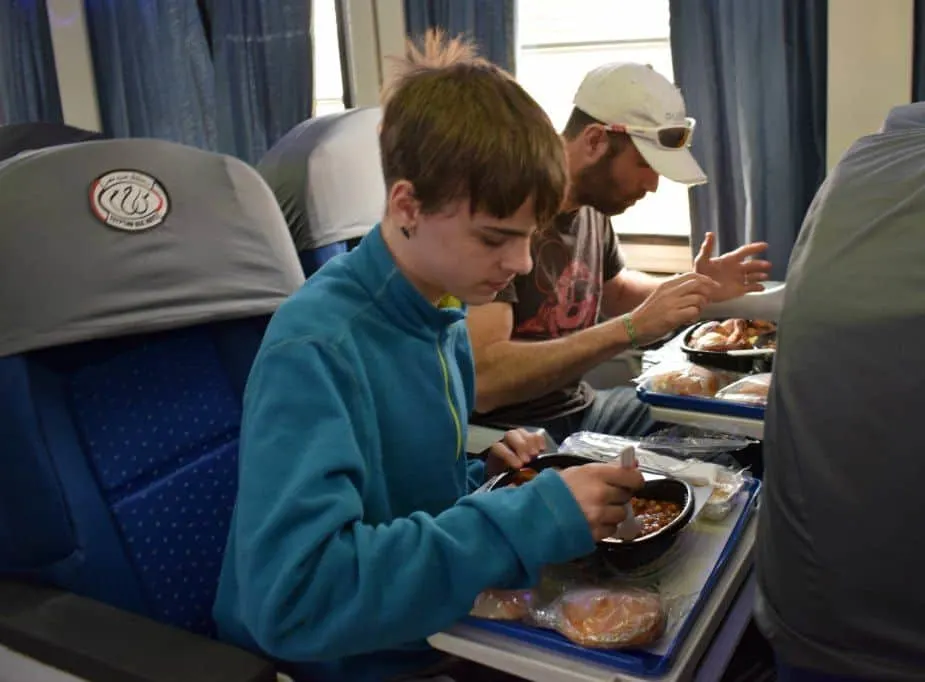 So the journey from Cairo to Luxor by train was fine, all of us sleeping frequently after that 2 am arrival and 4 hectic days of touring Cairo's many sites.
When we could keep our eyes open we had a fascinating glimpse of rural Egypt. Simple rectangular mud-brick houses and walled compounds, shady shelters made from palm fronds and children riding donkeys.
Fields of alfalfa, wheat, onions and cabbages shaded by sparse date palms with mango orchards dotted between the fields.
After hectic Cairo the simple rural reality was a glimpse into the past, families surviving much as they do in our village in Romania, but in a climate as different as it's possible to be.
Cairo to Luxor Train Facts
All of the below was correct to the best of our knowledge at the time of publication. Things may have changed so you'll need to check this for yourself.
The Night Train Cost approx $80-$100 (1800 LE) for a sleeper, payable in US $ only at the station. Departs Cairo Ramses Station. 9 hours. Same price/ same ticket to Aswan. Children 4-9 $70-$85. 5% booking fee online, 2 types of train give you 2 different prices but both are expensive.
The Day Train Cost approx $11.50 First Class ( 202 LE). Bought online, 2 tickets only. We couldn't buy these at the station, at all. 9 hours give or take. Second class is only a little cheaper, $6.50 and looked OK, first class was superb.
It's also possible to take the bus or to fly to Luxor in just an hour.
Please pin to Pinterest, use the buttons, bottom of the post.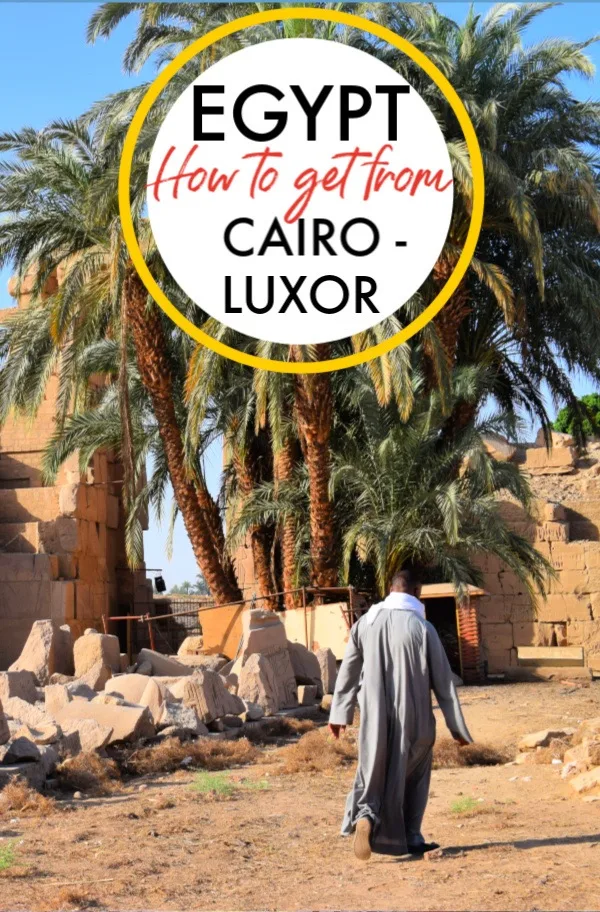 Cairo to Luxor by Bus
The easiest way for visitors to book the bus or coach from Cairo to Luxor is to use this company. We use them ourselves, we trust them. Check Cairo to Luxor bus availability and price here. The journey is approximately 10 hours and will involve travelling in the dark. We have taken buses like this in Egypt and they were good modern buses, but they do drive too fast for me.
A bus ticket from Cairo to luxor will cost $15 to $30 each, depending on the type of bus. The bus is therefor more expensive than the day train.
Cairo to Luxor by Air
You can fly from Cairo to Luxor, the flight time is about an hour and a ticket should cost roughly $70 US.
Cairo to Luxor Day Trip
You can visit Luxor as a day trip from Cairo if you are very short of time. Your day will allow you to see all of Luxor's main sites, enjoy lunch, and return to Cairo the same day. This is not a cheap option as travel is by plane, but to see Luxor, we think it would be well worth the cost. Book this day trip to Luxor from Cairo here.
Cairo to Luxor Distance
The distance from Cairo to Luxor is approximately 667km by road and 415 miles. The drive time is 8 hours plus depending on traffic. Traffic around Cairo can be very busy.
Cairo to Luxor by Nile Cruise
Most Nile cruises operate between Luxor and Aswan, Luxor is often the starting point for your Nile cruise. We have been unable to find a Nile cruise or boat trip from Cairo to Luxor, Egypt.
More On Train Travel in Egypt with a Sick Child
He was fine when the call to prayer woke us to our sunrise pyramid view in Cairo but the second we decided to go to breakfast he crumbled.
He'd had a bit of a sore throat and blocked nose for a couple of days but suddenly just went down. He couldn't eat breakfast or even drink juice so we gave him the option of cancelling the train and staying another day.
He wanted to move on so we piled into Ibrahim's taxi and headed for the station. We were ushered into a clean, cool and empty first-class waiting room where he seemed to get worse, nausea adding to his problems.
By train time he'd vomited and wasn't looking good at all but the train was cool and comfortable and he slept most of the 9 hours to Luxor. Last night he still wasn't well with a low fever, coughing, and extra nose bleeds just for fun.
He's much better this morning, up and about, drinking lemongrass tea and watching YouTube videos.
Our travel with kids survival kit always includes plastic bags, toilet rolls, wet wipes, hand gel and chewable kids paracetamol for emergencies just like this.
Of course, we always carry water but even juice drinks weren't tempting him yesterday.
We're having a quiet day today to let him rest which he seems very happy with. His dad and brother are going down with the same bug too leaving me the last woman standing and general nursemaid.
There's a pharmacy on the corner and our host can easily help us find a doctor if we need one. The beauty of independent travel is that we can take days off, there's no tour schedule and no rush.
I remember years ago on a tour of the Nile, if you were sick, you missed out. If it was Valley of The Kings' day, that's just tough, your loss. There are pluses and minuses to group holidays, sometimes they work in your favour, sometimes they don't.
He's on the mend, he's a fairly unstoppable little soldier and tomorrow we'll tackle Karnak or one of the other world-famous attractions of ancient Thebes and its necropolis. We're loving Egypt so far.
Cairo and Luxor, Enjoy Egypt!
We hope you find our Egypt content useful, we loved visiting Egypt each time and we were quite pleased we managed to get that day train from Cairo to Luxor, it was a good experience and Luxor was very worth visiting. For more on Egypt visit our full Egypt travel guide and blog or maybe you'd like to read about some of the incredible and little-known places to visit in and around Cairo itself. You may be surprised
If you'd like to hire a car during your stay, use this car rental comparison tool to find the best deal!

We also suggest you take a look at this company to get a quote for all kinds of the more tricky adventure or extended travel insurance.

Try Stayz / VRBO for an alternative way to find rentals on homes/apartments/condos in any country!