This post may contain affiliate links.
What to do in Cairo and what to see in Cairo. Our guide to Cairo will help you plan your Cairo itinerary and sightseeing. You will need several days in Cairo to visit all of Cairos many attractions. If you have a week in Cairo, you can take many day trips from Cairo to see more of Egypt. We cover Cairo, plus things to see and do near Cairo, in this post.
What to do in Cairo? From July 2020 Egypt started to re-open to tourists. International flights flew and hotels and resorts were re-opening with reduced capacity. Egypt continued work on the new Egyptian Museum, the GEM or Grand Egyptian Museum and it is expected to open by the end of 2022. The Cairo airport is being improved and extended and new, better, trains are happening. Check tourist advice and information carefully for yourself. This post is on what to do and what to see in Cairo Egypt. You will need plenty of time to see all of these incredible places in Cairo and nearby.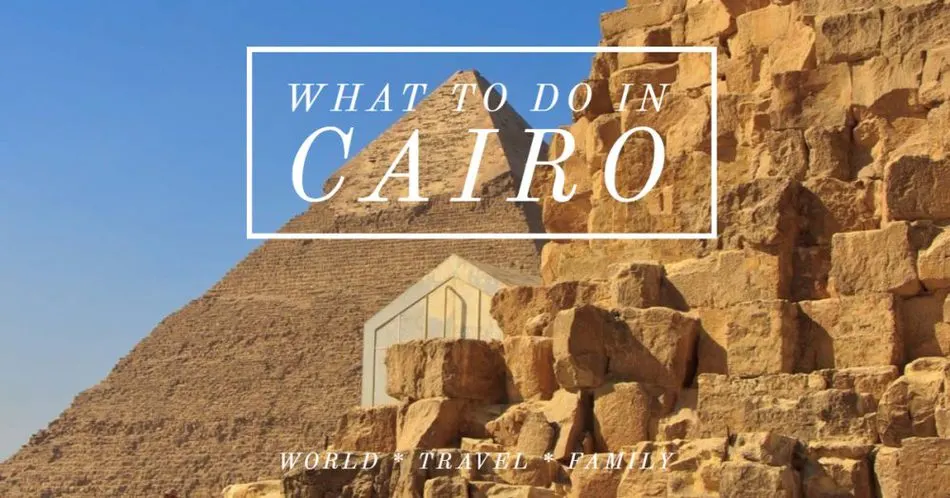 On our last trip to Egypt, we spent the bulk of our time in Cairo. Firstly because we loved it and secondly because there is just so much to see and do. We share Cairo with you on our travel blog.
Cairo is a beautiful ancient city and can be crowded, crazy and hectic. Could you hate it? Possibly. But endure the traffic, heat, dust, and noise and Cairo has many treasures for you to explore.
What to do in Cairo?
Cairo's other name is Umm al-Dunya meaning Mother of the World and in Cairo's ancient souks and fortifications you will feel history envelop you. Take a look at our list of interesting places to visit in Cairo and start building your trip of a lifetime.
Tourists often just scratch the surface of Cairo and barely go beyond the pyramids. Many of Egypt's top attractions are in Cairo or an easy trip from Cairo.
We've done our very best to give you an interesting, useful and factual guide to Cairo, however, we're only human and there could be recent changes. Please double-check facts for yourself. We had almost a week in Cairo and didn't make it to all of the places below. If you've only got one day we'd suggest visiting the pyramids and the Egyptian Museum.
Things to Do in Cairo – Sightseeing
The following places of interest are in, or on the outskirts, of Cairo Egypt and are places every tourist should try to see!
The Pyramids of Giza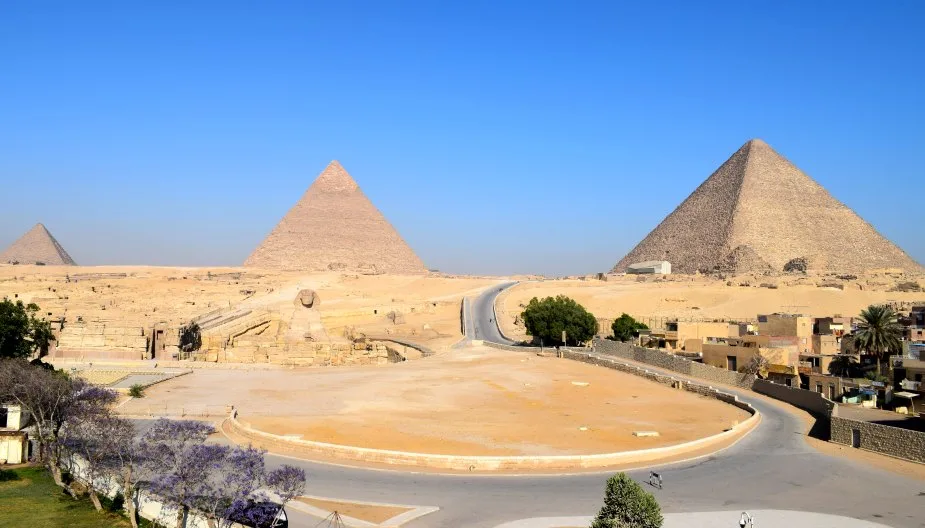 The number one attraction of Cairo is the last of the 7 Wonders of The World. The Great Pyramid at Giza is probably what started your fascination with Egypt as a child. You absolutely must see the pyramids complex. The pyramids stand on the edge of modern Cairo, on the Giza Plateau. To see them appear above the city skyline is quite an experience. The pyramids complex is on the west side of the Nile, roughly 13 km from the city center.
We enjoyed staying in the village at the foot of the pyramids and I took the photo above from our hotel window. If you are staying in Cairo itself you will need to arrange a half-day tour or car with driver. It's also possible to catch the Cairo Metro to Giza station and from there pick up a shuttle bus. As we were staying in Giza we haven't tested this but we did use Giza station for our journey south along the Nile to Aswan, Luxor and Abu Simbel. We list major highlights of the Pyramids complex below.
The Great Pyramid, the Pyramid of Cheops ( as the Greeks called him) or Khufu, is the largest pyramid of the Giza group. Khufu was the founder of the pyramids complex and was the second Pharaoh of the Fouth Dynasty of the Old Kingdom.
Just in front of The Great Pyramid you'll find the smaller Queens' pyramids. We were able to go inside these without an extra charge.
You can, absolutely, go inside the Great Pyramid. At the time of our visit we had to buy a separate ticket and needed to walk to the ticketing booth quite some distance from the pyramid itself. Narrow, steep passages lead you to a chamber containing an empty stone sarcophagus. I've been inside but on our second visit I sat this one out. I'm a little claustrophobic. The kids absolutely loved this experience as well as the incredible Pokemon Go opportunities at all of Egypt's ancient sites.
The Solar Boat Museum, to the left of Cheops as you look up from the entrance near the Sphinx, also carried a separate ticket, available on the door. It's a small museum housing a ceremonial solar barque excavated inside the complex.
Pyramid of Chephren or Khefre/Khafra is to the left of that of his father, Cheops. Visitors can also go inside this one, but it was closed at the time we visited.
The Pyramid of Mycerinus or Menkaure is to the left again. Kufu was Menkaure's father.
The Sphinx, correctly the Great Sphinx of Giza, for there are many others, is the guardian of the mortuary temples and his face is possible that of Khefre. The Sphinx sits in front of Khefre's pyramid just behind the mortuary complex.
The nightly sound and light show at The Sphinx is hauntingly spectacular. We were able to see and hear the Sphinx talk every night from our hotel rooftop.
The Grand Egyptian Museum (GEM) should open on the Giza Plateau in 2020
You will find camels, horses and carriages waiting to take you for tours of the complex. These animals are not treated well and it is quite upsetting to see tiny horses slipping on steep cobbles. You will see them whipped and stumbling, struggling to pull over loaded carriages of careless tourists. Please don't support this. We took camels, which I now regret.
We visited the pyramid complex several times during our time in Cairo and my husband was able to go in before opening time for his morning run. That's quite the experience.
You can read about our time exploring the pyramids complex by camel (includes costs at the time, fixed prices for those in the know, no bargaining) as well as learn about the hotel and area we stayed in by reading our post here.
The Egyptian Museum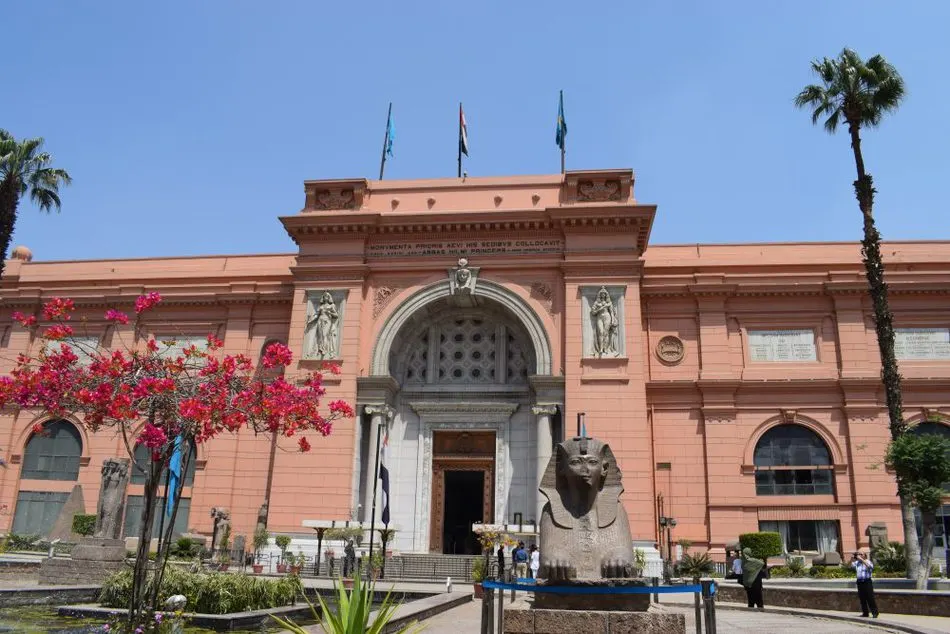 Cairo's Egyptian Museum is, to me, the greatest treasure house on Earth. It's an old-school dusty, chaotic museum where you need a guide to find the most special treasures. Take a guide, the exhibits mostly do not have clear labels.
French Egyptologist August Mariette founded the museum in 1857. He moved to its current home in Downtown Cairo in 1897. It holds more treasures than it could possibly display. Here you will find such treasures as mummies, stone statues, gold and ceramics. The ticket desk is outside. There was security and bag checks inside and in the surrounding streets.
The collection of relics, mostly gold, discovered in the tomb of King Tutankhamun have their own galleries. This section of the museum is quite modern and well done. The boy king's tomb, famously discovered in 1922 by Howard Carter in the Valley of the Kings contained the complete compliment of ancient burial relics and treasures. Most of these are now in the Egyptian Museum, including the magnificent burial mask.
Some relics are currently being moved to the new Great Egyptian Museum and some of King Tutankhamun's relics go on tour. With this in mind, it's possible that you'll find an incomplete display. The Egyptian Museum will continue as a museum in its current site. Which relics will go where is not clear.
The Egyptian Museum is on Midan Tahrir, the main square of Downtown Cairo. You can take the Metro to here or arrange a taxi, tour or driver.
We also have a full post here on visiting the Egyptian Museum, finding its treasures and arranging a guide.
Coptic Cairo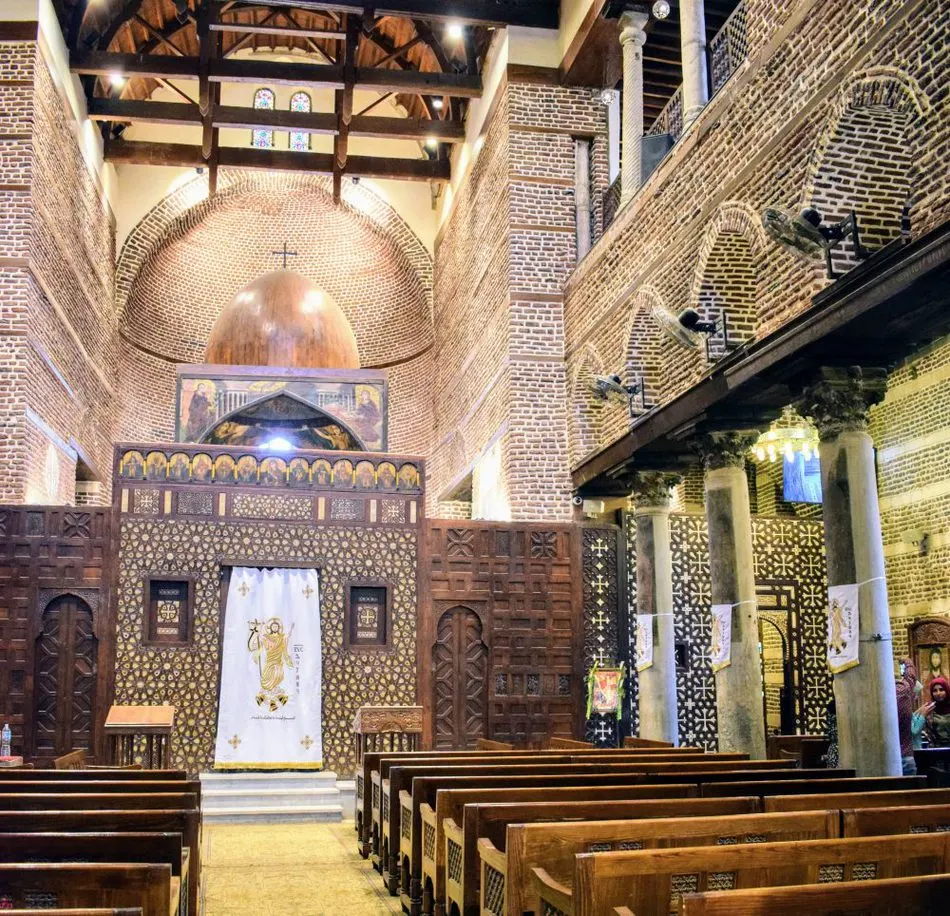 We visited Coptic Cairo just weeks after the Easter bombings. We were a little concerned about safety but we found good security checks and a living city of welcoming people, kids in local schools and the historic buildings themselves. Coptic Cairo is a maze of small streets and again, we would advise you to take a guide.
Coptic Cairo is just a part of Old Cairo and was the stronghold of Christianity in the city. Here you will find the Babylon Fortress, Hanging Church, Coptic Museum, Church of St George ( of dragon fame) and many more notable Coptic sites. The Fortress of Babylon was built under Roman Emperor Trajan as his first fortress along the Nile and parts of the original towers are still standing.
Most fascinating to us were the stories and sites surrounding the visit of Jesus, as a baby, with his mother Mary and family. It is said that the Church of St. Sergius and Bacchus was built on the spot where they stayed during King Herod's slaughter of the children. Beneath the church, you will find a crypt and a constant stream of pilgrims coming to see the infant's stone crib. This crypt is 10m deep and floods when the Nile is high. The church itself was built long after biblical times but it is possible that Jesus's father came to Egypt to work on the Babylon fortress.
The Ben Ezra Synagogue is also within the complex and is allegedly built near the spot where Moses was found in the bullrushes. The history and legends of this area are quite astonishing. It's an incredible place to visit.
Mar Girgis station is the nearest metro stop or you can arrange a driver. Expect to spend a half-day here at least.
Al-Azhar Mosque
Al-Azhar Mosque is one of Cairo's oldest, dating, amazingly, from the year 972. The mosque also serves a university and center of theological study, again, one of the world's oldest. It is in Islamic Cairo district and entrance is usually by the Gate of the Barbers. This gate was so named because students had their heads shaved outside the gate.
Khan el-Khalili – The Old Bazaar in Cairo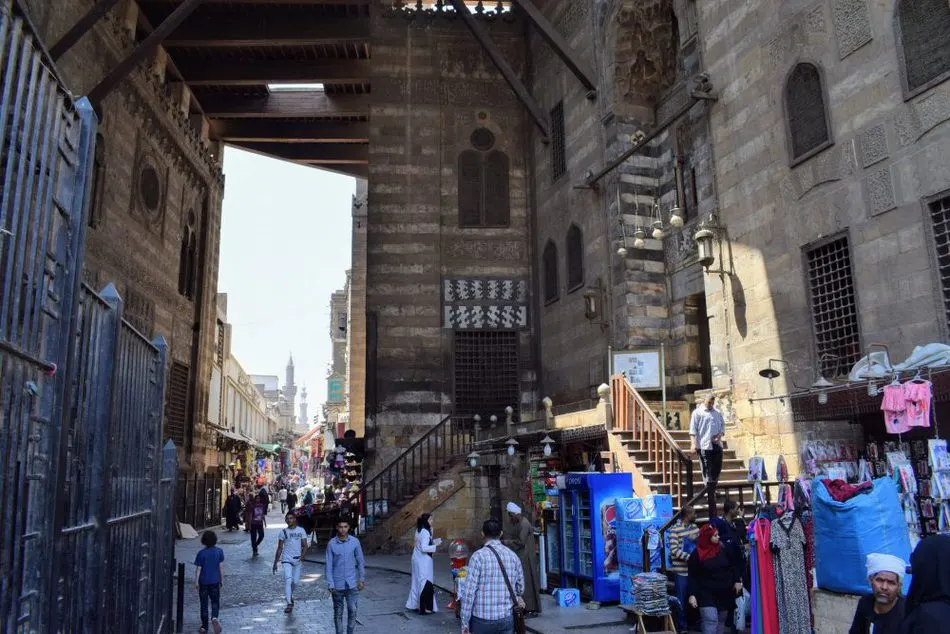 The Khan el-Khalili souk or bazaar is an Aladin's cave of treasures and a labyrinth to get lost in. It's mostly not a covered souk as you might see in Istanbul or Dubai. It's more a collection of narrow crumbling lanes, towering fortifications and mosques. This city within a city was formerly fortified and off-limits to common people, the huge gateways and impressive walls remain testament to those days.
The old crafts survive well alongside tourist souvenir stalls. You will see artisans of all kinds at work and selling their wares while boys run between shops providing tea and flatbreads.
There has been violence here in the past. In the February 2009 terrorist attacks, the first bomb explosion was here sadly killing one person and injuring 24. It was hard for us to even imagine as we mingled with Egyptian women and children going about their shopping. There were no security checks here at the time of our visit.
Famous Fishawis coffee shop, established in 1773, is here if you'd like to break your day with a sweet coffee or tea. There are plenty of small places to get a bite to eat and smoke a shisha.
The souk is roughly divided into districts specialising in a particular craft or trade. The main road is Al-Muski Street which becomes Gawhar al-Qaid at its far end. The gold and silver workshops are around Al-Muizz Li-Din Allah Street, while the spice market section, we totally failed to find, is in the south. You will also find fabrics, carpets, lamps and fez hats being made.
The Al-Husain Mosque is also in Khan El Khalili district. It is given the honorific title Sayidna Al-Hussain. It dates from the 1100s to honor the Prophet Muhammad's grandson and is one of the most sacred sites in Cairo. Some say the casket holding the head of Hussayn is buried here.
Khan el-Khalili is close to the Al-Azhar Mosque in Islamic Cairo, so you could do both in half a day. When we visited there were very few tourists and plenty of locals going about their business. This isn't a tourist souk, it's a living part of the city.
We'll share a full post on Khan el-Khalili just as soon as we can.
Bab Zuweila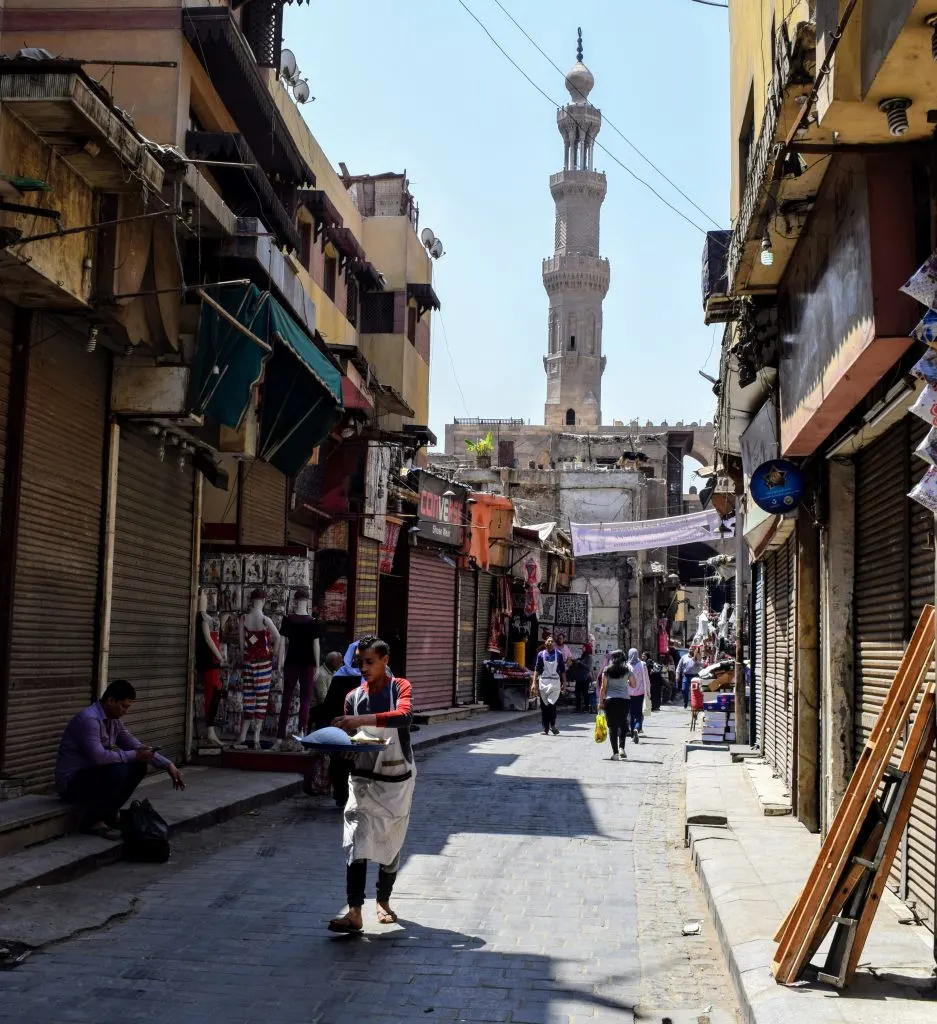 Bab Zuweila is one of the gateways to the Islamic Cairo district. It's very near Khan el-Khalili souk and we walked to this gateway and climbed its towers while visiting the bazaar. The two tall minarets either side of the gateway are an important landmark in Cairo and are a relic of the Fatimid Cairo in the 11th to 12th centuries.
What is Fatimid Cairo? I'm sure people use these terms without knowing what they mean and I'm pretty sure most people don't know what Fatimid Cairo was. The Fatimids claimed descent from The Prophet Muhammad's daughter, Fatimah. The Fatimid Caliphate arose in northwest Africa and spread to control much of the region, making Egypt, and Cairo, the cultural, religious and political hub of its empire. Modern Arabic culture developed from this caliphate. In 1171 Saladin took control, ending the Fatimid period and starting the Ayubbid dynasty.
At the base of Bab Zulweila colourful street of merchants continue. Directly below is the street of the tentmakers. The Sheikh al-Mu'ayyad Mosque is nearby.
Bab Al-Futuh
Another of the remaining gates of Old Cairo, this one is opposite Bab Zuweila, in fact, at the other end of the street. It's impressively fortified but lacks minarets and instead has crenelations. You can easily walk between these two entrances to the Islamic old city along, more or less, a straight road.
The Citadel of Cairo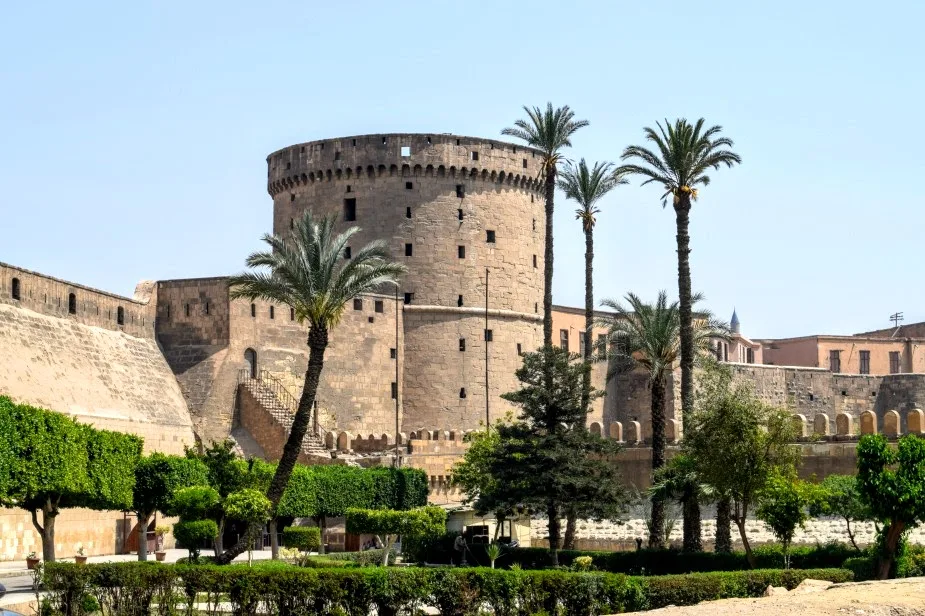 The Cairo Citadel is vast and houses the Mosque of Mohammad Ali along with his marble tomb. The Citadel was built by Saladin, the first Sultan of Egypt and Syria, and dates back to 1176. It is at the foot of the Mokattam Hills overlooking the city. For the best views head to the Gawhara Terrace, if the Cairo haze permits it. The Citadel and the towering minarets of the Mohammed Ali Mosque are one of the great landmarks and tourist attractions of the city of Cairo. The mosque has been repaired and renovated during more recent years and today is sparkling and immaculate.
The Mosque of Muhammad Ali, the Alabaster Mosque, is magnificent inside and out. Tourists can enter and of course, proper dress is required. The mosque is much younger than the Citadel which encloses it. It was commissioned by Muhammad Ali Pasha between 1830 and 1848 in memory of his deceased son. Interestingly it was modeled on the Sultan Ahmed Mosque in Istanbul and was designed by the same architect. Mohammad Ali Pasha was the Ottoman governor of Egypt in the early 1800s.
The El-Nasir Mosque (1318-35) is also within the Citadel. This was by Mohammed el-Nasir.
There are also a few small museums inside the Citadel, the Police Museum, National Military Museum, and the Carriage Museum, we didn't go inside.
We arrived by taxi and the traffic just outside the Citadel was the worst we saw in Cairo. Allow for delays in your schedule. You'll want to spend an hour or two here.
Sultan Hassan Mosque
Sultan Hassan Mosque is known for its magnificent Mamluk architecture and Arabic artwork. It is incredibly intricately designed, built in the mid-1600s for Sultan Hassan el-Nasir.
Sultan Hassan Mosque in adjacent to Midan Salah ad-Din below The Cairo Citadel in Islamic Cairo District.
The Museum of Islamic Art
The Museum of Islamic Art is on the outskirts of Islamic Cairo district, close to Bab Zuweila. Their website is here.
Al-Azhar Park
Al-Azhar Park is a green haven in Old Cairo. You could walk to the park from Islamic Cairo fairly easily.
Zamalek and The Cairo Tower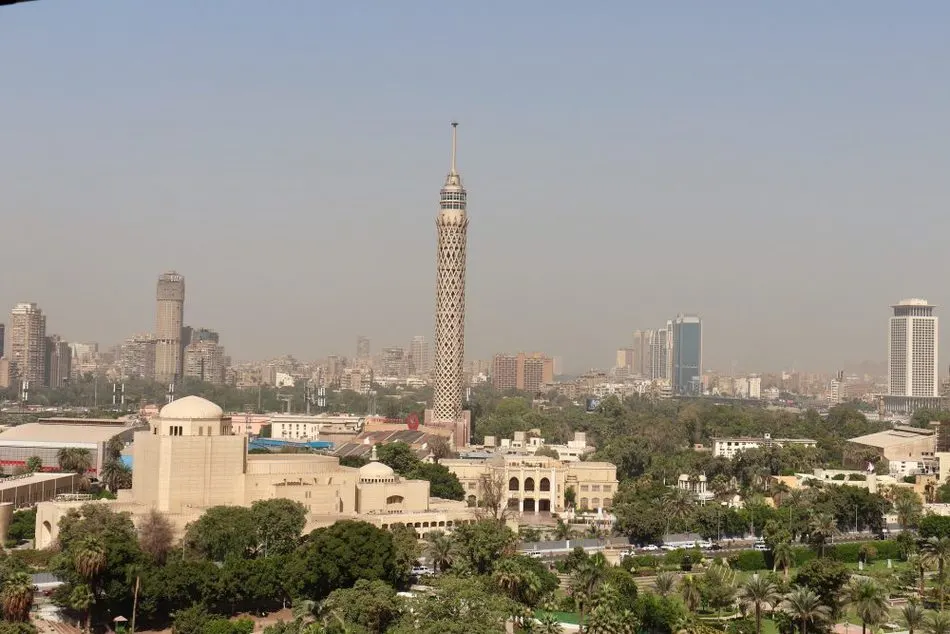 Zamalek is on the Nile Island of Gezira and is an arty area home to boutiques, embassies, art galleries, and fine restaurants. The Cairo Tower stands over Zamalek and Gezira Island. Vistors can climb to its observation platform for Nile views.
The Cairo Nilometer
The Cairo Nilometer is on a Nile island ( Rhoda Island) just to the south of Gezira. A Nileometer is a construction built to measure the clarity and height of the Nile's floods. Obviously the Nile and it's flooding have been important to the people of Egypt since time began and predicting and monitoring the floods were taken seriously.
There are several Nileometers remaining in Egypt today. The Nileometer at Rhoda Island is ornately housed and Abbasid caliph al-Mutawakkil started construction in the 1800s. The Abbasid caliphate was the third of the Islamic caliphates after the prophet Muhammad. The Abbasids are descendants of Muhammad's uncle, Abbas ibn Abdul-Muttalib
Downtown Cairo
Downtown Cairo is a crumbling reminder of the days when Cairo was the Paris of the East under French rule.
What to Do in Cairo – Day Trips from Cairo
We include a few day trips from Cairo below. These are well worth doing and getting off the beaten track like this is really rewarding in Egypt.
Saqqara Pyramids and Necropolis From Cairo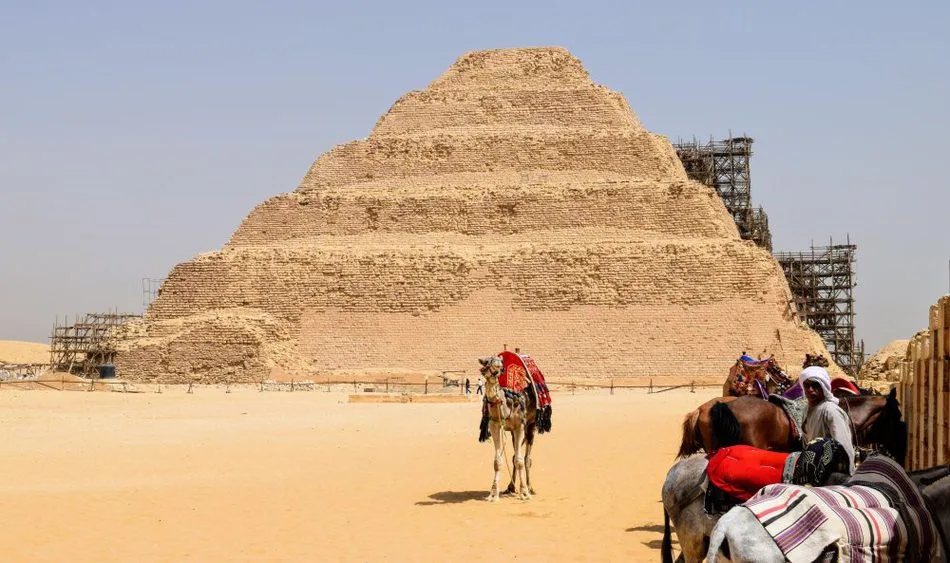 Saqqara is an under-visited highlight of Egypt and one we very much enjoyed. The sprawling necropolis includes numerous pristinely painted tombs as well as the Step Pyramid. Nearby at Dahshur are the Red Pyramid and Bent Pyramid. The sites are approximately 30 Km south of Cairo and we traveled by car with a driver. If you possibly can, set aside a day to get down to Saqqara and Ancient Memphis, below. We have a full post on our day at Cairo's "other" pyramids here. You can visit Saqquara on this 1 day Cairo tour if you're short of time.
Dune Bashing From Cairo
Dubai made driving around the desert in 4×4 vehicles popular, but indeed, you can do this from Cairo too. Book one of these adventure tours here. The Cairo desert safaris can include camel riding, sandsufing, 4×4 rides and more, check what your tour includes.
Ancient Memphis From Cairo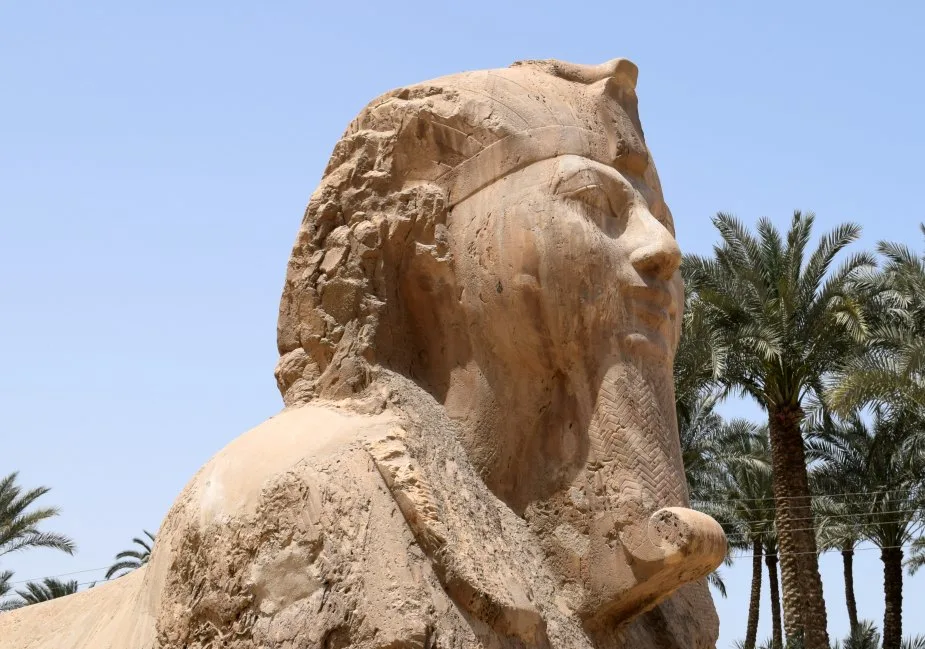 Ancient Memphis, the capital of Old Kingdom Egypt is around 15 Km south of modern Cairo. It's an easy day trip if you're staying in a Cairo hotel. Memphis marked the border between lower and upper Egypt and this was where pharaohs such as King Tutankhamun ruled.
The old city of Memphis was on the east of the Nile while the necropolises of Memphis lie on the west. These comprise Giza, Dahshur and, Saqqara.
Little remains of Memphis today however notable figures can still be seen here. The alabaster Sphinx of Memphis ( above) is to be found in a small garden of ancient statues that surrounds the huge statue of Rameses II which was discovered lying in the sand in 1820.
Tanis
Ancient Tanis was the capital of the Tanite kings of the 21st and 22nd dynasties and was made famous by the movie Indiana Jones and The Raiders of the Lost Ark. These ruins are a long way north of Cairo in The Nile Delta, approximately 143 Km away. Archaeologists discovered rare Intact royal burial chambers at Tanis in 1939. Until then the city was lost to sands and silt. One of the Kings of Tanis, Sheshonq I appears in the Bible. Likewise, Tanis appears in the Old Testament under ts old name, Zoan.
Most of the royal treasures of Tanis are now in the Egyptian Museum. They may now be moving to the new museum at Giza.
Al-Fayum
Al Fayoum is a depression and oasis approximately two hours from Cairo. Most of the Al Fayum area is below sea level. There's actually a lot to see and do in Al Fayum but the Fayoum Waterfalls and water holes are a sizeable tourist draw.
The Pyramid of Meidum and The Pyramid of Hawara are near Al Fayuum. Fayum's city bore the name Crocodilopolis at one time and was a center of worship for the crocodile god, Sobek.
The Al Fayoum area has a rich history and has been home to Greeks, Jews, Copts and Romans over time. Importantly, archaeologists found The Roman Al Fayoum Mummy Portraits here.
Al Fayoum can likely refer to the area, the oasis and the city. There are many spelling variations.
Ancient Heliopolis and El-Matariya
Heliopolis was a significant ancient capital of Egypt's Old and Middle Kingdoms. Today little remains of the ancient city. One major remaining feature is the red obelisk of the Temple of Ra Atum.
The city is now roughly 20m below the streets of the northern Cairo suburb of Al-Matariyyah. A nearby suburb bears its name but is not on the original site. Heliopolis was the Egyptian town of Yuno which to the Greeks became Heliopolis.
The Necropolis of Heliopolis is about 3Km from the obelisk in El Matariya. The name Matariya is thought to come from the word mother referring to the Virgin Mary. The Virgin's tree and El-Matariya church are nearby. The holy family sheltered below this sycamore, probably on their way to or from Coptic Cairo.
What to Do in Cairo in One Day
If you only have one day in Cairo, book a tour to see as much of Cairo as you can. One day is not enough. Three days would be OK to see most major sights in Cairo, but one day won't allow you to see much more than the pyramids and Sphinx at Giza.
When the new museum opens at Giza, you may be able to see the museum plus tour the pyramids. If you only have one day, book a tour like this, you can then at least visit this incredible place just outside Cairo, as well as see the must-see pyramids.
For female visitors or all-women groups, it would be good to take this female-led Cairo tour. This way you can see the bazaar, pyramids and museum. These attractions are not close to each other, you will need a guide with a reliable vehicle who knows Cairo traffic well.
We really recommend you book an organised tour to avoid potential problems.
Where To Stay in Cairo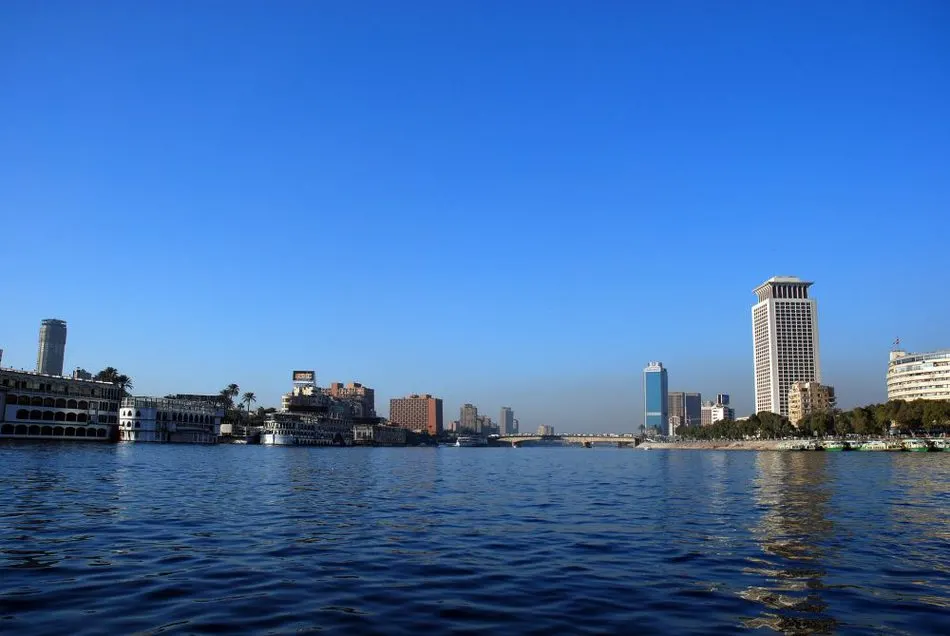 Cairo has many stunning hotels. If you're looking for the best luxury accommodation in Cairo check out the many Nile-side chain hotels such as The Four Seasons Cairo at Nile Plaza, The Sofitel Cairo Nile at El Gezirah or the Nile Ritz Carlton Cairo. All are pretty close to central Cairo and the Egyptian Museum. If you're looking for a pyramids-view resort-style hotel try the Le Meridien Pyramids Hotel and Spa. There are also Sheraton and Marriott hotels in Cairo.
Budget travellers may prefer The Pyramids View Inn or Sphinx Guest House, both perfectly located to soak up the Giza complex by night and day. If you choose to stay in Giza, we did, it's not very difficult to arrange transport into central Cairo.
Onward Travel From Cairo
After you've fully explored Cairo you'll probably be heading off down the Nile or to one of Egypt's Beaches. You can fly to Abu Simbel, take the train to Aswan and Luxor or cruise on down the Nile taking in every ancient wonder.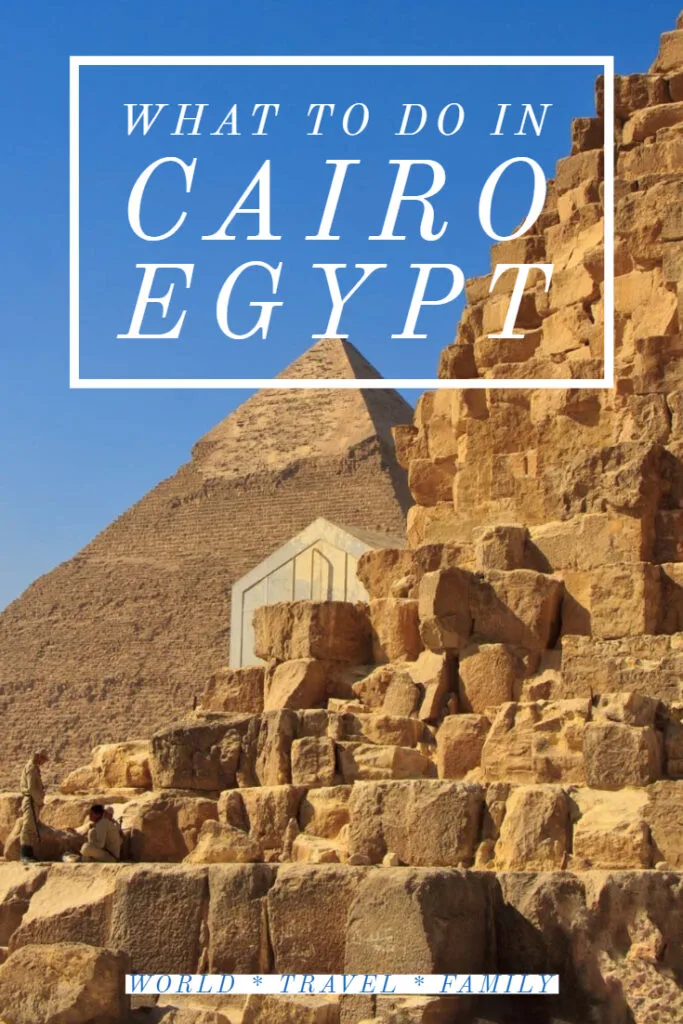 Enjoy Cairo!
Cairo is a wonderful city with something for everyone but unfortunately, we only had a week to enjoy it on this trip. We hope you can see as many of these Cairo attractions as possible during your time there and if you really want to see Cairo, give yourself enough time in the city. We recommend you spend at least 1 week in Cairo.
It could be a good idea to book a one-day Cairo tour before arrival to help you tour the sites as quickly and efficiently as possible. Your money goes a long way in Cairo and pre-booked tours are good value, we think.
I'd have more trust in a tour and company booked through a company such as this one. Your tours from Cairo (Saqquara, Memphis and so on) could also be booked in this way.
Want to see our other Egypt content? Our Egyptian travel archives are here. We have posts on our site to help you with visiting and getting to Abu Simbel, Felucca Sailing in Aswan, catching the day train to Luxor, Highlights of Luxor and more. Or you could take a look at our Highlights of Egypt post or Egypt Travel Guide. Enjoy your time in Egypt and we hope this Cairo travel blog and guide to what to do in Cairo was helpful in planning your Cairo itinerary.
If you'd like to hire a car during your stay, use this car rental comparison tool to find the best deal!

We also suggest you take a look at this company to get a quote for all kinds of the more tricky adventure or extended travel insurance.

Try Stayz / VRBO for an alternative way to find rentals on homes/apartments/condos in any country!