This post may contain affiliate links.
We've taken our kids to the best and most famous museums in the world, London, New York, Washington DC and a hundred smaller storehouses of knowledge, but nothing could ever beat Cairo's spectacular Egyptian Museum. This is my favourite museum in the world, a dusty slice of yesteryear and for us, The Egyptian Museum Cairo is the greatest treasure house on Earth.
Chef and I visited Egypt almost 20 years ago and memories of our day at the museum are still vivid for both of us but now it's the kids' turn.
On that day at the museum, we were still strangers, a few days later we had met, our lives were entwined and we were on our way to being the family we are today, but that's another story.
What of visiting the Egyptian Museum Cairo, today, what's it like, is it accessible, is it still amazing, how is security and how did we arrange it?
The Egyptian Museum, Cairo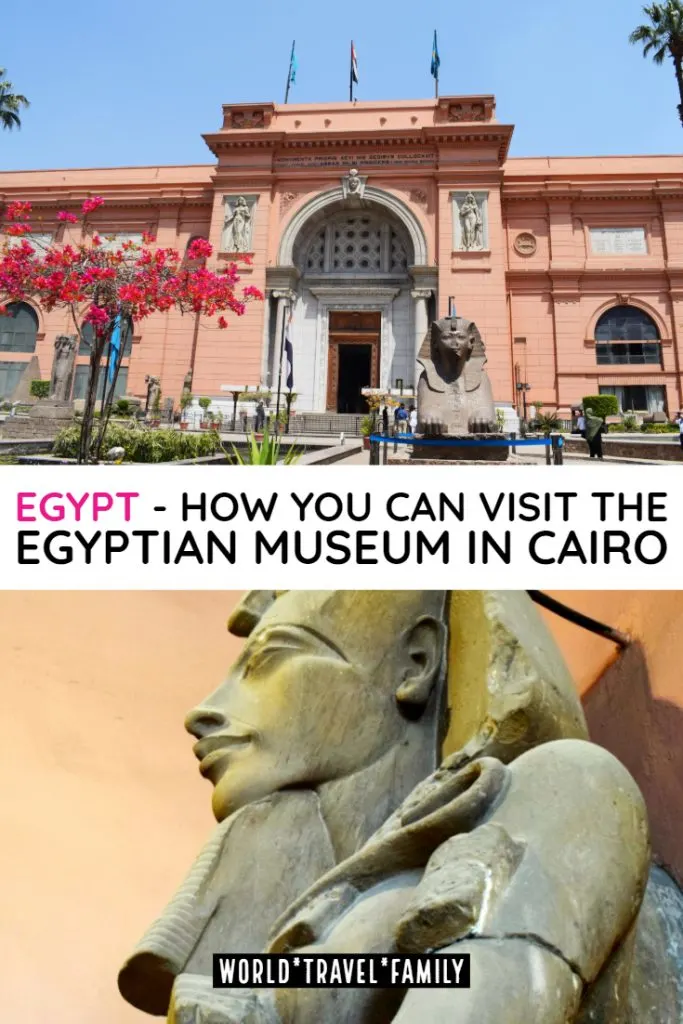 They have so many treasures here they don't know what to do with them.
The vast 100 year-old building and grounds are overflowing with artifacts and they're all fascinating. Egypt's latest discovery, a 9m statue of King Psammetich I unearthed in a Cairo suburb just days ago, is already in residence at the front of the museum.
This civilisation and culture was vast, its extent was mind blowing, new artifacts are constantly being discovered.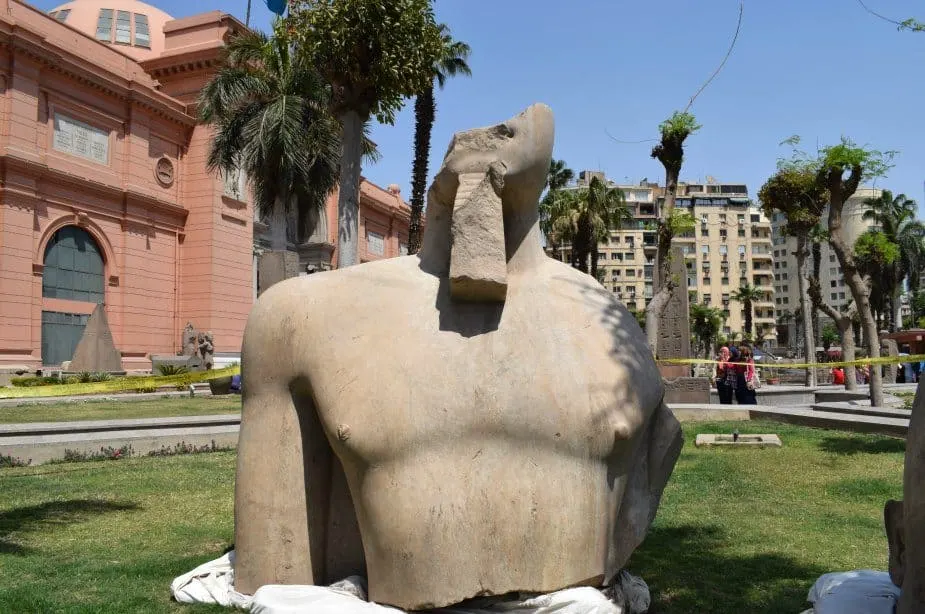 The big draw here, of course, are the items from the tomb of Tut Ankh Amoun. The boy king died age just 19 and was buried with incomprehensible amounts of treasure, most of which are on display.
Think for a minute what items must have been lost to robbers from the other, greater Egyptian rulers. Ramses the Great ( Ramses II) was 91 when he died, what must have been in his tomb?
You will see his solid gold mask, decorated with turquoise, lapis and coral, also his gold mummy belt, cases and jewellery.
These priceless items are in a separate room of the museum and no photography is allowed. You'll just have to trust me that they take your breath away, or take a look at the video below, it's for kids, but most of us could use a refresher.
Update: We just got back from King Tutankhamun's tomb in the Valley of the Kings, seeing his body, removed from his coffins, was a bit too much. He was just a boy and you could see that, you can't help but feel sad for this king who was married to his sister at just 10 years old and died 9 years later.
This exhibition sometimes goes on global tour, so check it's in residence at the time you visit. We'll be visiting King Tutankhamun's Tomb in the Valley of the Kings and nearby, Howard Carter's House in coming days. This is how we do " school" and it's so, so good!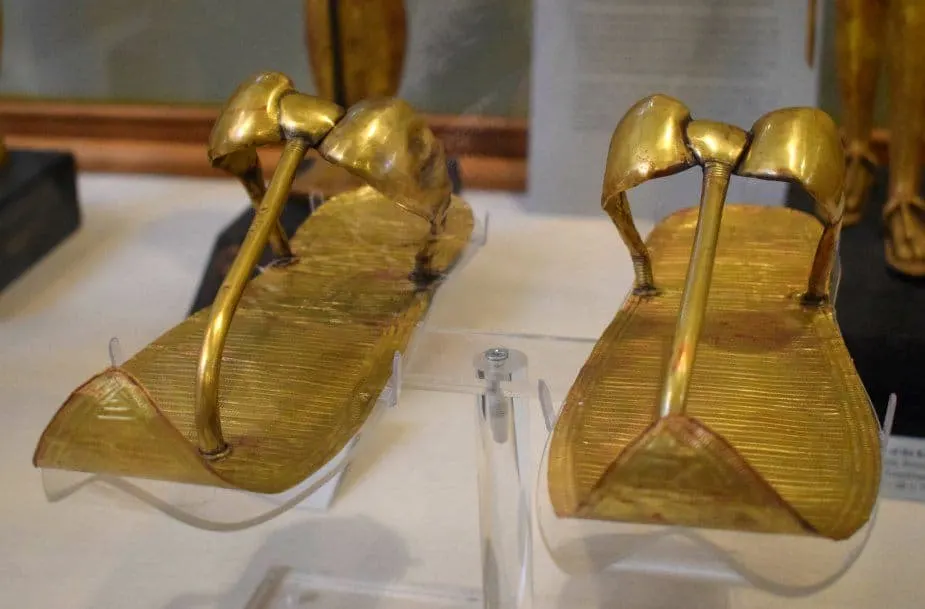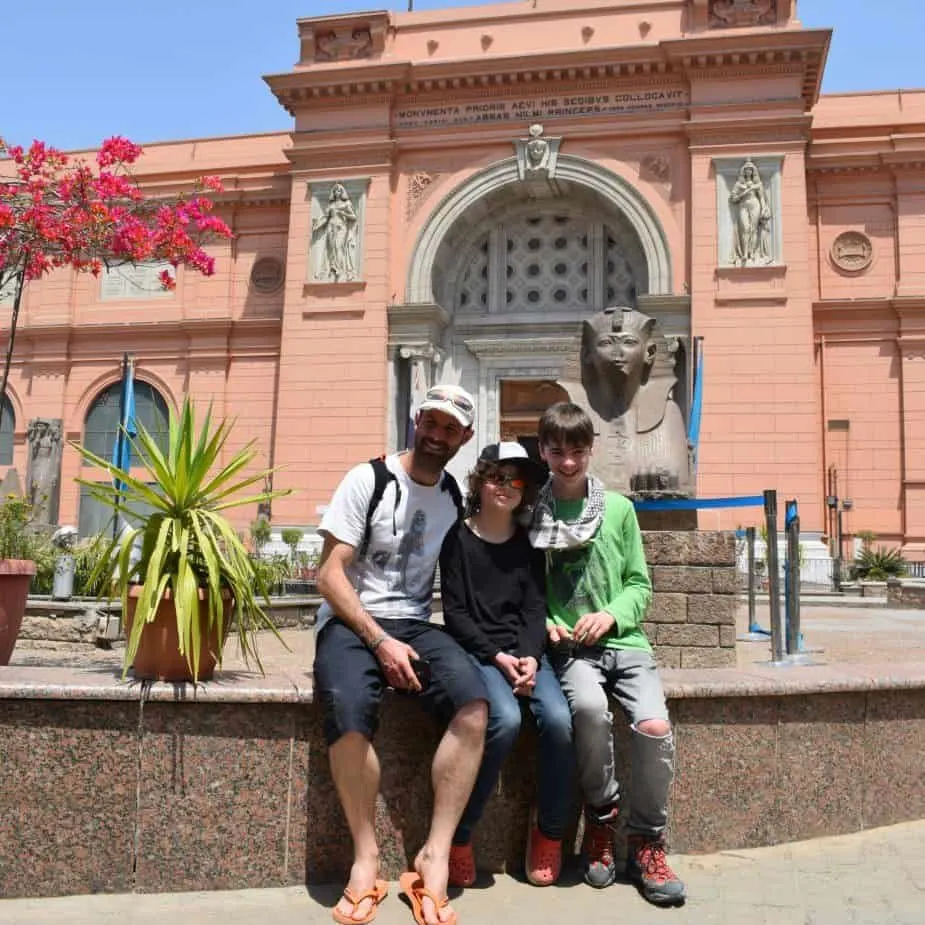 Do You Need a Guide For the Egyptian Museum?
Our feeling is yes, absolutely. This museum is everything a modern museum in the west isn't, other than huge.
It's vast and you could easily spend a whole day here and not come close to seeing everything.
Labelling of the exhibits isn't so great and there is a general lack of signposting and maps. To find the museum's most incredible treasures, and often they aren't the most spectacular, you need a guide.
We were with a guide for both of our visits, with a small group holiday almost 20 years ago, and today as a family, both times our guides were invaluable, if, sometimes, a little less than factually accurate.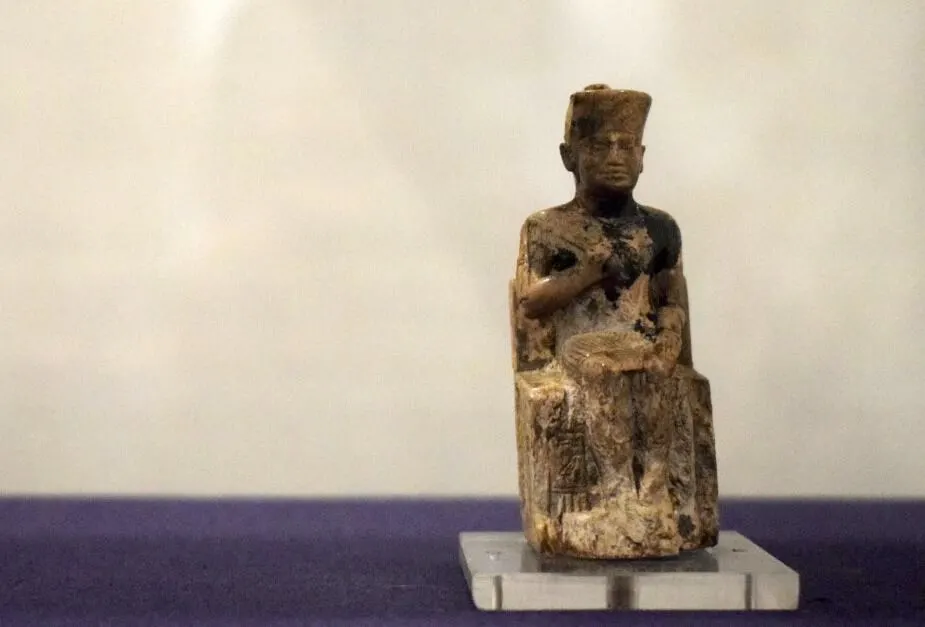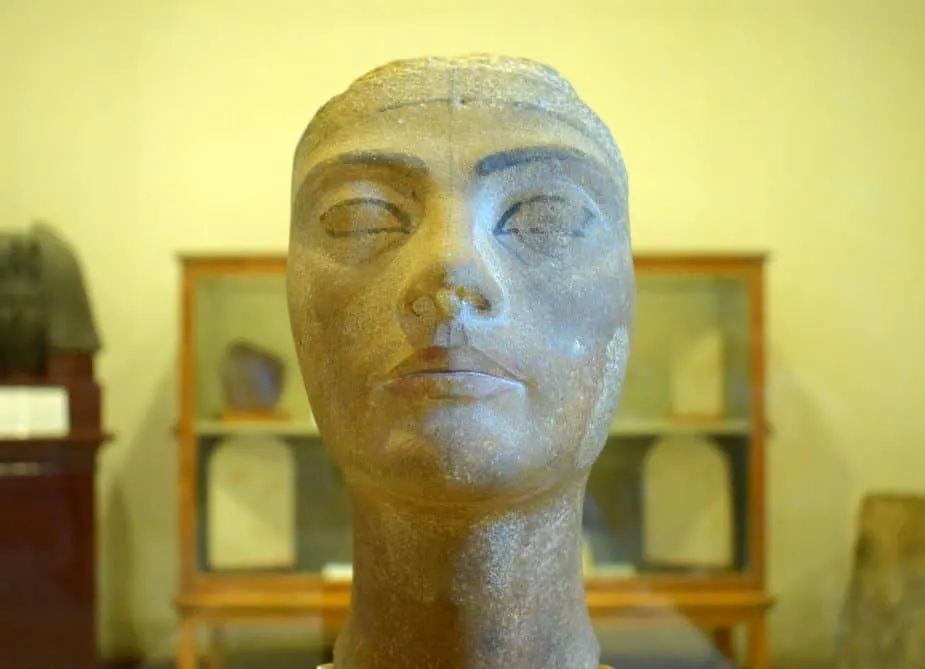 Smaller, less flashy items like the 2 above are some of the museum's best treasures and almost impossible to find without a guide.
You can pick up a guide at the museum, we were told it costs 200LE, Our guide came with us from our hotel in Giza and also showed us around the Cairo Citadel for 300LE, roughly $15.
Admission Costs Cairo's Egyptian Museum
We're finding all prices in Egypt to be good and there are always child discounts even for my big kids. Usually, the child price is actually the student price, which is great to see. These were the prices when we visited, check they may have risen.
Admission Price Adults: 80LE Approx $4.50
Admission Price Kids / Students 40LE Approx $2.25
There was an extra admission fee for the Royal Mummies exhibition, 100LE but there was now no extra charge for the King Tutankhamun exhibition.
How Long to Allow for Your Visit?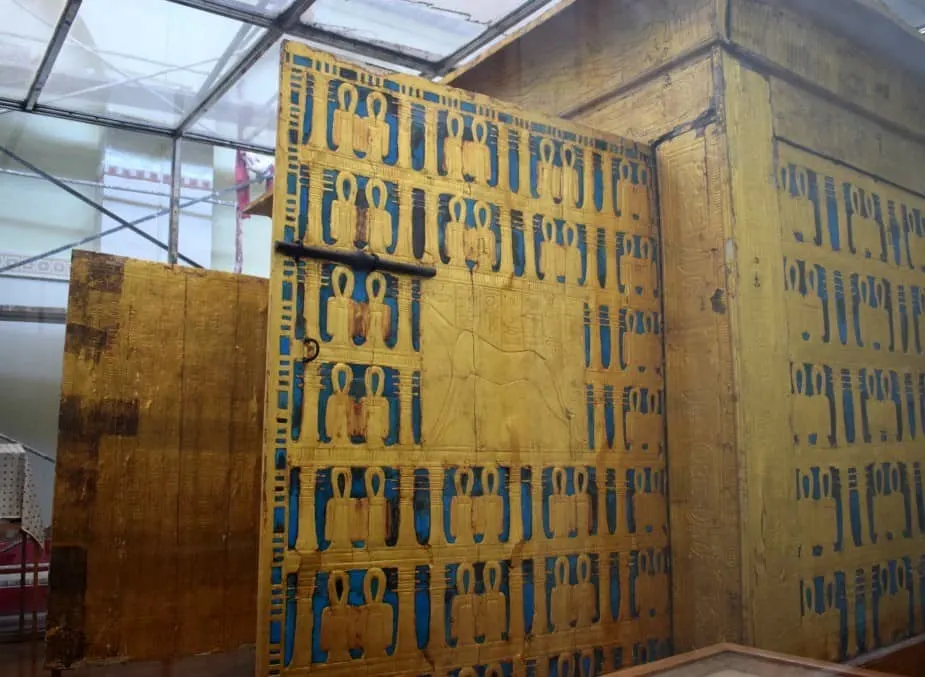 You could spend days here, like most museums, but allow 2-3 hours.
Is The Egyptian Museum Good for Kids?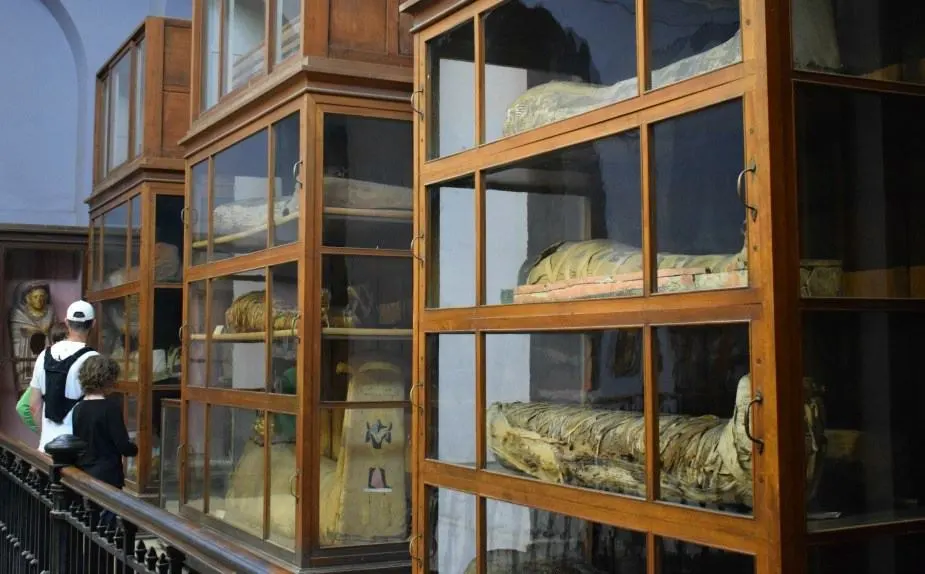 Superb! Of course. But toddlers and preschoolers may get bored particularly if you take a tour aimed at adults.
How We Arranged Visiting the Egyptian Museum
We were visiting from our guest house and Cairo home in the shadow of the pyramids at Giza. We would highly recommend staying there, it's been superb, but it puts the Cairo Museum about an hour away by car depending on traffic.
We visited by taxi, picking up our guide near our hotel and returning with him, several hours later. He also took us to the Cairo Citadel, built by Saladin in the time of the Ottomans and inside that the magnificent Muhammed Ali Mosque.
The Citadel perches on a hill overlooking Cairo, these hills were the quarries and source of the stones of Giza. In the times of Nile floods, tonnes of stone were floated from here to the pyramid construction sites on the other side of the Nile.
I'm getting carried away with my Egyptian history, this post is supposed to be only about visiting the Cairo museum, the Citadel will have to have its own post soon.

We're absolutely loving our time in Egypt, it's been incredible so far and there is much, much more to come as we head south to Upper Egypt for Luxor, Aswan and Abu Simbel. Stay connected, don't miss a thing by signing up for our newsletter. We can all get an education together.
If you'd like to hire a car during your stay, use this car rental comparison tool to find the best deal!

We also suggest you take a look at this company to get a quote for all kinds of the more tricky adventure or extended travel insurance.

Try Stayz / VRBO for an alternative way to find rentals on homes/apartments/condos in any country!