This post may contain affiliate links.
Abu Simbel is one of the greatest, most spectacular monuments or temples in Egypt and you are most likely Abu Simbel from Aswan. Unfortunately, Abu Simbel is difficult to get to, but you can visit Abu Simbel by air or road from Aswan.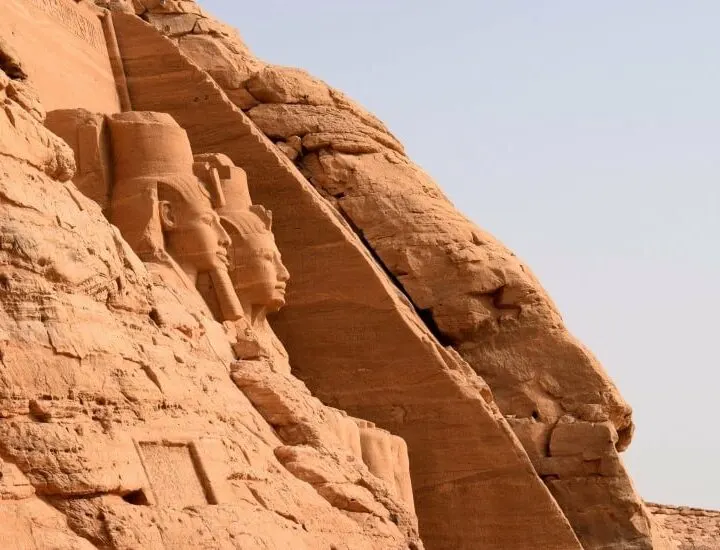 We've been to Abu Simbel twice, two ways by flying and by minibus. Once for the annual sunrise on Rameses at the very back of the temple. Either way, it's not an easy place to reach.
It's possible to fly directly to Abu Simbel from Aswan (or Cairo & Luxor), we did this first time, but most recently, we chose to get there slowly, following the Nile south from Cairo to Luxor to Aswan by train. The trip from Aswan to Abu Simbel, a distance of about 280 Km, is the tricky bit.
We took a 4 am minibus to be at the greatest monument to Rameses for 8 am when crowds and temperatures were manageable. On our previous trip, we got there by air from Aswan.
Choices in getting to Abu Simbel include mini bus, coach, private vehicle, tour and plane. Whichever way you choose to do it, it will be worth it, Abu Simbel is one of the most incredible places you will ever see. We also include some Abu Simbel tours from Aswan, Luxor or Cairo and transfers, that you can book online to avoid the hassle of arranging your Abu Simbel visit locally. It's also possible to stay overnight near Abu Simbel, more on that too.
There are other options in getting to Abu Simbel, including by air, but the above 2 tours are most common. We'll get into more options further down the page.
---
Aswan to Abu Simbel
Sunrise on Rameses, happens twice a year inside the Abu Simbel complex. For this you must make the journey from Aswan.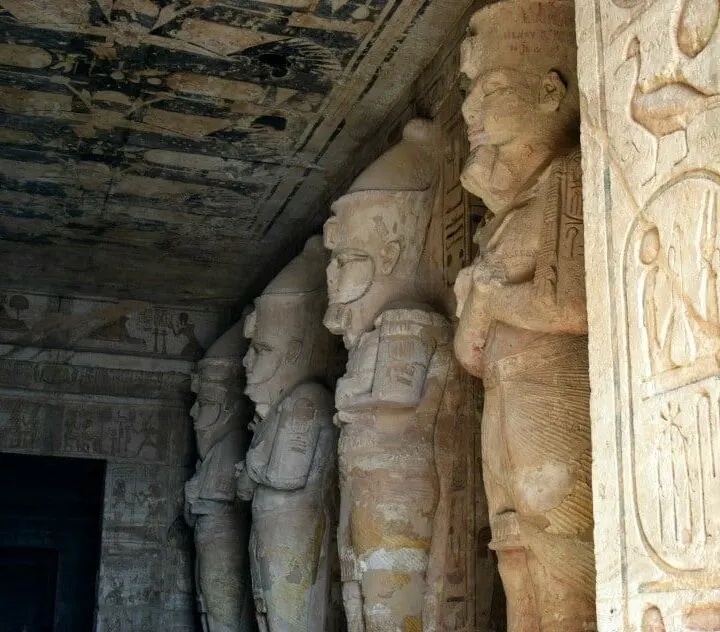 This temple was famously moved, partly funded by UNESCO, when the rising waters of Lake Nasser flooded its original site on the banks of the Nile.
It was an epic achievement, but such a shame that it no longer stands where Rameses the Great ( Rameses II) intended it to stand.
He and his favourite wife, Nefertari, had been deliberately placed there to catch the rising sun on two days of the year, his birthday and his coronation day.
Chef (my husband – he was a chef before joining me in running this travel blog) and I were privileged to be there on one of those occasions many years ago. It was magical, but a dawn arrival necessitated a flight. If you have the chance, be there. It's more than worth it to watch the light creep in to the very back of Abu Simbel and light up its creator.
According to the Egypt Independent, this event takes place on the 22nd February and 22nd of September, double check this for yourself, but if you're heading to Egypt around those dates, be sure to be there for this.
Aswan to Abu Simbel Day Trips and Tours
We tried to book our trip to Abu Simbel direct at the Abu Simbel public bus station. We had plenty of time in Aswan and my husband was willing to trek out there (it's a long walk or taxi ride) but in the end we failed. It was just too confusing and disorganised and nobody seemed to want to sell us tickets. In the end, we took the easy option and asked our hotel owner (for a fee) to arrange tickets for us. He did and our trip was fine. I'd advise you to book a trip from Aswan to Abu Simbel in advance, online. There are links in this post.
The road from Aswan to Abu Simbel is long and straight with almost no traffic and few hazards but they do drive very fast. I was uncomfortable with it, but we survived. The bus we booked turned out to be a small but fairly comfortable minibus.
If you want to save yourself some hassle, you can book your tour from home and have everything sorted before you even arrive.
We use the company below when booking tours anywhere in the world, they have a lowest price or money back guarantee and the reassurance of a big company supporting your booking.
We are very happy to be their affiliates ( as stated, top of page)
Aswan to Abu Simbel by Plane
We have done this, it's a comfortable short flight and is essential if you want to be there for sunrise. There are approximately 12 flights per week and the flight duration is around 45 minutes. Flights are with Egypt Air and depart Aswan from before 7 am to just after midday. Be aware that these times could change, check current flight times. To arrange your own flight, try this company, 12GoAsia, or go to Skyscanner to check your options.
Aswan to Abu Simbel by Private Car
A private car may offer you a more comfortable ride and allow you some extra time at the start and end of the day. Minibuses do the rounds of Aswan in the early mornings, picking up clients from various hotels. It will be more expensive, but for a small group, it's not a bad deal. You may even be able to get your driver to slow down a little! The button to book is at the top of the page.
Cheapest Way to Get to Abu Simbel We Can Find, Full Day Tour to Abu Simbel Temples With Private Guide
We hunted around for the cheapest way to get to Aswan we could find. This one offered best value we saw. Check this one out here. This company does come with best price or money back guarantees but I think finding a deal in Aswan, if you have time and patience to hunt around, could give you the most budget option.
There are plenty of different tours to Abu Simbel to choose from, most will pick up around 4 am from your Nile Cruise Ship or hotel. Guides will be available in English, German, Spanish and most languages.
From Luxor, 2 Day Tour to Aswan and Abu Simbel
Yes, you can arrange a trip to Abu Simbel from Luxor too, try here.
Visiting Abu Simbel From Cairo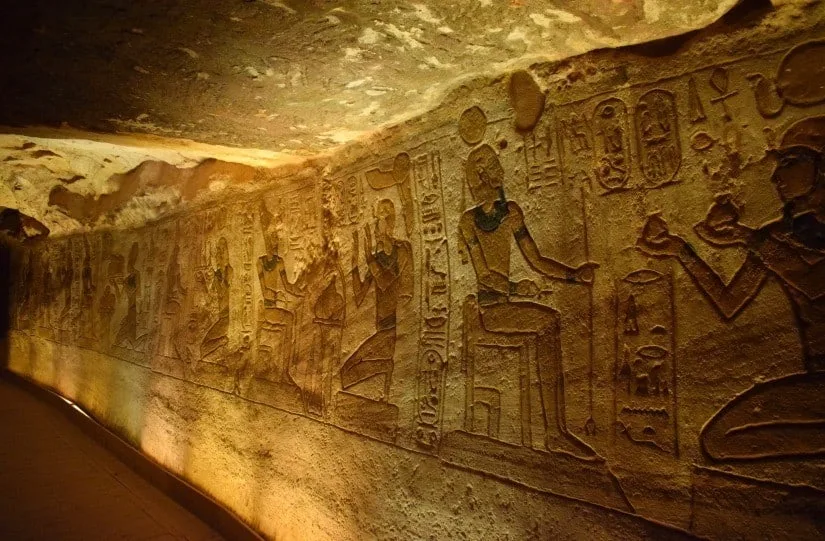 Yes, you can get to Abu Simbel direct from Cairo by air. It's fairly straightforward and you can book a simple one day tour here.
Staying at a Hotel Near Abu Simbel
This is also a possibility. There is a small selection of hotels and accommodation near the Abu Simbel site, so if you're not up for the 4am Aswan departure you can take longer over your visit. Have a look at hotel options here.
For you, for Pinterest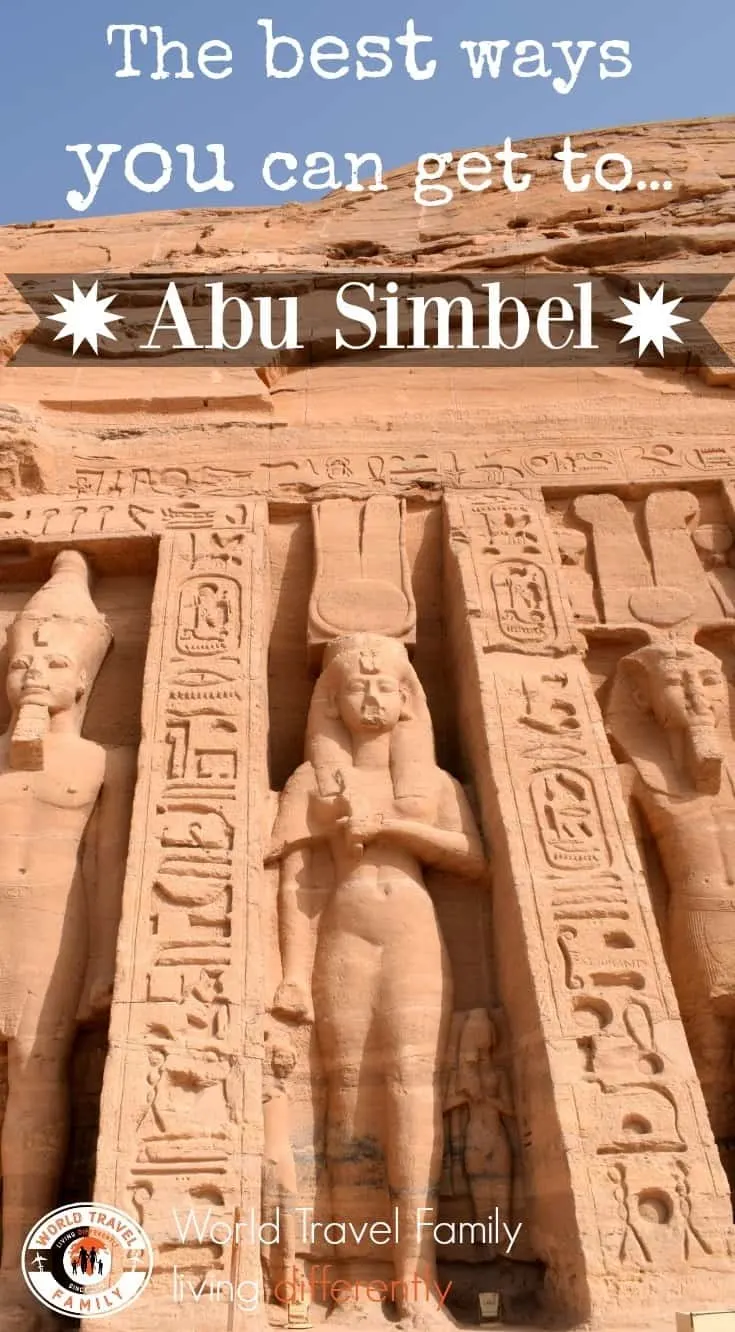 You can save the above image to Pinterest to find this information on Abu Simbel again easily.
We hope you find the information we are able to provide here useful. Yes, getting from Aswan to Abu Simbel can be difficult, but one of the many ways outlined above should suit your vacation style. The site is incredible, one of the absolute wonders of Egypt and the world. If you're going to Egypt, really, try to get there.
If you'd like to hire a car during your stay, use this car rental comparison tool to find the best deal!

We also suggest you take a look at this company to get a quote for all kinds of the more tricky adventure or extended travel insurance.

Try Stayz / VRBO for an alternative way to find rentals on homes/apartments/condos in any country!