This post may contain affiliate links.
Every May, the Tânjaua the spring ploughing festival, is held in the village of Hoteni, Romania. In 2018 was held on 17 th May 2018. (see video below) I'll find out the date for 2024 as soon as I can. The villagers, all in traditional summer costume, process and leap through the village to glorify the first ploughing of the fields. It's something not to miss in Maramures and a great excuse to visit this part of the world. The festival is colourful, loud, culturally unique and something every dedicated traveller must see in their lifetime. It's happening in spring, so book your flight, hire a car, find a wonderful local pensiune or hotel and get yourselves to Maramures, Breb, Hoteni or surrounding areas in Romania.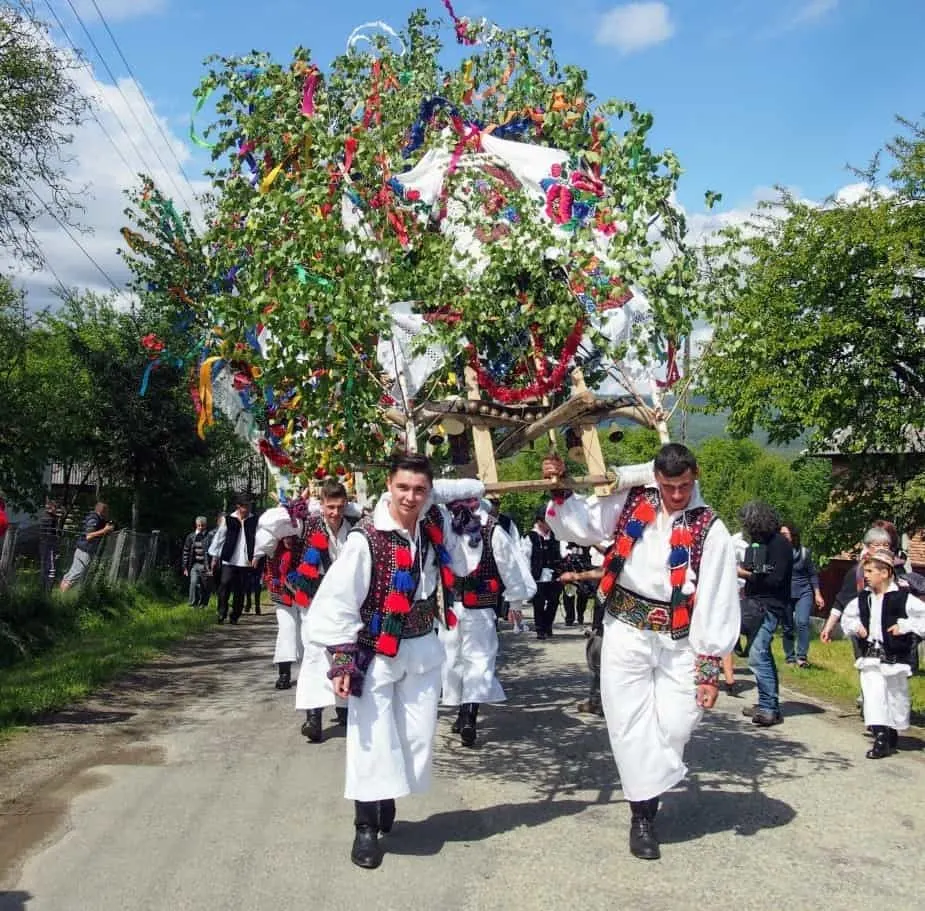 Video from the Spring Tanjaua Festival in Hoteni Romania
I've heard that every village had a tanjaua in days gone by. I've also heard that Sat Şugatag and Hărniceşti still have their own, but the one we know is Hoteni and we've caught the festival these last 2 years. Will we make it again this year? We don't know yet, but we hope so, if so we'll bring you more photos and video.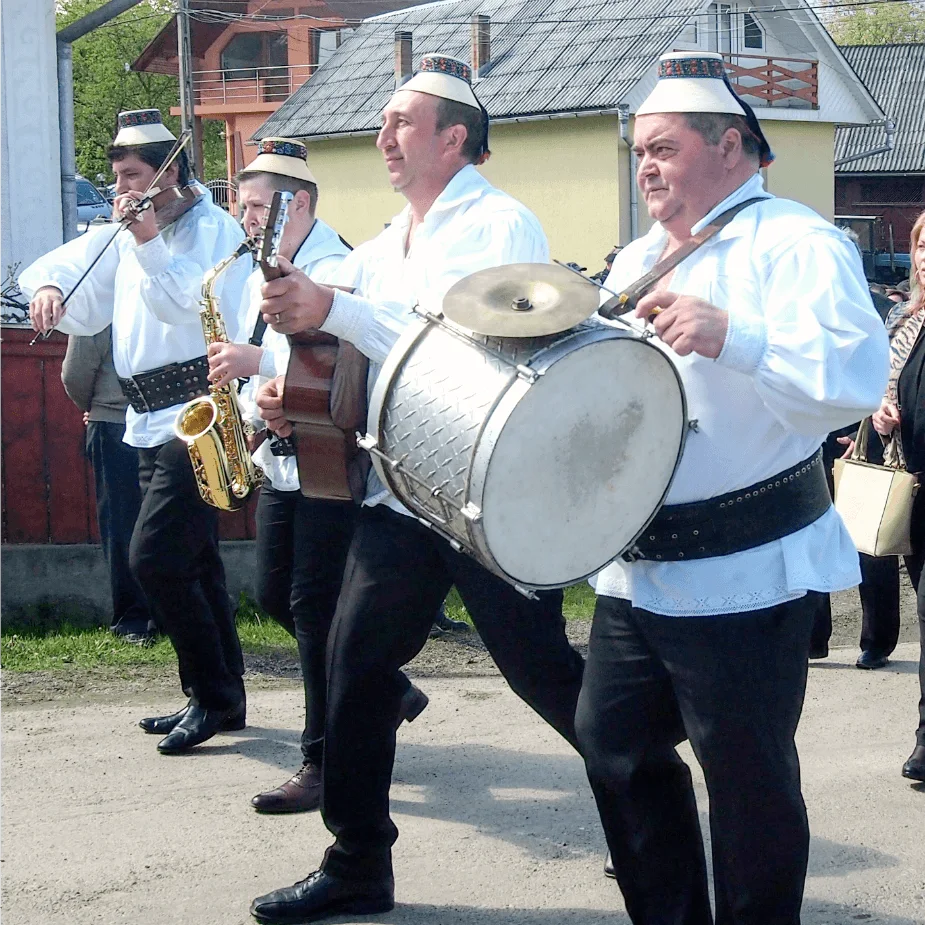 My Romanian is not good, I'm learning very slowly, but I've tried to find out as much as I can about the Tânjaua to share with you. Apologies if I get anything wrong, I'm doing my best.
Why is the Hoteni Ploughing Festival Held?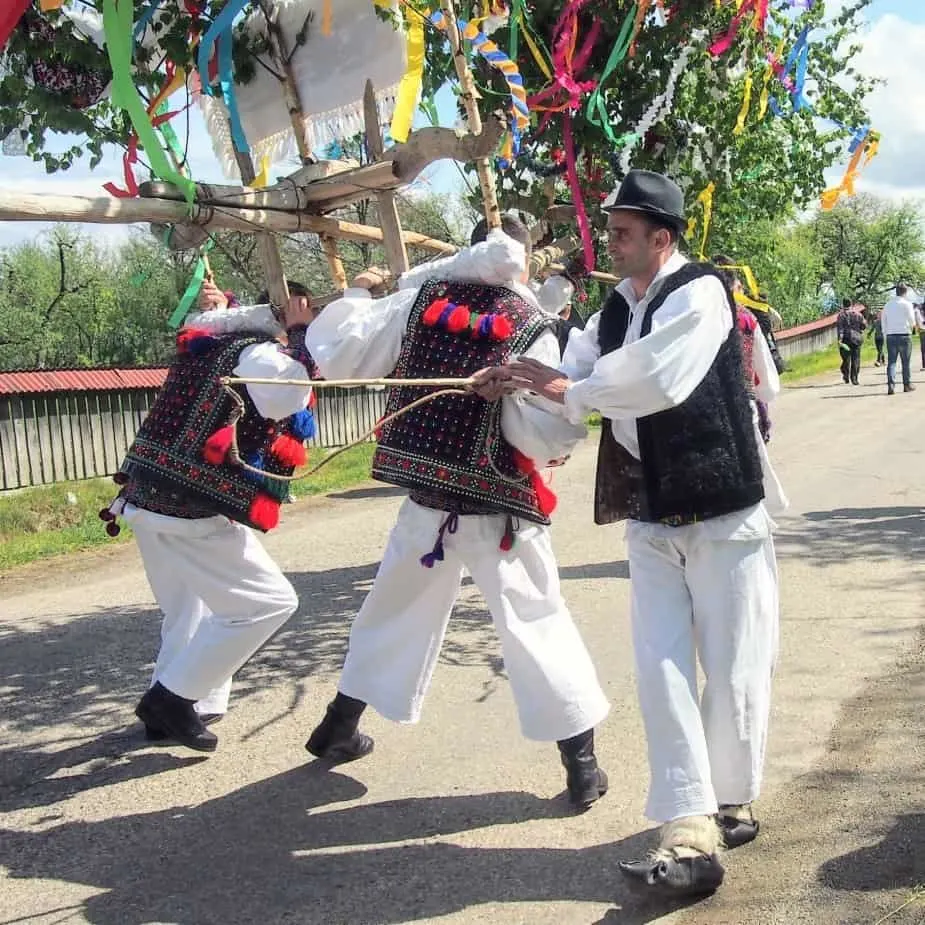 I've read that the festival celebrates the first man to plough his field after spring frosts recede, he will be honoured and glorified as a hard worker.
The descriptions we've read online don't actually match with what we've seen, probably because we've walked ahead of the procession rather than seeing what's going on further down the line. We've not seen the celebrity-of-the-day seated on a tileguţă (small carriage) being pulled by the young men of the village, but this is apparently what happens.
Our hero tries to escape, he legs it, as the procession makes its way over the hill. He is always caught. We haven't seen this, but next time we'll be looking out.
What we have seen is teams of men, in pairs, carrying the tânje that are decorated with leafy branches, flowers, cloths and ribbons. You'll see this in the pictures on this page.
It looked to me as if the men were pretending to be farm animals, carrying the yolk and pulling the plough, as they jostled their way out of Hoteni and up the hill to the fairground site at the back of Ocna Sugatag.
It's forward a little, backward a little, as the teams of men and boys laugh and play through the street. One man will have a whip and pretend to whip his men – oxen to keep them in line.
At the fair you'll find music, dancing, plenty of street food, candy floss and a few fairground rides for the kids. As with every special event, the local spirit, tuica, horinka or palinka, is a player along with beer stalls. Grab a drink and a plate of mici, mustard and bread and enjoy the party atmosphere.
Weather in May in Breb, Hoteni and Maramures
It should be hot and sunny around the time of the ploughing festival. Winter seems to end suddenly in Breb every year. One minute we're skiing, the next enjoying daytime temperatures of 20ºC plus. It could even be hot.
Sudden thunder storms and downpours can happen though, but generally spring and summer are hot , long and fabulous. There may still be some snow on top of the mountain.
Where to Stay In Hoteni Romania, and Nearby
Our favourite place in Breb, the next village, is The Village Hotel. It's a stunning spot and Penny, the owner and our friend, will look after you well. She speaks English (as she is English) as well as good Romanian and can help you with everything you need to know.
Find the best deal on The Village Hotel Breb, find them here on Trip Advisor. They are in Breb, Maramures, to the north of Transylvania, if their listing confuses you. At some other hotels and pensions in the area you may come up against a language barrier.
It's rare and refreshing to find language difficulties as you travel. We think it's rather nice that they still exist in this almost unspoiled and deeply traditional part of the world.
We are not in any way short of accommodation options up here in Maramures, Breb has a hostel, campsite, houses to rent and pensions. Other villages are offering more and more accommodation to visitors as time goes on.
Find all Breb accommodation here. Ocna Sugatag is nearby and is famous for its natural salt swimming pools, find all Ocna Sugatag accommodation here. Even Hoteni itself has some accommodation options, see here. I'd book as early as possible, people come from all over the world to see our festivals, but you may still be in luck.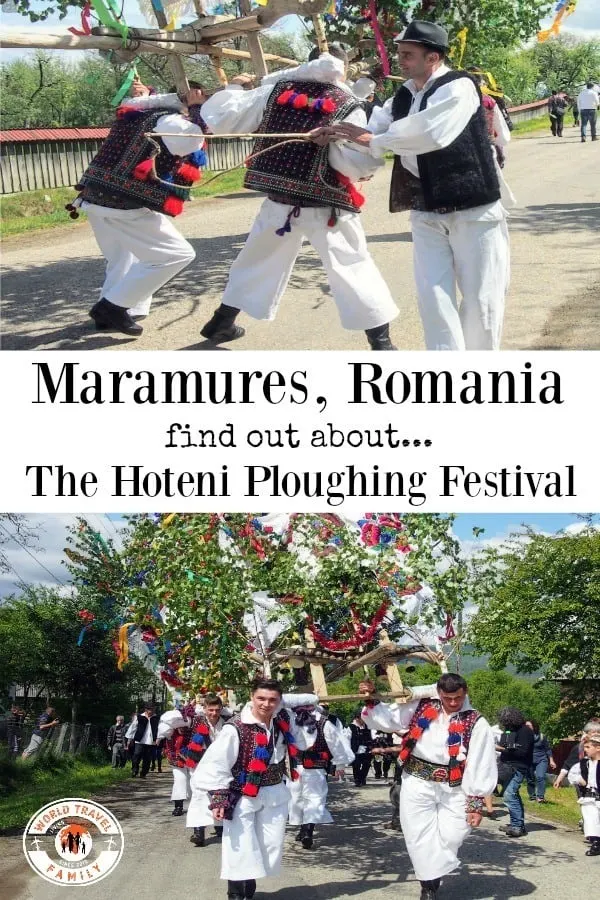 Hover over this image and a red pin it button will appear, save to your Romania Pinterest boards. Thanks!
Getting to Breb and Hoteni Romania
It's usual to fly into Cluj Napoca airport for Breb and Hoteni. Wizz Air flies from Luton and Doncaster in the UK. At Cluj Napoca you will either need to hire a car (which is very cheap in Romania) or catch the bus up to Baia Mare. Alternatively take the sleeper train from Bucharest to Sighetu Marmatiei, which is about 40 minutes from Hoteni by road. You can't, as far as we know, hire a car in Sighetu Marmatiei. You'll need to use local buses, hitch (hitching is common with locals and no problem usually) or take a taxi. We think hiring a car is your best option. The roads are absolutely fine and even in winter free from snow.
If you'd like to hire a car during your stay, use this car rental comparison tool to find the best deal!

We also suggest you take a look at this company to get a quote for all kinds of the more tricky adventure or extended travel insurance.

Try Stayz / VRBO for an alternative way to find rentals on homes/apartments/condos in any country!