This post may contain affiliate links.
Romania isn't a common travel destination and it's one that we ended up visiting by happy chance before living there for 3 years. This Central European country gets a strong grip on your heart. Travel to Bucharest wasn't top of our hit list and we had no real idea what to expect of the city or the country. Happily, Bucharest turned out to be a fabulous travel destination. Romania as a whole is so delightful that we, as bloggers took the chance to become Romania travel experts while loving life in this beautiful country. Romania's capital, Bucharest, the ninth largest city in Europe by population is one of the most enchanting cities we've ever visited. Lets take a look at some great reasons for travelling to Bucharest, things to do and what to see.
Why Travel to Bucharest is a Great Idea
Food in Bucharest is Amazing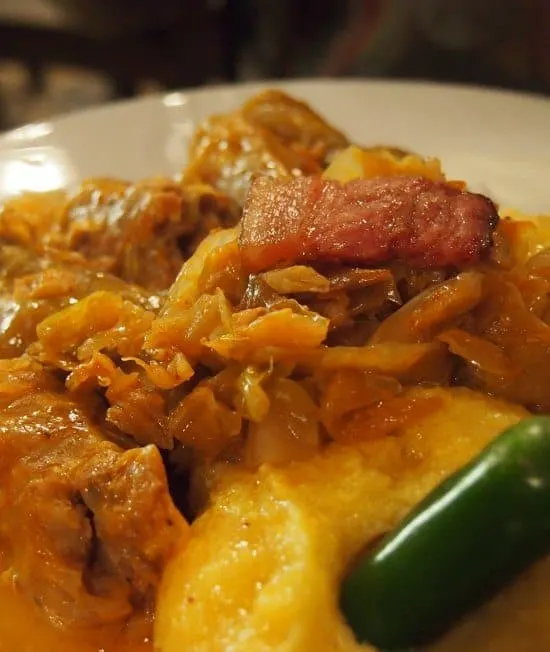 Romanian food is hearty peasant-style fare and good quality meats, including some offal, are the stars of the show.
And boy is it good.
There's not a lot of spices, but somehow Romanian food packs a big flavour punch.
Try Sarmale cu Mamaliguta ( pictured above, hover over the image to Pin it to Pinterest), a dish for weddings and celebrations. Cabbage or vine leaf rolls filled with rice and (usually) pork, served with polenta, a generous dollop of sour cream and a crispy green chili on the side.
You can find vegetarian dishes on most menus, vegetable soups, stews and salads. Orthodox Romanian Christians take a meat and dairy free fast for certain religious festivals, so it's a myth that every meal in this part of the world is meat and potatoes.
If you don't want Romanian food, you'll find plenty of other culinary styles, from pizza, to Greek to Lebanese, within Bucharest's busy Old Town.
Bucharest is Full of Stunning Architecture, Ancient and Modern. It's a City of Contrasts.
In Bucharest you will find the second largest administrative building in the world. Nicolae Ceaușescu's Palace of Parliament measures in at 330,000 square metres. At the time of his death, in 1989 his construction was unfinished, its completion took the total cost to 3 billion dollars. It's the most expensive building in Europe.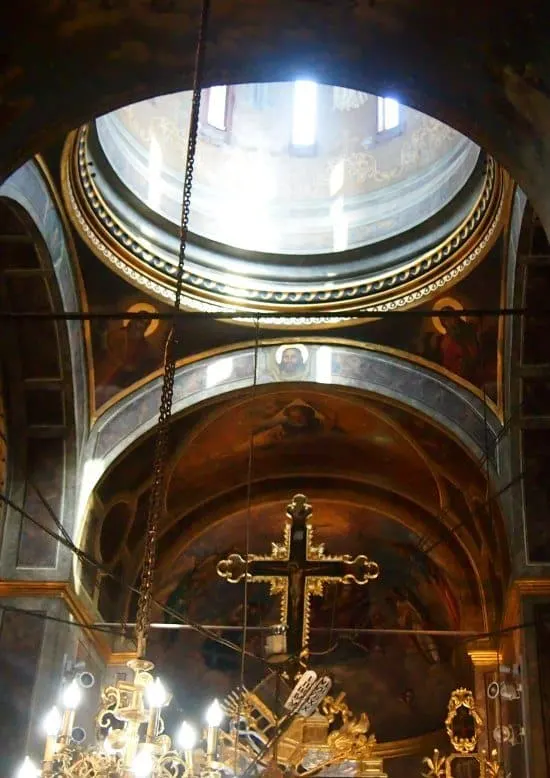 Bucharest has many remaining historic churches, some dating back to the 1400s. The stunning decoration isn't reserved for the inside, look out for beautiful images of saints on the outsides of the buildings.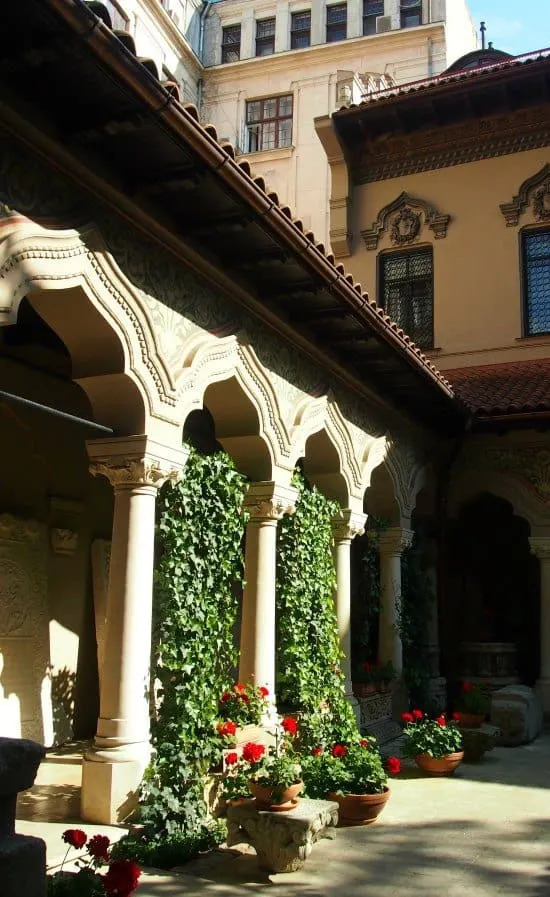 Green Parks, Flowers, Fountains and Great Playgrounds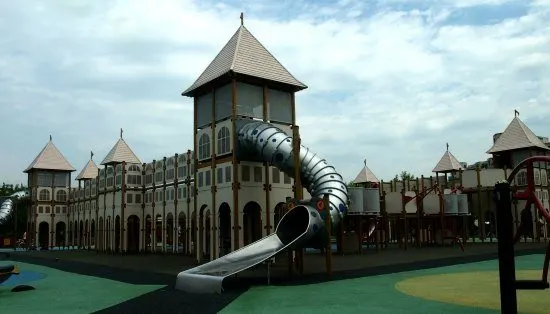 Bucharest is a surprisingly green city, you'll find plenty of public park spaces to enjoy in the summer sunshine. Don't miss the huge Cismigiu park ( actually a garden) and if you have little ones, make sure you visit some of the playgrounds, this one, above, is adjacent to the Palace of Parliament.
The Old City of Bucharest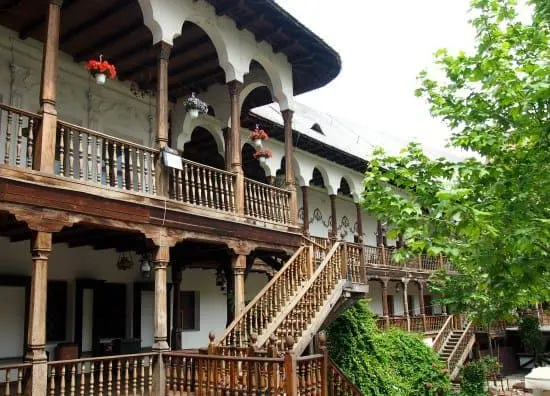 The Lipscani area of Bucharest, the Old City, is a complex jumble of cobbled streets, home to the Old Princely Court and Church, along with Manuc's Inn and the largest concentration of bars, coffee shops, clubs and restaurants. The Old Princely Court was home to Vlad Tepes, AKA Vlad the Impaler, or, if you like, Dracula. Visitors can explore the spooky underground chambers and gaze into the dead eyes of Vlad's statue.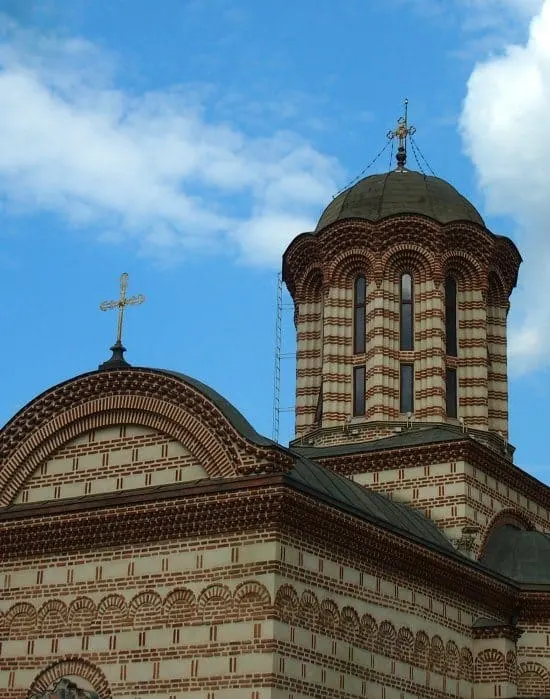 Dining, Drinking and Bucharest Nightlife
Bucharest has been described as having the best nightlife in Europe. It certainly has an incredible concentration of bars, eateries and clubs in the Lipscani area. Youngsters and night owls are travelling to Bucharest just for the party scene.
Romanians, in our experience, are friendly, happy drinkers who like a good time. They enjoy the local spirits tuica, horinca or palinca, along with good Romanian beers. Local brews include Ursus, Ciuc and Timisoreana . For non-drinkers, Bucharest provides amazing non-alcoholic natural lemonades, flavoured with mint, honey or other fruits. Pine bark based cordial drinks, sweet with honey, are delicious too.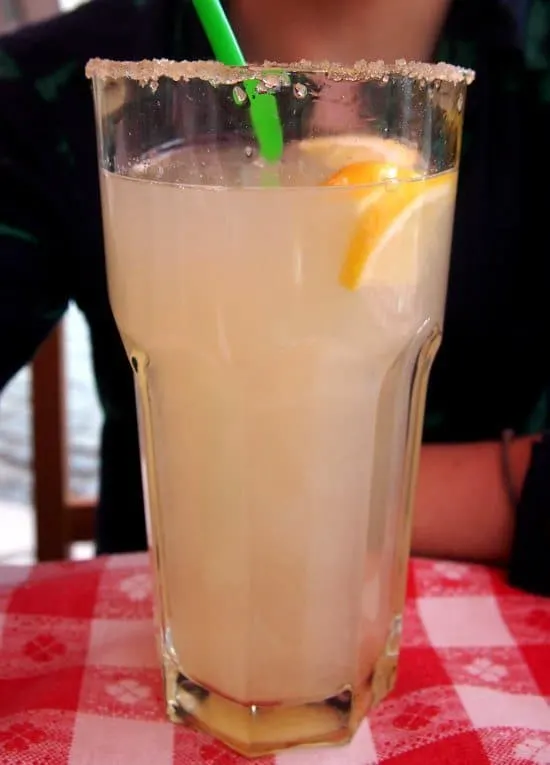 There are a few must-visit restaurants in Bucharest, perhaps most famous is the Carul Cu Bere ( beer cart), popular for its food and drink, evening entertainment and stunning neo-gothic interior.
Hotels and Accommodation in Bucharest
We chose to stay in the amazing Swallows Hostel/Guest House because of it's family rooms and family atmosphere ( check Swallows Hostel Guest House here on Agoda). The welcome and hospitality we received was superb and our room was huge and bright. We'll write a full review shortly but we were delighted with this choice.
If that one isn't your style check out the latest deals for Bucharest below.


For you for Pinterest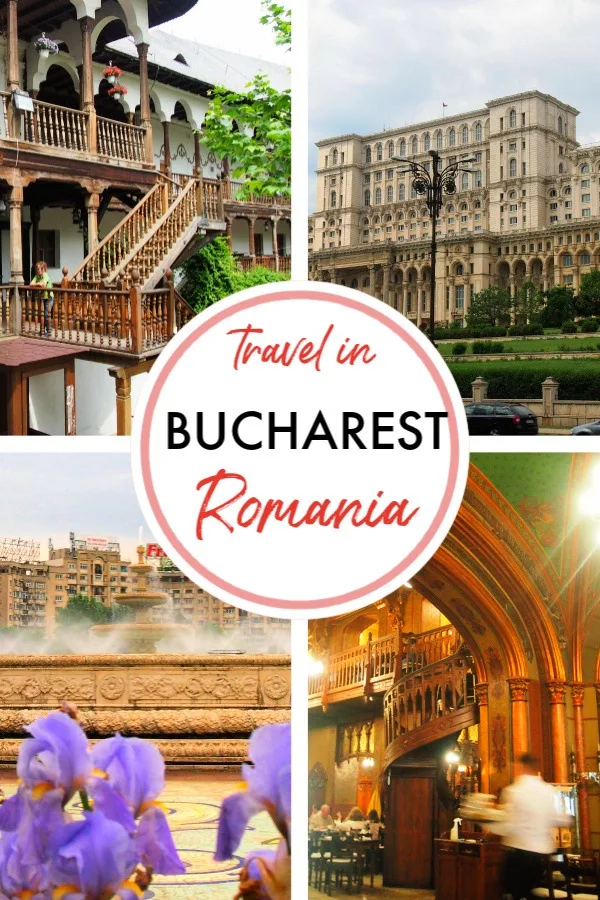 After Bucharest we travelled by sleeper train to Transylvania and on to Breb in Maramures on the Ukraine border. Both are stunning, with green pastures, an ancient rural culture and magnificent wooden churches and buildings. If you're going to come to Bucharest or Romania, we think you should come sooner rather than later, before the whole world finds out what a fascinating travel destination this is. Back to our main Romania Travel Page or you can see the incredible village in northern Romania that we now call home. Yes, we really did love travel to Bucharest and Romania!
If you'd like to hire a car during your stay, use this car rental comparison tool to find the best deal!

We also suggest you take a look at this company to get a quote for all kinds of the more tricky adventure or extended travel insurance.

Try Stayz / VRBO for an alternative way to find rentals on homes/apartments/condos in any country!