This post may contain affiliate links.
Phong Nha is an absolute jewel of Vietnam. If you thought Sapa and Halong Bay were the ultimate must see places for natural beauty, think again. Phong Nha, more correctly Phong Nha Ke Bang National Park is a stunner. If all you want from Vietnam is natural beauty and the unspoilt Vietnamese rural landscape, that's fine. However, Phong Nha doesn't just have that. Phong Nha happens to have the biggest caves in the world and there are several for you to visit, easily.
In this post we'll give you information on visiting Phong Nha Ke Bang National park and caves and Phong Nha accommodation.
There are many places to stay in and around Phong Nha and various areas for you to choose from. Phong Nha offers farmstays, eco cabins, guest houses, hostels and hotels but all up, it's pretty low key.
Tourism hasn't, as yet, had a huge impact on this part of Vietnam. Hopefully, Phong Nha will retain its unique character because it's currently a very special place.
Where To Stay in Phong Nha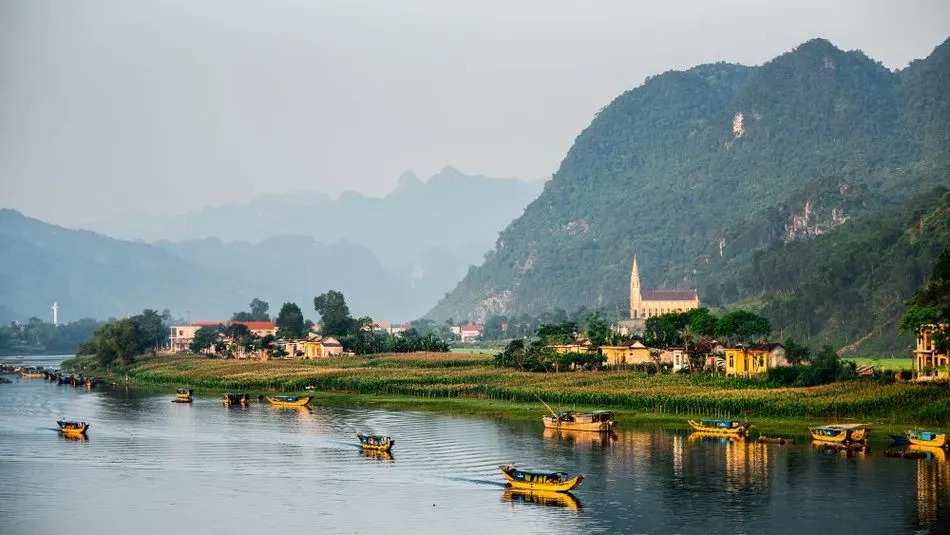 You have a lot of choices in where to stay in Phong Nha. There are plenty of accommodation options in Phong Nha Village itself ( actually the town of Son Trach ) but there are also lodgings in the surrounding countryside. If you want to enjoy peaceful scenery and nature, try one of the out of town options. Farmstays are also popular around Phong Nha.
If you aren't comfortable with hiring your own scooter locals with mopeds are available for hire. To get from the town to the caves you will probably go by scooter. Some out of town accommodation providers run shuttle buses into Phong Nha Village (Son Trach) and some will pick you up from the bus or train station.
If you're looking for an apartment or home rental in Phong Nha, there aren't many. Take a look here on Stayz/VRBO. Alternatively click through to our interative map, which gives you all accommodation options in Phong Nha, with prices, for most providers.
How Many Days Should You Stay in Phong Nha?
I would recommend staying at least 2 nights so that you have one full day to see at least one cave. If you can, stay longer, there is a lot to see and do and there are several caves and cave systems to explore.
Phong Nha Accommodation Near Phong Nha Caves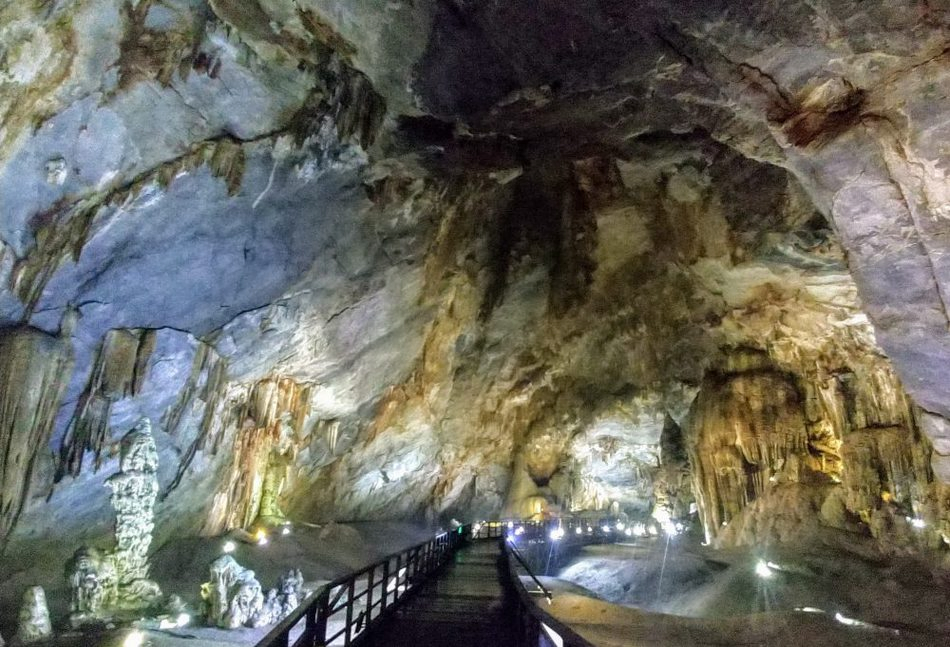 The caves are spread over a wide area so, depending on which cave or caves you decide to visit, " near" is hard to quantify. Paradise Cave and Dark Cave really don't have accommodation nearby but Phong Nha Cave in quite close to Phong Nha Village. To get to Phong Nha Cave by boat you can depart from the boat jetty in this small town, correctly called Son Trach.
The boat ride from Phong Nha to the cave takes around 20 minutes along the Son River ( Green River)
The world's largest cave, Son Doong is deep in the park and you're unlikely to be able to see it unless you have plenty of time and very deep pockets.. Hang Son Doon was only discovered in 1991 and recently revealed to divers that it is even bigger than first thought.
Can You Stay in Phong Nha National Park?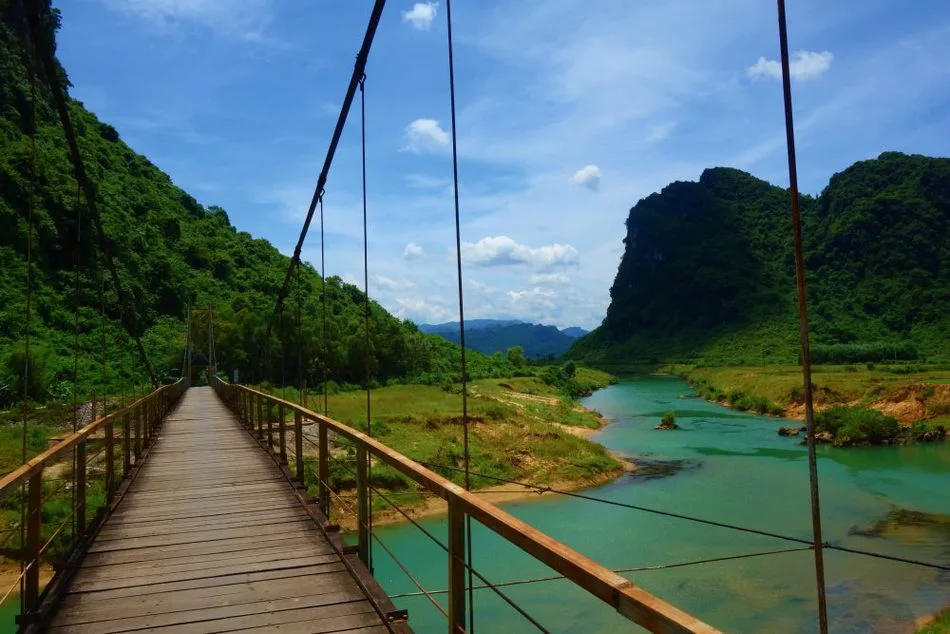 Phong Nha Ke Ban National Park is virtually pristine and untouched by development. There isn't much by way of accommodation within the park itself but plenty in the surrounding farmlands and in Phong Nha Town.
Phong Nha Farmstay
Phong Nha Farmstay is famous as one of the original properties offering accommodation in Phong Nha. The farm stay started out as a budget backpacker place but has evolved into a comfortable rural guesthouse. They do have a family room and you'll find this one about 8Km from Phong Nha Town on the edge of the Bang Lai Valley. See it here.
Eco Cabins Resort Near Phong Nha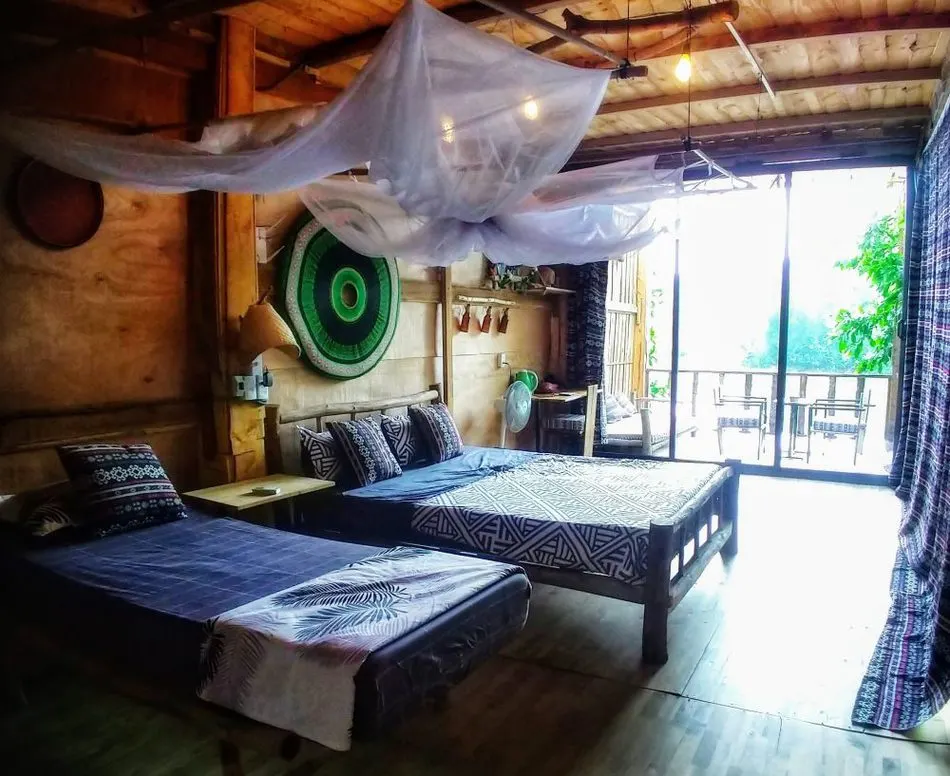 This was our Phong Nha accommodation choice and honestly, we fell in love with this place. I promised the staff at this little gem of an eco resort hotel that I'd be back soon to live for a while. I can picture myself working, sitting facing the lake and enjoying the tranquility and rustic surroundings for weeks on end.
We took the triple room you can see above but rooms for larger families are available. They have a swimming pool and restaurant with lake views and they're very affordable. Check them out here. This company has a sister property in Phong Nha Town itself, see it here., this one is better suited to young backpackers and features open glamping units.
The Best Hotel in Phong Nha
Victory Road Villas was, at the time of our visit, the fanciest hotel in town. It was Phong Nha's only real international hotel. It faces the river and has stunning views about a kilometer from central Phong Nha Town. It's modern and recently built but the price is still affordable. They have villas suitable for families or groups as well as couples. You can take a look here.
The Party Hostel
Easy Tiger's Original Hostel is the main party hostel in Phong Nha Village. It's very popular and they don't take their partying lightly. Check them out here.
Staying in Bong Lai Valley
Bong Lai Valley has plenty of Phong Nha accommodation too. Bong Lai Valley is dotted with farms, small villages and relaxed livestock and, a few famous local institutions. The Duck Farm is here along with The Bar With Cold Beer and the Wild Boar Eco Farm. ( Phong Nha Swing Eco Farm).
Bong Lai Valley is best explored by bike, be it a scooter or mountain bike. There are possibilities for walks here but guided hiking is advised due a possibility of unexploded munitions. Bong Lai Valley is under 10 Kms from San Trach ( Phong Nha Village or Town)
Pepperhouse Homestay is here, so-named because pepper is a famous local product.
Getting To And From Phong Nha
Phong Nha is not the easiest place to get to which is probably why so many travellers overlook it. We travelled by minibus from Hue and returned to Hoi An from Phong Nha the same way. We simply didn't have time to arrange bus and train travel.
Train
Dong Hoi is the closest train station to Phong Nha and it's some 45 Km away. Dong Hoi is on the main Reunification Express train line. To book train tickets in Vietnam we generally use 12GoAsia. From Dong Hoi there is a bus or you can arrange a taxi or other vehicle.
Bus
Buses, again, will take you to Dong Hoi. At Dong Hoi you'll need to change to a local bus or arrange a taxi or private transfer. Check if your accommodation or tour will pick you up from Dong Hoi.
Air
Dong Hoi has an airport as well as the train station. The only direct flights to Dong Hoi at time of writing were internal. But check this for yourself, flight routes do change and can be seasonal.
When To Visit Phong Nha
Avoid the annual flooding season if at all possible. Many parts of Vietnam flood between September and December and Phong Nha is no exception. We were in the Hoi An floods one year and nearby Hue also floods. Water levels inside the caves can rise dramatically, some will close and tours may not operate.
February to September is generally the best time to visit Phong Nha. We visited in October. It was incredibly hot and we had some rain at that time of year.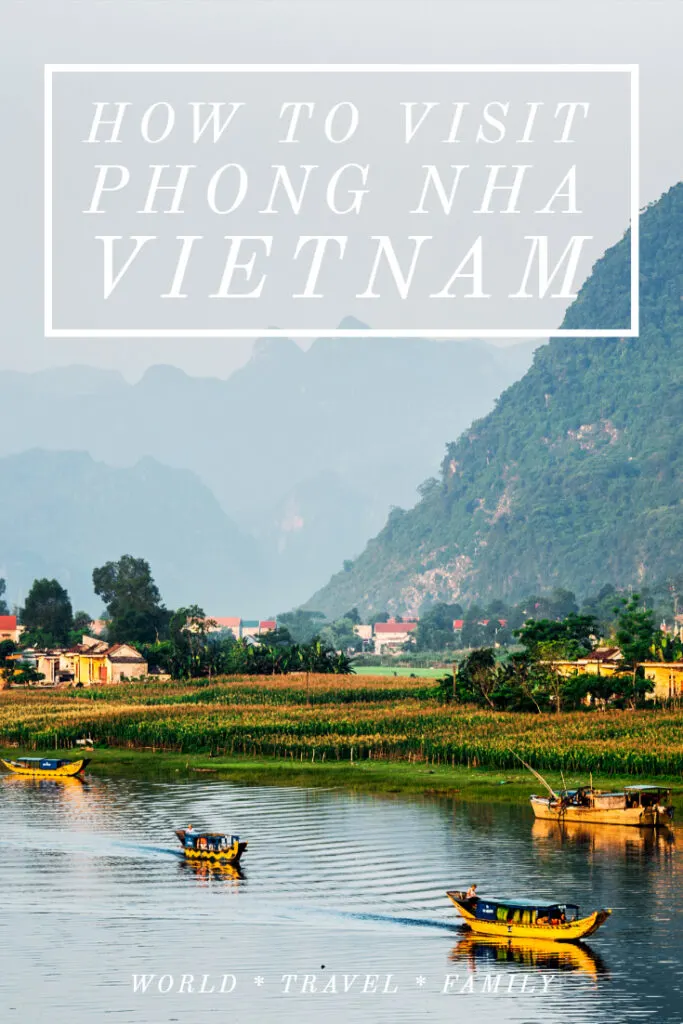 Conclusion
Phong Nha surprised us. We're not usually terribly interested in caves but the unimaginable size and beauty of the caves we saw was awe inspiring. The natural landscapes, lack of tourists and pristine nature of Phong Nha was refreshing. If you have time, absolutely try to get to see Phong Nha, it's worth it.
If you'd like to hire a car during your stay, use this car rental comparison tool to find the best deal!

We also suggest you take a look at this company to get a quote for all kinds of the more tricky adventure or extended travel insurance.

Try Stayz / VRBO for an alternative way to find rentals on homes/apartments/condos in any country!