This post may contain affiliate links.
The Iban tribe of Borneo are unique and special people. These are the former head hunters of Borneo but headhunting days are now long gone. More or less. Some groups of Iban still live traditionally in communal longhouses where dozens of families share a large covered communal area. These traditional longhouses are in remote areas and hard to access, but modern Iban Longhouses exist and a few offer homestays in Sarawak, Borneo. To do what we did and visit a traditional Iban tribe, you'll need to take the very special longhouse tour we booked here. from Kuching Sarawak. It really was an experience of a lifetime.
If you don't want to stay in the jungle with the Iban, you can see traditional longhouses at the Sarawak cultural museum near Kuching, it's a fantastic place. Reserve your pass here, with transport, which you will need as the Cultural Village is quite a way outside Kuching.
Iban Longhouse Sarawak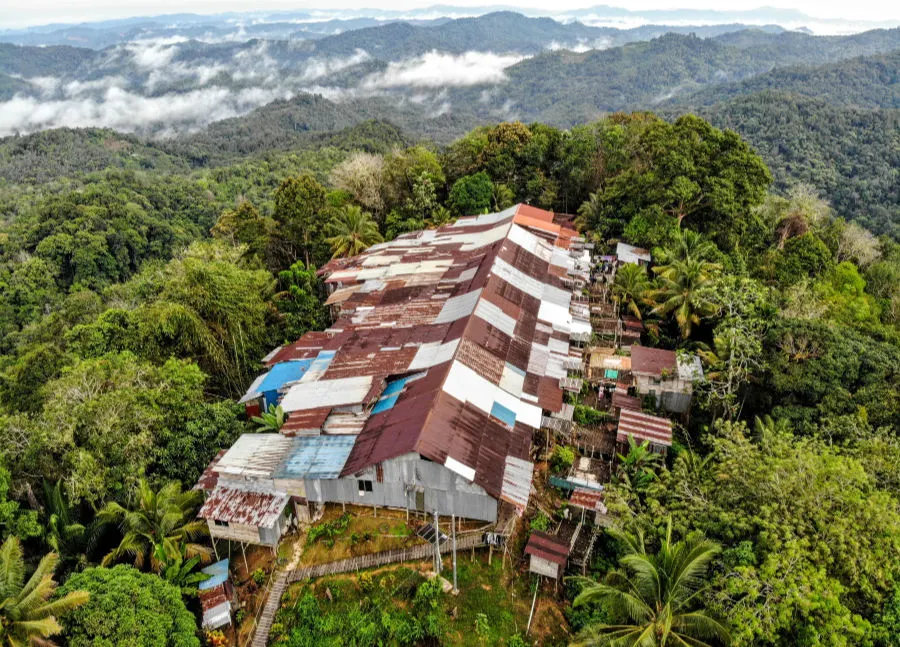 Longhouse living is about community. The Iban people we visited live in the Sarawak longhouse perched on top of a hill surrounded by dense forests and food crops.
Individual family houses lie along the left-hand side of the longhouse. They're side by side rather like regular terraced houses.
The communal covered living area is on the right and beyond that a covered walkway.
This semi-enclosed verandah is called a ruai and was where traditional ceremonies would have been performed.
Stolen heads would have decorated the ruai to keep away danger.
To the right of this again you can see various structures. These comprise washrooms, toilets showers, laundry drying areas and dog kennels.
Beyond this again, at ground level, are some of the pig and chicken areas.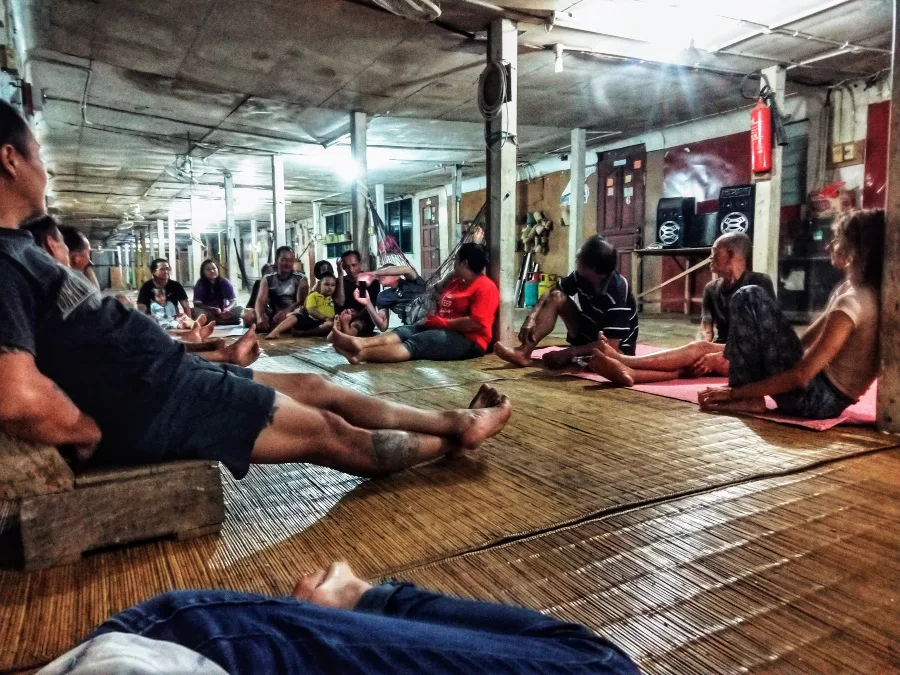 The livestock pens generate bad smells so they're a fair way away from the dwellings. Pet cats live inside the houses.
Noisy dogs for hunting and guarding live outside. We never saw a dog inside the communal area and they weren't very friendly.
The homes inside the longhouse were spacious, huge even.
They came with modern facilities such as electricity, TV, showers, toilets and coffee machines, but no wi-fi and rare phone signals.
This village is now accessible by a dirt track and the Iban boast an impressive collection of 4 wheel drives and pickup trucks.
We walked to the longhouse rather than taking the road to enjoy trekking in the forests and farmlands.
Video – Iban Longhouse in Sarawak Jungle Trekking Adventure
We couldn't possibly squeeze everything into the words and photos in this post.
Our short video (under a minute) explains more about our Iban longhouse stay, trekking, and jungle adventure in Sarawak Borneo.
Who Are The Iban?
The Iban are the largest single ethnic group in Sarawak.
It is thought that the Iban people may have come to Borneo from Vietnam, many years ago. They are the Sea Dayaks, just one type of Dayak people from Borneo.
The Ibans were a fearsome warrior tribe famous for headhunting between rival longhouses and tribes. Tribes have chiefs and shamans and the Iban language is still strong.
Chris, our local guide and friend to this Iban longhouse was full of stories of head taking and the old ways.
This was one of our most interesting experiences in all of the 50+ countries we've visited.
Getting to The Longhouse in Sarawak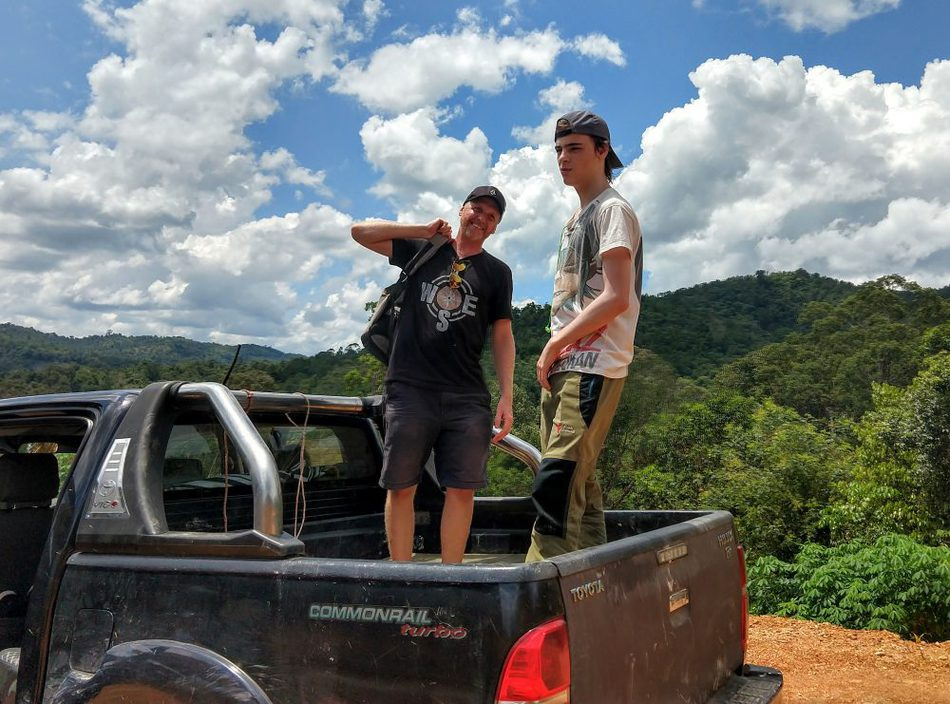 It was a long drive from Kuching to even get close to the longhouse. Our group went in a comfortable minibus and stopped to visit a very local-style market for breakfast and a food court for lunch.
We arrived at the starting point of our off-road adventure just after lunch.
A 4 wheel drive truck took us into the jungle before we started our trek.
Our small group walked uphill for several hours, crossing streams along the way, before reaching the longhouse high on the hill for sunset.
Sunset views from this longhouse were spectacular.
Trekking in the Jungles of Borneo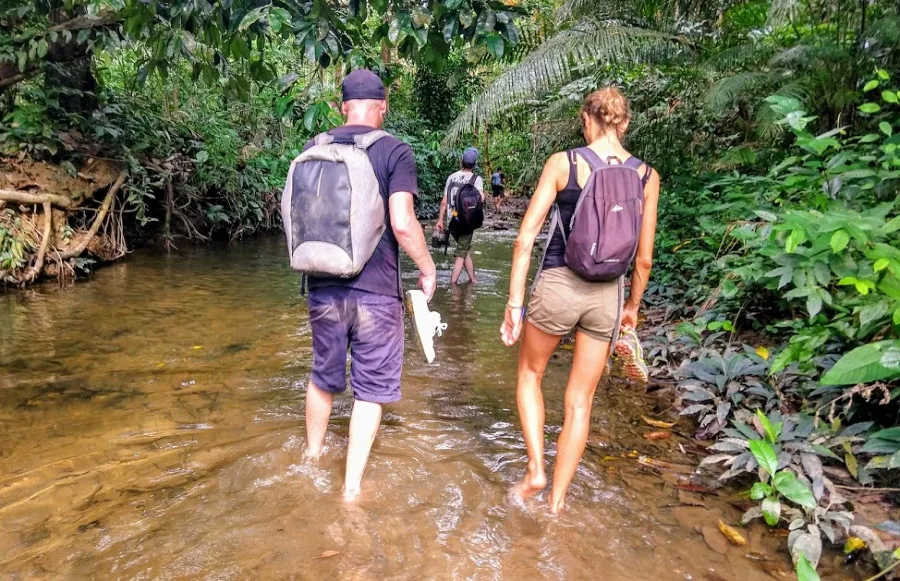 It was hot sticky work trekking in Borneo and we were thankful for cool stream crossings.
As the Iban longhouse was on top of a hill there was a lot of uphill hiking.
The jungle camp, being based around fishing in the river, was back at the bottom of the hill.
Again we had to climb back up.
On leaving the Longhouse homestay we had another good hike back up another hill and down to the main road. There was a lot of walking but your trip can be customised to your needs.
Yes, you can take small children. Our guide told how one elder, the lovely Rambo, had carried a French tot on his shoulders through the jungle, both having a wonderful time.
I'm over 50 and not particularly fit. High fitness isn't required but some of the jungle paths are steep and slippery.
There were a lot of leaches. This was new to us, we've done plenty of trekking in Nepal but not much in the tropics and never really experienced leaches before.
It was OK, they don't hurt. I'd strongly recommend you take boots and long socks to try to keep them off.
The Iban gave us rubber shoes to wear in the water but if you have something suitable, take it.
Flip flops or thongs don't work for walking fairly long distances in streams.
Food Production and Cash Crops For The Iban People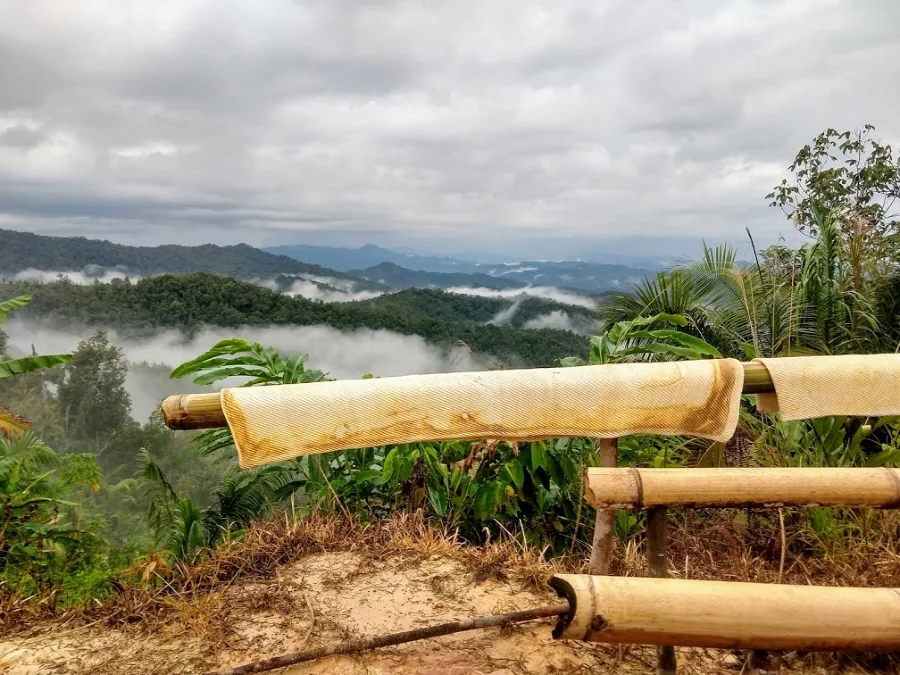 The Iban produce rubber and pepper for market along with an impressive array of fruits and vegetables.
A well-tended Garden of Eden stretches away from the longhouse into a forest filled with natural abundance.
We were lucky to see large scale rubber tapping and production and to see pepper at various stages of growing, soaking and drying.
My diet mostly comprised bamboo heart and greens as a vegetarian. Everything was tasty and seemed to be cooked simply with just garlic, water and salt.
The meat-eaters sampled an impressive array of domestic and wild animals and were able to go fishing and hunting with the Iban tribe.
Animals that ended up on the dinner table included civet cat, mouse deer, pig, and frog. They didn't catch any bat while we were there so we missed that treat.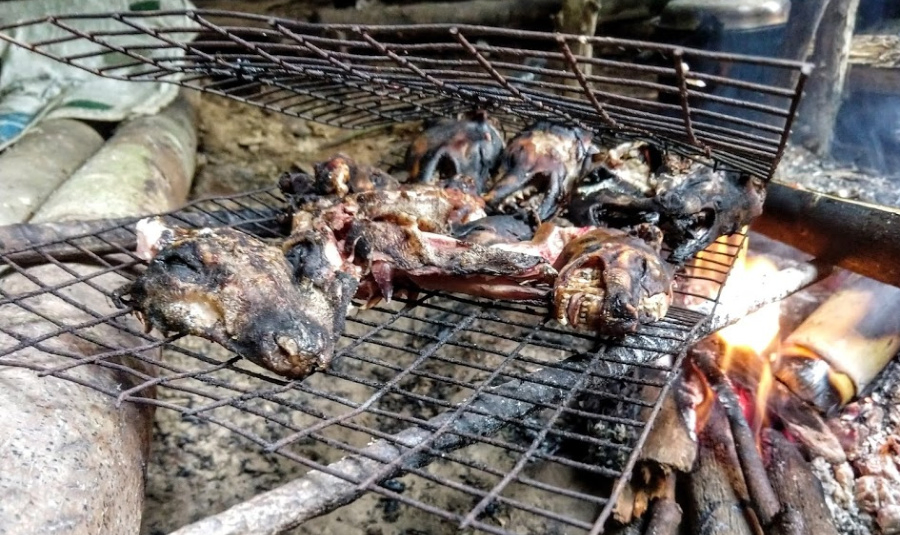 In nearby markets in country Sarawak we saw huge snakes for sale as meat. Apparently, our Iban longhouse considered snake taboo so didn't consume them.
They also didn't eat monkeys of a certain type. Food traditions vary between longhouses.
Tuak and "Ooh Haa"
Tuak is a local rice wine consumed by the Iban in Sarawak. We didn't try it.
Our hosts at our particular Longhouse in Sarawak seemed not to be drinkers. The local way of saying " Cheers" is "Ooh Haa" and the expression is famous in Sarawak.
Wildlife Encounters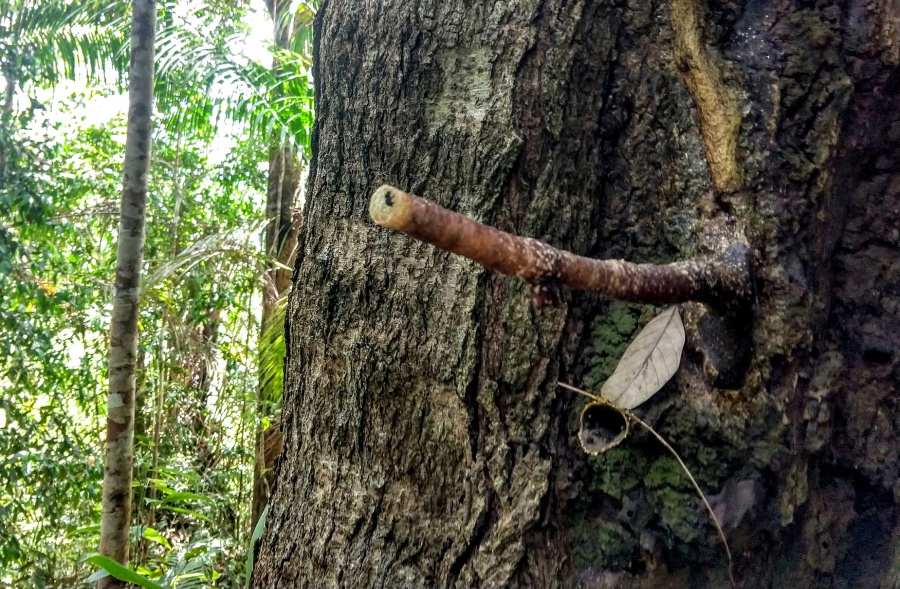 We didn't see a huge amount of large wildlife while we were at the Iban village. We did, rather memorably, see a tarantula.
This tarantula resided in a hole near the longhouse and we all trooped out after dark to feed him an unfortunate bug using kitchen tongs.
The mouse deer and civet cats had been dispatched by Rambo's gun by the time we saw them. There are monkeys and plenty of mammals around, but the dense forest keeps them hidden.
The photo above is of a bees' nest. This particular type of bee produces these resinous tubes which the Iban collect and use.
Jungle Camp in The Forest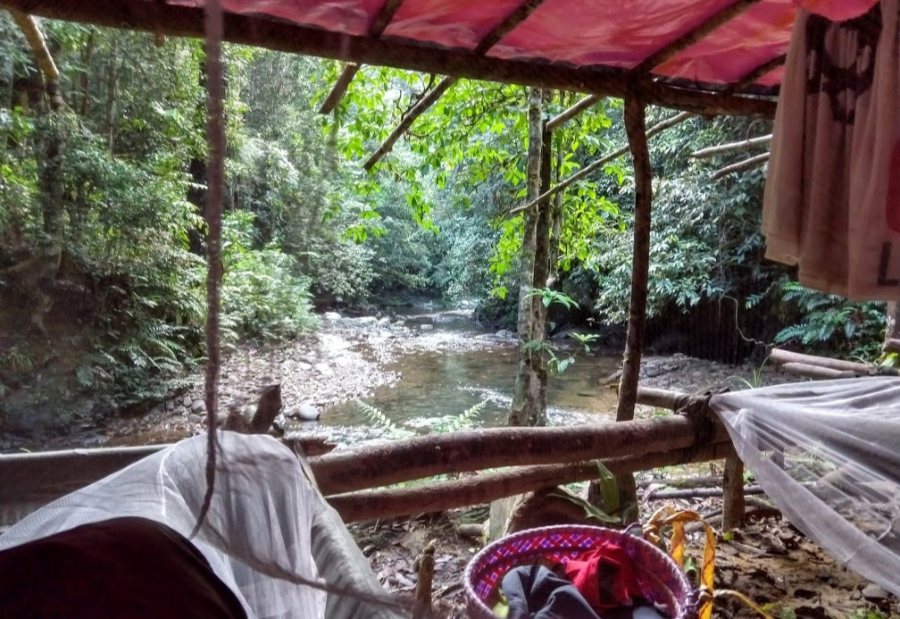 The jungle camp was actually a hunting cap. It was rather like all the guys getting together to go fishing on the lake, Iban style.
The Chief, Rambo the hunter, another elder and young enthusiastic fisherman walked with we tourists to a perfect jungle stream which we enjoyed swimming in before starting the serious business of fishing.
Homemade spear guns were the order of the day for catching fish under rocky overhangs. My teenaged son loved this opportunity and was the only one of the tourists to catch a fish.
A few frogs joined the fish for dinner which we cooked the traditional way in long pieces of fresh bamboo on an open fire.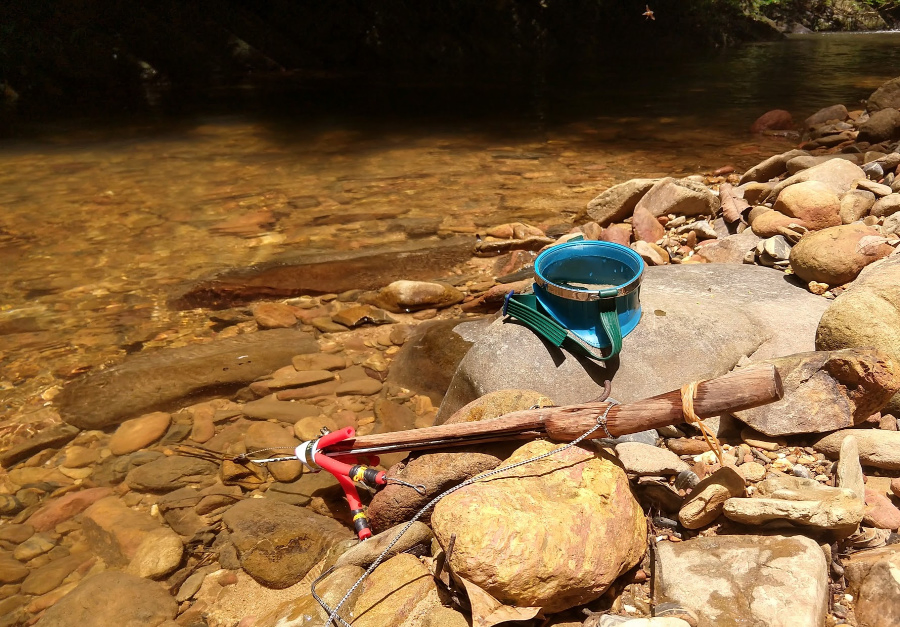 After dark Rambo leads the hunting party through the forest.
He was hunting with a gun and was incredibly skilled at spotting wildlife and hitting his mark.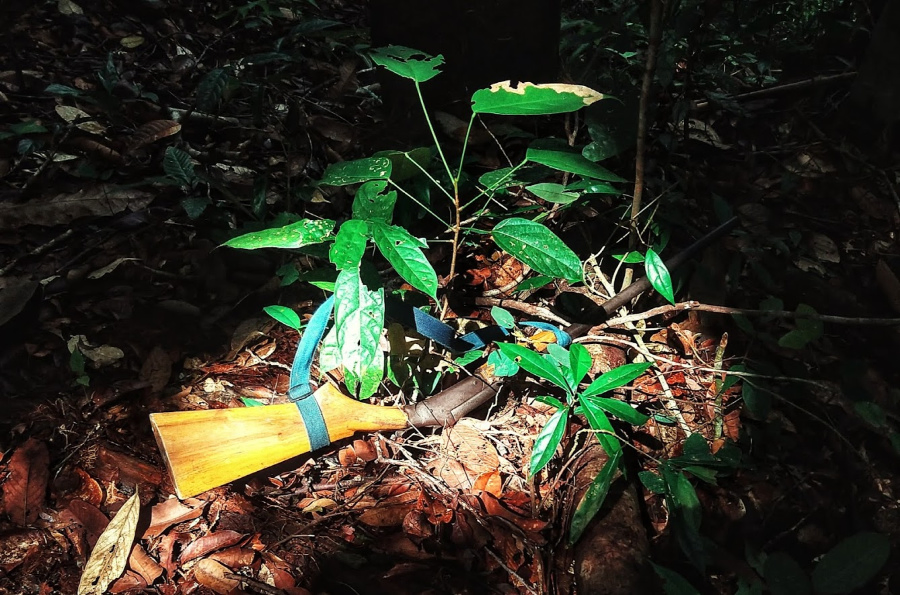 We slept in the open on stretcher-style hammocks protected by mosquito nets and a rain-proof roof.
Waking in the morning to jungle sounds and the rushing stream was pure joy.
Iban Tatoos and Piercings
The Iban of Sarawak are famous for their tattoos. Tattoos mark their life's journey and could really be of anything.
One traditional Sarawak design is a large black circular ornament often worn on the shoulders. It represents the top of a locally grown aubergine and is instantly recognisable once you've seen the fruit.
Their piercings are often rather more private.
One old man in the village had ornate tattoos but most of the younger villagers had few or none. Several of us in the group had sak yant tattoos from Thailand and the Iban were very curious to see them.
If you want to get an Iban-style Sarawak tattoo there are plenty of tattoo shops in Kuching.
Kuching is a beautiful town, you should try to spend a few days there before or after your Sarawak eco-tour or Iban longhouse homestay.
Modern Iban Longhouses
The more modern Iban have turned their longhouse system of communal living into brick and concrete abodes in less remote areas.
There are several of theselonghouses in Sarawak that offer homestays or operate as small guest houses or hotels. Some can be found on the usual booking sites.
You could take a look at Asal Longhouse ( which has great reviews and is in Bario Sarawak) or Niah Cave Long House in Batu Niah Sarawak.
If you want to book our Longhouse homestay you need to go here, it's not available off the shelf like this.
Miri Sarawak
Miri Sarawak is a popular tourist destination in north eastern Sarawak. It's not far from the Brunei border.
It's also possible to visit Iban longhouses from Miri, if you'd rather base yourselves in Miri rather than Kuching. Miri is approximately 12 hours by road from Kuching, we've been, we recommend Kuching.
From Miri you'd probably go to Entulang Iban Longhouse in Lambir Hills National Park for a half-day tour. Gua Longhouse Chalet is also in Miri.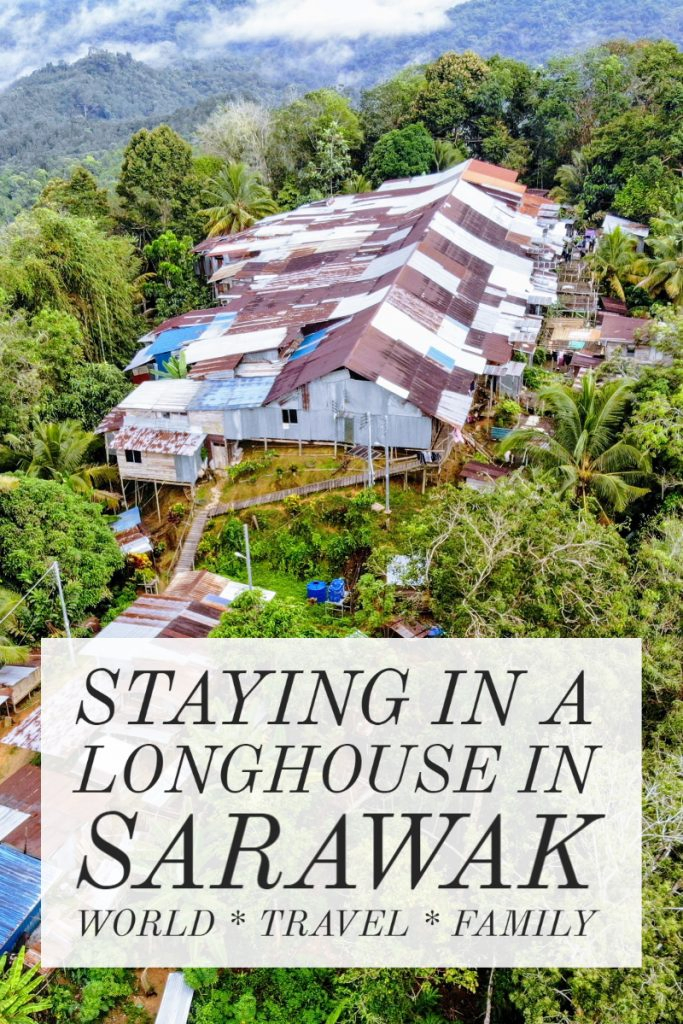 Conclusion
We really enjoyed Sarawak and our Sarawak Longhouse stay. I mentioned in our full post on things to do in Sarawak that this, and Kuching are one of our favourite destinations ever, not just in Malaysia. There's something very special in this area of Borneo and much of the magic lies in the people. More lies in the incredible wildlife. We saw proboscis monkeys, orangutan and giant Rafflesia flowers during our time in Sarawak and left feeling revived and recharged. You can see our full Sarawak post here and another on Things to Do in Kuching here. Alternatively head on over to see our good friend Ian about your Iban jungle homestay, trekking and hunting adventure. Ian invited us to join him on this trip. We are never obliged to say good things where they aren't deserved.
If you'd like to hire a car during your stay, use this car rental comparison tool to find the best deal!

We also suggest you take a look at this company to get a quote for all kinds of the more tricky adventure or extended travel insurance.

Try Stayz / VRBO for an alternative way to find rentals on homes/apartments/condos in any country!