This post may contain affiliate links.
Pai is a small town and district in the north of Thailand in Mae Hong Son Province, not far from the Myanmar border. It has long been a destination for backpackers, digital nomads and long term slow travellers with a cool relaxed hippie vibe, low prices, and rural surrounds. Pai isn't really a mainstream tourist destination, but for backpackers of all ages it's a must stay, with many people opting to stay weeks or months. If you don't have the time, you can also see Pai on a daytrip from Chiang Mai, book that here.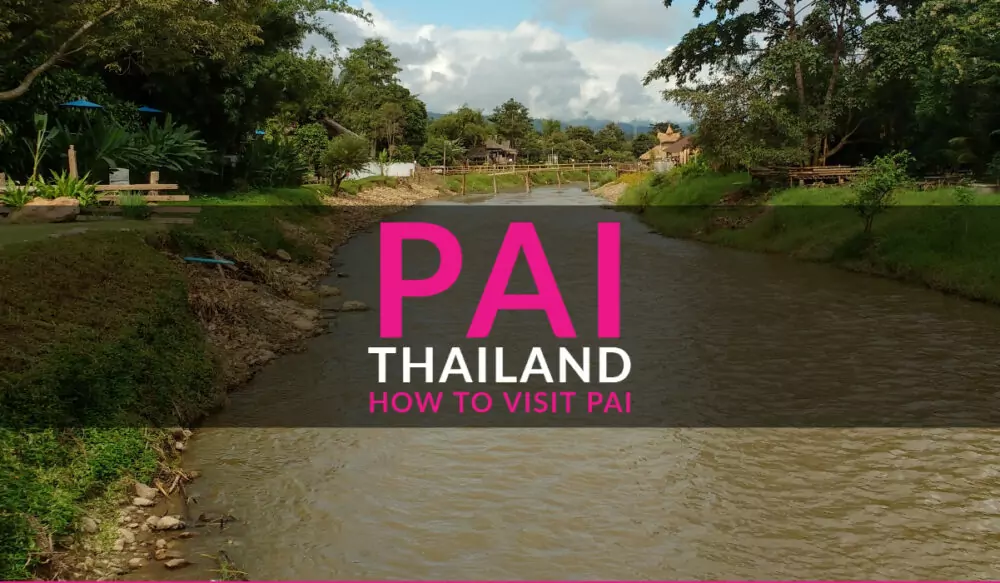 This post covers things to do in Pai, where to stay, how to get there, best restaurants in Pai, plus facts about Pai in the north of Thailand.
Pai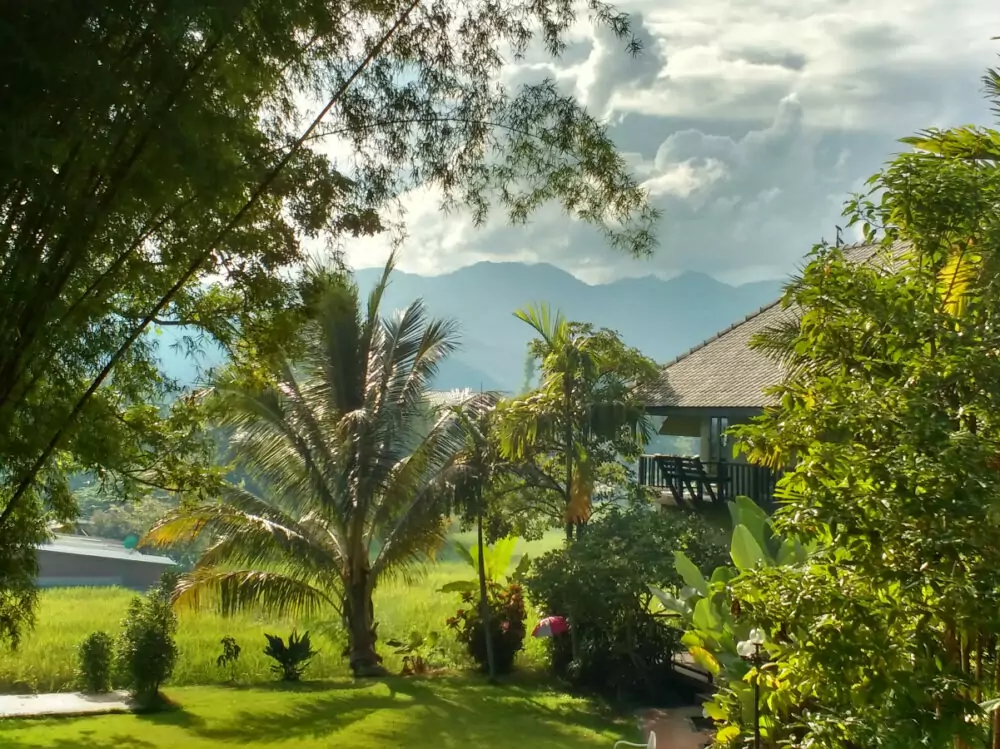 Pai isn't a "must see" in Thailand, but it makes a very nice place to stay if you are exploring the north. You can visit Pai on a road trip from Chiang Mai by hiring your own vehicle, or there are buses and minivans that will take you there. Pai is also included on some tours departing from Chiang Mai.
If you plan to tour Northern Thailand by car, use this tool to find the best deal on car hire and read our Northern Thailand Itinerary post. (open here, it will open in a new tab for you). Self driving around northern Thailand is actually very easy and cheap, with very little traffic and congestion outside of big cities. We really do encourage you to consider car hire for your trip to Pai, if you have the correct driving license.
Where Is Pai Thailand?
The town of Pai is in Pai District, Mae Hong Son Province, in the far north-west of Thailand. in Southeast Asia. Pai is located less than 100Km from the Myanmar (Burma) border. The town is in Northern Thailand's highlands 129 Km north west (3 hours drive by road) of Chiang Mai city and located 306 km south west of Chiang Rai (drive time 6 hours). The town is at an elevation of 510m or 1673 feet in altitude, bringing cooler weather to the region. Mae Hong Son town is 106 km (2 hours 20 mins) by road from Pai on the Mae Hong Son Loop.
Our map above shows Pai's location, plus all of your accommodation options in and around Pai, you can use it to zoom in and out, and please do use it to book your hotel. The map is centred on the Pai Walking street.
How To Get To Pai?
You can get to Pai by bus, minibus or minivan, taxi, private car, or tour. Pai has no airport, so you can't get to Pai by air, the closest airports are in Chiang Mai and Mae Hong Son. If you don't want to stay a few days in Pai, you can take a daytrip to Pai from Chiang Mai and see most of Pai's attractions with a guide, book that here on Viator, very easy and a good price! Alternatively GetYourGuide offer a similar tour here.
Pai by Minivan or Minibus
The fastest and probably most convenient way to get to to Pai from Chiang Mai is to book a seat on a backpacker minibus or minivan. You can catch a minibus from Chiang Mai bus station or Chiang Mai Arcade 2 and the drive time is 4 hours, traffic allowing.
The ticket price for a bus to Pai from Chiang Mai is from 240THB (2023) one way per person for the ride. This could change, so please double check prices and times. You are likely to be fairly uncomfortable and car sickness is quite common on these buses. Kids are normally free if they can sit on your lap, but you may have to negotiate this. Book a ticket here, online.
The dozens of travel agents around Chiang Mai can also book for you, this may be more expensive as they obviously take a commission and you need to invest more time in finding an agent and agreeing a price. Minibuses run frequently, the link above will give you times.
Pai by Public Bus or Coach
You can also book a bus ticket here, prive from 240 THB This site will give yoou all available bus types and timings from Chiang Mai to Pai, with prices, it's a great tool in getting around Thailand.
Self Drive to Pai
As we mentioned above, exploring Thailand by hire car is cheap, easy, and a great option. We've done it ourselves and had no problems. The roads were almost free of traffic outside the big cities. A motorbike, moped, or scooter is another option but we don't recommend it. Make sure you have the correct driving license and that you have insurance and excess insurance. The drive to Pai is part of the Mae Hong Son loop, a very scenic drive that will take you on to Mae Hong Son (a very beautiful city and a great place to spot local long-neck Karen tribespeople), Mae Sariang with a stop at Doi Inthanon. There are a lot of hill tribe villages in this area too, which you can visit by car.
Once in Pai you could rent a scooter or moped to get around (there is no public transport, but there are songtaews that will take you to the viewpoint) scooters cost about 150 Baht per day.
Daytrip to Pai
There are daytrips to Pai available from Chiang Mai, but you will be spending a lot of time on the road in your vehicle, however, this is a good way to see all the highlights of Pai and the surrounding area, fast. Book here for a 1 day tour with driver.
Pai by Taxi or Private Transfer
If you have a large budget you can book a taxi or private driver with vehicle to take you to Pai. This will cost around 4500 THB for a car, from 3,850 THB for a minivan, and can work out fairly cheap per person for a family or group of friends. Book this here.
Pai by Air
There are no flights to Pai because there is no airport at Pai. The closest airports would be either Chiang Mai or Mae Hong Son. From either airport you could book a private transfer or taxi to Pai town itself. (see links above to book this.)
Pai by Train
There is no train station in Pai, you can't travel to Pai by train. The nearest train station to Pai is probably Chiang Mai Central. To book the sleeper train from Bangkok to Chiang Mai, go here. It's a great journey. We have a post on this train ride here.
What Is Pai Famous For?
Pai is famous for featuring in the 2009 film Pai in Love, but it was famous long before this in travellers' circles as an inland destination in Thailand with a relaxed hippie vibe. It has long been a feature on the backpacker circuit in Southeast Asia, particularly for slow travellers or digital nomads.
Interestingly, I first visited Pai in the late 90s, when this little town was even more sleepy, it's much more developed for tourism today, as is all of Thailand. Today Pai is famous for night markets, cheap accommodation, plus some nice luxury and boutique hotels, and a thriving vegan and vegetarian food scene.
This part og Thailand is also famous for the yellow flowers which bloom in winter, around late October to December. The roadsides and fields of Thung Bua Tong Forest Park at Doi Mar Ou Kor will be covered with these yellow flowers, it's quite spectacular and this is a great time to visit Mae Hong Son district.
Where To Eat in Pai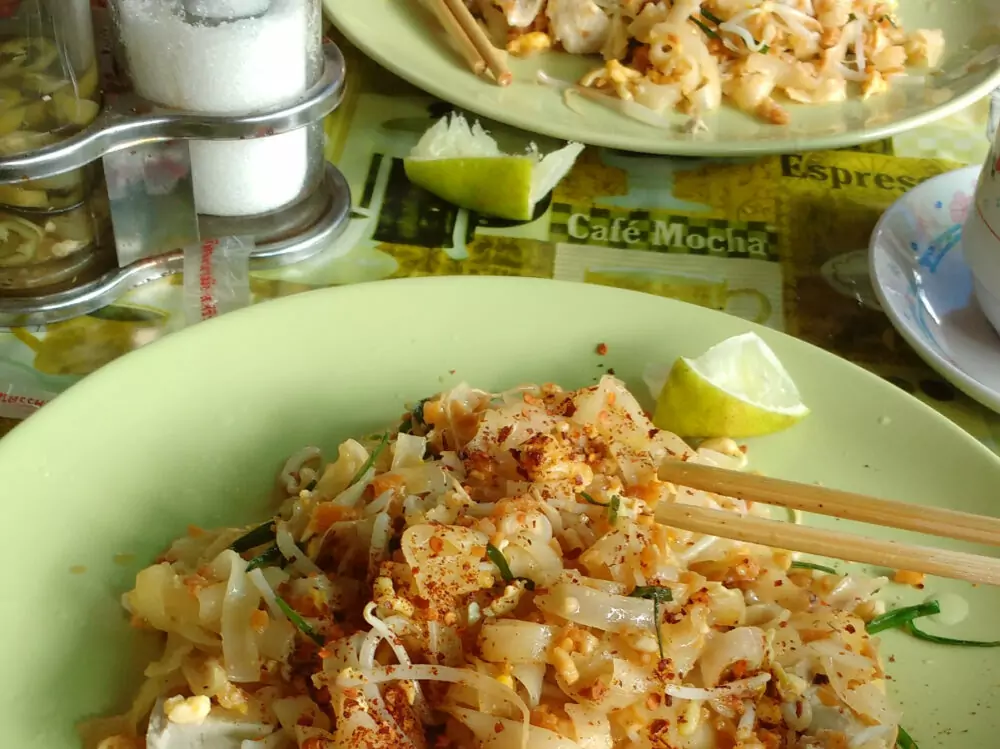 Pai is bursting with restaurants and you will find some good food here. Search out the smaller places, the food tends to be more authentic, cheaper, and better. Vegan and vegetarian food are specialities in Pai and you will find plenty of street food stalls at the night market or walking street.
If you're looking for the best restaurants in Pai, check out Charlie and Lek, Khao Soi Zisters, Cafecico (Mexican food) and Two Sisters Restaurant.
Witching Well Restaurant and Winebar is potentially the best western (Italian) restaurant in Pai, but isn't budget.
Maya Burger Queen has very good burgers in Pai.
As always, restaurants and chefs can have bad days. The restaurants above are generally agreed to be very good, depending on what sort of food you're looking for.
Best Time To Visit Pai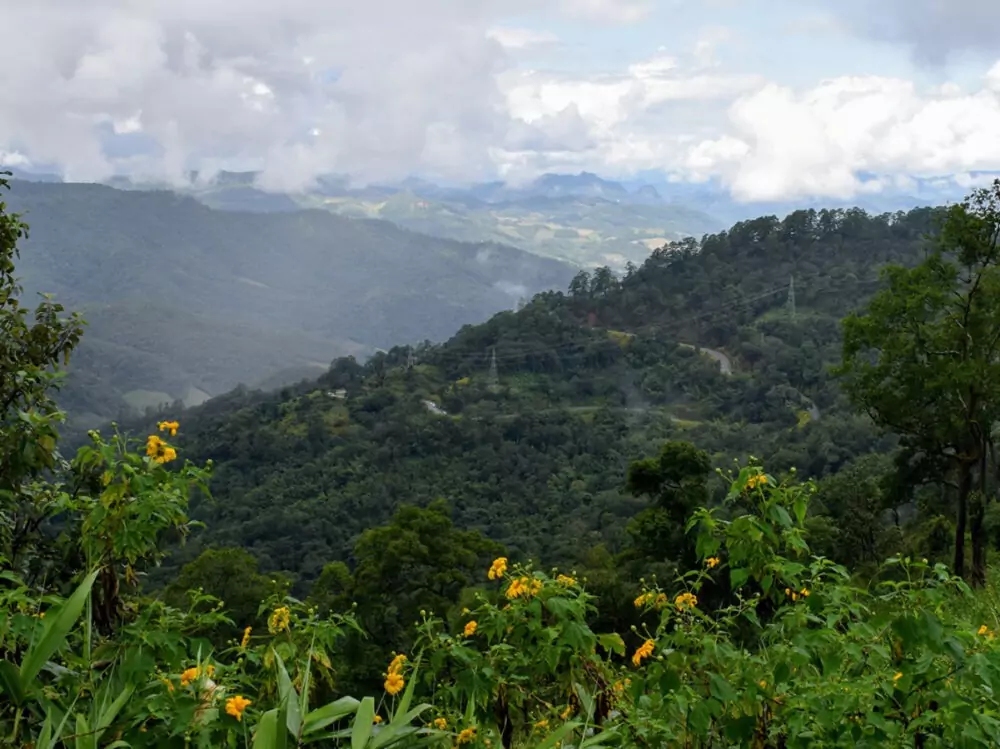 The best time to visit Pai and Thailand, is in winter and autumn months, October to February, with some quite cool temperatures at night in Pai. Days should be clear and sunny and rain should be scarce. This is also the busiest time in Pai, so book your hotel, hostel or guest house, plus and activities, in advance. From Oct to December you should also catch the yellow flowers, bua tong, in bloom.
The burning season (March to May, spring to early summer) which causes terrible pollution in Chiang Mai can also affect Pai, so this is probably not a good time to visit. Check local air quality websites for the current situation, such as this one. There isn't much rain at this time of year, the monsoon rains clean the air in June through to September.
Things to Do in Pai
Pai is a place to chill out and relax, primarily, but there are a few minor tourist attractions in and near Pai, the most well known is probably Lod Cave, it's very near Pai. Daytrips to Pai will normally take you to the Chinese village, historic bridges and temples, with maybe a coffee or strawberry farm visit. The white Buddha (Big Buddha) in Pai is quite well known.
To get the most out of Pai you have to stay and see the night market and relax on the river.
Pai Walking Street or Night Market
This is probably the #1 thing to do in Pai and the walking street or night market is held in the centre of Pai town nightly at Wiang Tai near the Pai bus station. (it's the centre of our map, above)
The market features arts and crafts, often in northern Thailand these will be Hill Tribe crafts, plus abundant food and drink stalls. The walking street is a great place to shop, eat, or just hang out.
Tham Lod Cave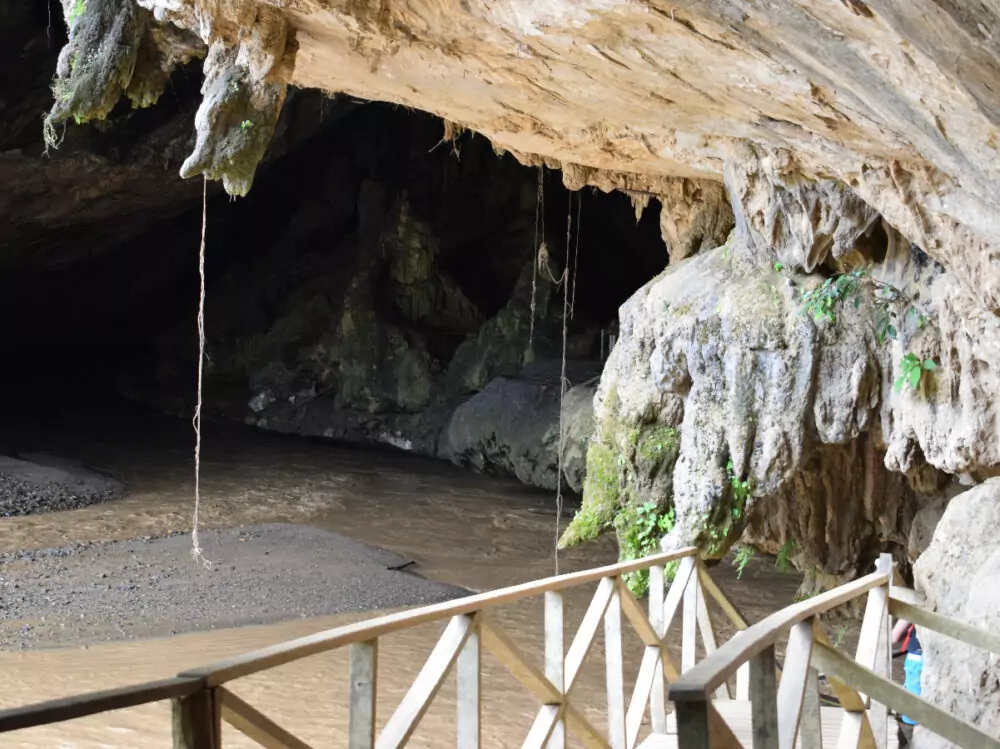 Tham Lod Cave (often known as just Lod Cave) is in Mae Hong Son district 49 km from Pai town. If you have your own vehicle, visit it on the way to Mae Hong Son. If not, book a tour to Lod Cave from Pai.
The caves can easily be a full day out as there are other attractions on site and gardens to explore. Inside the caves you can see a few ancient paintings plus stalactites and stalagmites. The main novelty here is that the caves are partially filled with water and have to be accessed on a bamboo raft with a guide.
The female (mostly, maybe all) guides must be hired at the admission gate and they will take you into the cave with a lantern.
Human remain over 1,400 years old have been found inside Lod Cave, now known as Pee Man.
Visit Santichon Yunnan Chinese Village in Pai
Santichon village was built by Chinese immigrants to Thailand, from Yunnan Province in China. This village features Chinese dragons, traditional Chinese music and good Yunnanese food.
If you visit Santichon Vilasge on a tour a traditional Chinese tea ceremony is usually part of your visit. There are some amusements on site, such as cosplay, you can borrow Chinese costumes for photography purposes, and there is usually a small Ferris wheel operating.
Santichon village opening hours are normally 7 am to 6 pm daily.
Where to stay for Santichon Village? This hotel (below) is very near the Chinese Village attraction, outside Pai. Book it on Agoda here or on Booking dot com here.
Visit Yun Lai Viewpoint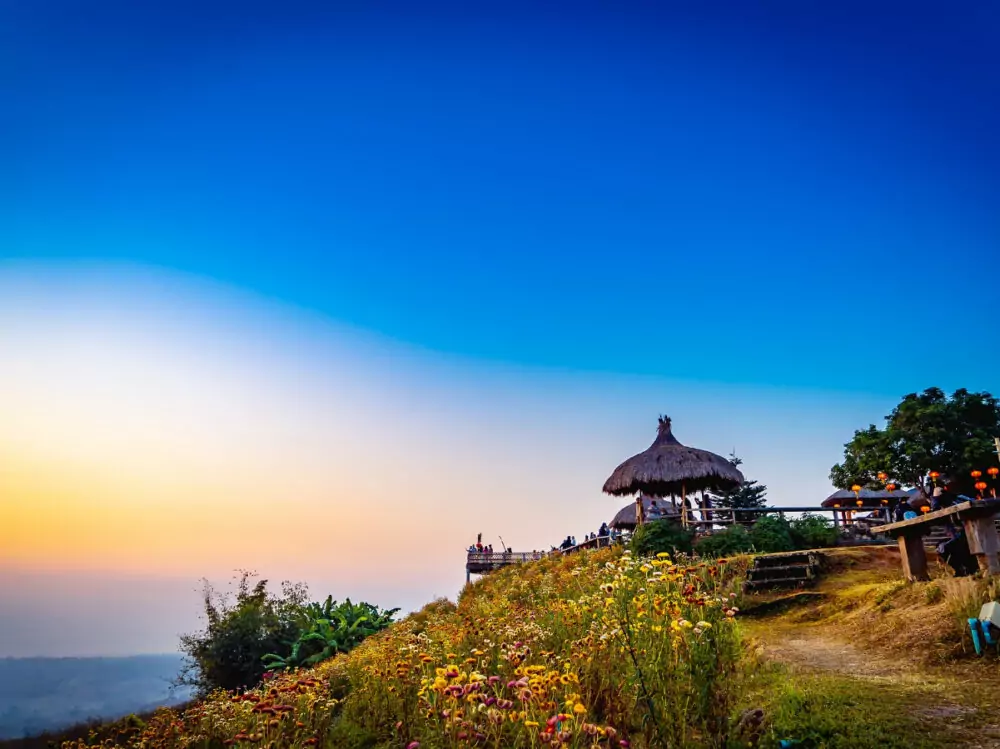 Yun Lai viewpoint is at elevation and as such offers panoramic views of Santichon Village, Pai town, and the green countryside around Pai. Again, this viewpoint has some heavy Chinese theming with street food and decorations. Yun Lai viewpoint is just 15 mins drive from the centre of Pai and from Mo Paeng Watefall. The viewpoint is 6 km from Pai, so you could potentially walk here.
Surprisingly for a viewpoint, it's not free, there is a 20 THB admission ticket. It's open sunrise to sunset with the best views being at those times. To see the sunrise you need to be there around 6am. There is a cafe here so you can get a coffee and breakfast.
Pai Canyon
Pai Canyon is another tourist attraction near Pai. It;s a very small canyon, about 1km in size, it's a good place to go for a short walk but take care, the rocks can be slippery. It's quite a scenic place with good views.
Pai Canyon is 8km south Pai town ,past Love Strawberry Pai, you will need your own vehicle to get there. There is no entry fee and you can visit at any time.
Pai Bamboo Bridge
Pai Bamboo Bridge (Bun Ko Ku So) is an 800-meter long bridge made of bamboo supported by bamboo and iron pillars. It stretches accross rice fiels and was built by locals to allow monks to walk easily between the temple and the village. Before it was made, the monks had to walk 6 km from the temple to the local village for their daily alms collection.
There are swings for tourists to take their Instagram photos. If you follow the bridge it will take you to a Buddhist temple , or you can feed fish along the way by buying a bag of fish food.
The Pai Bamboo Bridge also has an admission fee, ticket prices 30THB per person
The Bamboo Bridge is about 11km southwest of Pai on the same road that takes you to Pam Bok Waterfall and Pai Land Split. It's an easy drive if you have your own car or scooter.You will need a private vehicle to cover the distance. This is 11 km south-east of Pai and the roads are not very easy or convenient to drive on. Be extra careful since sometimes insurance on the vehicle isn't covered in this area.
Visit Chedi Pra That Mae Yen
Chedi Pra That Mae Yen has the famous white Buddha or "Big Buddha" in Pai. Phra That Mae Yen Wat is located on a hill, to the east of Pai, behind Mae Yen village.
You'll also find some golden chedis here. It's a nice temple to take a look at and the Big Buddha is quite impressive. The "Big Buddha" is at the top of the hill, up 353 steps, take water, and be prepared for a 20 minute or so uphill hike.
As this is a religious site you should dress respectfully, cover shoulders and knees and remove hats.
See Pai Historical Bridge, Tha Pai Bridge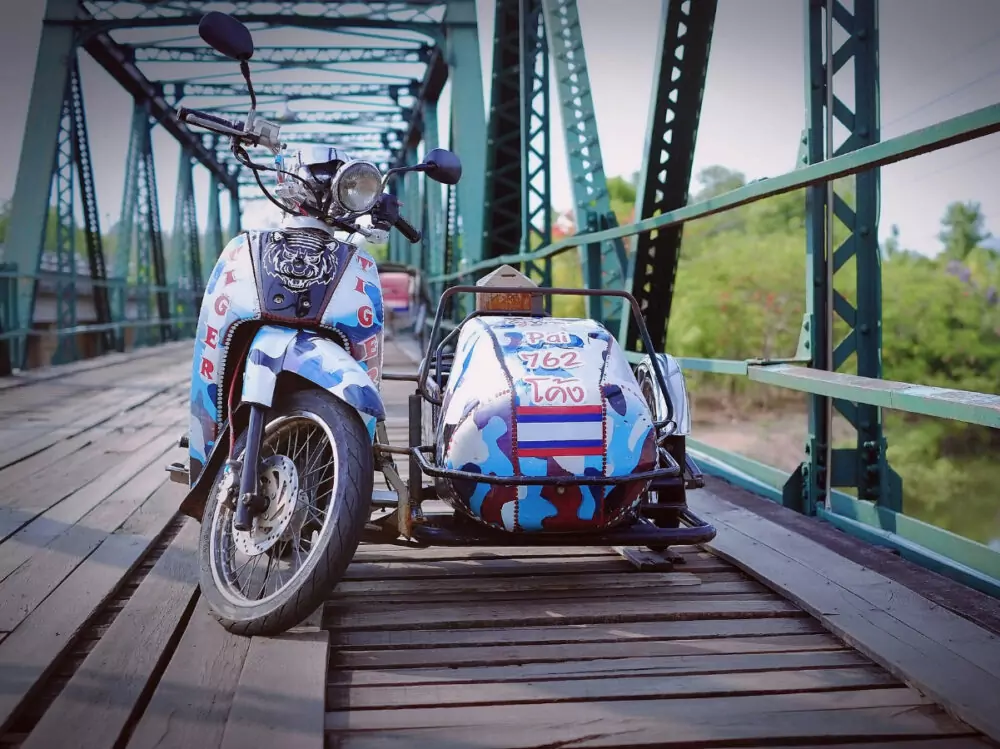 Ta-Pai Bridge is of historical significance, as it has been built and rebuilt many times. Today, it visually resembles the Bridge on the River Quai in Kanchanaburi, as it's modern form was also a WWII construction.
The original bridge over the Pai river to Tha Pai village was made of wood and was built by the local villagers using elephants. During the Second World War Thailand's occupying Japanese forces had the bridge rebuilt
After the Japanese left, they destroyed the bridge. But the villagers came together once again to reconstruct the bridge for their use. In 1973, the bridge was again washed away in the floods. On the request of locals, a steel bridge was put in place that stands even today on the Pai River.
Waterfalls Near Pai (Namtok Mo Paeng)
Thereare a lot of waterfalls near Pai with Mo Paeng Waterfall probably being the closest and most popular. This one has swimming holes too. Some are close to the road, others you'll need to hike to.
Again, you'll need your own vehicle to find most of these nearby beauty spots.
Rafting and Tubing in Pai
The Pai river runs through Pai and when we visited it was very low, but rafting and tubing are popular activities in Pai as they are in Vang Vieng in Laos.
Hill Tribes Near Pai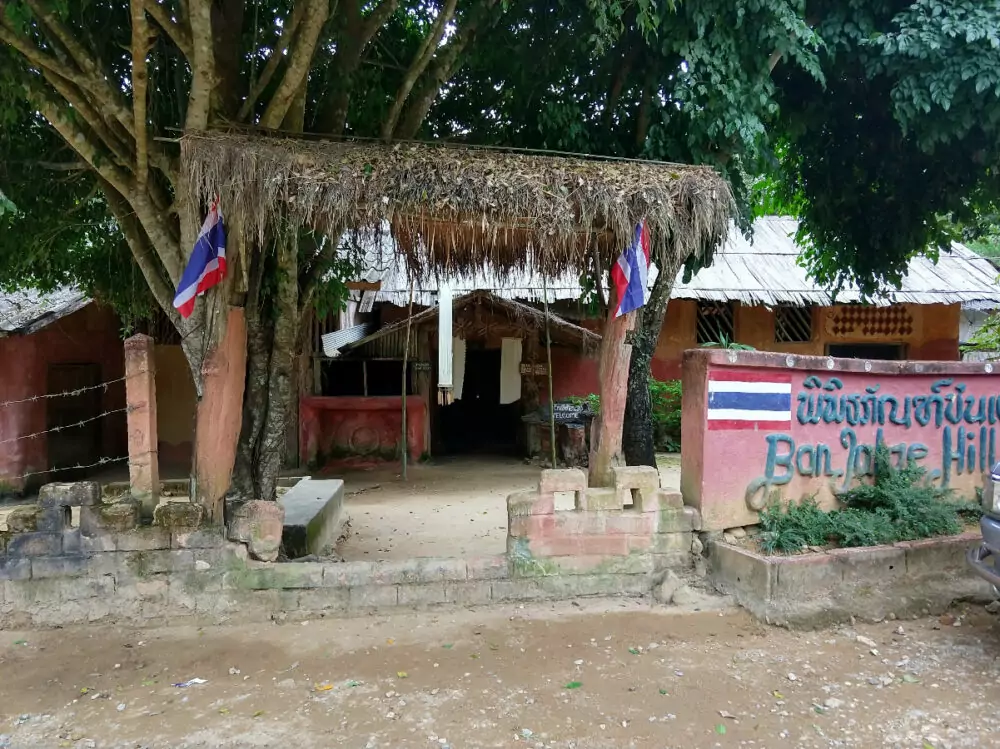 There are hill tribe villages around Pai and you can visit them in a private vehicle. We were able to find a long neck karen village near Mai Hong Son and there were other tribes in the neighbourhood. We also found a small Hill Tribe museum by exploring in the car. You really just have to go out and look for them or ask a local. We found them quite by chance. Coincidentally, the first village we found was one I'd visited some 20 years previously on a group tour.
Trekking Near Pai
Other activities in and around Pai include camping, trekking in the jungle, hill tribe village visits, bird watching and other animal based activities of varying types
Years ago, before it wasn't OK, I've been elephant trekking in the jungles near Pai, where villages kept elephants and made a living that way. I doubt those elephants are still there as without tourist income, why feed a huge animal? Who knows what happened to them. They're probably contributing to Thailand's massive problem with unemployed elephants.
Tha Pai Hot Spring
There are a lot of hot springs at varying temperatures, used for bathing and boiling eggs in this part of Thailand, with Pai having hot springs not far away. There is even a Pai Hot Springs spa resort for thermal bathers to get the most out of the therapeutic waters.
The closest hot springs are 8 km away from Pai town and you will need your own vehicle or a taxi to get there.
Tha Pai Hot Spring ticket price is 200THB for foreign tourists to enter the Park, 100THB for children. Additional 20THB for the Hot springs. 20THB for parking a vehicle. As always, double check the price as these can change without notice.
There is also a Pai Hotsprings Spa Resorts. They have their own hot water baths that you can enjoy at only 100THB with a lovely rural view. Free for hotel guests.
Love Strawberry Pai
Tourist of some nationalities seem to love to pick strawberries. This is something we've observed in Malaysia, as well as in Northern Thailand. For those of us from the UK where strawberries grow with no difficulty, there's just no novelty in these commercial pick-your-own strawberry farms. But, should you wish to pick and eat strawberries in Thailand, you can do this in Pai.
Love Strawberry Pai also has strawberry based food and drinks to enjoy.
Where To Stay In Pai
Pai is a very small town with accommodation options in the town itself, and in the surrounding countryside areas. If you have your own vehicle consider hotels and guest houses outside town, if you do not, book a central place to stay. There is no public transport in Pai, so if your lodging is outside town you will be pretty stuck.
There are some nice places along the Pai river, plus many boutique and more luxury resorts in and around Pai. If you're looking for an apartment rental or VRBO stay, take a look at the options on our Pai map, above, otherwise consider the following hotels.
For a budget stay in Pai try Bueng Pai Farm stay, this one is a little outside town but has a lovely waterside setting (below).
For somewhere nice, take a look at Pai Village Boutique Resort, this one is very well located and has rural Thailand charm. (below)
For a luxury resort stay in the Thai coutryside, choose Reverie Siam Resort, this one is an amazing location, with great food. (Great for a romantic surprise weekend away!)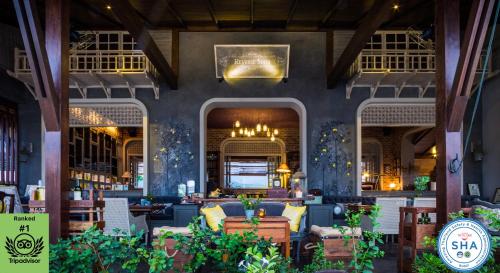 Thanks for visiting our post on Pai, we love this part of the world and we hop you have a great day, week, or month in Pai Thailand.
If you'd like to hire a car during your stay, use this car rental comparison tool to find the best deal!

We also suggest you take a look at this company to get a quote for all kinds of the more tricky adventure or extended travel insurance.

Try Stayz / VRBO for an alternative way to find rentals on homes/apartments/condos in any country!