This post may contain affiliate links.
Living in Chiang Mai Thailand has been on our radar for years, it's a city that Chef and I like a lot and for travellers, families and digital nomads. The cost of living in Chiang Mai for expats, good wi-fi, plentiful things to do and great street food make Chiang Mai in the north of Thailand a highly desirable place to live. There is a strong family, homeschooling or worldschooling community in Chiang Mai, making it even more attractive for long stays. I've collaborated with good digital nomad friends who live in Chiang Mai to pull this information together, so thanks Amy for the lowdown on life in Chiang Mai. We're in Chiang Mai right now, for 3 weeks, but next year, we could be living here as a digital nomad family, watch this space!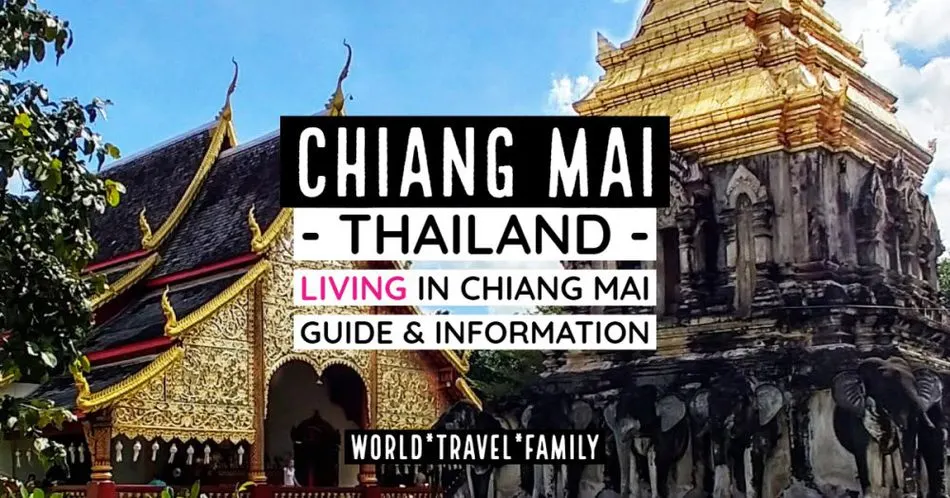 Living in Chiang Mai
The city of Chiang Mai has become a Mecca for ex-pats, nomads, and travellers looking for somewhere cheap and comfortable to live in Asia or within Thailand.
Chiang Mai can be a great place to live.
The northern Thai metropolis is surrounded by cloud-topped mountains and filled with ornate temples, bustling markets, modern malls, and coffee shops.
Chiang Mai is a cheap, diverse, place to live and a mix of Thai locals, international expats, families, students, artists, English teachers, and orange-robed monks call the city home.
So, if you're looking for somewhere to hang your hat, take a break from travel or get some work done, here's the lowdown on what living in Chiang Mai is like.
Where to Stay on Arrival in Chiang Mai?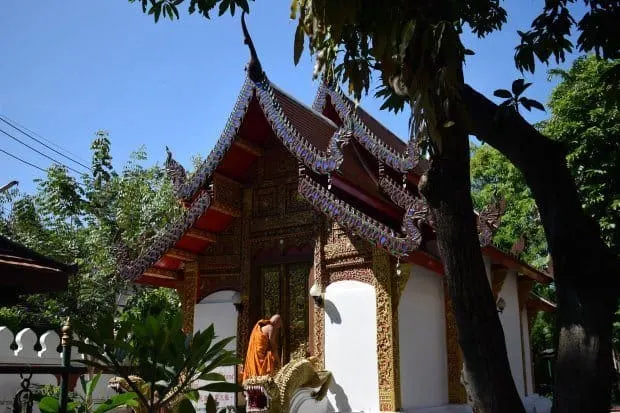 When you get off the sleeper train (or plane) from Bangkok, you'll need a place to stay while you find an apartment.
One place we can highly recommend is Central Guest House . It has a perfect location, right on one of the gates of the old town, train station side, and we enjoyed a lovely room, apartment, really, 2 rooms, for 4 people with air-con, fridge, and kettle for just $23/night.
That's a great deal for a first-place to stay in Chiang Mai while you find your feet.
Click on the link above to check prices and availability.
Apartments in Chiang Mai for Expats
It's extremely easy and affordable to rent an apartment in Chiang Mai, as there are dozens of purpose-built condo buildings in the city.
It's more expensive to live inside the Old City walls so areas like Nimmanhaem, just North-West of the moat, are popular with expats.
Typically all you'll need to rent an apartment is a passport and enough money for a deposit and advance rent.
You can scour online rental listings to find a place or look at apartment rentals.
Airbnb can sometimes be more expensive, but useful for finding short-term lets.
Generally, using a real estate agent is the most convenient way to find an apartment in Chiang Mai, and it's free.
Here are the top real estate agencies in Chiang Mai:
How much does it cost to rent an apartment in Chiang Mai?
Monthly rental prices in Chiang Mai range from as little as 5,000 THB for a one-bed studio to over 20,000 THB for a one/two-bed luxury condo.
Please double-check – prices fluctuate.
As an example, Amy and Andrew from Our Big Fat Travel Adventure are currently paying 18,000 THB a month for a one-bed condo in the Nimman area.
If you're planning on getting your own transport prices dramatically decrease the further you go from the city; the guys from 8 Miles from Home rented this house for just 9,000 THB a month.
You can often save thousands of Baht by signing six or twelve-month contracts and if you can pay a few months' rent in advance, you can negotiate further discounts.
The cost of living in Chiang Mai is very moderate.
Getting around in Chiang Mai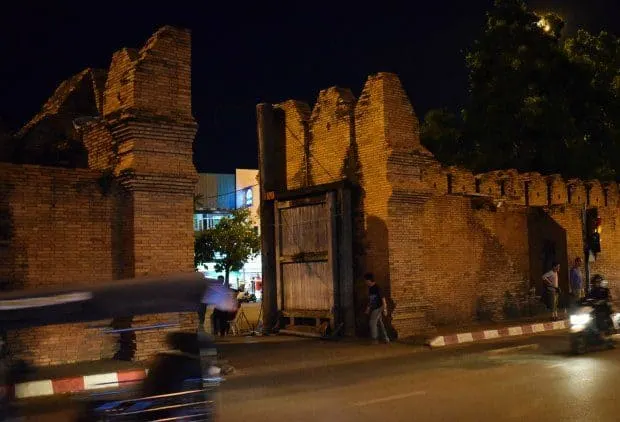 Chiang Mai is Thailand's second-largest city but the Old City centre, which is surrounded by crumbling red-brick walls and a moat, covers just one square mile and is easily walkable.
However, you can use the following transport options to get around Chiang Mai:
Red Songtaews are like public buses that run loops around the city. In theory you should pay just 20 TBH per person, per trip, but in reality drivers will often try to charge more. You can barter the price down depending on how far you want to go. The trick is to tell the driver your destination and hop in, looking like you know it should be a 20Baht fare. Don't enter into debate, just walk away if he tries it on.
Tuk Tuks are more expensive because they're a direct, private form of transport. Prices will depend on where you want to go, but a 15-minute trip across the city shouldn't cost more than 200 THB. Feel free to haggle for discounted rides.
Rent a motorbike if you're planning on staying in Chiang Mai for a while and are confident riding one. Make sure you have insurance to cover you for accidents and be prepared to show your passport and pay a deposit, some companies will also ask for a licence. One of the most reputable bike dealers in Chiang Mai is Mr Mechanic, which has branches throughout the city.
Co-Working Spaces in Chiang Mai
Camp
We like this one a lot, it's at the Maya shopping centre ( 20 Baht standard fare on a red songtaw).
Camp is open 24 hours, even when Maya is not, just go around the back.
50 Baht buys you two hours of internet. It's a great place to hang out, work, and chat, with coffee, snacks and private rooms available.
We were able to take our children here too. It's very close to the cinema in Maya mall.
Food in Chiang Mai
A quick search on Tripadvisor shows that there are over 1,500 cafes and restaurants in Chiang Mai. There's also no end of coffee shops and street food stalls where you can buy Thai meals for as little as 20 THB.
There's every kind of cuisine on offer in Chiang Mai, from Thai, Indian and Chinese to Italian, Mexican and Irish pub-style food.
The city has particularly great offerings for vegetarians and vegans and Ratmakka Road is full of highly-rated, cheap veggie restaurants and cafes.
In practice, we find a sit-down restaurant meal at 40-50 Baht, about a pound, is easy to find. A beer should cost you roughly the same. Beware the tourist restaurants, they charge far more.
Chiang Mai Local Markets
Chiang Mai is bursting with local markets where you can pick up street food and cheap, locally-sourced fruit, vegetables, meat, fish and other cooking ingredients as well as home-ware, clothes, electronics and souvenirs.
You can use this map to locate markets around the city, but here are some of the most well-known markets in Chiang Mai:
Sunday Market on Ratchadamnoen Road. This is the busiest and most touristy market but plenty of Thai people head here too for cheap street food. You can spend hours browsing the clothing and souvenir stalls.
Night Bazaar on Chang Klan Road. The Bazaar is on every night and caters pretty much solely to tourists. You won't find much food here; it's all gifts, gadgets and clothing.
Saturday Market on Wua Lai Road. A less popular version of the Sunday Night Market, which more Thai people seem to visit. There are loads of street food stalls as well as the usual souvenirs, art work and gifts.
Warorot Market on Chang Moi Road. Runs daily and sells food, home-ware, clothes, gadgets and anything else you can think of.
Muang Mai Market on Muang Samut Road. Is a daily market selling fresh produce, meat and seafood.
Somphet Market, just north of Tha Phae Gate. A daily market specialising in fruit and veg as well as home-ware and tailors.
Supermarkets and Malls
Chiang Mai has plenty of modern supermarkets and malls where you can pick up anything you need.
Prices will generally be more expensive compared to local markets, but you can save money by buying food in bulk at places like the Big C.
Some western branded foods and drinks are available. such as cheese and wine.
Here are a few of the most popular supermarkets and malls in Chiang Mai:
The Big C Extra superstore is located on 208 Moo 3, Thasala. Smaller Big C Minis can be found around the city.
A Tesco Lotus hypermarket can be found on the superhighway, north of the city. Tesco express stores are dotted all over Chiang Mai.
Tops supermarkets can be found throughout Chiang Mai.
Maya Mall on the corner of Nimmanhaem and Huay Kaew Road is full of shops and has a food court, cinema and co-working space. You'll also find Rimping supermarket on the bottom floor where you can buy western food products and organic fruit and veg.
Central Festival Mall on the super highway near the Big C Extra is the newest mall in the city. It even has a central food section that stocks products from Waitrose.
Central Airport Plaza on Mahidol Road is an older mall where you can find anything and everything. Baan and Beyond, located just outside the Plaza, is a great place to buy furniture, bedding and mattresses.
Living in Chiang Mai, Visas
The rules regarding Thai visas change regularly – please check – but generally, visitors from many western countries get a free 30-day visa on arrival.
There has been much upheaval with Thai visas and entry requirements lately. The information we give here was correct pre-lockdowns. We're honestly not sure what's going on right now.
For a longer stay, you can usually buy a 60-day tourist visa from the Thai embassy in your home country or in neighbouring countries like Burma and Malaysia.
You can extend a 60-day visa while you're in Thailand for a further month, but after that you'll need to make a visa run to another country.
The Thai government recently introduced a new six month, multi-entry tourist visa which can only be applied for in your home country.
While useful, this visa is expensive and you need to show proof that you have significant funds in your bank account to support yourself in Thailand.
If you plan to work while living in Chiang Mai, you should get your employer to help you get a business or work visa.
You can find out more about the different types of Thai visas and how to get one in this comprehensive guide from Tieland to Thailand; you can also contact your country's Thai embassy for more information.
Kids, Schools, and Exams for Expat Families in Chiang Mai
There are international schools, private schools, and schools based around the iGCSE system.
Our route to exam passes with our kids, was to put them in an online school with time zones suiting the Asia-Pacific region. We felt this was the best route possible and we were fairly happy with the system.
Our children were worldschooled up to the global lockdowns, they then sat iGCSE exams, this is the British system and is internationally recognised. Followed by I A levels.
Trips from Chiang Mai
Chiang Mai is a great jumping off point to explore Northern Thailand and is the start of the Mae Salong Loop. Popular destinations to visit from Chiang Mai include:
Chiang Rai
Pai
MaeSalong
Doi Intanon
Chaing Dao
Mae Hong Son
There are also cheap flights from Chiang Mai to nearby countries in South-East Asia. Check out these budget airlines for deals:
Nok Air
Air Asia
Thai Lion Air
Hiring a Car in Chiang Mai
Hiring a car in this part of Thailand is incredibly cheap (we paid around £40 for 4 days) and a great way to explore northern Thailand for a weekend getaway or short break.
We recommend Sixt Car Hire. Pick up and drop off from the airport.
Is Chiang Mai a Good Place to Live?
Chiang Mai Thailand is a fantastic place to live if you're looking for good food, an expat community, plenty to see and do and a cheap lifestyle. You would be hard pressed to find a better city in Southeast Asia to live, with one drawback. The air quality in Chiang Mai becomes terrible in the burning season every summer, with many Chiang Mai residents leaving for weeks until the smoke and haze clear. If it weren't for this issue a lot more expats would make Chiang Mai Thailand their permanent base. It is undoubtedly one of the best places to live in Thailand.
We hope you found our guide, tips, and costs of living in Chiang Mai useful. We're happy to answer any further questions in the comments. Back to our Thailand Travel Blog page, a complete guide to travel in Thailand
If you'd like to hire a car during your stay, use this car rental comparison tool to find the best deal!

We also suggest you take a look at this company to get a quote for all kinds of the more tricky adventure or extended travel insurance.

Try Stayz / VRBO for an alternative way to find rentals on homes/apartments/condos in any country!