This post may contain affiliate links.
A favourite part of any trip to Thailand, the Bangkok to Chiang Mai journey, is to be enjoyed not endured. Chiang Mai is a fantastic destination, it is cheap, relaxed, and very different from Bangkok. We highly recommend a trip to this part of northern Thailand and exploring further into the mountains if possible.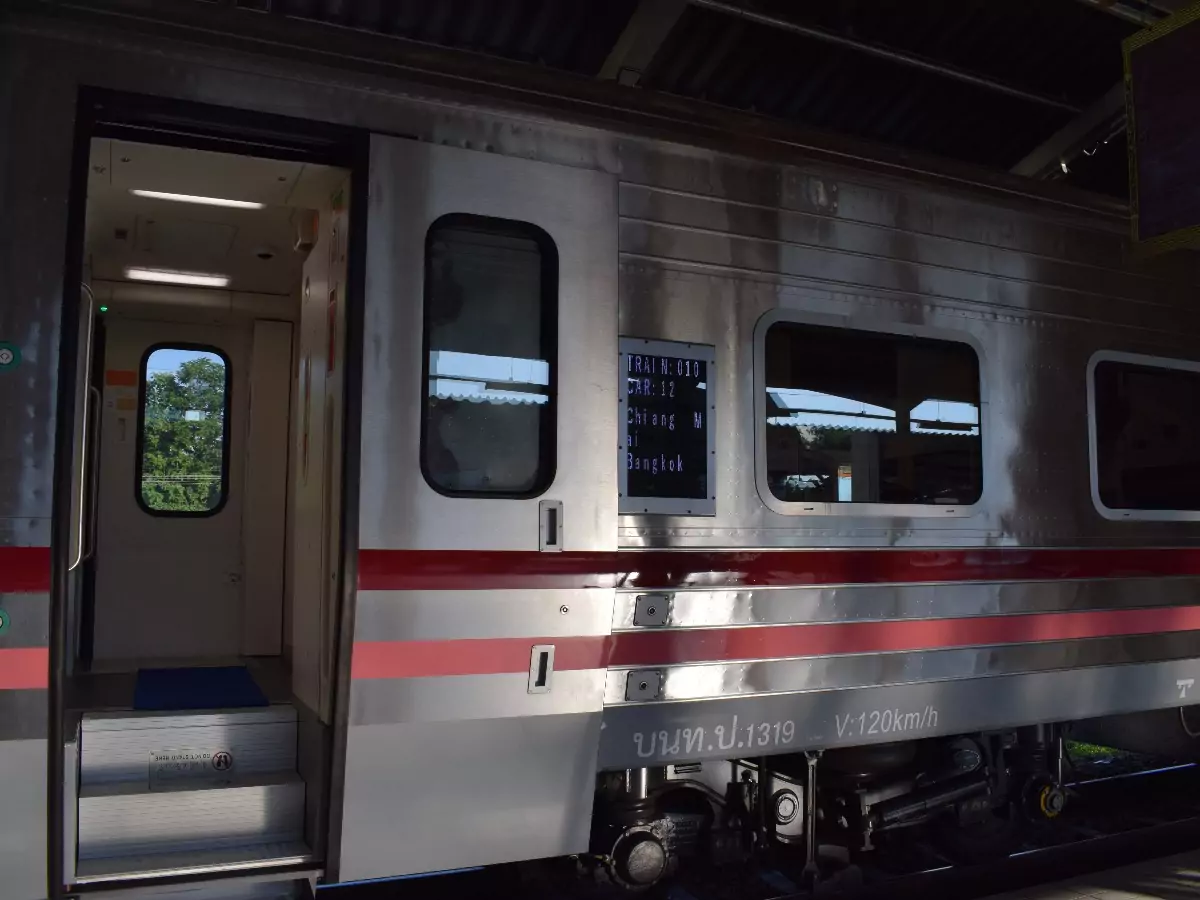 There are multiple ways of getting to Chiang Mai from Bangkok, including sleeper train, bus, car, and flying, we take a look at the options and how to get from Bangkok to Chiang Mai.
You can search all of your transport options and get times and prices using our widget above, but if you want to know what the Chiang Mai sleeper trains are like? Read on.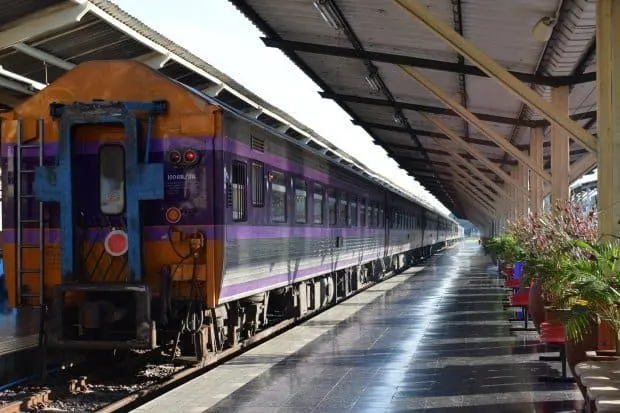 This information was correct last time we made this trip but it's here to give you a guide only. Please do your own research and double check, things change all the time.
Bangkok to Chiang Mai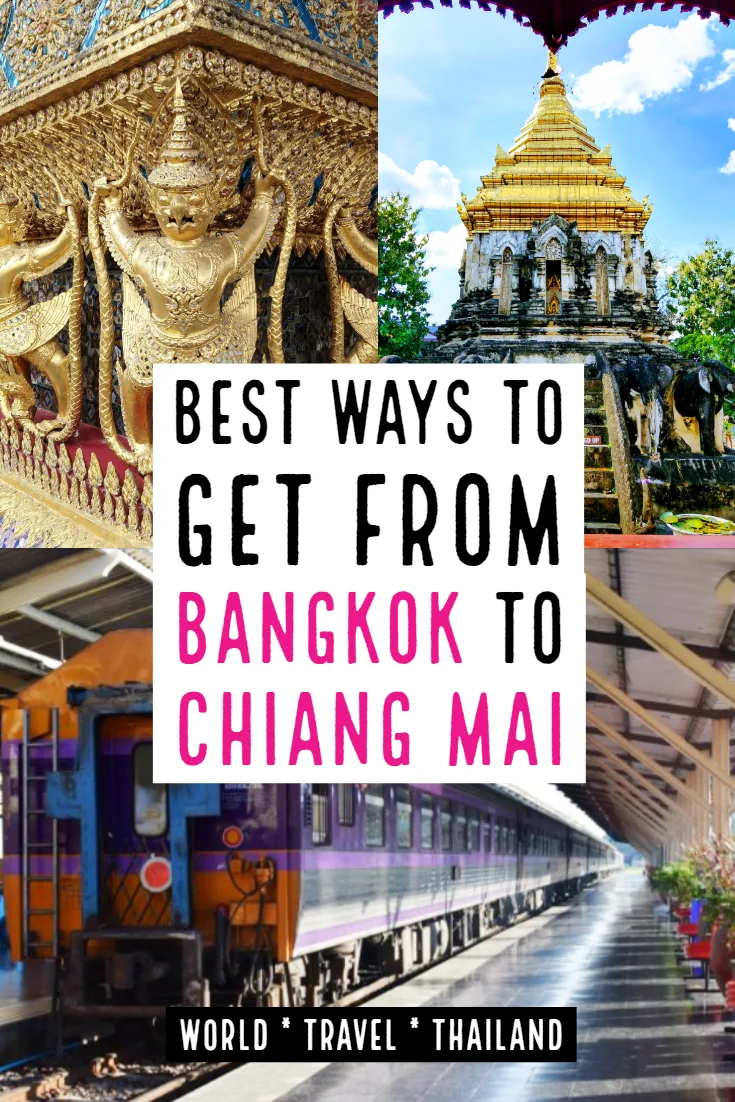 There are multiple ways to get from Bangkok to Chiang Mai. Our favourite by far, if you have time, is the sleeper train. This is one of the most iconic train journeys in Thailand and we highly recommend it.
If you're on a short vacation, you can fly but it's also possible to take a bus, minivan, or even a taxi.
Bangkok to Chiang Mai Distance
Bangkok to Chiang Mai is 688.4 Km by road, 450 miles
Bangkok to Chiang Mai Train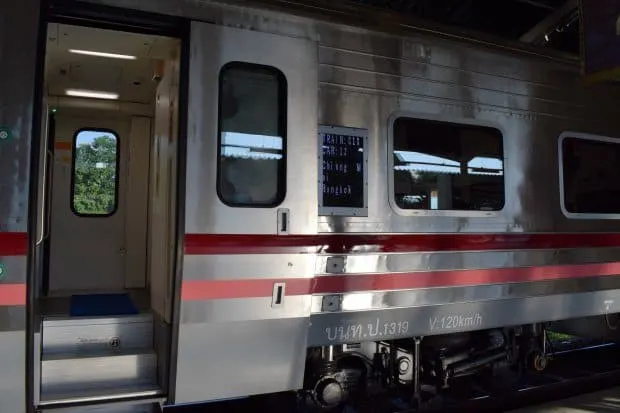 It's possible to catch a train from Don Muang airport or from the central train station, Hua Lamphong. These 2 stops are about an hour apart and will be the routes most used by foreigners.
The Bangkok to Chiang Mai route is called the Northern Line and there are currently 6 trains per day, 2 of which are day trains.
Train number leaves Bangkok at 6.10 pm ( arrives 7.15 am) .
Train number 13 leaves t 7.35 pm ( arrives 8.40 am). A 10 pm train, Train number 51 arrives at midday the next day.
All of these trains stop at Don Muang Airport.
These times were correct at time of writing, please check they haven't changed (same for all information).
The train system is in flux at the moment as new trains take over from the old.
The old trains are the same as those I remember 20 years ago, they are good, comfortable sleepers.
The new trains seem little different but are of course, brand new.
You can look at train prices and times, plus journey durations, from Bangkok to Chiang Mai, here. This is an excellent website for booking trains in Thailand.
Cost of Trains to Chiang Mai from Bangkok.
Approx 850 Baht bottom birth
Approx 750 Baht top birth.
Children to age of 12 must book a bottom birth, the bottom bunk is bigger than the top, both are comfortable. Check child regulations haven't changed.
Which class of train should you book from the journey from Bangkok to Chiang Mai? If you are on a very tight budget, you can choose non AC. These trains have open windows. We've used these but the air conditioned carriages are far more comfortable and reduce your risk of encountering mosquitoes. If you use our link in the grey box above, this site will let you choose your preferred class of carriage on the Bangkok to Chiang Mai train. Thje train journey takes 10 to 13 hours depending on which train you choose, these trains are often delayed slightly. Food is served on the train and your berth will be made up with clean sheets by the carriage attendants. The bathrooms are pretty good on these trains.
Booking Train Tickets from Bangkok to Chiang Mai
You can book tickets online for the Chiang Mai trains but the cost will be fractionally higher than going to the station in person. You cannot book tickets direct with Thai trains, you need to use an agency, 12Go.Asia . This is the only way to book your own tickets other than going to the station in person.
We've taken these trains many times and always had good experiences. Watch out for the food prices, they're steep, but the food is good and we've found it totally safe to eat. Cost per head for dinner, approx 170 Baht.
Alcoholic drinks, including beer are now banned on trains in Thailand.
Bathrooms are absolutely fine by train standards.
Arrival and Chiang Mai Railway Station From Bangkok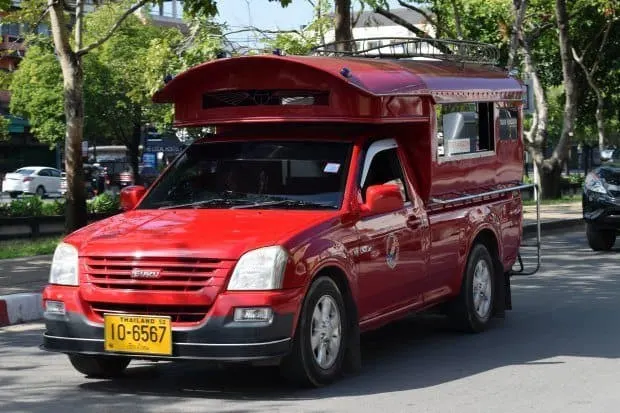 Red songtaew drivers wanting custom mob new arrivals at Chiang Mai train station.
The fixed rate on these vehicles is 20 Baht/person (at time of writing, this may have changed).
I doubt you will be able to get this price from the train station.
We paid 150 Baht for 4 people from the train station to our booked accommodation in the old town. (2016 prices). They like to charge per person and these vehicles are designed to be shared.
Maybe you'll do better than us, maybe worse, but once settled in town 20 Baht was the standard fare.
The Chiang Mai songtaws will also take private tours, bargain hard.
Tuk tuks can be cheaper than songtaws in Chiang Mai, tuk tuk drivers are far more reasonable here than in Bangkok.
Bangkok to Chiang Mai Bus Options
The bus is slightly cheaper than the train, at around 400-650 Baht.
The majority of public buses depart from Mor Chit bus station, others from the Khao San Rd area.
The bus takes roughly 10 hours departing every hour between 5.30am and 10.00pm.
Some buses are sleepers, some arent, cost varies.
Either book your ticket direct at the bus station, or through an agent (commission will be added).
Book a bus from Bangkok to Chiang Mai here, also compare bus prices and journey duration with minivans, taxis etc.
Bangkok to Chiang Mai by Car
Hiring a car in Thailand is extremely cheap.
I doubt many people will want to do this in Bangkok's crazy traffic congestion, but for other parts of Thailand car rental is a brilliant idea.
We have paid between $20- $30 US per day for car hire in Thailand. This is with insurance to cut excess to zero.
To book a car in Thailand to drive from Bangkok to Chiang Mai, use this cost comparison tool.
Bangkok to Chiang Mai by Air
You can fly to Chiang Mai from Bangkok for 1000 to 1500 Baht.
This is the most expensive option, but will save you time.
It's a good idea o book this flight in advance to find a good price, you can check daily prices and book tickets online via Skyscanner
Airlines that fly this route include, Nok Air, Bangkok Airlines, Lion Air, Thai and Air Asia.
Where to stay in Chiang Mai on Arrival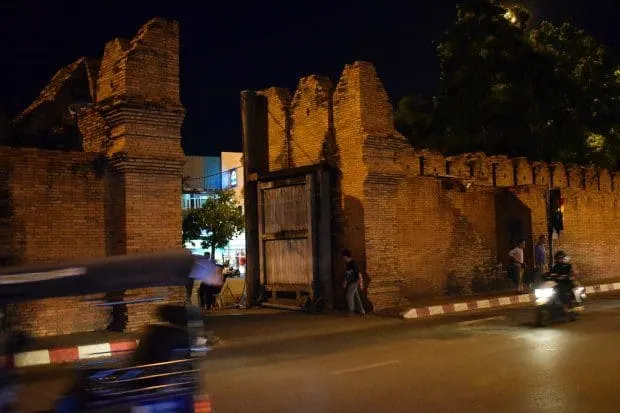 Chiang Mai has abundant accommodation options and prices are good.
It's probably best to stay in the Old City, from here it's easy to walk to most of the Wats and markets and the red songtaews circle the outer perimeter, picking up passengers for fixed-rate 20 Baht/person trips.
We stayed at Central Guest House right on Tha Pae Gate, above. We would recommend their large, 2 room, family suite.
In addition, we used Kamala's Guest House on the other side of the moat from Tha Pae gate in a quiet back road.
This one had a vast family room that may even sleep 6 with private 2 toilet cubicles in the room. That's something we've never seen before.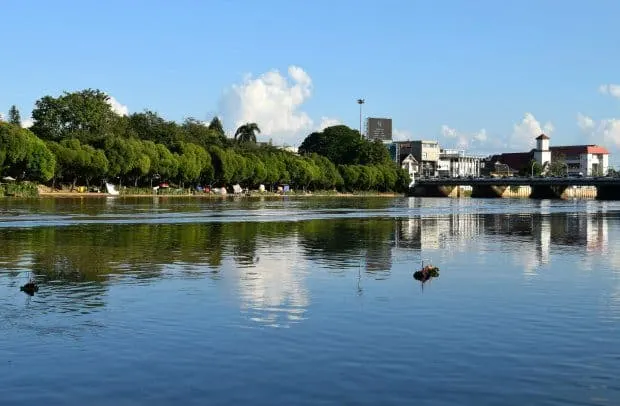 We've also stayed on the Ping River, a 15-20 minute walk from the Old Town. This was a very different experience as this area has an abundance of micro-breweries, art cafés and boutique shops on the east bank, on the west bank is China town and some of Chiang Mai's best markets.
We stayed at Ping River House where we took two twin rooms at a bargain price during the bust Loi Krathong and Yi Peng festivals. Book ahead during this period, the city fills up.
Make sure you get up to Chiang Mai, we really can't recommend it highly enough, it's totally different to Bangkok or to the southern beaches. We rented a car up here to explore nearby Pai, Mae Hong Son and Chiang Rai, this is a great option and one we'll talk about in our next post, but if that's not your scene, there is enough to keep you and your family busy in and around Chiang Mai for weeks on end. We cover things to do in Chiang Mai along with the nitty-gritty of staying a-while in our Living in Chiang Mai page.
Enjoy Thailand!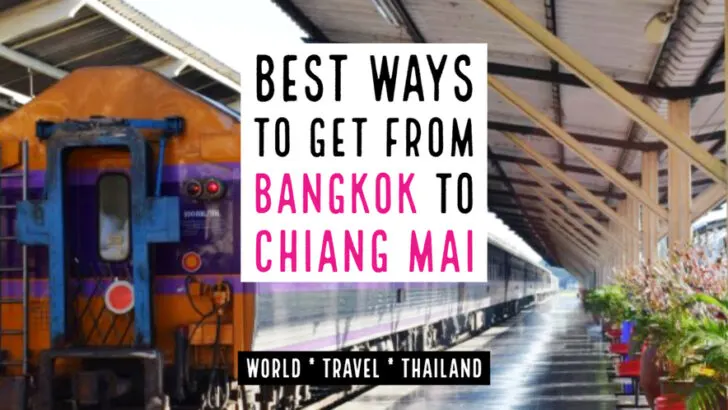 We hope you found our information on getting from Bangkok to Chiang Mai useful, remember that options, timetables, and prices change regularly so always do your own current research too. All thoughts on this page and on our website reflect our personal opinions. Now you can go back to our Living in Chiang Mai and Things to do in Chiang Mai page or visit our main Thailand Travel Page.
If you'd like to hire a car during your stay, use this car rental comparison tool to find the best deal!

We also suggest you take a look at this company to get a quote for all kinds of the more tricky adventure or extended travel insurance.

Try Stayz / VRBO for an alternative way to find rentals on homes/apartments/condos in any country!