This post may contain affiliate links.
It's a lot easier to get from Bangkok to Siem Reap Cambodia now than it was back in 2000. Back then, as we travelled overland in South East Asia we had to cross the border on the back of a pick-up truck. These days you can do it in relative comfort by direct bus, train, plane or taxi.
Good buses take you right the way through to Siem Reap from Bangkok, no changing, just a disembarkation and wait at the border while visas are taken care of.
Of course, it is arguably easier to fly, but for us as a family of 4, the extra costs quickly add up.
Bus travel is usually pretty enjoyable, so last time we crossed from Thailand to Cambodia we went the old-school way.
It took a lot longer than we expected and the scenery was pretty uninteresting so you wouldn't be missing much if you chose to travel from Bangkok to Siem Reap by plane. See full details below.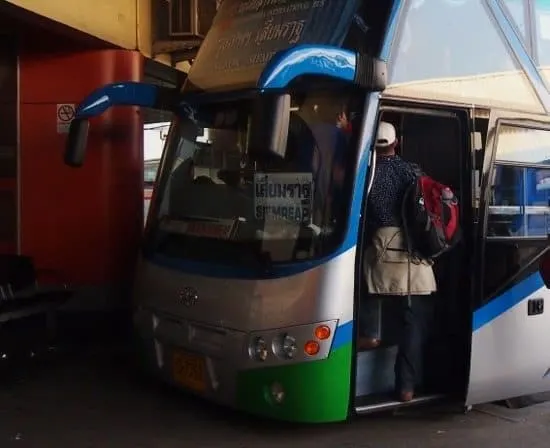 Bangkok to Siem Reap, Best Ways of Getting There
More Useful Information and FAQs about this Border Crossing
Can you book a shuttle or private vehicle from Bangkok to Siem Reap Cambodia? Yes, private cars with drivers and minibusses are available. This could help you avoid the long waits at the border. Take a look here.
Can you book public trains and buses before arriving in Cambodia and Thailand? Yes, absolutely you can. There is a site called 12 Go Asia which allows you to do this from your home country. That way you have reservations, everything is paid for. You can even easily organise a taxi from Bangkok to Siem Reap through them, or even a flight. They're a big company and we use them often to make our lives easier. There is a train from Bangkok to Poipet, one of the Cambodi/Thailand border crossings, but from Poipet and on to Siem Reap, you'll need to arrange a bus or car. Use the site above to look at your options. You'll need to book the early morning train to complete this journey in one day.
Can you book tours in Thailand or Cambodia in advance? Absolutely. We are big fans of this site for booking all sorts of tours and transfers and tours in Bangkoks. For transfers and tours in Cambodia- including Angkor Wat tours- check out options here. Using a site like this allows you to pay online with your card, have the backup of a big company with guarantees, and avoid all local scams, rip offs and haggling.
Can you pay for many things using your credit card in Thailand or Cambodia? In Thailand yes, Thailand is very western, but in Cambodia, not so much, you will notice a real change in everything as you cross the border.
Is card skimming a problem in Thailand or Cambodia? Nothing like this has ever happened to us in either country. (It did happen in Vietnam)
Are pickpockets a problem in Thailand or Cambodia? We have never had any problems of this kind in either country. However, it pays to be sensible, particularly in busy places where you may be distracted. Take a look at a few anti theft travel accessories here.
Hotels and Hostels We Can Recommend in Bangkok and Siem Reap. In Bangkok we prefer to use Shanti Lodge ( see here) or Mile Map Hostel (see here) both are low-budget solid choices. In Siem Reap we recommend this hotel, at a moderate-good price point, has family suites and a pool.
Cost of Flying to Siem Reap from Bangkok v Cost of the Bus
February 2019, the direct bus tickets to Siem Reap cost 750-1000 ($25-$32 US approx) Baht each. No discount for children.
This month Skyscanner gives flight prices at between $75 and $102 (US$). You may find an even better price if you book further in advance. See our post on cool tricks to help you save more with Skyscanner for more tips.
Or just try the 12GoAsia link above.
You could take a taxi or mini bus to the border and split the cost between a group. For us, as a family of 4, the bus worked out best.
There are buses that take you to the border, from there you can arrange your own transport to Siem Reap, they are frequent and cheap at $4-5. We didn't fancy finding a bus on the Cambodian side with 2 hot, tired kids so the direct Bangkok Siem Reap bus was our best choice.
Cambodian Visa Costs, Photos and the Child Visa Scam.
A 1 month Cambodian tourist visa is $30 at the border. There are numerous agencies that sell E-Visas but these are more expensive and not necessary. You could, of course, buy your visas in advance, but processing can take up to 4 days even for online e-visas but will give you piece of mind when entering Cambodia and allow you to pay online if you don't have cash handy.
You can pay cash in Baht or US dollars.
Cambodian officials may try to charge you for children's visas, claiming that children are only free if travelling on their parent's passports. This is wrong, stand your ground, politely and with smiles.
We got free visas for our 8 and 10 year old children, their passports are clearly stamped "gratis". I know of another family who paid for their children a few weeks ago and received the same "gratis" stamp. Anyone above the age of 10 will pay for their visa but if your child is under 10 insist that it should be "gratis" if they request payment.
You need a passport photo for each person. Lonely Planet say that if you don't have one you will be fined $1. We had photos for 3 of us, my husband was not fined for not having a photo and it wasn't a problem at all.
The Bus From Bangkok to Siem Reap
There are 2 direct buses from Bangkok's Mo Chit bus station to Siem Reap, every day. You can also catch buses from the Khao San Road area of Bangkok direct to Siem Reap. Prices are roughly the same. There is the addition of a semi sleeper bus that leaves Bangkok at 1 am although I'm not sure that the border would be open when you arrived, meaning a wait to get across and on your way again.
They run at 7:45 am and 9 am.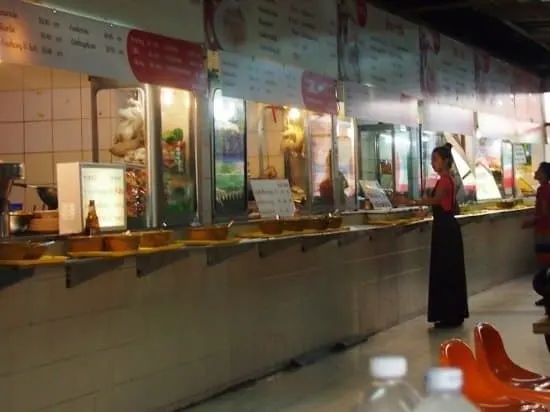 You can buy tickets online, at the bus station or through agencies and guest houses.
We took a taxi to Mo Chit from Silom (where we now prefer to stay in Bangkok ), it cost under 100 Baht and the roads were clear at that time of the morning, despite warnings of crowds and traffic congestion for the Sunday markets.
The journey from Bangkok to the Cambodian border took us round 3.5 hours. We were at the border for almost 3 hours. The visa process is fairly long and 1 person on our bus was held up for some time, obviously, we had to wait. Bags stay on the bus while you walk across the border region, which is a great help.
Do not buy your visa at the visa office before the actual border, this is a scam, head straight to the official Poi Pet immigration control office.
The bus journey from the border to Siem Reap is around 3.5 hours. The road is now pretty good, years ago it was a dirt track.
It's a very long day.
The bus company told us the total journey was around 4 hours, we may have lost something in translation, it actually took around 10 hours.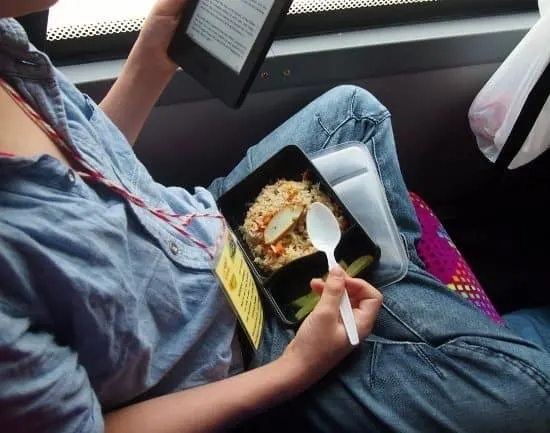 We received a lunch box just before the border, it was small but very welcome. Eat it quickly, you don't have much time. You will also need to take your own food and water.
The bus is modern, comfortable, has air conditioning and a toilet. I'd see the toilet as a disadvantage, it didn't smell too good.
The bus will take you to Siem Reap and deposit you on the pavement near the centre of town. Our bus driver announced that tuk tuk drivers would collect our bags and take us to our guest house for free, part of our ticket. This is a lie, it's not free, the drivers need you to make a booking with them for a tour of Angkor Wat the next day.
They tell you this after they've loaded all of your bags, and you, into their tuk tuk. We felt really bad that we couldn't give him our custom, it's a crappy set up. I'd avoid it if we ever do this trip again, it was a horrible start to our Cambodia trip. We had no cash to give the driver.
You could find accommodation on arrival in Siem Reap, we chose to book one night in advance online to make life easier.
So here we are, in Siem Reap, the must-do city in Cambodia, base for Angkor Wat, possibly the most magnificent temple complex in the world. It's changed a lot in the last 15 years, but no surprises there. We plan on staying a while so I'm sure we'll find our way to enjoy what used to be such a cool little town. Pub St and the new "Night Markets" were a bit of a shock, but we've found the old market, it's still almost the same, I know this will turn out fine.
Train From Bangkok to Siem Reap
Cambodia currently (at time of writing) has two train services, both originating in Phnom Penh but neither go to Siem Reap so getting there by train is still impossible.
However from Phnom Penh to the border town of Poipet (for Bangkok, Thailand) running every other day and Phnom Penh to Sihanoukville, 4 days per week, there are now passenger services by train. This is a huge step forward for the Cambodians and hopefully, they will continue to extend and maintain the rail network as time progresses.
Cambodia still has the Bamboo Railway, near Battambang which is a great way to see how tough it was during the Khmer Rouge rule.
You can take a train from Bangkok to the Cambodian border at Poipet, but from there you will need to take a bus, taxi or minibus on to Siem Reap. A train connection was planned for the future.
Where To Stay in Siem Reap and Finding the Best Deal
Hotels Combined is usually the best place to start looking, they compare multiple online search engines to find the best deal on that hotel for your dates. Agoda are the Asia specialists, they usually have a greater variety of hotels, guest houses, hostels and resorts and can often have better local deals. . Booking.com is useful for fully refundable, longer-term bookings. Some people like to book multiple hotels well in advance and finalise their choice nearer departure date.
We highly recommend Garden Village Guest House in Siem Reap , it's cheap, has a wonderful new pool, decent food, a great location and plenty of space, we loved it. They will organise drivers and tours for you or you can easily find your own driver on the street. We searched around on foot for accommodation and this was by far the best place we found at the time. It's very popular, so booking in advance could be a good idea, they do have private rooms with en-suite suitable for families and a lovely new pool.
For something a little more comfortable, again with pool and family suites, try this hotel.
There are also some very luxurious and up-market hotels in Siem Reap use the search engines mentioned above to view.
Enjoy Siem Reap, Angkor Wat is fabulous and truly a global must-see. As you can see you have multiple choices on how to get there. Which is the best way to get to Cambodia from Bangkok? Well, it's personal choice. Flying may look faster but factor in airport journeys and wait times. For me, my favourite way is still the old pick up truck on bomb cratered roads from 20 years ago. But the bus is good.
If you'd like to hire a car during your stay, use this car rental comparison tool to find the best deal!

We also suggest you take a look at this company to get a quote for all kinds of the more tricky adventure or extended travel insurance.

Try Stayz / VRBO for an alternative way to find rentals on homes/apartments/condos in any country!