This post may contain affiliate links.
Everyone knows about the Bamboo Railway in Battambang, but there are many more things to do and see in this cool Cambodian town. It's the second largest town in the country and lies in the heart of rice growing country. Despite it's size, Battambang retains its quiet riverside charm and remnants of French colonial architecture, we loved it! It was one of the highlights of our month in Cambodia, with a one day Battambang tour and our great tuk tuk driver who showed us around.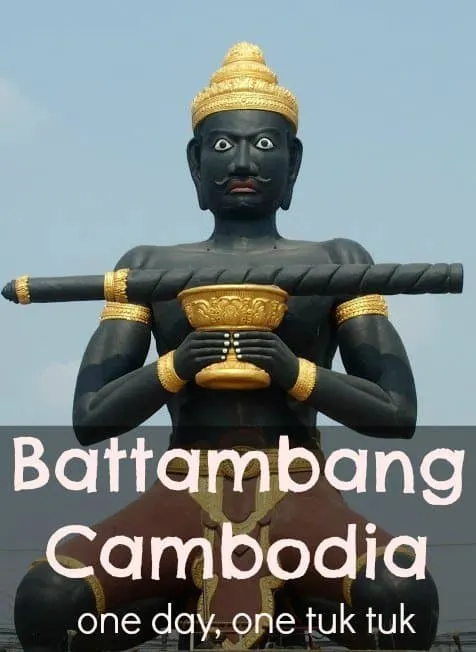 Unfortunately, Siem Reap didn't sit too well with our style of travel, we loved visiting Angkor, of course, but the town itself was too dedicated to mass tourism and tourist needs. You can escape the crowds in the old town, but it's sad to see what's happened in Siem Reap in the 15 years since our last visit. Battambang is nothing like that, it's far more real and even its version of Pub St. is a nice place to be and the surrounding countryside, villages and temples are stunning.
We decided to throw caution to the wind and take a full one-day-see-everything-go-everywhere-tour with our new friend, our tuk tuk driver. It was an excellent choice.
On top of the great things to do we've also found a great place to stay at Lux Guesthouse and a lovely riverside walk and playground to enjoy in the early evening. Battambang also boasts an award-winning best coffee in Cambodia, my early morning saviour.
We're happy, but exhausted, family travellers this week.
So, do you want to see what we did and saw in just one day in Battambang? Here we go.
Most of these places will get their own posts in time.
Video of Battambang Tour Cambodia, Bamboo Railway and Cooking Class
One Day Battambang Tour Cambodia.
We paid our tuk tuk driver $18 for a full day tour of Battambang. We don't know if that's a good or bad price, but we were happy and so was he. He seemed to drive a lot further than the drivers in Siem Reap offerring 1 day Angkor tours, their standard price was $14. He picked us up at our hotel at 9.30am and was due to return us after dark, in the end we came back a little early but we certainly had our money's worth.
It wasn't just the places that made our day so special, it was driving through the countryside, past wooden houses, cows, haystacks, waving children and wedding celebrations. It was hardly seeing another tourist all day and it was the information our driver passed on to us.
The children (8 and 10) coped well with the full day and took on all the steep climbs with just a little initial grumbling. Both of them slept in the tuk tuk for a while and were very much in need of food and an iced tea by the time we got to our lunch stop. Younger children would struggle with the tall steps.
The Peace Naga, A Statue Made From Guns.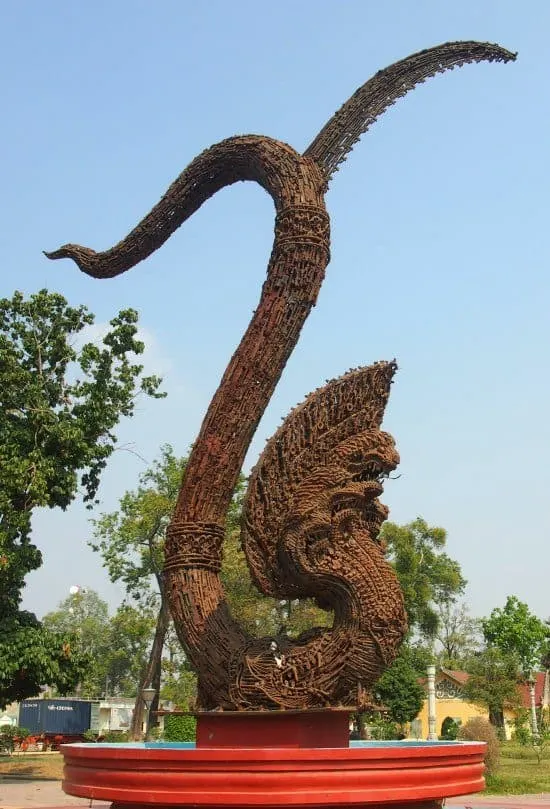 The Naga statue for peace is a modern addition, it was unveiled in 2007 and is made of guns and gun parts collected from the people of Battambang province.
How Battambang Got Its Name.
The statue at the top of the page relates to the legend of Preah Bat Dambang and his eponymous stick.
The name Battambang means lost stick and this is the guy who lost his stick of power, with which he could control thousands of cows, right here in Battambang. Your driver will explain the story.
The Bamboo Railway and a Brick Factory.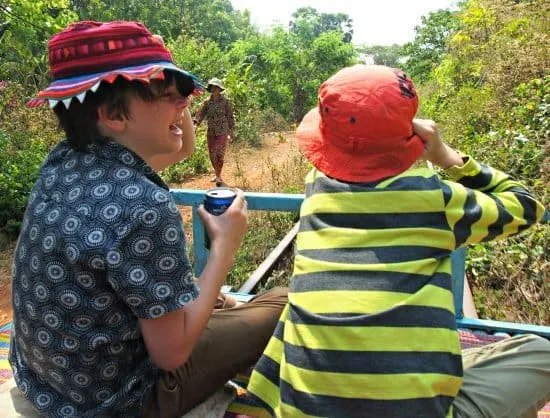 Most people already know about the Bamboo Railway and most people know that at the end of the line there is a wait and a retail opportunity. If you wander away from the souvenir stalls you'll find a brick factory, because I'm a complete educational nerd, I loved this, far more so than the strange tourist rail-ride. Tickets to ride the bamboo train are $5 each, we scored a 50% discount for the boys.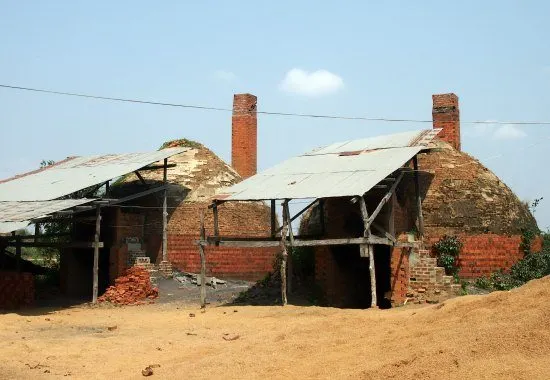 The lady who showed us round the brick factory was lovely and I was more than happy to buy a stone lion from her to say thanks. Don't miss it if you're heading this way and I'll give it one of my nerdy educational posts soon.
The Rickety Bridge and a Temple.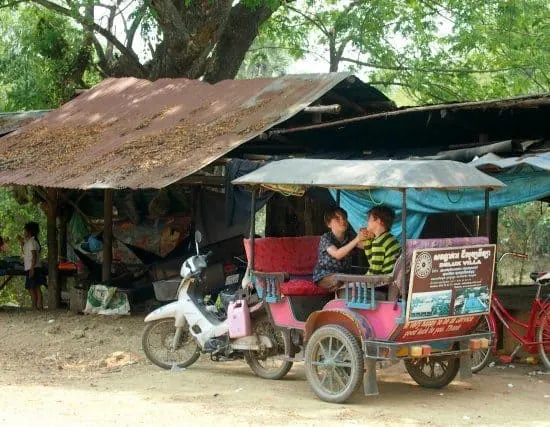 A rickety wire-and-wood bridge over the river, a very cool thing for small boys to run across giving us a great view of the incredibly low river and its fish traps. The Buddhist temple opposite was beautiful too.
Fruit Bats.
Do you need a photo of fruit bats? There were lots of them, hanging about like umbrellas in a tree. We have them at home in Australia but it was interesting to hear how they catch them to eat here.
The Muslim Fishing Village.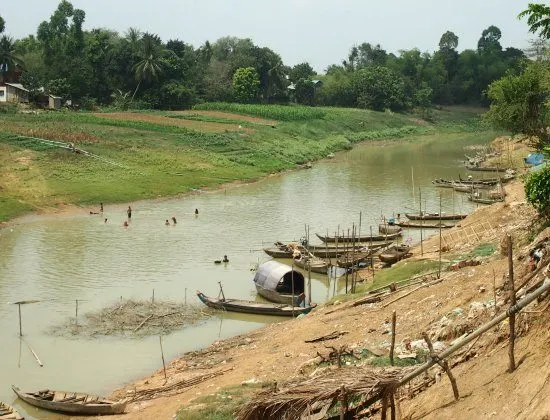 A small village with its own mosque and home to a fishing industry. In the dry season, when river levels are low and the exposed banks are used for growing crops, most of the fishermen are busy working Tongle Sap lake. The river was left to playing children and the quiet village paths were empty other than goats, hens and chicks.
The Ancient Temple on Top of The Hill.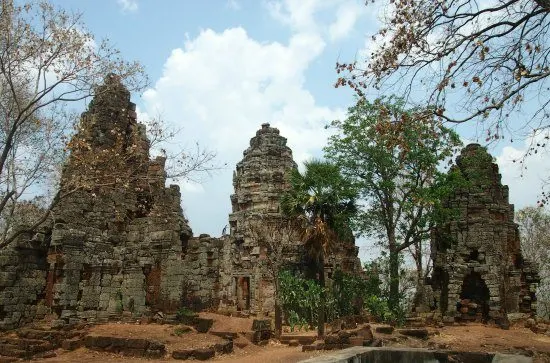 Phnom Banan, a well preserved Angkor era temple atop a 400m hill, was one of the highlights of our 1 day tour for its ancient peaceful setting . There are a lot of steps to climb in the heat.
Plenty of cafes here for a bite to eat and a rehydration stop . ( meals from $2 for fried rice).
The Other Temple on Top of The Hill.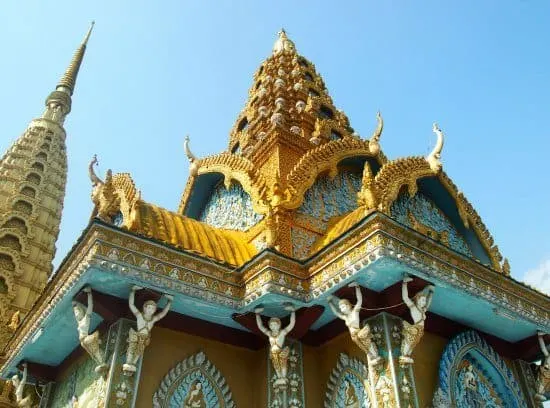 Phnom Sampeau is at the top of an even higher hill with even more steps. A beautiful temple, friendly folk and sensational views of the Cambodian countryside are your rewards for climbing this one. There are a couple of caves in the hillside, one was a central feature of the local killing fields.
The Bat Cave.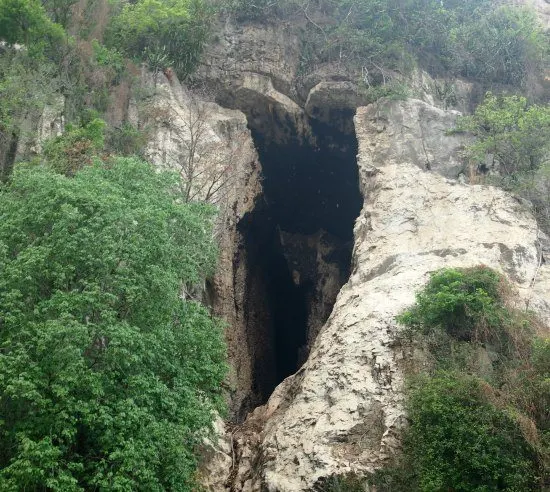 We were finished with our day too early, there was still over an hour to wait before the thousands of bats started their nightly flight from the cave. We opted out and went home, we saw the cave, smelt and saw the bats, we were done. I hear it's a spectacular thing to see.
The cave is just paces from the steps up to Phnom Sampeau.
There Are Loads of Other Things To Do in Battambang
There's the market and the playground by the river along with loads of paid activities. We're trying to decide if we want cooking classes, a village bike tour or a trip to the circus at the moment. I'll let you know what we decide.
Where to Stay in Battambang?
Looking for a place to stay in Battambang? Try here Lux Guesthouse Battambang Cambodia
Thanks for visiting our website, we hope you found our blog post on the Battambang tour useful. Please also look at our Battambang Cookery Course post in the selections below.
If you'd like to hire a car during your stay, use this car rental comparison tool to find the best deal!

We also suggest you take a look at this company to get a quote for all kinds of the more tricky adventure or extended travel insurance.

Try Stayz / VRBO for an alternative way to find rentals on homes/apartments/condos in any country!