This post may contain affiliate links.
Our week in Siem Reap, Cambodia had its ups and downs. A family travel rollercoaster, dazzling highs and anxious, dark (literally) lows, so let's keep it real and share it as it really was.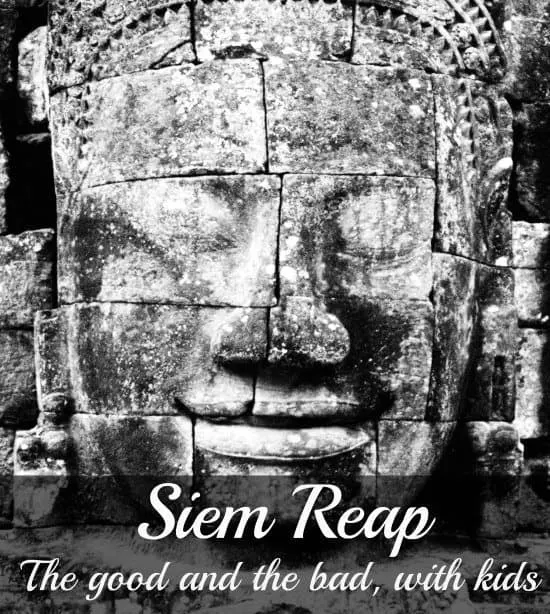 This is one of those "what we've been doing on the road" posts, so lots of chatty stuff about us and a little hard information. I'll write the detailed posts later and eventually link to them.
Time to work is short on the road and, to be honest, I'd rather be enjoying Cambodia with my family than trying to earn a living, but needs must.
Siem Reap Cambodia
Siem Reap: Not Love at First Sight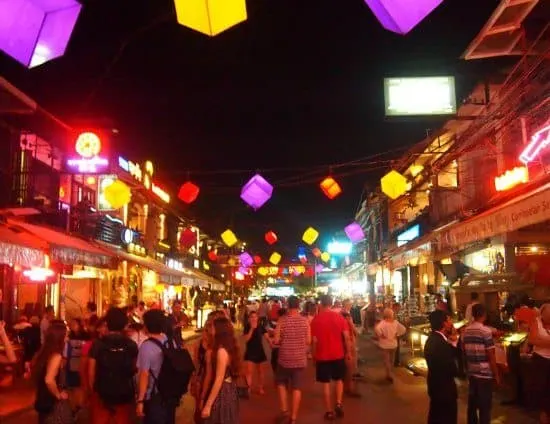 As almost always happens when you return to a favourite spot 15 years later, things had changed.
The first room we took was grotty and mosquito-filled, our walk to find a place to eat took us past many ageing western men hanging out in bars, presumed sex tourists.
Pushy touts, beggars and all manner of hawkers bombarded us and grabbed at my children as we walked through the new, modern "Night Market".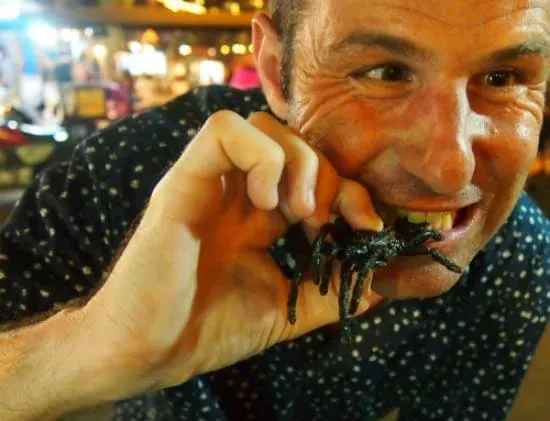 Pub St. was a shock, a modern, purpose-built monstrosity, full of neon, pizza and Mexican food.
We couldn't find a good meal, and by that, I mean something at least SE Asian, if not Cambodian, at a decent price.
This wasn't the Cambodia we loved.
Finding the Old.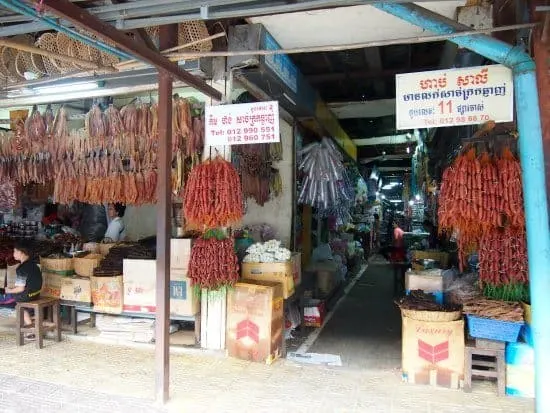 A day, a much-needed sleep and a short walk later, we found the old Siem Reap. The old market is there, almost exactly as we remembered it on the banks of the river.
Beyond the river, the old wooden houses remain, although another Chinese Night Market has sprung up in their midst, not far from the Hard Rock Cafe.
A beautiful temple, beautiful people and a change of accommodation did a lot to improve our moods. Cambodian people are some of the friendliest, happiest, most joy-filled people in the world.

Visiting Angkor.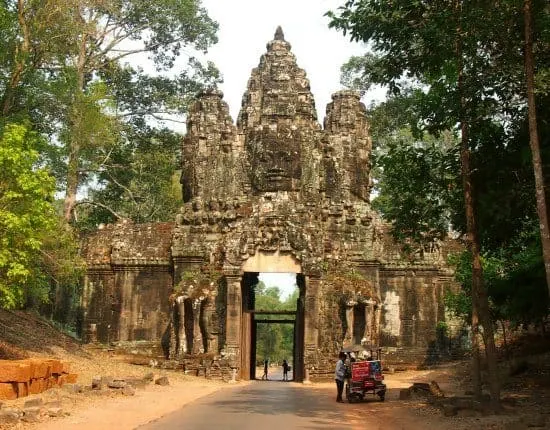 Angkor Wat and the whole complex is wonderful with kids. Extra special to be finally sharing this with my children, my second time, their first.
We bought a 3-day ticket, visited for sunset one day (this doesn't count as one of your 3 days) and did 2 full half-days in the complex. Both the children qualified for free admission, which was a bonus, this worked for children born after 2003.
We had the best driver in the world, not a word of English but his infectious laugh will stay with us all for a long, long time. Little things like that make a huge difference.
A Week of Personal Disasters.
Boo has been slightly unwell since before we left London.
We decided it was about time he saw a doctor. I hate doctors, so obviously my worry levels were sky-high to even consider it necessary.
The doctor was great, a Londoner, we paid our $50 and, of course, the child has been better from the moment the cash left my wallet.
It always happens.
Our next hiccup, the cashpoint (ATM) stopped giving us money.
An anxious day of trying to contact Australia and get the bank to sort its life out before the cash tap came back on.
My personal disaster came in a computer failure.
A total reset to factory condition took me a full 2 days to sort out. I'm still struggling but things seem OK.
Not really a disaster, but a tough time when we stumbled across the Siem Reap Killing Fields.
That, in itself, was fine, a great history lesson, but two children there, toddlers with hydrocephalus, were shocking, frightening and upsetting to my youngest.
I don't know if the mothers were beggars or just spending their days in the temple with their dying children.
It was so sad to see these helpless, precious little children just lying there in the heat. The real world, I know, but I'd rather my ultra-sensitive child hadn't seen that so young.
History is often easier to take than modern reality. If you've been reading this blog for a while you'll know I'm far from over-protective, this is the first time in any of our travels, we've had issues of this sort.
Some really intense and valuable conversations have come out of this though. The boys want to make a difference.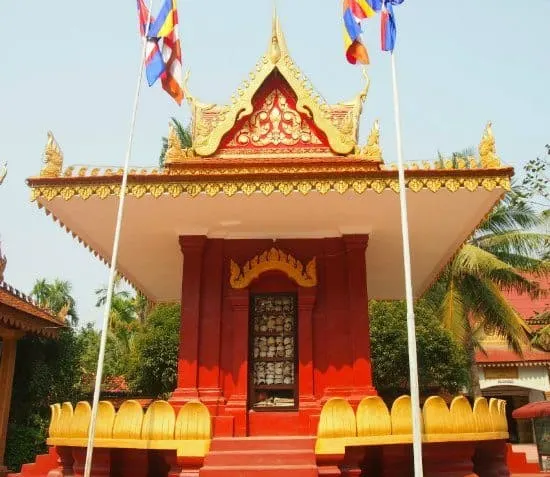 Then the disaster of all disasters, a national-level disaster.
A truck ploughed into power poles on the highway between Bangkok and Siem Reap, wiping out the electrical supply for a huge chunk of Cambodia.
No fan, no aircon, no lights, no water to shower, flush or even wash hands.
To precious Westerners in 36-degree heat, it was a little tricky.
We heard the repairs could take days so we hopped on the first bus to Battambang, which is where we are now.
We passed the site of the accident on our journey (4 hours $6 each), many hands were still working to get the power fully restored.
Finding a Great Family Hostel in Siem Reap
Our second guest house or hostel, Garden Village, was a joy. We visited a dozen hotels before settling on this place, it had the best atmosphere, the friendliest staff and a gorgeous room and pool.
It's the same place the Nomadic Family stayed, for months on end, during their time in Siem Reap.
We loved it, the kids played in their beautiful pool with other travelling families, food was great and good draught beer at 50c kept the grown-ups happy.
All was right with the world.
Still Not in Love With Siem Reap, But with Cambodia, Yes.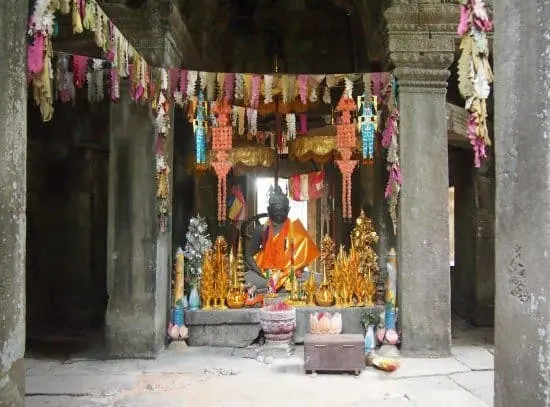 You have to go to Siem Reap for Angkor Wat. It's worth a look but we wouldn't rate it as a destination. It's gone too far to meet the needs of mass tourism.
We didn't see everything and do everything, obviously, these are just our impressions from our 8-night stay.
A trip out into the surrounding countryside and to Tonle Sap Lake ( not the tourist "floating village" which I've read plenty of bad things about) would probably have been well worth doing.
In contrast, Battambang is fantastic, we're loving it here so far. This is a real town with a few tourists rather than a town structured around tourism.
This would be a better place to spend more time, we think.
Prices are slightly higher here, those 50c beers have become 75c beers, but it's worth it, there is a nice vibe in this town and we had the most amazing full day of exploring yesterday with our tour guide/driver.
He was a random tuk tuk guy met at the bus station. There is far more to Battambang than just the Bamboo Railway, but that is a fun hour of your day.
We're paying $2 more for our room, but at $16 it's still a fantastic deal. There is all sorts of accommodation here, from $1 dorms to fancy-looking riverside hotels.
So that's how it goes, sometimes you love a place, sometimes you hate it.
You can read a dozen travel blogs and get a dozen different opinions because, at the end of the day, we are all different and that makes life interesting. We're really enjoying Battambang and Siem Reap gave us family memories of Angkor, so Cambodia is getting a big thumbs up.
It's looking like we'll explore as much of Cambodia as we can, everything outside Siem Reap is new to us and that's pretty exciting.
Read about Battambang, our next destination in Cambodia after Siem Reap. We liked Battambang a lot.
All views are our own and we're not sponsored by Garden Village Guest House Siem Reap, we just like it.
If you'd like to hire a car during your stay, use this car rental comparison tool to find the best deal!

We also suggest you take a look at this company to get a quote for all kinds of the more tricky adventure or extended travel insurance.

Try Stayz / VRBO for an alternative way to find rentals on homes/apartments/condos in any country!