This post may contain affiliate links.
Jump to whichever post you like from our Cambodia travel blog section. All of our content on travelling in Cambodia is here, our personal experiences and travel information. We cover getting to Cambodia from surrounding countries in South East Asia, places, towns, cities and attractions to visit in Cambodia and the practicalities of food, lodging, handling money and getting around.
Cambodia Travel Blog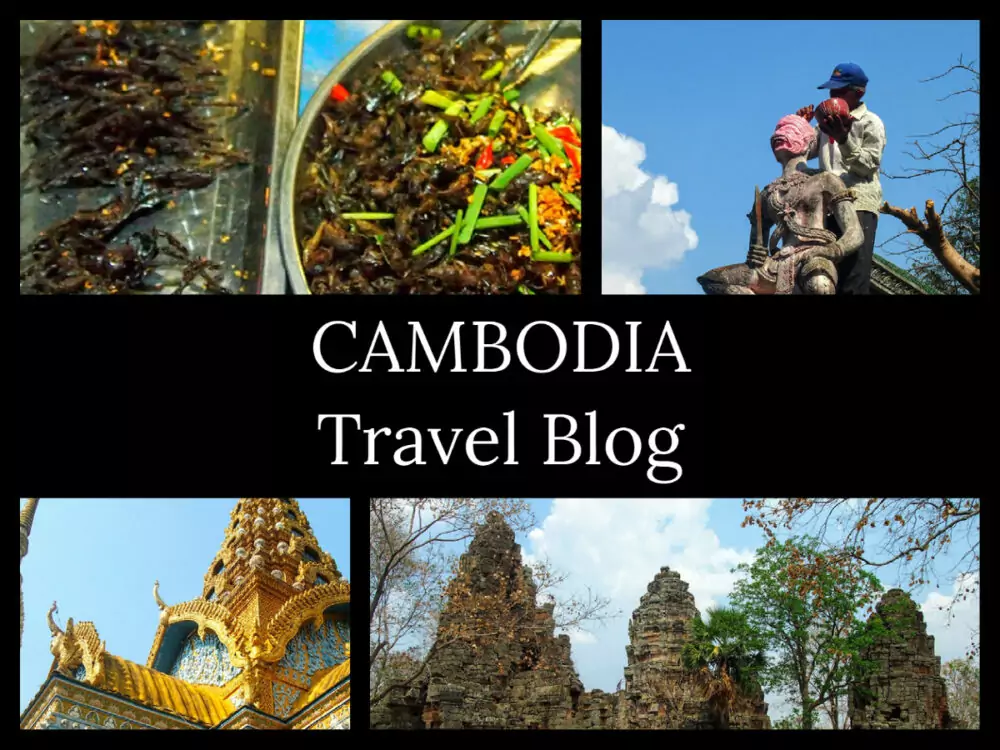 Is Cambodia Worth Visiting?
We love Cambodia. Cambodia is obviously a must-visit destination in Southeast Asia because of Angkor Wat, many people fly into Siem Reap just for this UNESCO listed wonder of the world. However, there is much more to Cambodia to explore, take a look at some of our favourite Cambodia destinations further down the page.
Travel To and From Cambodia
You can travel by land into Cambodia from Thailand easily, we've done it by bus and taxi, although it can be a long trip. The journey from Vietnam into Cambodia is somewhat complicated by water crossings although, we must admit, we haven't travelled this route since 2001. We're looking forward to getting back to Cambodia once travel returns, to see how much this epic route has changed.
Obviously, you can fly. If you're short of time, this is probably your best option. Have a little think about your carbon footprint, not just costs, when you're deciding how best to travel.
Siem Reap is where you need to go to see Angkor Wat. Siem Reap international airport is the closest airport to Angkor Wat and has direct flights on AirAsia and several other Southeast Asian countries. Find out about airport transfers from Siem Reap airport here.
Is Cambodia an Easy Country to Visit?
No, I really don't think Cambodia an easy country to travel, it's pretty tough. I'd say it was the hardest country in this corner of Asia.
The country was knocked for six by the Pol Pot years and you can see the scars, both in terms of infrastructure and human suffering. Transport practicalities are challenging and you may find some of the realities of Cambodia today hard to take. My younger son, particularly, was upset at times.
We opted not to take the kids to some of the more harrowing destinations in Cambodia. We adults had been before and knew what was there. We didn't want to upset the kids so we skipped a few places when visiting Cambodia with them.
Instead we opted for the more fun destinations, like Angkor Wat, Kep, Battambang, Kampot, and the nicer parts of Phnom Penh.
There are also beach opportunities in Cambodia if that is what you're looking for. Our Cambodia travel blog section tends to reflect our interests, and they are more cultural and historical.
Voluntourism in Cambodia
Cambodia has big problems with well-meaning tourists wishing to volunteer, particularly with cute orphans. We have been contacted directly by a Cambodian charity and asked to pass on this information to our readers. Many of these children are not orphans at all, the orphanages are businesses and they need a steady supply of children to keep the tourists coming. They are taken from their families to extract tourist dollars and donations.
In all of our travels, we've rarely seen any form of voluntourism business that was actually doing good for the people involved. This form of tourism is particularly damaging for these children. You'll see leaflets explaining this all over Cambodia. Please do not get involved. But thank you for wanting to help. These communities would be much better saving themselves without interference from westerners.
If you'd like to help, find legitimate ways to do so, probably best in your own country. White saviourism is a well-known term.
Cambodia FAQs
Can you book buses, taxi transfers and onward flights before arriving in Cambodia?
Yes, you can. There is a site called
12 Go Asia
which allows you to do this from your home country. That way you have reservations and everything is paid for in advance. They're a huge company. You can even book a taxi from Bangkok to Siem Reap.
Can you book tours in and around Cambodia in advance?
Can you pay for many things using your credit card in Cambodia?
Yes in the bigger cities and tourist areas. Availability of credit card transactions is growing. For markets, local shops, tuk tuks and street food you will need cash.
Is card skimming a problem in Cambodia?
Nothing like this has ever happened to us in Cambodia, but yes, it's a possibility, be careful
Are pick pockets a problem in Cambodia?
Can we recommend any hotels and hostels in Cambodia?
In Siem Reap we can warmly recommend
Garden Village Guesthouse
, a budget but rather nice guest house, with pool and on-site food. We and many other family travellers have used this place as a base in Siem Reap.
Pin the image below to Pinterest, thanks!

Our Cambodia travel blog section is short right now despite spending months in the country. Cambodia is one of the first countries we re-visited when I first started this travel blog. My blogging game wasn't as strong as it is now. We will most certainly be back to add more content just as soon as we can.
If you'd like to hire a car during your stay, use this car rental comparison tool to find the best deal!

We also suggest you take a look at this company to get a quote for all kinds of the more tricky adventure or extended travel insurance.

Try Stayz / VRBO for an alternative way to find rentals on homes/apartments/condos in any country!