We loved Battambang, this is the sort of town that's great to just hang out for a few days, or weeks. It has a good vibe, quieter streets and a lovely riverside walk with a playground for the kids ( and grown ups!). The area around Battambang is also wonderful to explore, you'll find rural Cambodia, around 6 hours and $6 on a bus from modern, hectic Siem Reap.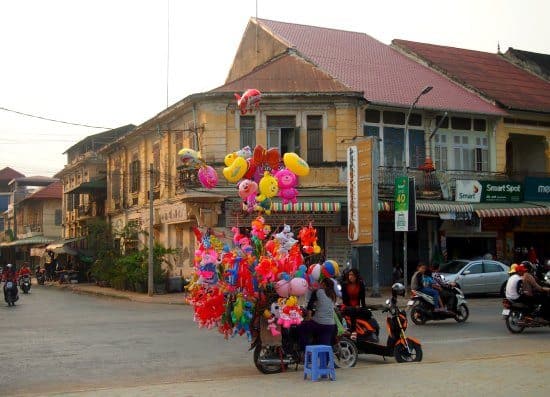 We found a hotel with a good family room very easily at Lux Guest House.
What We Got For Our Money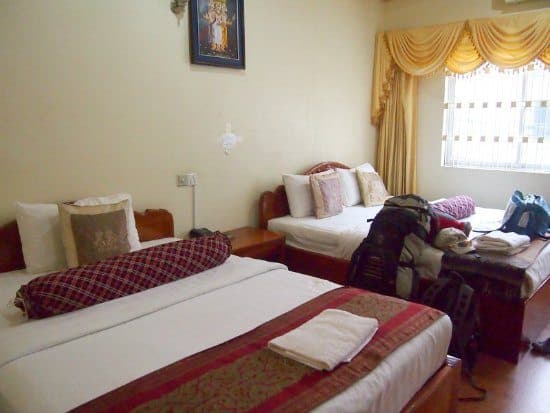 1 King Sized bed and 1 very large single, maybe double.
Any post on this site may contain affiliate links. We earn commission on these should you make a purchase. All recommendations are genuine and we are not paid to include products, hotels, and so on.
Air conditioning that worked very well.
Wall fan.
TV with the Disney Channel in English ( all be it fuzzy, we could watch movies)
Fridge.
En-suite with good-enough shower.
Excellent wi-fi, the best we've had in Cambodia.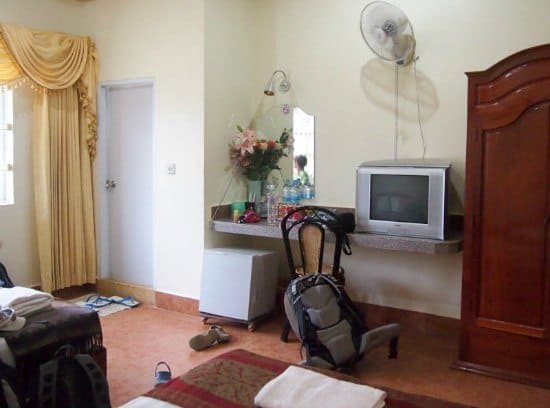 Other Hotel Facilities
The Lux has a sister hotel with a pool which we were able to use, although we didn't.
I'm not saying that Lux is the only, nor the best place to stay in Battambang, but it worked out great for our family and was a real bargain.
Find latest great deals on Battambang hotels, at all price points, here:
Location
A short walk from the river, the market and Pub st. Pub St in Battambang is nothing like the street of the same name in Siem Reap, which we didn't like at all, this one is far more peaceful and "Cambodian".
Nearby Places We Recommend.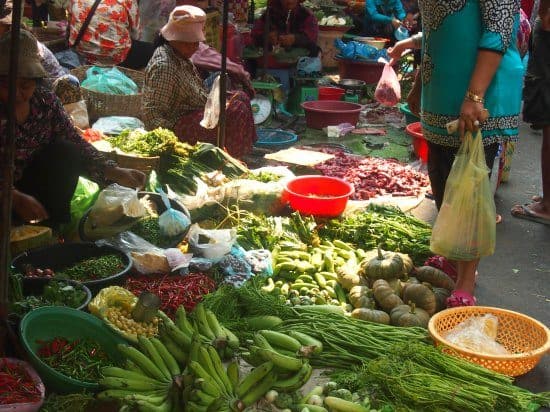 We would strongly suggest that you take a day tour of Battambang and the surrounding area with a tuk tuk driver, we had a fabulous day for just $18. A quick run down on things to do and see around Battambang is in this post.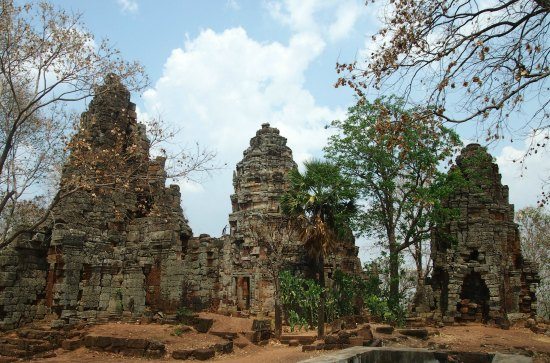 For coffee try Kinyea on street 1.5. They hold the award for the best barista in Cambodia.
We also recommend the Smokin' Pot cookery school half day Cambodian cookery class. The Smokin' Pot on The Roof hostel and cookery school is almost opposite the Lux Guest House. Their main restaurant is on Pub St and is another one we'd recommend. Cooking classes are $10 each, including children.
Alyson is the creator of World Travel Family travel blog and is a full-time traveller, blogger and travel writer. A lifetime of wanderlust and now over 7 years on the road, 50+ countries allowed the creation of this website, for you. She has a BSc and worked in pathology before entering the travel arena and creating this website. World Travel Family Travel Blog has been helping you travel more, better and further since 2012, when Alyson and James first had this life changing idea. On this site you can find endless travel information, tips and guides plus how to travel, how to fund travel and how to start your own travel blog.