It's time for us to write a post on our favourite and recommended hotels, hostels, and guest houses in Southeast Asia. We've been travelling the world for 5 years now and a lot of that time has been spent in Southeast Asia, some of these places we've used multiple times, others we've used once and really loved them. All are at the lower-cost end of the price spectrum but not necessarily ultra-budget. They do however, we think, offer good value. We're about to visit Thailand for the 24 th time and will probably pick one of the 2 properties listed below. We return to the same hotels or hostels time and time again. They are 2nd homes to us with good wifi, good food and comfortable accommodation for our family. This is our life, this is where we stay often.
Favourite and Recommended Hotels, Hostels and Guest Houses in Southeast Asia
Bangkok Thailand

There are a few places we use regularly in Bangkok. Mile Map Hostel is a clean modern hostel in the Silom area of Bangkok, it has family rooms with a double and a bunk bed, shared bathrooms, shared kitchen and a huge area to sit, work and socialise downstairs.
There is a 7-11 right opposite, a beautiful Hindu temple at the end of the street and endless street food options nearby amongst the temple flower stalls.
We use this one regularly, it's cheap, cheerful, easy. View here.

Shanti Lodge is another Bangkok favourite. This one appeals to my inner hippy with Om Mani Padme Hum playing softly on the music system and decor that takes me back to the olden days of backpacking.
You can sit and work downstairs but you can't bring in your own food and drink as they run their own, rather nice but slightly expensive, restaurant.
There is a 7-11 opposite. It's near Dusit Zoo along with the river ferry jetties and is an OK walk from Khao San Rd. It's cheap but their food and drink prices tend to push up overall stay costs.
The breakfasts are great, but not street-food cheap. Their family rooms are a little small but very cute. Bathrooms are private, within your room, or there is a shared, immaculate, bathroom block downstairs.
We sometimes book 2 doubles here instead of a family room and always love staying. View here.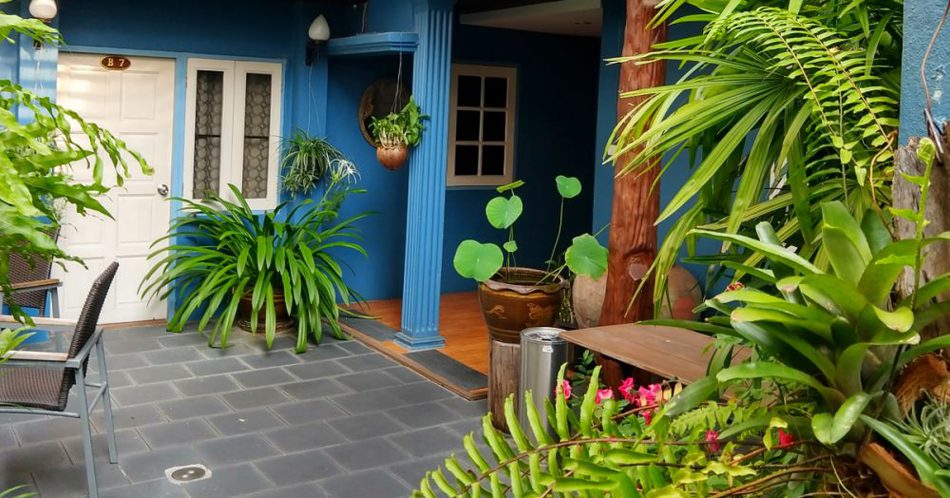 Blue Chang House, pictured above, is our latest find. We liked this place a lot, it was super clean, well located, had good security and still had an Old Bangkok feel.
This one is about 10 minutes walk from Khao San Rd or the river and is in a very "local" area with a good balance of local people plus a smattering of tourists, so you have facilities like 7-11, cafes and 40 Baht / Kg laundry nearby, as well as a real Bangkok, feel. Take a look here.
Sukhothai Thailand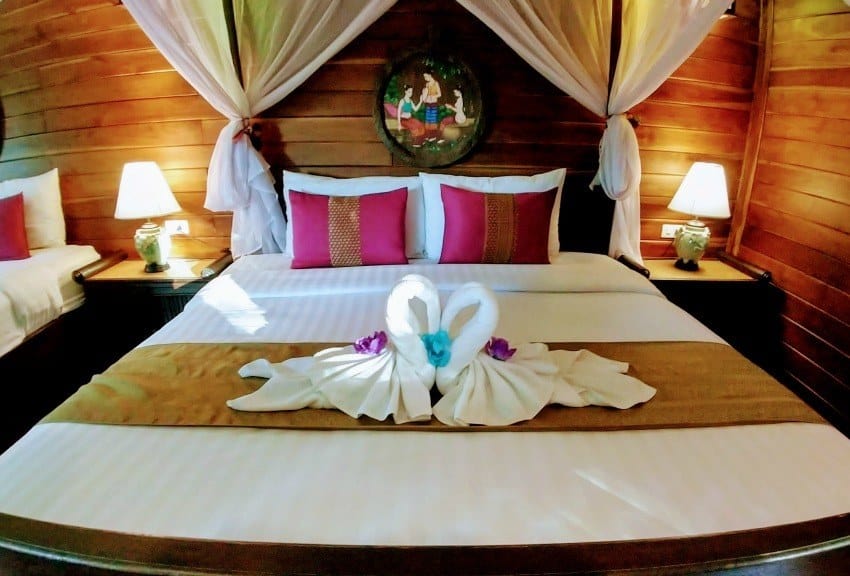 This hotel Thai Thai Sukhothai Guest House, actually a series of cute bungalows, was a huge wow for us. It had a pool, included breakfast buffet and as you can see above, lovely family rooms.
A little more expensive than the others on this page but well worth it. Sukhothai is incredible, you really must go, allow 3 nights to stay and tour the ancient city, it's quiet and off the main tourist drag.
Chiang Mai Thailand
Again, there are several places we use often in Chiang Mai, all with family rooms.
Central Guest House is perfectly located within the old walled city, right on Tai Pae gate. It has large family rooms, actually 2 rooms, with a bunk and sofa in one, double bed in the other. Bathrooms are en-suite and a fridge and kettle is included. It costs slightly more than rock bottom but is a solid choice.
Triple Palms House is a little more expensive again, but still affordable and it's family room, again 2 rooms, is just perfect. It comes with fridge, kettle, ensuite shower room and balcony/fire escape with old twn views. There is a lovely vegetarian restaurant opposite and downstairs there is a nice garden and seating area where you can work or just chill. It's in a lovely quiet area within the old town walls.
Roof and Rooms Hostel This one is budget friendly and offers family bunk rooms with 4 bunks or 6 bunks. Private bathroom is included and downstairs there is a small seating and kitchen area. This one is just outside the old town on the north wall. It's clean new and modern. Our 4 person room was small but the bunks clean, comfortable and slid, each with charging points and reading lights.
Kanchanaburi Thailand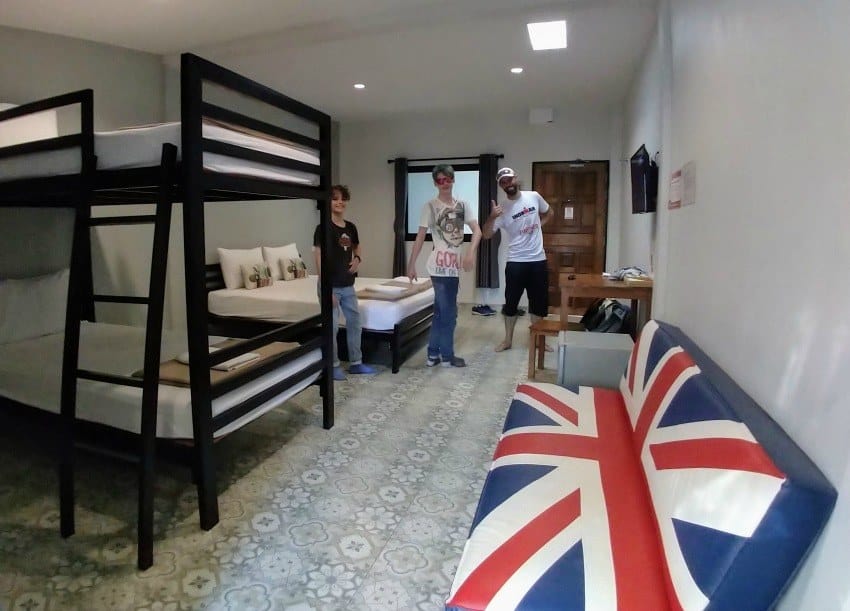 We once spent 6 weeks in a floating raft room on the River Kwai at Kanchanaburi at Sugar Cane (see here). It's a lovely spot with great views and superb food but very old-school backpacker.
These days many of us want something modern, clean and new, Warm Well was a winner for us on our 2018 trip to Kanchanaburi.
Huge family rooms, a very basic included breakfast, good wi-fi and a nice bathroom. We paid a little more, about $60 per night for this room and were very happy with it.
We still walked down to Sugar Cane to eat overlooking the river, the food is still great but the 4 of us won't squeeze into a $12 room anymore.
Kuala Lumpur Malaysia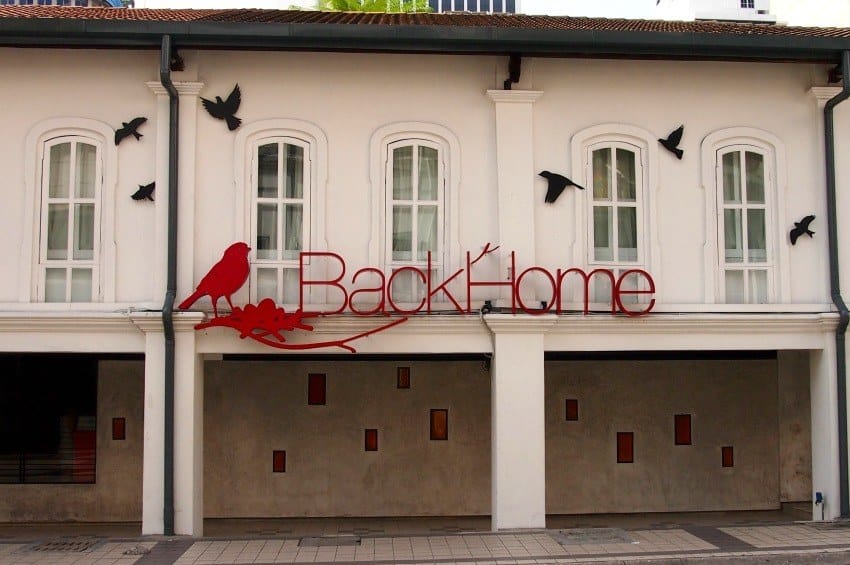 Back Home Kuala Lumpur is the place to stay in Kuala Lumpur. Totally awesome, the staff here are like family to us now.
They offer cooking classes, a movie room and tours. Good internet, family rooms, doubles and dorms, shared, immaculately clean shower blocks. Footsteps from the free pink bus into central KL and amazing Indian food on the next street.
Back Home is an easy walk from Chinatown or Kuala Lumpur's historic district. If you stay a week you may get a free night. View here.
Penang Malaysia

We used the worst hostel in the world once in Georgetown, Penang, but this one, Heritage 16 is a winner.
Spacious family rooms a short stroll from Little India. Shared bathrooms, everything clean and neat. If you're going to Penang, Georgetown is absolutely where you want to be. View here.
Saigon Vietnam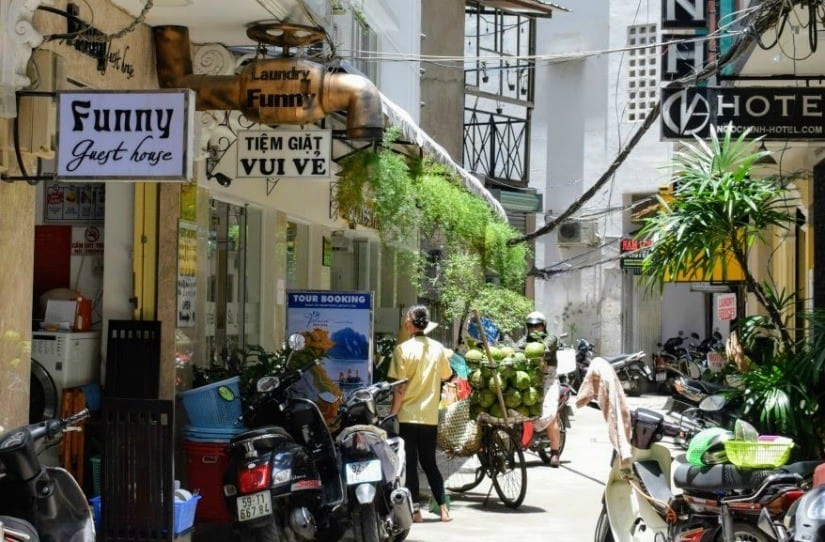 Friends and readers recommended Funny Guest House to us in Saigon. They loved it but unfortunately, it was full when we visited so we stayed right next door at Phan Lan 2 Hotel.
We loved this little side alley, it was quiet away from Saigon's bustle and was a great place to stay. View here.
Singapore
This is the hostel we used in Singapore, Quarters Hostel. Things are expensive in Singapore and you get very little for your money, but this place had a family room, included breakfast and the location was faultless, just steps from Clarke Quay. View here.
We will add more great family accommodation in Southeast Asia, we hope our choices above give you some idea of what life is like, and what costs are like, for family backpackers.
If you'd like to hire a car during your stay, use this car rental comparison tool to find the best deal!

We also suggest you take a look at this company to get a quote for all kinds of travel insurance.

Try Stayz / VRBO for an alternative way to find rentals on homes/apartments/condos in any country!