This post may contain affiliate links.
Sukhothai is a city in central Thailand and home to Thailand's first ancient capital. For lovers of history and culture, Sukhothai is a must-visit and we'd encourage anyone to add Sukhothai to their Thailand itinerary. However, getting to Sukhothai isn't so easy, it's a little off the main train lines, so buses, private tours and transfers could be what you need. Information on visiting Sukhothai, touring the UNESCO listed Sukhothai Historical Park, where to stay, touring by bike, golf buggy, and more. Everything you need to know to organise a trip to Sukhothai Thailand and Sukhothai itself. Where and what is Sukhothai?
If you're looking for a great place to stay in Sukhothai, at a moderate price, we recommend this hotel, here on Agoda, here on Booking.com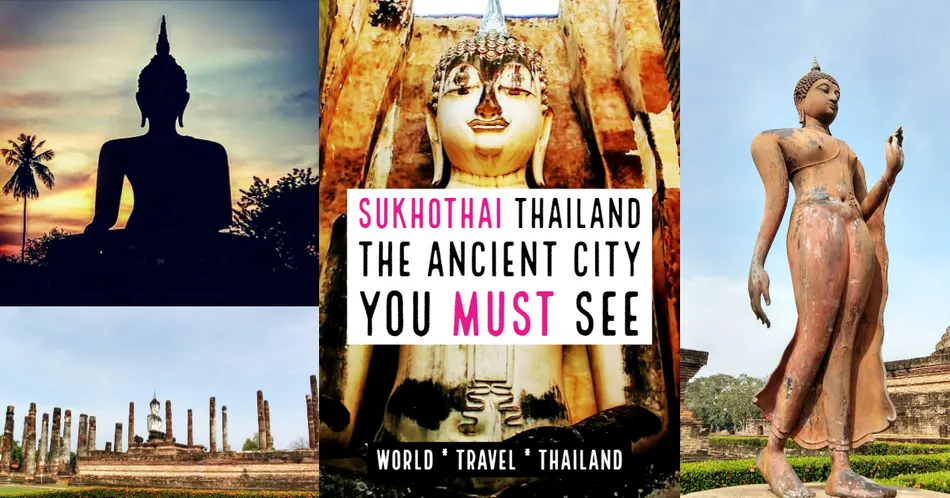 All information was correct at time of publishing and we try to stay up to date, but with over 900 posts on this site that can be hard.
Please double check all information particularly on prices, costs and opening times.
---
User guide for this Sukhothai blog post:
---
Sukhothai Thailand
Sukhothai Map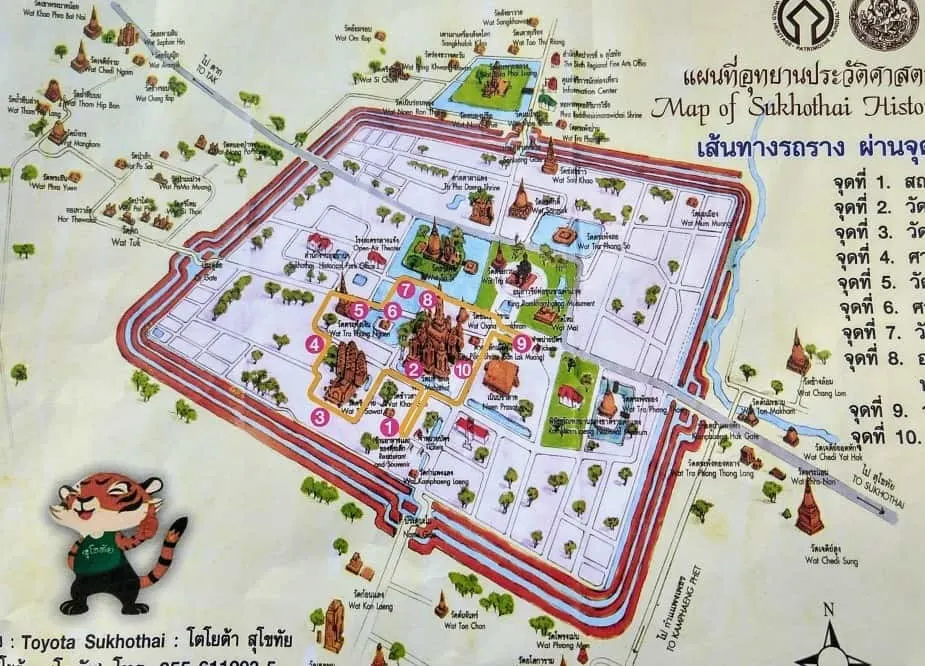 Sukhothai Admission
The ticketing and admission fees for the Sukhothai area are a little complex. There are two main zones, northern and central.
The central zone is the area with the yellow route marked above on the map, the northern zone is the area with the moat north of the main city wall.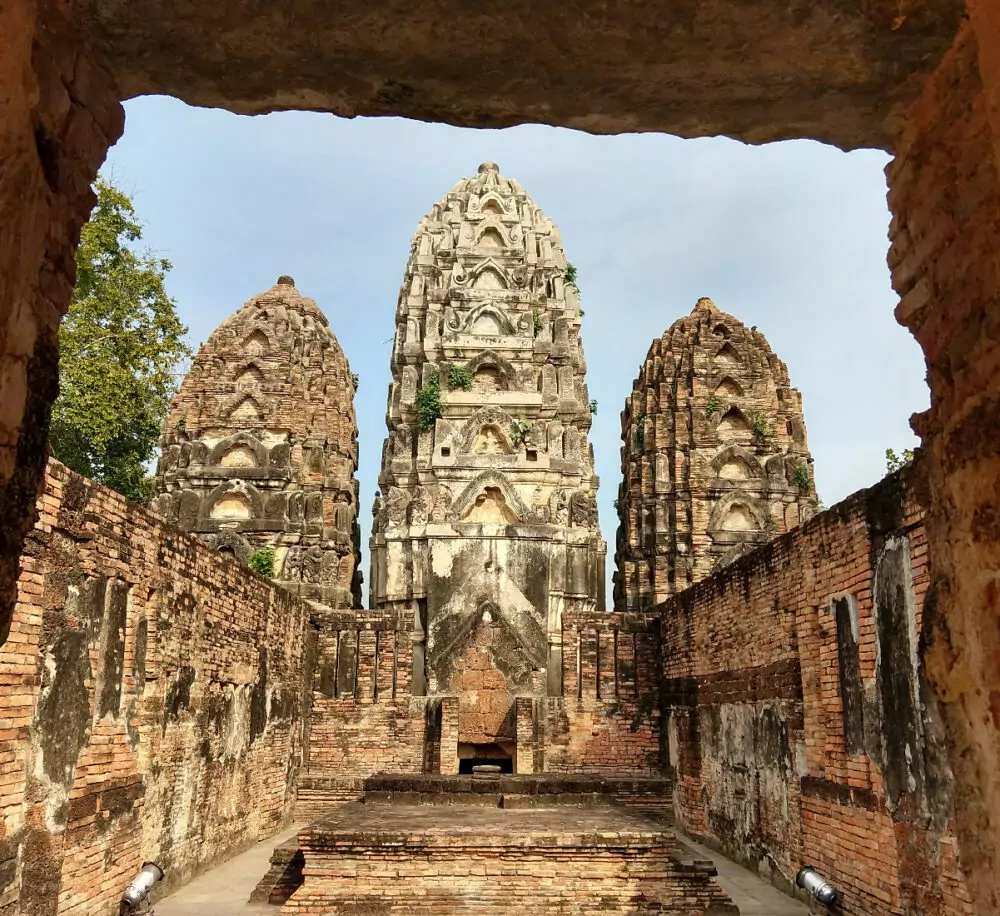 There is plenty to see for free, without buying a Sukhothai admission ticket, as monuments dot the landscape inside and outside the city walls.
At dawn (while running) we could explore much of the northern area without buying a ticket, but later in the day, we bought a ticket for the same area with the addition of Wat Sri Chum (see below), which is fenced and guarded.
Tickets come in various combinations. The main (central) area is tightly fenced and has designated opening times, we were unable to get in there for sunrise at all, but sunset is recommended.
Outside town, there is a sunrise point (Wat Saphanhin, top left on the map above) that is possible with views over the landscape and the Wat's own standing Buddha.
There is a ticket for this, but my husband, again running, didn't need one.
We left almost as confused about tickets as when we arrived, but we'll say that it is very much worth buying all of these tickets, don't skip them because of cost.
Sukhothai Admission tickets cost 100 THB per zone or 350 Baht for all 5 zones. The five zones at Sukhothai are the inner city zone (the old walled city), north, west, south and east sites. These tickets are for one day only, so if you plan to explore Sukhothai over several days you need to buy tickets each day.
Please check these prices at the ticket gate at the entrance to the fenced inner city. (They can and do change) This is where you can also rent a golf buggy to explore the bark. Alternatively, tour this area by bicycle, it's a large site with no shade.
The park is normally open from dawn to dusk. Dawn is the best time to visit for amazing light and to escape the noon heat.
How Long Do You Need To See Sukhothai?
You need at least one full day to explore the ancient city and ruins of Sukhothai, we recommend you book 2 nights in Sukhothai, and this is a moderately priced, nice hotel which we like. (on Booking.com)
If time allows stay longer as Sukhothai is a really nice place.
Of all the places we've been to in Thailand I think Sukhothai is our favourite and it would be great to have several days to explore fully, on our last visit we only had 2 full days, 3 nights.
If your only way to see Sukhothai is to book a tour then this is still a good option, your guide will make sure you see all of the most important places in the Sukhothai historic areas. I've been unable to find a tour of Sukhothai from Bangkok as it's over 400 Km to the north of the city, over a 4 hour drive, it would be very hard to see Sukhothai as a day-trip but group tours of Thailand do often include Thailand.
If you're visiting Sukhothai for the evening sound and light show held during the cooler months, be certain to have at least one night in Sukhothai. This show is spectacular, I've seen it and highly recommend it's held at Wat Sa Sri, on Saturday nights, between October and April, usually. Sukhothai can flood (I've seen this too), so check flooding news. Tickets for the Sukhothai Sound and Light show should be around 500 Baht ($15 US) and there are special shows for Loi Krathong festival.
Sukhothai Historical Park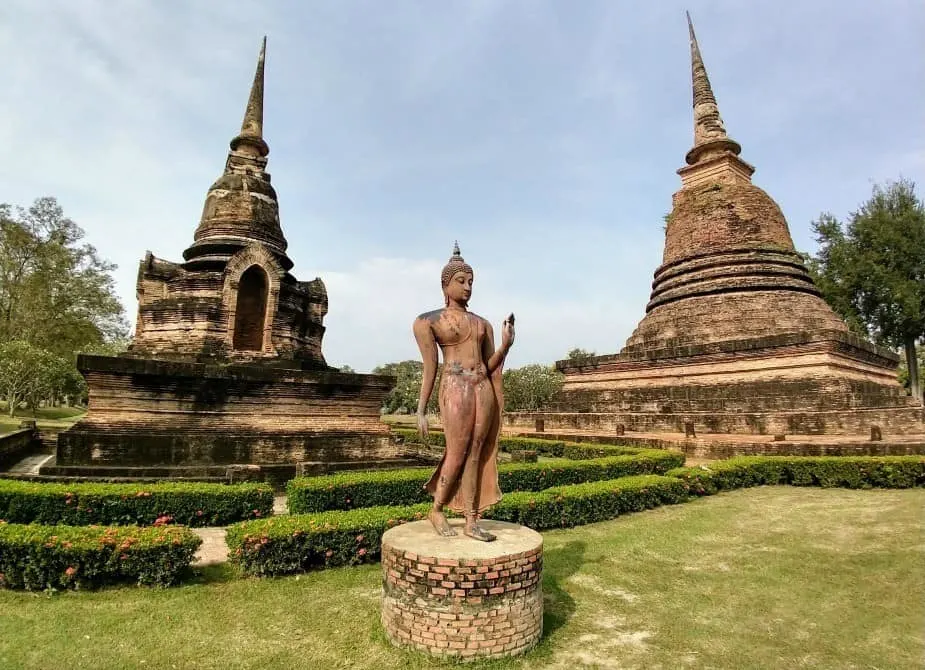 Sukhothai was the 13th century capital of Thailand and is the first ancient capital of Siam after unification and before the Ayutthaya era.
Sukhothai was founded by King Ramkhamhaeng who is credited with introducing the written Thai language.
The region's restored and preserved monuments, temples and palaces are collected into UNESCO listed Sukhothai Historical Park.
The word Sukhothai translates as "dawn of happiness" and the Sukhothai period has unique features and styles. Sukhothai was the capital of Siam for 120 years and saw many kings.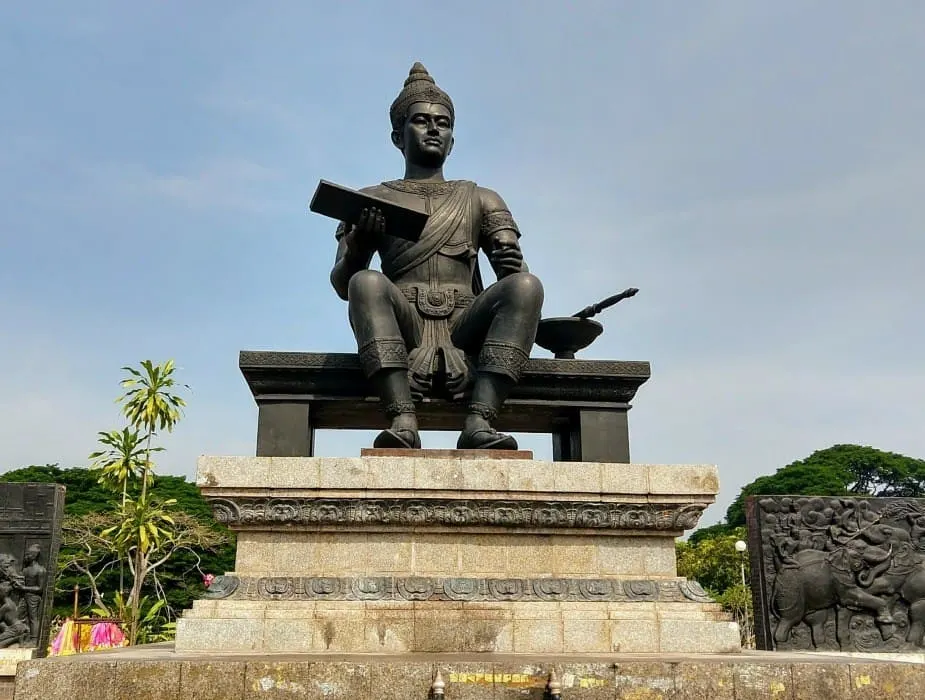 The northern zone of the ancient city of Sukhothai has my favourite monument in the whole of Thailand.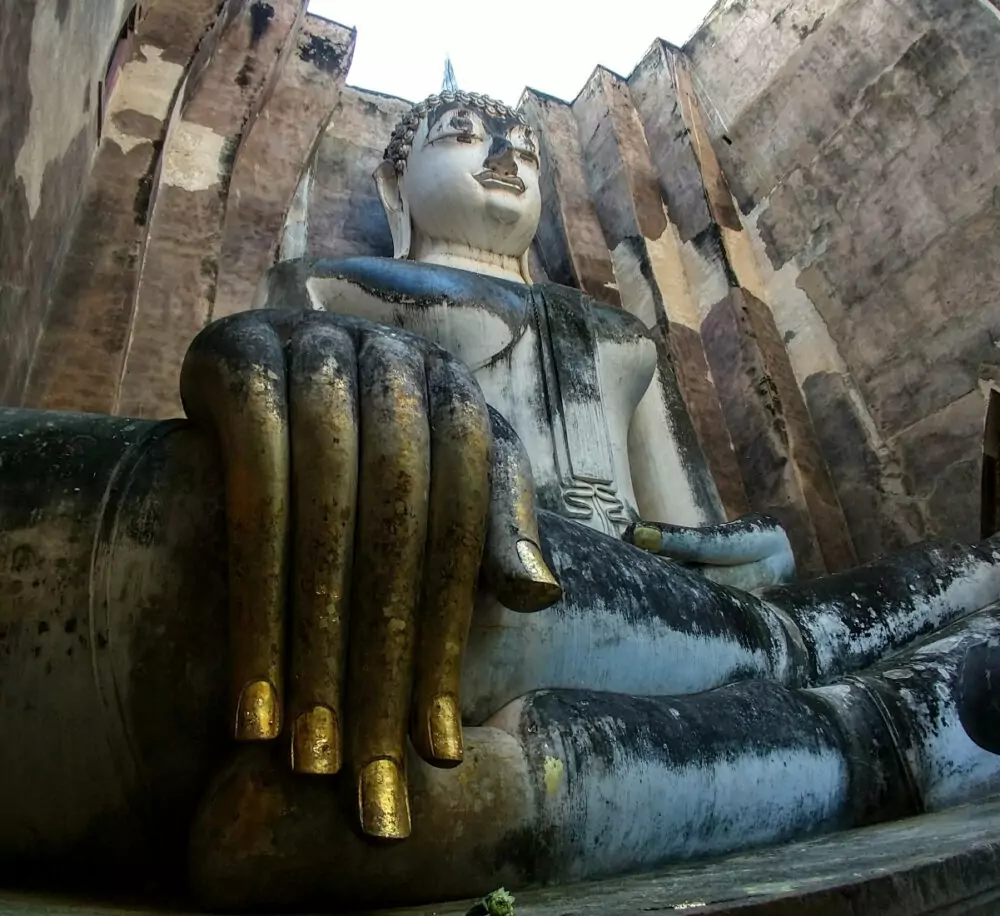 Wat Sri Chum contains a stunning white Buddha who peeks out from his enclosure inviting you to come closer (see him, also, on our Pinterest image, below).
The last time I visited, almost 20 years ago, he was pure white having been recently restored. Today he's showing the marks of time, weather and birds, but he's still mesmerising and beautiful.
Your ticket for the Wat Sri Chum area also covers the rest of the moated northern zone which contains various prangs and statues. As I mentioned, we didn't need a ticket to run in this area at dawn, but had to buy one later in the day. Tickets are 100 Baht ($3 each) usually.
Nearby you can also visit Ramkhamhaeng National Museum, Ramkhamhaeng National Park, Sri Satchanalai National Park, and The Royal Palace and Wat Mahathat.
---
Getting To and From Sukhothai by Bus, Train or Plane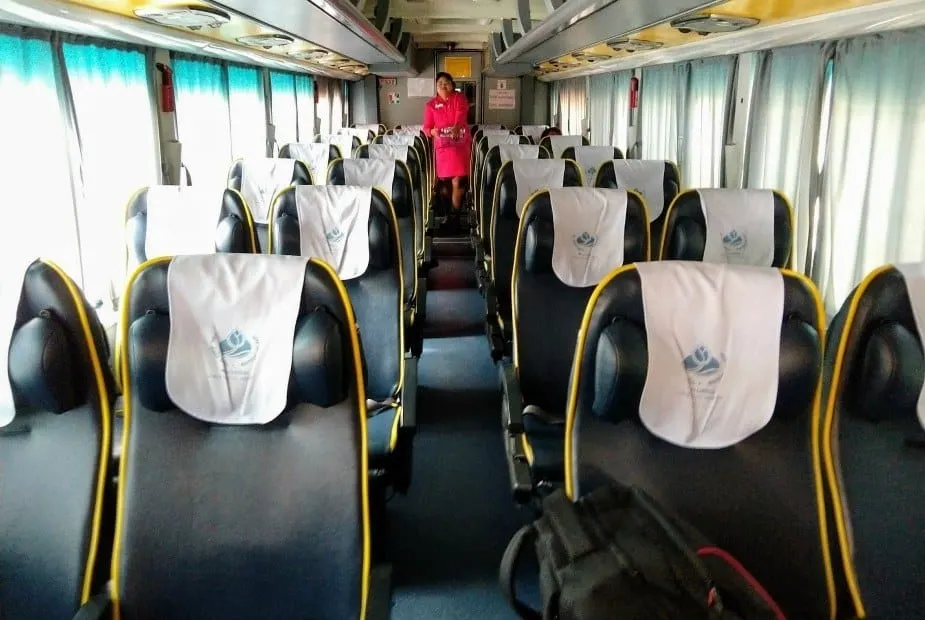 Sukhothai is well served by roads, which is just as well with the nearest railway station, Sawankhalok, being approximately 50 km away and Phitsanulok station (on the more frequently running north-south Thailand train line) nearly 75 km away.
Sawankhalok railway station is the closest to Sukhothai but it is still 40 km north of New Sukhothai and nearly 50 km North-West of Historic Old Sukhothai.
There is one train direct from Bangkok Hua Lamphong Station to Sawankhalok, the journey is almost 7 hours, departing at 10.50 hours arriving at 17:46. (correct at time of writing, please check the current situation)
Currently there is no direct train to Chiang Mai from Sawankhalok. (Please check, this may have changed)
Buses from Sukhothai Old Town bus station depart to Chiang Mai in the north and both Ayuthaya and Bangkok in the south.
The journey to Chiang Mai is approximately 4 hours, upwards of 7 hours to Ayuthaya and 9 hours to Mo Chit bus terminal in Bangkok.
There are more departures and arrivals from Sukhothai New Town bus station than from the Old Town. Buses from Sukhothai Old Town tend to be newer, which makes for a nicer ride, especially on the 9 hour route to Bangkok.
Tickets can be bought in the middle of Sukhothai Old Town at the small roadside bus station and you can even pay with credit or debit cards for a fee.
There is also a Sukhothai Airport, although it only services Bangkok via Bangkok Airways. Planes travel in both directions twice per day.
Flying time from Bangkok to Sukhothai is just over an hour and Bangkok Airways also sell transfers to either the New Town or Historical Old Town. Check this is still possible.
Phitsanulok has another nearby airport, offering more planes. Both Air Asia and Nok Air usually service the airport.
You can get tickets that include a transfer to Historic Sukhothai. Flight plus transfer takes approximately 2.5 hours from Bangkok and costs in the region of 1500 Baht ($47 US).
Book a Day Trip or Tour To Sukhothai
---
Sukhothai Old Town or New Town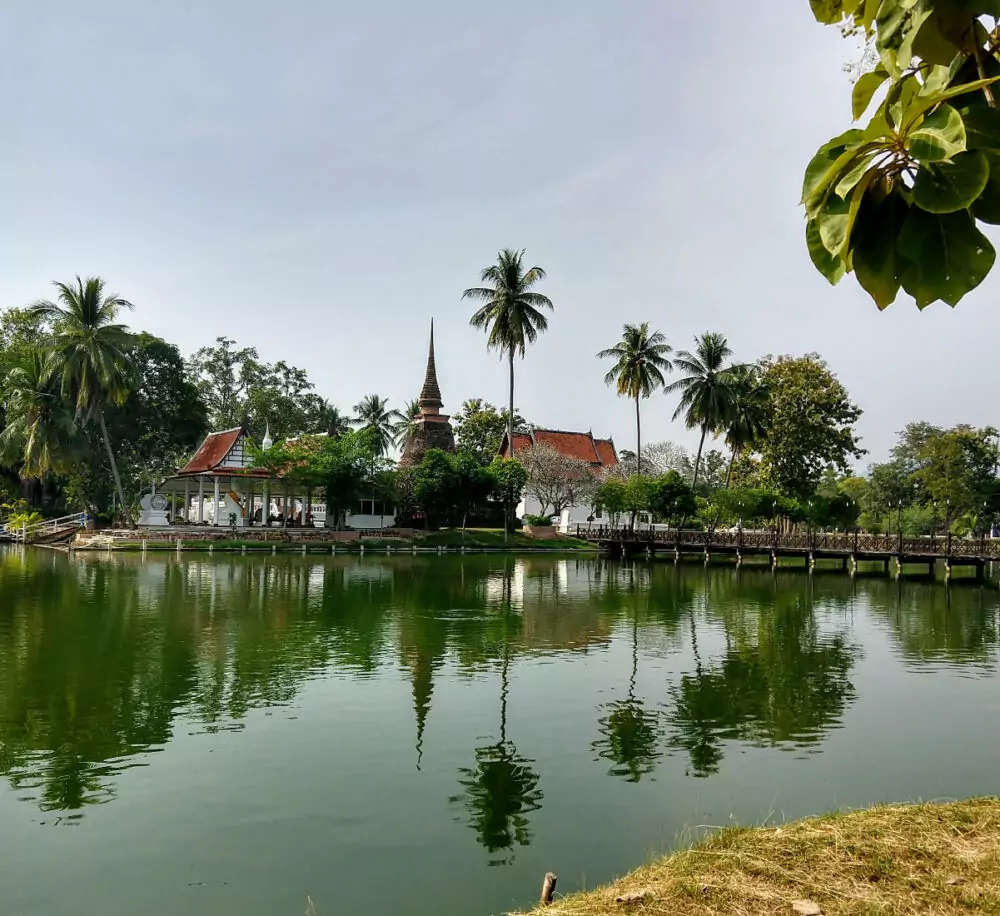 The Historic Town of Sukhothai is a small town that mainly caters for tourists flocking to see the Historic Park. It immediately surrounds the temples and is separate from the new town which is also called Sukhothai.
The new town is a purpose-built town along the banks of the Yom River. It is approximately 15 km to the new town from the historical ruins and songtaws make the journey frequently.
It is typical of most new towns and doesn't hold anything much for tourists besides some lodging and a few more banks and medical facilities than the old town.
If you are just here to see the ruins then there is no need to stay in the new town. Historic Sukhothai has everything you'll need from the accommodation, food, ATMs and even road transport links.
---
Where to Stay in Sukhothai (Our Choice)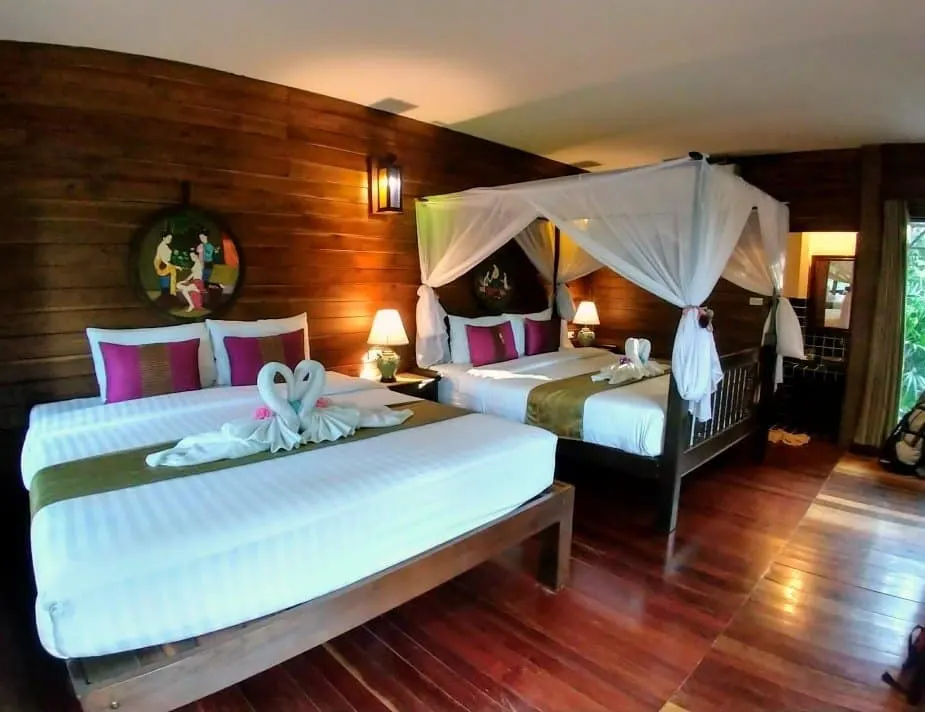 We want to give a big shout out to this place, Thai Thai, (on Agoda) because it was one of the most lovely places we've ever stayed in Thailand.
It's hidden away off the main street in a quiet area, but walking distance from the old town. It has gorgeous family rooms (above) as well as standard rooms for two.
The individual villas or chalets stand in pretty gardens, the staff are divine and the included breakfast was very good indeed, including hot Thai dishes, plentiful coffee and the usual western items.
If that wasn't enough, there is also a swimming pool. It's at a low-mid price budget point, check it out here on Agoda, here on Booking.com
Booking a Hotel in Sukhothai
There are quite a few accommodation options in Sukhothai, and if Thai Thai (our best choice) doesn't suit you, we recommend looking at Agoda, the Asia specialists normally have a bigger selection, and Booking dot com works great for Thailand too.
Take a look at Sukhothai hotels, hostels, and apartments on Agoda here, and on Booking dot com here.
Alternatively, Find top-rated hotels at the lowest prices on TripAdvisor.
---
Activities and Things To Do in Sukhothai- Book
Things to do in Sukhothai, including guided tours, sunset bike tours, countryside cycling, and transfers between Bangkok, Ayutthaya and Sukhothai, can be researched and booked here.
---
Touring Sukhothai by Bicycle and Other Tours

You can book a Sukhothai bicycle tour here. These are a really good way to explore this huge complex.
The classic way to tour Sukhothai is by bike and there are places to hire them all over town. Your hotel, hostel or guesthouse may even loan or rent you a bike.
Parts of the site, beyond the main walls, are free to enter and it's lovely to tour these solo by bicycle. My husband and I run, so we got out to these areas at dawn, on foot.
Sukhothai is quiet and stunning before the other visitors are awake. You can also tour the main Sukhothai site, inside the main ticketed area, by bike. We chose the golf buggy option below.
You can tour independently or arrange a guide and tour. It's hot, be prepared for that with sunscreen, protective clothes and water, but the distances aren't huge and mostly the roads and paths are very quiet.
We did see a serious, probably fatal, accident here, a local guy riding a scooter collided with a turning car on the main road. I'll never forget the sound of a skull hitting the tarmac. Wear a helmet.
If you want to get the most out of any historic site we firmly believe that it's best to have a guide.
We've learned this through experience. Sure, enjoying the beauty can be done solo and you could read up on all this before you go, but we always love paying somebody to show us around.
Our friends at TakeMeTour have local guides waiting to show you around, take a look here (signing up gives us both a discount I believe). Our other favourite tour provider, GetYourGuide, had nothing for Sukhothai at the time we checked.
If you head to Trip Advisor there are tour recommendations for Sukhothai bicycle tours here. I've had a look at Viator too, they do have a full day Sukhothai bike tour you can book. They also have multi-day Thailand trips that include Sukhothai and day trips to Sukhothai from Chiang Mai. See those, and what else Viator can offer.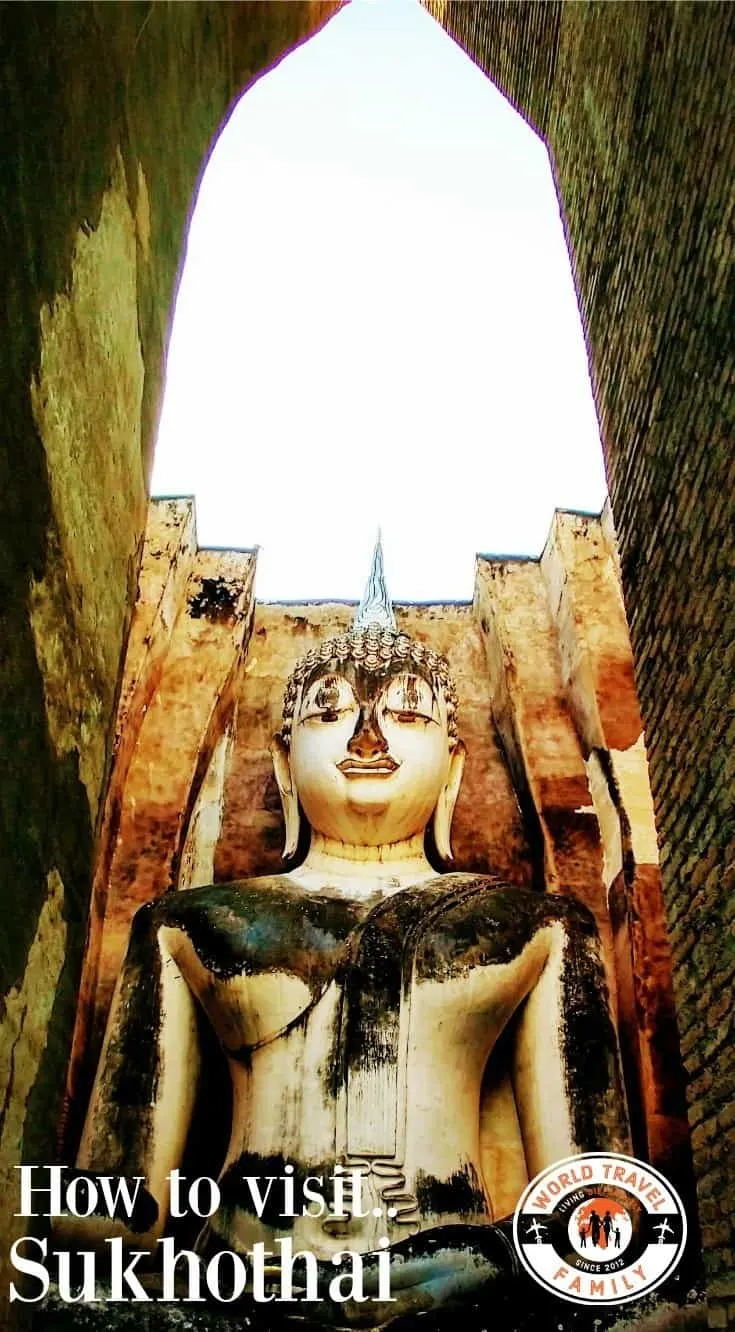 ---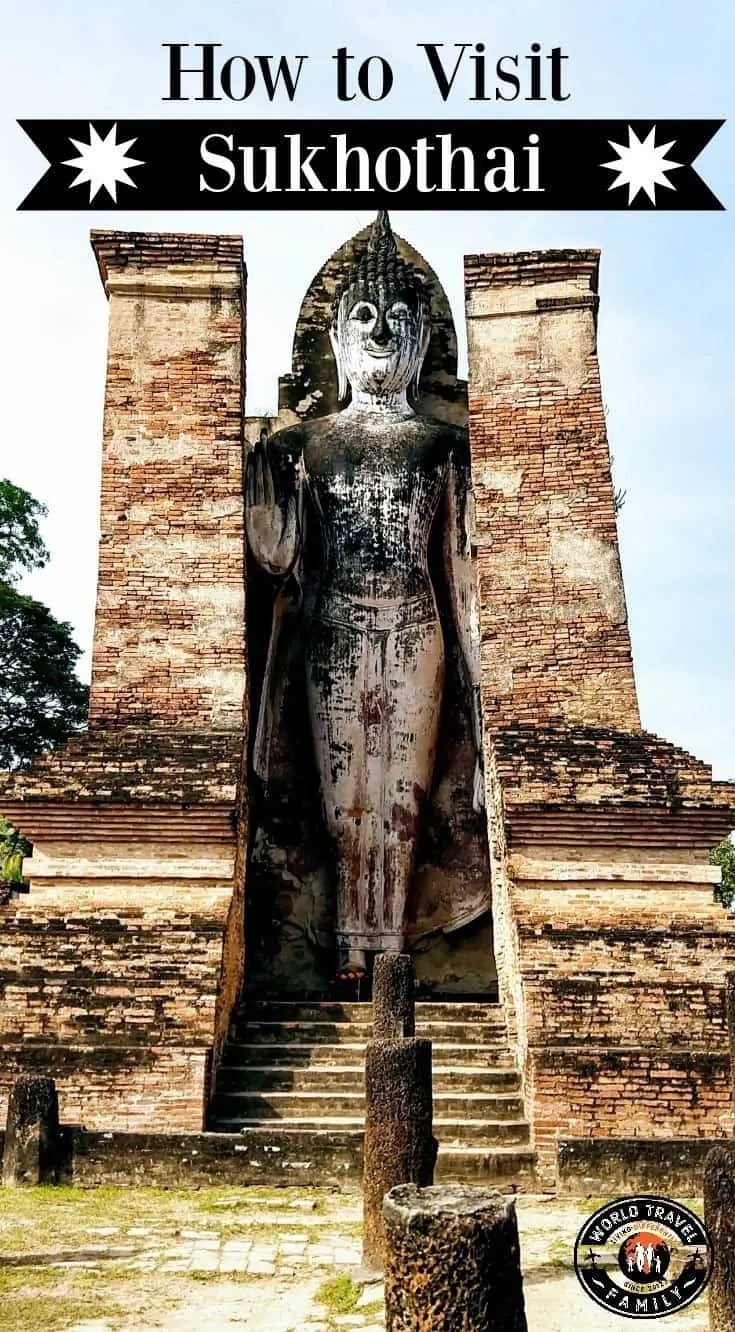 Touring Sukhothai by Golf Cart or Tram
Near the entry gate of the main historic park, you can hire a golf cart for an hour or buy tickets for the hop on hop off tram tour. If you are taking a bike into this area there is a small additional entrance fee.
Sukhothai With Kids
The sites are huge and it gets very hot. Also there are quite a few places where it would be easy for young children to fall from the ruins.
Keep a close eye on your kids and be prepared for heat, sunburn and dehydration.
It could be very tempting for children to climb where they are not supposed to. In some areas, it's expected, in others forbidden.
Because the site is huge and we did it over 2 days, my boys were pretty much "templed out". We had to hit the Historic Park in short bursts with plenty of downtime in between to keep them sweet.
The long bus ride to and from Sukhothai also wasn't a winner with them. We thought touring by golf buggy was ideal for the kids, with shade, a cool breeze and far more fun than walking.
Is Sukhothai Worth Visiting?
Sukhothai, Thailand, is possibly the most magnificent ancient city complex in the whole of Thailand. The ruins are vast, incredibly beautiful, and of immense historic significance. If you have time, yes, certainly include Sukhothai on your Thailand itinerary, however, it is a little out of the way and can be tricky to get to. Transport options from Bangkok and Chiang Mai are in our post.
Thanks for reading and we hope we helped you enjoy your visit to Sukhothai. Thailand's Ancient Capitals are incredible and well worth your visit. If you're looking for more information on travelling in Thailand, head back to our main Thailand travel blog, or Thailand with Kids, pages. If you're trying to put a Thailand itinerary together that includes Sukhothai, we have that too, just click the links above. Our main Thailand Travel index is here.
If you'd like to hire a car during your stay, use this car rental comparison tool to find the best deal!

We also suggest you take a look at this company to get a quote for all kinds of the more tricky adventure or extended travel insurance.

Try Stayz / VRBO for an alternative way to find rentals on homes/apartments/condos in any country!