This post may contain affiliate links.
A reader asked me to write a Thailand itinerary for her 3 week vacation, I think it's best to start with 2 weeks, because that's how long most holiday makers have, and add on some optional extras as trip time allows. A Thailand itinerary is something unique to each person, one man's dream tour is another's trip from hell and Thailand caters to many, often conflicting, travel styles.
Our itinerary is a rough idea as to what you can see and where you can go in 2 weeks or 3 weeks in Thailand. We're assuming an average budget here, so nothing ultra cheap nor ultra luxury. Thailand is extremely affordably to most holiday budgets.
We put a lot of research into this post, visiting destinations of historical or cultural interest and different methods of getting around Thailand, from self drive to bus to train. You will need to use a variety of transportation options to see Thailand properly and there will be some fairly long travel days.
The index below is to help you find the Thailand information you need to help plan your Thailand trip.
Thailand Itinerary 2 Weeks and 3 Weeks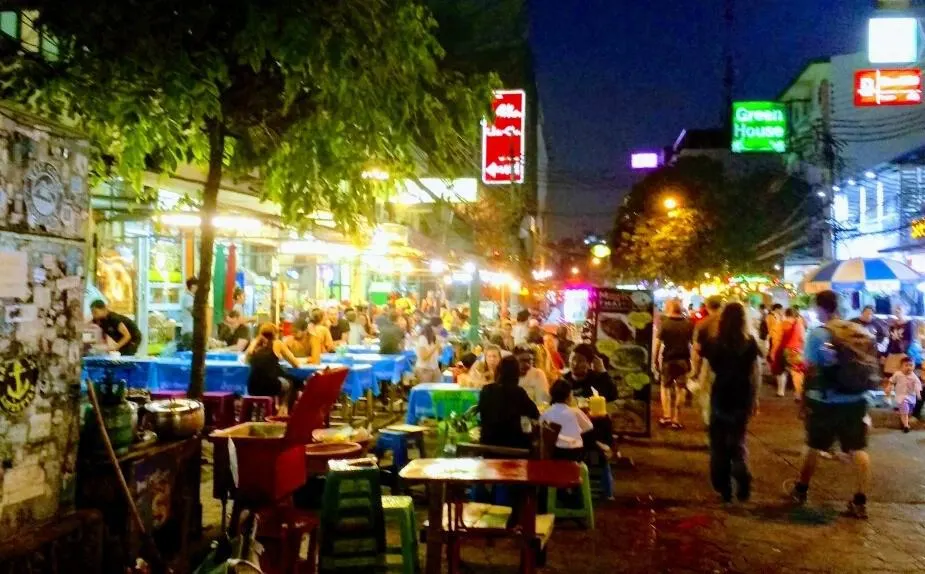 Everything below is suggestion only and based on our personal likes and dislikes, after spending many months travelling in Thailand as young backpackers and as a family with kids.
Arriving in Bangkok
Assuming you're arriving in Bangkok because most people do, you'll need at least 3 days to get the most out of the city. Bangkok is big and busy but most of the tourist attractions are centered around a relatively small area and easily accessible by taxi or boat.
The problem is, hitting Bangkok's sites is exhausting. Bangkok is hot and crowds can get crazy, so although you could see 3 main sites in one day, will you want to? I set out with my son last month the see the Grand Palace, Wat Pho and Wat Arun in just one day, we ended up calling it quits after just the Grand Palace (full post on visiting this beautiful place coming soon).
You will need stamina and dedication to even scratch the surface of Bangkok in just 3 days. To make touring Bangkok easier and faster you can opt to book a tour. More information on that further down the page.
There are multiple places to visit around Bangkok that can either day trips or turned into an overnight or 2 night stay, for a 2 week itinerary they would need to be day trips.
Getting from Don Mueang Airport or Suvarnabhumi Airport to Your Bangkok Hotel
It is very easy to hop in a taxi at the airport. (Be it Don Mueang Airport or Suvarnabhumi Airport ) Taxis are very cheap, good and if they are honest drivers they use their meters (always check before getting in, particularly when hailing a taxi near big tourist draws).
There is a well organised taxi desk and rank just outside both airport arrival terminals and all drivers here are using metres. As you leave the arrivals area and customs, take a left, you'll see it at the end of the terminal building. Take a numbered ticket from the machine on your left as you enter the taxi area and wait for your number to be called.
Tell the person on the taxi desk where you need to go (having a printed address or map in Thai would be great) and she'll assign you to a taxi driver.
There is an extra 50 Baht charge for using the airport taxi desk, it's payable to your driver at the end of your journey. Your driver will ask you if you want to use the highways, absolutely say yes, traffic is crazy on the low roads. You will pay in cash for every road toll you pass through, there will be 2 or 3 at around 50 Baht each. It's all totally above board, nobody is scamming you or ripping you off.
Expect to pay in the region of 400 Baht ($13) to get to the tourist areas of Bangkok from either airport, with Don Mueang being slightly closer.
Alternatively you can arrange an airport transfer with your hotel or book an airport pick-up online in advance. Check prices for booking a private airport transfer from Bangkok Don Mueang Airport here. For Suvarnabhumi Airport Private Transfer check here.
Train or bus are also possible from Bangkok's 2 international airports, but on a short trip and exhausted by the journey, I doubt you'd want to take these options. There is a bus shuttle between the two airports but you must have a valid onward flight ticket to use this, they do check.
Things to Do, Places to Visit in Bangkok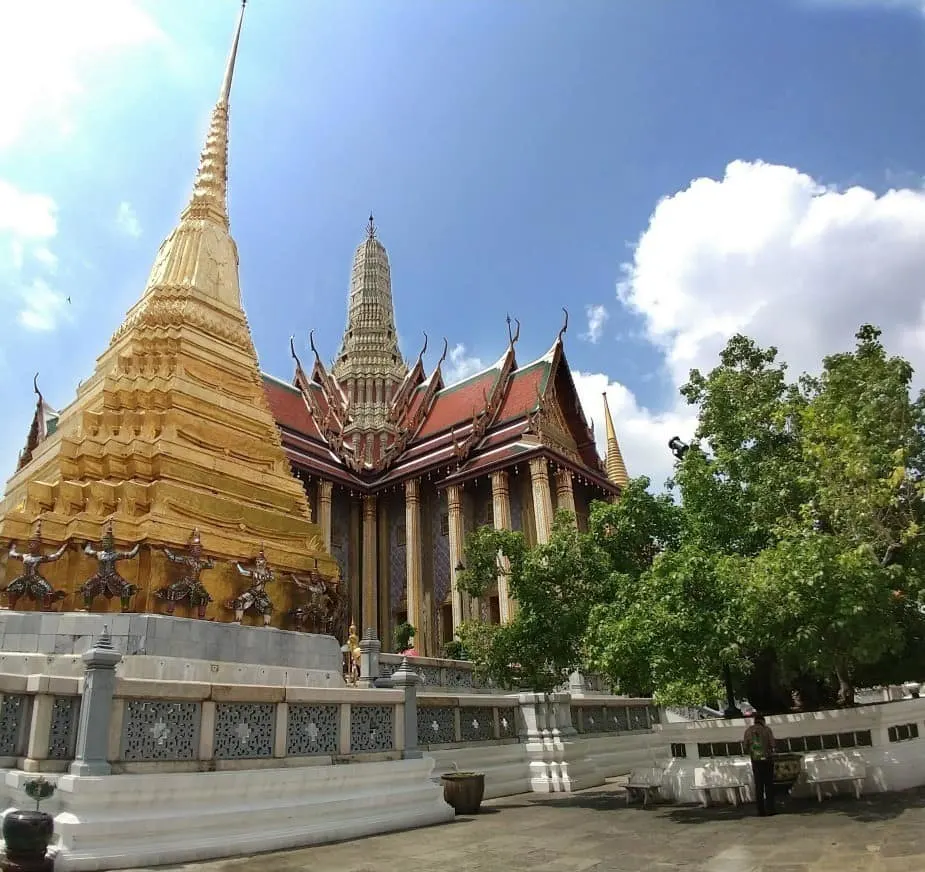 Everyone should see the Grand Palace in Bangkok, it's one of the most beautiful complexes in the entire world and will fill a couple of hours to half a day.
Also try to get to at least Wat Po for the giant gold reclining Buddha and take a longtail boat ride through the klongs to take a peek at Bangkok as it was.
The snake show at the hospital, part of their anti-venom production unit, is fun and educational for kids and there are multiple other modern attractions such as the aquarium and shopping malls.
There is a full post on things to do in Bangkok here.
Wat Po, Wat Arun and the Grand Palace can all be reached easily by river and are very close to each other. Khao San Rd is the backpacker heart of Bangkok and we've loved it for over 20 years although recently there have been huge changes.
This Bangkok street is very close to the Grand Palace. In the last few years though we think this travellers' icon has changed too much. The huge Phuket-style bars are opening and the seediness is starting to creep in. Still, you should go.
Don't miss the smaller alleyways that lead off Khao San, packed with stalls selling clothes and souvenirs.
Cross the road at the top end of Khao San to explore Rambuttri Rd as it winds behind the temple. From the temple end of Rambuttri you can cross the main road and be at a ferry jetty or organise a long tail boat ride within a couple of minutes. I need to give you more detail, I know, the length of this post is going to be phenomenal.
Bookmark to Pinterest!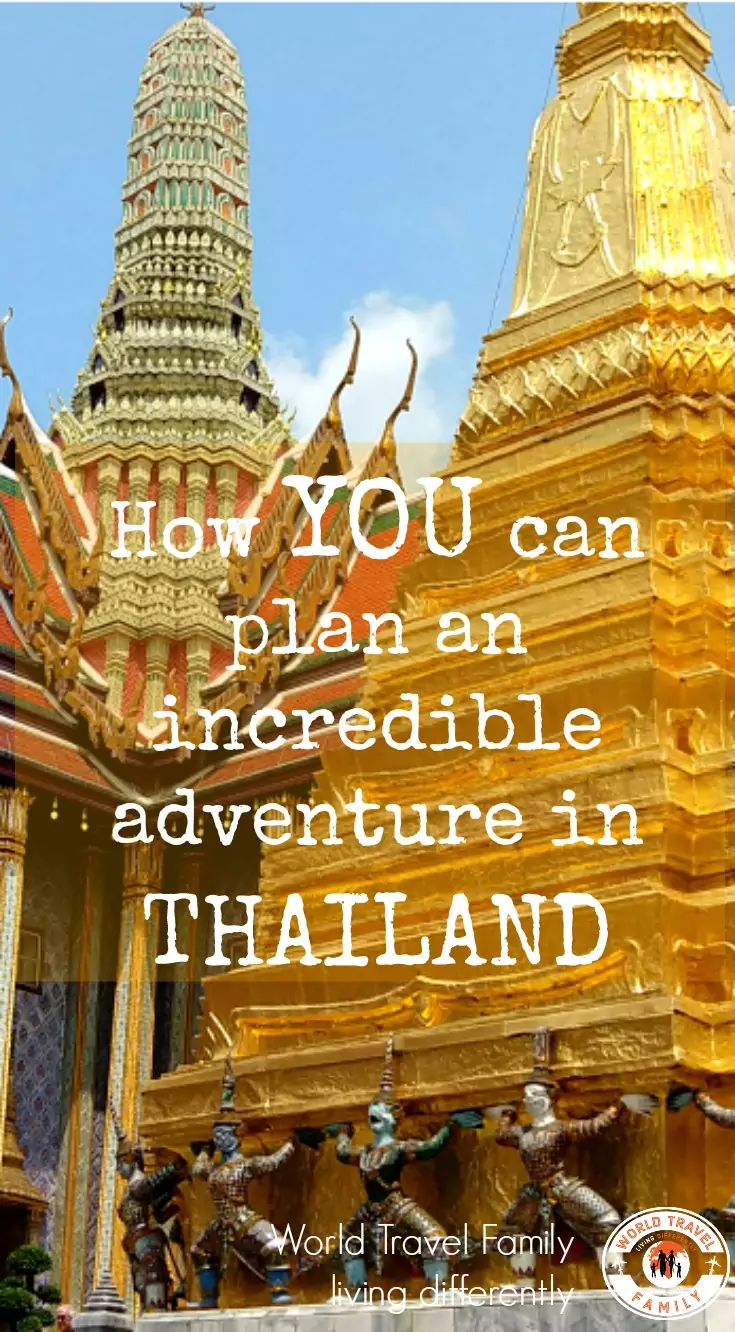 Arrange a tour of Bangkok
If you're short of time, you can book a Bangkok tour before you even leave home.
There is an 6 hour private tour with guide here that hits all of the main sights in Bangkok. It's not cheap unfortunately, but could save you a lot of time and stress.
Remember to dress appropriately, shoulders and legs must be covered to enter sacred sights, the Grand Palace in particular.
Shoes are also regulated at The Grand Palace, but the rules are ambiguous, I was let in recently in leather Birkenstock type sandals but the official dress code seems to require covered heels. I wouldn't chance wearing flip flops or thongs.
Arrange a Long Tail Boat Tour of Bangkok
You can organise your own private long tail boat tour from most of the river jetties or nearby, if you're not confident doing this you can pre book one here.

Arrange a Dinner Cruise on The Chao Praya River or Take in a Show
You can spend big money on a night out in Bangkok and there are many ways to do this. Many dinner cruises operate on the Chao Praya, serving buffets or set dining, local style or seafood extravaganzas. Pick a price and menu to suit you. Another evening option would be a food tour, some specialise in particular areas ( Chinatown for instance) or tour Bangkok by night, by tuk tuk. There are some long running shows including Muay Thai, cultural, dance and music. If this is how you'd like to spend your evenings in Bangkok, have a look at some of the options here.
Optional Extra Trips from Bangkok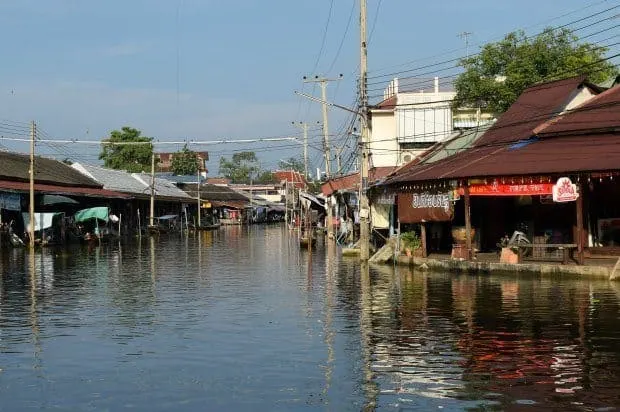 Long-term travellers can take their time and spend a few days at each of these destinations, but for you, on a tight schedule, it's still possible to see them. Most of these places can be visited as day trips from Bangkok.
It's probably best for you to pre-book a tour and we know a couple of good ways to do this, see tour suggestions below.
Floating Markets Near Bangkok
Lots of visitors to Bangkok like to check out a floating market in Thailand and most choose a half-day (early morning) trip to Damnoen Sudawek. It's fine, it's a floating market, but totally over-run with tourists and rather spoiled.
If you'd like to see a more authentic floating market and have a few extra days consider taking a trip to see Amphawa or Tha Kha floating markets. They're not much further than Damnoen Sudawek and a very different experience.
Also in this area is the famous Maeklong Railway Market, here you can watch stalls disappear into the shadows each time a train passes through. Try to pick a tour that includes Maeklong, it's very interesting as a market in its own right, as well as being built on an active train track. A guide is very useful to get you there at the right time.
We have a full post on Floating Markets near Bangkok here. If you want to get to these places independently there is information in the post above, bus or train are possible.
This is a 6 hour tour, departing your Bangkok hotel around 7.30am. You will be home around 1-2pm allowing you more time to explore in the afternoon. This one is very easy on the budget. Check it out here
Arrange a Private Tour or Maeklong Railway Market, Amphawa and Tha Kha Floating Market ( Weekend)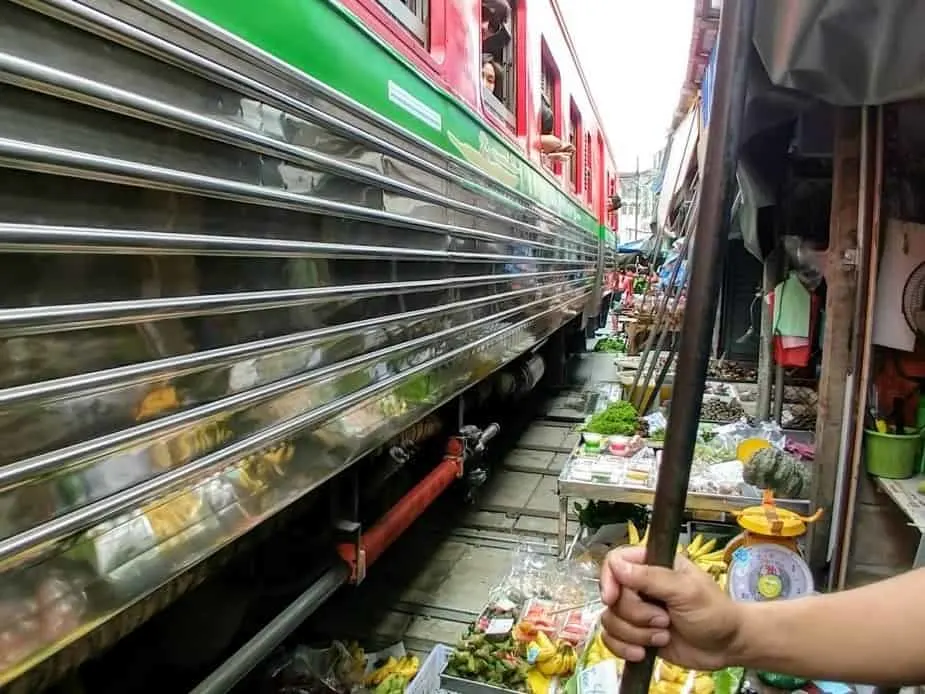 We've taken this tour with a local guide, by private vehicle, and loved it. See our full post on this day out here. Our tour took us to Maeklong, Tha Kha floating market, a small farm producing coconut sugar and various other attractions in the Amphawa area. Because this tour was private it was flexible and our guide tailored it to our needs. Click through above to find out more about this tour and local company.
Kanchanaburi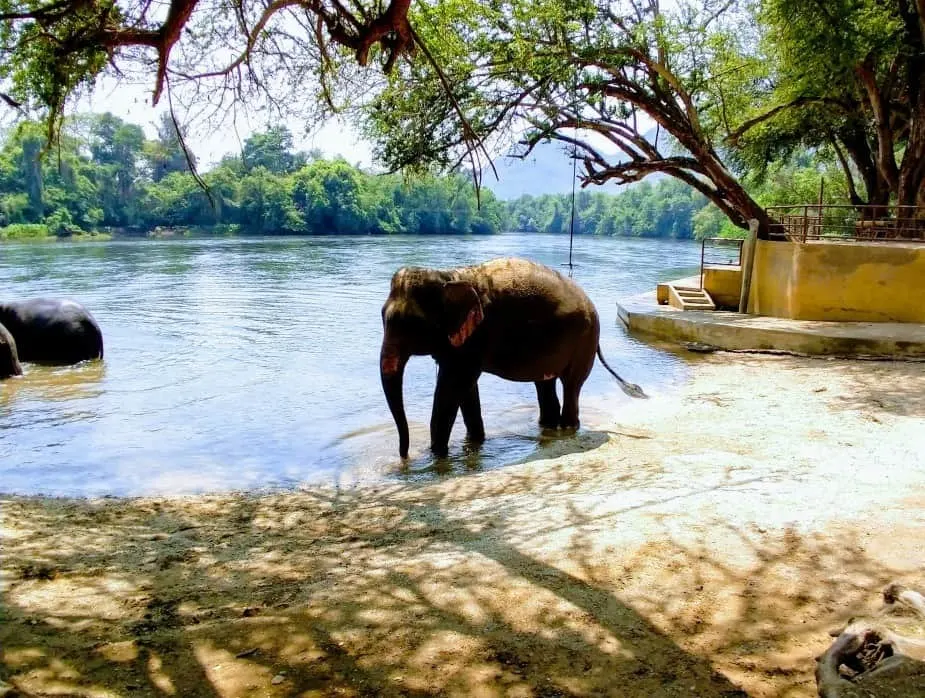 Another great trip from Bangkok is Kanchanaburi for the famous bridge on the river Kwai and sleepy riverside life. We have a full post on Kanchanaburi and how to get there here. We've spent over a month in Kanchanaburi alone, it's a favourite of ours to just hang out and relax.
It's very easy to get around Thailand and you can reach Kanchanaburi by bus, minivan, taxi or train.
Kanchanaburi now has an ethical elephant rescue attraction, Elephants World. If you're not going all the way to Chiang Mai, this is a good option to interact with elephants without cruelty. The hideous Tiger Temple that used to be in Kanchanaburi was shut down by the authorities.
There are waterfalls and war museums to visit near Kanchanaburi as well as the Death Railway and famous WW2 bridge, it's a great place to learn some war-time facts about Thailand.
Arrange Day Trips to Kanchanaburi from Bangkok
Ayutthaya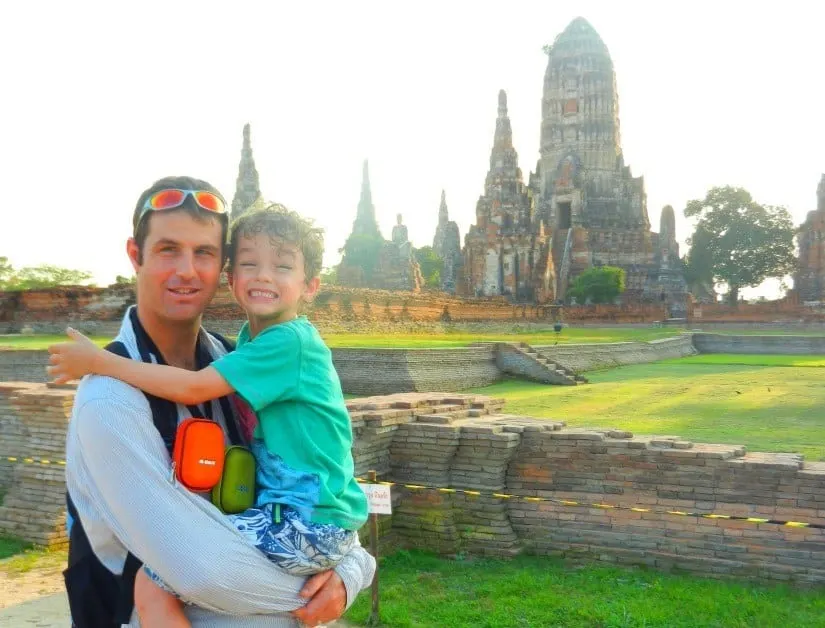 Ayutthaya is another historically interesting place that's easy to access from Bangkok. Take a train to visit the UNESCO listed Ayutthaya Historic City and stay overnight to experience the river cruise around the sites. Day trips to Ayutthaya by private or shared vehicle are also available from Bangkok.
Try to get to the Summer Palace if you can and take a tour of the area by boat. Evening cruises are available locally if you opt to spend a night here, otherwise take a day trip from Bangkok.
Sukhothai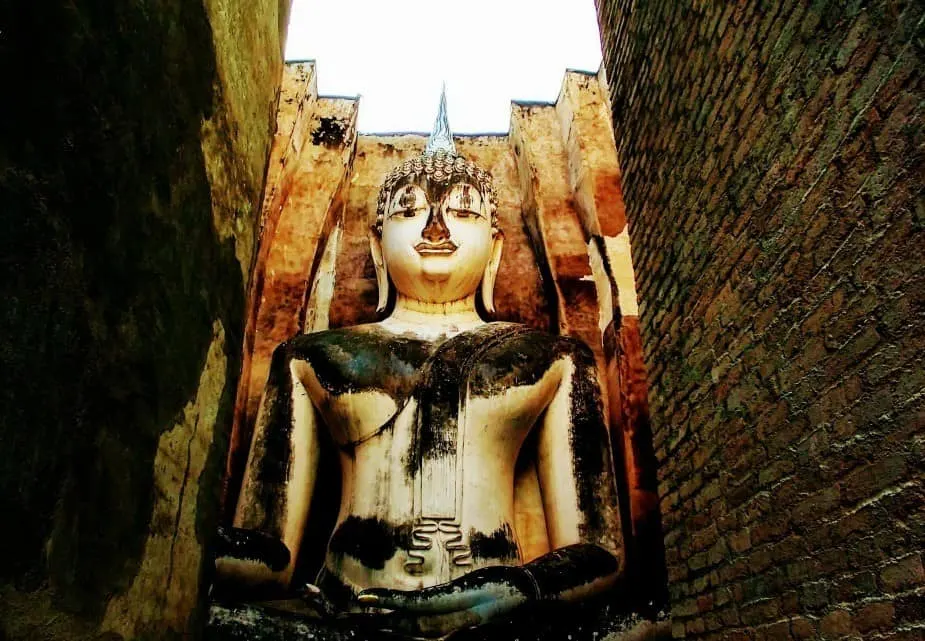 UNESCO listed Sukhothai Historical Park is the first of Thailand's ancient capitals. The site is huge. Ideally allow a full day, 2 days if possible, to explore the park. Stay overnight in Sukhothai, we can recommend a lovely hotel, one of the nicest we've used in Thailand (see here).
Sukhothai is in central Thailand, north of Bangkok and Ayutthaya, south of Chiang Mai, roughly half way between the two. You will have to take 2 long bus journeys to fit Sukhothai into your itinerary, details below. See our full post on visiting Sukhothai.
Arrange a Day Tour to Ayutthaya from Bangkok
This 9 hour tour picks you up from your Bangkok hotel ( main tourist areas only) around 6.30 am. You will visits the main sites of Ayutthaya as well as the stunning Summer Palace by bus and boat before returning to Bangkok here.
Onward Travel From Kanchanaburi to Ayutthaya
If you choose to spend a night or full day in Kanchanaburi it is possible to travel on to Ayutthaya without first going back to Bangkok. There is no train, but shuttles can be picked up in Kanchanaburi or you can take a private vehicle with driver.
Onward Travel From Ayutthaya to Sukhothai
At just under 400 km between Ayutthaya and Sukhothai it isn't a quick journey. Many buses will travel between the two destinations and take up to 6 hours depending on traffic. There is a train station at Phitsanulok which has trains running from Ayutthaya. Phitsanulok train station is about 25 km from Sukhhothai Old town. There are numerous trains running from 8 am till just before midnight and take from 4 hours to 6 hours depending on which train you catch. The good trains fill up fast so make sure to book early. You can catch either a taxi straight from the station to Sukhothai.
Onward Travel From Sukhothai to Chaing Mai
This journey is only 300 km and approximately 4 hours. There are two buses a day leaving from Sukhothai directly to Chiang Mai and a few more from Phitsanulok bus terminal. From Phitsanulok there are about 5 trains a day to Chiang Mai with times varying depending on train type. There is even a train that will include a meal with your journey in air conditioned comfort. Cost is approximately $15 US per adult and $12 per child (under 110 cm) on the deluxe train.
Bangkok to Chiang Mai, Direct or Via Sukhothai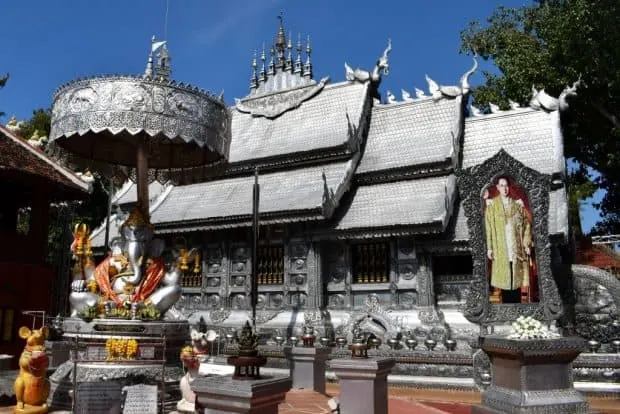 Everyone should see Chiang Mai in the north of Thailand and the overnight sleeper train from Bangkok's main railway station, Hua Lamphong, is a fun way to travel. The trip takes a little over 12 hours and you get to wake up passing through some of Thailand's most beautiful rural scenery. A lot of the trains have recently been upgraded.
You can also catch a bus from Mo Chit but station in the north of Bangkok but I wouldn't do this for such a long journey as the price is similar but the comfort level isn't. We have a full post on getting to Chiang Mai from Bangkok (and vice versa) here. The train journey is part of the experience, but if you're ultra short of time, you could fly.
Sukhothai is Thailand's second ancient city and is well worth the trip, however, getting there is tricky. You're looking at a couple of long bus journeys but if you want to see the best of Thailand, you really should go. We'll have more information on Sukhothai, touring the site and where to stay in a dedicated post any day now . You could visit Sukhothai on the way to Chiang Mai by bus.
If you are wondering where to stay, we have a full post listing some of our tried and tested hotel, hostel and guest house favourites in Thailand (and South East Asia). All of these places we've used, some many times, all have family rooms and are at a reasonable price point for this style of travel. See That Post Here. You'll find luxury accommodation on this site too, but not in this post.
Booking Train Tickets in Thailand
Really the only way to book train tickets online in Thailand is to use a company called 12 Go Asia. You can't book tickets online with Thai railways. You can pay an agent in Thailand to buy tickets for you, or go to the train station yourself, but on a short trip, don't even think of doing this for sleeper trains. These trains fill up fast and it's far more sensible to reserve your seats long before you even leave home. Visit 12 Go Asia here.
Optional Extra Trips from Chiang Mai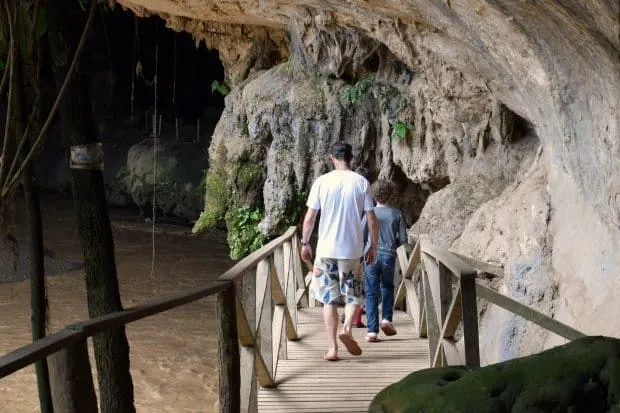 With Chiang Mai being the gateway of the north it is perfect for exploring the area. Either hire a car or take the bus. Some places that you can't miss are Mae Hong Son and Pai. If you hire a car it is a beautiful round trip of 3 days to visit the area and return to Chiang Mai through the mountains.
Heading in the other direction you have Chiang Rai and the silver temple. There are plenty of hills tribe people in both regions to see. We have a full post on hiring a car in Chiang Mai here. We have a post on visiting the Hill Tribes of Thailand here.
Fly From Chiang Mai to the Islands and Beaches, Chiang Mai to Phuket or Krabi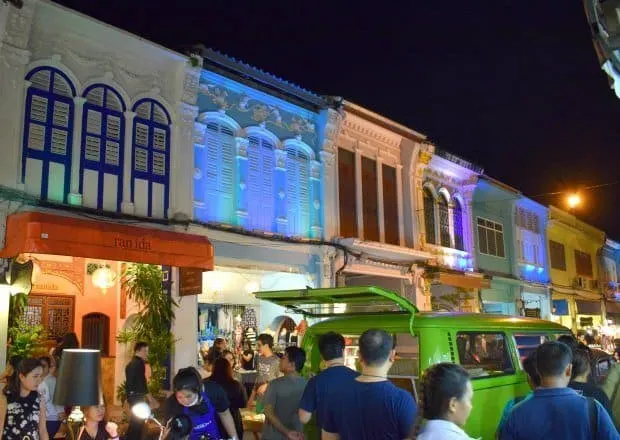 Flights are plentiful to the southern beach destinations and are relatively cheap especially if you book ahead. It would take too long to catch two trains and a bus if you went overland so if you only have 2 weeks, fly. AirAsia usually has the best prices and flights.
Chiang Mai airport is very close to town, a songtaew ride away, so it is a convenient option. There are airports on Ko Samui, Phuket and Krabi. To reach Ko Phangan and Ko Tau, you need to hop on a ferry. There are plenty of other beach options in the south, or, if you're ultra short of time, try Ko Samet, it's not far from Bangkok and you can reach it by public mini-bus and short ferry ride.
Trips and Things to do in and Around Phuket or Krabi
As you'd imagine the area around these islands is a tropic paradise with white sand beaches and lush rainforest. The big draw for both would be Phi Phi island which was made famous by the movie The Beach. You can take a day trip on a ferry from either Phuket or Krabi but Krabi is closer.
Phuket is very close to Ao Phang Nga National Park which has towering limestone islands dotted through out the bay. Khao Phing Kan, also known as James Bond island. is located here in Phang Nga park.
Chiang Mai to Ko Samui, Ko Phangan or Ko Tao
Ko Samui is the only island of the 3 above that has an airport . It is privately owned by Bangkok Airways and as such is very expensive to fly into as they are the only carrier. You can avoid this by flying into Surat Thani which is on the mainland and is serviced by AirAsia and is a full international airport. Ferries will take you to the islands stopping at each along the way. First up is Samui then Phangan and finally Tao.
The ferry will take from 90 minutes to 3 hours depending on which you choose. The boats leave from different piers on Koh Samui so double check which one you need before setting out.
Trips and Things to do in and Around Ko Samui or Ko Phangan
Koh Samui is all about beaches and relaxing, with a dose of night life. Nearly all the accommodation is on the coast. It does have a big Buddha which is located across a causeway and at 12 metres tall is worth seeing.
There are numerous places to learn Muay Thai, traditional Thai boxing on Koh Samui. Cooking classes can also be found on the island if you tire of the beaches.
Koh Phangan has the famous full moon party down on the southern tip at Haad Rin. While not really a family event it is interesting early in the evening to see the area transform with fire jugglers and fluorescent paint, we took our kids along to check it out.
Between Phangan and Tao you have Sail Rock which is one of the best dive sites in Thailand and often frequented by whale sharks. If diving isn't you thing you can still snorkel and see the abundance of marine life.
Return to Bangkok by Plane or Fly Out from a Different Airport
Similar to the trip south there are numerous flights daily back to Bangkok. Koh Samui has the majority but you'll pay for the privilege. It has limited international flights though. If you go back across to Surat Thani you can fly to most of South East Asia and beyond very cheaply and the frequency is good.
How to Find the Best Deals on Hotels or Other Accommodation
You should start your accommodation search by checking an online comparison site such as Hotels Combined.
Agoda are generally considered to be the best booking site for Asia, but always take a look at Hotels Combined too.
This engine compares multiple sites at once, including Hotels.com and Booking.com , so if you're a Hotels . com fan ( we often use them for their stay 9 nights, get 10th free offer) find a deal with them through Hotels Combined.
Hotels Combined do not check Agoda, so always take a look at their site too.
We don't find Airbnb to be much use in Asia. The above booking sites cover luxury resorts, hotels, hostels and guest houses at all price points.
How to Arrange Flights, Buses, Trains and Other Transportation
If you only have 2 or 3 weeks in Thailand you'll want to have all transportation and tours booked in advance. Trains DO get full and you'll certainly need to book flights.
Try 12 Go Asia for buses, trains, even flights within Asia. Alternatively book flights through Skyscanner or your favourite booking engine.
How to Arrange Tours and Trips in Thailand
On a short two week itinerary in Thailand it's reassuring to have some sort of schedule. You can, absolutely, wing it and do everything under your own steam but these days it is possible to book your tours, in advance, online. We use GetYourGuide because they are a big, reliable company and have a lowest price or refund the difference guarantee.
Another company we use is Take Me Tour, a different style, this company uses local expert guides. As such, these tours tend to only be available on weekends because the guides are real people with real day jobs.
Schedule for 2 Weeks, the Easy Version, Cities and Beaches.
Day 1 Arrival in Bangkok. Depending on time of day, check in, wash, rest, explore your local area and try some amazing Thai food. If you feel inclined take a trip to the Khao San Rd, on foot or by taxi. Go before dark if you have kids and aren't a party animal. Browse the stalls, eat, grab a beer and get used to being in Thailand.
Day 2 A morning pick up to a floating market of your choice. Try Damnoen Sudawak ( it's very touristy and wouldn't be our pick, but see link above to book) or Tha Kha and Maeklong Railway Market ( see a tour to book above, weekends only ). Amphawa is an evening market unfortunately. Get yourself to the river and hop on a water taxi, get off at Wat Po and or Wat Arun, they have their own ferry stops, explore both temple complexes at your leisure
Day 3 An early morning start at the Grand Palace. It gets busy and it gets hot, so strike out early and catch this incredible complex at its best. Visit the venom park and snake show at the hospital in the afternoon or arrange a klong tour by long tail boat. If you plan to head direct to Chiang Mai, book train tickets for the overnight sleeper train for tonight, or arrange a flight.
Day 4 The train will deliver you to Chiang Mai very early in the morning. Hop into a songtaew at the train station to reach your hotel or guest house. Check into your hotel and drop your bags before exploring Chiang Mai's walled town and temples on foot. Be sure to try Khao Soi, the local speciality curry soup dish with fried noodles. There WILL be a night market tonight, which one will depend on the day of the week, try to go before dark so the crowds aren't too crazy.
Day 5 Take a trip up to Doi Suthep by Songtaew or visit the zoo or take a cooking class or visit an elephant attraction ( as ethical as possible please) and so on. An evening night market.
Day 6 As day 5. Pick Chiang Mai attractions of your choice. An evening night market.
Day 7- Day 14 Travel south to explore the beach area of your choice.
Schedule for 2 Weeks, the Culture and History Version, Cities Ancient and Modern plus Beach if Wanted.
Days 1-3 in Bangkok as Above
Day 4 Take the train to Kanchanaburi. Visit the River Kwai and Jeath War Museum, eat in a restaurant with river views. Overnight in Kanchanaburi.
Day 5 Take a shuttle to Ayutthaya, the second of Thailand's ancient capitols. Eveng tour of Ayutthaya by boat
Day 6 Full day at the UNESCO listed Ayutthaya heritage site. Bus ( direct 6 hours) or train ( 4.5 to 6.5 hours depending on which train) on to Sukhothai.
Day 7 Sukhothai Historic Park
Day 8 Bus to Chiang Mai from Sukhothai ( 4 hours, departs frequently)
Days 8 to 10, as above for Chiang Mai. Book the sleeper train back to Bangkok and fly south from there OR fly directly south
Days 11 onwards, Beach of your choice.
If You Have 3 Weeks, More Itinerary Ideas
We highly recommend exploring more of northern Thailand and we think the best way to do this is by car. So pick either 2 week itinerary above but add on at least 3 days from Chiang Mai. Pick up a hire ( rental) can from Chiang Mai airport and drive north to explore, Pai, Mae Hong Son, Chiang Rai, Mae Salong and more. See our post on Northern Thailand for more information here. For more information on car hire in Thailand see here.
Also add on an overnight stay in Amphawa if you can ( weekends only). This afternoon/ evening floating market is well worth a visit for seafood lovers in particular and the surrounding countryside, lush with coconut and fruit plantations, is very unspoiled. If not overnight, add a full day tour of this part of Thailand, pick up and return to your Bangkok hotel.
For you to bookmark to Pinterest.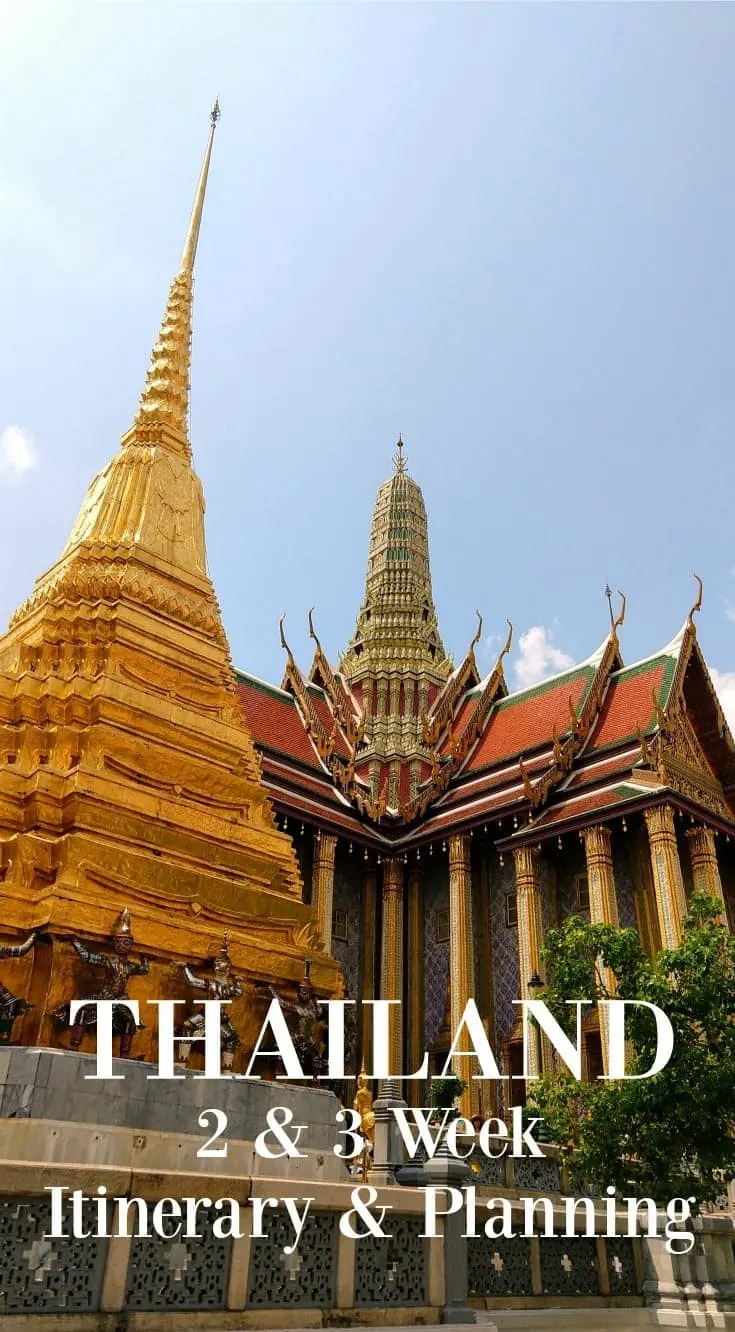 I think now you'll probably see why it's taken me months to finalise this post. It seems simple to write a 2 or 3 week Thailand itinerary, but actually, it's not. There are endless variations and travel styles, some people love history, others are beach lovers, but I think we've found a compromise between the two styles above. If we've put these itineraries together right, let us know below, if not, likewise. This is the first itinerary or schedule we've ever written so we have a lot to learn I'm sure. Enjoy Thailand and talk to us about your needs, the more you tell us, the more we can improve our website.
If you'd like to hire a car during your stay, use this car rental comparison tool to find the best deal!

We also suggest you take a look at this company to get a quote for all kinds of the more tricky adventure or extended travel insurance.

Try Stayz / VRBO for an alternative way to find rentals on homes/apartments/condos in any country!