This post may contain affiliate links.
Tha Kha floating market is a smaller, less well known floating market near Bangkok. It is a much better experience than visiting the popular Damnoed Saduak floating market, which is the market most tourist tours will take you to. Amphawa floating market is also near Bangkok and trips can take you to any of these, and the Maeklong train market. Tha Kha Floating market, Damnoen Saduak, Amphawa, and Maeklong Railway Market can be combined in one trip. Tha Kha has amazing authentic food, sold from boats and you can see palm sugar production. Maeklong is where you can see a train passing through a market. There is video of this on our blog post, below. Find out how to visit both Tha Kha Floating Market, and Maeklong Train Market, here. Amphawa is another very good seafood floating market near Bangkok, Tha Kha, and Maeklong.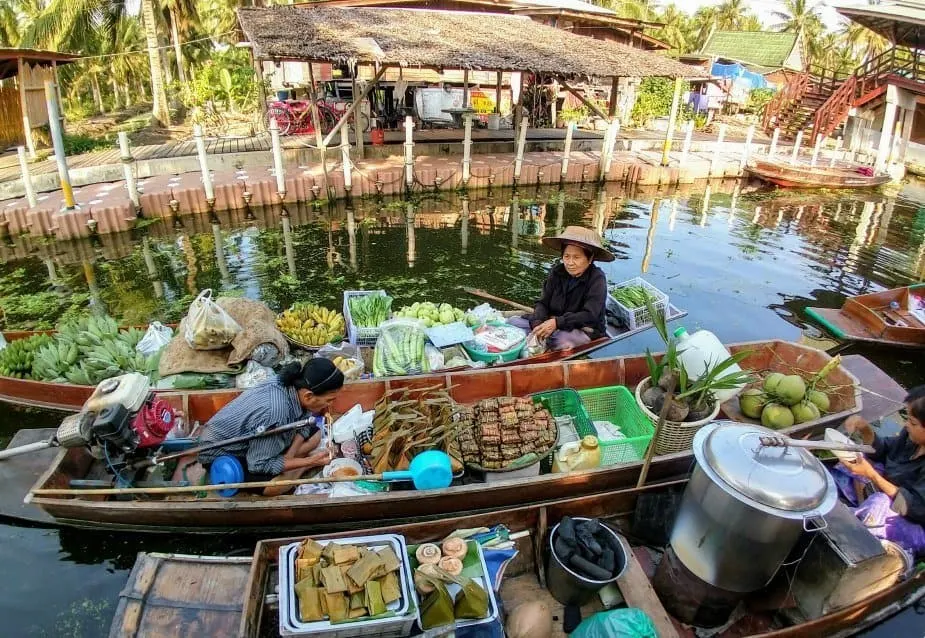 You can book a tour to Tha Kha and Maeklong from Bangkok, alternatively, you can take buses, trains, and taxis or self-drive.
We feel that both Tha Kha and Amphawa are better options than the usual floating market tours from Bangkok to Damnoen Saduak. Amphawa specialises in local seafood, for seafood lovers, it's a must-do. Amphawa is open on weekends, making it a great weekend away from the city in the beautiful countryside.
The sugar-making tour in Samut Songkran is very interesting and Wat Bang Kung is worth seeing as it is unique and special.
Tours To Floating Markets and Maeklong Train Market
There are many options for visiting floating markets and the Maeklong train market from Bangkok. Pick the market that suits you best and try to combine at least one floating market with the Maeklong railway market. Some of the best tours available are:
On the day of our tour, I wrote the following blog post.
What an amazing month in Thailand! This is visit 22 and still Thailand surprises, delights and amazes, we never run out of new things to do and this morning a day tour to the markets from Bangkok was another highlight.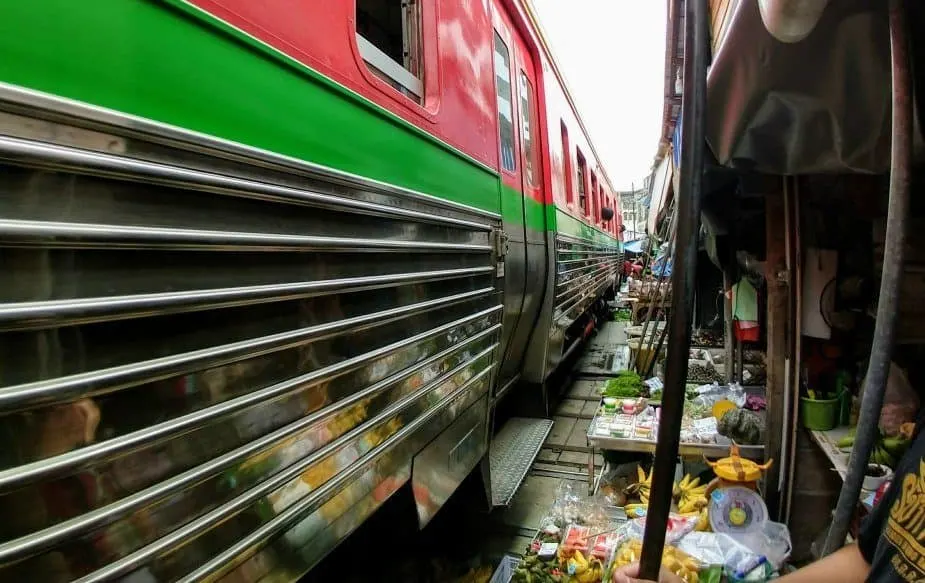 We got ourselves a local guide, an expert in his home town to drive us to Tha Kha and Maeklong, it was a fantastic day out.
We've posted before about Amphawa and Damnoen Sudawek floating markets, we spent 2 days staying in Amphawa and exploring the area but it is possible to visit Amphawa as a trip from Bangkok. Amphawa is an evening market rather than a morning market, so it's a good idea to spend a night in Amphawa.
This morning we headed back down to Songkhram Province to visit Tha Kha Floating Market and Maeklong Railway, from Bangkok just 76 KM and an hour or so by car in light morning traffic.
Our guide picked us up at our Bangkok hostel ( see it here), took great care of us and brought us home again safely. Being with a local expert from Take Me Tour brought the day to life and greatly enhanced our experience.
Take me Tours Review and day tour review for Tha Kla Floating Market and Maeklong Railway Market from Bangkok. We also have a possible discount link for you at the end of the post.
Video of Tha Kha Floating Market Tour From Bangkok
Tha Kha Floating Market Opening Times
Tha Kha floating markets are a weekend-only morning market. The best time to visit Tha Kha floating market is early on Saturday or Sunday mornings.
The market's official opening times are currently listed as 6am to 3pm but please double check this for yourselves, public holidays could affect this.
Day Trip to Tha Kha Floating Market From Bangkok
Our guide, Arnon, picked up we 4 bleary-eyed travellers from Mile Map Hostel in Bangkok's Silom district. We'd not had much sleep after a huge travel day and 10 hours on a bus returning from Northern Thailand to Thailand's capital city.
We really didn't feel much like doing anything, all 4 of us half asleep and a little grumpy, but once we got to the attractions Arnon had planned for us we all came back to life.
Seeing the beauty, tasting the food, having adventures, we all got our travel mojo back and loved that somebody else was doing the work. All we had to do was soak it up.
I'll write separate posts on Tha Kha Market and Maeklong Railway Market as well as adding to our Amphawa post.
Maeklong Railway Market From Tha Kha Floating Market
The Maeklong train market is on the tracks. I couldn't believe it, literally on the tracks.
The last time we were in Samut Songkhram to visit Amphawa we'd heard that the trains were no longer running. They are now, and Arnon knew exactly where to take us and at what time.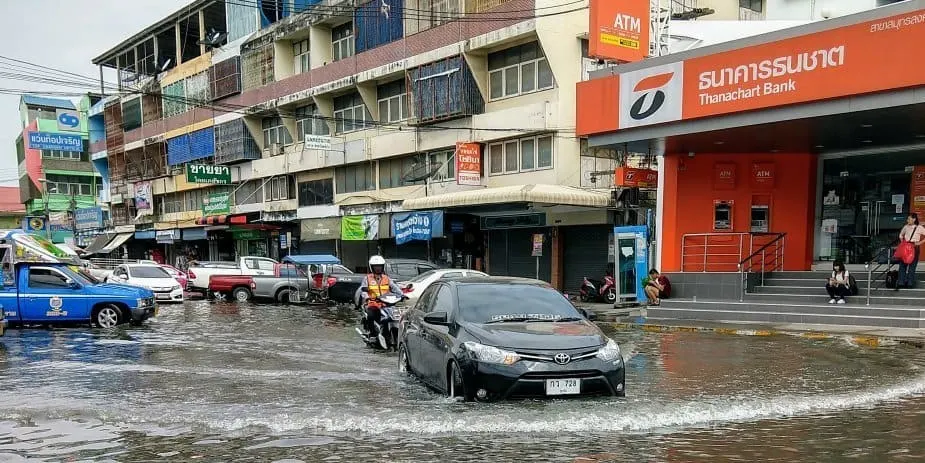 Our local guide also managed to get us through a flood to the actual Maeklong Railway market which was much appreciated as I really didn't want to paddle in the murk.
If you didn't know, we were caught up in the Hoi An floods recently, those floodwaters were clean and smelled of daisies compared to the soaked streets around Maeklong.
Without a local guide we would have been totally stuck and at the mercy of the songtaew drivers who would have known we were totally stuck and adjusted their prices accordingly.
We actually saw a market stall holder selling grilled banana on a stick, standing wellington deep in water with a fish circling his boots.
Arnon also had some spare hats in the boot of his car which were great for keeping the sun off my lightly toasted kids.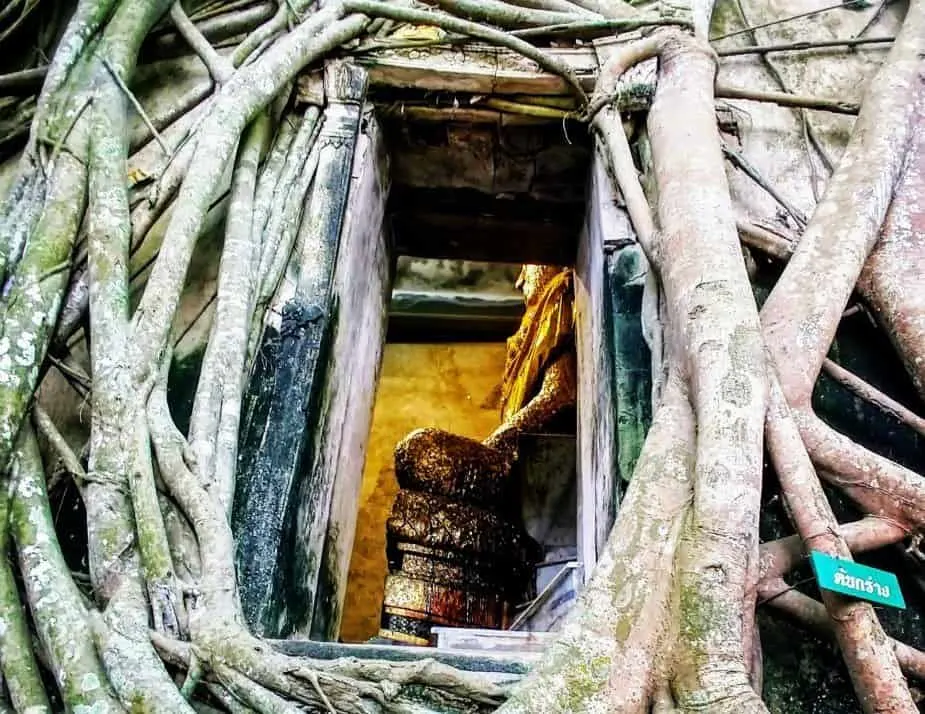 Wat Bang Kung is a fascinating stop in Samut Songkham province and an old one, dating back to the Ayutthaya period. It's a 5 minute stop and so easy to do by car with a guide.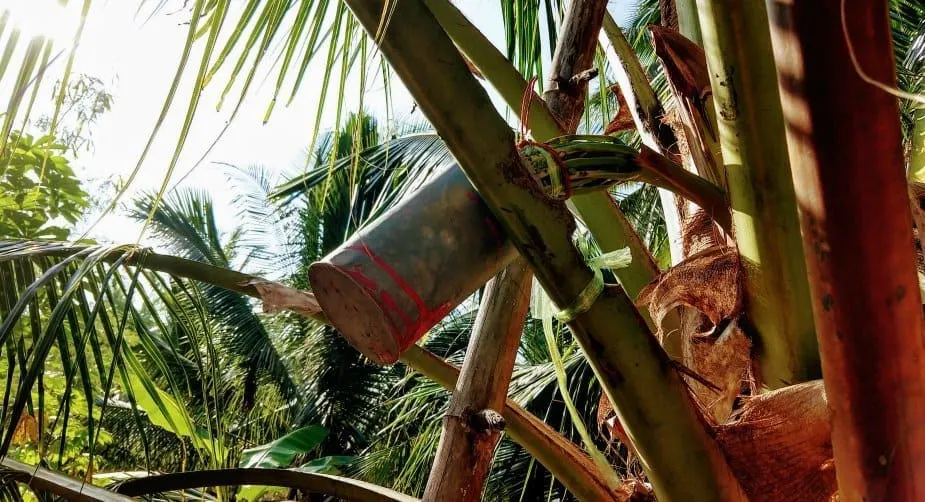 Where Having a Local Guide from Take Me Tours was Invaluable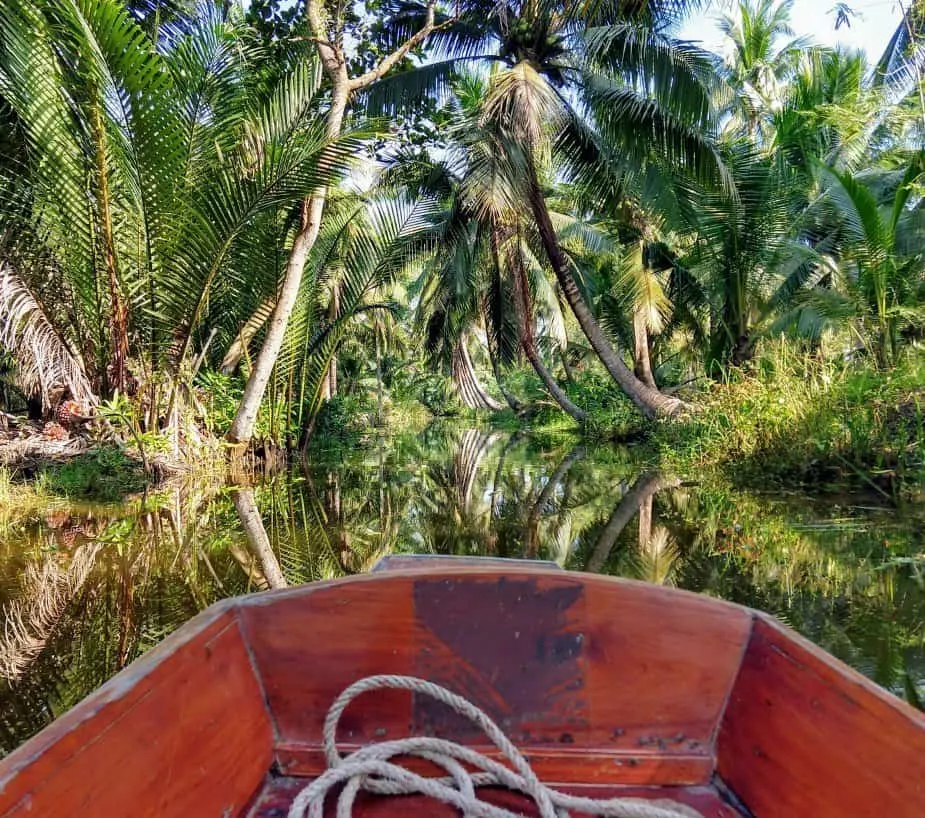 Other than having local knowledge and being able to answer our questions, our local expert knew to get us on the road at 7am before the traffic became crazy. A Thai long weekend was coming up and half of Bangkok would be on the road and heading to the beaches.
At 7am the roads were clear, returning in the early afternoon they were impassable.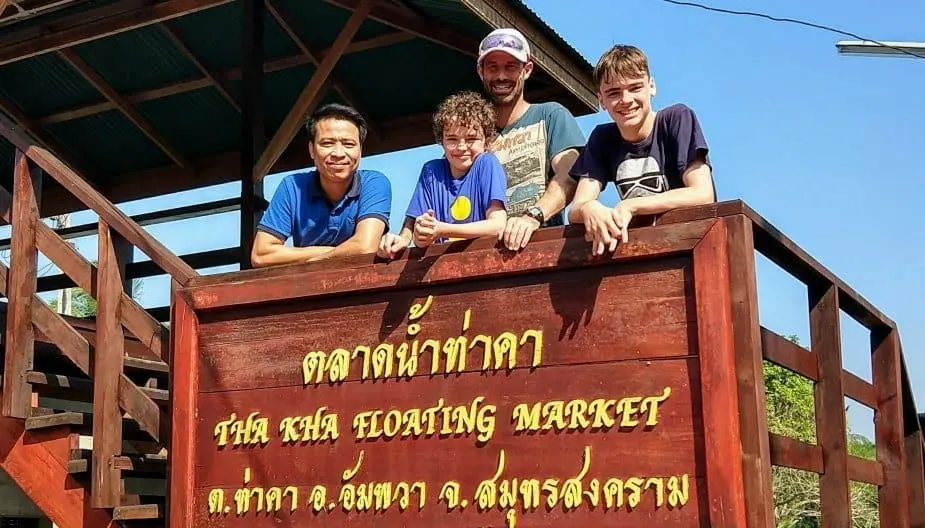 We also ran into difficulties with flooding at Maeklong, without Arnon we would have had to wade through knee-deep stinking water to get to the railway market, he managed to find us a songtaew willing to get us through the floods.
Can you imagine what non-Thai speaking stranded farangs would have done without a local's help?
We love Thai food and consider ourselves pretty expert, but even we (my husband was an executive Chef before we became travel bloggers) tasted dishes we'd never experienced at the Tha Kha floating market.
Arnon knew the Thai words for various ingredients and using Google translate managed to identify a few things for us. He also sent us along to the best coffee shop ever and procured us a lady with a boat, no hassle, no drama, no rip-off tourist prices.
His car was clean, new, and comfortable, with 3 working seat belts in the back and we felt far safer than in any taxi. We were certainly more comfortable than in a minibus.
Everything was included in the tour price except whatever food we bought, being with Arnon meant we got local prices, nothing cost us more than 20 Baht.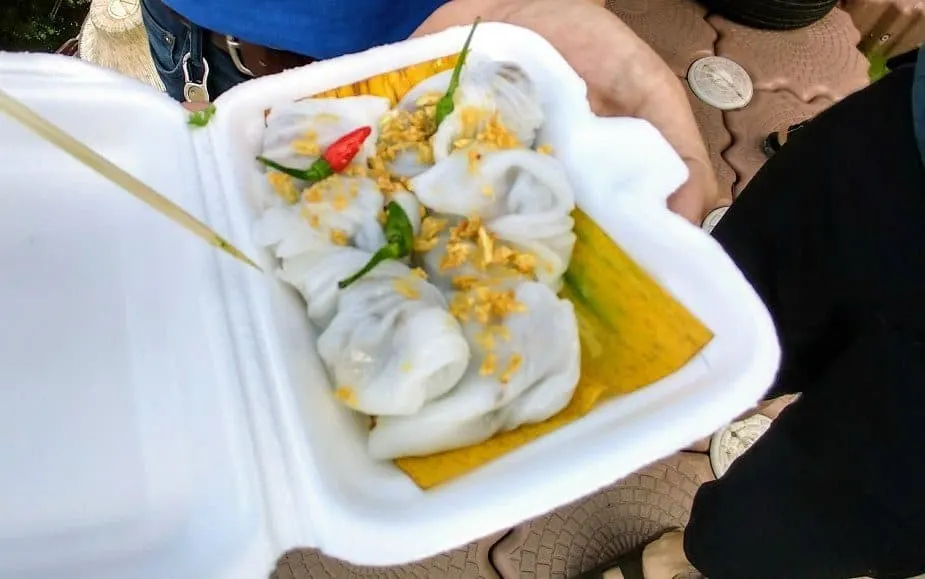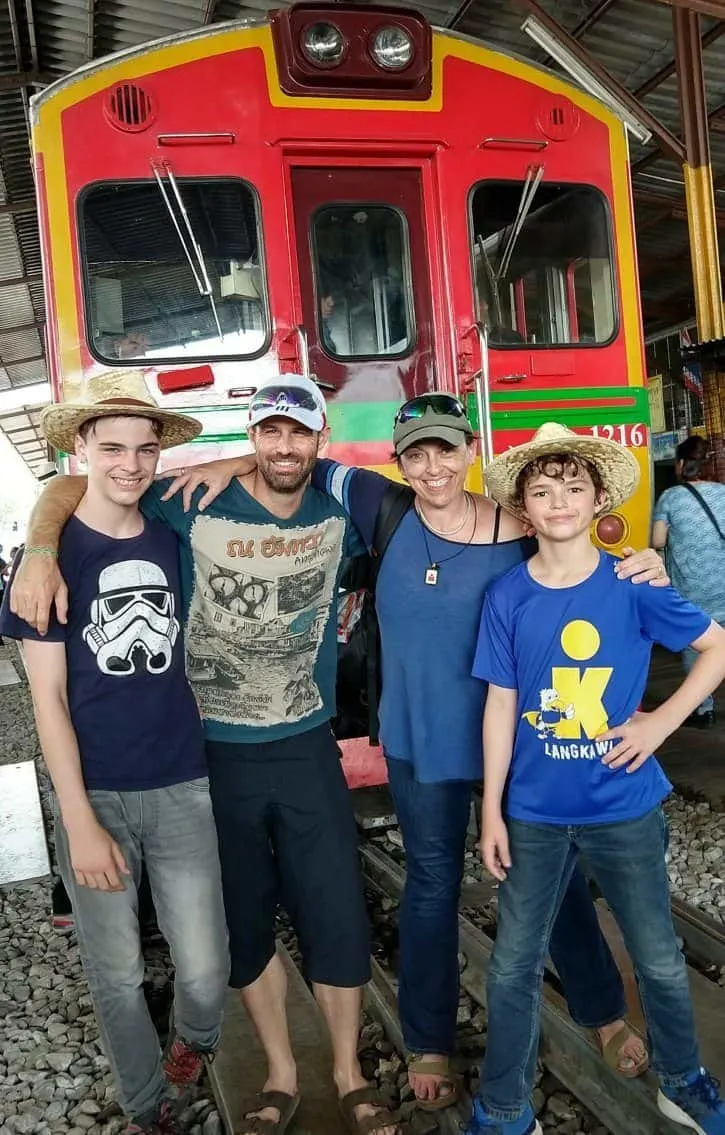 What Other Day Tours can Take Me Tour Offer?
Take me Tour claim to have the biggest selection of local guided tours in Thailand. They can arrange tours from Bangkok, Chiang Mai, Phuket and around 50 other Thai cities.
The variety is huge and you can keep your tour personal, flexible and fun. The Thai people are some of the nicest you'll find and working directly with locals like this with no danger of rip-offs or hassles is a great experience.
We think this style of tour works particularly well with kids but check that the vehicle you will be using is OK for little ones. Arnon's car was large and had good seat belts for 3 people in the back.
Take Me Tour also offer limited numbers of tours in Japan. We loved our experience with them and if you're interested, use our link in the final paragraph to register and collect a discount to use against your first tour. We will certainly try to use them again if we get the chance.
TakeMeTour Review
We were very impressed. It was lovely to take a day tour from Bangkok and be comfortable and well looked after plus being free to do it our way. We could stay longer or skip items, throw in an extra destination or stop by the side of the road, there was no group and no schedule.
Another bonus, my sleepy kids could rest comfortably in the car or sit out a temple visit, it was a perfect way to see more in a shorter time.
We saw a huge amount in just one day and having Arnon to explain things to us (and we think we know a lot about Thailand!) was really helpful. I think you can tell from the photos above what a great day we had. We certainly enjoyed some of the very best food in Southeast Asia. We will be adding more posts on these destinations and experiences. If you'd like to try Take Me Tours click through here, by using our link you should qualify for a discount against your tour. There are plenty of different tours to choose from, all over Thailand and each is arranged by a local expert guide. For more information on travel in Thailand go back to our Thailand travel guide page.
If you'd like to hire a car during your stay, use this car rental comparison tool to find the best deal!

We also suggest you take a look at this company to get a quote for all kinds of the more tricky adventure or extended travel insurance.

Try Stayz / VRBO for an alternative way to find rentals on homes/apartments/condos in any country!