This post may contain affiliate links.
Koh Samet (also spelled Ko Samet or Ko Samed), is maybe the easiest of the Thai Islands to access if you are visiting Bangkok, just 220 Km from the capital and 7km from the shore. It is very popular as a weekend destination with locals and is full of backpackers, independent travellers and package tour holidaymakers. That makes it sound dreadful, it's not, we love it, it's a great travel destination and we've been 3 times now, as a couple and as a family with young kids.
Koh Samet- Things to Do
Koh Samet is a small island and most of the things to do revolve around beaches, sunbathing and snorkelling. A simple list of things to do and places to see in Koh Samet doesn't really extend much beyond the beaches. These are:
Ao Prao Beach
Ao Wai Beach
Sai Kaew Beach
Ao Wong Duean
Ao Phai
Ao Cho
Ao Kiu Na Nok
Ao Thian
Ao Karang
Ao Tubtim
Ao Lung Dam
Activities to enjoy while chilling on the beaches include Thai massage, most water sports, fishing, kayaking, diving, island, and speedboat tours. You'll also find Muay Thai boxing and nightly fire shows.
Koh Samet – Where To Stay
If you want to stay in the biggest, most popular beach areas, look at Sai Kaew, Ao Phai, and Ao Vong Duen. If you prefer a quieter trip to Ko Samet, look further afield. Ao Phai and Ao Kiu ( shark point) are popular for scuba diving. There were PADI centers, at Ao Phrao and Ao Kiu Na Nok, but this may have changed since the time of writing, please double-check for yourselves.
Visiting Koh Samet As Budget Backpackers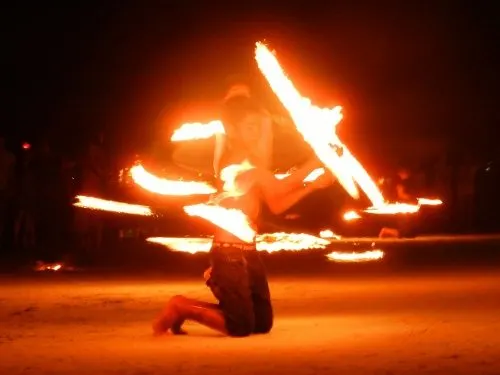 Long, long ago, before kids, my husband and I took a year-long round the world trip. We spent a lot of time in Bangkok, hanging around waiting for flights, buses and trains and we became pretty sick of the place. We decided to take a holiday within a holiday and pop down to Koh Samet for a week. We were on a very tight budget and knew that accommodation would be more expensive on the island, but we took a chance and went.
I'll leave the nuts and bolts of how to get there for now, that's all at the end, it's quite boring unless you actually want to go yourself.
So, we found ourselves and our backpacks at the ferry drop off at one end of Koh Samet and we started walking, and walking, and walking. It was hot, midday sun, we were dressed in our travelling kit, hiking boots and jeans. Walking on sand, mostly, and carrying everything on our backs. The island is about 7 Km long, we walked most of it. It wasn't nice and I was very grumpy. Chef took the full force of my displeasure fairly well.
All the accommodation we tried was either full or too expensive, we walked almost to the far end of the island before we found a basic room with a bed. It was VERY basic, not pretty at all, but it had a bed, an outside toilet and a hosepipe that doubled as a shower, so that was fine. It was $10/night.
The guy that ran the place had a little kiosk where he sold coffee, that was it.
By day, we lived on tinned tuna, bread and rambutans bought on the beach. At night we would splash out and have omelet and rice and a couple of beers.
Our room was right behind the beach, we could sit outside under a tree on plastic chairs and look at the water from sunrise to sunset, heaven. Obviously this wasn't on one of the big sandy bays, we were behind a rocky strip of coast, but it was fine for us. Hardly anybody ventured down to our end of the island, we wandered back to the tourist beaches now and then to look at the holidaymakers barbecuing themselves in the sun. We saw Bob Geldof there one day, strolling along the beach with his girls.
So that was it, it was lovely, we chilled out and watched the world go by.
Backpacking Koh Samet as a Family With Kids
Eleven years later, we found ourselves in Bangkok wondering where to go for a few days, we thought we'd revisit Koh Samet as a family.
We discovered the same scenario, getting off the ferry, kids and backpacks waiting to go. There were taxi jeeps waiting for the passengers coming off the boats, for a small charge they would drop us at one of the main beaches. You sat on the back, it was extremely bumpy, a dirt track behind the beach shops and hotels. There was no way of strapping you, kids or luggage down. I was holding on to everything, teeth gritted, and muttering under my breath about stupid husbands and their stupid ideas, again.
We were dropped at one of the furthest beaches and started walking, this was all pretty familiar, this time James had to put up with me and the kids complaining. We didn't walk so far this time, with the kids, you need a slightly better standard of accommodation and you can't expect them to walk as we can. We came to Tub Tim Resort, were shown a little wooden chalet with a large double bed and a pull-down single, it had its own little bathroom, a sea view, aircon, fan, and a TV. About $55/night. Perfect!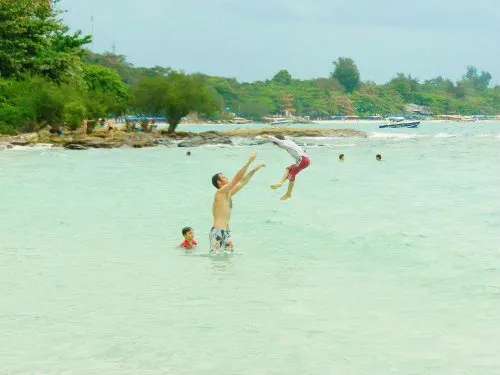 I learnt to chill out in those few days. I'm not good at relaxing, but put me on an island and take away my internet connection and I very quickly become a beach bum ( wi-fi was available at a charge). The kids had a ball, they just played on the beach, explored, caught bubbler crabs, swam and tried all sorts of delicious foods. We let them have an ice cream every day, they were very happy with that arrangement.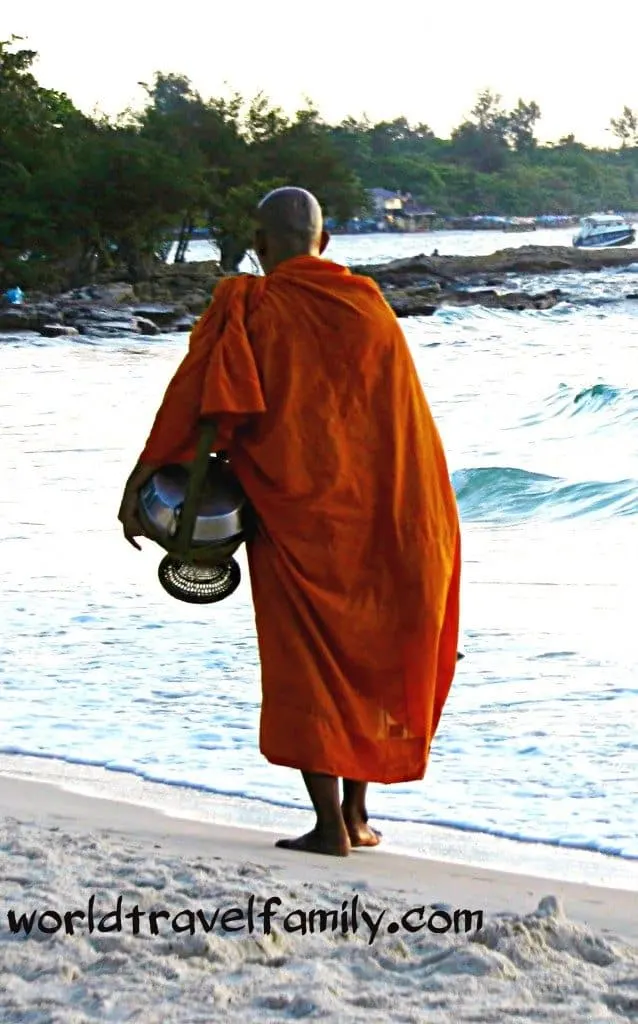 At home, we live just 10 minutes walk from deserted Four Mile Beach, we rarely go. Thai beaches are so much more fun. We were there all day, all coffees, meals and drinks were taken right there, at a shaded table in the sand. Breakfast was included, it was delicious and huge, omelettes, pancakes, toast, the usual. I could people watch, my favourite activity, the monks on their early morning collection rounds, the boats coming and going delivering passengers and water for the resort, the beach hawkers selling sarongs, fruit and henna tattoos, and our fellow travelers, all interesting.
The water was clear and green, there was a pontoon that James swam out to, helping the children with the long swim. They both got there and had a ball diving in. It was far too scary for me, I'm not that keen on deep water unless I'm scuba diving. I feel safer under the water where I can see what else is about.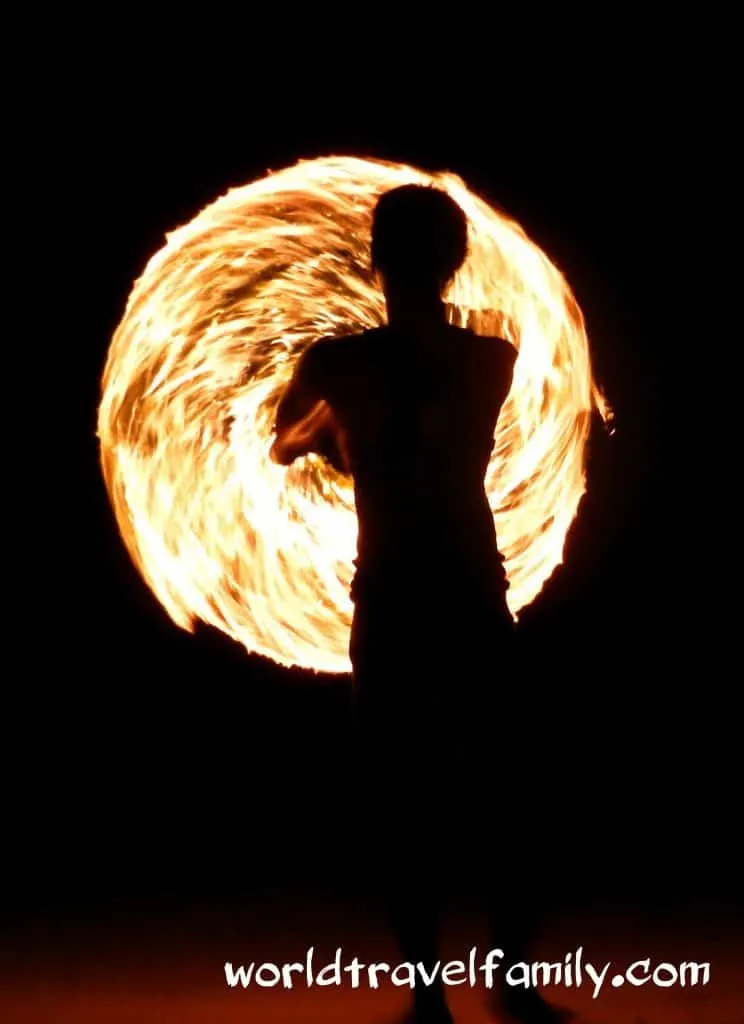 In the evenings we sometimes walked up to the big party beaches, towards the ferry port end of the island. The beaches are covered in restaurant and bar tables at sunset, all lit by candles and torches. A small army of fire dancing and twirling boys appear, they are incredible. It was magic for my boys, they'd never seen anything like it before.
We paid a man to light a firecracker in a lantern and watched it float off, glowing, in the night sky ( a great homeschool moment, lots of physics involved)
How To Get To Koh Samet From Bangkok
We did this the same way both times, it's pretty easy. From Bangkok you can catch a little air-conditioned minibus from the Eastern Bus Terminal to Ban Phe. We sent The Chef off to buy the tickets while we waited in Mc Donalds, it was hot and there are a lot of busy roads to cross, finding the right person to buy a ticket from can be challenging.
The trip takes about 3 and a half hours and the driver makes a stop at a service station for toilets and refreshments, it's modern motorways all the way.
At Ban Phe the bus drops you at the ferry terminal, you buy a ticket at the kiosk and board your ferry boat, they are small, wooden boats, packed to the rafters with passengers, they are very frequent. The trip takes about 40 minutes. One of the kids totally freaked out and thought ours was going to sink, once we'd calmed him down, everything was fine., There are also speedboats which cost a little more, they drop you to the resort beaches on the other side of Koh Samet, if you know where you want to go.
The ferry dock on the island, is at Na Dan or Koh Samet Village. The island taxis pick you up straight from the ferry. There are now quite a few shops on the island, including a few 7/11s, there are ATMs, a pharmacy and clinics. .
Try to avoid arriving on weekends, the island is full of local visitors, it's very full, more expensive and a lot of whiskey drinking goes on. The Thais take their own drinks, it's cheaper.
There are various boat trips you can take to smaller islands for snorkeling, diving, fishing etc.
Breaking up travelling and temple visiting with a bit of relaxation is great for the kids and the grown ups. I would recommend Koh Samet as a family travel destination. Have you been? What did you think? Have you signed up to follow the blog yet? If you could, just put your email address in the box below. We will be back in Thailand and, hopefully, Koh Samet, in just 4 months, can't wait!
Koh Samui or Koh Samet
We prefer Koh Samet. Obviously Koh Samui is a much bigger island with more options but we enjoy the compact size of Koh Samet and the easy access from Bangkok.
Find Tub Tim Resort, Ko Samet here. We also have a full list of recommended family accommodation in Bangkok. It's taken us 3 full years of travel to put it together and we hope you find it useful. Or you could go to our Thailand travel, advice, tips and how-to page.
If you'd like to hire a car during your stay, use this car rental comparison tool to find the best deal!

We also suggest you take a look at this company to get a quote for all kinds of the more tricky adventure or extended travel insurance.

Try Stayz / VRBO for an alternative way to find rentals on homes/apartments/condos in any country!