This post may contain affiliate links.
This post is about the experience of getting a traditional Thai tattoo in Bangkok. We also suggest other places in Thailand to get a traditional sak yant. These are "bamboo tattoos" done with a long bamboo pole tipped with a spike. This is how I was able to book a Thai tattoo in Bangkok with an Arjan (a holy man) in Thailand and we tell you how to do it. We highly recommend the company who organised this experience, if you'd like to book your Thai tattoo we'll show you how. The tour includes a very necessary translator, and transport to the Arjan's home in Bangkok. Book well in advance if you can.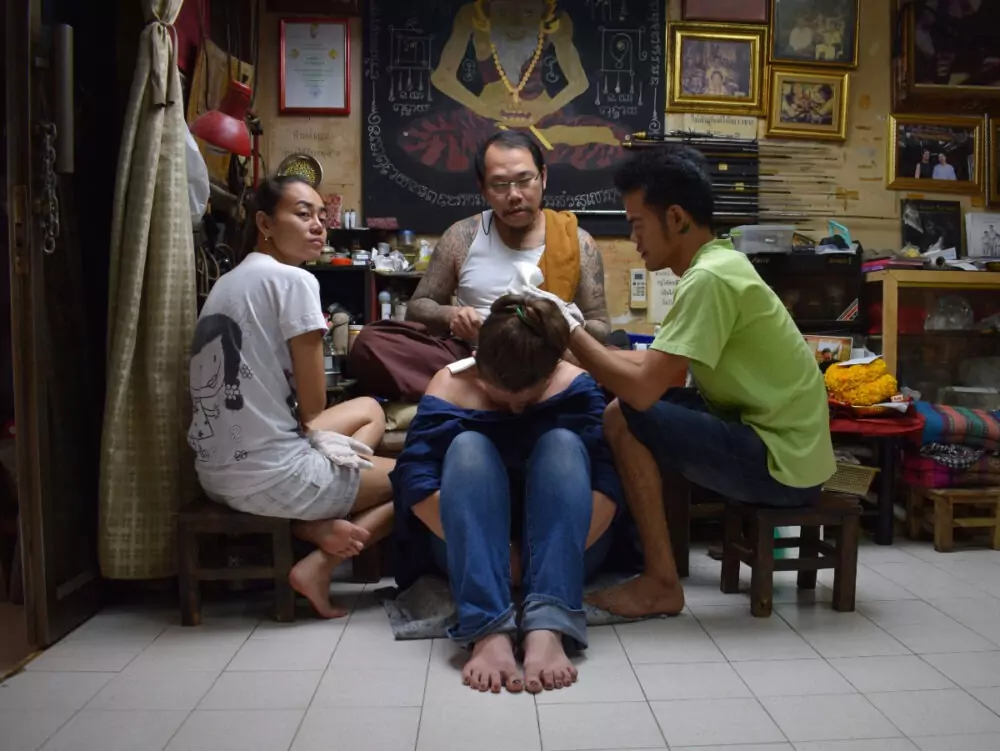 "I've got my traditional Thai tattoo, it's hours old and I love it. It's about hand-sized, in the middle of my back and it holds a deep meaning.
It was created by a master Ajarn – Ajarn Neng- with a traditional metal spike. It hurt, only a little. Want to know more?"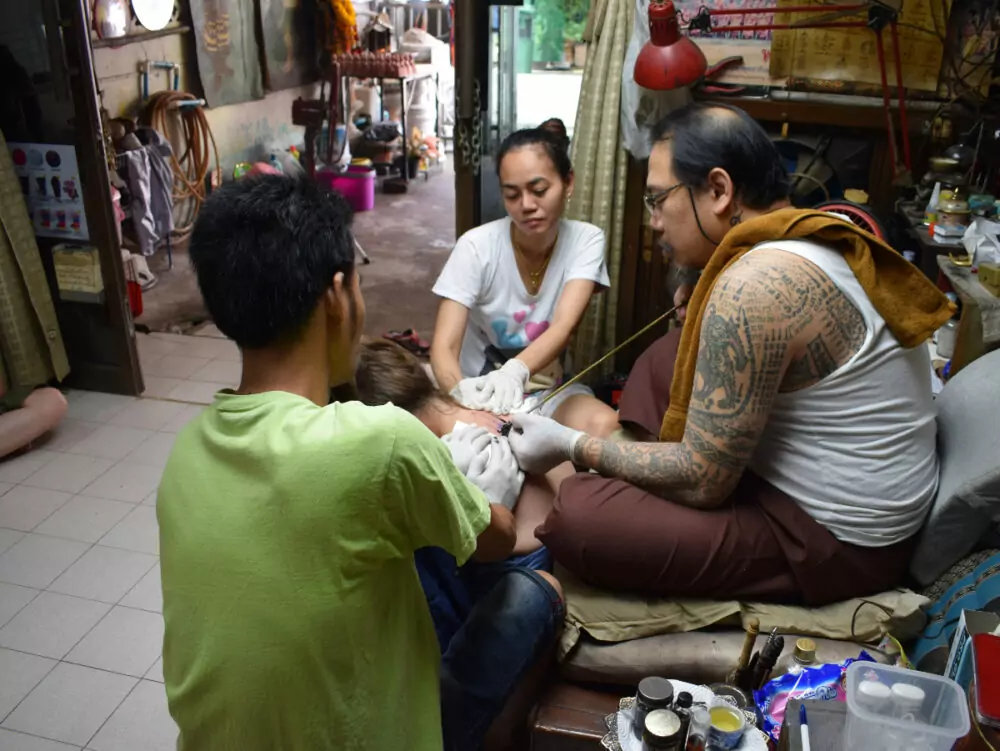 There is a lot more to the experience than just turning up at a tattoo shop and picking your design. Sak Yant, the ancient tattoos of Thailand and nearby parts of Southeast Asia, should be more special than that.
This is how I got my traditional Thai tattoo in Bangkok. Mine was given to me by a master, with a personal consultation, blessings and prayers.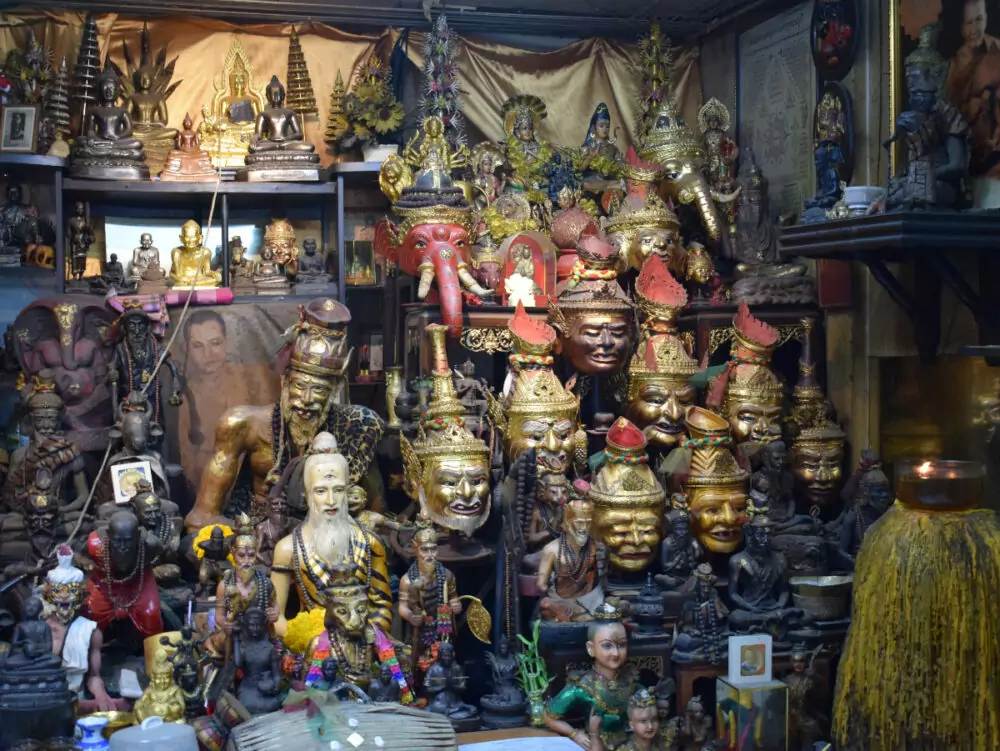 I'll tell you how you can arrange one easily too. I'm a 50-year-old woman, a mum, this isn't just for men and it's not just for the young. If I can do it, you can too.
Traditional Thai Tattoo in Bangkok Thailand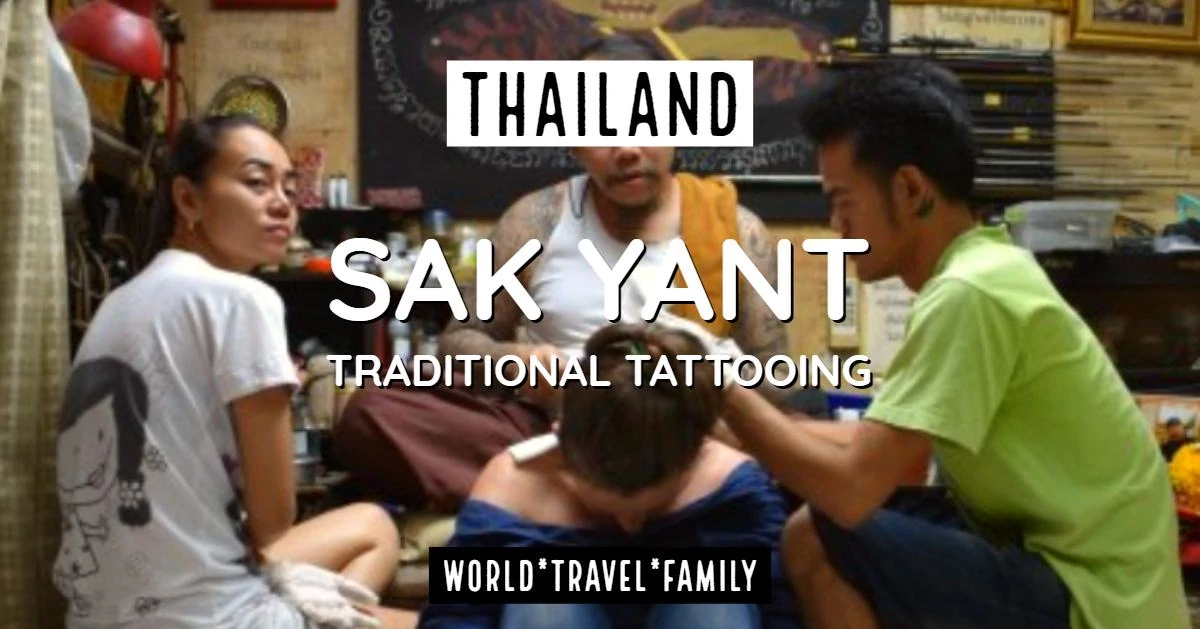 This post covers my experience getting a traditional Thai tattoo, a sak yant, from a master ajarn, a holy man. Traditional Thai tattoos involve a long bamboo and metal spike and the design is normally chosen for you based on your spiritual needs.
Traditional Tattooing
My interest in tattooing goes back decades. I started collecting the odd piercing in my 20s and simultaneously began reading about traditional body modifications, tattoo art and cultural and religious practices from around the world.
I'm not heavily tattooed, I'm very average. I had, this morning, 2 small concealed tattoos, one for India, one for Nepal, my favourite places and cultures. Thailand is special to me too so I wanted a Thai tattoo.
I loved the idea of the tattoo being applied by a monk and of receiving the traditional blessings to make the experience a spiritual or magical one. I started researching and promised myself a Sak Yant, the Thai traditional tattoo, for my 50th birthday. After all, my mum can't tell me I'll regret it when I'm 50 now.
A friend asked why I'd want tattoos in hidden places, well, they're for me, not for everyone else. It's about the experience and the meaning, not fashion. For the record, this has nothing to do with Angelina Jolie's 5 line Sak Yant. If you want her Arjan, you're looking at a $1000 bill these days.
Getting a Traditional Thai Tattoo in Bangkok – Video
The video of my sak yant tattoo is very short, give it a watch. It shows Ajarn Neng and his home, where and how I got my traditional tattoo in Bangkok.
Thai Sacred Tattoos
If you know something about the culture and history associated with these ancient designs, the experience will be all the more special. Take a look at this book on sacred tattoo art.
How to Get a Traditional Thai Tattoo in Bangkok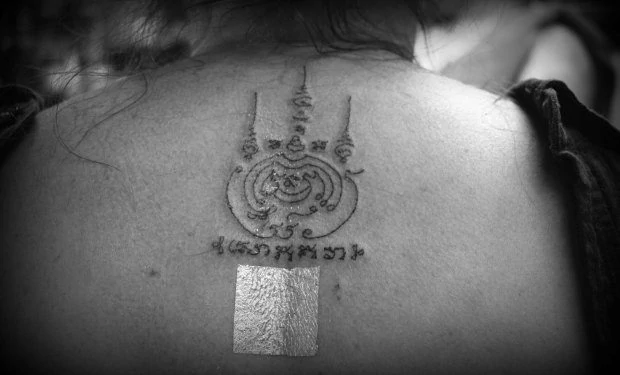 Sak Yant at Wat Bang Pra
Many visitors to Thailand line up to get tattooed at Wat Bang Pra, that's what I expected to have to do.
I'd read that customers have to wait in line here for their bamboo tattoo after a very early start to get across Bangkok and they don't use fresh needles for each person.
So, it sounds neat, but I didn't fancy worrying about sharing needles and dragging my whole family over there to wait in line was not going to win me any popularity awards.
Read more about the experience of getting a Sak Yant at Wat Bang Pra here and find out how you can attend their sacred and spectacular tattoo festival here.
Sak Yant at a Tattoo Shop
You can also buy a Sak Yant design in just about any tattoo shop in Thailand, and there are many.
Tattooists apply them with either machines (tattoo guns) or bamboo, you'll probably get a great looking tattoo, but you wouldn't get the full shamanic experience.
Sak Yant With Arjan Neng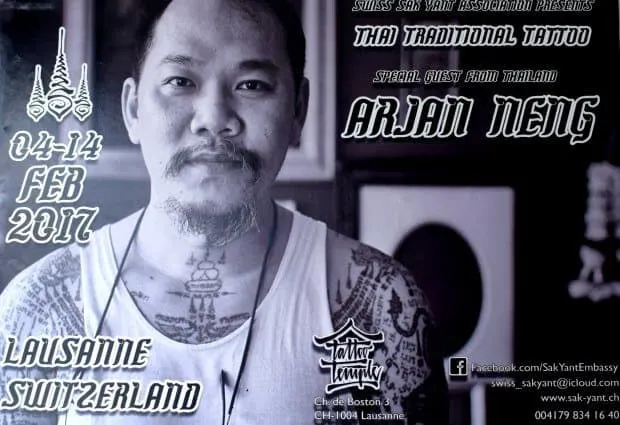 My research led me to Ian Ord of Where Sidewalks End Travel who I am now happy to call a friend. This Thailand-loving Canadian can organise your Sak Yant and send you safely to a master Arjan (or Ajarn, Thai spelling seem to have endless variations) with a great history and reputation.
Ian can also provide you with a translator and guide to pick you up from your hotel and take you back again. As Ian wears Arjan Neng's work and blessings himself, he's a good recommendation of quality, and makes the whole experience very stress- free and simple.
He's happy to vouch for the safety of bamboo tattoos, hygiene, and so on. I liked his plan and I'd seen good reports so I can now add my own positive review of Arjan Neng.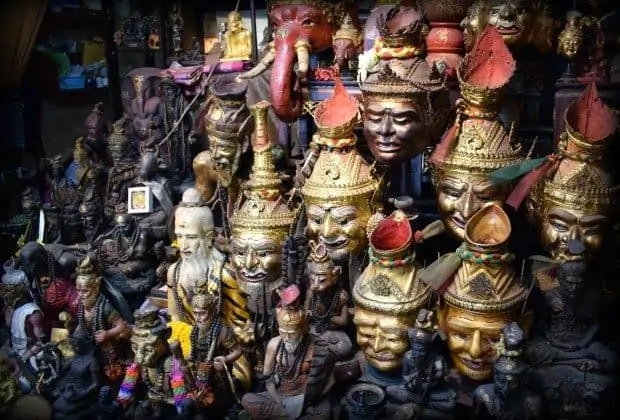 It took me a while to book a date, our 6 weeks in Thailand saw us hopping from north to south by train and plane far too often, but I finally found a day that worked and confirmed it through the Where Sidewalks End Travel website. They do need a few days notice and they do get very busy, so if you really want your Sak Yant, book it as soon as you possibly can ( book here). A few major celebrities ( Brooke Shields, Steven Seagal)) have used this Ajarn and Ian's service, that reassured me on safety even more.
Places to Get a Traditional Sak Yant in Thailand – Outside Bangkok
These Sak Yant experiences have proved so popular that my friend Ian ( the organiser, a Canadian and nice chap) has scoured Thailand looking for similar authentic experiences . He's found amazing practitioners all over the country and visits each one personally. He recently received his 4 th Sak Yant blessing. Wherever you are travelling in Thailand, whatever your itinerary, he can hook you up with the right arjan and make your experience simple and stress-free.
If you look at Ian's website you'll see sacred ink experiences all over Thailand in most major destinations. Have a look here.
If Arjan Neng is fully booked, all is not lost, you could easily get to one of these other destinations, Ayutthaya, Sukhothai, Chiang Mai, etc. We have posts on this website on all of these cities ( and UNESCO sites) in Thailand and you'll easily find the information you need. Our Sukhothai guide is here. Our Chiang Rai Guide here.
Sak Yant Bamboo Tattoo With Where Sidewalks End
This was how my day went, my whole family's day, when we went to see Arjan Neng as arranged by Where Sidewalks End. I originally wrote this in the present tense, but it was a while ago now. I've left the post as I originally wrote it.
We're staying at a beautiful guest house in Bangkok. Shanti Lodge it's in Khao San area, about 15 minutes walk from Khao San Rd, but on a quiet, Thai street just footsteps from the flower market and river jetty. This is a guest house to fall in love with, and it's cheap. But I'll post about Shanti Lodge some other time.
Our chaperone, guide, and translator met us at our lodgings at 9.30am. A nice young man, fluent in Thai, English, and Italian, he would get us to the Arjan, introduce us, help us discuss the process and generally baby-sit us for a few hours.
We were a party of 5, 2 kids, so he called an Uber taxi. For groups this big, taxis are cheaper and easier than public transport in Bangkok, with public taxis even cheaper than Uber. The Arjan Where Sidewalks End uses lives in the Sukhumvit district, that's where the big Bangkok shopping malls are on the other side of the city. We were going to the Arjan's house and workplace in a quiet residential street. This is real Bangkok, a place no tourist would ever go unless to see Arjan Neng.
As soon as we arrived the process started. The Arjan's assistant led me in prayers and offerings of incense to Ganesh. The Hindu god Ganesh. Sak yant are pre-Buddhist and portray the wonderful mixture of faiths in Thailand's history, Buddhism, Animism, and Hinduism. You'll often see Ganesh at Buddhist temples in Thailand.
You can see video of Arjan Neng at work below. I have my own at the top of the page.
Prayers completed, I stepped into the Arjan's room. It was rather like meeting a celebrity. This softly spoken Sak Yant master can be found on YouTube and has a big reputation. I knelt before him, careful to keep my head lower than his and my feet pointing away. Chef and the boys came into the back of the room and sat quietly to watch.
The Arjan asked a few questions about me and my needs. He asked how many followers my blog had, 50,000 seemed to go down well with him although he's not accustomed to social media. He picked my design and showed me. Our translator told me the name and explained it's meaning but right now I can't remember, it's a bit blurry. I'll email him, he'll jog my memory.
I liked the design, so we proceeded. I think if you don't like the sak yant you're given you can discuss this and change it around, there are hundreds the ajarn can choose from.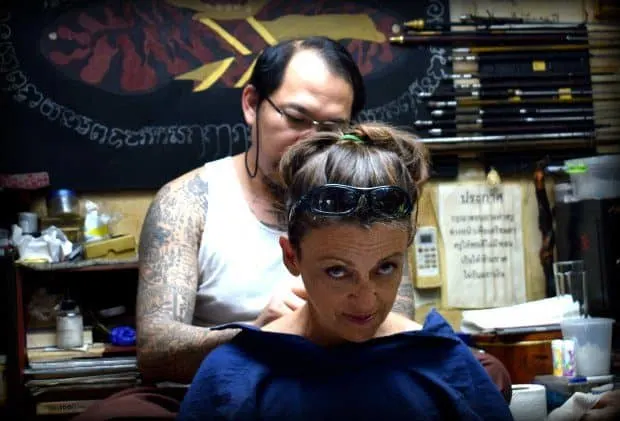 I gave the ajarn an offering of flowers and incense, this had been arranged and prepared by my guide, I bent myself into the required position ( which was actually very comfortable, even with 50-year-old joints), and off we went.
What to Wear For Your Bamboo Tattoo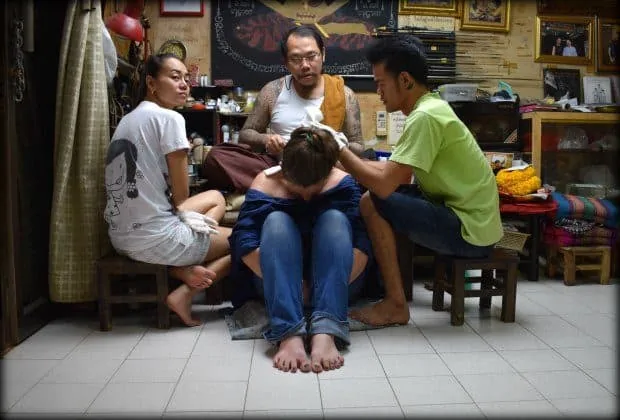 I wore a vest T shirt with the shoulder straps tucked under and a linen shirt for my sak yant appointment. For the tattoo I put the shirt on back to front as bare flesh isn't cool in Thailand. Don't wear shorts or anything too revealing.
Pain. Did it Hurt?
Two assistants pushed me into a firm crouch at the Arjan's feet and held my skin tight. It was slightly worrying that two people were holding me down and wondered what I was in for. I felt the first few jabs of the needle, no pain, just a sensation and waited for it to start hurting. It really hardly hurt at all.
For me, my traditional Thai tattoo didn't hurt much at all, no more than a modern tattoo and maybe less.
I'd been told that it was 4 times as bad as a machine tattoo and that some people found the pain unbearable. Well, I was fine. One little part hurt like crazy, but only for moments, it passed.
Mental relaxation, self-hypnosis, meditation, I do these things to get me through pain and anxiety and I find they help a lot. I've delivered two boys without pain relief, at home, the Sak Yant was a walk in the park.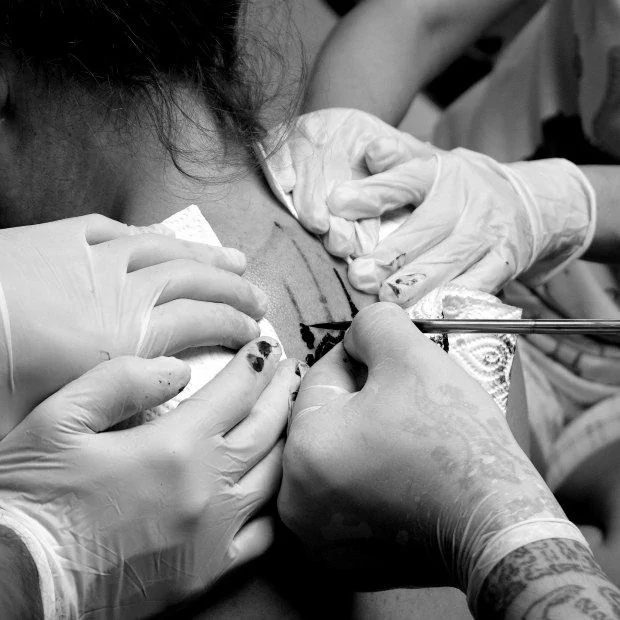 How Long Does the Traditional Bamboo Tattoo Take?
The Ajarn's ultra-fluffy cat wandered past, my boys adored and stroked her. His pet cockatoos squawked and talked, all the time he jabbed, his assistants mopped, the process was over in no time.
I'd estimate the whole tattoo took no more than 10 to 15 minutes, but I didn't time it. He worked incredibly fast, almost as though he was writing on my skin. He was joking and laughing, Chef and our translator were shooting photos and video. It was a cool experience.
Price. Cost To Get a Tattoo from Arjan Neng in Bangkok
This package cost me $250 and for me it was well worth it. Had I not paid and booked I just wouldn't have got around to doing it and without a translator and guide I couldn't have visited Arjan Neng. The Arjan speaks no English. The consultation is in Thai, you absolutely need a translator
After the Traditional Sak Yant Tattoo
Once done I received another blessing or magical incantation and a good sprinkling in what I hope was holy water. Arjan Neng finished the job off with a little magic, which he blew into my design. He put his hands on my shoulders for the final chant. It was one of the gentlest, most calming touches I've ever experienced.
The usual vaseline and cling film slapped on and it was done. I left with a prayer on a slip of paper and a little Buddha statue. Our translator bought us some excellent duck noodle soup and took us home.
So that's my Sak Yant story. I'm very glad I did it, the whole experience was good, other than maybe the Bangkok traffic. But you can't have everything.
How to Book Your Sak Yant Experience
If you'd like to book the same Sak Yant experience, just use my link below to click-through to Where Sidewalks End Travel and reserve a date on the calendar you'll see.
I'd highly recommend you do but do it well in advance, they sell out fast. They offer other tours and experiences, including the now-famous Elephant Nature Park in Chiang Mai, and can also arrange a Sak Yant for you in Chiang Mai, Chiang Rai, Ayutthaya or Sukhothai too. All of this information can be found on the website below, just click the link.
Still smiling! Did you follow us on Instagram yet?
If you have any questions, please put them in the comments. I can answer most questions about the process of getting a Sak Yant in Thailand or you can go to Ian's FAQ page. Ian's company also organises ink-less experiences in Thailand and many other countries. You can stay with the head hunters of Borneo (as we did – see here) or simply take a tour to see wild elephants or enjoy local festivals. You'll find them all here. To take a look at Shanti Lodge click through above. Back to our main Travel in Thailand page
If you'd like to hire a car during your stay, use this car rental comparison tool to find the best deal!

We also suggest you take a look at this company to get a quote for all kinds of the more tricky adventure or extended travel insurance.

Try Stayz / VRBO for an alternative way to find rentals on homes/apartments/condos in any country!