This post may contain affiliate links.
6 weeks in Thailand, what a ride! If you've been following us on Facebook or Instagram, you'll know a lot about our trip already, but some of you don't and some of you will want more detail, so here's a round-up on our 6 weeks in Thailand, where we went, what it cost, what we did and how it felt to be a family on the move again. We all thought that this was our best trip to Thailand ever. Possibly because it was broken up into diverse chunks. Possibly because there was a little luxury and a lot of backpacking. Possibly because we met so many interesting and diverse people or maybe just because our family is in such a happy place right now. But it was great, a brilliant trip.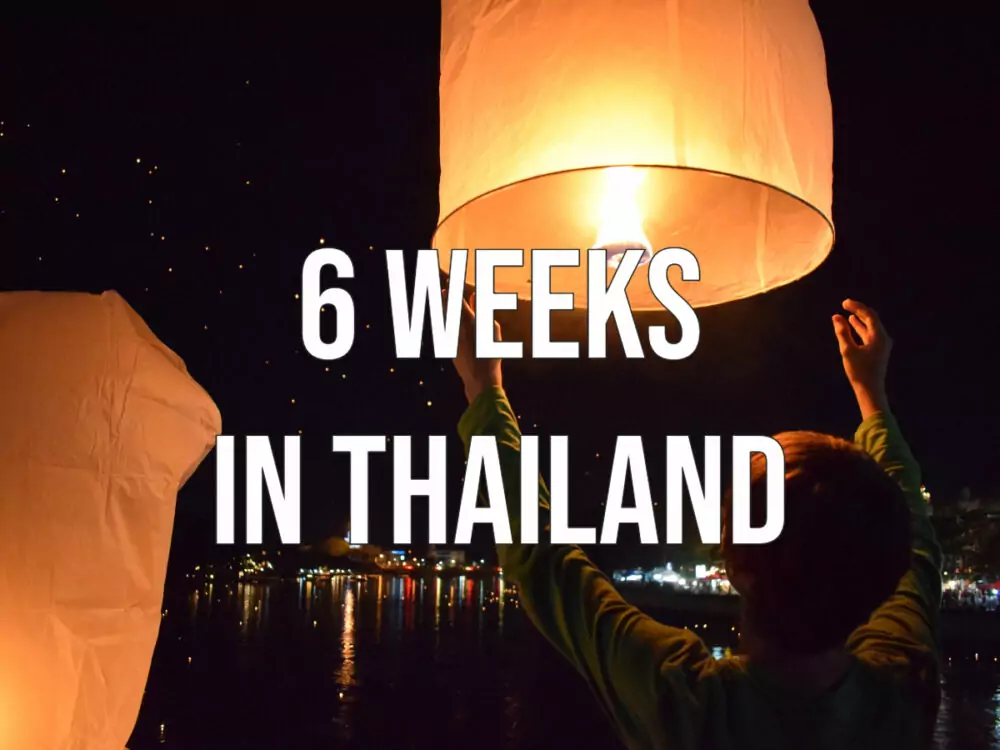 So here's the trip report for those 6 weeks in Thailand, plus a few thoughts on what education or worldschooling means to us now.
All of the places, destinations and experiences below will get their own detailed posts in time. Some are written already and you can click-through for more information.
Let me know if there's any extra detail you need to help you plan your travels, in the comments, for now we have a suggested Thailand itinerary here.

6 Weeks in Thailand
Our itinerary for this 6 weeks in Thailand involved plenty of time in Bangkok, a trip to Kanchanaburi, a lot of time in Chiang Mai, and then a road trip around Northern Thailand plus a short trip to Phuket.
Further Reading and Resources
If you're planning your own trip to Thailand with your family, you may find these posts helpful.
Visas for Thailand, 30 Days and Longer Than a Month
Visa exemptions exist for 52 countries, granting a 30 day tourist visa ( UK, USA, Canada, most Eu, Australia included)
No prior visa arrangements are needed for Thailand if you are in the clear, you just get the stamp at the airport, free.
Visa on arrival is 2000Baht for 19 countries not on the exemption list.
If you're staying 6 weeks in Thailand ie, longer than a month, you can either extend at visa offices, do a visa run into a nearby country by land to get a 15 day 2nd visa, by air gets you a 2nd 30 day visa. Alternatively, arrange a longer visa before arrival.
Costs of 6 Weeks in Thailand
We spent, on average, roughly $100 per day, excluding initial flights, travel vaccinations and travel insurance on this trip. That's more than we usually spend for long-term backpacking and a comfortable daily budget.
We've travelled in Thailand at around half that when the children were younger.
Obviously, smaller children cost less as they share beds and meals and often get free transportation and admittance.
After about 9 years old they seem to cost just as much as adults. You'll see in this post that we enjoyed some luxury resort stays on Phuket, you wouldn't get that on this sort of budget, that was work.
We are a professional, full-time travel blog and most, but not all, of our travels are self-funded.
6 Weeks in Thailand, Highlights and Where To Go?
Bangkok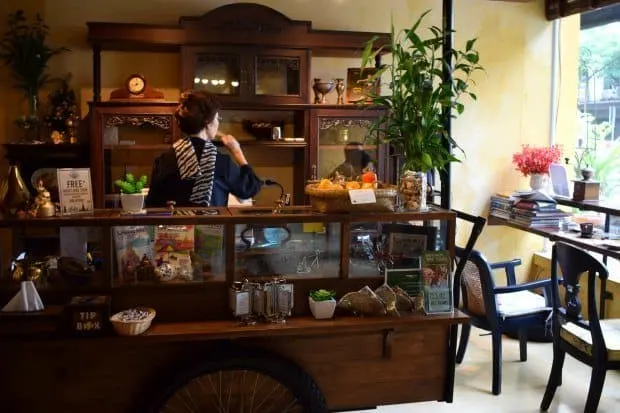 Bangkok was a trip picked by me to mark my 50th Birthday. Chef asked where I wanted to go and out of a whole world of global possibilities, I picked my old favourite. The whole family always has a great time and there is still so much for us to explore in Bangkok, so why not? For my birthday we picked an up-market boutique hotel that didn't disappoint in any way . On the big day we chose a long-tail boat tour of Bangkok's iconic Chao Praia river and took the kids to the venom and snake show at the hospital. We considered a fancy dinner but ended up feasting the cheap and entertaining way, on Rambuttri Rd. It was a fabulous way to mark my half century with the people I love best. So thanks James, D and Boo, for being so wonderful .
Highlights of Bangkok and Resources
The Old Capital Bike Inn. An up-market delicious splurge with superb breakfasts.
A tour of Bangkok by night, by bike organised by this hotel
River and klong tour by privately chartered long-tail boat
Bangkok's incredible temples and wats
The snake and venom show at the hospital
Rambuttri and Khao San Rds, our old hang-outs.
Experiencing Bangkok during Thailand's mourning period, being a part of history and feeling the deep sadness.
Amphawa Floating Markets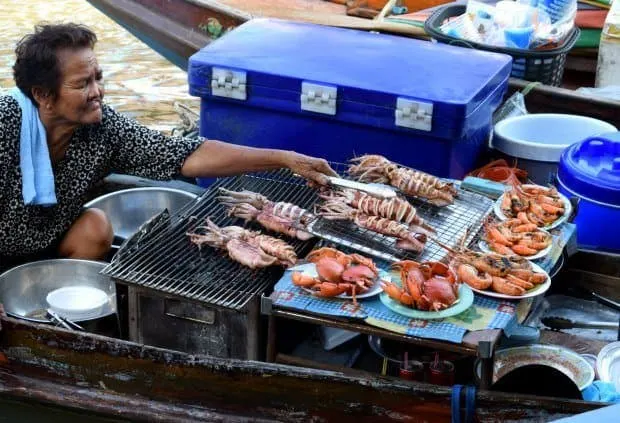 We hadn't yet visited a floating market with the kids and wanted them to have that iconic Thailand experience. We did our research and found that Amphawa, a short bus ride from Bangkok, was the best one to visit, boasting a more Thai atmosphere than touristy Damnoen Suduwak and sensational food. We opted for 2 nights near Amphawa, to experience rural Thailand, a real floating market and delicious foody treats.
Highlights of Amphawa and Resources:
Chiang Mai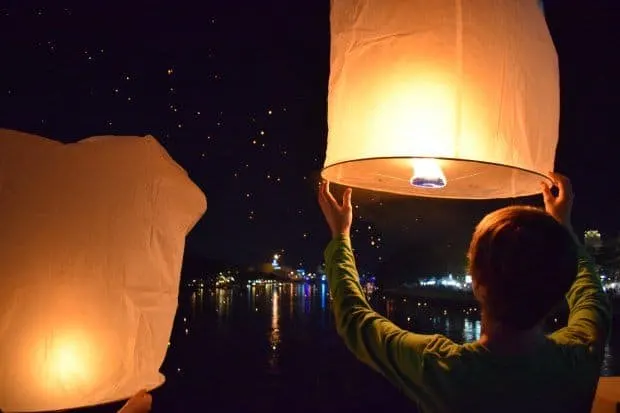 In the last 3.5 years on the road and at least 10 visits to Thailand, we hadn't returned to Chiang Mai. It was time for a re-visit, the kids' first time. Taking the sleeper train to Chiang Mai is always a joy, we caught the old train but got a sneak peek at the new trains currently being rolled out across Thailand.
Our timing was perfect, we were there for the huge Yi Peng and Loi Krathong festivals. I need to post about those soon because you'll find a lot of wrong information about them on the internet, things have changed. It was a fantastic experience but you need to be pre-warned about the crush around the river on day 1.
We fitted into the relaxed Chiang Mai lifestyle immediately, meeting up with old friends and making new. We really didn't want to ever leave and next year, well, maybe Chiang Mai will be home for a while. Highlights of Chiang Mai included:
Highlights of Chiang Mai and Resources:
The ancient city itself, it's just magic.
The festivals.
The never-ending night markets, day markets and walking streets.
Great food, nice guest houses at great prices.
Plenty of swimming opportunities.
The Hill Tribe museum and learning centre ( free).
Making elephant poo paper.
Visiting the Cinema every other day for new kids' releases.
Ice skating with other travelling families.
Fabulous malls and a superb co-working space.
A Thai cooking course for the growingly independent kids, 3 of them! Post to come
Pai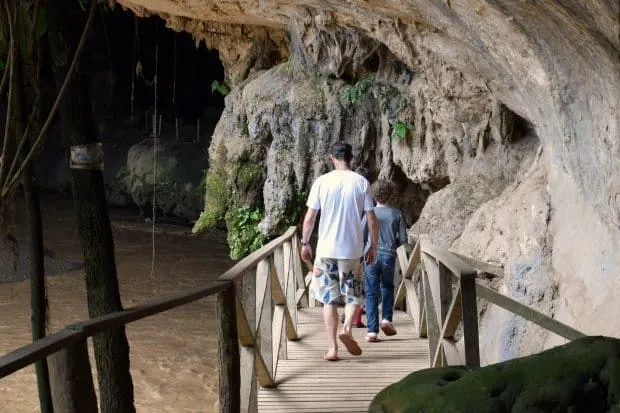 A road trip in northern Thailand, something we've never done before but our hire (rental) car turned out to be a great idea and super cheap. We popped back to visit pretty Pai, some 15 years after my first visit. It still had the same charm and is a place we could easily while away a few weeks.
Highlights of the Pai and Resources:
Pai itself, possibly the ultimate traveller town.
Nearby Lod Cave
Mae Hong Son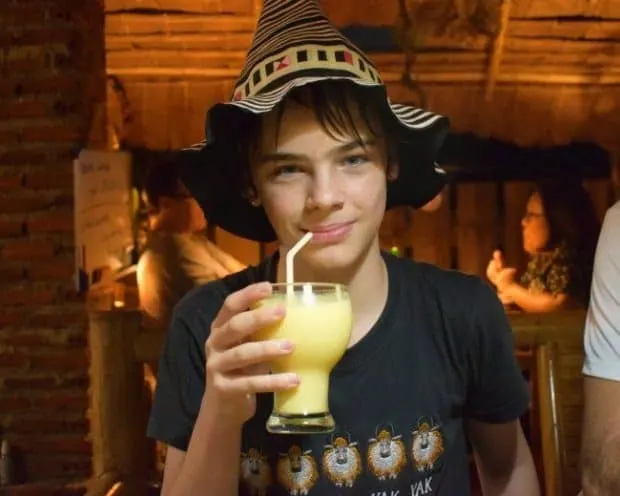 Driving over stunning mountains, our next stop was Mae Hong Son, again, a re-visit after that first Thailand tour back in the day. Nothing much has changed here, it's as pretty as I remember. This time something new, we took off into the jungle to visit a long neck Karen tribe and almost didn't make it. I wanted the kids to experience a Hill Tribe village, learn about them and compare these jungle communities with our own in Romania.
Highlights of Mae Hong Son and Resources:
Pretty Mae Hong Son, her lakeside temple and night market.
A Burmese restaurant, a first for us, with delicious and cheap food.
Chiang Mai #2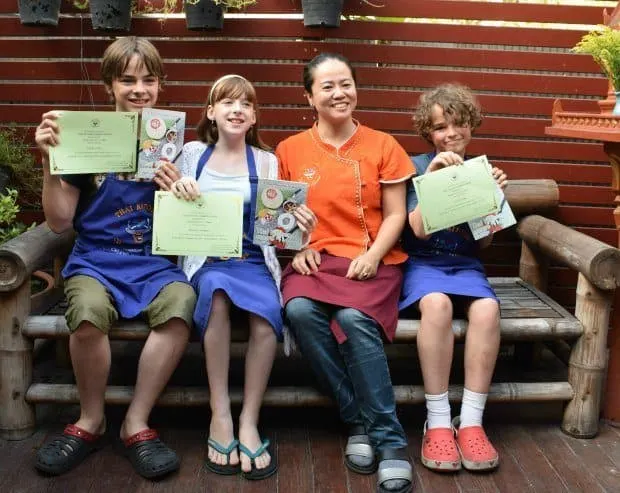 A brief return to catch up with friends and plot our trip to Phuket. We took the train to Bangkok, and hopped off at the airport for our short flight to Phuket. One last treat which again, I missed out on. See Highlights and Resources above.
Phuket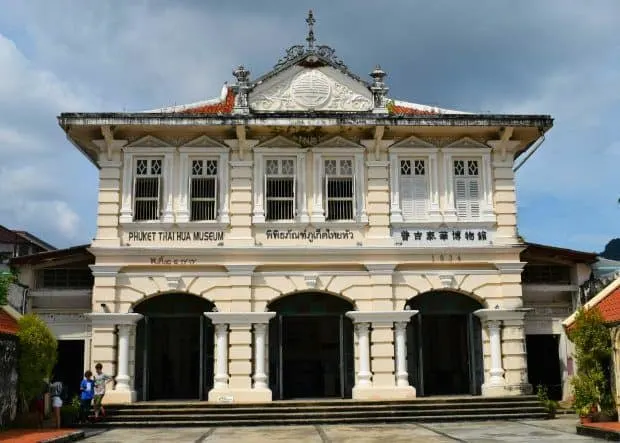 Phuket, the dream holiday island, or is it? We were here for the Ironman event and to test drive some superb hotels. We also took the chance to explore and get to know a part of Thailand we had never visited. A hire car again, was a good investment. Highlights of Phuket:
Thai boxing classes all round.
Great food and markets.
James Bond Island and Phang Nga Bay.
The freedom of having a car
Phuket Old Town, a lovely place.
A highly affordable 2 bedroom apartment in Phuket's countryside.
Phuket Surin Beach Resort ( click for prices/availability) we wrote a full review here
Phuket Karon Beach Resort And Spa (same) we wrote a full review here.
Chiang Mai #3
Back again! Our friends drew us back for a last few days of Chiang Mai fun. It's a place that's hard to leave. This time we flew direct to Chiang Mai from Phuket.
Bangkok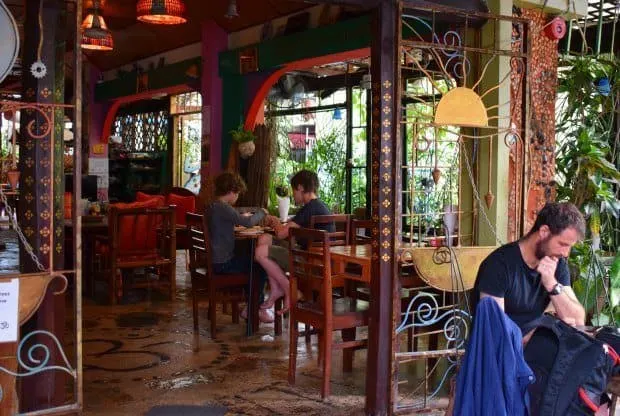 The end of our trip, 3 nights to rest and prepare to leave. A surprise bonus, we found our new absolute favourite guest house. We will use this place again and again. There was a treat for me too. Chef got his Ironman, the kids got their fun holiday and new friends, I got a special blessing and memory from an arjan ( it means teacher, like guru), a sak yant. I'm drawn to the spiritual wherever we go and this blessing was something I'd wanted for a long time. Highlights of our last few days in Bangkok:
Education, School, Learning, "Worldschooling" and Growing in Thailand
I'm finding that I like the term worldschooling (what is worldschooling?) less and less as time goes on. We're prominent in this area, sure, and I've written some highly ranked posts on the subject, but the term isn't really capturing what we do.
I generally don't refer to us as worldschoolers we are homeschoolers. That fact was established long before we started travelling and our choice of educational route is greatly enhanced by our travels. My kids' education has nothing to do with schools but I do try to make sure they get a good one. We don't carry books with us nor do we do online courses while we travel on short trips like this. They read, they read a lot, on every train, bus and plane. They also played Minecraft and watched YouTube videos, an activity with enormous current benefits to their education. Because they're not in school they get far more time for the above activities than average kids. Now we're back at home base, yes, the books are out again, we have little else to do at home so they fill the time nicely between ski lessons and trips to the wood shed. In Thailand we were too busy to spoil the trip with school-type work.
I was going to list the educational or worldschooling benefits of our trip, a list of what most people would recognise as "education". Instead I'll list the whole-life benefits for us as a family and for the kids. If we use the term world schooling in relation to us, it leans more towards learning about the world, all of the world and all of its aspects and peoples, much more than geography, history and so on. I can't simply use the term in relation to providing a standard education.
I think we need to start talking about education as something far deeper than what average kids do in school or university. What we're dealing with now is complex, mature, and more about understanding.
The death of King Rama 9 affected us deeply, it opened our eyes and lead to some in-depth learning about the Kings of Thailand, their accomplishments, and Thai culture generally.
The boys don't go to school so they spend a lot of time together, they have an amazing bond. On this trip a 3rd musketeer was added, young Annabel, she added something special to their dynamic. My younger son grew enormously through this relationship.
We all learned some Thai boxing. Increased physical self-esteem all round.
We know each other inside out, good and bad. We parents haven't missed out on one moment of their childhoods. We also continue to learn about ourselves and fathom out our own minds, every day. When you remove the mundane of work or school I think there is more time for that. The people we met on this trip helped us along with that journey
D grows and grows, he's taller than me and Boo is getting to the age where he's testing his new strength too. It's Boo who grabs my backpack from the conveyor belt and offers to carry it if he thinks I'm tired. They know I'm tough and that women are capable of remarkable strength and endurance, they climbed halfway up Everest with me after all, but that masculine protection instinct is kicking in. It's great for them to have a chance to be gentlemen like that. They're lovely sons to have.
They spent a whole day cooking, in an adult environment, without mum to organise and supervise. Other trainee chefs and instructors commented on how " smart" and " mature" they were. They are different and they can cook.
They met and interacted with Thailand's Hill Tribe minorities, learnt about their origins, cultures and difficulties. Village life in Thailand and in Romania have obvious similarities as well as differences based on climate.
The kids get to learn about tourism and hospitality. The good and the bad. They saw the devastating impact bad tourism has had on parts of Phuket along with how tourists can be conned out of money in the name of false conservation. They saw people supporting cruelty, blinded by cute animals. They see up close how the hotel industry works, how it should be run, and how it shouldn't. As my husband's background is in hospitality, this is always fascinating.
They learn along with me how to make a living through social media and promotions.
Photography and videography are always a focus.
They learned a bit more about snakes, their venom, husbandry and bite treatment. They're both keen biologists.
Seeing rural Thailand and the old klongs of Bangkok, comparing that way of life with the modern cities and tourist resort towns, gives them a good understanding of the country's development, for good and bad.
They made paper from elephant poo and saw what a tourist trap that attraction was. Some would note making paper as "worldschooling" to us, the lesson was in the attraction and its marketing. They already knew how to make paper and recycling the fecal material of captive animals to make trinkets isn't going to change the world.
The 3D art museum was a great study in perspective and optical illuson, something we can draw on in photography and videos.
We meet all kinds of people from diverse backgrounds. This trip coincided with Trump's election, seeing reactions and the different types of people who supported him, was an eye-opener. Sometimes disgusting, sometimes fascinating, we certainly learned more about people and politics.
We saw animal abuse, terrible animal abuse. We learned to avoid it at all costs and speak out about it loudly.
We saw a very dark side to human nature in Patong, a place I never want to go again. We hated what Thailand had become there, driven by foreign visitors.
There's probably more but I'm done for now. So, more posts to come from our 6 weeks in Thailand, I have a few busy weeks of Thailand-related blogging ahead, it's what puts food on the table and keeps future travel plans happening. 6 weeks in Thailand gave us a lot of new material and destinations to share on the blog.
Happy Christmas and thanks for following.
Sign up to follow if you haven't already.
If you'd like to hire a car during your stay, use this car rental comparison tool to find the best deal!

We also suggest you take a look at this company to get a quote for all kinds of the more tricky adventure or extended travel insurance.

Try Stayz / VRBO for an alternative way to find rentals on homes/apartments/condos in any country!