This post may contain affiliate links.
Strewing. What is strewing? Strewing is a common word in homeschooling or unschooling, what does strewing look like in worldschooling? To strew, what to strew.
Strewing
What's the definition of strewing? To strew means to scatter or spread objects over an area in an unorganised matter. In an educational setting, these objects could be games, books, puzzles, craft materials or educational toys.
Strewing is a word used often in homeschooling and unschooling circles, I've not yet seen it used in relation to worldschooling.
When we strew, we leave useful, interesting, attention-getting, fascinating, educational objects and materials in the paths of our kids.
The children are then able to discover them for themselves and learn more about them, or not, their choice. It's leading the horse to water, but not making them drink.
I'm a firm believer in not trying to ram information down kids' necks, as was the case with some
old-school educational models. Forced memorisation and learning for tests only results in that same information being forgotten (and some stressed-out, fed-up kids losing intellectual curiosity quickly).
So, in our case, we don't memorise facts to a schedule, we don't learn times tables, we just kind of, gain knowledge by assimilation and stimulate curiosity through strewing.
I think of it as "Chuck enough mud against the wall and eventually, it will stick." education.
If you'd like to read more about how we educate outside of school, maybe find some ideas for your kids or give yourself a confidence boost before taking the leap yourself, you need this post on travel and home (un, world) schooling.
What do I mean by strewing the world?
This post came about this morning because a couple of days ago, as I was watching my tropical kids running, playing and laughing with joy in the first winter snows in Romania.
I had a thought, we're strewing, strewing them to whole world. Allowing them access to forests, meadows, haystacks, oceans, gardens, and cities. How cool is that!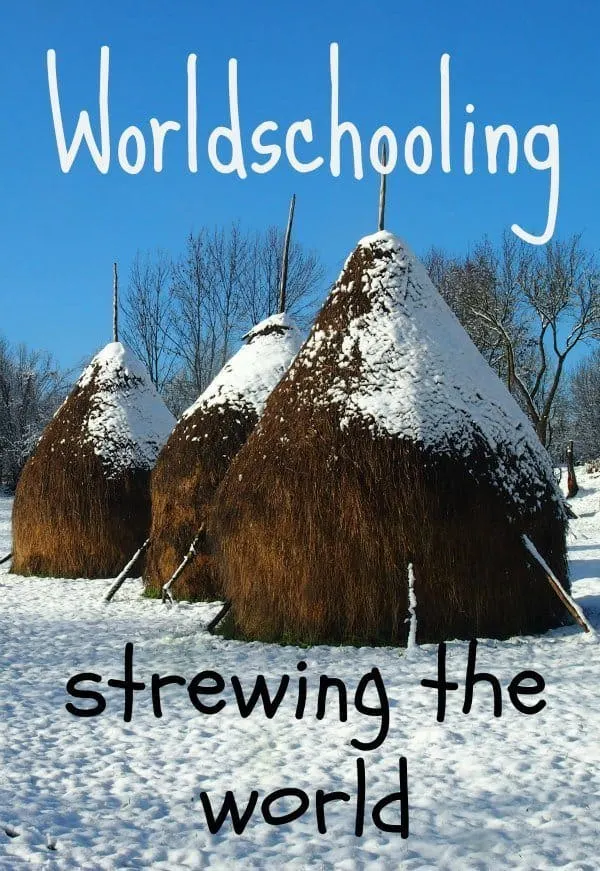 We made this Pin for you to save to Pinterest, just hover and click on the button that will magically appear in the centre …go on…do it.
We've laid it out before them and they've picked up the knowledge they've chosen for themselves.
They've visited 40+ countries now, on 5 continents. They've crossed oceans, coral seas, deserts, rainforests and woodlands.
They've mixed with some of the richest people in the world and some of the poorest, visiting temples and seeing devotions from at least half a dozen faiths.
We've never asked them to memorise capital cities or names of rivers, they don't get pushed to recall flags or currencies, they certainly aren't forced to learn languages, yet they're picking it up in their own way in their own time.
Just because we left a particular country a year or two years ago, it doesn't mean the learning has stopped. We still recall things we saw or places we visited.
Penny in the air, penny drops, moments are common. Sometimes they were too young to pick up the anticipated learning while we were in a particular place and it just comes a little later. That's still great.
They get a thrill in seeing a place we've visited in pictures or films. "I've been there!" always makes them happy. Sometimes it prompts them to pay more attention and to learn a little more.
That's what I mean by strewing the world, and that is a big part of the worldschooling method.
If you'd like to hire a car during your stay, use this car rental comparison tool to find the best deal!

We also suggest you take a look at this company to get a quote for all kinds of the more tricky adventure or extended travel insurance.

Try Stayz / VRBO for an alternative way to find rentals on homes/apartments/condos in any country!