This post may contain affiliate links.
I've threatened to share this story for months, I finally got around to it. Let's go back to Kathmandu, it wasn't so long ago but feels like a lifetime. Time passes more slowly when you do loads of different things and not same, same, every day. So, Kathmandu, Nepal, we were not long back from our Everest trek and fresh off the bus from Pokhara. We'd returned to Kathmandu to see a few last sights and just hang out for a while before our flight to the Middle East and on to Romania.
We'd usually sit in the reception/dining room area of our guest house if we weren't out exploring, eating, drinking or shopping. We'd use computers, occasionally have someone to chat to, eat huge breakfasts and the kids would make a big fuss of Jackie the pug.
Every morning Ram would leave newspapers, in English, on the coffee table down there. That was the only reason we knew Prince Harry was visiting. I'd read the article and seen which places were worthy of a Princely visit. We all had a chuckle imagining him coming through the scrum at Kathmandu airport baggage claim where he'd stand out a mile being 9 feet tall and ginger. We thought his military training would probably stand him in good stead as he negotiated the forever packed chaos.
During that week we visited Patan Durbar Square ( click through for a full post on this destination and things to see in and around Patan). There are a few Durbar squares in and around Kathmandu. Our guest house ( in Thamel) was within walking distance of the main one, Patan needed a taxi ride through choking exhaust fumes. The third is at Bhaktapur. We got chatting to a guide there about this and that, it just popped into my head to ask, "When is Harry visiting?"
"Tomorrow"
Ah, maybe, just maybe, we'll pop back for a look.
I wandered from the main monuments and slightly earthquake damaged structures of Durbar Square to the Golden Temple. It's a tiny courtyard hidden down a typical Kathmandu alleyway and is guarded by two monstrous creatures, the female sporting alarming pink breasts. ( find out more about them and The Golden Temple here.)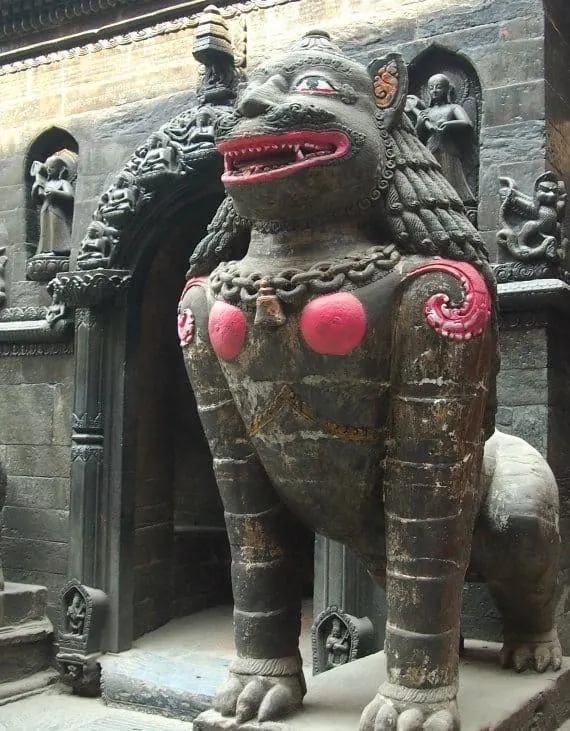 The ticket seller chatted for a while, where we were from, how glad he was that this was our second time in Nepal, all the usual. I knew Harry was visiting the Golden Temple so I asked " What time will Harry be here tomorrow?"
"2pm"
OK, so we have an itinerary. Cunning or what?
The day rolled on into the usual evening of dal, chapatis and Everest beer ( Nepal food post here) while people watching in colourful Thamel. The evening turned into the all-too-usual nocturnal vomiting from one or more child. They were so sick in Nepal, it seemed to happen every few days. Back then we just couldn't figure out what was causing it, nothing like that had ever happened to us before. I think we now have the answer, fizzy bottled drinks. We assumed they'd be sterile but it seems they're made from concentrate using tap water. Oh well, next time ( March 2017!!) we'll know. For the record, the sickest the kids have been in the last 3+ years of travel was in London with interminable norovirus.
So morning came around, we ate breakfast and I wanted to go Harry hunting. Boo didn't feel well so he stayed at the guest house with Chef, content with computers. D and I hopped in a taxi and headed to Patan Durbar Square to enjoy the show.
Nothing much was happening in the square. A few tourists were milling about, trinket stalls were open, business as usual. Maybe we had the wrong day?
D and I retreated to a rooftop café for coffee and hot banana pancakes. As we sat looking out across the stunning and fairly intact rooftops, the military started rolling in. A cloud of uniforms with dogs swept through the square, emptying it as they advanced, the dogs sniffing for explosives, or whatever it is dogs sniff for. The few tourists and locals were moved on to beyond a barrier, the market stall holders remained, after a thorough sniffing.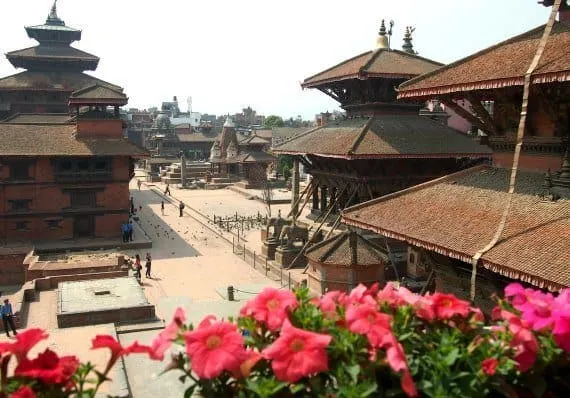 Some time later locals and tourists had the OK to return, but only to where they were wanted. A very small crowd started to line the route Harry would walk. Palace officials with phones and clipboards milled about, a few Nepali guards remained, but everything was very low-key.
About this time Chef called to say Boo was better and that he'd just explained to him who Harry was and that he now wanted to come. I told them to get in a taxi quick before they closed the roads. There was no way the Nepali government was going to let HRH sit in stinking Kathmandu traffic.
They arrived, we spotted them from our rooftop, after a squeeze of a back-street journey that bypassed the police road blocks. Chef and Boo took their front row place among the waiting crowd. D went down to join them. Reluctantly, I followed, abandoning my prime viewing spot to the gangs of over excited Chinese tourists who had appeared, all jostling to get a view. I was actually too late, Harry's car had just pulled up and the guards had stopped allowing people through the barrier. A quick pantomime about my children being in there granted me a pass.
When I reached my boys Harry had just entered a large building immediately opposite us and was greeting officials. It's a very interesting building, the site of buffalo sacrifices, dried entrails were visible strung across the doorway.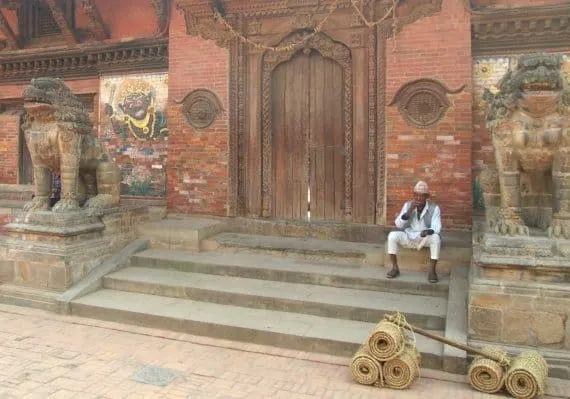 Everyone waited, cameras poised, it took forever. We were all lined up in the front row, ready to meet and greet. As the first officials emerged from the building the crowd surged forward led by the obnoxious paparazzi who seemed to think it was OK to shove people out of their way and stand directly in front of those who'd been waiting patiently forever. I shoved them back. Hope I ruined their photographs. I *may* have had a few words with some of them too. You shove my kids I become more alarming than the dude with the pink breasts. As D says, I activate my Welsh DNA.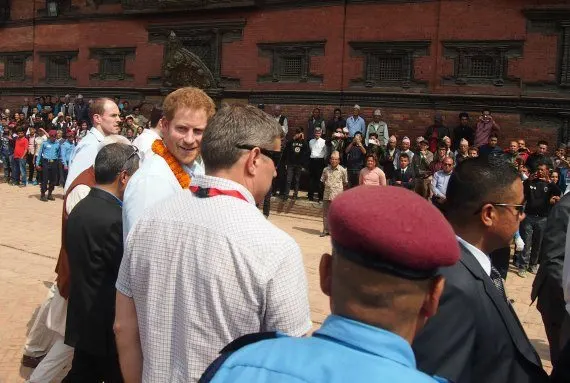 There was almost zero security, Harry just wandered around the square with his guide. People kept a reasonable distance, he had space, but the crowd followed him. A couple of British officials tried to shepherd everyone around, but with the Nepalis saying go here, the Brits saying go there, it was pretty chaotic.
I think we got fed up of being jostled by photographers at this point and wandered off to the Golden Temple where we knew there'd be fewer people. The palace official very graciously "allowed" us to stand right outside ( that really annoyed me, I had a ticket!) and we waited just moments for Harry to arrive again.
This time we got lucky, we were the only non-Nepalis there other than the stinking press and I think Harry felt obliged to come over and chat to us.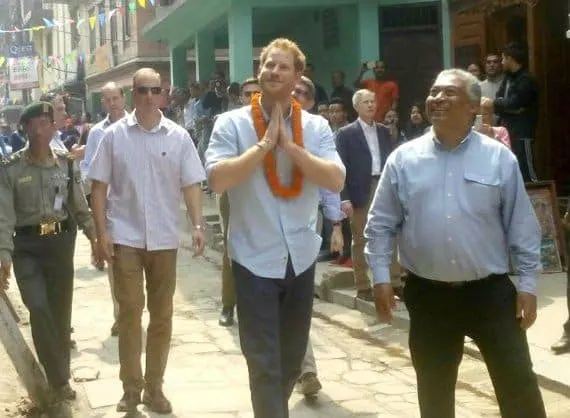 So we got the full Royal handshake and a few minutes of conversation with the Prince. Which was nice. He asked us what we were doing and where we were from. I gave the whole family travel being a fabulous thing a plug and told him we'd taken the kids half way up Everest. I think he was impressed. There was some rugby banter ( I'm Welsh) and he berated me for marrying an Aussie. Chef had the last word, something about English rugby and an Aussie coach, and then he disappeared past the pink breasted icon.
We bumped into him one more time, by accident, as he was exiting the Golden Temple. The street came to a standstill, huge official cars arrived to pick him up, he emerged, waved and was gone.
Now I'm not a big royal watcher, but Harry is cute, I was amazed by my reaction. I literally shook, stammered, sweated and spluttered when he stopped to talk to me. ME, of all the people, he was talking to ME. And did Chef get a photo? No, he was standing there just as stunned. Harry greeted the kids but likewise, they couldn't find words. It was a very interesting, slightly strange experience. But it made this post about Patan Durbar Square after the earthquake more interesting, didn't it? Lets do the facts now.
But first save this to Pinterest for me, you guys are so good at that. Thanks!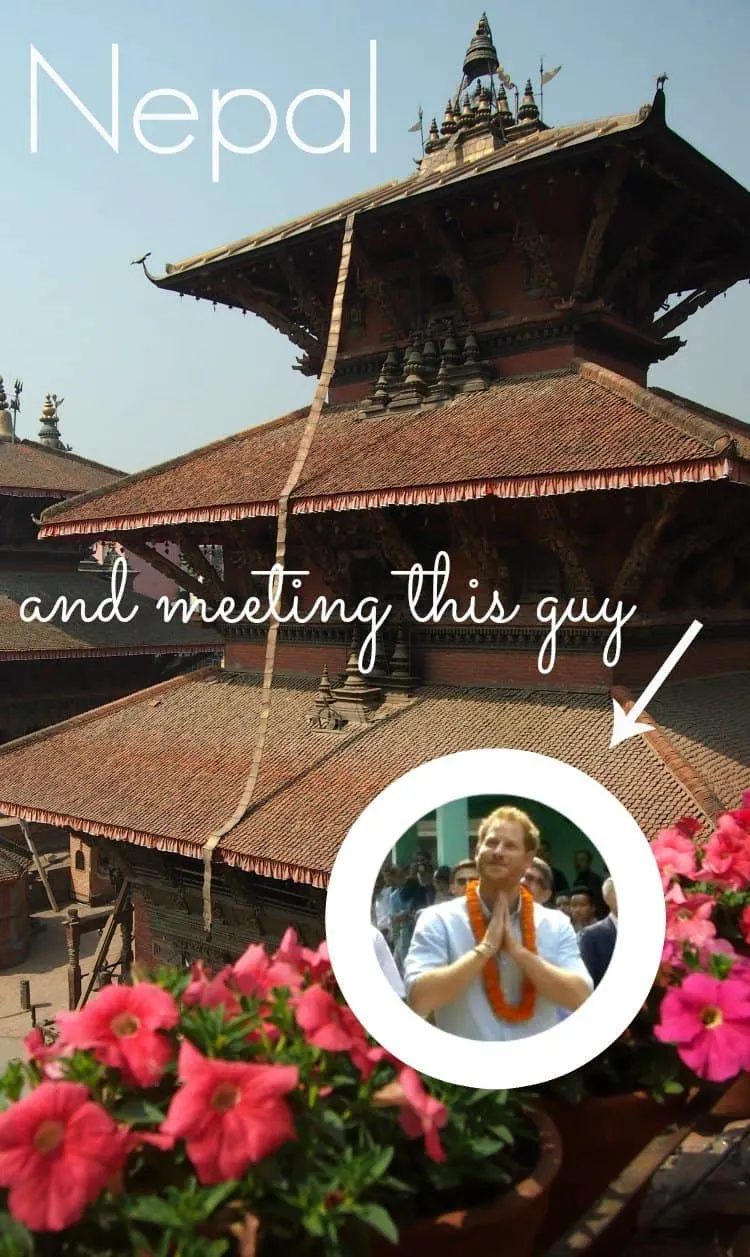 Patan Durbar Square, Kathmandu Nepal
A Durbar Square is simply the name given to a grand square or plaza and areas adjacent to the old royal palaces of Nepal. ( The new palace is very different and badly damaged) The square houses pagodas, temples, idols such as Garuda or Bhairab, open paved spaces and water tanks.
The Patan Durbar Square is in the centre of Lalitpur in Nepal and is ( like the other 2 Durbar squares in the area and many sites in the Kathmandu valley) a UNESCO World Heritage Site.
If you'd like to see more on Patan Durbar Square see our link at the top of the page. People want to know the extent of the earthquake damage, on the whole, it's not as bad as we feared. Nepal needs tourists and you should most certainly go. We spent time in Kathmandu and Pokhara along with our trek in the Everest region, flying into Lukla at the beginning, walking out and catching the local bus at the end.
We used Stupa Guest House in Kathmandu, this isn't a paid promotional shout out, we just liked our Nepal family a lot.
If you're not into that, how about looking at this travel organiser I just bought.
Much as I love blogging it gets very dull trying to make a living out of this industry. Today's post, I enjoyed writing, sharing and experiencing, so thanks for reading our story.
If you'd like to hire a car during your stay, use this car rental comparison tool to find the best deal!

We also suggest you take a look at this company to get a quote for all kinds of the more tricky adventure or extended travel insurance.

Try Stayz / VRBO for an alternative way to find rentals on homes/apartments/condos in any country!